TRULY INDEPENDENT GARDENING ADVICE
Support this website to keep it free for everyone, and become a member of my exclusive Wild Way Newsletter. It's the place for my best advice popped monthly into your inbox. It costs only 83p / month on the annual plan, less than a packet of seeds! Sign up below.
| Level | Price | |
| --- | --- | --- |
| Annual subscription | £9.99 per Year. | Select |
| Monthly subscription | £0.99 per Month. | Select |
Why are you charging for this?!
I'm going to come clean upfront, this website is 100% independent, I pay for it myself and because its readership has grown so massively I can no longer afford to run it without your support. I update my website with a new free gardening article every week or two with a growing archive of 437 articles and a Questions & Answers community area. I love that these are free and open for everyone to access, and they've grown in popularity to be read by more people than read most gardening magazines. Which is amazing! BUT all of the hosting, site maintenance, time and email sends increase in cost with every new reader – I can't keep going without you! So I created this newsletter to give back to every supporter and cheaper than gardening gloves.
OK, but what's in it?
I promise to reward my supporters with a no-holds-barred, exclusive monthly email filled with my latest thoughts and photos. Insights on gardening and wildlife, ideas to consider and experiments to try that month. I promise to give you everything in my head and because I am an independent writer, no one is telling me what to do. I regularly ask my supporters what you'd like me to write about on the community or simply reply to the newsletter. Topics I explore include vegetables, fruit, herbs, design ideas, wildflowers, houseplants and foliage… whatever I am focussed on that month for you to try at home. Which I feel is the best value knowledge I can give you. Members can check out the back issues below, sign up for 99p to see what all the fuss is about. Each email goes out at the start of the month and members will have access to the archive on this page. Learn with me as I explore this funny, wonderful world and grow following its wild ways.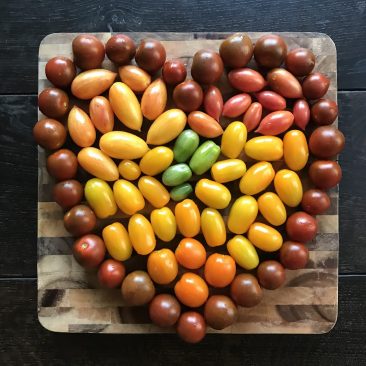 My favourite organic tomatoes to grow based on flavour and yield.
New crazy cultivars I'm trialling in 2021.
Wild origins of tomatoes, where they come from.
Tomato relatives and more.