When we moved to Yorkshire we inherited a beautiful mature garden and key to that is a main garden space by the house, which is huge compared to what I'm used to but actually about the size of most regular gardens across the UK outside of cities. It's in this area, enclosed by very old hedges loved by loads of nesting bird species, that I'm planning to create our main garden. But how do you go about adapting such an established space?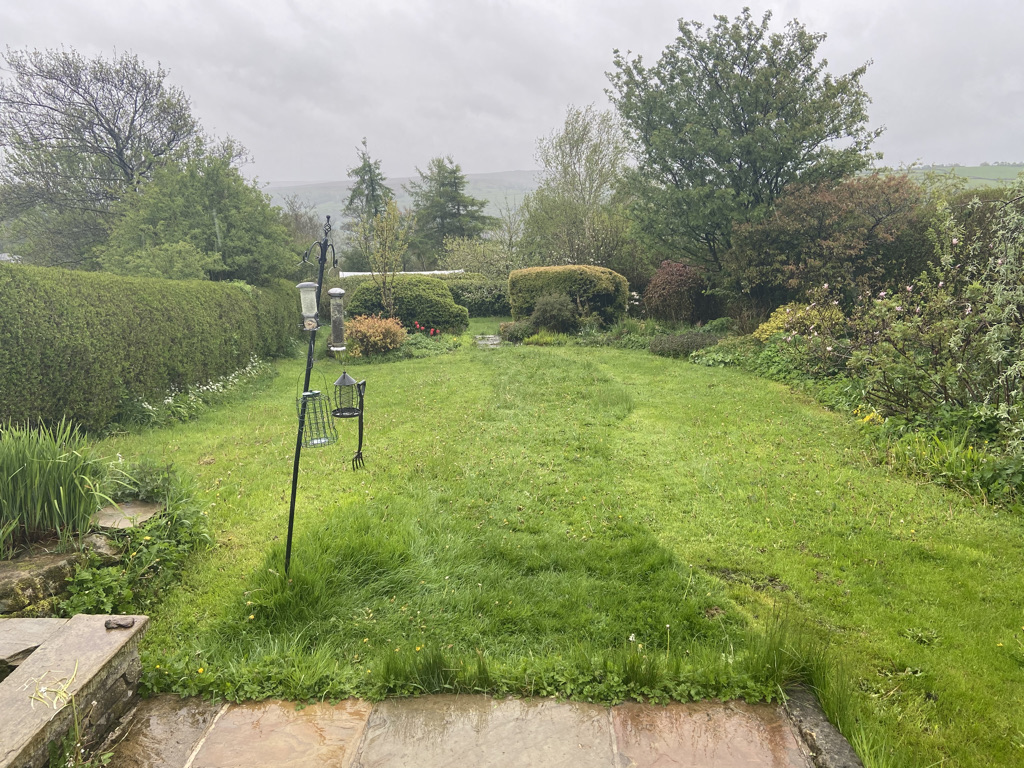 We arrived to a beautiful lawn full of lawn wildflowers and a large mixed border down the west side, filled with shrubs, trees and lots of perennials and spring bulbs. In the first year I decided not to touch any of the existing planting, to instead enjoy it and watch what appeared. A couple of plants had me stumped as to what they were at first, having never grown them, they were Lilium pyrenacium and Aconitum spp.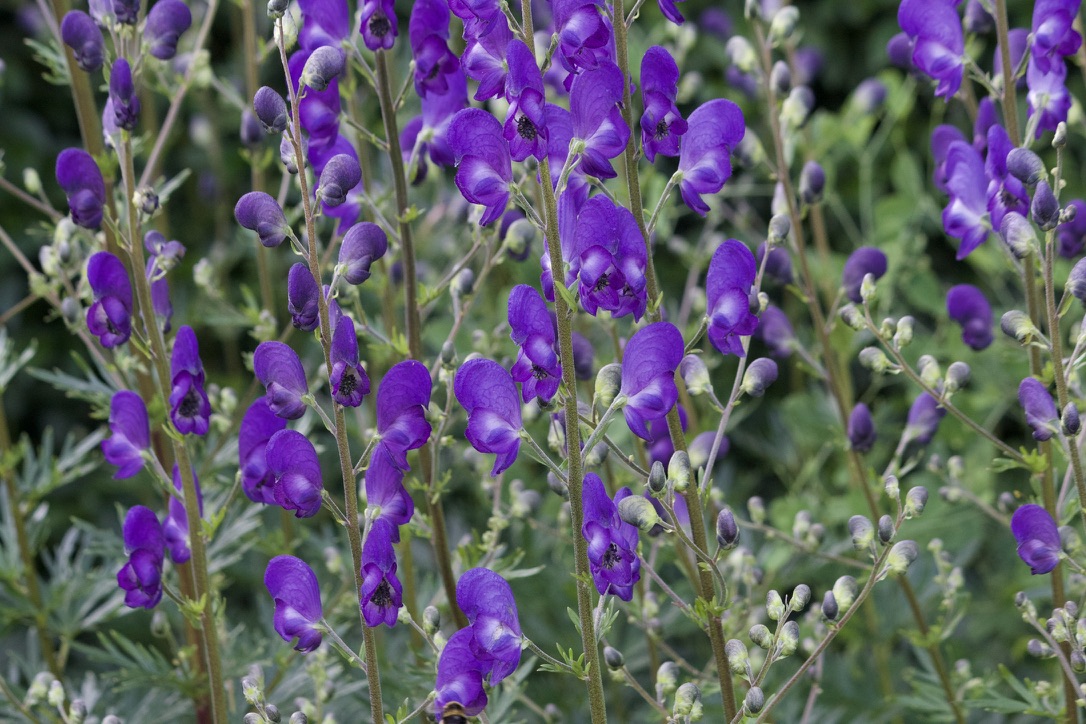 It was a strange delight to take ownership of an established garden, it felt as though we were living in a public garden after closing time. Thinking now, it strikes me what a luxury this was to have an entire garden someone else had created that Chris and I could enjoy all to ourselves. The feeling of luxuriousness no doubt greater having gone from our small London patio to a larger garden overnight.
The snowdrops, mix of daffodils, blue monk's hood (Aconitum), yellow lilies and pink geraniums in the existing borders blew me away in the first year.
Making space
In the first spring, I placed an order for about 20 different kinds of perennial plants in 9cm pots. I also ordered a small selection of seeds for perennials and some annuals. After moving I haven't had much pocket money to spend on plants and in any case, I much prefer seeing how things grow from seed, cutting or small plants. Rather than succumb to the lure of an Instagram worthy instant makeover, I set course on a slow and steady approach to this garden that may take a number of years to amount to anything but will be more fun to create along the way.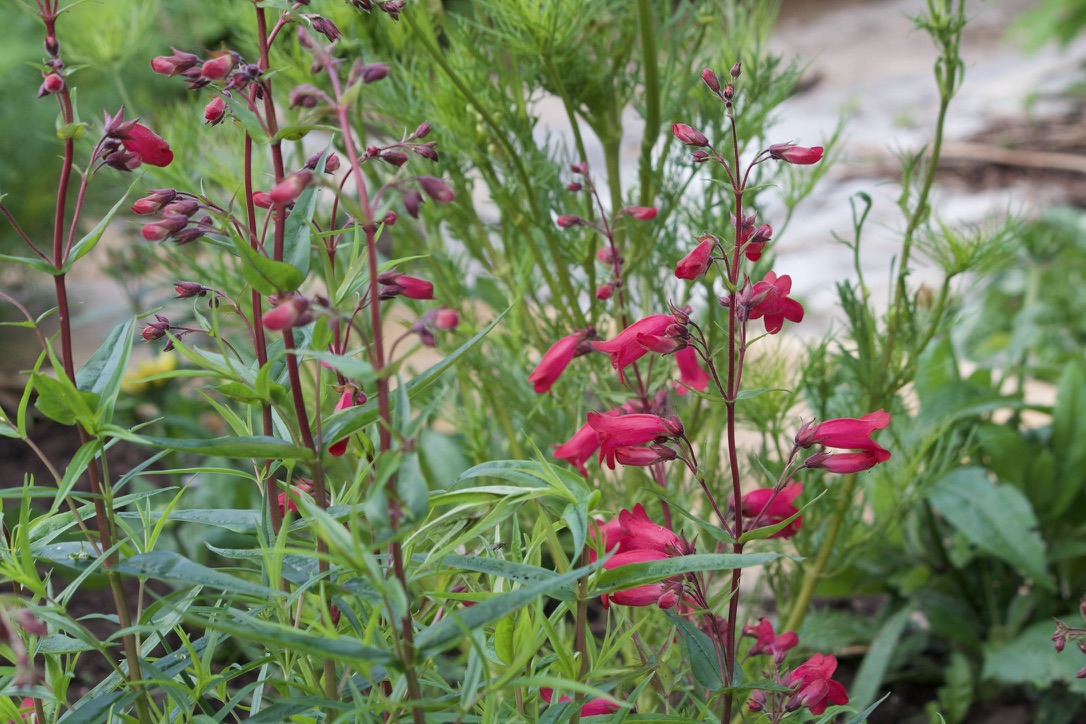 All of the new plants pretty much grew as expected but – and this felt ridiculous given the garden was larger than our last one – I quickly realised in spring, that there wasn't a single bare patch of soil in the garden to plant everything! This, coupled with my pledge to myself to keep all existing planting in place for at least the first year, sped along my thinking. The lawn was about to come a cropper.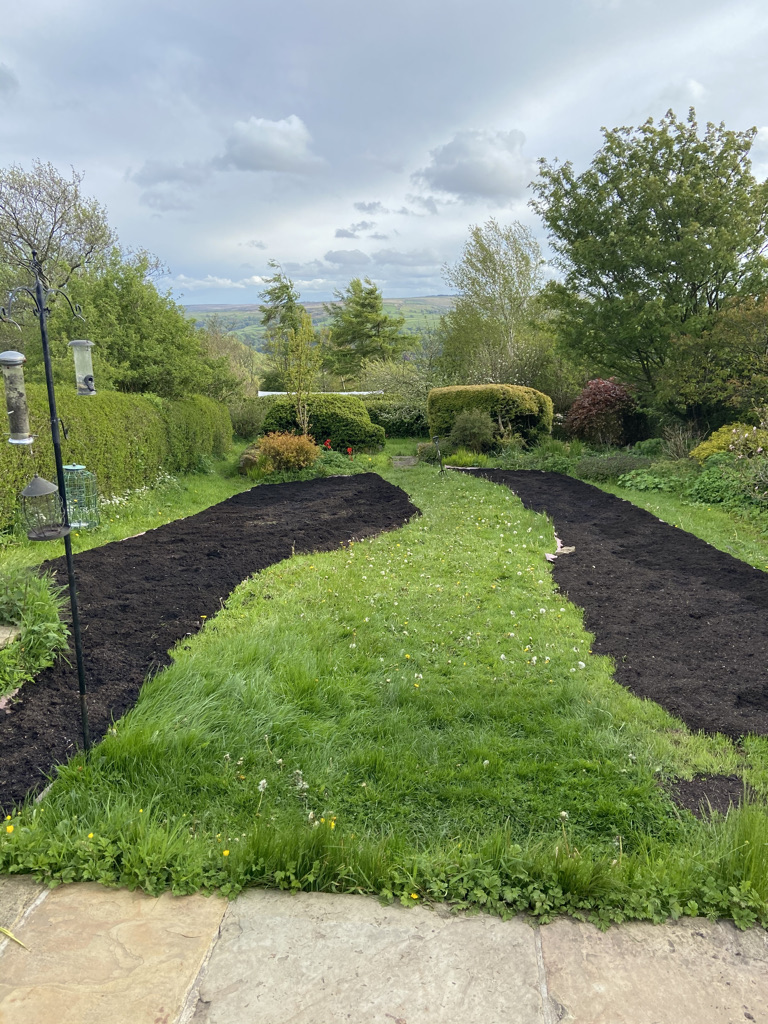 Chris did his best to sense check this "are you sure we don't need the space?" and I did give this some serious thought. A minute later, the lawn was given the heave hoe. After all, we have a patio by the house and the whole countryside around us for more space… was my justification.
At first I considered a network of 3 narrow paths winding down the garden. In the end this felt too fussy and I opted for a single wide path that curves to match both the sweep of the valley and the curves of shapes in the sky. I then set about planting it up quite quickly with young perennials and annual seedlings.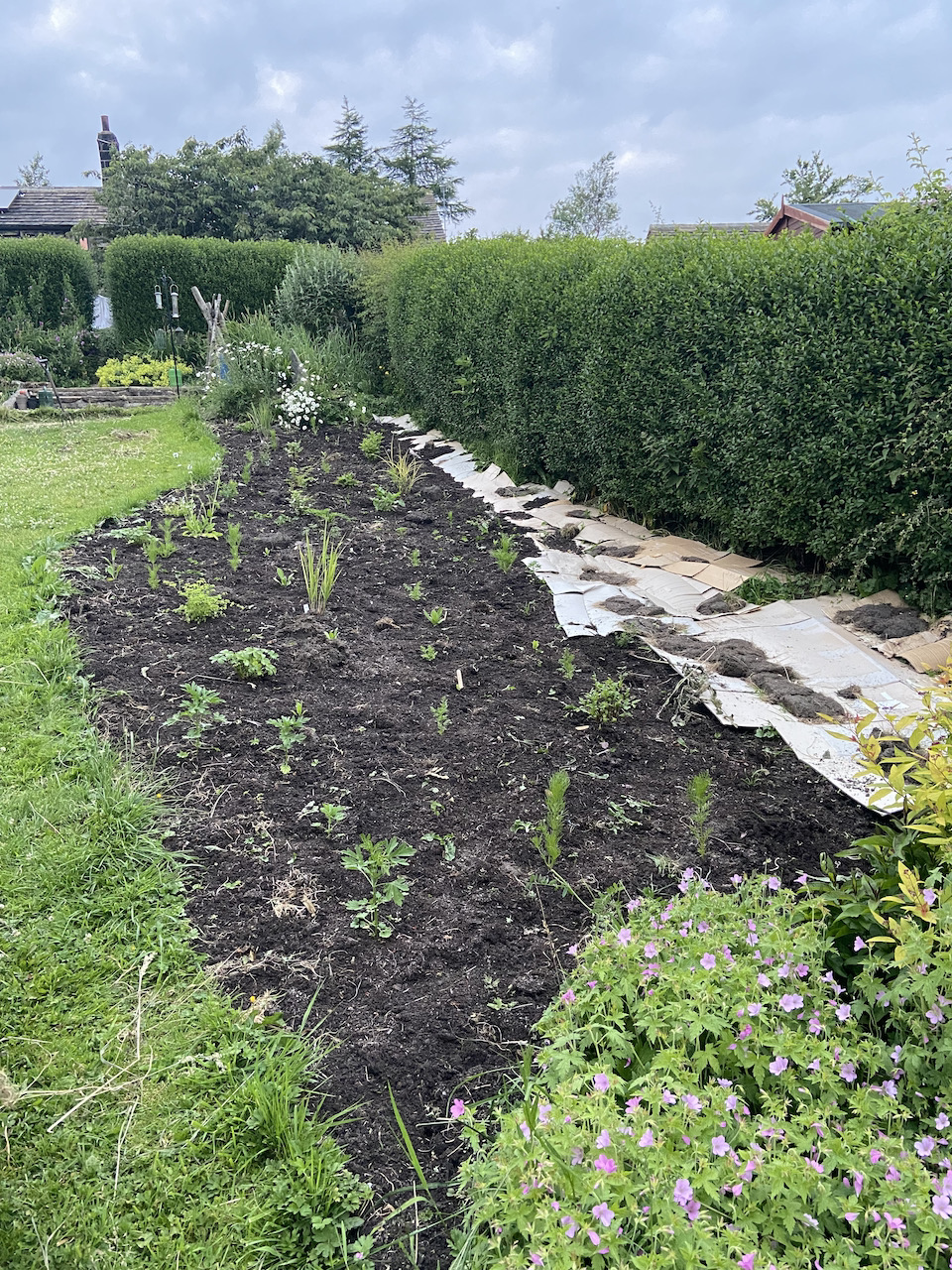 Thinking hedges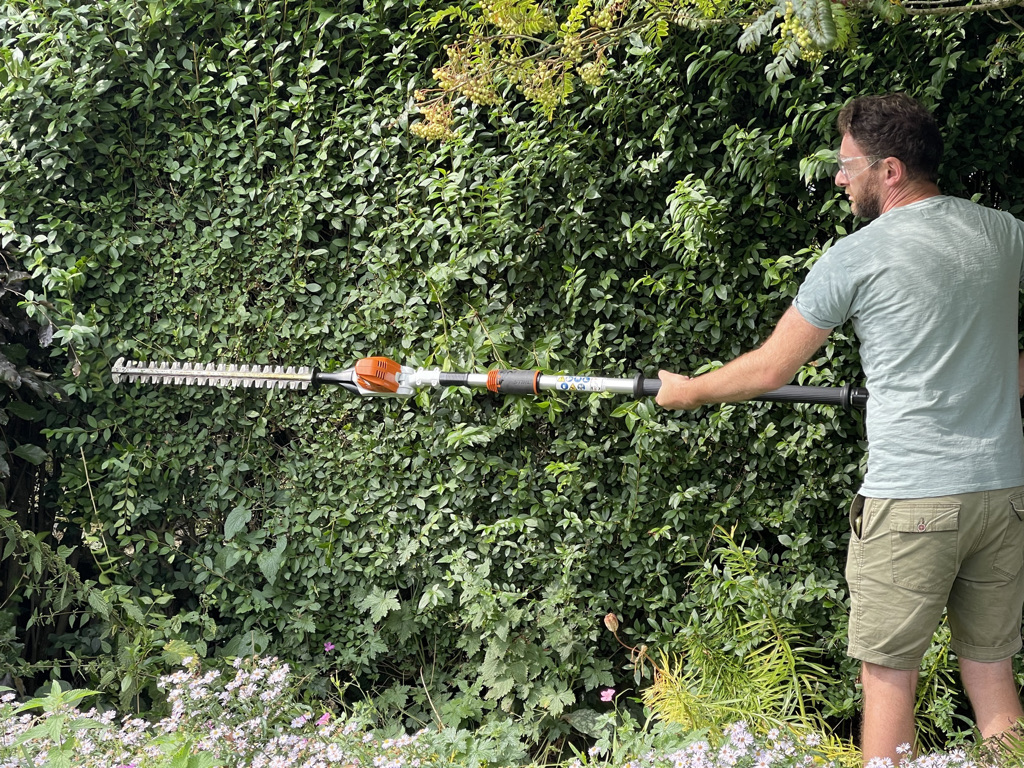 We're lucky that the garden is surrounded by some beautiful hedges, largely privet around the main garden. Further down the slope the hedge becomes more mixed. Birds absolutely love these hedges! They are probably the most important part of the garden for wildlife. Providing flowers, shelter and berries and bugs for food.
Toward late-summer when nesting was over, I began the mammoth task of cutting the hedges. Something I am still working on a few months later, this is clearly one of the major jobs of the year for us now.
By late summer
Toward the end of summer, most plants were doing something although the annual Cosmos 'Purity' were swamping everything. In hindsight I should have taken a number of these out because they crowded out some of the more important long-term perennial plants to their detriment. I could however start to see how the plants might look and combine in future years, giving a taste of what is to come…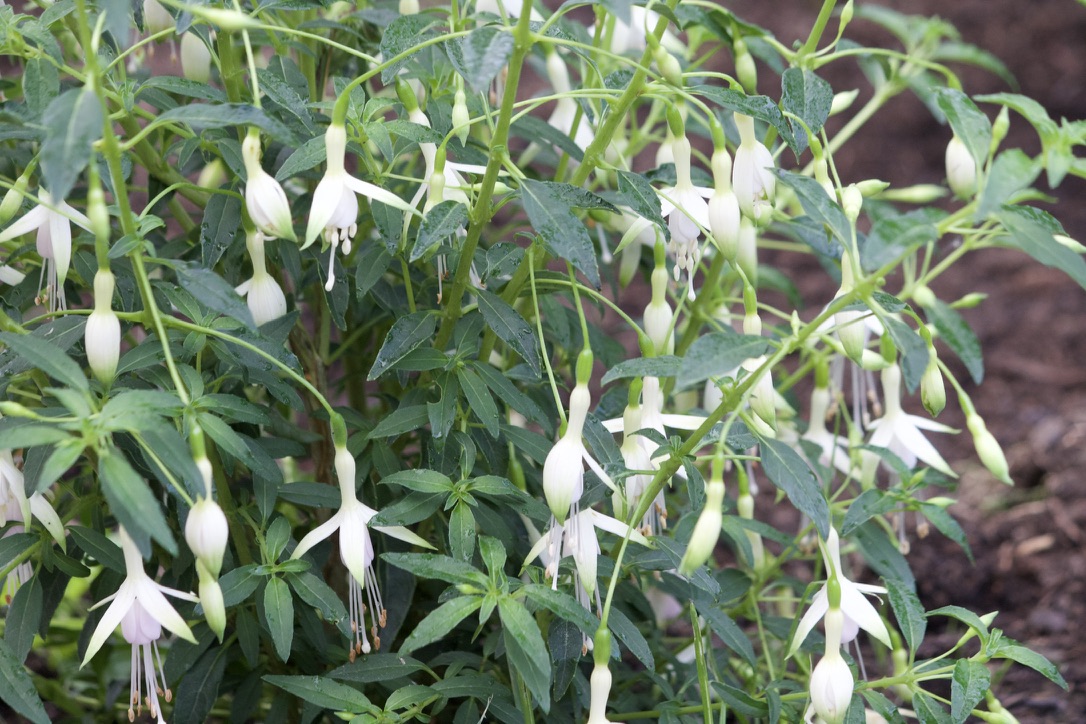 Going into year two
As I write this at the end of January, the garden has slowed down, giving me time to weed the borders more fully, reducing three cornered leek, dock and dandelion numbers. Perennials are sitting there, waiting for warmer weather with lots of new shoots at soil level, telling me they will be significantly larger and more floriferous than last year in many cases. I'm excited about the year ahead, with new plants to be raised by seed and added and much more colour. I feel like I'm finding myself again, here in this new garden on the edge of the sky.