The RHS Encyclopaedia of Plants and Flowers is what you call a tome. It is vast.
Over 8,000 plants adorn its pages with good quality pictures, descriptions and general cultivation advice. Throughout last winter I spent many hours poring over every single page, choosing plants for the coming summer. It's a very enjoyable catalogue in hardback.
What I particularly love about it is that it does everything you need of a gardening encyclopaedia. Which is just as well.
As an amateur studying the RHS Level 2 course, it was invaluable for learning Latin plant names.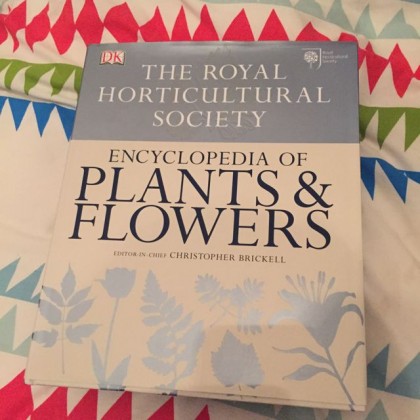 It's obviously never going to be exhaustive in a world of over 420,000 species of plant, not to mention the many thousands of cultivars and varieties. However, it is full of every common and contemporary garden plant. So, if like me, you are just getting started on your garden, this book is essential.
The book is broken down into types of plant, including trees, shrubs, perennials, annuals, climbers, bulbs, water plants and others like tender plants and cacti. Further categorised by colour and size. It is great really. I often return to it despite being in the age of the internet because no site yet has everything in one place like this. Even the RHS website does a slightly worse job if you just want to browse.
There are some drawbacks though. It is a teeny bit out of date, only marginally mind. The more you return to it, the more you realise you can't always find the cultivar you would like. Although most of the time, it does have the majority of common garden centre plants.
One of my biggest gripes of many gardening websites and books, this included, is that the close up of a flower or leaf doesn't give you any real sense of what the plant is like. This does have a diagram showing a bit of scale. It's not enough though, so this book is really the starting point of many web searches (which themselves often fail to show you the entire plant).
The real test for me was when I wanted to identify a plant I liked down the road. I turned to the encyclopaedia, and sure enough, under white flowering summer shrubs I found Philadelphus, the Mock Orange. I have learnt the name of a plant and since bought my own. Identification test passed in the wild.
Summary: RHS Encyclopaedia of Plants and Flowers
This book is a must for any serious or, at least, committed amateur (and I'm told expert) gardener. I have found it invaluable time and again, and also enjoyable. I mark it down marginally because as time goes on, I do start to hit on more of its limitations as I become more adventurous – a bit mean when it is perfect in so many other ways.