For our summer holiday this year Chris and I spent most of the week in Tenby, Pembrokeshire on the south west coast of Wales. I'd mixed up our dates however, which meant first we had to travel to the other side of the country to do a talk at the Charleston Festival of the Garden in east Sussex. This led to an enormous triangle from our home in west Yorkshire and we made the most of it visiting as much as we could.
1) Stoneywell in Leicestershire
It was torrential rain all day on the Friday as we head to Lewes before my talk, making the drive down hell except for a pit stop at the Stoneywell National Trust. We'd never heard of the place, it just happened to be about half way. A surprising find, it's a small National Trust, though still a large summer home compared to what most of us are used to. Designed by architect Ernest Gimson and built between 1897-99 (according to Wikipedia) in a wonderful higgledy-piggledy fashion, a part of the Arts and Crafts movement. A movement that placed emphasis on excellent craftwork and materials over Victorian fussiness. It struck me how the heather and moorland, although planted, go right up to the house, and the way the house has beautiful details but is incredibly minimalistic. It struck me how similar this is to my style of home and garden, and perhaps arts and crafts is less of a single movement from one moment in time and simply a universal and timeless love of quality crafts and art?
2) Charleston, east Sussex
On the Saturday morning we arrived at Charleston, a garden I've wanted to visit for a long time (I'm not quite sure how Chris and I hadn't been before!) widely recognised as the epicentre of the original arts and crafts movement, home to painters Vanessa Bell and Duncan Grant back in the early 1900s. Friends with the rest of the Bloomsbury group including Virginia Woolf, whose final home nearby we visited a number of years ago. I'd been invited to take part in a panel session with my friend Andrew Timothy O'Brien, discussing slow gardening. We were lucky to be interviewed by the kind and clever Alys Fowler who gently guided us through a range of deep and important subjects touching on feminism, an end to out of control capitalism and the simple joy of enjoying plants growing. It was a conversation I felt could have continued for hours, and indeed it did in the green room, a hub of gardeners and writers speaking that day. We laughed and cried, catching up with friends we hadn't seen in a long time for most of the afternoon. I met lots of new people who attended too, with lots of interesting and useful conversations. Because of all this I hardly saw or photographed the colourful garden! Thank you to the team at Charleston for making this such a wonderful, wonderful event.
3) Avebury stone circle
After our first stop in Lewes, we moved onto Wiltshire and the Cotswolds stopping at Avebury stone circle set in the same landscape as Stone Henge. The stones are so old no one really knows what they were used for, is it a settlement, a work of art, a place of worship, a place of sacrifice, something else or all of the above? Whatever it is, it draws out a sense of awe and inspiration from within us all, and perhaps that is all we need to know.
4) Lacock, Wiltshire
We stopped in Lacock, which we discovered had been turned unfriendly by hordes of Harry Potter fans – we didn't realise it was used for a few scenes in the movies and for other TV shows. Highlights were rusty back fern, Asplenium ceterach, in walls, a ginormous Hydrangea aspera in the ancient abbey, Cotinus in the sunlight and a giant fully naked topiary woman with very pert boobs and bum by sculptor Deborah van der Beek.
5) Tetbury, Cotswolds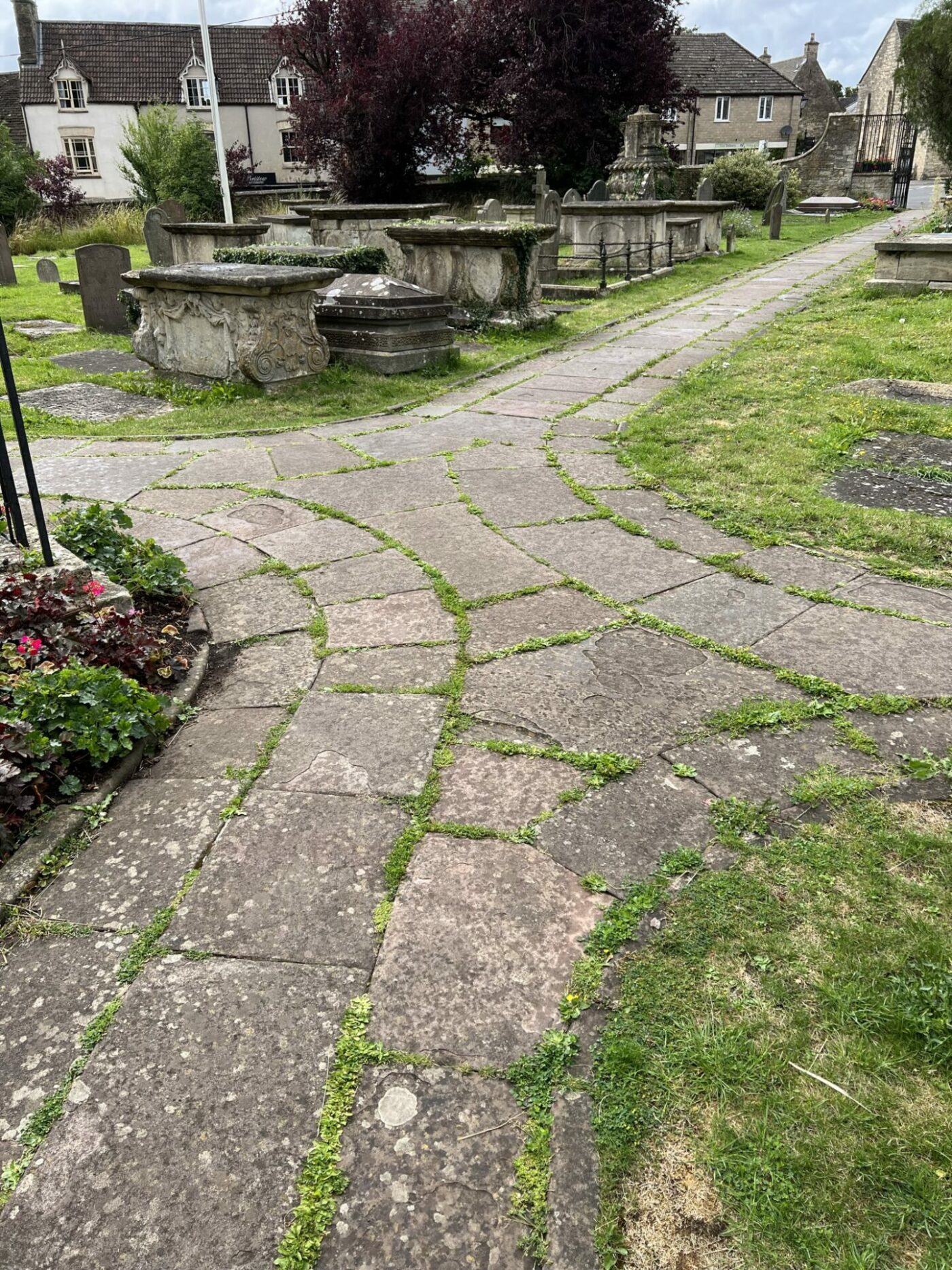 I thought this four way path junction in the church in super posh Tetbury was particularly well designed.
6) National Botanic Garden of Wales
On day four we finally made our way into Wales toward our destination of Tenby, stopping at the amazing Kenfig Nature Reserve for a picnic, admiring its sand dunes, before heading to the National Botanic Garden of Wales. I'd been looking forward to visiting the botanic garden for years and, although the main dome is impressive, it feels like the other areas could use an injection of funding.
7) Tenby, Wales
We made it to our main destination for the week, the beautiful town of Tenby. It was even better than we'd imagined and, although it rained a lot while we were there, there was lots to explore and see around town and nearby. As always I loved exploring the town's wildflowers growing in cracks, walls and drains, as well as what people are planting. The national flower for Wales really should be the mophead hydrangea as it's in the vast majority of front gardens. While at home I like our garden to be wild and soft, I did really enjoy the bold colours of the annuals around the lanes of the colourful buildings.
8) Pembrokeshire coast
On one of the sunnier days we took a drive along the coast to the west of Tenby, there we found beautiful cliffs with their naturally short grassland habitats, perfect beaches, stunning rock faces plummeting into the sea, little villages and plenty of walks.
9) Puffins
Highlight of the trip and something I will remember for my life is a visit to Skomer island, one of the only places in the UK where puffin populations are currently stable and not in declining numbers. I wrote more about this trip in my Wild Way newsletter here.
10) Pentre Ifan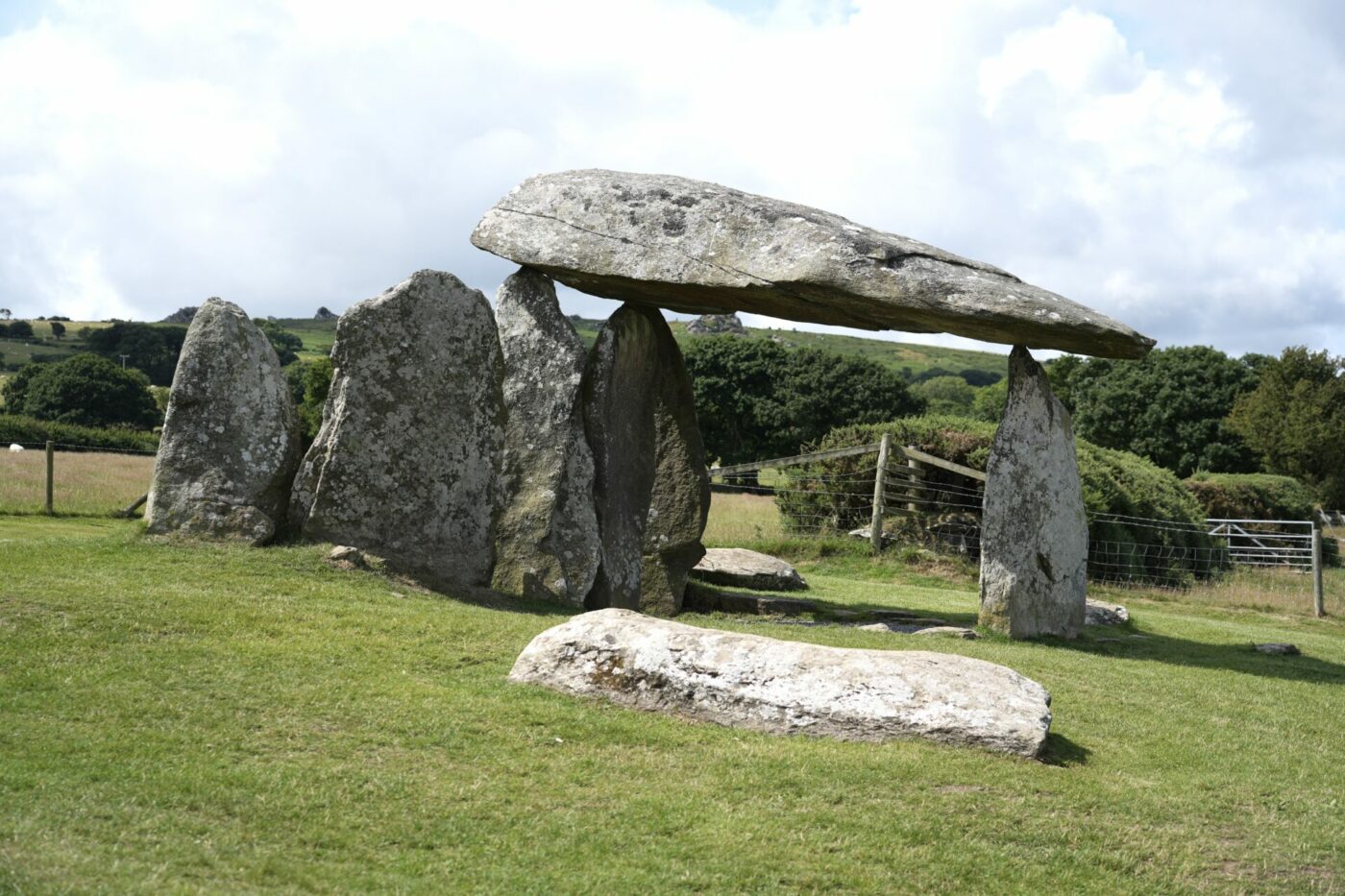 On our last day we broke the journey up with a few stops, the first was Pentre Ifan, one of a number of ancient standing stone sites in Wales. No one really knows why it exists or what is was used for but two leading theories are that it was either the entrance to a burial mound, long since dug away from the stones. Or simply as a monument, for some unknown reason.
The biggest shame with sites like this is that people don't consider the surroundings given the magnitude of the space. Though I understand why, the fences so close to it burst any magic about the site, when it would have stood for so long directly in the landscape. Regardless, it's a pretty spectacular set of stones of mindboggling size.
11) Powis Castle
"What we have here, is a maintenance nightmare" said Chris as we looked down the giant hedges across to the topiary garden in the valley, and he wasn't wrong. I've known of Powis Castle for years, its giant Yew hedges, originally much smaller, often feature in gardening programmes because of the insane ladder and scaffolding operation needed to keep them in shape. It was great to see it, inside the castle is as spectacular as these places can be, although obviously built upon money from colonialism.
These days I find it hard to enjoy public gardens, I just don't agree with many of the foundations they are built upon, I am more drawn to natural spaces. However, it has to be said that Powis is a feat of old school gardening skills on a very steep slope, dealt with through terraces. The planting is maintained as old fashioned borders because the garden has multiple Grade 1 listings on it, meaning it has to be kept in a certain style. We'll certainly be back next time we are in Wales.