Earlier this year I was given a battery powered Stihl HLA 86 telescopic hedge trimmer to put to the test, and here are my full thoughts after a number of months trial on our farm. This is a tool for anyone who has particularly tall or wide hedges where extra tool length is a benefit, such as when a regular size hedge trimmer won't reach.
Reach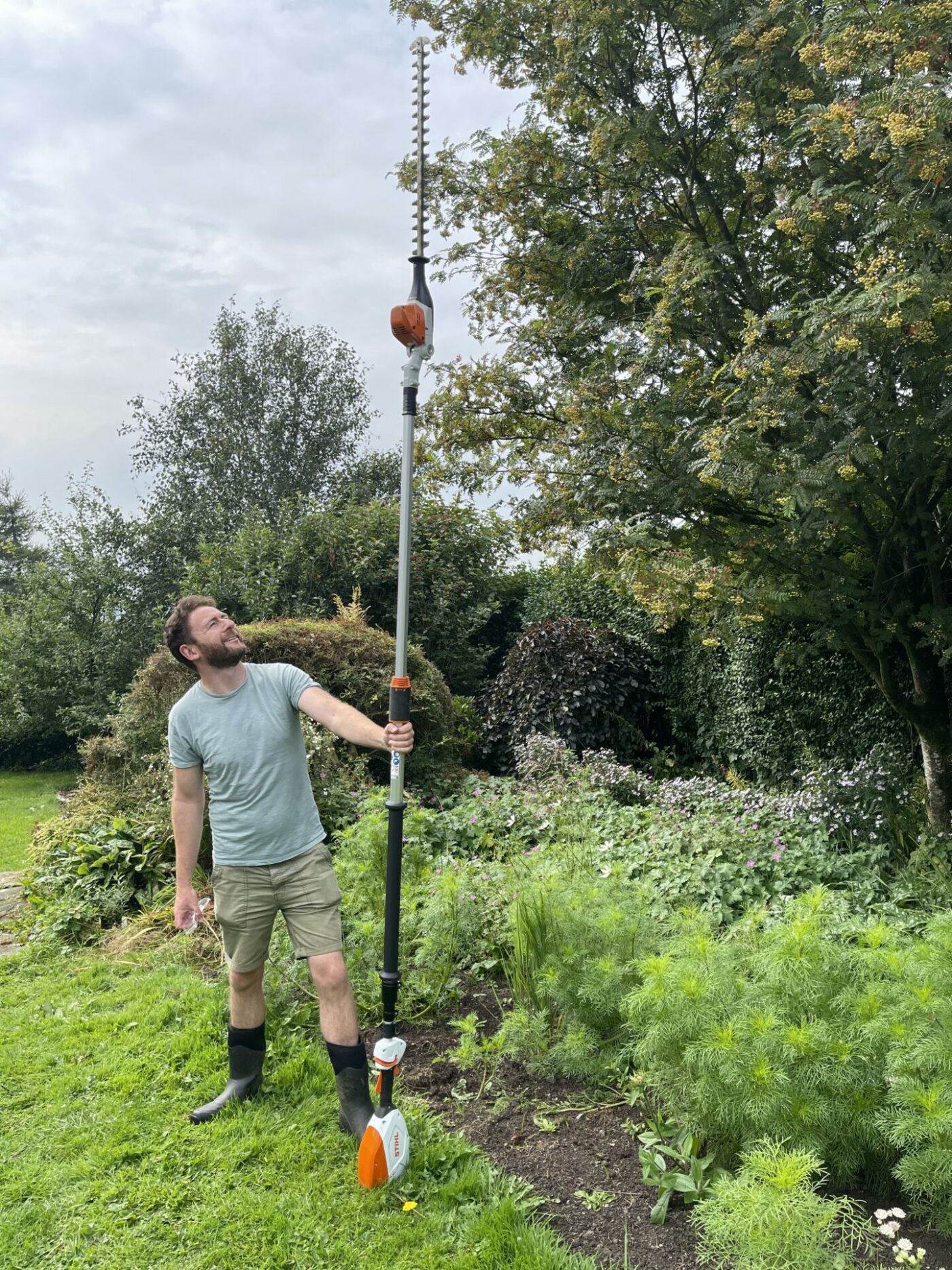 Let's talk about the main reason you may be interested in the Stihl HLA 86. The hedge trimmer can be extended from 260cm all the way up to 330cm, which as you can see in the photo above, is impressive. The blade itself is 50cm long and has an end guard to protect blades from touching the ground or a wall by accident.
I found that this was long enough to reach the top of tall hedges from the ground, and with the use of ladders, could tackle even oversized leylandii.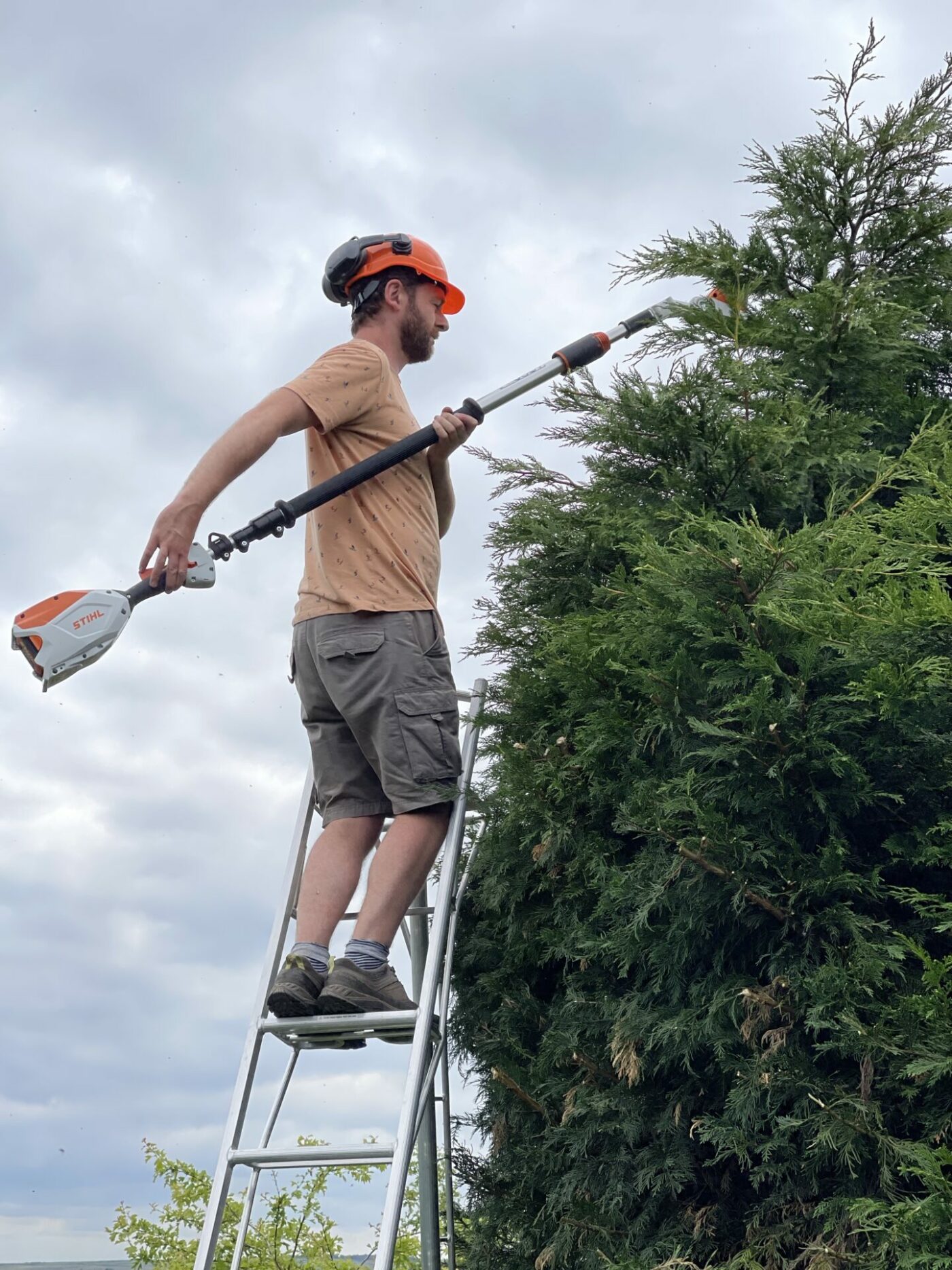 Extending the hedge trimmer is easy thanks to a twist lock. This is a new feature for recent Stihl models and works really well.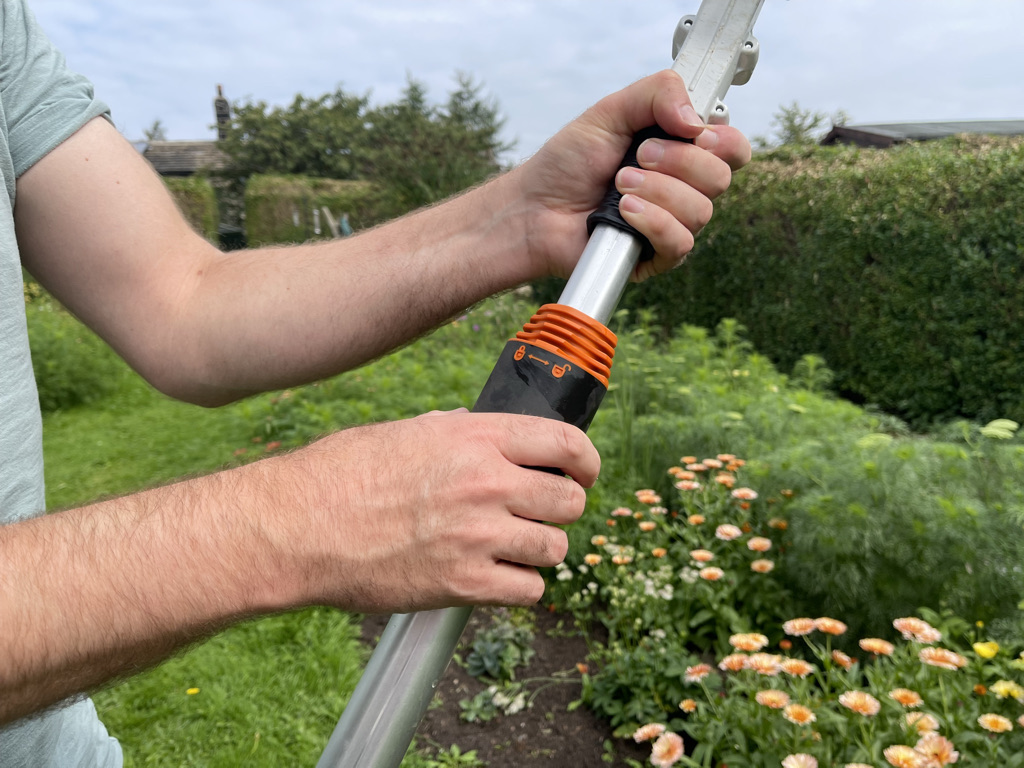 It's easy to twist and yet also locks very securely, so there is no chance, from my experience of the pole collapsing.
Weight and balance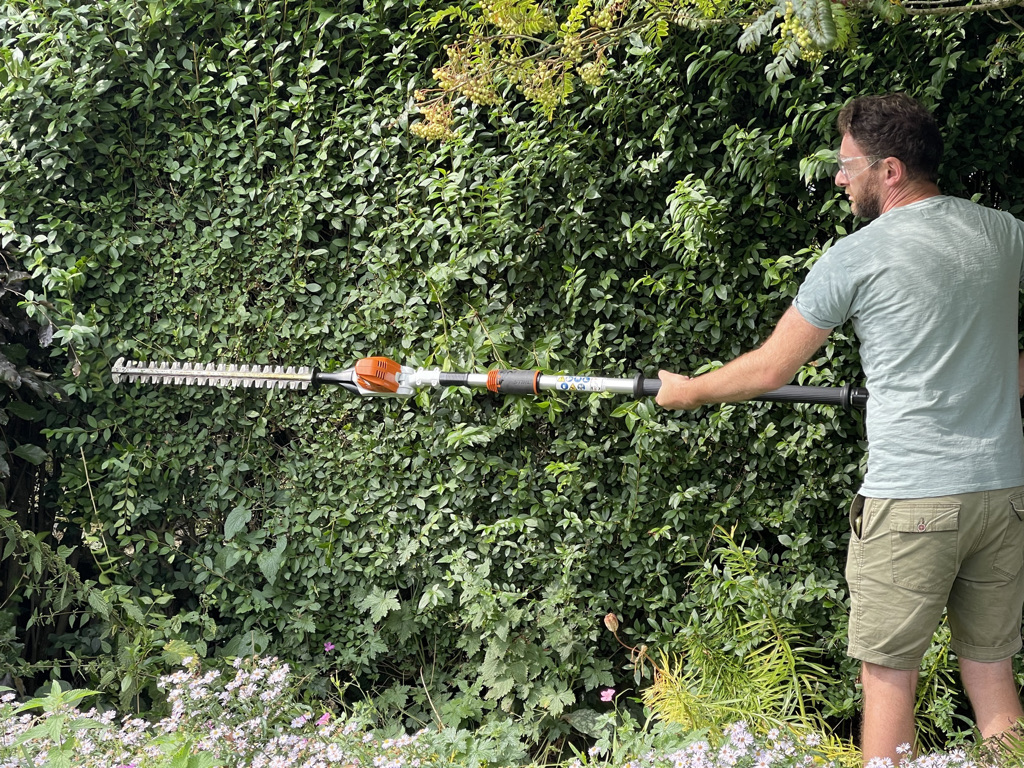 At 4.8kg without a battery, the Stihl HLA 86 hedge trimmer is quite hefty. An AP 200 battery, which is the recommended standard battery, weighs 1.3kg bringing the overall weight to 6.1kg, incidentally the same weight as our cat, Rumbles.
However, held horizontally the trimmer is very well balanced, spreading the weight across the long bar making it easy to cut with over a period of time – though it is not a tool for people who don't have a fair amount of physical strength.
Using the trimmer horizontally to do the side of hedges I found no problem, but my arms did struggle over time with the weight when cutting the tops of hedges.
That said, I simply took regular breaks and found that it was perfectly possible to keep cutting as long as I didn't overdo things in one go.
All in all, I feel the weight is fair given how much is going on here, it is after all a significant power tool with strong metal blades at one end and a high end battery and engine at the other, sandwiching a long metal pole. We have to expect some weight.
It has a long rubber grip which is extremely comfortable to hold.
Volume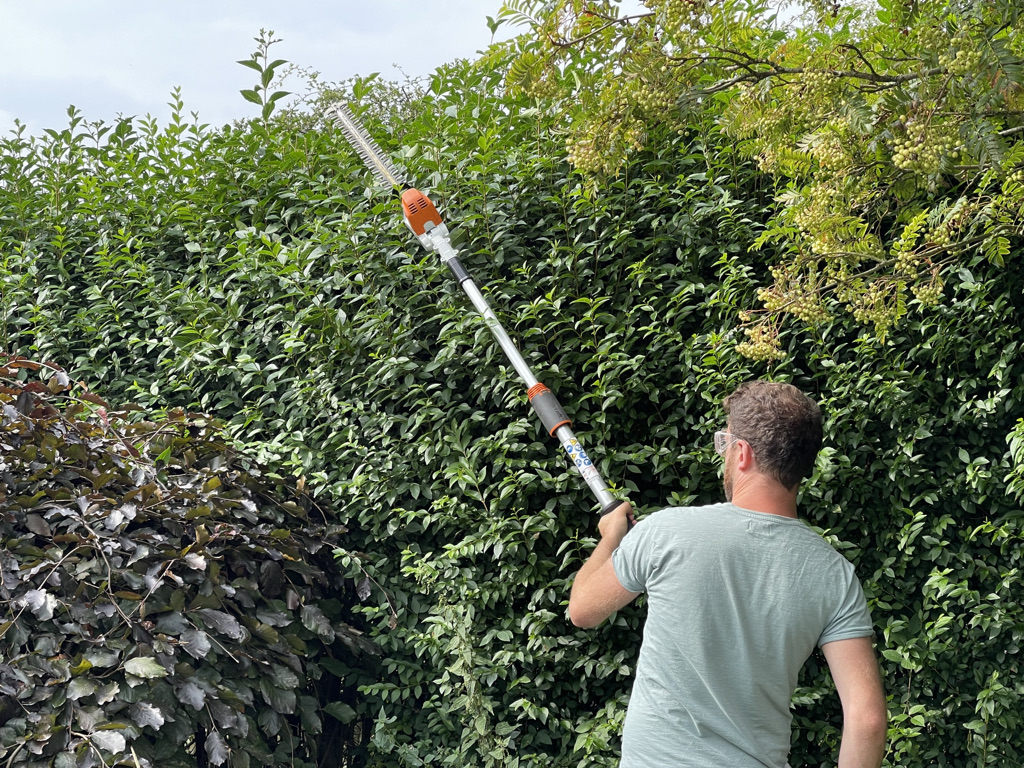 Like all Stihl battery powered devices, the HLA 86 is remarkably quiet. So quiet that you don't have to wear ear protection when wearing them and you feel less self-conscious with noise for the neighbours. As a professional gardener, it's much more enjoyable cutting lots of hedges without wearing ear guards on warm days.
It isn't totally silent, there is still the sound of machinery but when clean and lubricated it is a pleasant whir. As dirt builds up on the blades it can clog them making them louder. It's therefore important to keep the blades clean and well maintained. Not just for noise, this can also cause the engine to heat up more.
Safety first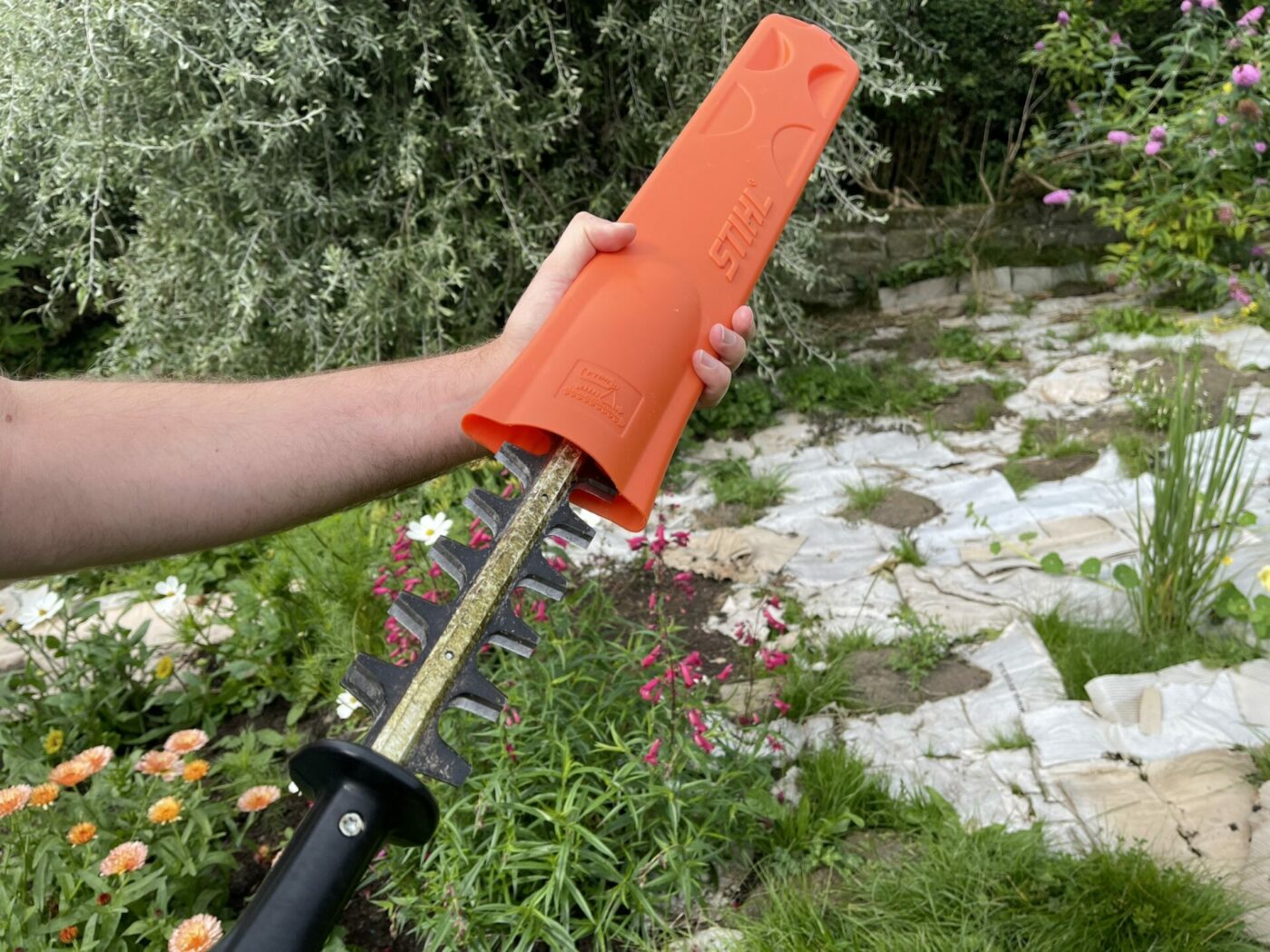 People don't appreciate how dangerous garden tools can be and hedge trimmers are up there with chainsaws in terms of risk in the hands of inexperienced people. The blades are incredibly sharp and a friend who is a professional gardener with decades of experience recently slashed their thumb accidentally while unpacking them – the blades are like razors.
Thankfully, with some care and maintenance – and a course if you can go on one – they can be used safely. The Stihl HLA 86 comes with a blade cover as standard. I always put this on when not in use.
Electric and battery powered Stihl hedge trimmers also have a safety power feature in that they automatically switch off when your hand isn't holding the power trigger down. It won't suddenly come on by accident and if it slips from your hand immediately switches off.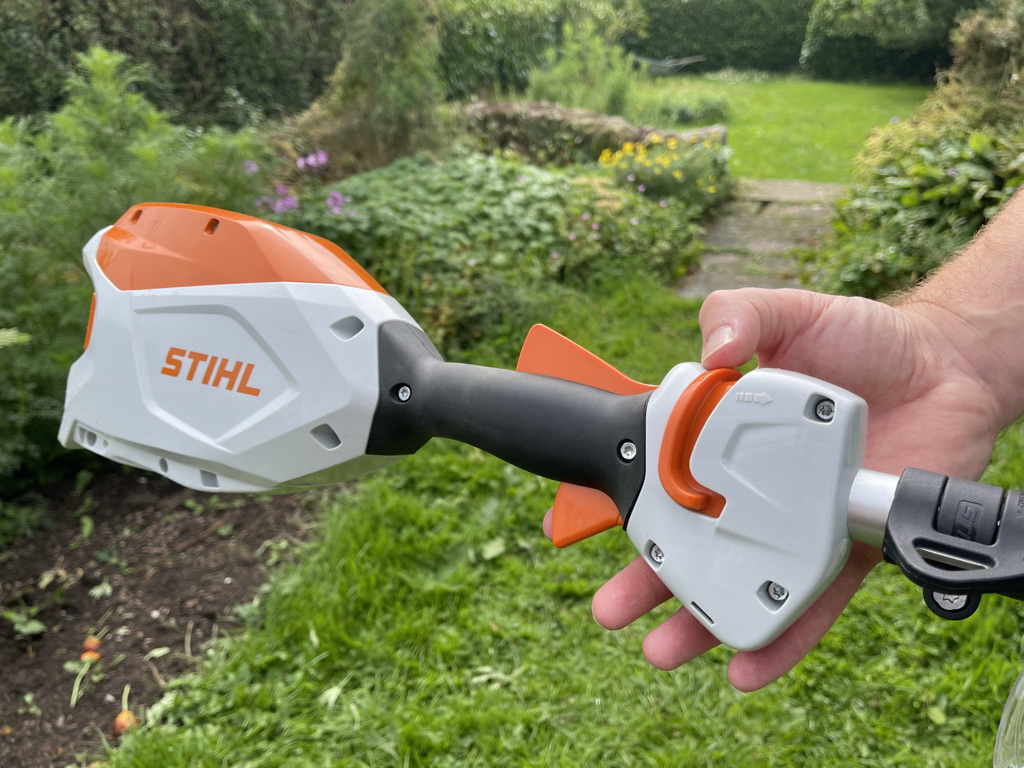 To switch the hedge trimmer on you must press all three trigger buttons at once. It instantly stops when the triggers are then released.
I always wear safety googles – a pair come with the cutters – when cutting hedges, as well as other activities such as strimming. It's likely debris will fly around making this absolutely essential, which I cannot stress enough. I usually wear tough protective gloves, but forgot in these photos. Don't forget at home!
Battery time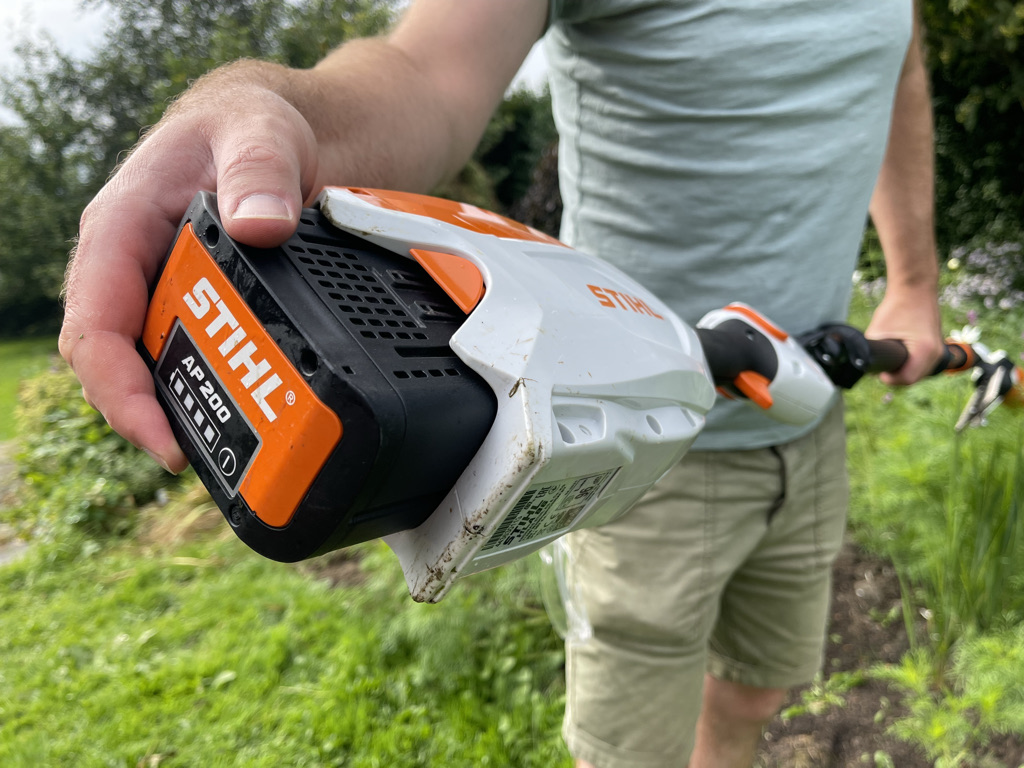 As our electricity comes from renewable sources, using electric or battery powered devices goes some way to helping reduce the use of carbon fossil fuels. Lithium ion batteries come with their own issues in terms of lithium as a natural resource but overall, battery is a step in the right direction.
The best for the environment is hand tools, which I use wherever I can, but sometimes in large areas on tall hedges with no mains power, battery powered tools are the best option and things can only improve.
I have other Stihl products including a strimmer I bought myself and a lawn mower given to me for trial that all use the same battery, minimising the batteries you need. I recommend having two batteries allowing you to charge one while you use the other.
The HLA 86 hedge trimmer is pretty amazing on battery performance. It's said to run for over 3.5 hours on an AP300 battery, which I can believe. I've used it for hours at a stretch and only used half the battery. In fact, while hedge trimming I have never used the entire battery.
If you are planning to trim hedges all day, you will eventually use the power, however it only takes about 30 minutes to recharge. Which you can do during lunch or swapping to a second battery.
Angle of cut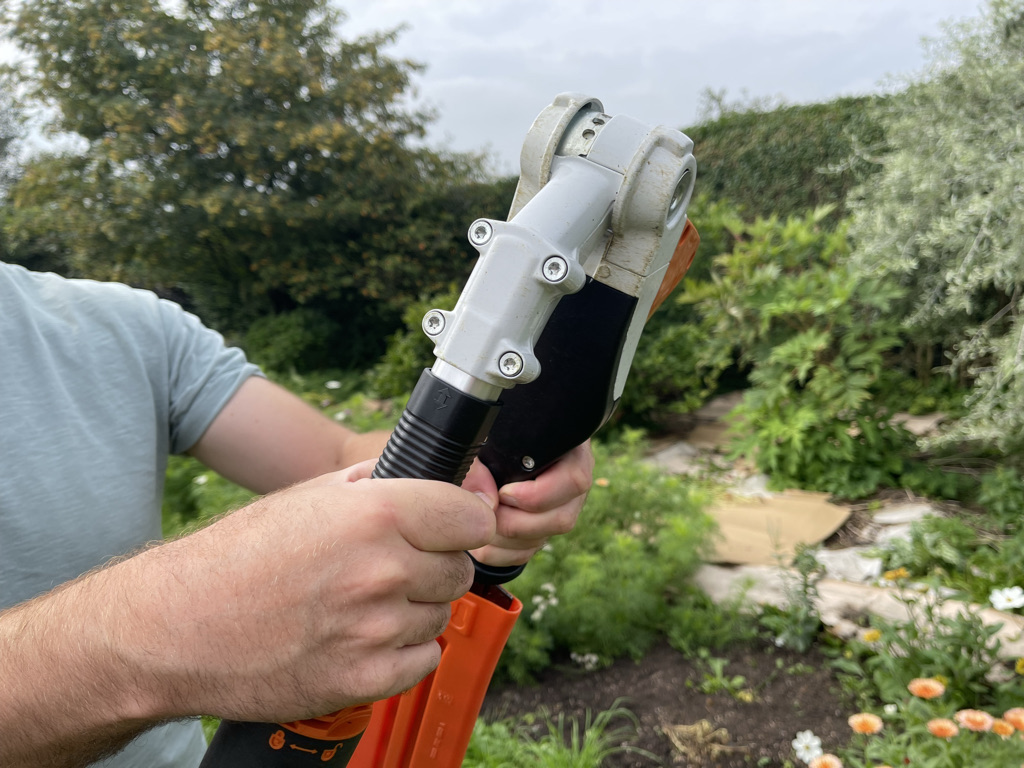 The blade head can be angled a full 115 degrees which is every angle you could need for hedge cutting. This allows for it to cut at 45 or 90 degrees for the tops of hedges, or straighter angles for the sides of hedges.
To angle it, you pull down on the black lock above, move the head using the handle and then locking it back up again. This lock is very secure.
It's worth pointing out that the extra length of the handle makes it faster to cut hedge sides because you have a larger arc sweep than a normal trimmer close to your arms. Which may be important for those of us with hundreds or metres of hedges to cut.
Performance, cost and other thoughts
Overall I've been impressed with the Stihl HLA 86. At the time of writing it costs around £340 without a battery or about an extra £100 with one, so it's a mid-range piece of gardening kit. However, for that cost you're getting a high quality, well-built tool that will last for years with good maintenance.
To maintain it, you must clean the blade carefully after every use and oil the blade to keep it lubricated and clean, which costs about an extra £20.
I've used the telescopic hedge trimmers so far to cut a variety of hedges from leylandii and privet to elder and hawthorn. Cutting through green growth and thicker woody growth with ease. In fact, it cut through thicker branches I didn't think it would cut through.
It's a good device for anyone like me who has hundreds of metres of large hedges to cut, or for professionals who cut a small number of hedges through the year. If you're cutting all the time for clients, it's probably best to look to one of the higher end models specifically for professionals.
For more timely tips, join my monthly Wild Way Newsletter and help support more free articles by doing so.