A seasonal journal of my new experimental planting design
I've started something that is at one time important and another a blip in the ocean. All of my design experiments have led to this but afterward my mind and the world will have moved on. I've started this journal that will look at my new future meadow as closely as writing and pictures can allow. Why have I started a new ornamental meadow? It wasn't planned but I have been overcome with a desire – driven in part by stopping weeds in waste spaces – to grow something colourful on my allotment for summer next year.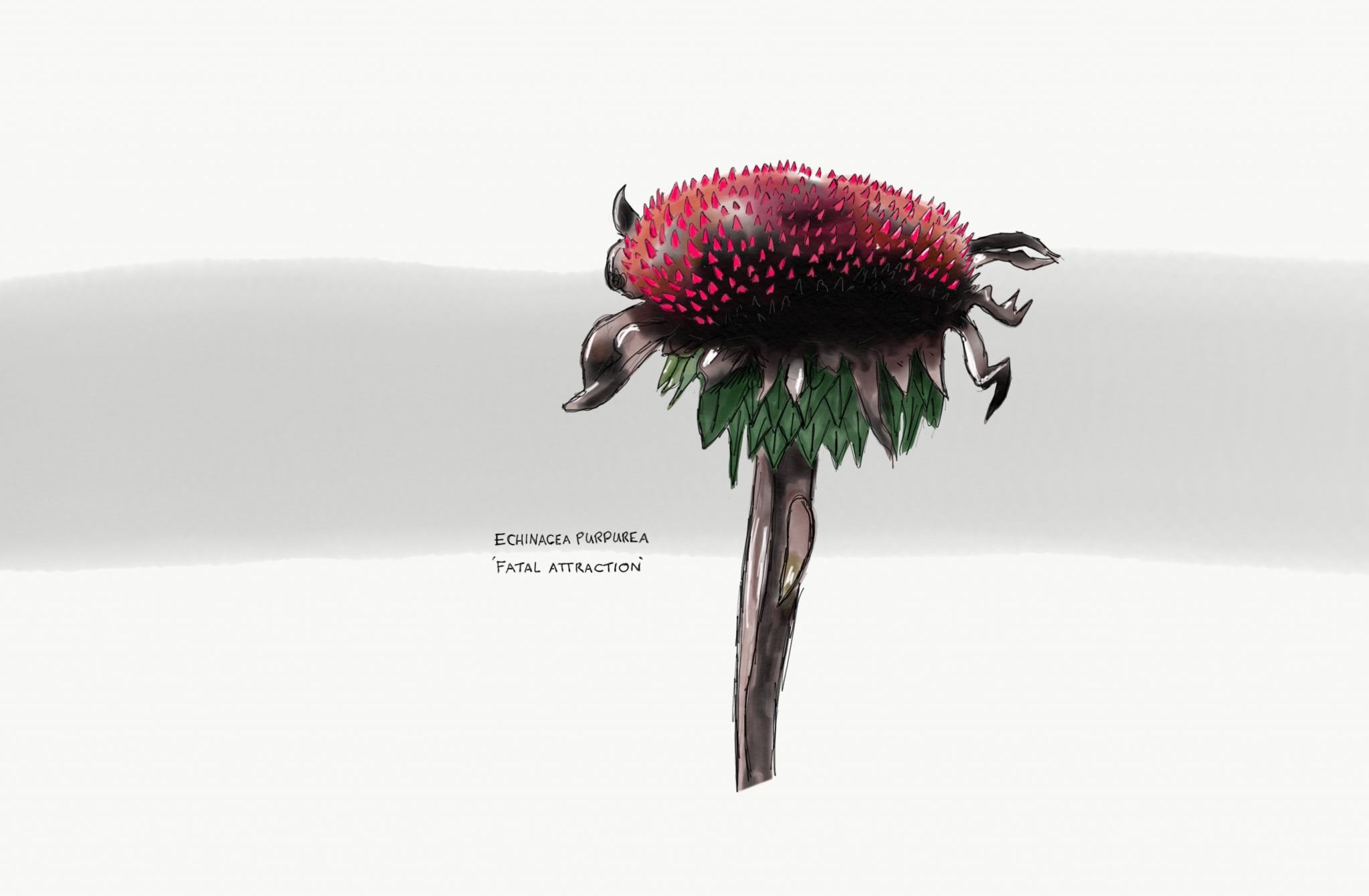 This is my thinking: First is to start backward, that in a year from now all of these plants will be dormant dead, static carbon sculptures of the plants they were. Second they will not all die at once, some will die early in the season. Third, there is no design. Fourth, I'll use only tough plants to beat weeds and survive extreme weather unaided. Fifth, many plants I'll propagate from those I have already. Sixth, I'll allow myself to add some new plants too. Seventh, therefore there is no colour scheme. Eighth, the design and colour scheme will come from my unplanned decisions on the fly. Ninth, some of this may not work.
The site of the future meadow is at the farthest end of my cut flower bed, taking over its occupancy and spreading slightly into a disused weed ridden few metres. It is in full sun, free draining soil. Last year I planted two tiny divisions of one of my favourite plants at home, Astrantia major 'Ruby Star', which I've had since 2014. I took little cuttings and grew them on in pots at home until planting out in spring. I planted here intending them to become cut flowers. Now I suddenly have other ideas, though they will still be cut.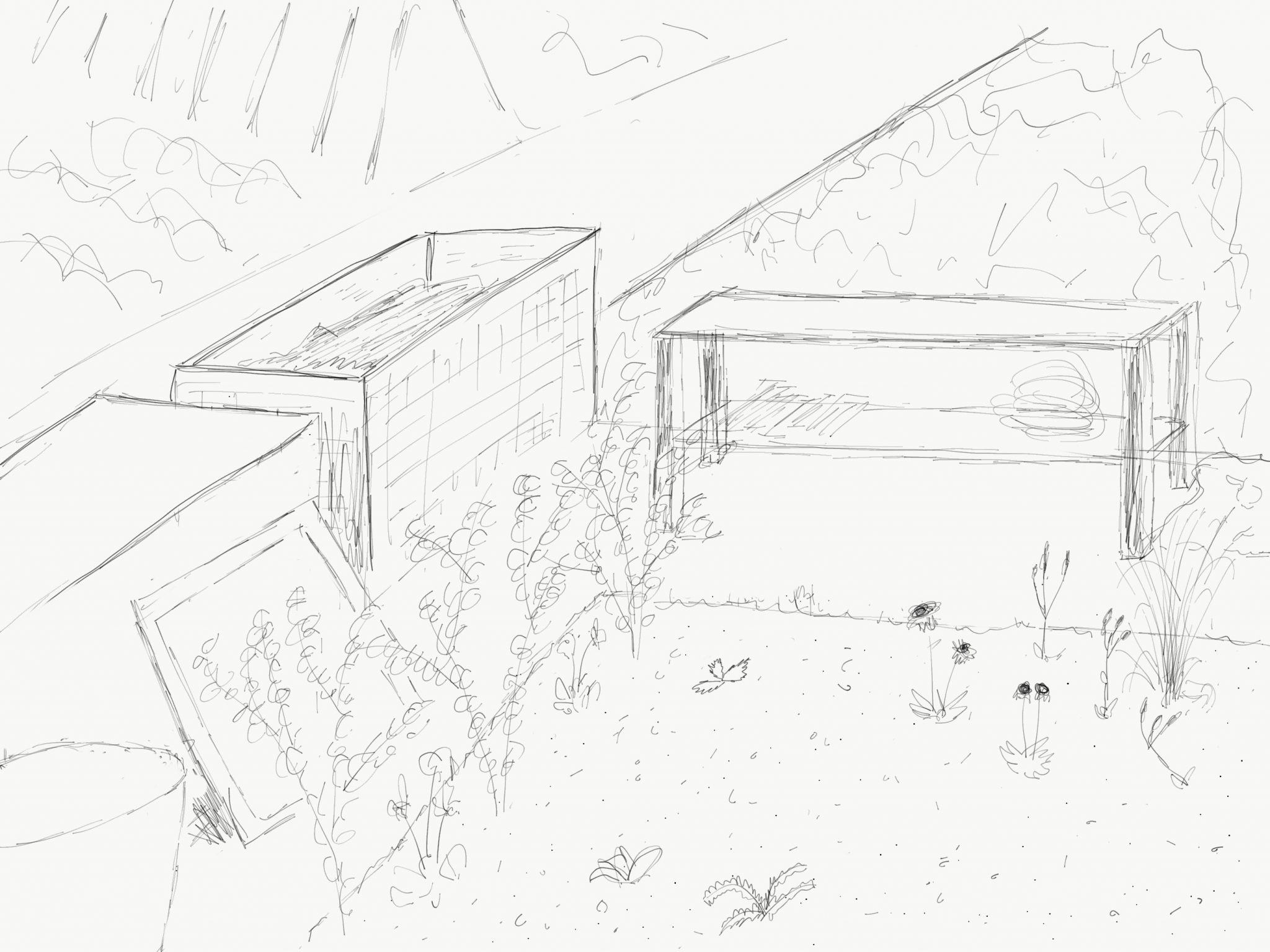 At home I am also growing a cutting of Monarda didyma 'Cambridge Scarlet' a beautiful scarlet flower I've grown since our garden was first planted. It spreads so freely and vigorously, as mint does; I'm dying to let it loose. The pot contains two shoots now but by the time warmer weather arrives it will be full. Grasses too will play a role and I've sown seeds of Deschampsia cespitosa 'Goldtau' from the plants in our garden. Miscanthus sinensis 'Morning Light' I've had at home in a pot which I've planted in the future meadow. Eryngium giganteum that was growing on our patio in a small pot has already been planted into its place.
Despite there being no design, I am carefully adding the plants like they are a piece of a puzzle that I'm trying to work out. Rudbeckia fulgida var. sullivantii 'Goldsturm' is a plant I've long admired but not had the chance to plant due to its extreme yellowness being too brash for most and yellow not being pink, so it can't go into our neon pink jungle at home. I ordered three plug plants which I carefully transferred into the ground spacing them randomly away from each other for some kind of ad hoc repetition. I might need to move them in spring.
As I'm writing it's becoming obvious these colours are strong but not wrong. Joining the soft coloured but spiky Eryngium are some Verbena hastata 'Pink Spires', leftovers from those I grew from seed this spring for a client. Still in their tiny pots they're really quite stunted but next year they'll rise in stature as the roots wind their way through the soil in winter. Allium christophii bulbs sit beneath all of these. Other plants I've added here and there to be discussed next time.
One year from now these barely visible plants will have filled all of the soil. Now however they are retreating into the ground so my job for this season is to keep their competition, the weeds, at bay. As I do, adjacent to this newly planted planting pocket is a couple of metres of plant filled pandemonium. My cut flower bed, consisting largely of hardy annuals, has been very happy. So happy the plants from three years ago have kept self seeding prolifically. Nigella, Centaurea, Daucus, possibly Ammi. Rather than remove, I'm letting them join the maelstrom, why not.
All of these plants are small and they're dying back or hunkering down in the coldening days. My soil is light and I can imagine beneath that soil line the roots of these plants are happily pushing their way through. Little pebbles fill this soil and I like to pick them up and form pebble circles around the smallest of plants to help me remember where they are with each visit. I've learnt the hard way that my memory's power doesn't extend to remembering where every single plant is.
Echinacea purpurea 'Fatal Attraction' is my favourite daisy. It is also the daisy I appropriately manage to kill the most, having bought four in as many years and watched them wither away in our garden. I have three new plants, taking the potential toll to seven. This time, in this future meadow, I'm hoping the deep sandier soil and the full sun might prove to keep them alive. If it's the final shot at growing this favourite of mine, I'm not sure. I remain hopeful.
Over this season I will keep monitoring and weeding, waiting for the first signs of life pushing up to signify the start of something exciting and new and unpredictable. Whether adding plants at random into a mixed meadow will lead to beauty or disorder we'll have to find out.
Jack
Be notified of updates about the future meadow…
[email-subscribers namefield="YES" desc="" group="Public"]