Our parks, streets and town centres used to be filled with displays of annual flowers, but as council budgets have been slashed over the years, annual displays largely vanished. Environmental impact of throwaway plants isn't exactly great, so in a way, this is a good thing. But street plantings are back! Reincarnated as low maintenance, long term perennial plantings.
As a landscape designer, I am far more excited about permanent street plantings than I am temporary show gardens these days. I've always loved designing front gardens because the whole world can enjoy them, and other designers are taking to the streets too. Nigel Dunnett, Piet Oudolf, James Hitchmough, Sarah Price and Dan Pearson have led the way with high profile street planting around the world.
Street planting is the show garden of our age; sustainable, large scale and long-term. Everyone can enjoy them for free and they're often good for wildlife. Wildlife value I hope we'll see increase as a prime consideration for such plantings.
And for us passers by, there is plenty to learn as well as admire. Move over Chelsea, the designers are taking to the streets!
1) Managing unpredictable weather systems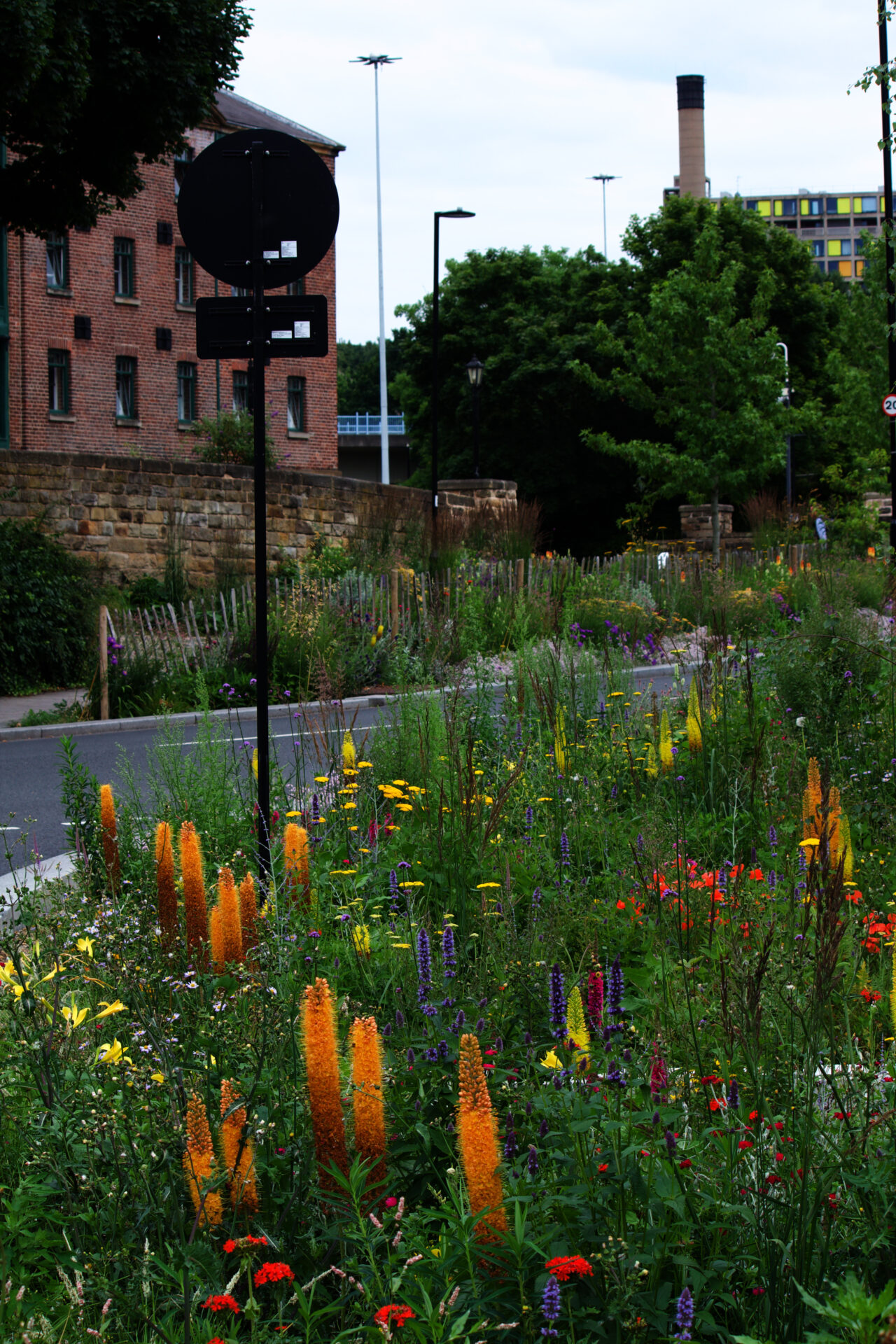 In Sheffield, Nigel Dunnett, Zac Tudor, Sheffield City Council and Robert Bray Associates, with Green Estate Ltd maintaining, have designed an impressively large scale, colourful design on streets that were previously only tarmac road. Not only colourful, the plantings have channels from the roads and pavements leading into the sunken planting areas to deal with excess water runoff. This reduces the amount going into storm drains, reducing risks of flooding. Plants are chosen for their ability to survive drought and temporary soaking. It's a technique I've seen on an even larger scale in Los Angeles, California: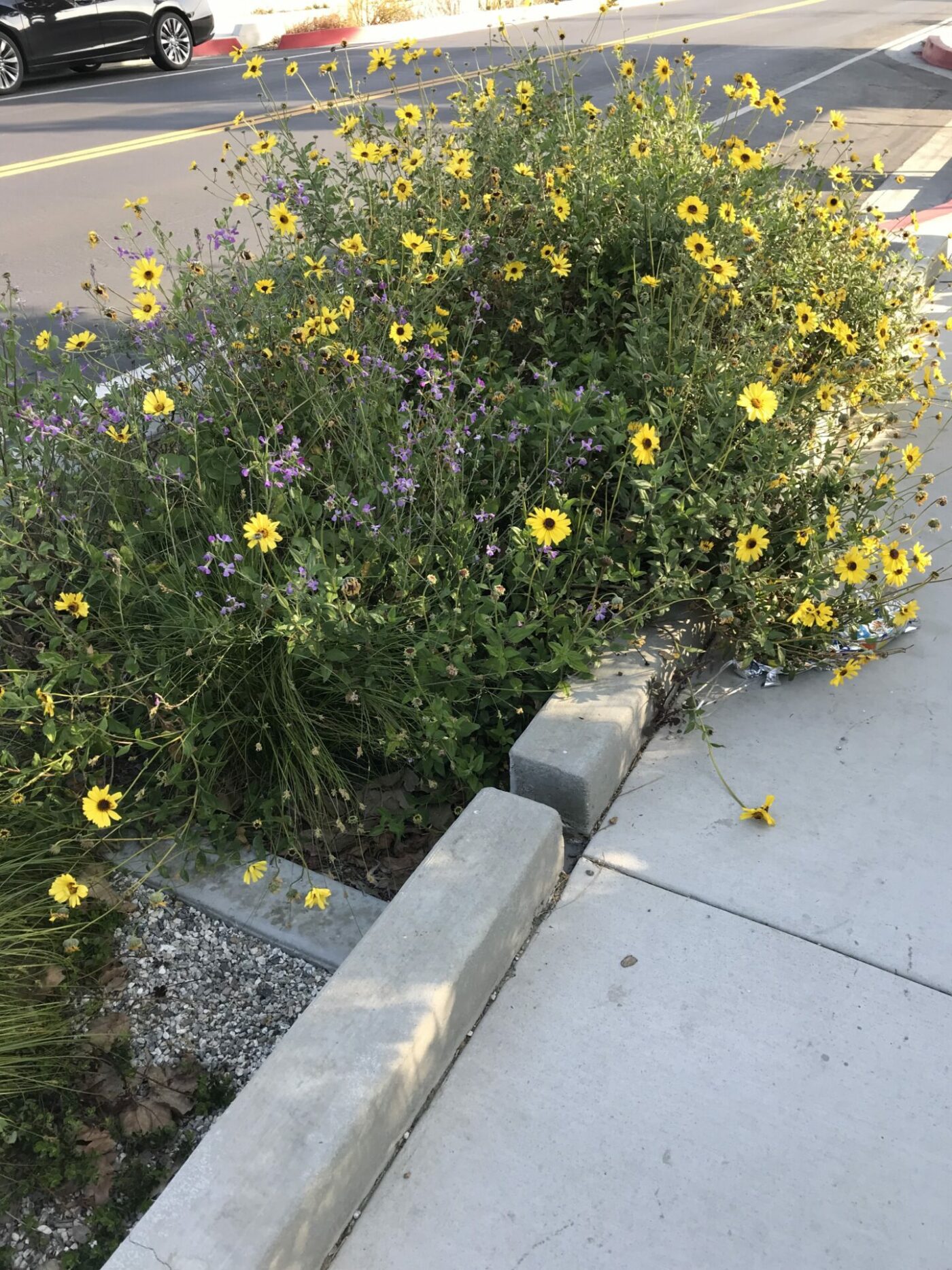 2) Layered planting for successional colour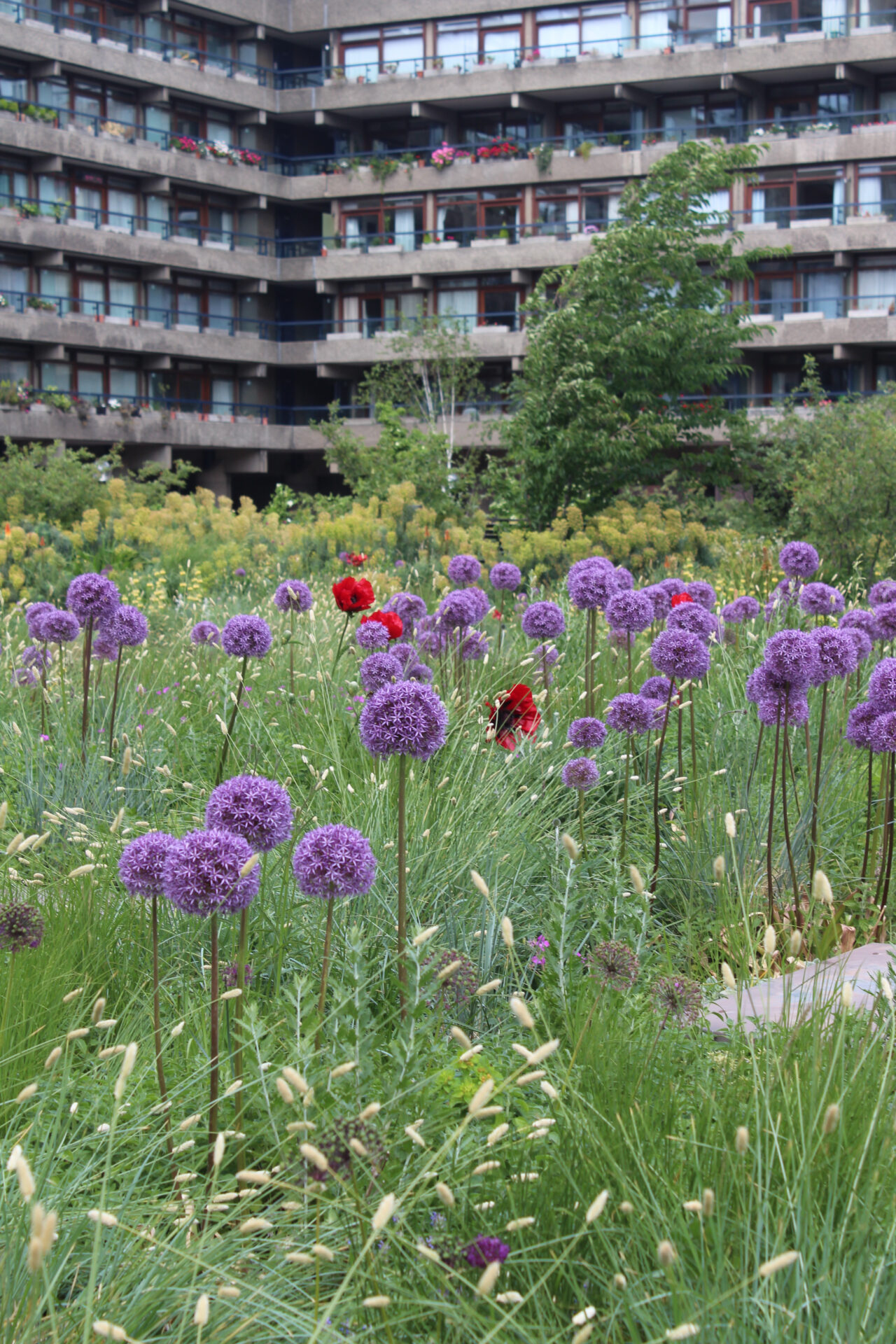 One of the keys to nature led street plantings is the use of layers of plants that flower or do something interesting at different times of the year. Above in the Barbican, Nigel Dunnett has used evergreen Euphorbias and grasses for year round structure, before dotting lots of plants that flower at different times among them. Such as the huge swathes of reliably perennial purple alliums, which flower briefly in late-spring to early-summer, before other flowers take over. Though of course allium seed heads look beautiful long after they've flowered thanks to their structure. Avoid non-perennial bulbs like most showy tulips as they'll need replanting, which equals more maintenance.
3) Use low maintenance plants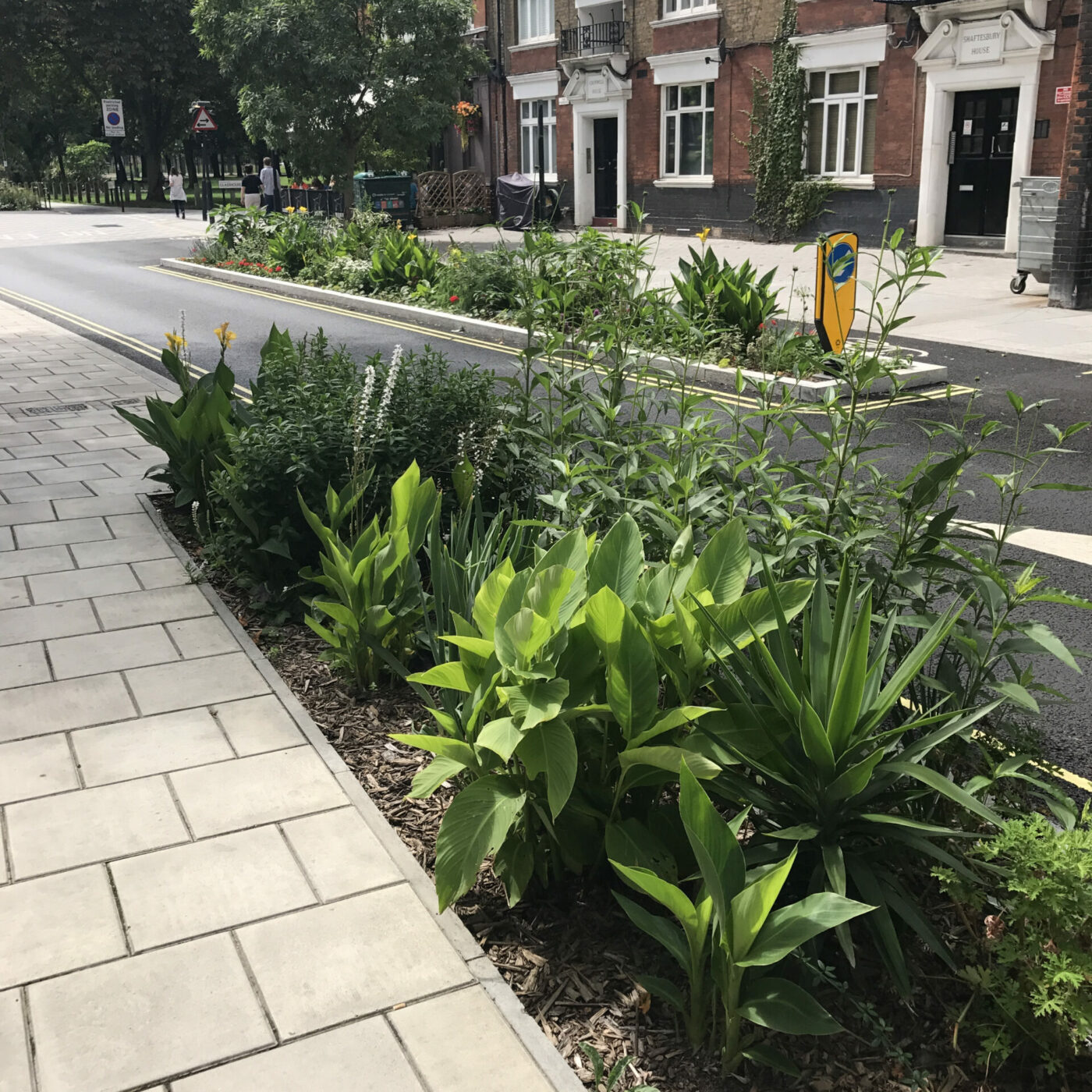 Thanks to a surge in plant information in recent years from key books and online, the lists of tough low-maintenance plants is now far larger than the old-school car park shrubs. Above, Andy of Shanks Pony nursery in Vauxhall, has used large, vigorous tropical look plants to bring exotic green and bright flowers to an otherwise regular street. The plants give the street real character but need very little care. Key is to choose plants that can tolerate wind without needing support and that need no fertilising, and little if no additional watering. If a plant needs these things, it's out.
4) Au naturale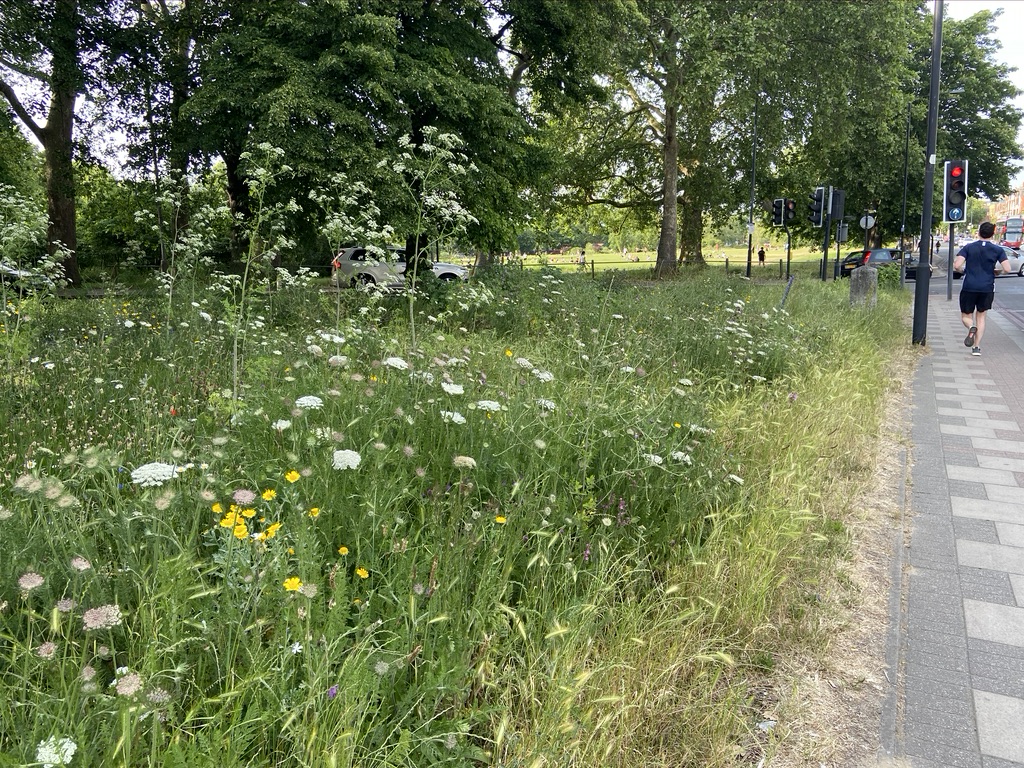 One of the best kinds of street planting for wildlife and the environment is to let nature do what it does best and simply leave what's there to grow, or introduce seeds from other local plants. Treating large areas of parks and verges in urban areas to grow as a meadow works really well. These aren't maintenance free because they must be cut down in mid to late summer, with all clippings removed. They will also need to be weeded in the same way as other plantings to ensure overly competitive plants don't dominate – making them the same maintenance as any low-maintenance planting. I love the natural look above because I think it brings a feeling of peace and calm to urban areas, and seeing wildlife is fascinating. You can always augment them with a few clever additions such early spring bulbs that flower before the meadow plants start growing. Bulbs such as daffodils and fritillaria. This is closest to the kind of planting I specialise in. To me, it's essential that natural verges like this – which has been improved and managed – are not destroyed for other planting. Ornamental planting should only happen where nature is already totally absent (e.g. replacing concrete) or in existing planting areas.
5) Sound frameworks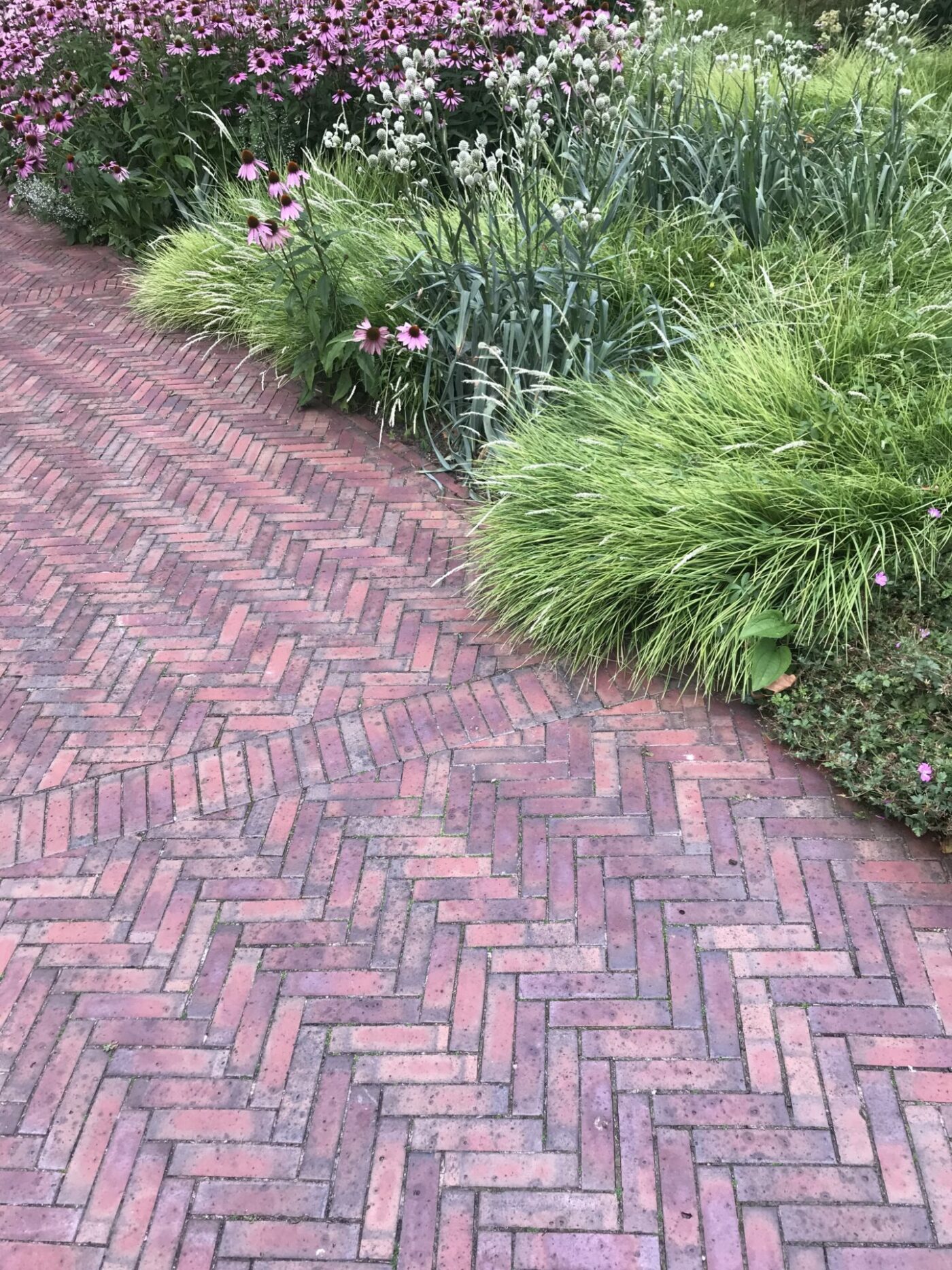 Piet Oudolf's planting at Potters Field Park in London works well because of the solid walkways through and around the large planting areas. Making sure the hard landscaping is installed really well at the start makes sure fewer plants grow in cracks, which can damage the paving in the long term and trip people up (although it can look good too – on my patio I'm encouraging plants to grow in cracks, but it's not ideal for street walkways).
6) A place to enjoy it all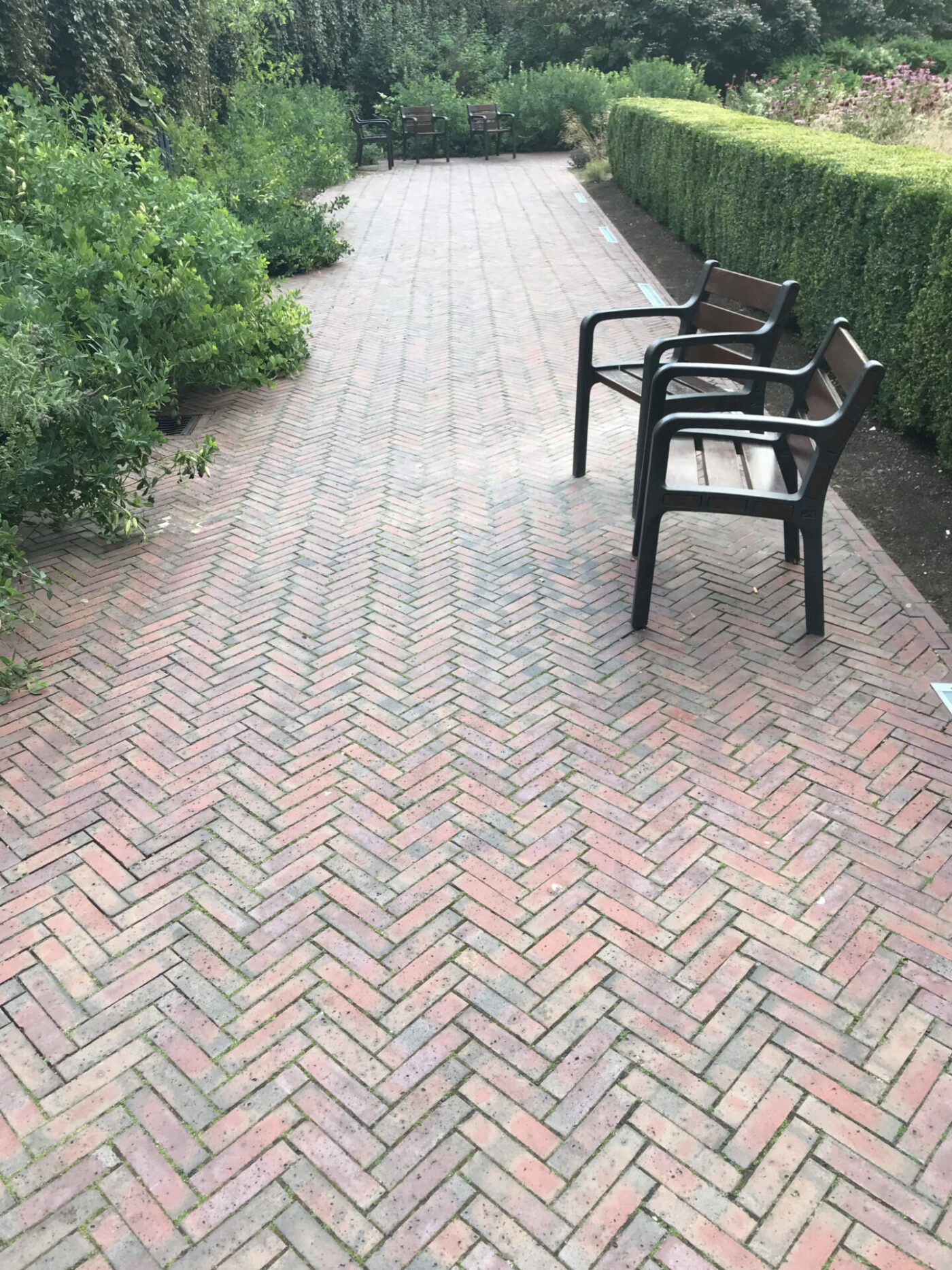 Well positioned seats to admire the planting, and to lose yourself in, makes the best use of the space, encouraging you to slow down and take it all in. These seats are stylish and fixed in place to prevent them being stolen.
7) Colour wins hearts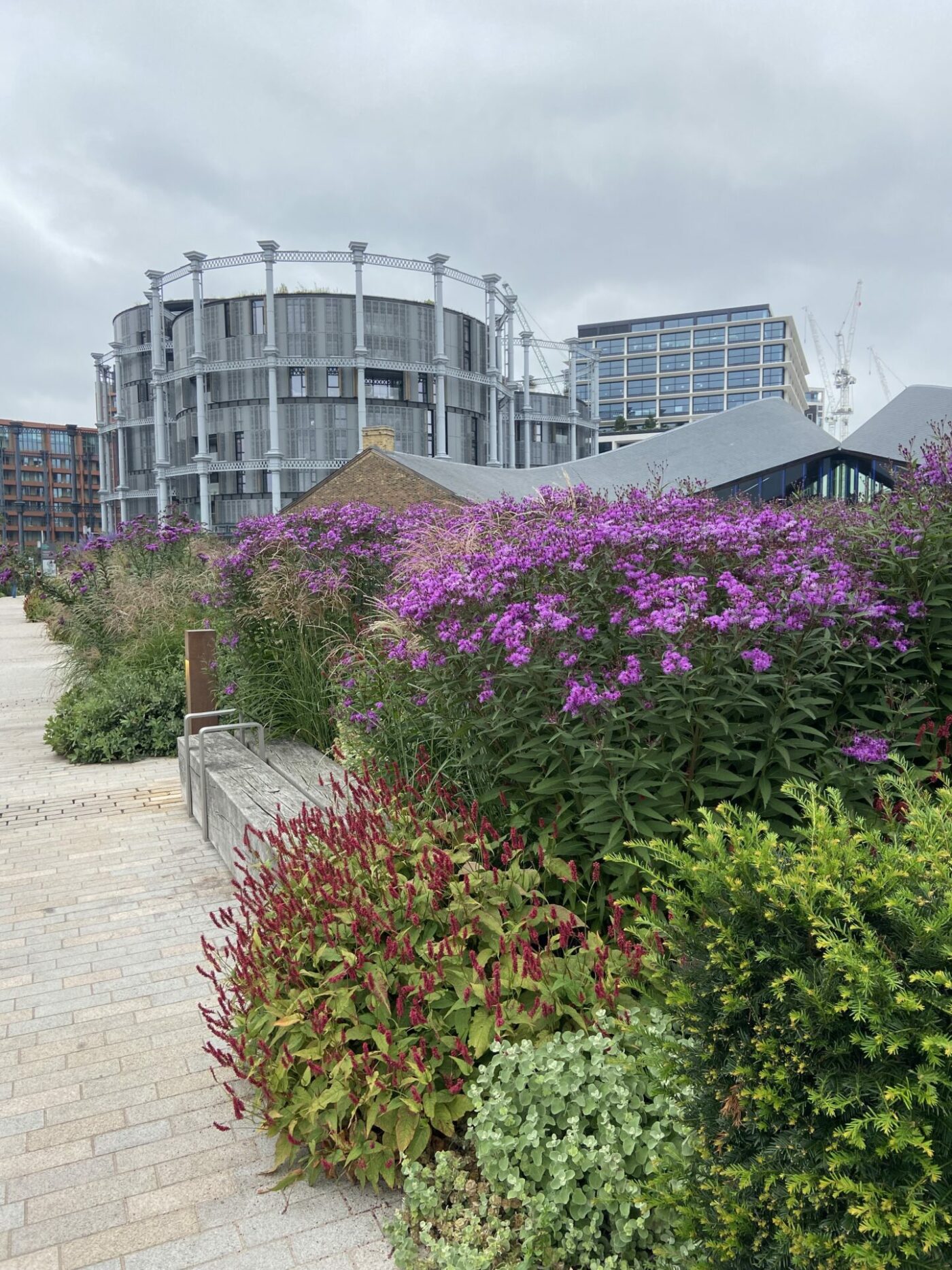 As an observation from visiting lots of street plantings and gardens, most people enjoy seeing splashes of colour, something clever shrub and perennial choice will ensure. Above is the Dan Pearson Studio planting at King's Cross' Coal Drops Yard. Here unusual plant choices, such as towering purple Vernonia, catch peoples' eyes as something they're unlikely to have seen before.
What do you think of street plantings? Have you a good one near you?
For more timely tips, join my monthly Wild Way Newsletter and help support more free articles by doing so.