Taking on an allotment for the first time is exciting and scary. I know because I've just done it – I've had my first allotment for a year and guess what, it was fine 🙂 Yours will be too. Below are some of my tips for allotment newbies to help speed you on your way to fruit and veg success!
This article was first published in December 2016 and I now have seven additional years allotment experience to share, if you're in need of extra help, join my newsletter and community, or ask a question in the comments below.
1) Spend ages planning the layout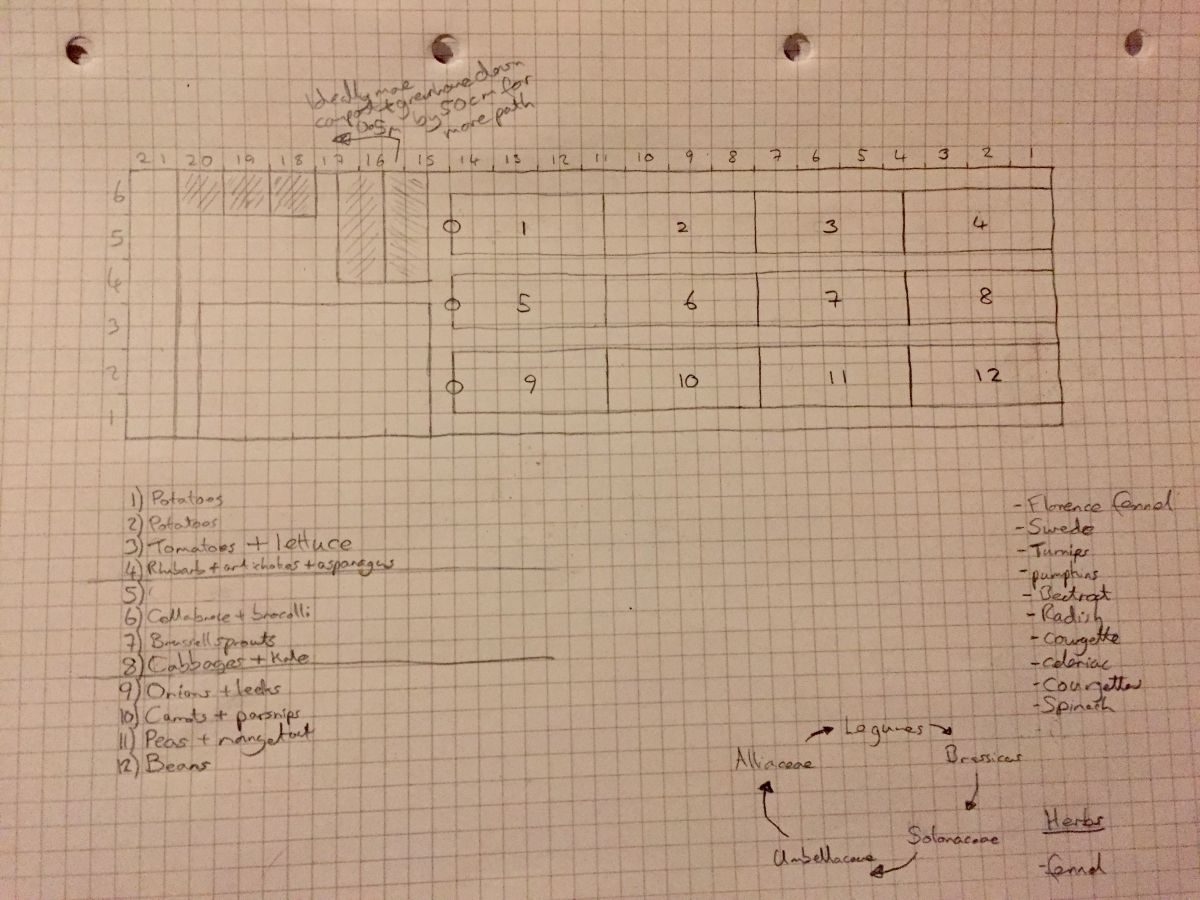 I excitedly drew my allotment on paper but on reflection and discussing it with more experienced allotmenteers, I changed it to the one above. Thankful I hadn't planted anything already. It pays to spend as long as possible planning the layout, thinking about how you'll use it practically across the year. E.g. My first plan had 7 small beds for good crop rotation. But this wasted some space and created more paths than necessary which would be a pain weaving in and out with a wheelbarrow. Instead I created three long beds and paths right the way across.
2) Wonders of weeding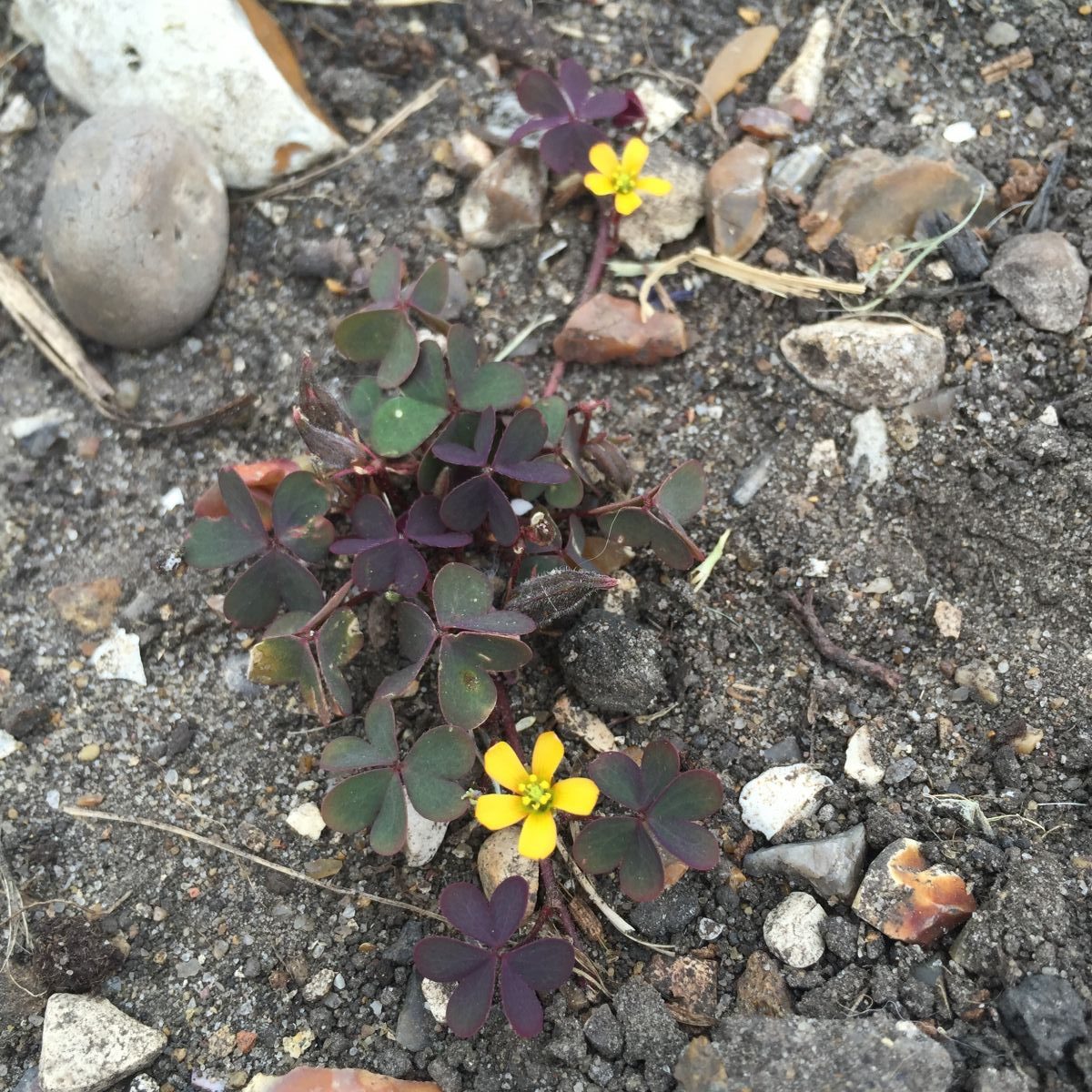 In my first winter I got down on my knees and hand weeded the entire plot. It's more enjoyable than it sounds and it's paid off big time for two reasons. 1) using a fork to loosen soil and then a handfork to get the weeds out meant their roots were out properly so I barely had any weeds there for the rest of the year 2) I learnt to love the wonderful plants that weeds are, and I recognise them all – knowing the plants you don't want on the allotment as much as the ones you do is important. In future you'll know what's a weed seedling and what's not, you'll also know which to worry about and which to go "meh whatever" to. (I've since written this book about weeds!)
3) Perennial produce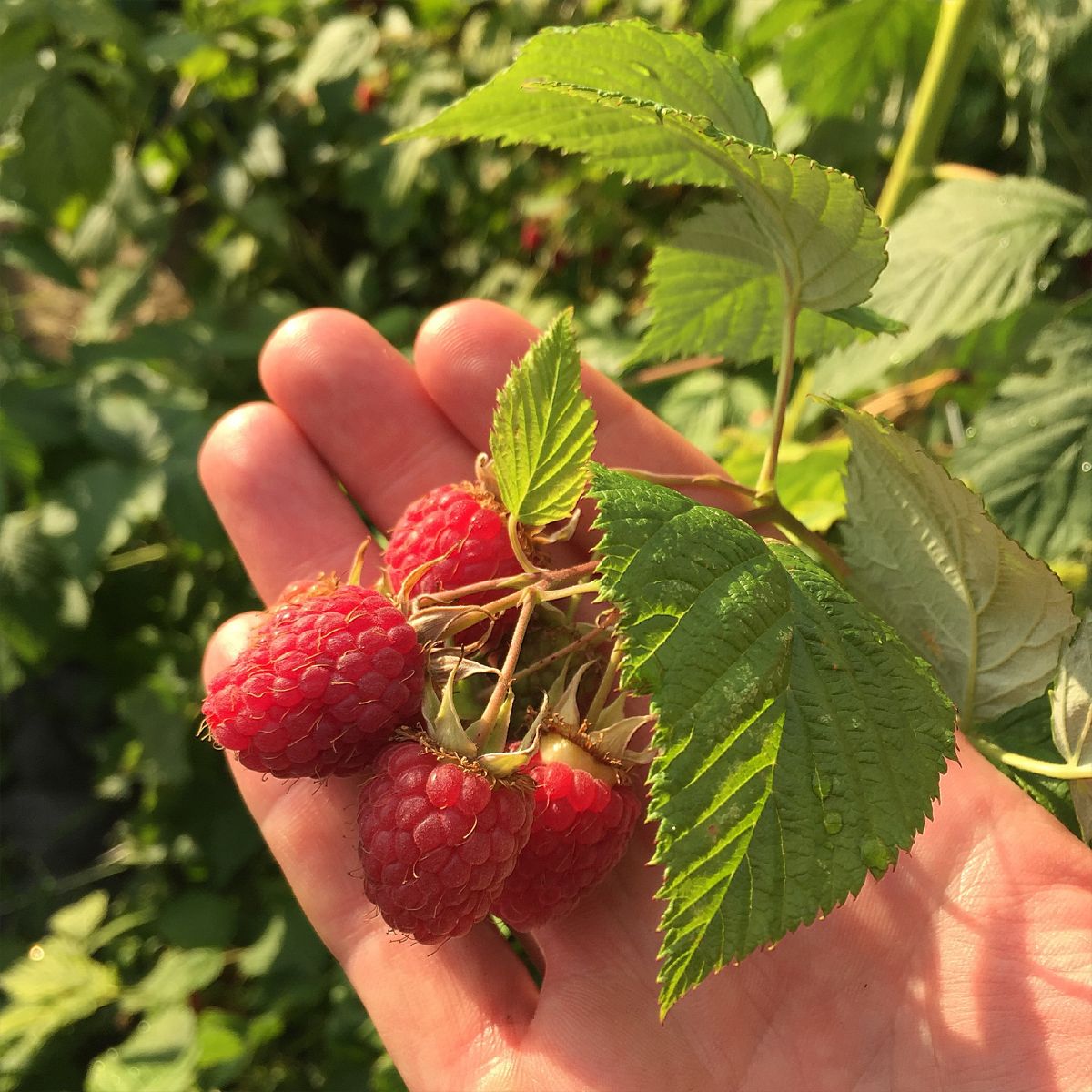 Busy busy. Our lives are busy. I don't live near my allotment so can only visit once a week really, twice if I'm lucky. From the outset I was looking at ways to minimise workload and maximise food output. Perennial plants that don't need to be grown from seed every year really help. E.g. super dwarf Apple trees on M27 rootstock (they have to be small to not anger neighbour allotment holders), Asparagus (they take up quite a bit of space but are expensive in shops and last for decades), Artichokes, Raspberries, Rhubarb, herbs like Rosemary etc. They still need maintenance, but you're not repotting and digging.
4) Organic aims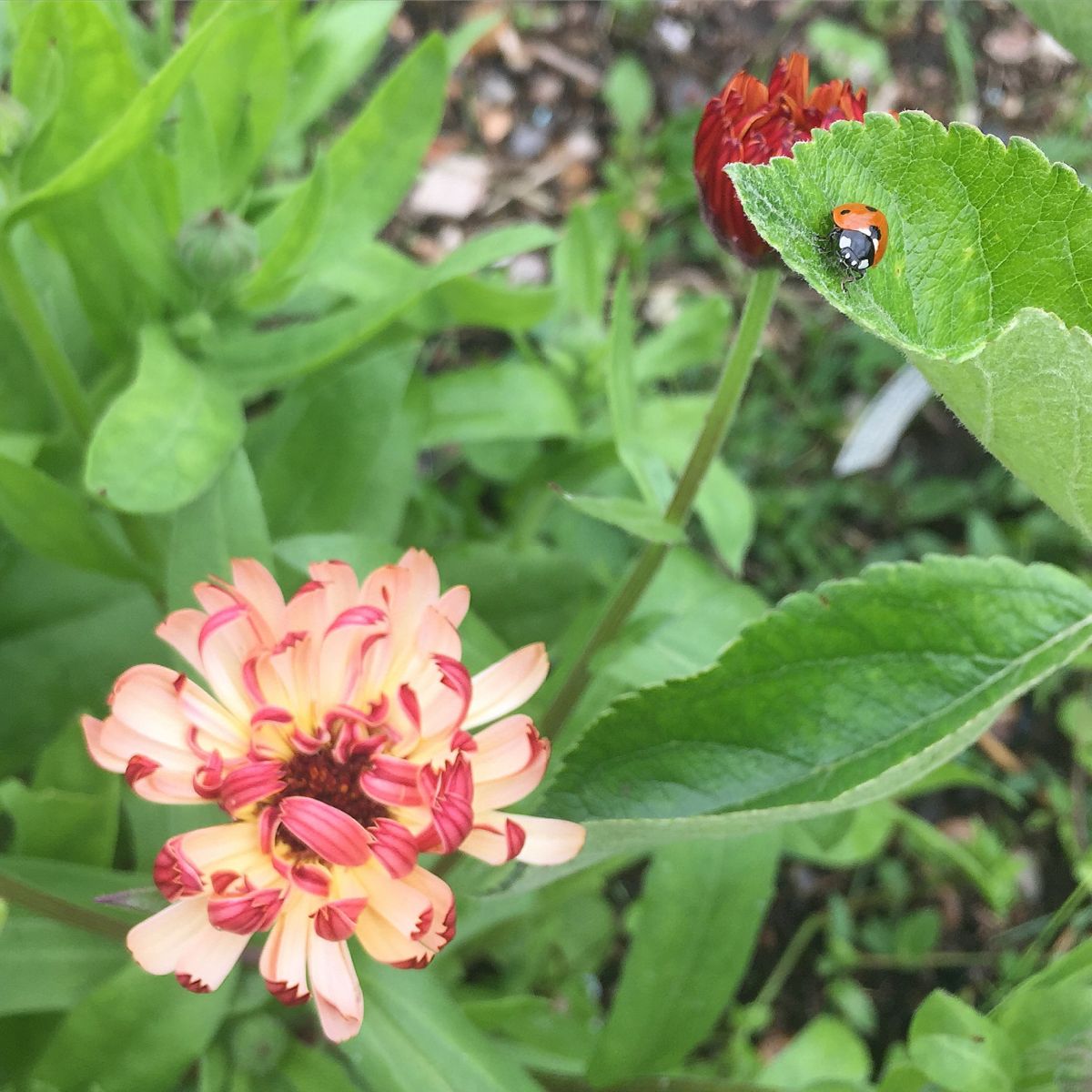 While I'm not an organic gardening preacher, I do advocate striving for organic practices and using chemicals only as a very last resort. This is really just common sense because 1) chemicals are generally unnecessary and expensive – you don't need them 2) I really want my veg and fruit to be as pure and natural as they can be when grown in a polluted mega city like London 3) I respect nature too much and don't want to cause an imbalance in the ecosystem within my allotment (which in the long run balances out the problems itself). Personally, I don't use chemicals when gardening at all so I'm confident my produce is organically grown. I never, ever use pesticide.
5) Get rid of old equipment and plants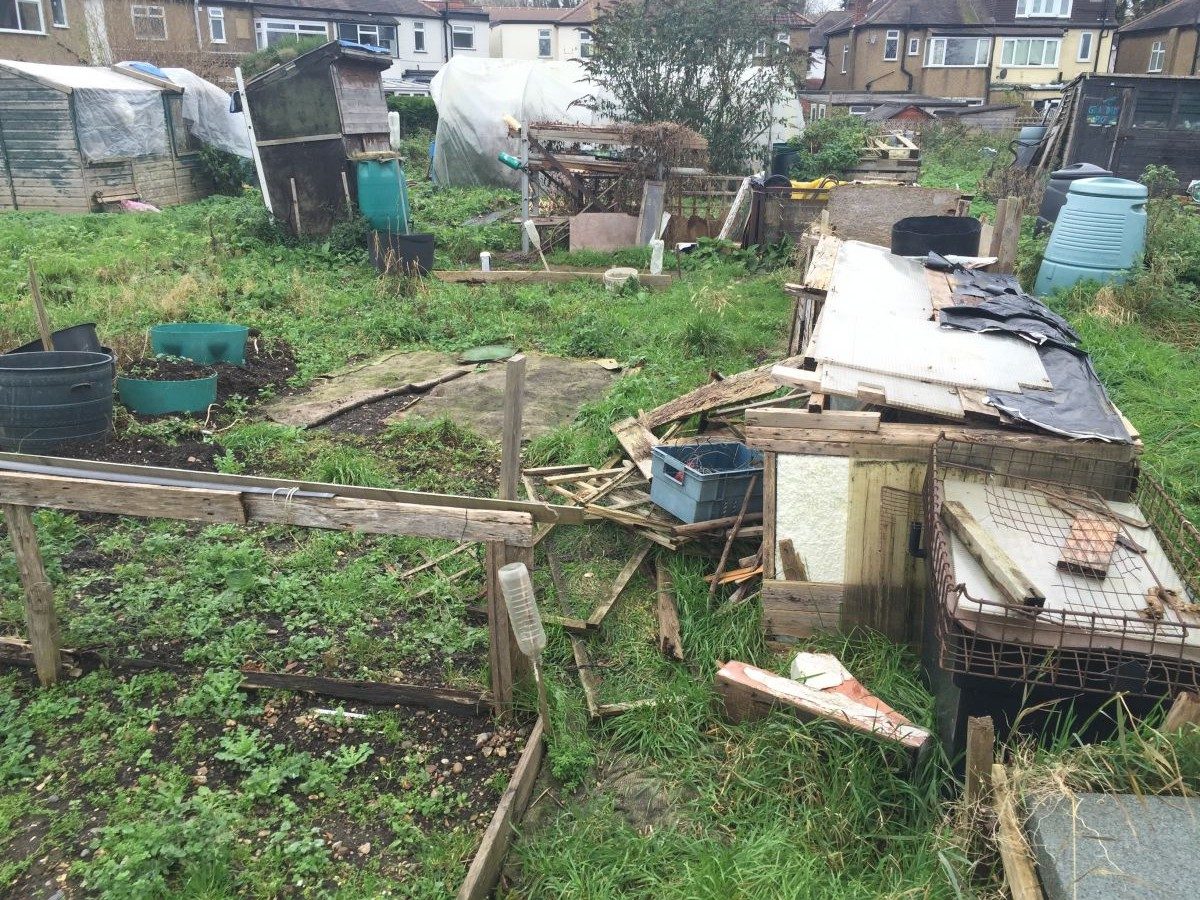 When I arrived on my plot (above) there was loads of equipment which was cool… Not. At first I thought this would all prove useful and how handy to have all of this stuff. So wrong. For one, most of it was broken, it's also largely unnecessary (see the next point!) If your plot is full of equipment, give it a once over to check for any golden nuggets but otherwise, take it to the tip immediately. Get it out of there and release your land for a clean start! I've been unlucky and have 3×3 m of metal junk that couldn't be burnt on site. I still don't know how to get rid of it (without a car of my own). Oh yeah, get rid of the plants too. It's better to know exactly what plants you have. So although I had rhubarb and raspberries on my plot, I'd rather know what variety they are. My advice? Get rid, start again.
6) You don't need that much equipment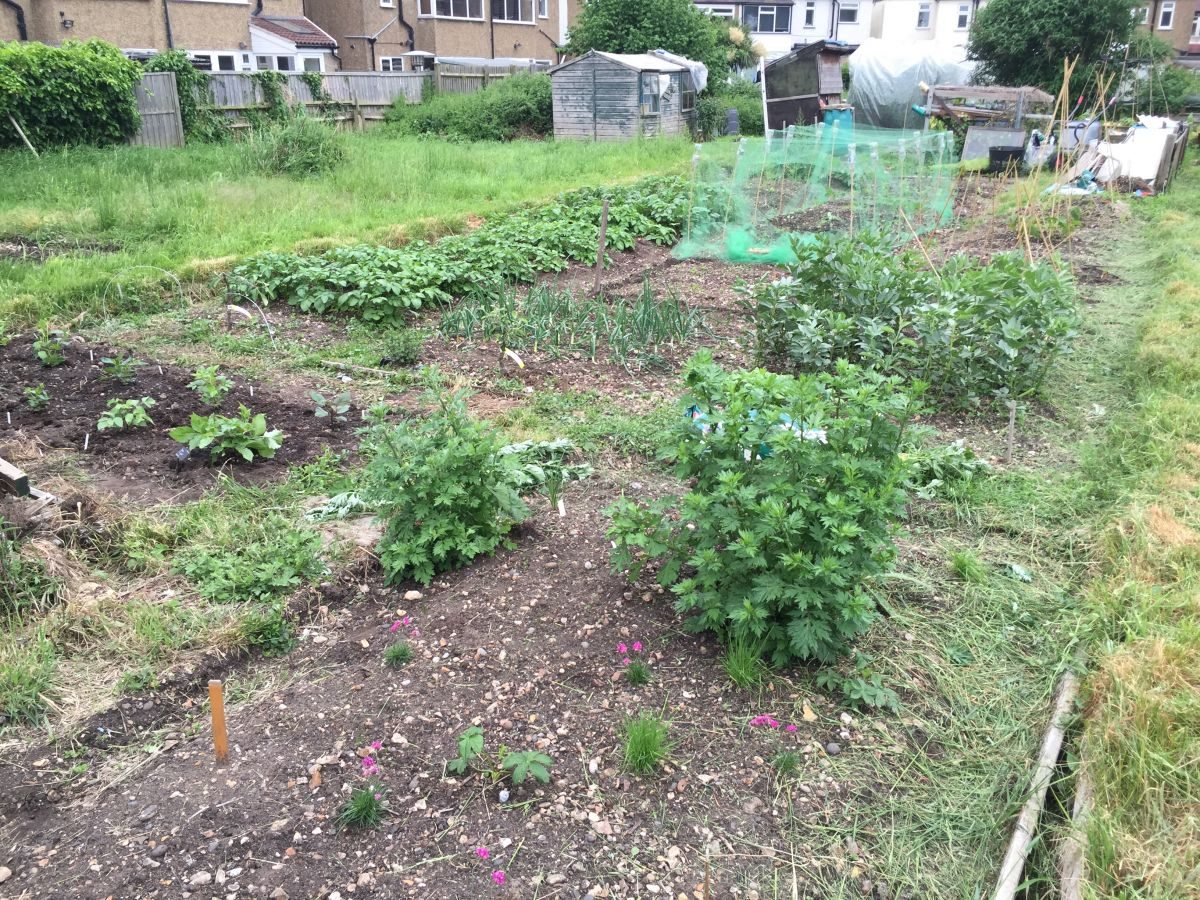 I thought I would need loads of tools and a greenhouse to grow all of my plants. In reality my allotment is now bare of all equipment except a tiny shed and I only ever really use a fork, spade, hoe, secateurs, hand trowel and hand fork. And a good pair of thin gardening gloves. You don't need to grow your plants from seed either, plugs from a nursery make things so much easier. That said, I do grow everything from seed or cutting because I am interested in how plants grow – and I was amazed to fill an entire 125m squared allotment with the seedlings grown only in our little flat's front window. It still amazes me now thinking about it! Gardening can be very space efficient.
7) Be selective about the plants you grow
I spend months choosing the plants I will grow in gardens and that includes my allotment. Winter is exciting because it's about dreaming, planning and yes, shopping! Get that credit card ready people cos it's time for some retail therapy. But don't just go to a nursery and buy whatever is there. Be selective. Have a plan in place for the exact plants you want and only buy those. For example, look for disease resistant seed varieties and F1 cultivars which are generally strong growers due to their hybrid vigour. It's better to have a shopping list for most of the year to buy them all in one go than to waste time and money buying a bit of this and a bit of that. Personally, I only buy from the very best nurseries and suppliers where I can be sure I know exactly what I am buying. It pays off in the end.
8) Let's talk about quantities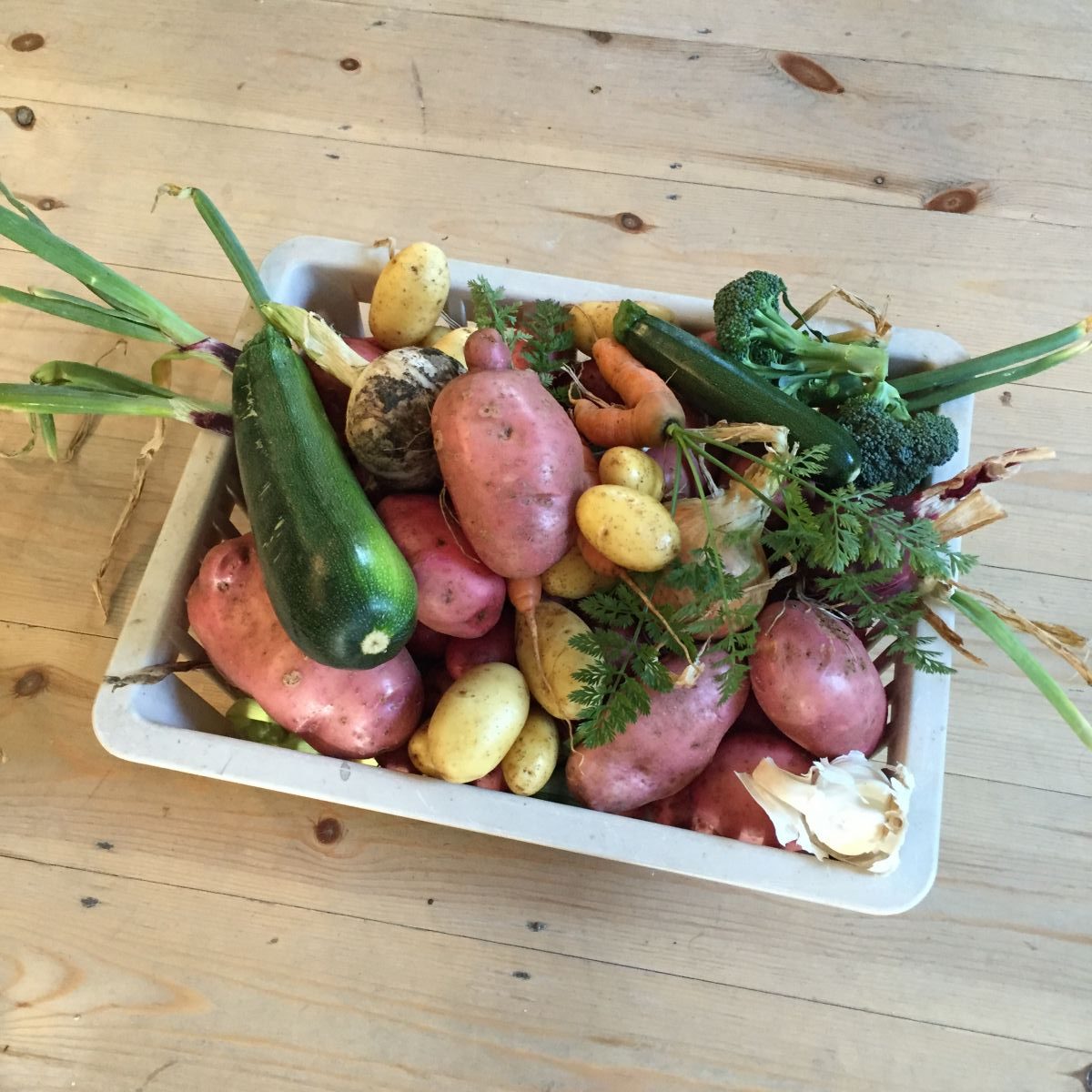 Limit yourself to the number of veg and fruit types you grow. Learn from my mistake! I went crazy and bought tonnes of varieties and types of veg. This created loads of unnecessary work in caring for all the different types of plants and meant we had small quantities of each type. That was fine at the time because I was learning about lots of veg intentionally. Next year however I will limit myself to fewer types of veg and grow much higher quantities of the ones we like. We just didn't have enough carrots for instance and I was lured into growing the trendy purple ones (which are gross). It sounds obvious now but you need far fewer plants and space for those that produce lots of veg on one plant (like French beans), and you need a great number of carrot plants and space when you only have one root per plant.
9) Harvesting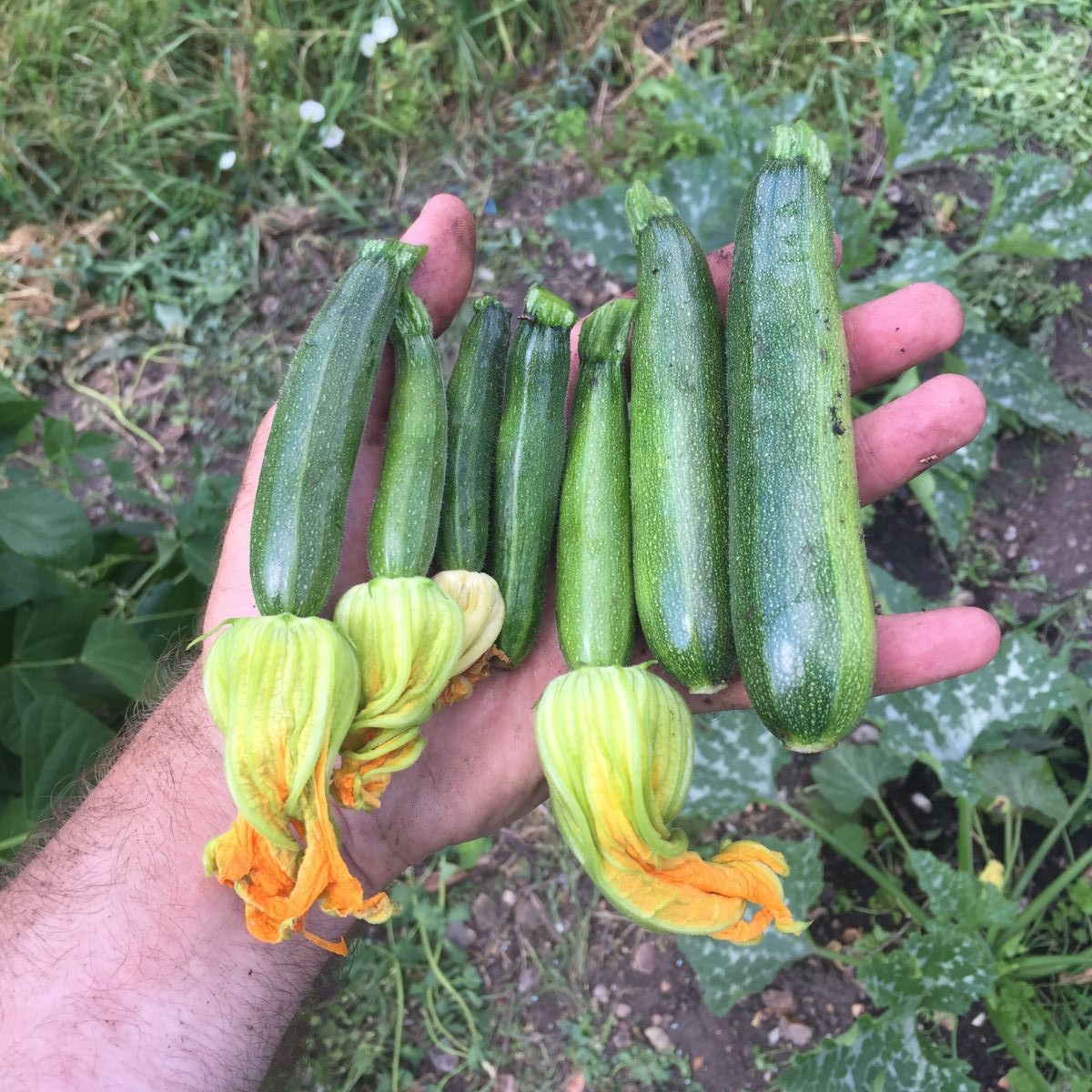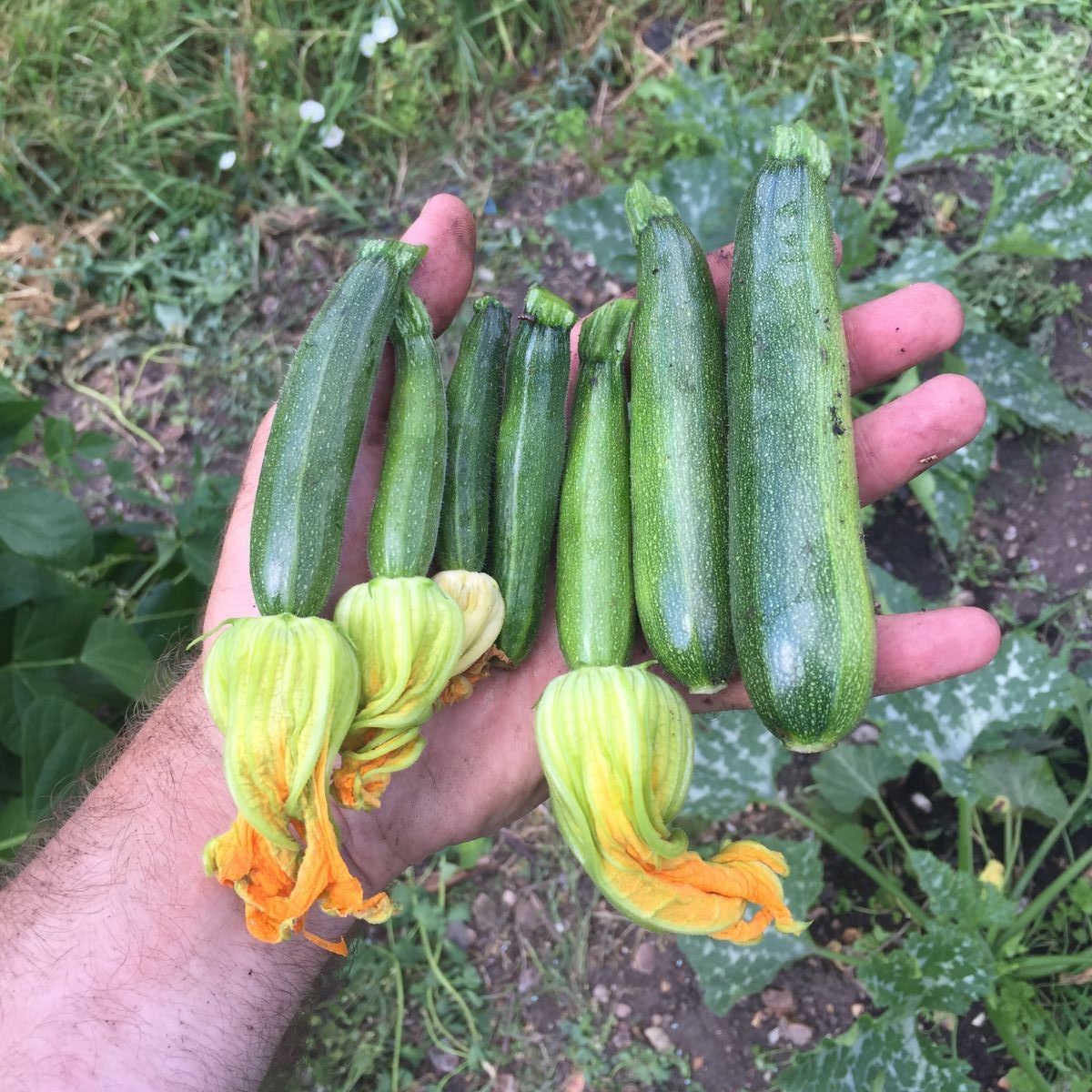 Going into my allotment I was so focussed on the sowing and growing I didn't give enough thought to the picking, storing and cooking. I hadn't appreciated that many vegetables and fruit have a limited 1 – 2 day window when they are perfect for eating – very difficult when I was down there only once or twice a week. In particular raspberries, courgettes, broccoli and beans. On one Saturday they wouldn't be ready, then the following Saturday they'd gone past their best. I'll be hotter this year on predicting the picking days.
10) Keep reading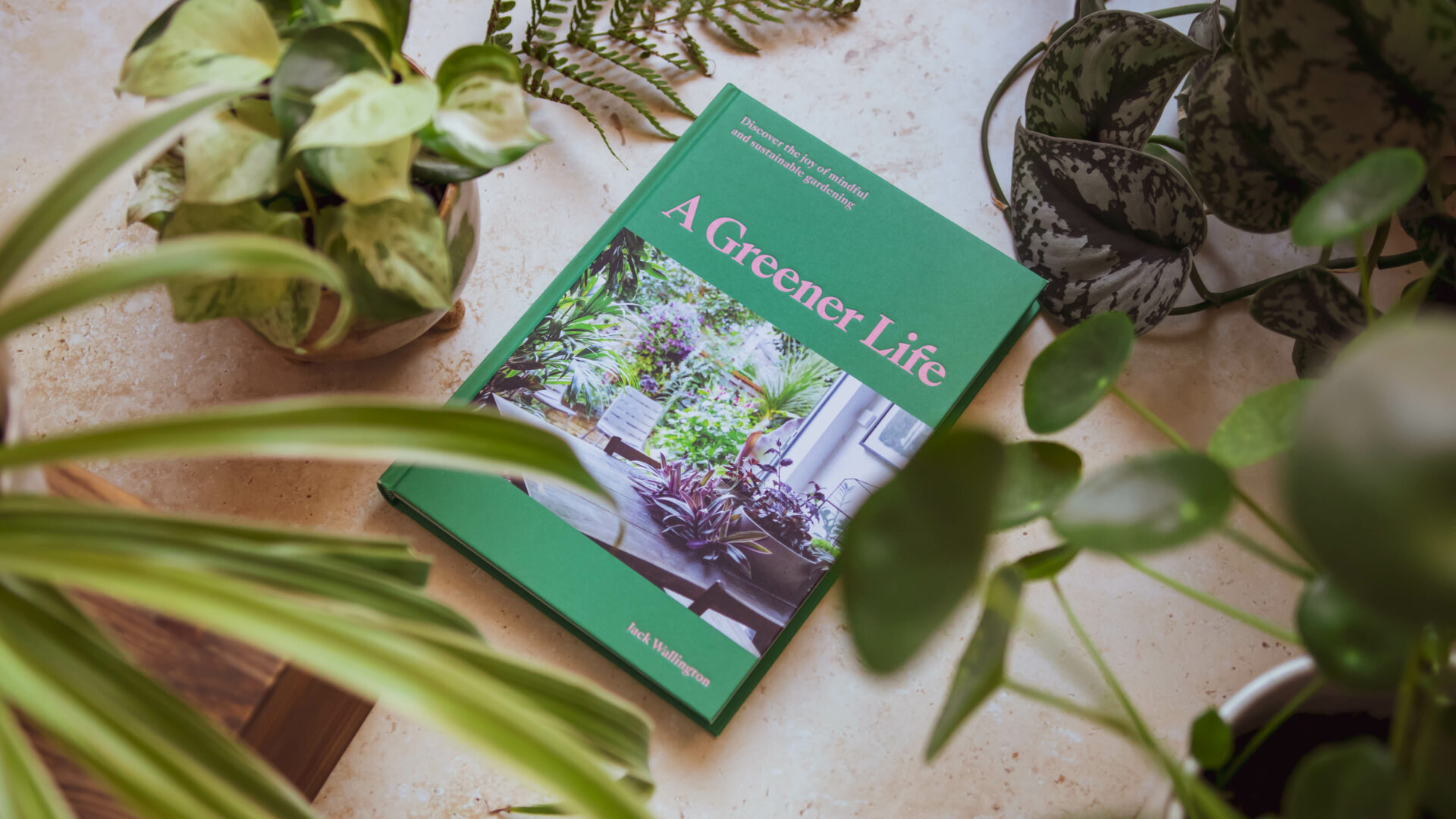 You can just get stuck into gardening without any experience (it's the best way to learn) but reading about gardening is enjoyable and will speed you along to success much faster. We've only got so many seasons on this planet afterall, don't waste one. I was studying RHS Level 2 (the GCSE equivalent horticulture course) which teaches everything you need to know about plant growth and problems. However I learnt a great deal more practical and personal experience from books, magazines, online and TV shows like Gardener's World and Beechgrove Garden. [since writing this article I've now published my own book called A Greener Life which includes all of my favourite vegetables and organic growing techniques.]
11) Think about the seasons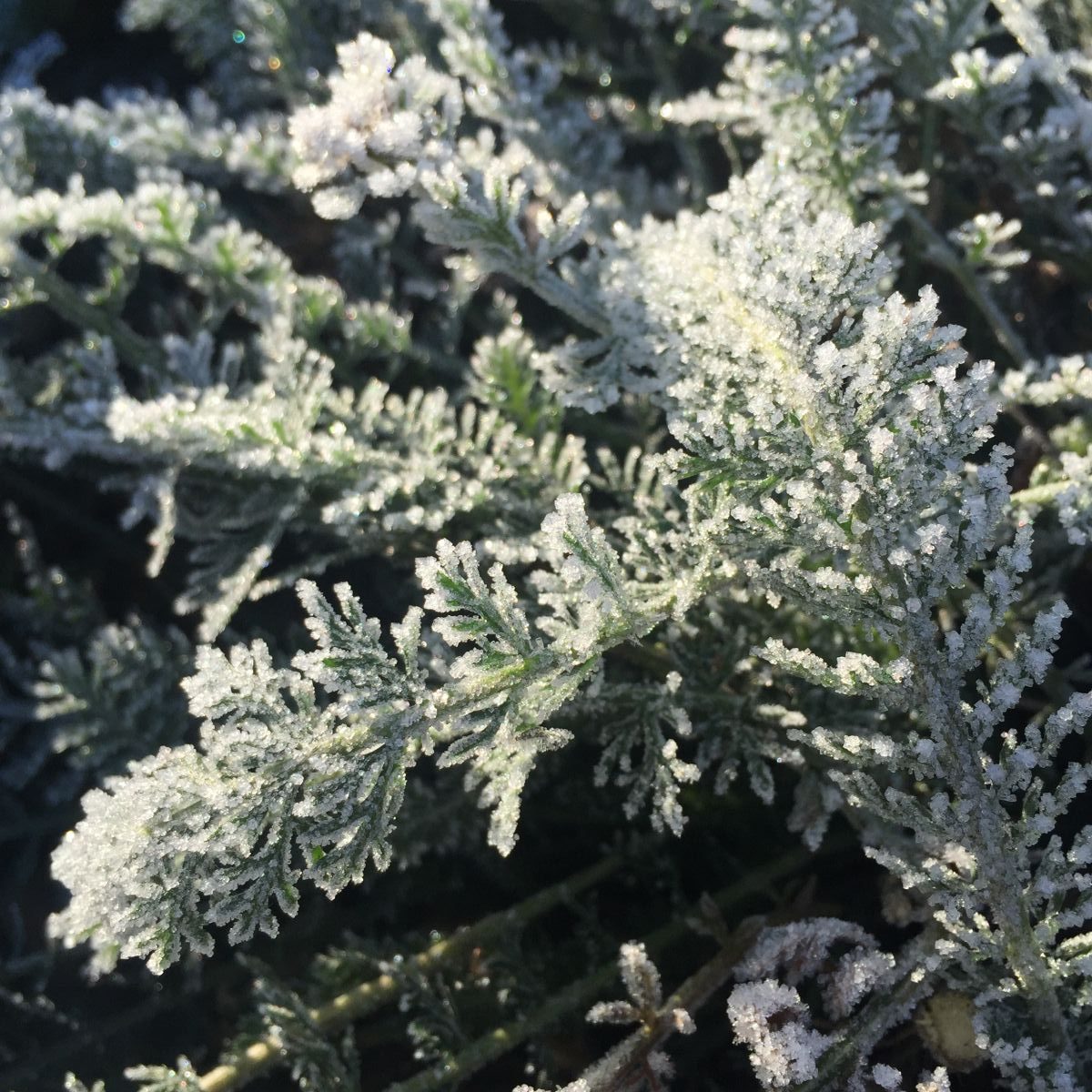 The first thing I was taught by my friend Philippa Gould at my local community garden, Eden in Clapham, is that you can be growing something every month of the year, even in winter. Winter broadbeans, peas and garlic. Most brassicas are planted in early summer but are harvested through winter (like brussels, kale and broccoli). If you are lucky to have a greenhouse you can even keep the salad leaves going into the depths of the dark winter days.
12) At one with the earth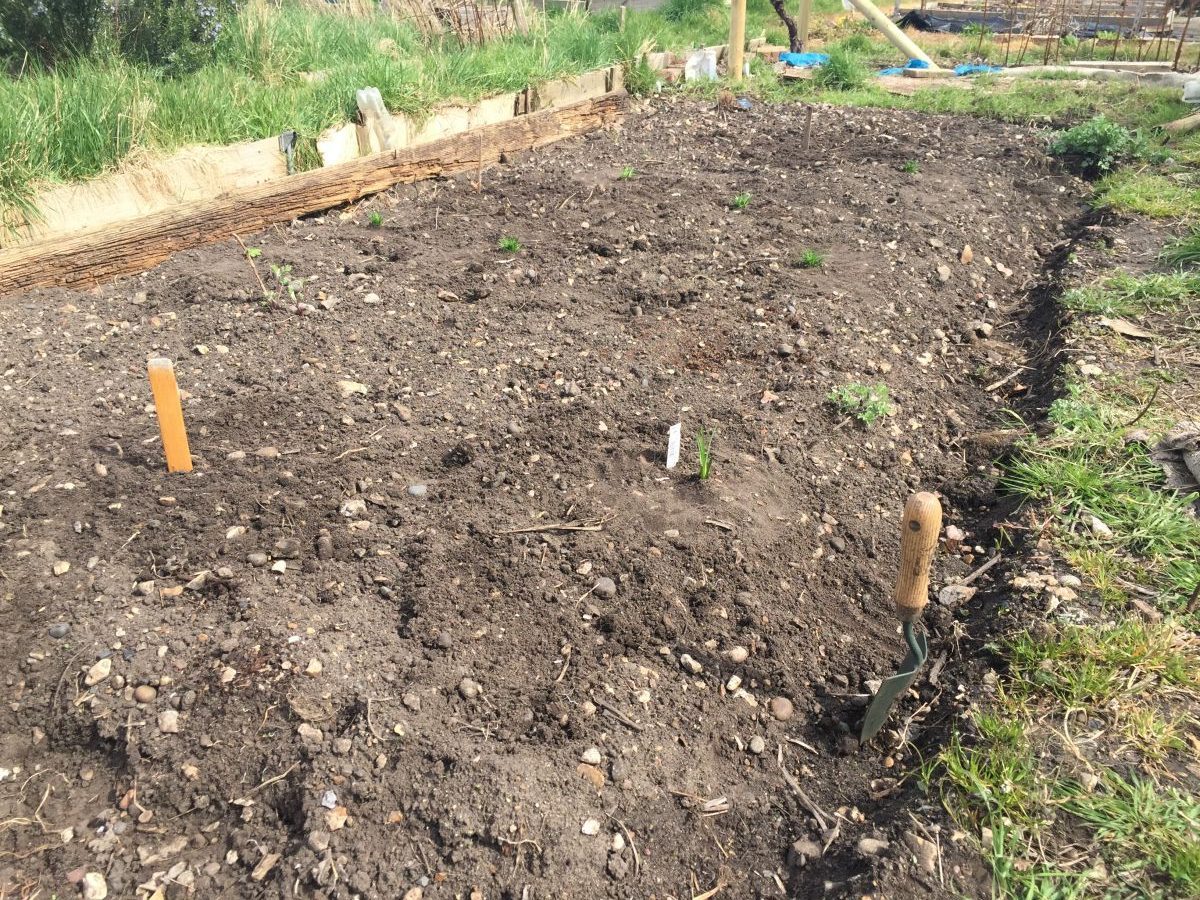 Know and protect your soil. The soil of your allotment is the giant battery that powers all of your plant growth. Understand what it consists of (sand, clay, silt – a mix?), how fertile it is, how freely it drains water, does it have lots of lovely air pockets and a nice uncompacted structure. I don't dig over my allotment because I feel the worms do a good enough job of that. But, to keep things simple for fellow newbies: 1) don't tread on soil you're growing on as it will squash the air pockets out and block root growth 2) replenish its nutrients annually with a thick layer of peat free compost or well rotted manure 3) watch it carefully through the year to understand how it holds water 4) rotate crops every year, never growing the same (except those perennials!) crops in the same place to prevent pest and disease build up.
13) Talk to me
… and to others 🙂 Allotmenteers are a friendly bunch and only too happy to help answer questions. I'm here if you ever need me, ask a question in the community, and there are lots of other grow your own newbies muddling through to make their allotments work. No one knows everything because it's impossible to know everything about plants in one life time. That's the joy. Have fun and good luck!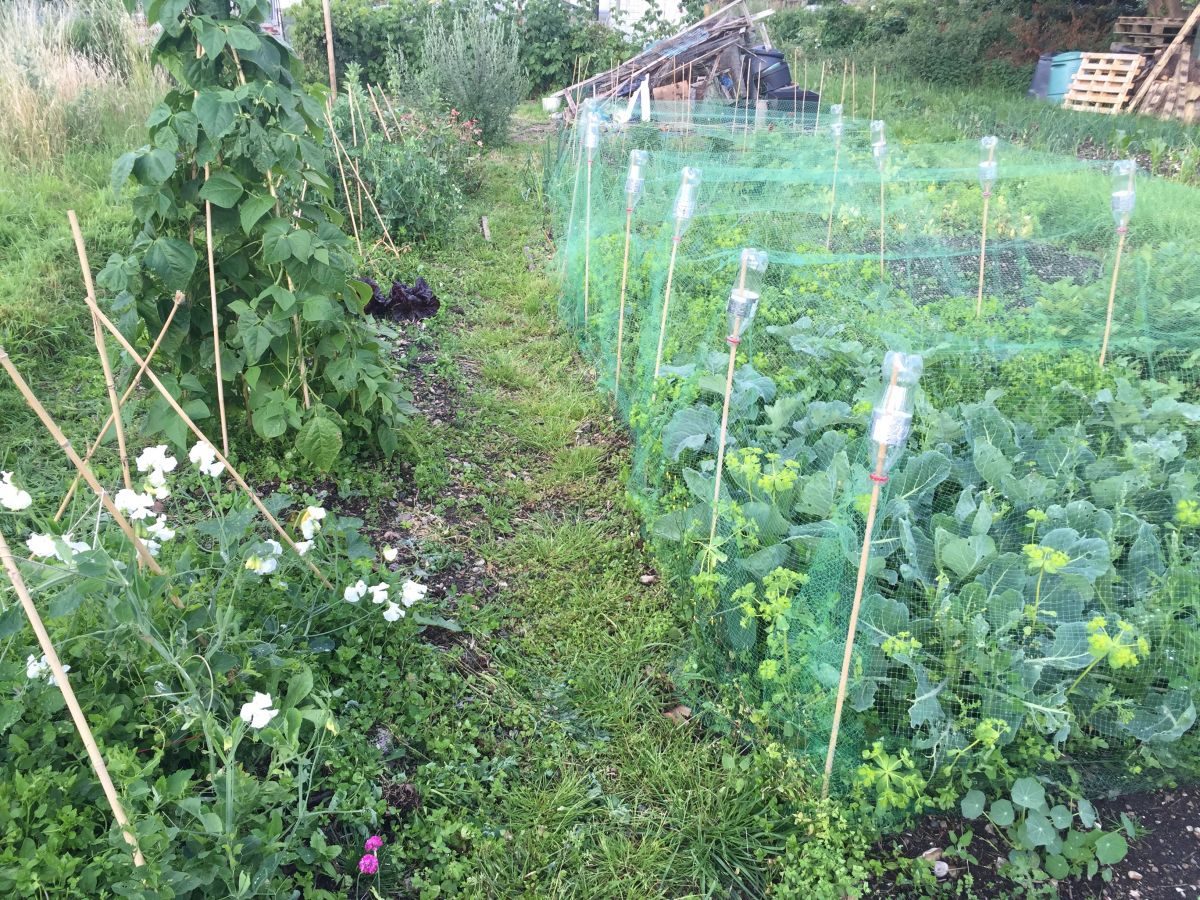 For more timely tips, join my monthly Wild Way Newsletter and help support more free articles by doing so.