The London Garden Bridge is fairly hotly debated. On the face of it, a tree lined bridge sounds pretty cool. It has upset a good number of people though. Why?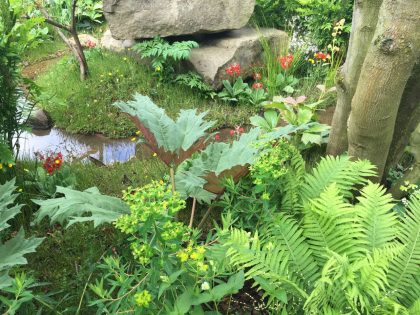 There have been lots of arguments against, mainly due to a large chunk of its funding coming from public money at a time that the horticulture industry has faced huge cuts. Primarily cuts in the care of London parks and cuts in science funding at Kew Gardens – two cuts that I agree are a mistake.
We don't live in a black and white world though, and stopping the funding of the bridge won't divert that money back to where the cuts were made. In a metropolis like London, £120 million is actually small fry, spent every day. Usually on greying Britain rather than greening it. If the green is stopped, the grey will continue going up all over the place, costing billions.
It feels like horticulture is shooting itself in the foot by some being a little shortsighted. To secure more funding in the future, we need to convince people that don't care about horticulture, botany or simply gardening, that these things do matter. Sadly, if you don't already think plants and nature matter, you are highly unlikely to go out of your way to visit (i.e. will never go to) Kew, RHS Wisley, Chelsea Flower Show or other places that could open your eyes. But you might glance at a new landmark.
What the best in horticulture needs to do is take a garden spectacle and plonk it in front of everyone's faces. The Garden Bridge is that spectacle, slammed right in the middle of the most photographed part of tourist London, and on the doorstep of those in control of the budgets in Westminster.
And it would be a spectacle – a hovering garden of trees above one of the most famous rivers in the world. Visited and photographed by millions. Its opening will smother the media. Designed by Dan Pearson, who showed the horticultural world (and only the horticultural world, for reasons stated above) what he could do at the Chelsea Flower Show 2015.
If we're to convince people that gardening, greening, conservation is important, we need new tactics. We need to be bold. Look at the Victorian era, a time when nature and plants were the height of fashion. The Victorians built Crystal Palace as a temporary structure to house The Great Exhibition. An extravagant event to showcase weird and wonderful plants, latest tech and art. Housed under a truly extravagant glass house.
The Garden Bridge is big and bold and might just get people to take notice of the beautiful things nature has to offer in the most unnatural place in Britain.
Rather than criticise it, why not work with it and improve it. Why not help fund it? Shape it into the Trojan horse it could be, delivering a message to Westminster and the masses alike.
(Update: I just wanted to re-emphasise that this is a blog post about benefit of having a horticultural showpiece as a mainstream talking point for people not already interested in gardens. I am interested in encouraging more people to garden and love nature, I am not defending or wanting to be involved in discussion about the bridge's funding – enough of that is happening on Twitter already.)