In 2016 I want to get to grips with ornamental grasses. In particular, using them in mixed plantings  to achieve that blended, wispy look I see the pros doing so well at Chelsea Flower Show. After reading Planting in a Post Wild World, I'm especially interested in finding small ground cover grasses (or Carex) to weave through borders harmlessly.
This year so far I am growing…
Agrostis nebulosa (small grass) – from seed
Briza media (small grass) – from seed (sown last year)
Carex grayi (small grass like plant) – from seed
Deschampsia cespitosa 'Pixie Fountain' (small/medium grass) – from seed
Festuca amethystina (medium grass) – from seed
Miscanthus sinensis 'Gracillimus' (medium/large grass) – bought as a plant
Pennisetum macrouruna 'Tail Feather' (medium grass) – from seed
Sorghastrum nutans (large grass) – arrived as seedlings grown by a friend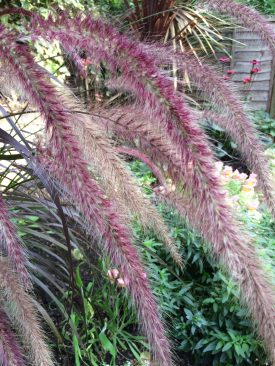 I'm still looking for a very small ground cover grass that spreads rather than clumps, without being too invasive. I think it will probably have to be a Carex. It needs to be something that can tolerate sun or shade and I'd like it to still have some light, airy flowers.
Last year I grew Lagurus ovatus, a truly beautiful little grass. A couple of years back we grew Pennisetum setaceum 'Rubrum', also stunning but not hardy so treated as an annual.
The Briza media I grew from seed last spring with visions of a mini meadow in the middle of our border. Alas, they didn't flower, so it just looked like I hadn't weeded. Fingers crossed for this year, though I'm told Briza media can get rust really easily.
A number of the new seeds are germinating already and I'll add more updates as they grow 🙂 As always, I'd love to hear any tips or advice because grasses are pretty new to me.