Going into the fourth season on my allotment I've been pleased with how it's shaping up. Part of the personal challenge is to see how much one person can grow in only a couple of hours a week. I've come to realise that in an ideal world with more time and with a plot next to our house (not miles away), I could grow anything and everything, being fully self-sufficient. One day that may happen but for now I'm content with my lot, I grow enough produce for many meals a week and the variety of crops I have is higher than ever this year, while the whole plot is looking pretty good compared to last year. The heavy rains of this year making 2018's drought a distant and horrible memory.
Priorities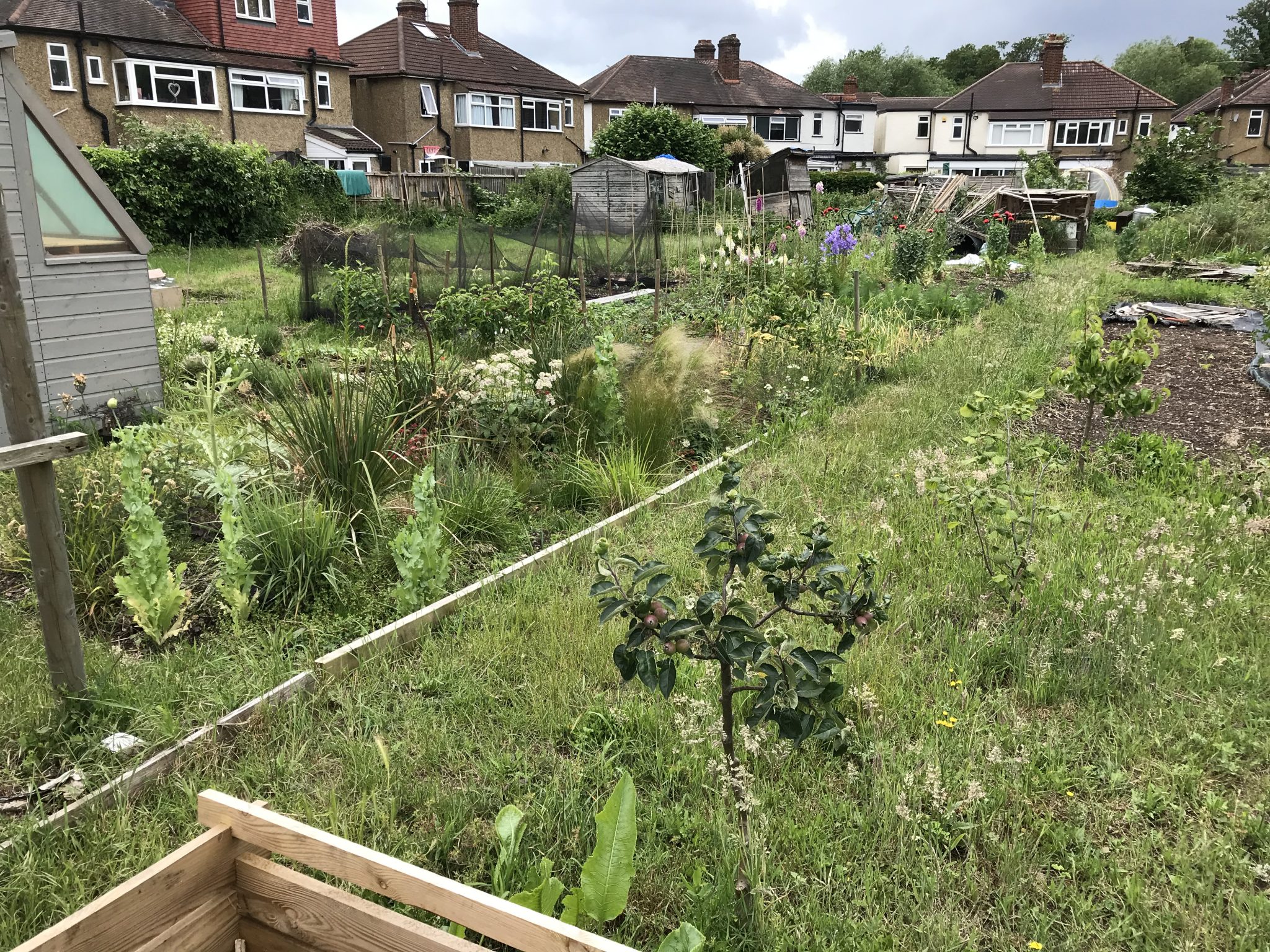 This week I only had one hour on the allotment so I had to prioritise. While I was desperate to mow the grass and to weed – both having exploded in the rain – I had to settle with ignoring them to focus on more pressing tasks. This constant juggle is something every gardener comes to learn, and some weeks the weeding waits as it's more important to sow more lettuce.
Edamame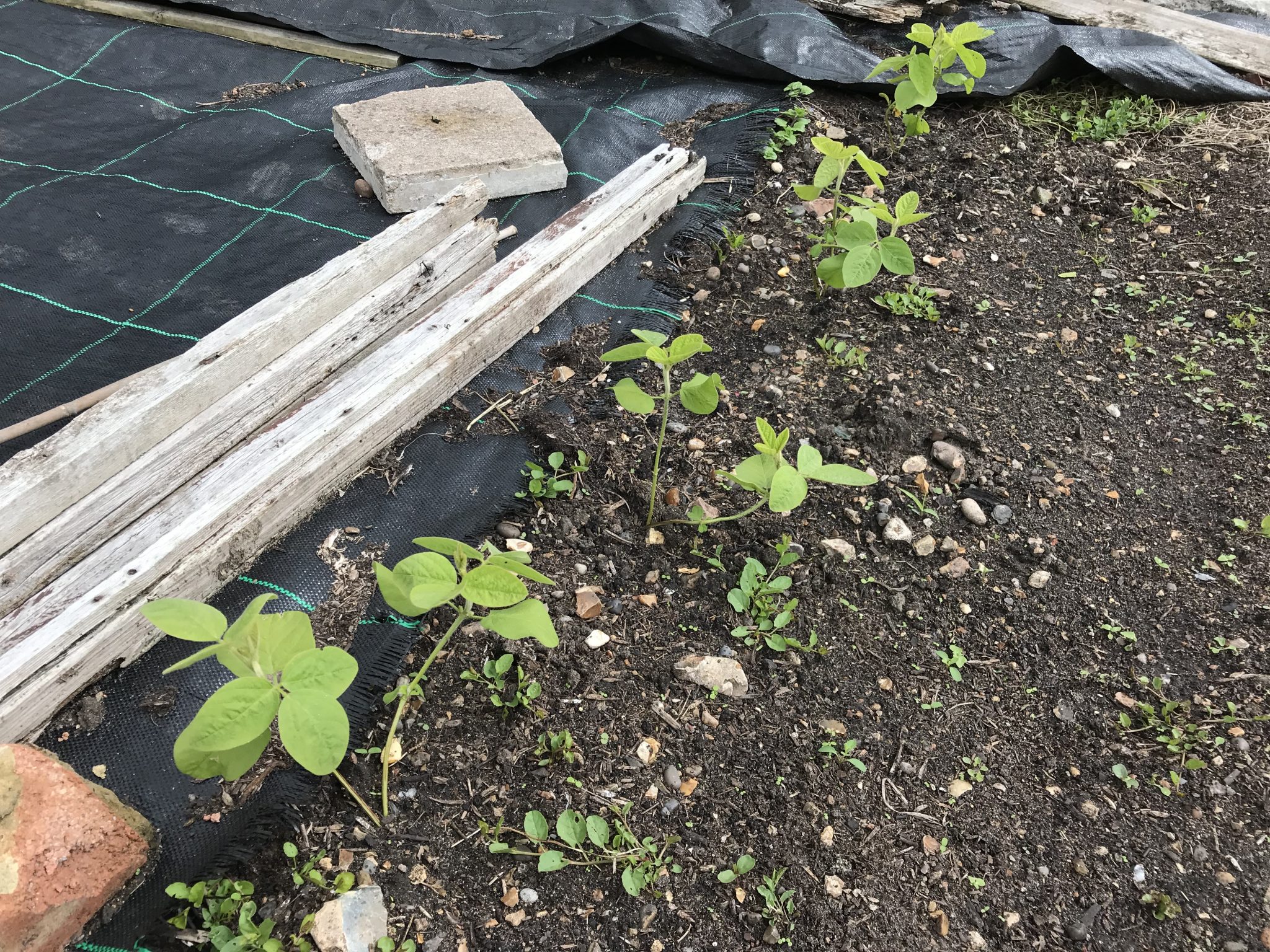 The edamame seedlings I grew in peat free fibre pots are forming strong plants. It's unlikely they'll need staking as they're pretty sturdy. They have lovely leaves.
Outdoor tomatoes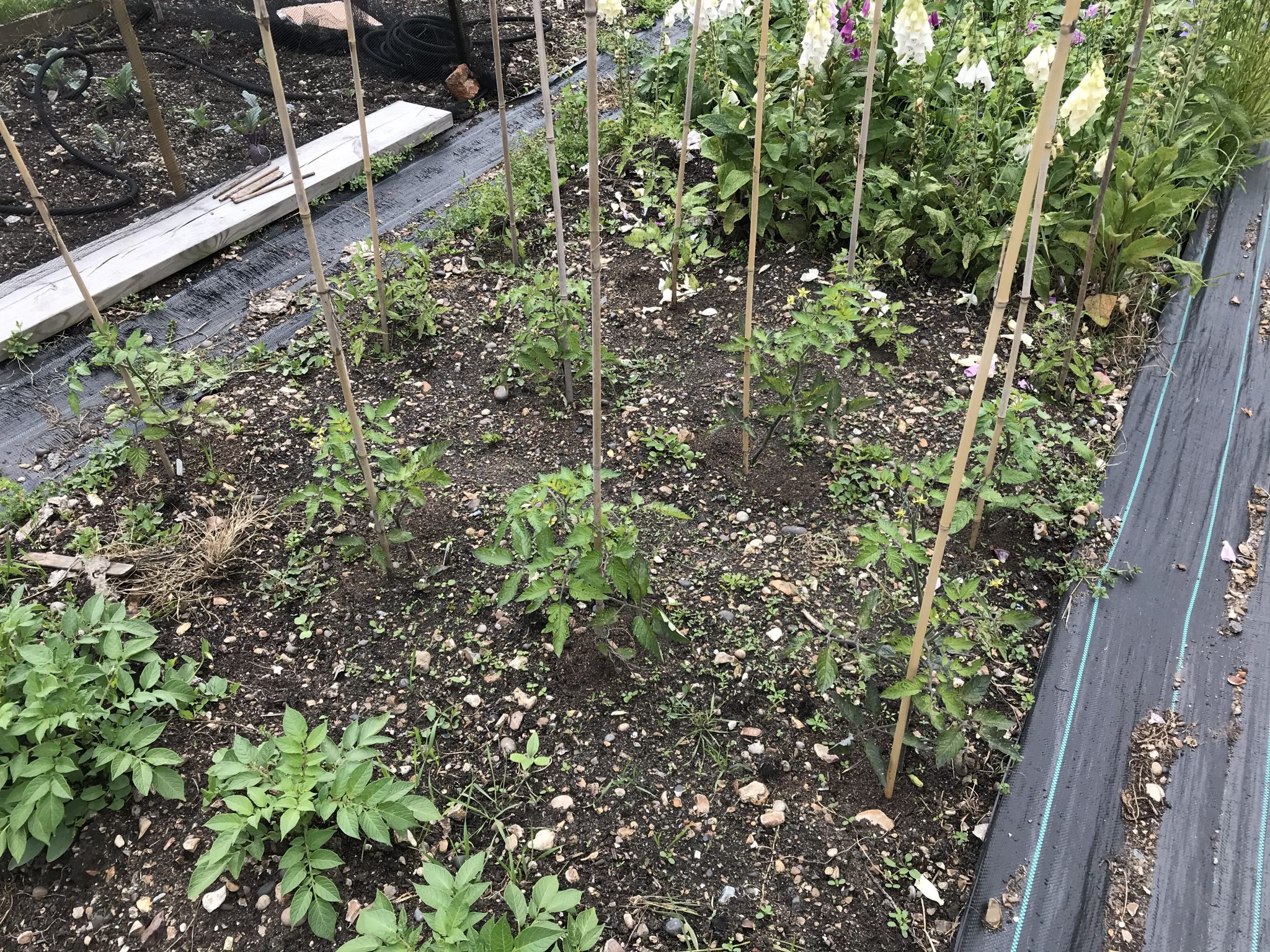 I planted out the tomatoes I'd grown from seed last week and they're settling in nicely. I find that despite hardening off properly, the shock of moving from our cosy patio to the wind battered allotment always affects their lower leaves, but they recover fast. This week I pinched out the side shoots and tied them in for the first time as they're now growing fast with lots of flowers. Not long until tasty toms arrive.
Weedy asparagus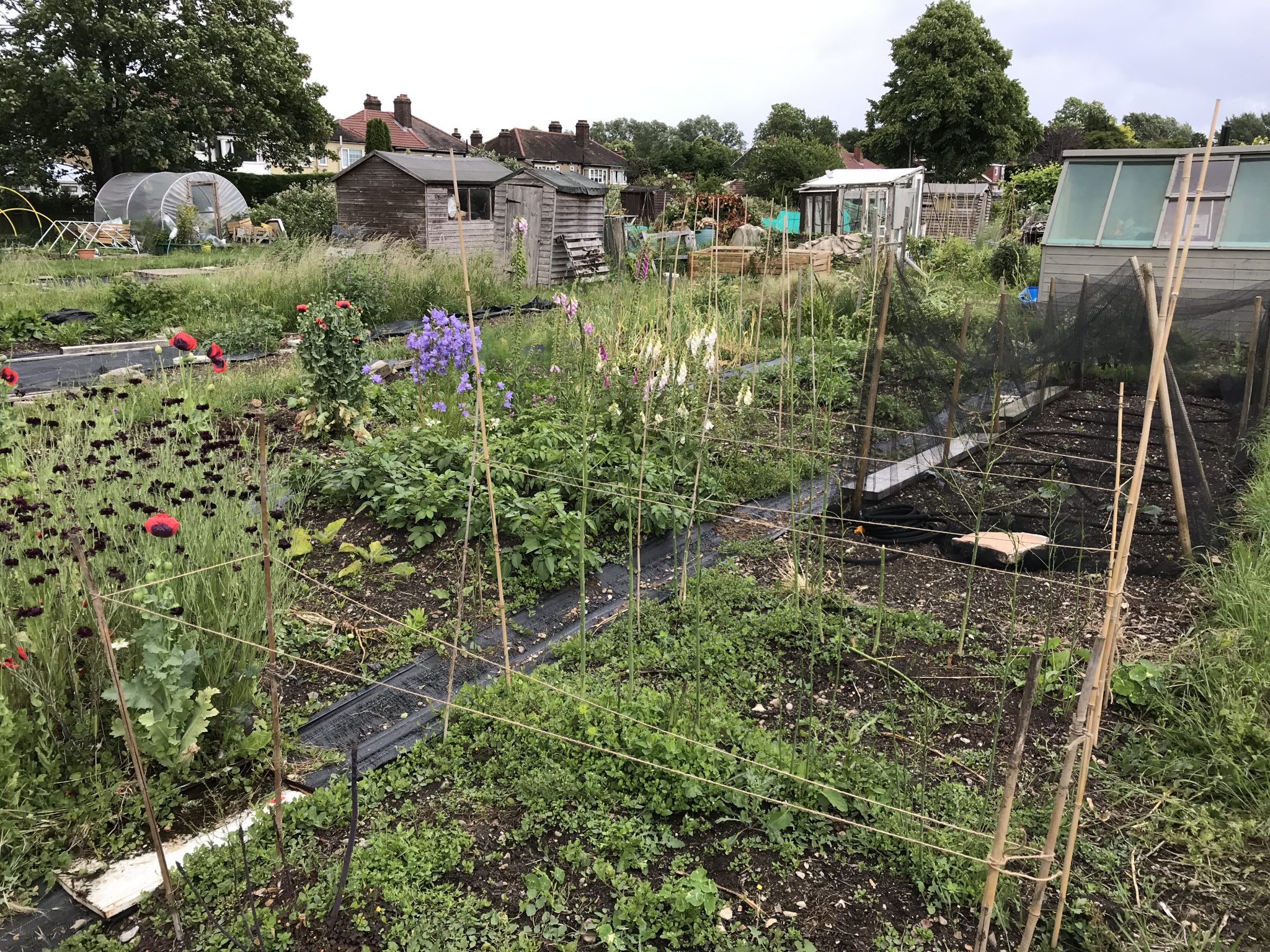 I'm embarrassed to show you my asparagus bed… I only weeded them last week but as you can see they're covered again with bindweed. Rather than weed, this week I used my time to quickly put up some supports across the rows to help keep the fragile stems upright to fuel the plants. With the recent rain and wind I was worried they might already have flopped but they were all ok. The crop this year wasn't great which I am putting down to the drought last summer. This year I stopped harvesting early to allow them to build up energy for next year.
Brassicas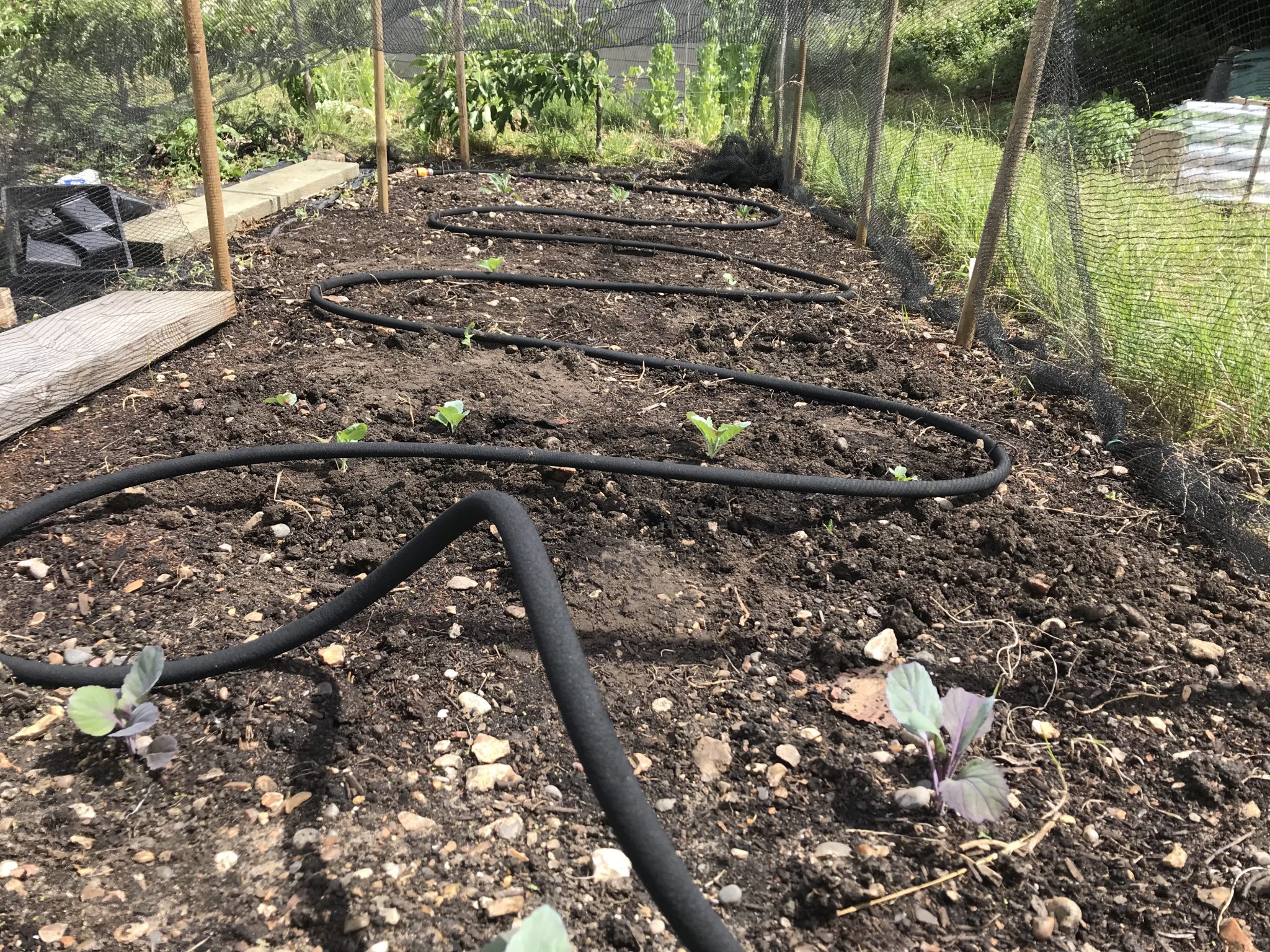 This year I want a really big and successful brassica crop so I've invested a lot of time into prepping the area. In winter I added a good mulch of peat free compost before covering with weed suppressant matting. Last week I added stakes and netting to protect from cabbage white butterflies and pigeons, I find this netting also somewhat protects from larger snails that can get through. I've also added a soaker hose in case we do have long dry spells. In here I've planted all of my brassicas, including broccoli, romanesco, multiple kales, two types of sprout, kohlrabi and mini cabbages. I was happy and relieved to find that after a week of torrential rain, none of the plants had been eaten by slugs. Phew.
Herbal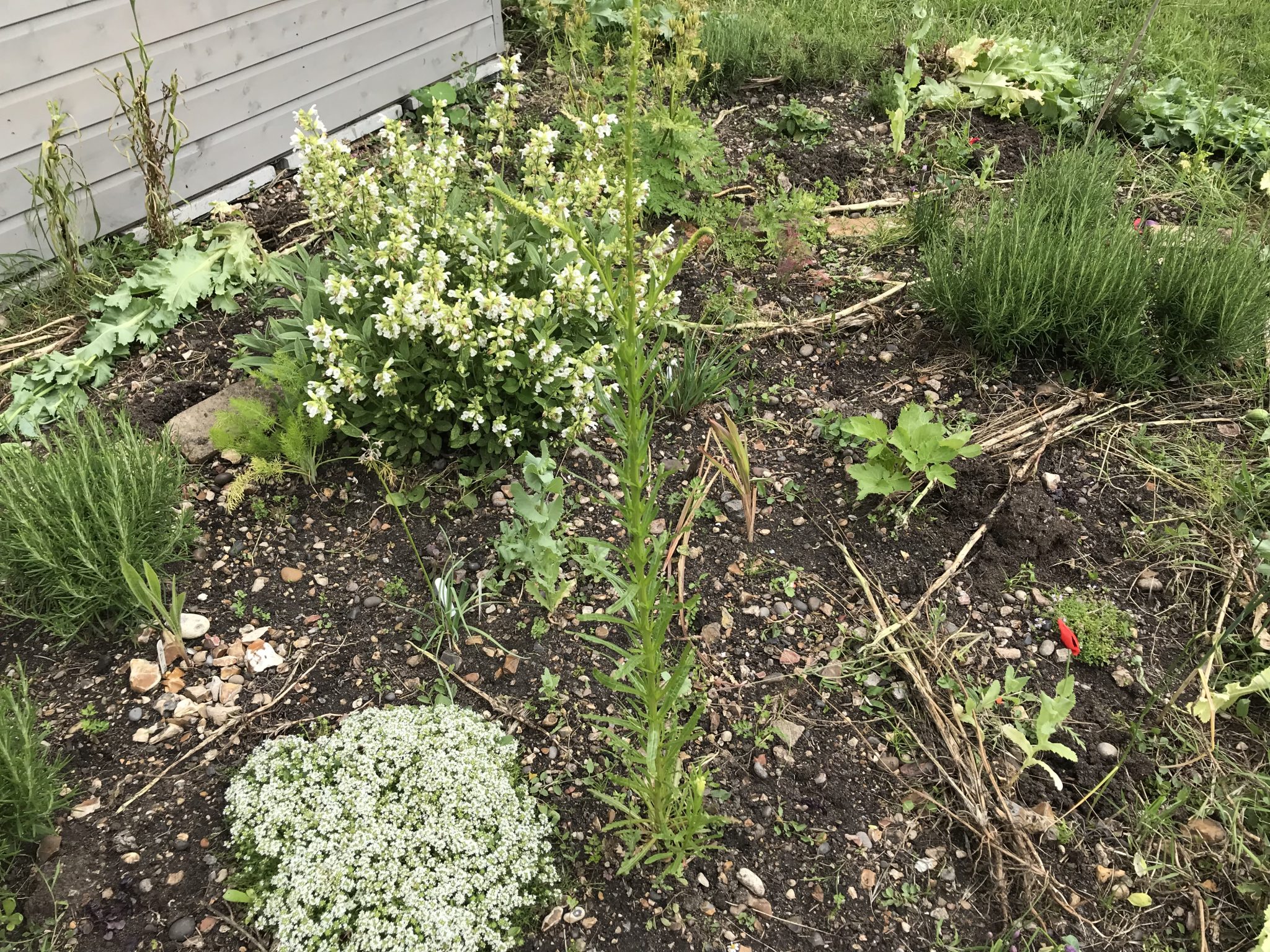 My little herb bed is coming along nicely, most are still quite small but will grow quickly now we're in summer. My seed grown sage is very happy and on the left in the middle of the pile of stones is an Echinacea pallida I grew from seed last year – part of a wider trial of echinacea I'm conducting across multiple gardens.
Apples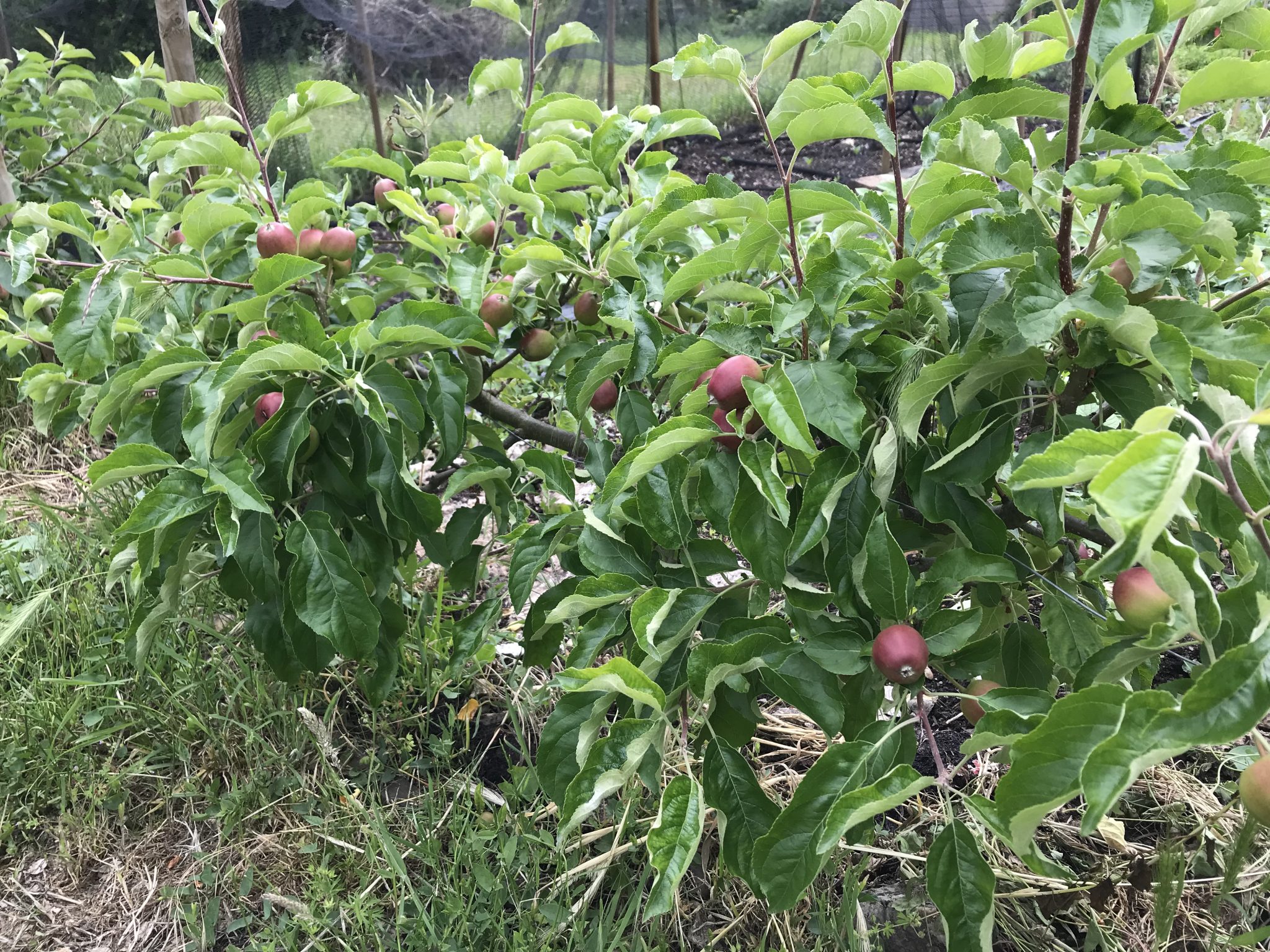 All of my stepover and dwarf apples are fruiting up well. Soon I will thin the fruit and in July, summer prune.
Prairie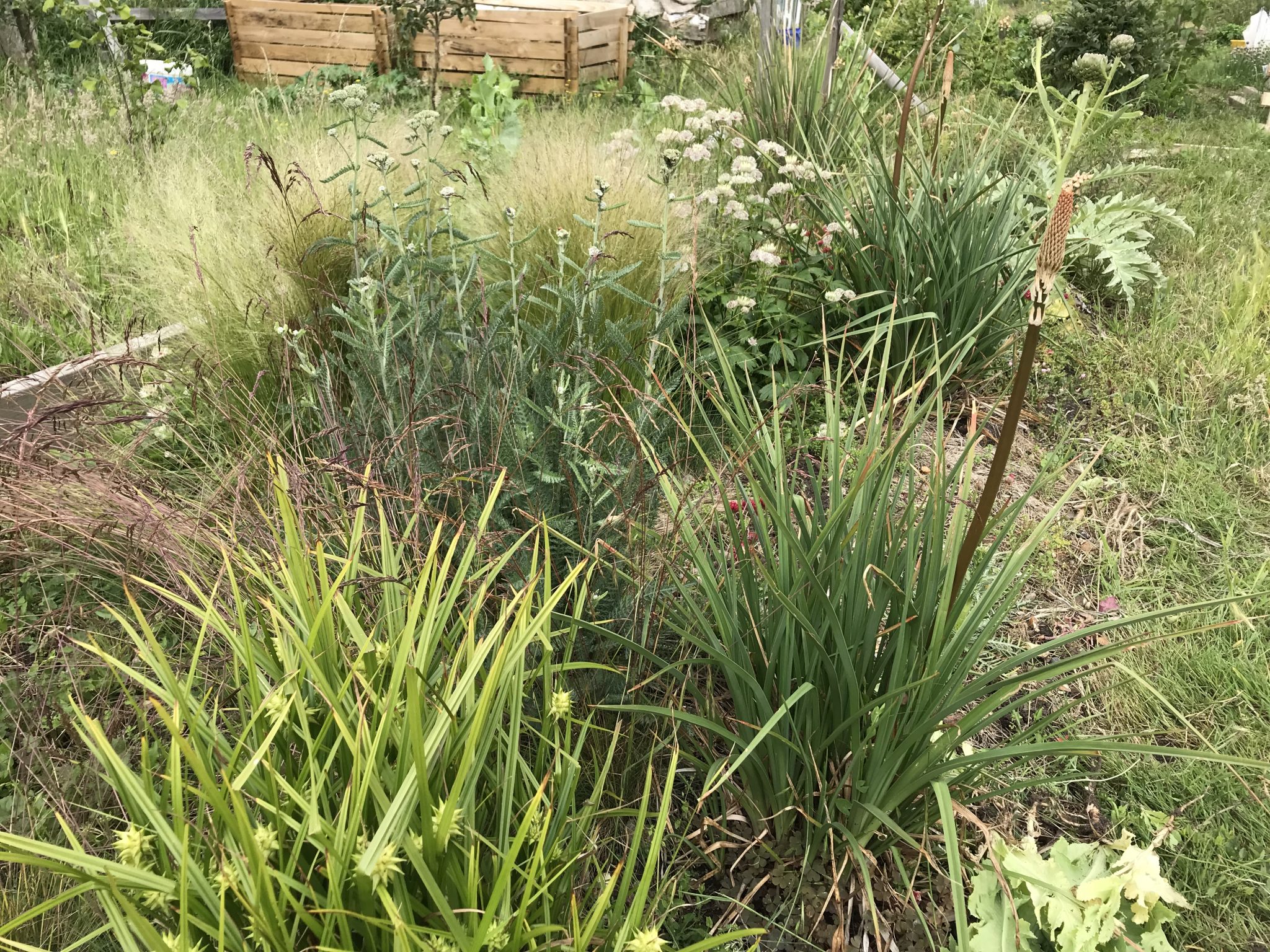 In my first year on the plot I planted this mini prairie for fun but also to trial a range of plants that require minimal maintenance. I've noticed this year that there are more weeds than in previous years but equally, the perennials are well established now. Over the coming month the perennials will easily outcompete the weeds. The main colour will come from flowers over the next month.
Perennial meadow
I thought I'd share a photo from one part of my new perennial meadow so you can see progress – I personally find this establishment stage fascinating. The patch looks pretty scrappy right now but as I've mentioned in other posts, these are all thugs and will quickly spread to form a dense mat. I'm optimistic that, while it will mainly look good from next year, by the end of this summer it will be a colourful patch. Originally I'd intended to only use spare plants from my garden and elsewhere on the allotment but I've changed my mind on this, adding lots of new plants to trial here before I can recommend them to design clients.
Florence fennel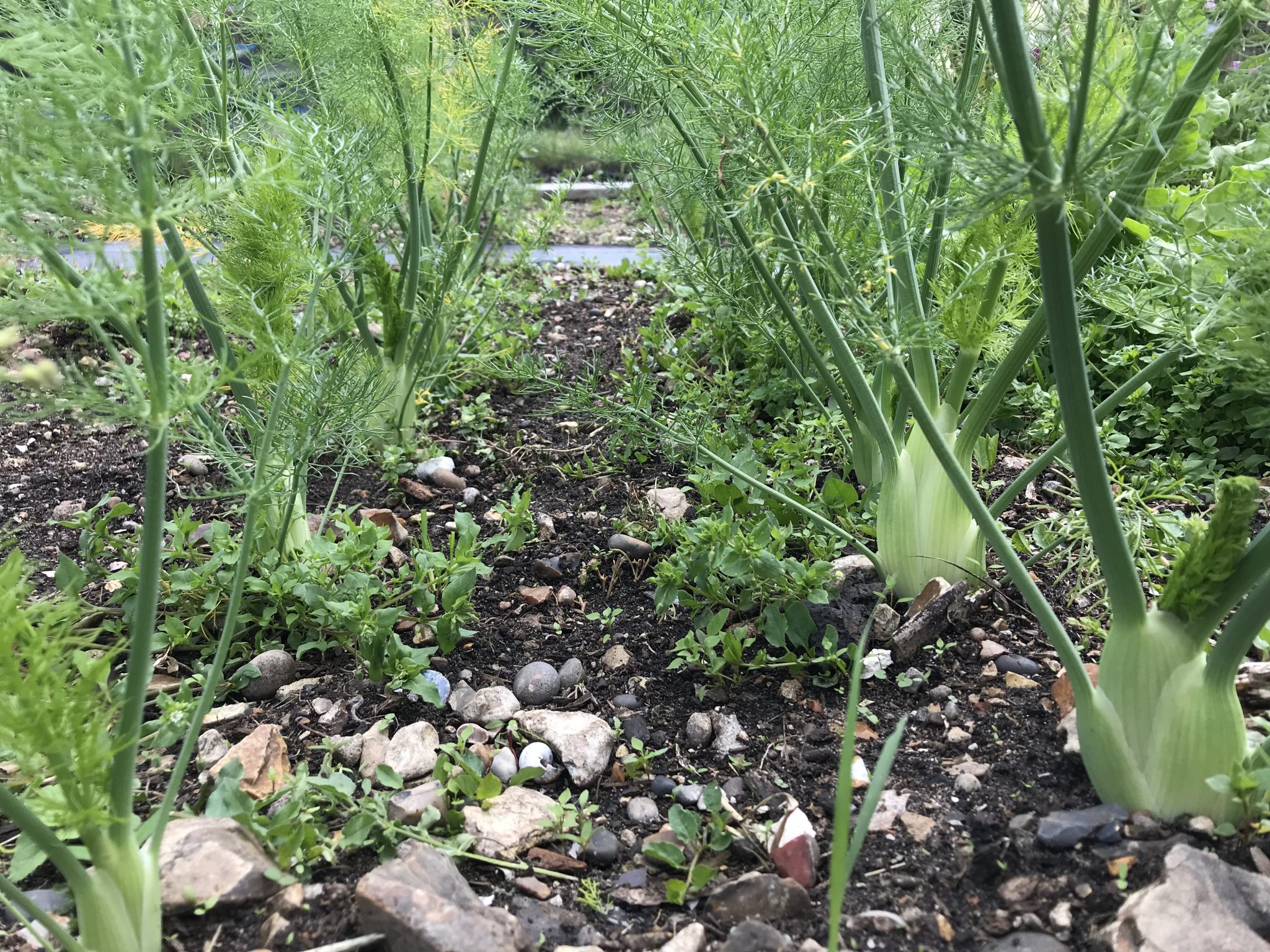 It's a good year for these! I'll be sowing more next time I'm down and again later in summer.
Gooseberries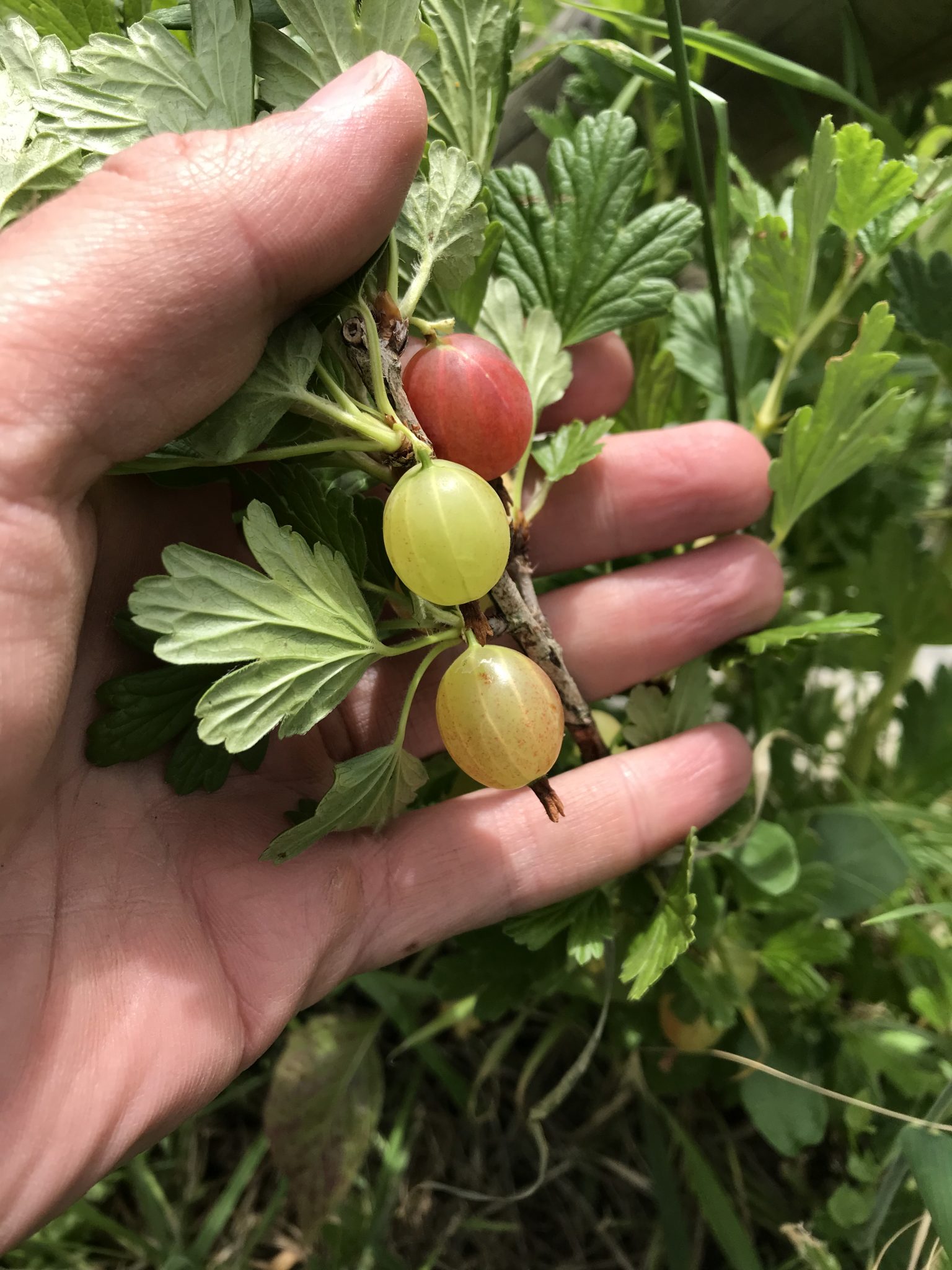 I won't have a bumper crop of gooseberries this year because the plants are still small, I only planted them last spring. But! I will be able to taste them at last as the fruits are starting to ripen. I have two different cultivars, one pink, one yellow.
Potatoes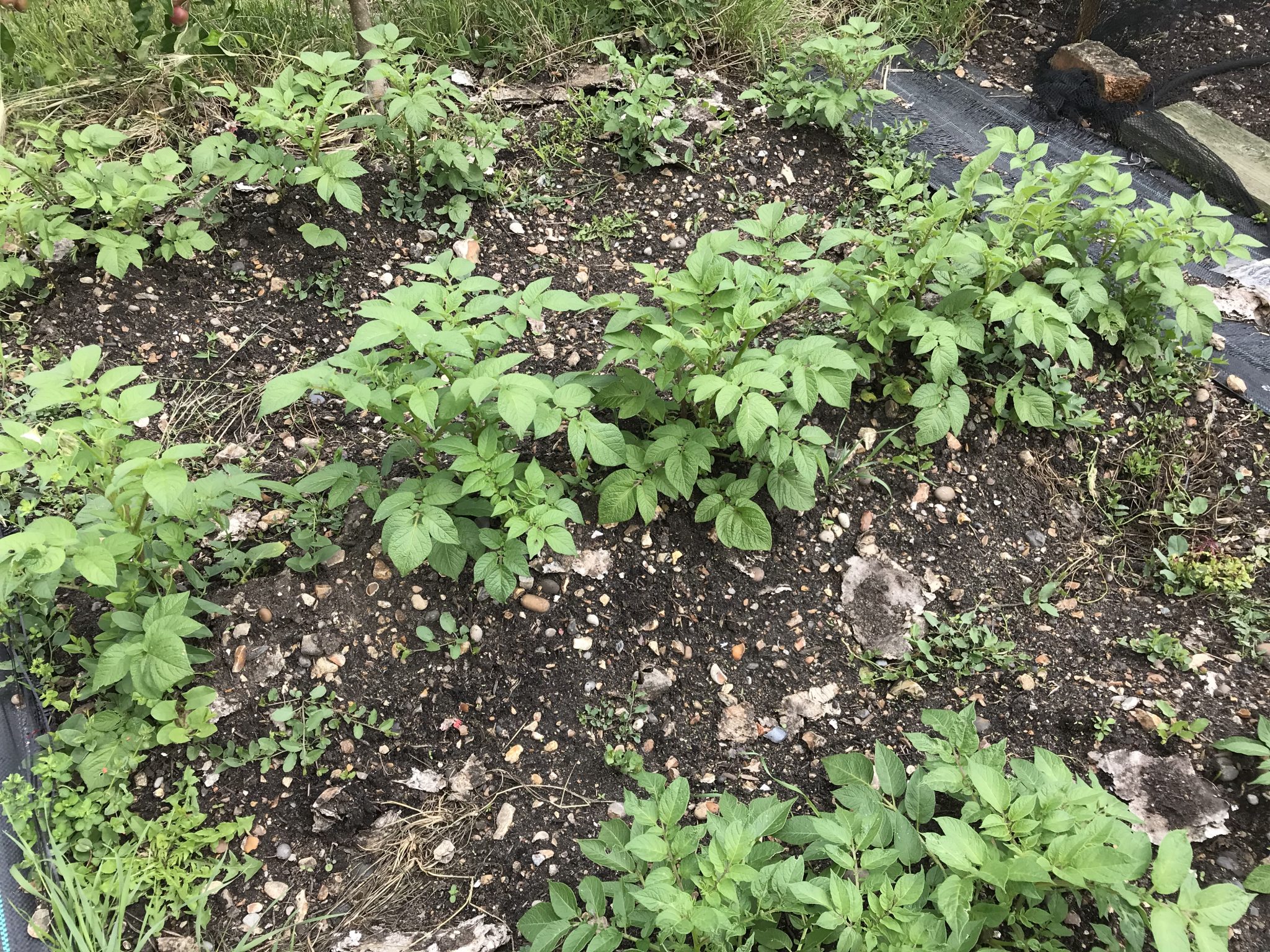 Next time I visit I'll be harvesting my first new potatoes. On top of 'Jazzy' and 'Pink Fir Apple' I'm trialling a further six cultivars of potato. Whether it's a good year for potatoes or not will depend on what they're like when I pull them out but they're mostly growing really healthily.
Other shenanigans
Some of the garlic I've been growing seem to have onion white rot. If they do this is a major game over for growing alliums in that spot again because it remains in the soil for up to 20 years and causes the plants to rot, rendered unusable. Next visit I'll dig them all up, though I did pull some and found it was about 50/50 as to whether they were affected.
Raspberries, Chillies, Jerusalem artichokes and dahlias are all chugging along and my cut flower patch has gone nuts.
All of this is done in only a couple of hours a week, hopefully showing it's possible for everyone – occasionally I go back midweek to pick up some crops. It's far from perfect but it suits my lifestyle fine and is rewarding. The key I find is to prioritise tasks well, keep sowing more crops to keep the conveyor belt a rollin' and do a little every time. Gradually each little bit adds up to have a bigger impact.