I've had my allotment for over half a year now – where did that time go? As a recap, my allotment is seven miles from our house, which is about 40 minutes on the train. This means I can only really visit it once per week on a Saturday morning, putting in a few hours graft. 
Those seven months have been hard work – more than I expected due to the condition it was in, overgrown and covered in tonnes of rotting wooden structures. It's good I was excited at the start because I doubt I would have chosen the plot in hindsight had I realised the work involved in clearing up.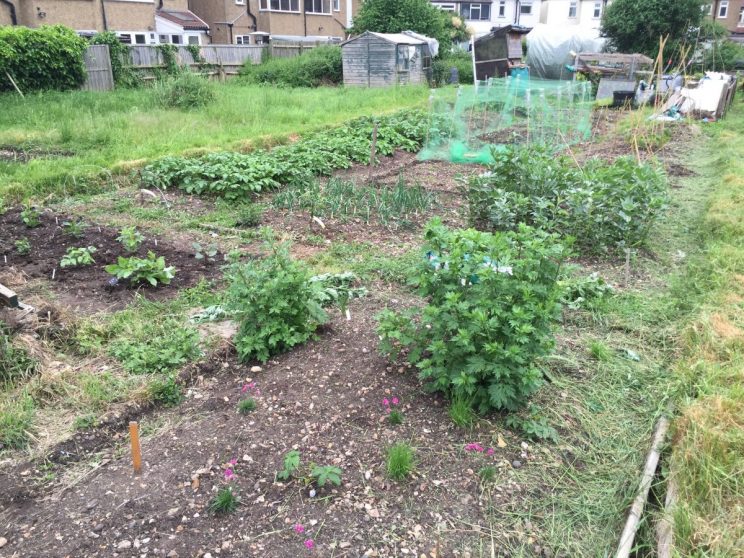 But I'm glad I did. The plot is a good one and the people I have met have been welcoming and kind. A far cry from the allotment committee nightmares you hear about. Our site is relaxed and informal. Perfect.
In a bind
The allotment has had its ups and downs so far. It's 125m square and I had cleared most of the plot of weeds over winter. With the warm weather however has come the bindweed, over every inch, and thousands of other weed seedlings.
Hoeing has proven more effective than I expected. A weekly hoe makes the weeds go… or something. The bind weed is another matter however. I'm trying to be organic but have to admit I feel it will need careful applications of glyphosate later in the year. For now I'm ripping and digging it out.
Peas and beans growing inconsistently
Interestingly, I'm having problems with my legumes. Broad beans are up and at em and producing pods nicely now. My peas germinated inconsistently and have been slow to get going. I'm putting it down to sowing some too early and / or mice.
Strangely, lots of my little rows of seedlings only half germinate, like the spring onions, beetroot etc. I've come round to thinking I am best growing my seeds in trays at home and then transplanting for more reliable germination. I'll keep trying though.
Potatoes and perennials
I overdid it with potatoes. What can I say? It's my first year, I bought too many 🙂 A third of my entire site is given over to first early, second early and main crop potatoes. They have grown beautifully but I have a worrying feeling I spotted blight on them last weekend – this weekend will confirm.
The four varieties of asparagus are growing OK in their first year too. Not helped I suspect by a very dry period throughout April. But they are growing. As are the two rhubarb plants, left over from the previous owner and planted into a new site.
Due to the fact I am only able to visit the allotment once per week, I am growing a larger number of perennials including the Asparagus, an Artichoke grown from seed and three different cultivars of dwarf apple trees I'm training into stepovers. All in addition to the row of raspberry bushes from the previous owner. The idea being that they will require less intensive care between weekends.
Design and dahlias
I have two beds for flowers and garden design practice. One for an experimental prairie bed, in which I am growing a variety of different grasses and other sedges from seed. The second to expand my Dahlia trials with a further 15 cultivars, taking my collection to well over thirty. Results of these to come in late summer.
Brassicas and roots
In my central bed, I have given it over to a variety of onions and leeks which are doing really well so far. Then lots of brassicas including brussels sprouts, different broccoli, cabbage and kale. These sit next to different carrots and parsnips too – both of which have germinated erratically.
I spent ages constructing a carrot fly barrier but within less than three days the insect mech had holes all over it from something (foxes?) A week later and it was blown down. I've given up on that this year. I hope the carrot flies don't find them. I was very sad 🙁
And the rest
In addition to all of that, I've loaded the allotment with salad crops including lettuces, radishes, celeriac, tomatoes and chard. A few sprinkles of Nasturtium seeds all over the place, some Calendula, chives and mint.
Oh, and I bought a strimmer to keep the surrounding grass in check, which was more fun than I had anticipated!
Will we get a decent crop?
When you factor in all of the trips to garden centres for equipment and manure, the time invested doesn't really equate into what you see in the photos. I hope we get a good amount of decent veg and fruit to eat to make me feel like the allotment is giving back to me.
At this point it doesn't seem like it will this year. That said, if there is one thing I've learnt so far from gardening, it's the longer you stick at it, the easier it becomes and instinctively you get better at producing results. By the end of the season you have faced most of the problems head on and started to overcome them.
I think it will be worth it. Here's hoping the grow your own dream is also an achievable reality.