As I write this the country has for all intents and purposes joined the rest of the world going into lockdown for three weeks in an attempt to slow the covid-19 coronavirus. Everyone must stay inside except for food and exercise. I'm still in a state of disbelief, fluctuating from keeping it together to wallowing in worry. My own garden design work has, on the outdoor side, stopped though I'm still open for business for the actual design stage from my home studio.
If I'm not creating designs or writing I'm finding it hard to concentrate on anything except the pandemic – as I'm sure is true for all of you too. With one exception, our little garden – living up to the definition of sanctuary right now. I'm lucky to have our own small garden design project underway to focus on, which I'm pleased to say has gone from 'plans for a revamp' to 'revamped and ready to plant'. Done just in time, though the lighting will have to wait.
Ta da! Same same but different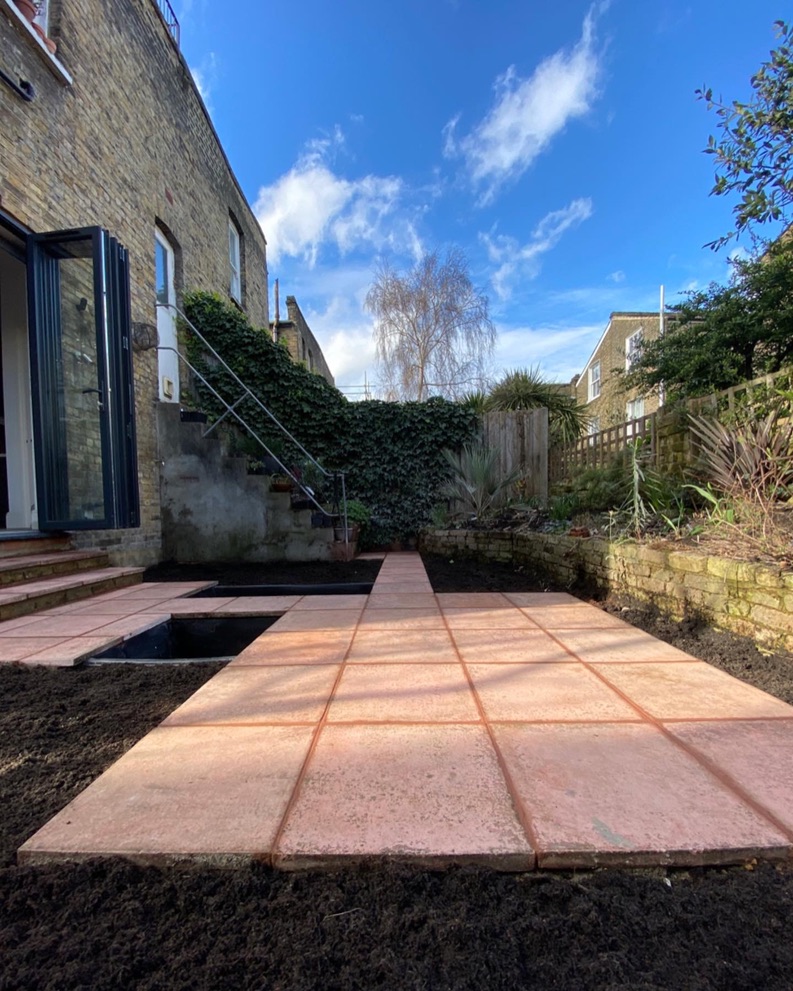 If you've followed along in my previous blog post and also the Telegraph Gardening column I wrote on paving, you'll know that we reused our old paving to save money on materials and labour, keep the feel of the garden and to be more sustainable for the planet. The main difference is that I removed about three quarters of the paving to release the soil beneath it.
I had help from the landscaping team I work with on my garden designs for the heavy lifting to have it all done quickly and because I know they're experts in their craft for quality. I particularly wanted their expertise on the pond and bridge. Anyway, I'm delighted, especially with the old repurposed slabs in their new grid configuration and weathered terracotta look.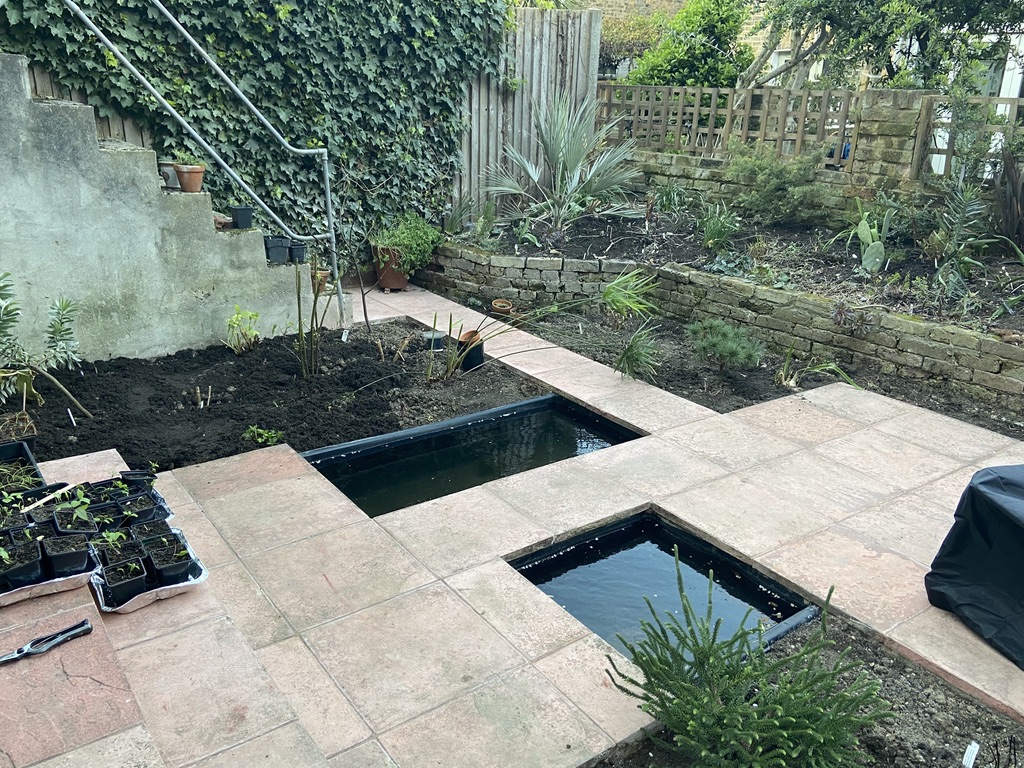 A few years ago, shortly after our flat was refurbished I had some steps installed with limestone treads. I'd planned to leave these but a last minute change of heart saw them recapped too, a decision I am so glad to have made for the consistency in tone.
Giant cat watering bowls
Our cat Rumbles didn't even blink when strutting out along his new bridge, cat walking up to his new water bowl. You'd think he might paws to examine what's different but no, straight out to have a drink. In the ponds I have planted three miniature water lilies which are all divisions from the five year old plant I already had in our micro pond in a pot. Read about dividing the water lily here and our old micro pond here.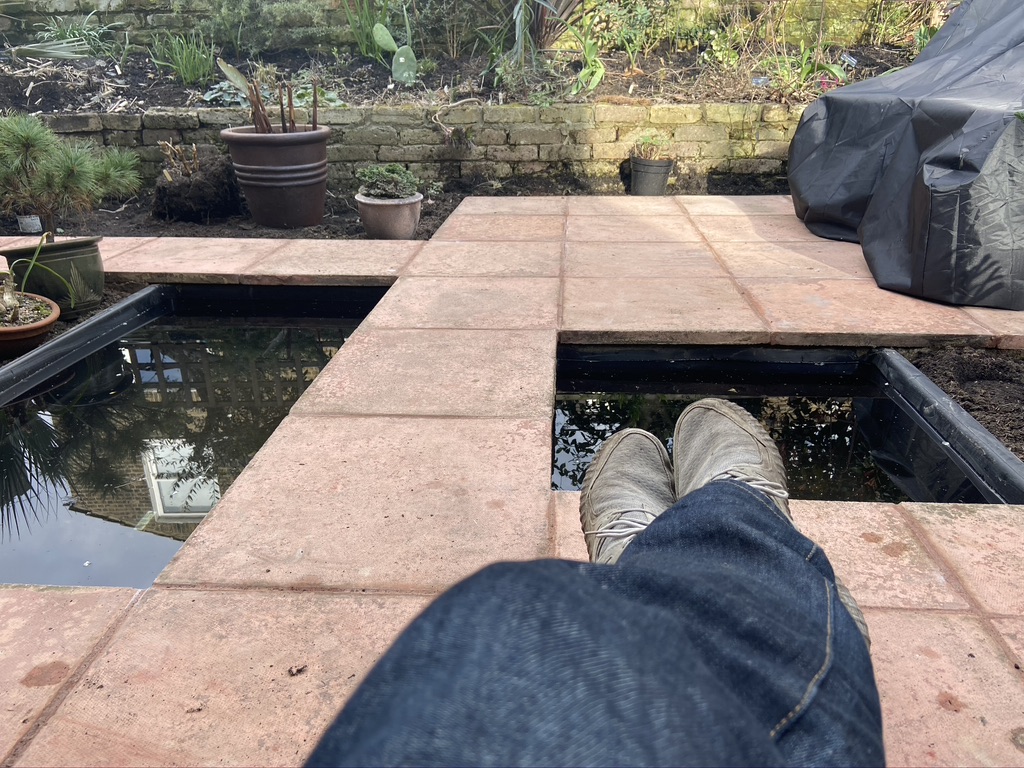 From idea to reality, I am in love with how the ponds worked out. Once the plants around them grow, they'll come into their own as the sides are covered.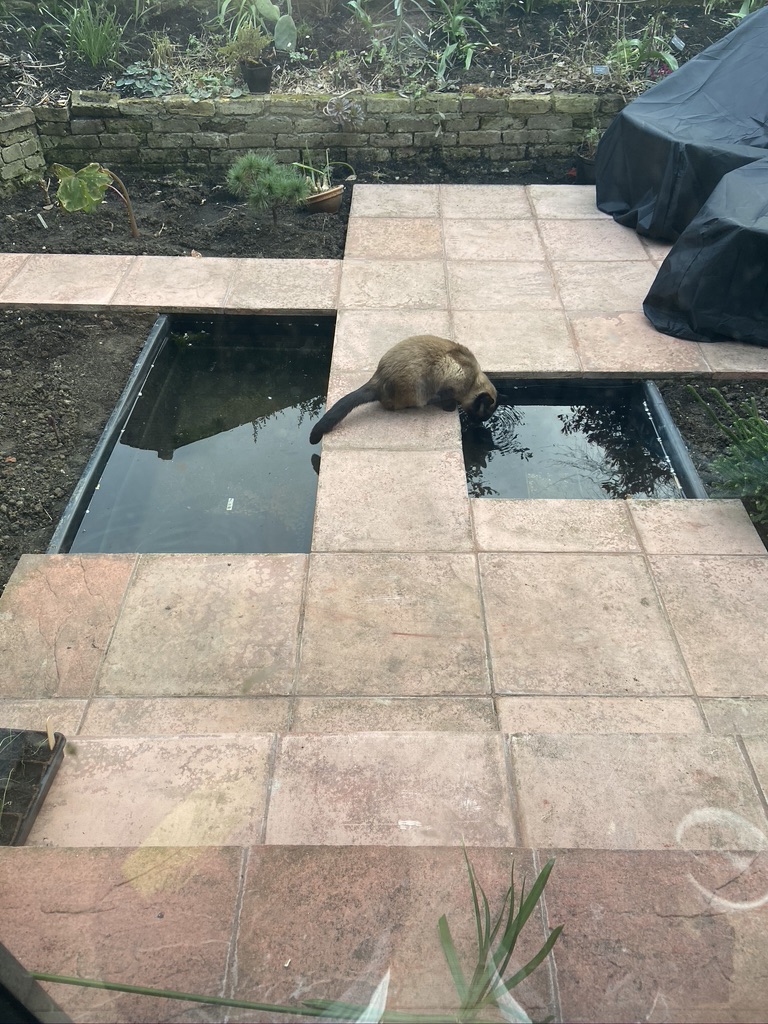 New planting zone tour
Our garden already had a raised bed and I added planting areas down the side return last year. Now though, we have more planting space than ever before. Somewhat daunting but exciting, it won't be right first time and I'm excited about trialling various combos. I have more than enough plants of course and I wanted to introduce you to the main new areas:
Minimalist corner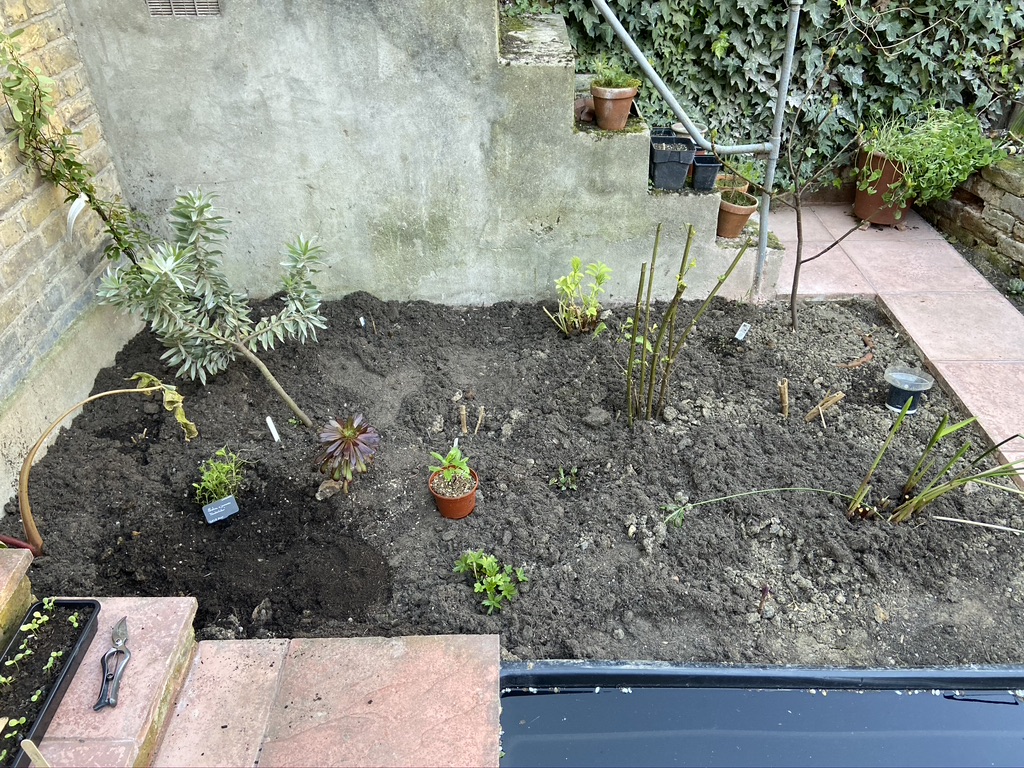 All of these areas were previously patio, this has a backdrop of utilitarian concrete steps and a brick wall, which I love. In full sun and furthest into the garden, this area always had the tallest plants in pots and these have largely been planted into the ground in the same spot.
The desert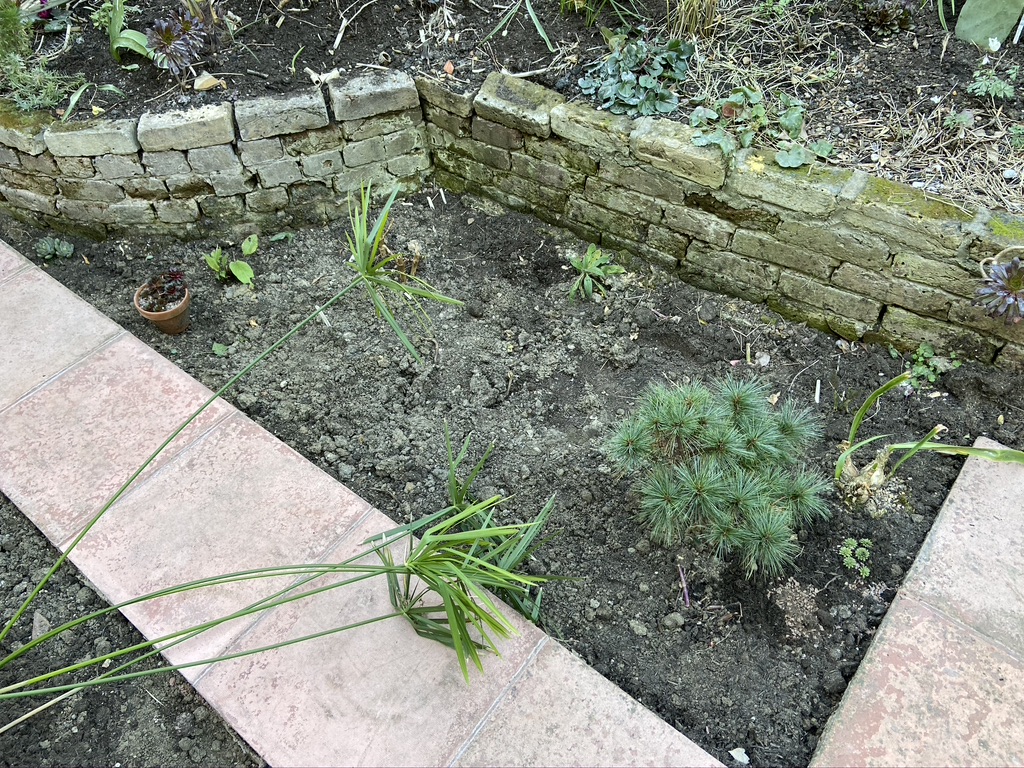 Across the new path to the steps from the minimalist corner is a new small bed in full sun for most of the day. I plan to keep this lower and frothier to not block the raised bed behind.
The strip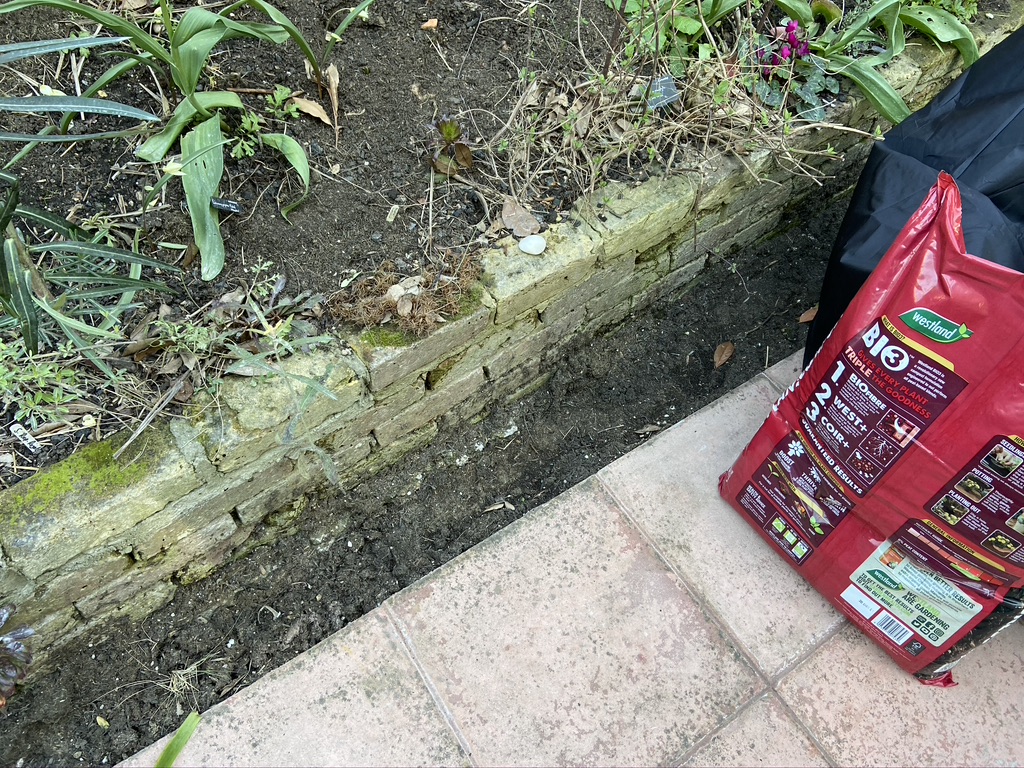 Largely in sun and pretty dry, I plan to plant up this narrow little strip with small alpines and other chancer plants.
Welcome to the jungle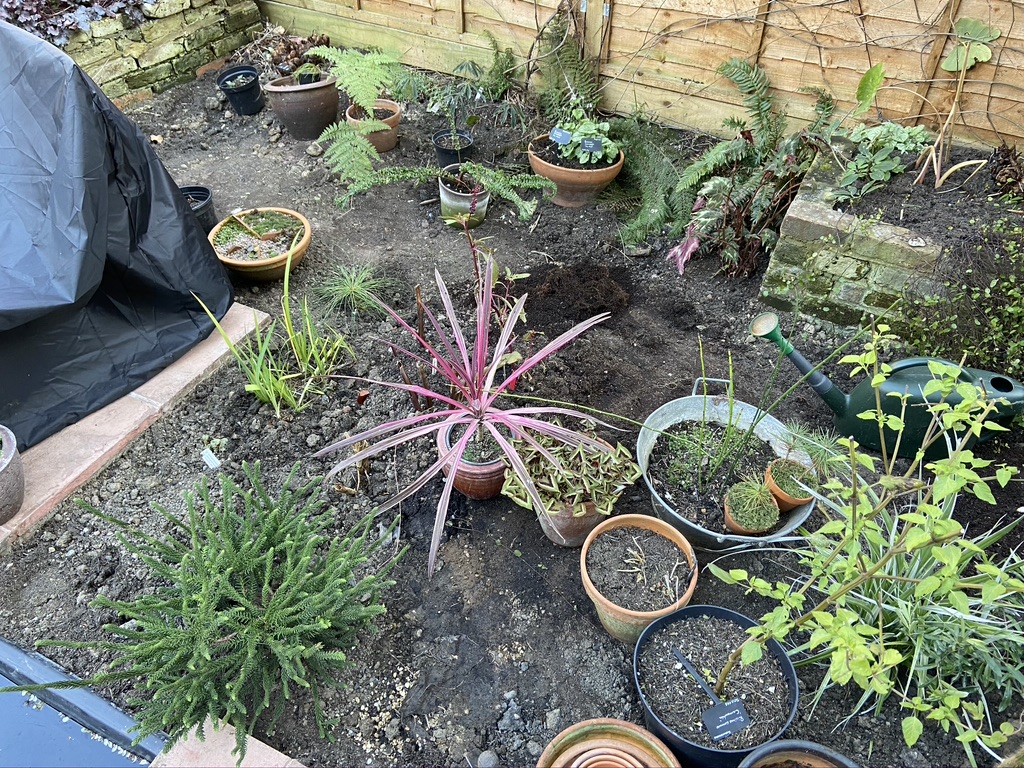 This area is huge really, for our garden anyway. In front will be more tall sun lovers and then behind near the fence, is the making of an immense new fernery! From here I'm going to add a little gravel path leading into an uber jungly side return.
Over the last week I've gradually been planting out all of our plants, slowly giving away hundreds of pots of all sizes. I'm not entirely set on the precise planting yet because so many plants are still dormant, it's hard to look at a scene and fully imagine it. However, I know for sure now that this layout was the right direction and the garden will look much better than it did with all of the pot clutter. And I enjoy the process of planting, I want to take my time, review how it looks and adapt. I don't want an instant garden, instant gardens are boring.
The best bit, is seeing all of this newly exposed soil, currently near devoid of life, but also seeing worms from the pots being released. Knowing that over time, the roots from the plants will fill the soil with living organic matter that will feed and shelter the insects and soil life. Greatly increasing the amount of wildlife throughout our garden.