On Saturday 26th November 2016 the SGD hosted a conference about the use of shrubs in gardens. I went along hoping to learn the names of some of the multi-stemmed specimen shrubs / small trees we often see in show gardens. Which I did, before the day turned into a rallying cry to designers to think again about shrubs and break free from the New Perennial Movement (which focuses primarily on the use of perennials and grasses).
Cutting to the point
I actually think most gardeners and designers have moved on and are thinking more along the lines of mixed plant communities, but shrubs certainly aren't in the spotlight. Designers including Sarah Morgan highlighted issues behind unpopularity of shrubs with reasons like a general lack of pruning knowledge. A point I completely agree with – one walk down a street in London will find many examples of shrubs ruined by bad pruning.
Once people understand pruning, shrubs hold tenfold the excitement. For instance, with shrubs that can be hard-pruned you can:
Cut back to the ground to keep in scale with low growing plants.
Or keep the main stems at 30 – 60cm above the ground to give them more height.
Remove lower branches to create a trunk.
Grow with a single trunk or multiple stems.
Thin them out to create a more open structure to mix with other plants.
Simply leave them to go wild.
Control when and how they flower.
Grow other plants through them.
And you can change how you grow them every year.
Learning from natural plant communities
Nigel Dunnett, whose urban designs I admire – he and his team are great at spotting patterns in nature – talked about shrubs' essential role in plant communities showing examples of natural scrubland.
Here's a photo I took of scrubland on the harsh sand dunes in Norfolk, an example of mixed beauty in plant communities: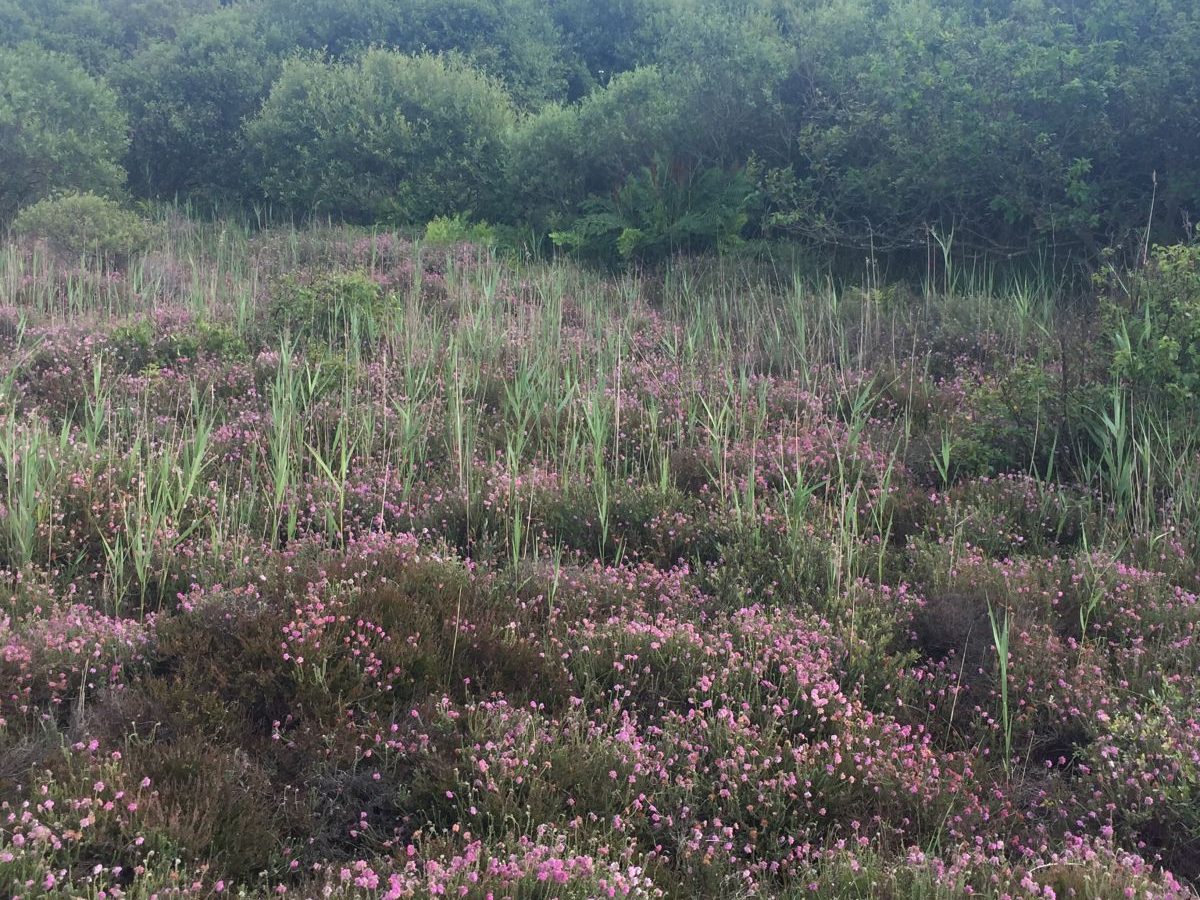 This did raise the question of what we call a scrubland movement? His suggestion: we're all scrubbers now! I'll take that.
Once a scrubber, always a scrubber
The talks made me realise that I am in fact already a scrubber – on reflection, our tiny 6 x 6 metre patio and my designs are packed with more shrubs than I had appreciated.
Here's Sambucus nigra f. poryphyrophylla 'Black Lace' with a dinner plate Dahlia and Hedera.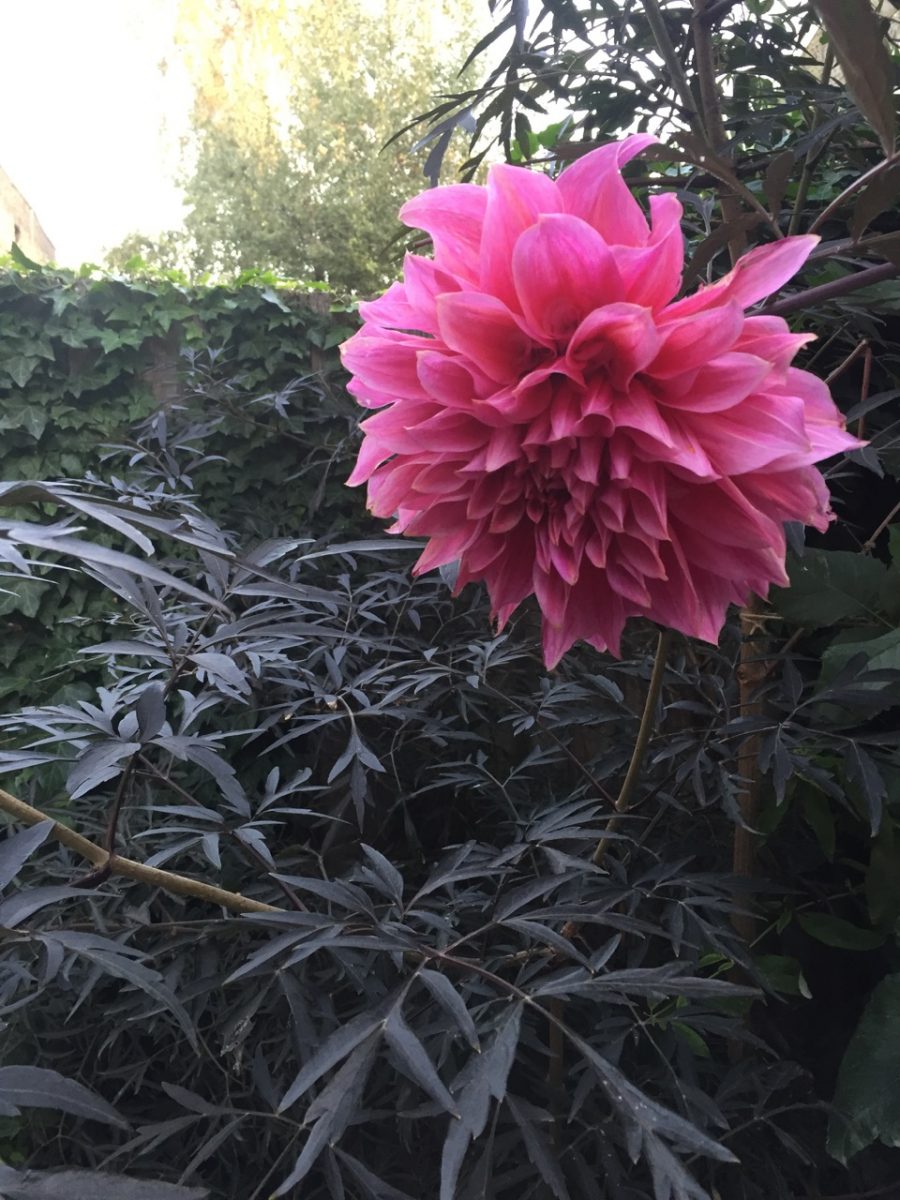 Urban scrubland patios
I grow our patio like scrubland because luckily the gardens surrounding ours have large trees in them, so I added shrubs because I wanted certain plants in the mix, like Buddleia, and also to grade the levels so our garden felt like an alien forest clearing.
Many of the plants in the below photo aren't in our garden. Tall shrubs and giant Dahlias make it hard to see the boundary.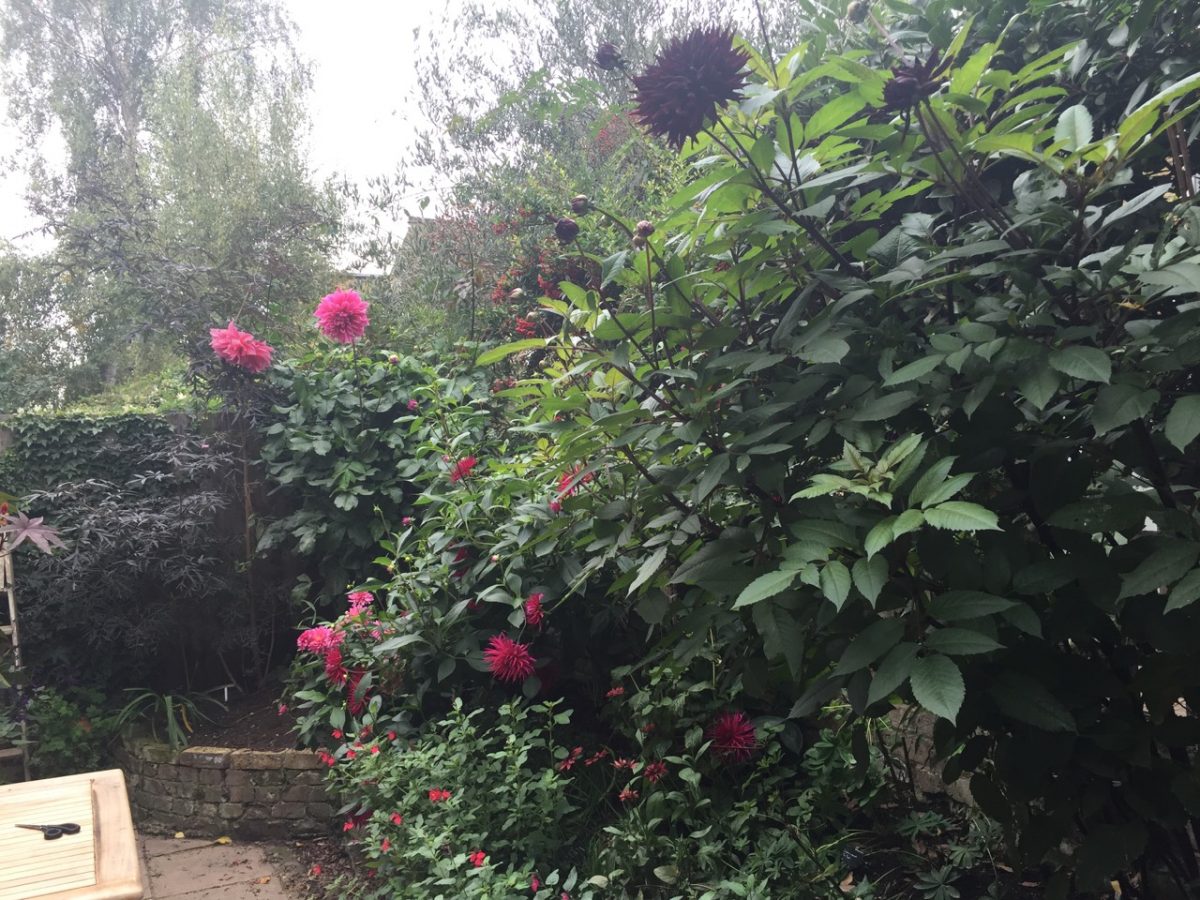 I find shrubs fun because the pruning is enjoyable, allowing you to manipulate them to do what you need, plus many flower for months on end.
Shrubs probably have a bad rep for being quite static. In fact, very few of ours are, they grow and change through the year. Here's a selection of some of the shrubs growing in our tiny little garden:
Shrub innovation
A lady at the end of the conference during the questions section suggested that the event hadn't pushed shrubs as far as they can go and that we need to do them better justice. I kind of saw her point, but I felt that the event had thrown the gauntlet down to us – now it's our job as designers and gardeners to show the world what shrubs can do.
I love shrubs, and I've seen that others do too.  Please take a look at some of my photo galleries from public gardens to see some interesting uses:
What are you favourite shrubs? Comment below…