Someone pointed out I haven't done an update about our own garden for a while, clearly I've been bleating on about my allotment and other people's gardens too much. Well, in April there is quite a lot to report as the garden is in full spring now. Please do let me know in the comments if there is anything you would like me to write more or less about, would really appreciate any tips on making my blog more useful.
Since Monty Don came round to film Big Dreams Small Spaces for the last time, I've made a few big changes to the garden (detailed below), although it's basically the same overall. A few things still need finishing, like the outside of the windows, proper steps on our back doors and a neighbouring fence has broken. Without the TV show we can now do this in our own time later this year.
Tulips: last autumn I planted over 100 tulips and white wallflowers to create a white spring garden. Annoyingly, Mr Fothergills completely messed up my order and sent yellow wallflowers and completely the wrong tulips. So although the 80 tulips I bought from Peter Nysson are perfect, all the non-white plants all came out leaving patches in the border this year 🙁 Still, I like them (you can see the broken fence that needs fixing – top left).
Topiary: it was a couple of years ago now that I watched the Great British Garden Revival, which was a brilliant programme. One of the episodes was on topiary and, inspired by a really good cloud pruned tree in Clapham Junction, I started my own box topiary (below). Buxus grows really slowly but it's starting to take shape now.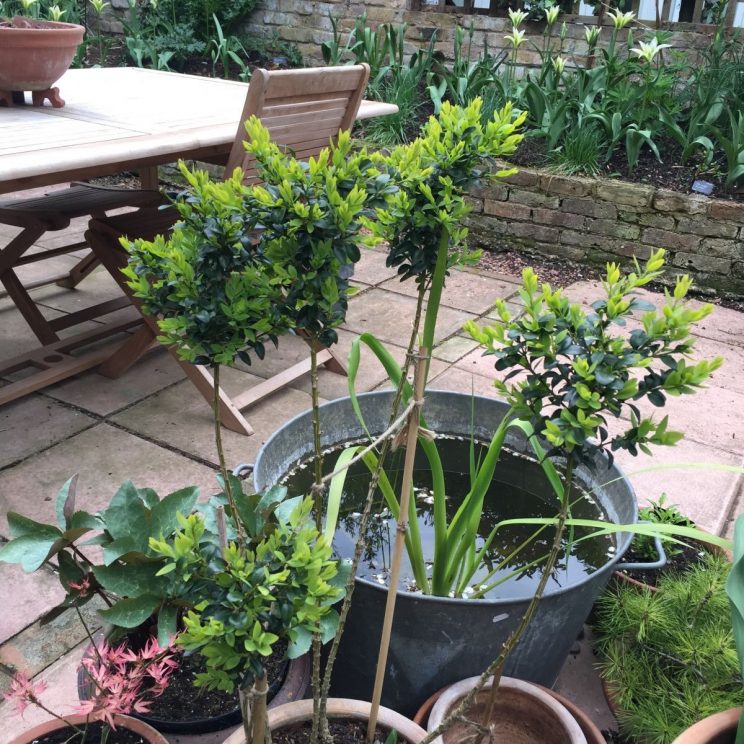 At the same time I took some cuttings. I still don't know what to do with them…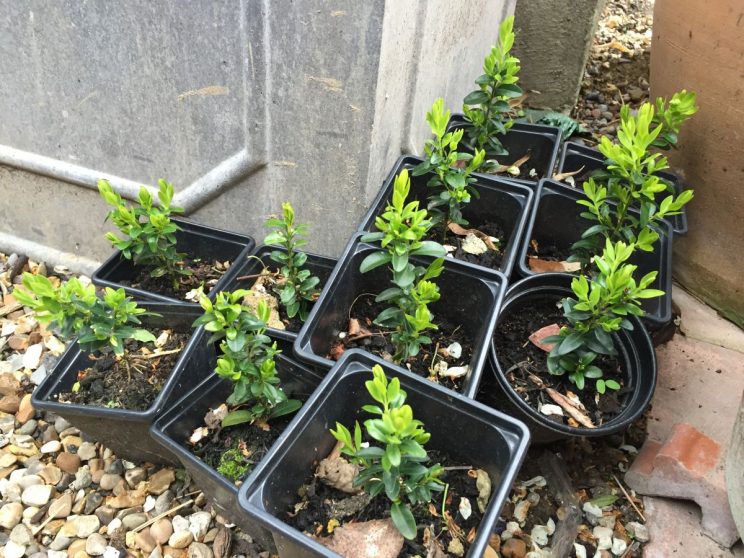 Dahlias: all but two of our Dahlias made it through the winter as tubers in the cupboard and I have now put them outside (protecting with fleece if there is a frost). I have two Dahlias in the ground still and only time will tell if they survived. There are 15 new Dahlias on the way too. It's hard to imagine that most of these little badgers will be taller than 6ft by mid-summer.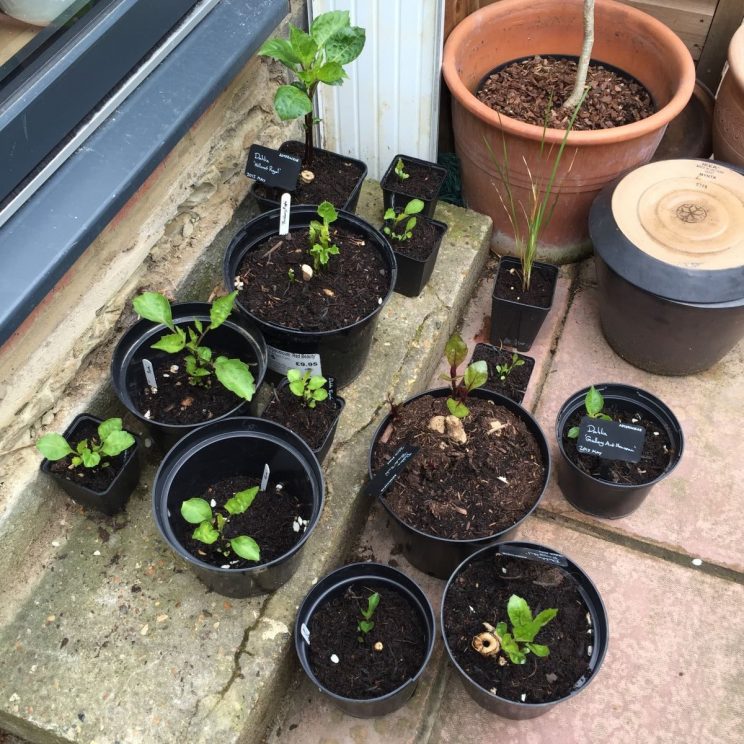 Exotic: last year I won a really cool competition prize of a Schefflera taiwaniana from Michael Perry and Crug Farm. It's coming into growth now and I love the look of it. I'm really excited to see it fill out more because it's quite leafless at the moment. I have this pride of place by our large bi-fold doors where I can look down on the top of the amazing leaves.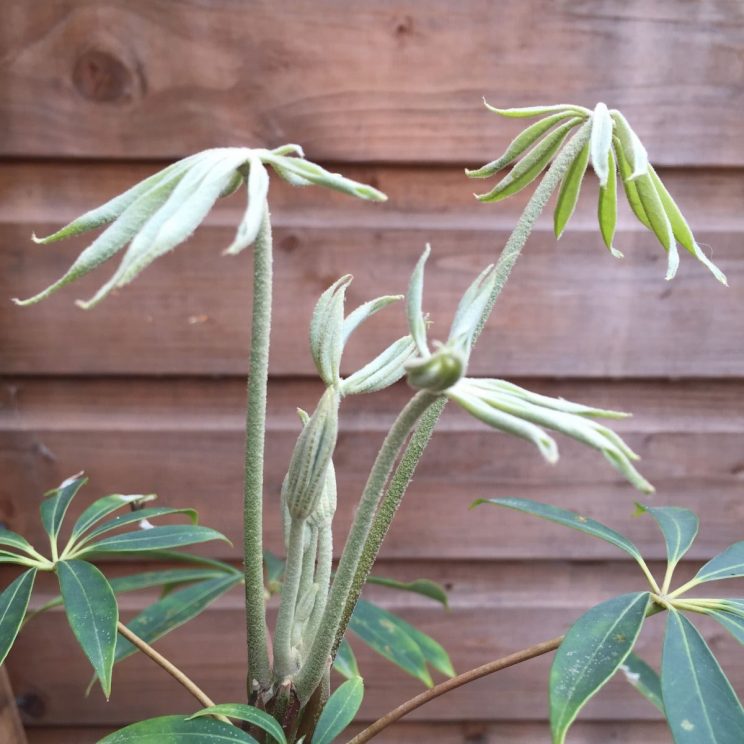 Canna division: I bought one tiny Canna last year from Hart's Cannas and it grew like Billyo. I managed to divide it into five plants (I've given one to my sister) and they all seem to still be growing like the clappers! I left the Canna outside with a little protection of bubble wrap around the pot but our garden is clearly very protected as lots of tender plants are still alive out there.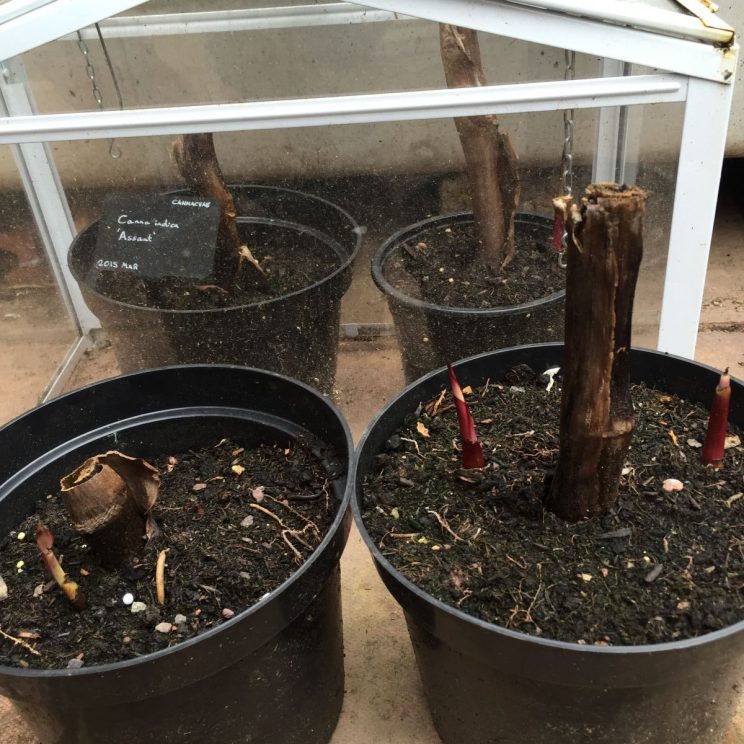 Pruning mania: I love pruning, I don't know why but I find it an exciting and fun process of chopping back to get structure and then seeing the plant bounce back. I've hard pruned our Sambucus nigra f. porphyrophylla 'Black Lace' for the first time this year (it was planted two years ago), pruned a hydrangea, all of our Salvias, Fuchsias, our Buddleia, all of the late flowering Clematis and a Hebe. It makes the garden instantly quite stark, but beneath the ground are powerhouse root systems. They're all going crazy now.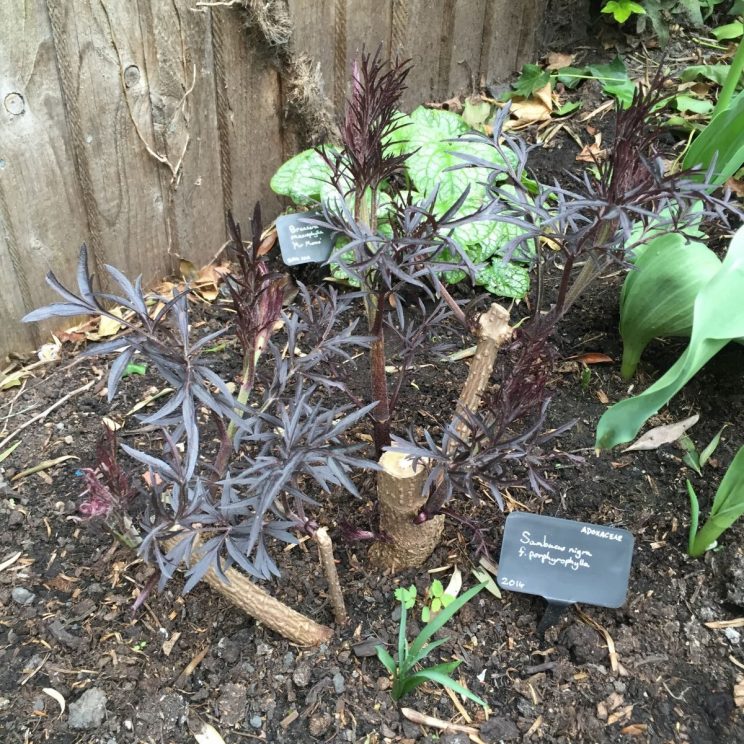 Interestingly, there isn't much online about pruning Hebes. I think the advice generally is not to do it to protect the natural shape. However, with our Hebe I severely pruned the plant and the roots back last year to move it from the border to a pot and it was fine. This year, I've hard pruned again and it's growing loads of new shoots. So, pruning Hebes seems to be fine.
Grasses: I'm growing lots of grasses this year. Last year I grew Briza media from seed and they didn't flower in that first year (they didn't seem to care Monty Don was coming over!) This spring though, they're looking lovely and looking likely to flower soon.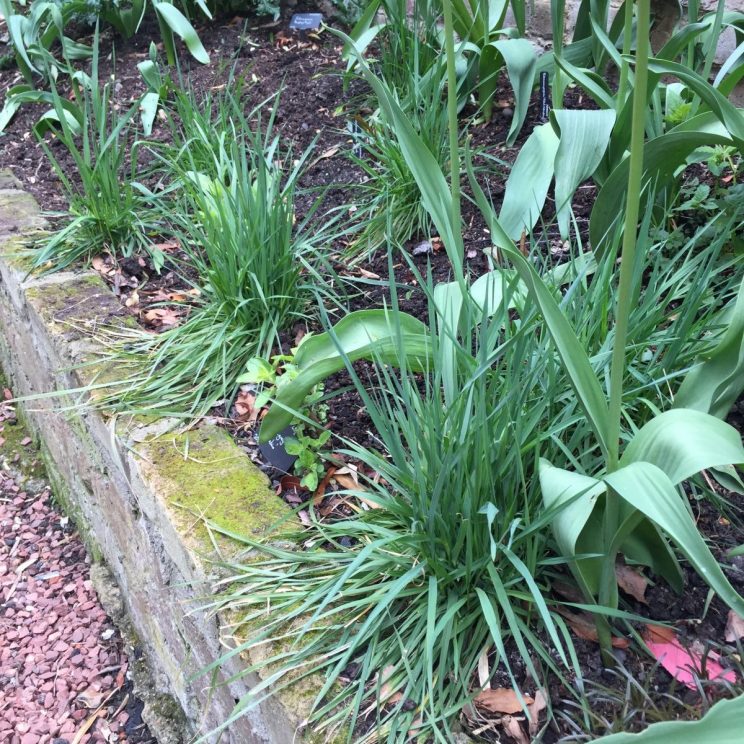 Herbaceous plant growing: lots of people have visited our flat since Big Dreams Small Spaces aired excited to see our garden and I could see the look of disappointment when they saw it. Intentionally almost all of our garden is herbaceous and dies back in winter leaving bare soil and grotty looking old fences. But there are hundreds of plants out there. Either buried under the soil or pruned, ready to rocket. The main thing with our garden is that it's a gardener's garden. High maintenance with dramatic change to see plants growing, to show people how fascinating their growth is. By the end of May, our almost empty garden will be an overgrown jungle. I love that. In March most of the plants started growing again, and since mid-April they've really started going for it. Our Lupins seem to be the first out of the gate (as I write this I realise you'll soon spot I'm a big fan of palmate and compound palmate leaves! I think they are beautiful and unusual).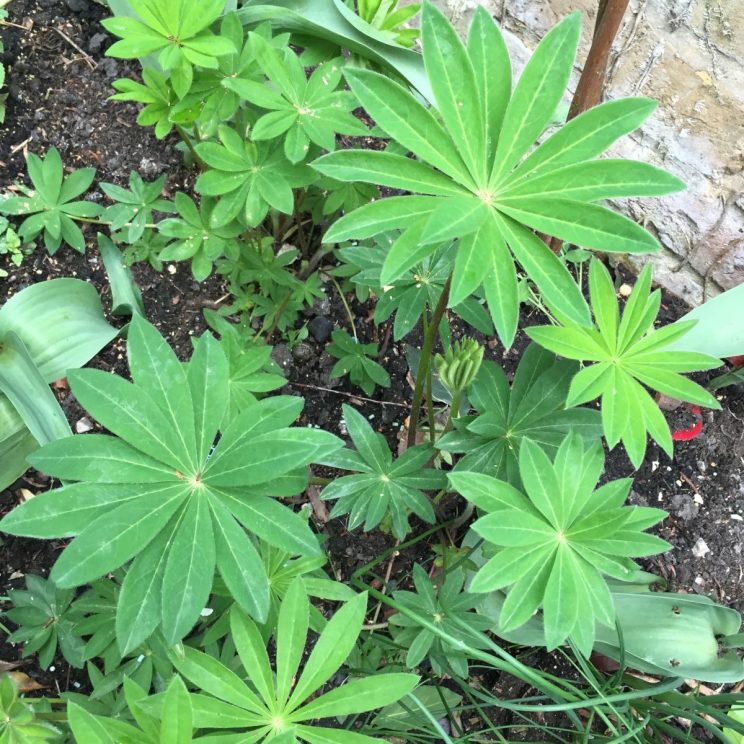 Hostas are wonderful plants. Their leaves and brief flowers are stunners. To my eye though, none of that compares to their eyes emerging in spring. Blink and you'll miss them.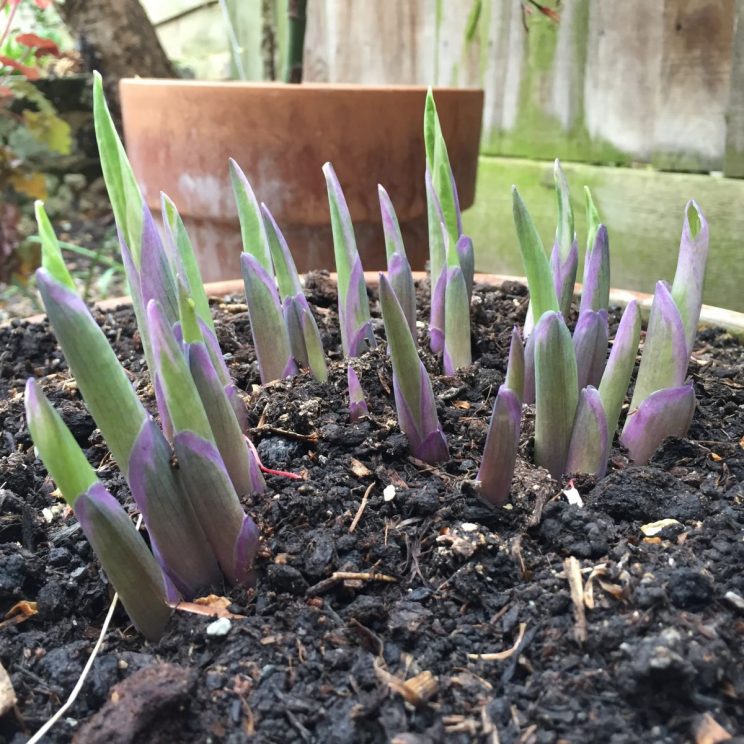 Formality: one of my favourite parts of the garden is the below "formal" bit. "Formal? More like ramshackle!" is probably what you're thinking. Well, let me assure you that by the time late spring is here, you won't see that fence behind the amazing climber, Parthenocissus henryana. In between the pots are our biggest ferns too, which have really multiplied this year and already look stunning as their fronds are unfurling.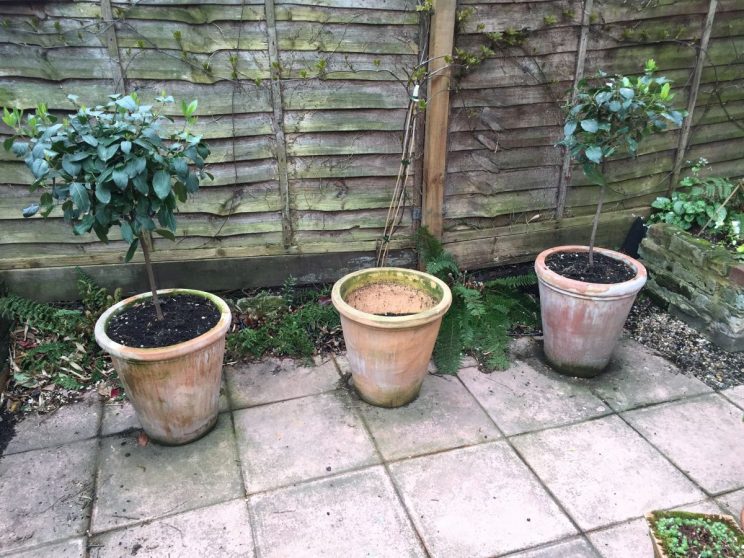 Last year, I had Fuchsia magellanica 'Hawkshead' in those pots, a plant I really love but it didn't have enough structure and looks really tatty in winter. So I swapped them for our two Viburnum tinus standards which look good all year. We'll get a third one soon to complete it.
Propagation: part of the reason I've been quite quiet is because I've been sowing and growing plants from seed. Nothing brings me more joy than seeing a fully grown plant that I've seen grow from seed. I've now planted out all of the Sweetpeas I sowed in January. Which seem stronger than my autumn sown ones last year.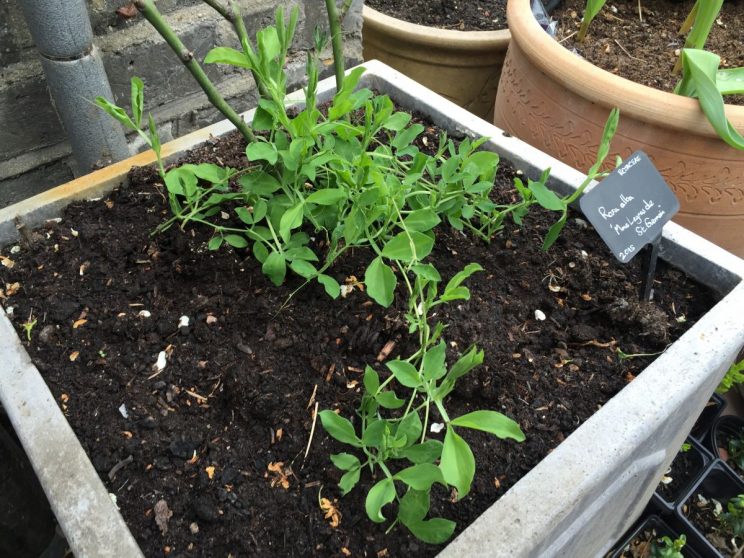 I used a small wooden cold frame last year, which was great but too small and too permanent for our small garden (it was in the way in summer). So I chucked it and got one of these cheap plastic greenhouses which I have to say has been wonderful. I don't like the look but it has housed seedlings and tender plants perfectly. Plus, I can pack it away in summer when the garden needs to look its best. Below though, you can see some of my veg seedlings for the allotment, tropical ferns, Pelargoniums and other things.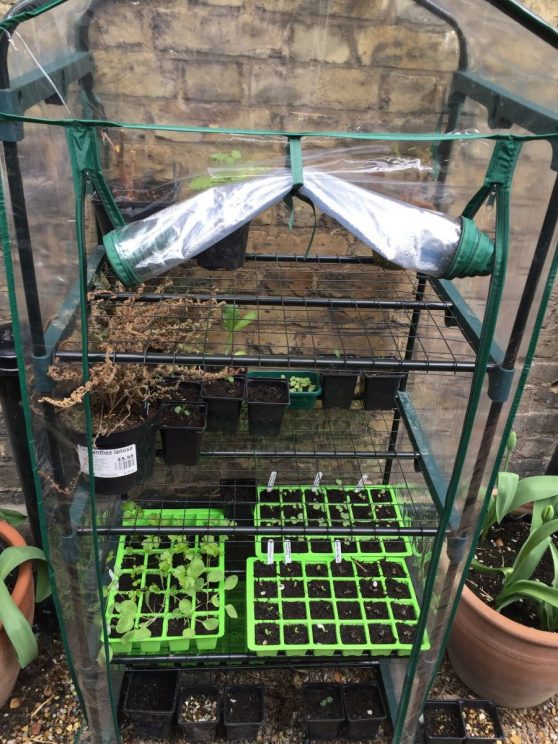 Inside, our front bay window is the perfect propagation spot. I have tomatoes, Basil, Nicotiana, Leonitus, Ricinus, Rhodochiton, Melianthus and a bevvy or ornamental grasses growing here. Plus a range of beans on the floor out of shot to the left. I'm under strict orders to have them all out of the house by May – "boo!" right? 🙂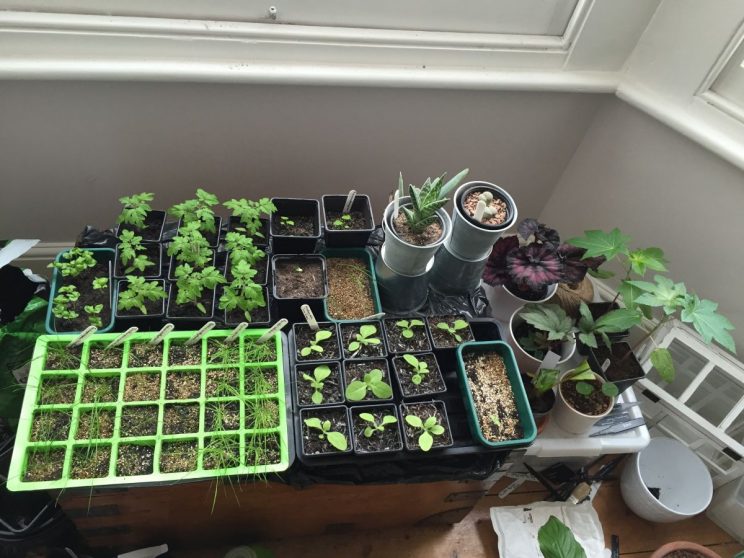 The super Eagle-eyed among you may spot a teeny weeny little banana plant in there too. That's in addition to Chris' banana which has weathered it outside in the fern wall!
London microclimate: I will write a separate blog post on tender plants in our garden because it's amazing what has survived the winter outside. Below you can see the outside of our windows, which still need to be painted, plus a Pelargonium and exotic Fuchsias growing again.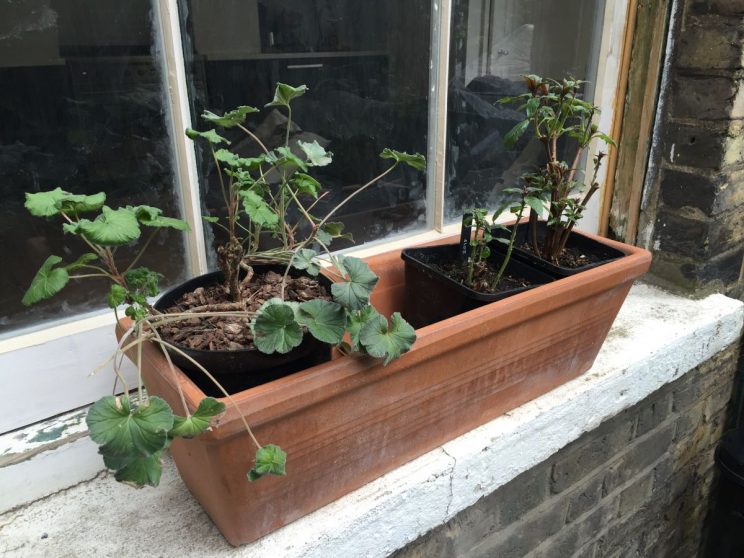 Fern wall: I'm on a mission to make our fern wall better. I think now is the best time for the wall because the fronds are all growing, which is a sight to behold for plant geeks. However, I have discovered that LITERALLY NO ONE ELSE THINKS THIS. Everyone else sees a half empty, tatty old fern wall that they were expecting to look magical. So, I have plans afoot to sort this out with some 'padding ferns' of the most die-hard evergreen ferns in troughs to fill out the wall and make it look more designer. Among these I can still squeeze my 50 or so unusual specimens.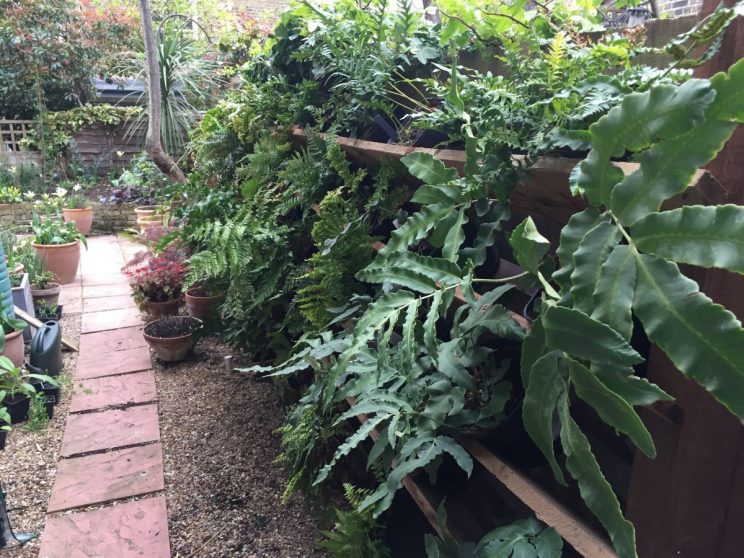 Front white garden: part of my main plan for our garden was to have a Sissinghurst formal, tasteful white garden out the front of the house. The space is really the size of a very small balcony and used for bins and the gas meter, but you can do a lot with climbers and window boxes. On Big Dreams this never happened because the space was used for rubble during our building work. This year I am re-growing it all from scratch, starting with an understory of white variegated ivy I took from a cutting. Not much to look at right now, but there is also seed grown Sweetpea and Astrantia, plus the 'Hawkshead' Fuchsia and white Alliums that were in the back garden last year.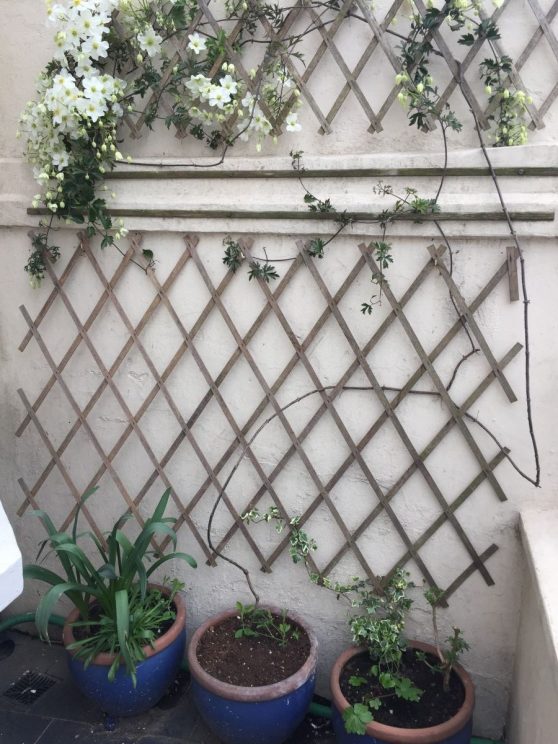 Ch-ch-changes: a few other notable changes include removing one of the Cordylines and replacing it with a Eucalyptus (below). I love young Eucalyptus for their really weird, alien leaves. This will be hard pruned in future years. Added lots of Hellebores for their white spring flowers, but also wonderful compound palmate leaves. Plus added a Miscanthus and a Geranium (something I've been after since reading about it in Christopher Lloyd's succession planting book).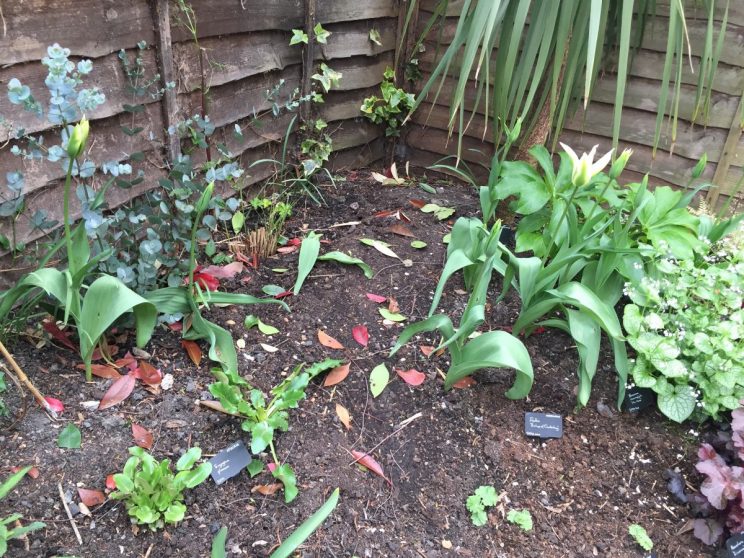 One thing I'm excited to talk about in future updates is our micro-pond in a container. I spent months researching this and every other part of our garden last year and it's worked really well as a feature. The lily pads are just about to hit the water surface again and that plus the water Iris are both going to flower for the first time this year.
And that's about it for now: I could go on but if you've made it this far you're probably already at the end of your tether. As I say, the garden looks a bit tatty right now, intentionally so because I love the process of gardening and seeing the entire garden grow from nothing to jungle in a few months. It makes it much more interesting than a static garden design (for me anyway).
All going well, come June onwards it should be a really fun garden to look out onto again – I can't wait! 🙂