The Chelsea Flower Show is nuts. People on stilts dressed only in flowers, cactus jackets, astro turf lions, stands of rare plants grown to utter perfection by collectors and nurseries, every millimetre of gardens designed and fussed over, landscaping built in a week to be knocked down a week later, flowers arranged into hats…
People like me turn up taking photos, jotting down plants names, blogging about how amazing everything is. Everyone hotly debates afterwards that their favourite garden should have won best in show because it was better than someone else's favourite.
Why do we do it? Because we all flipping love it!
The Chelsea Flower Show is an unpredictable and eccentric celebration of skill, plants and artistry. There's nothing else like it. As has now become tradition, here is an article with a random numer of 'things' that caught my eye at this year's show.
1) Chris Beardshaw's shade planting
Everyone, and I mean everyone loved Chris Beardshaw's garden for its masterful planting. One side in shade, a lush woodland garden – a type of planting I absolutely love. Full of ferns, lush foliage and showing people you can have flowers too.
2) Chris Beardshaw's sun planting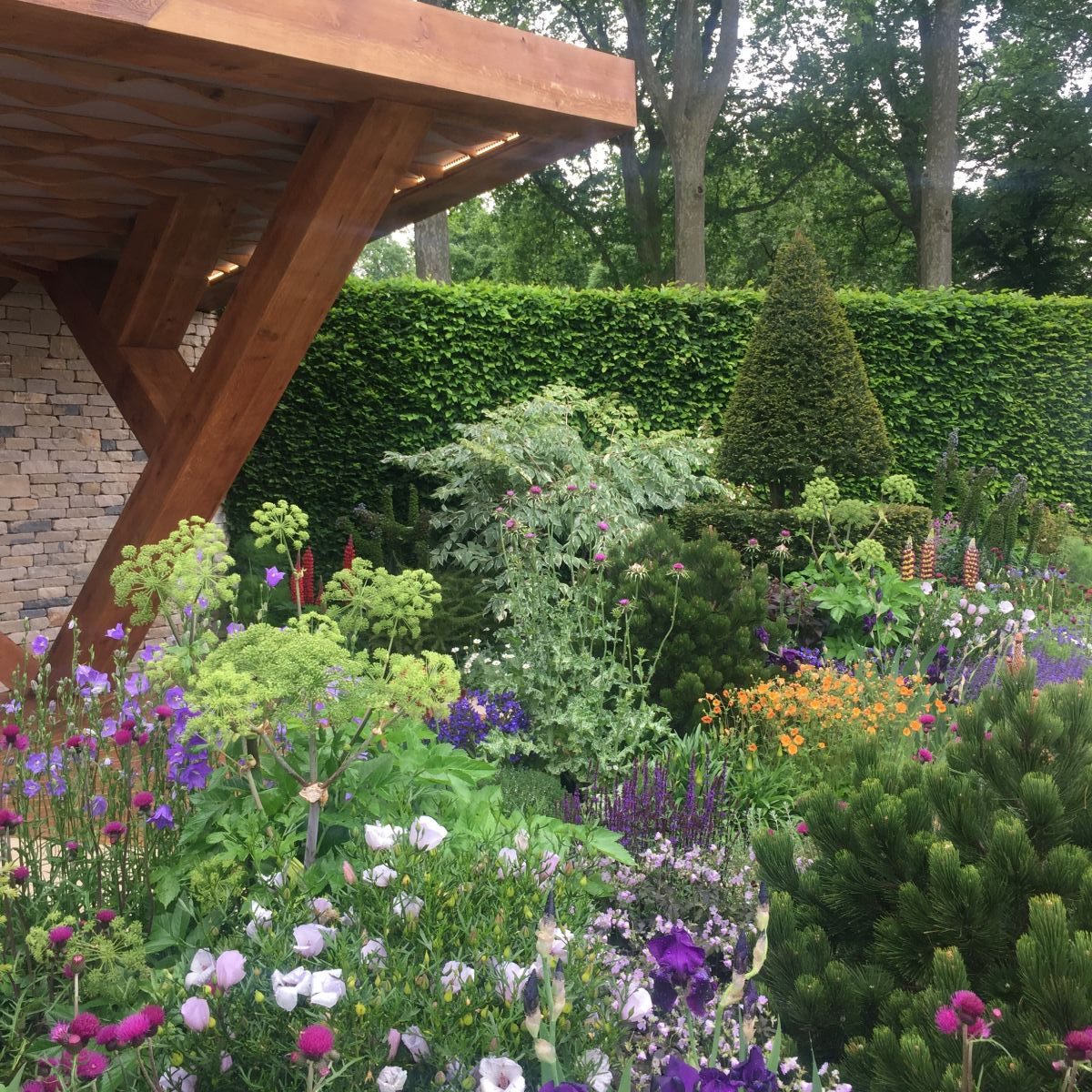 Echiums, Cirsium, dwarf pines, Angelica, Lupins. All the crowd pleasers are here in a colourful display. The building is almost incidental, it's all about the plants in what's essentially one gargantuan border.
3) This structure setting off the Canadian boreal forest planting
Contender for my favourite garden of the show. Charlotte Harris has designed a cool and contemporary space I would love to spend time in. The structure is one of the best I've seen at Chelsea, the simple shapes and the see-through slats (reminiscent of something I've seen at Edinburgh Zoo) make the plants look better. The level of detail on the stone work, pool and charred wood is really strong.
4) Vibro-gardening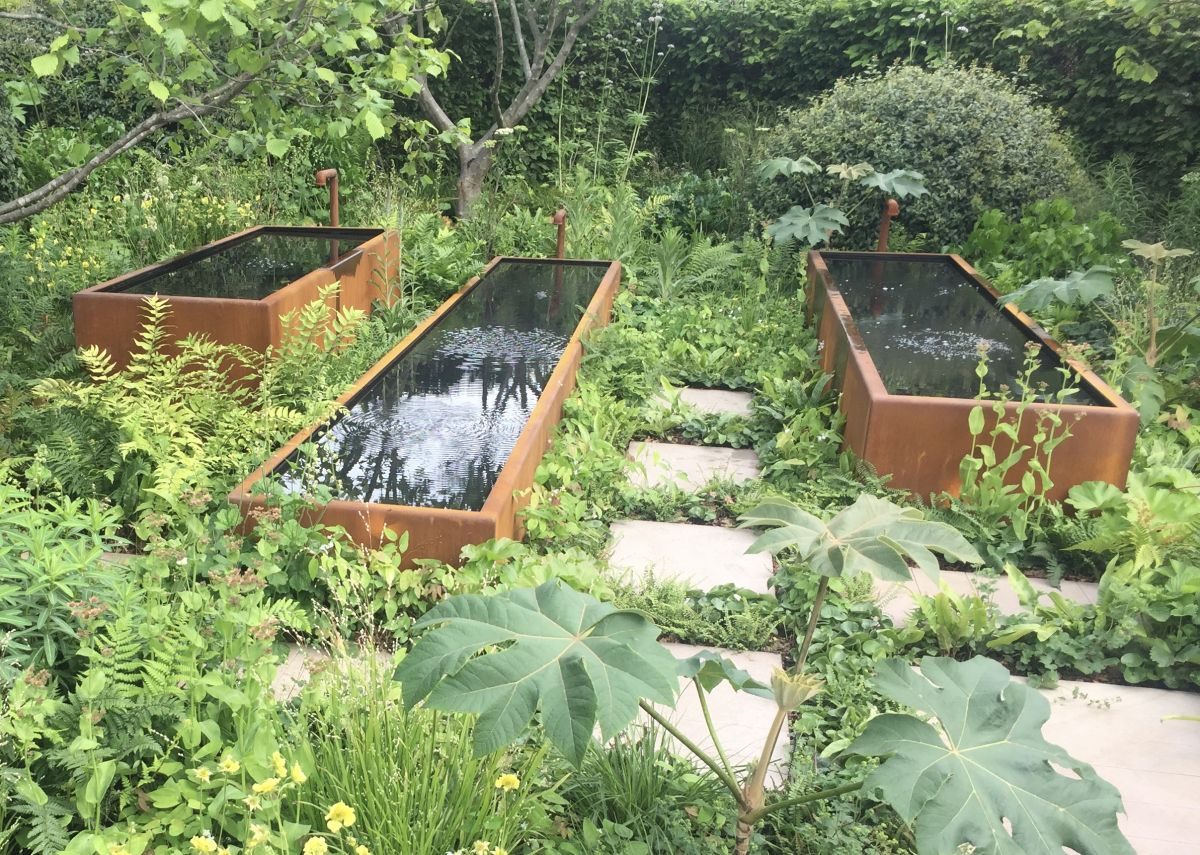 I know James Alexander-Sinclair from TV but this Chelsea made me realise I know none of his designs! Well, that has changed with this simple eye-catcher, a shadey area with three copper troughs. Not such a big deal, eh? Think again! For one, the entire garden sits on mahoosive vibration plates making the mini fountains in the pools create incredible displays of grids and squares. Secondly, that shade planting is pretty genius tbh. Tetrapanax and lots of interesting foliage plants.
5) Side wall of the Poetry Lover's Garden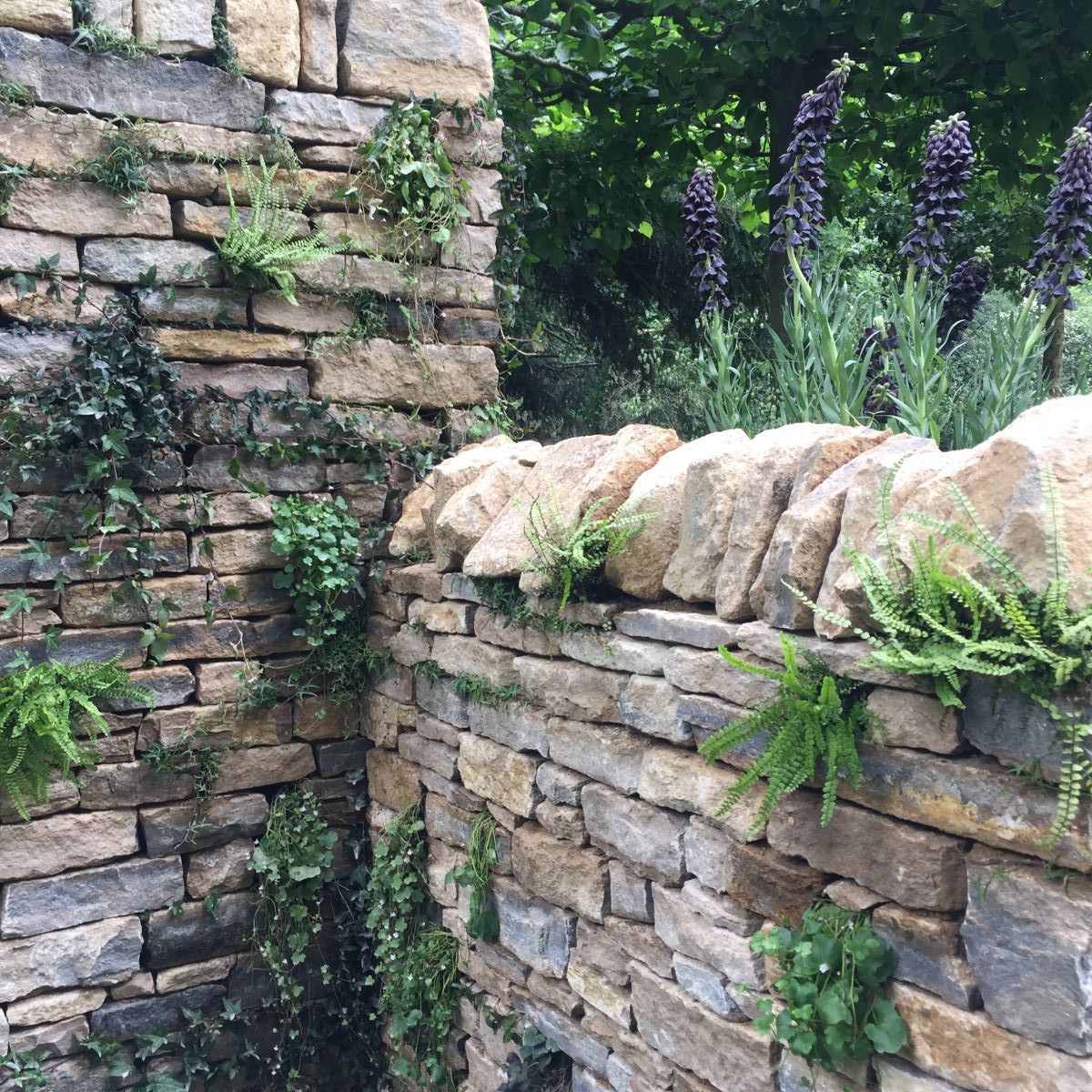 I think / hope this was intentionally a highlight, otherwise it's a bit sacrilegious for me to say, my favourite part of Fiona Cadwallader's garden was this side wall on her Poetry Lover's Garden. The little fern, Asplenium trichomanes is one of my (many) favourite ferns, the wall is contemporary dry stone and peaking over the top is another fave, Fritillaria persica, the cultivar 'Twin Towers Tribute'.
6) Speaking of back sides
Kazayuki Ishihara's Gosho No Niwa garden impressed like all of his previous show gardens. This year we could walk around the back to find… the magic continued with the back looking as good as the front. A living wall of Acers, Viburnum and herbaceous plants. Incredible skill and ingenuity.
7) City living
City Living by Kate Gould is a tour de force of exciting new ideas for people transforming their inner city small spaces. Proving again that shade planting can be very exciting with plants in unusual undercover and living wall positions, as well as roof tops and basement style areas. Very clever with lots going on in every tiny space. Lots of interesting materials too, including the rusty colour metal.
8) Walker's Wharf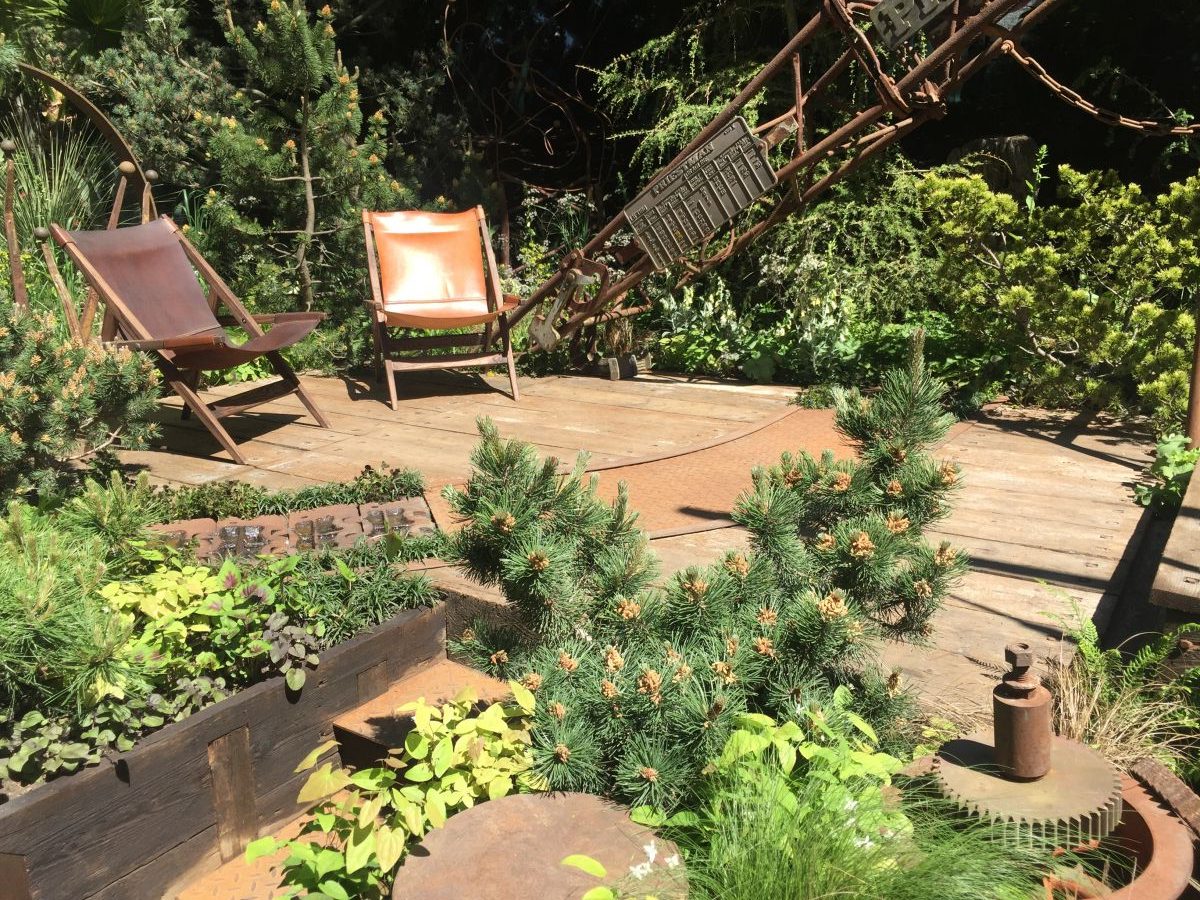 It's like the sequel to the Sculptor's Picnic garden in 2015. Walker's Wharf by Graham Bodle was my favourite Artisan garden this year because of the colouring and atmosphere, it looked like it had always been there. The materials are what make it. Old industrial cogs and crane surrounded by lovely wood decking, dwarf pines and other woodland wonders. Deserving of best of the Artisan gardens.
9) A contemporary mediterranean retreat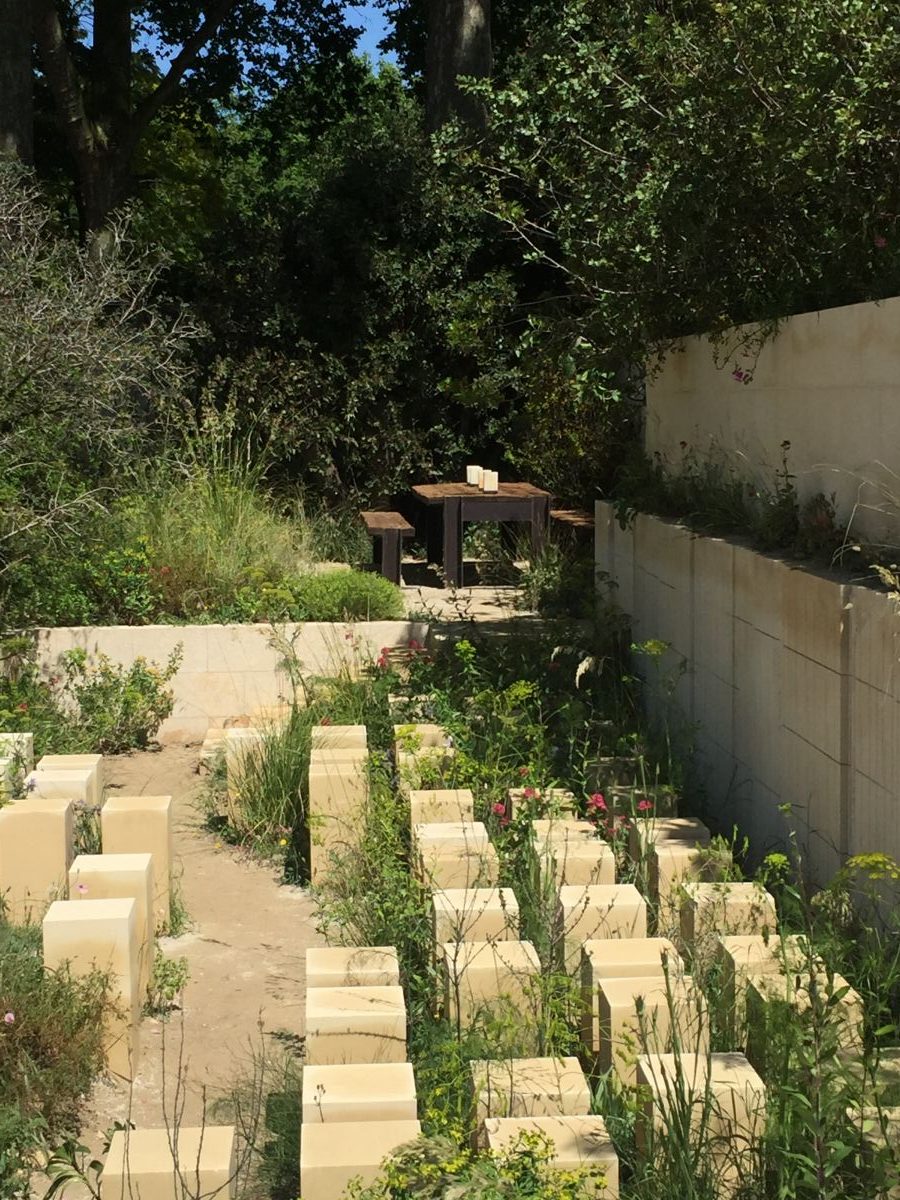 There was quite a lot of hype leading up to the show about James Basson's quarry garden, so I was expecting the reality not to live up to it. In the end, it surpassed all expectations and is one of my favourite Chelsea gardens of all time. Lots of people don't get it because it doesn't match up to the traditional voluptuous planting of regular gardens ("where are the Lupins?!" etc). For me, it captures an atmosphere like nothing else. Plus, I'm a sucker for wild flowers and I don't understand conventions that tell us we shouldn't like weeds in our gardens. All plants are beautiful in the right setting. Growing wildflowers as grown in this garden, and then presented to look natural takes far more horticultural grit (and I don't mean the pebbles) than a regular border. The plants are interesting, unusual and they set off the fantastic grid, pool and path of hard landscaping, combining to create a truly wonderful overall colour palette. All making this garden completely unique and fully deserving of best in show 2017. (There I said it – comments box below for other opinions! 😀 )
10) More weeds
If people hated the planting in James Basson's garden I'd love to know what they think of the weedy wonder of the World Horse Welfare Garden by Adam Woolcott and Jonathan Smith. It was rammed full of an incredible number of our native / naturalised wild flowers all grown to weedy perfection. Some were even trampled to make a natural path. Again, I loved it – there's such talent in making a garden like this look so natural.
11) Mind Trap
Designer Ian Price told me he'd been planning this garden in part for 15 years and as he explained it to me, the layers of meaning were wonderful. With conceptual gardens I either love them or hate them, because you either get them or you don't. This garden, about an individual's struggle with depression I got. It also looks pretty cool which is a hard thing to do when your garden has a message. I was initially drawn in by that funky little water feature.
12) Big red fins!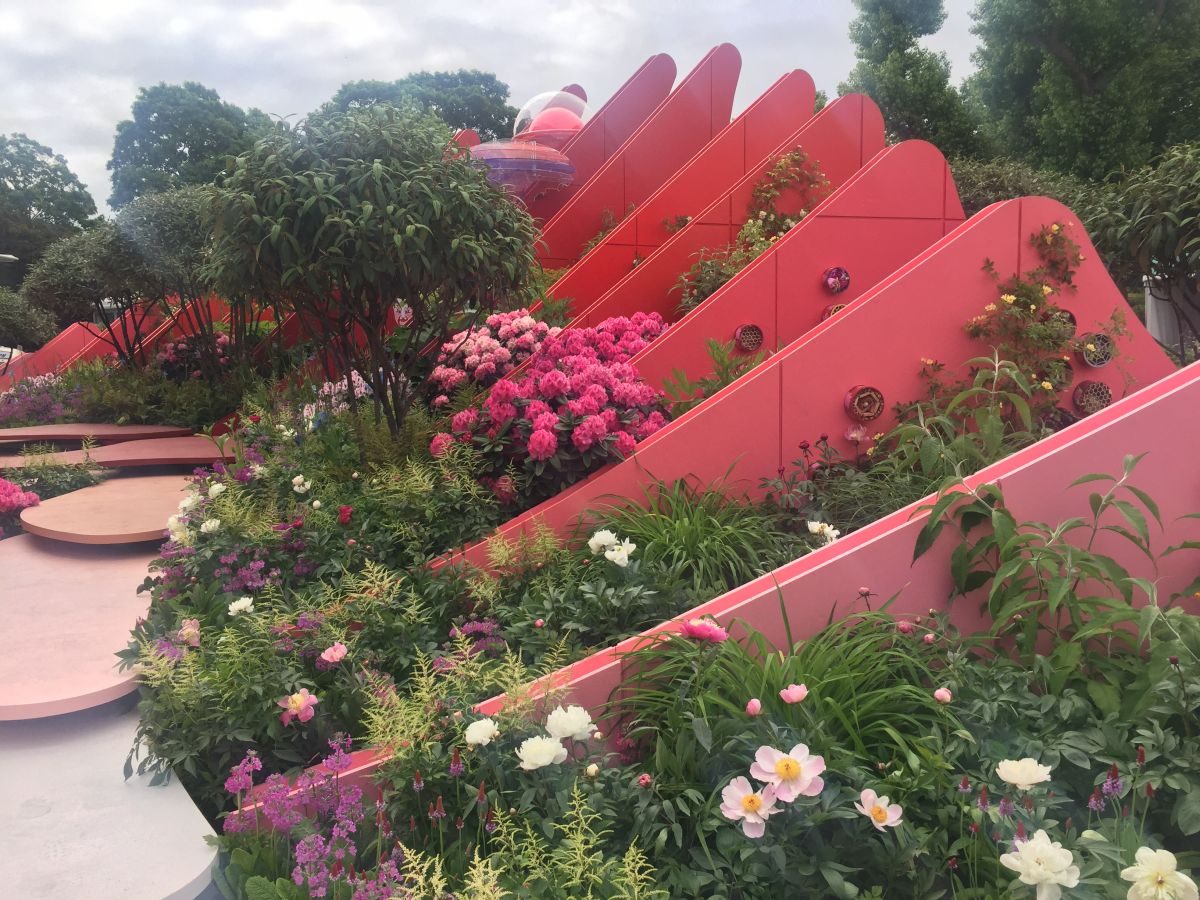 Laurie Chetwood and Patrick Collins' Silk Road garden was visually spectacular and really unusual. I loved the planting and the red fins. I was less keen on all the other gizmos that came with it, like the random bug boxes, wrestler faces and giant plastic toy balls – but I am a minimalist so what do I know.
13) More mosaics please!
I love a mosaic and the Viking Cruises garden for inspiration by Sarah Erbele has a really good one. Working wonders with the orange tree above it. Sarah's rill and water pipes also caught my eye.
14) Cushions and concrete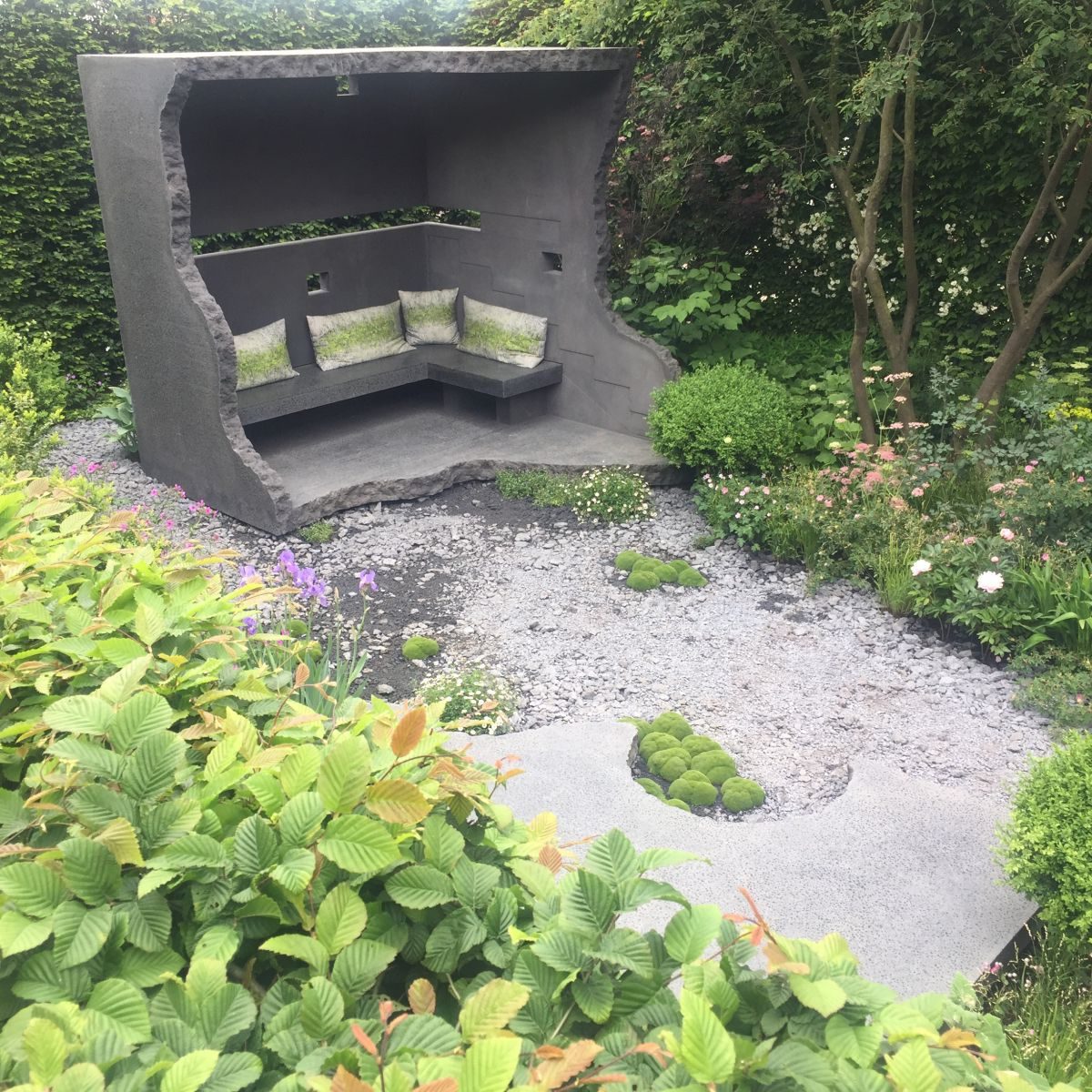 The exploded concrete cube is cool, but the cushions inside it are cooler.
15) Irises
Enough said.
16) Palms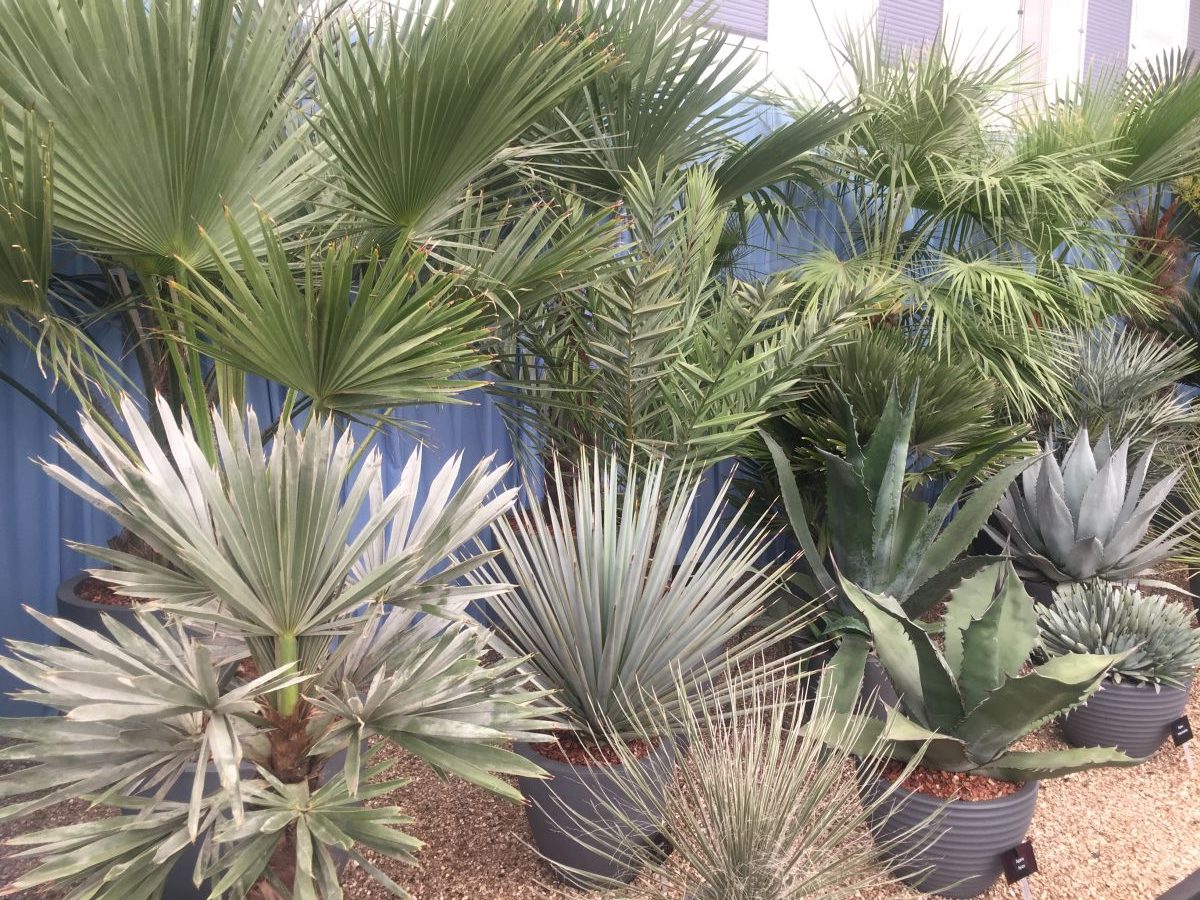 17) Wish my allotment looked like this…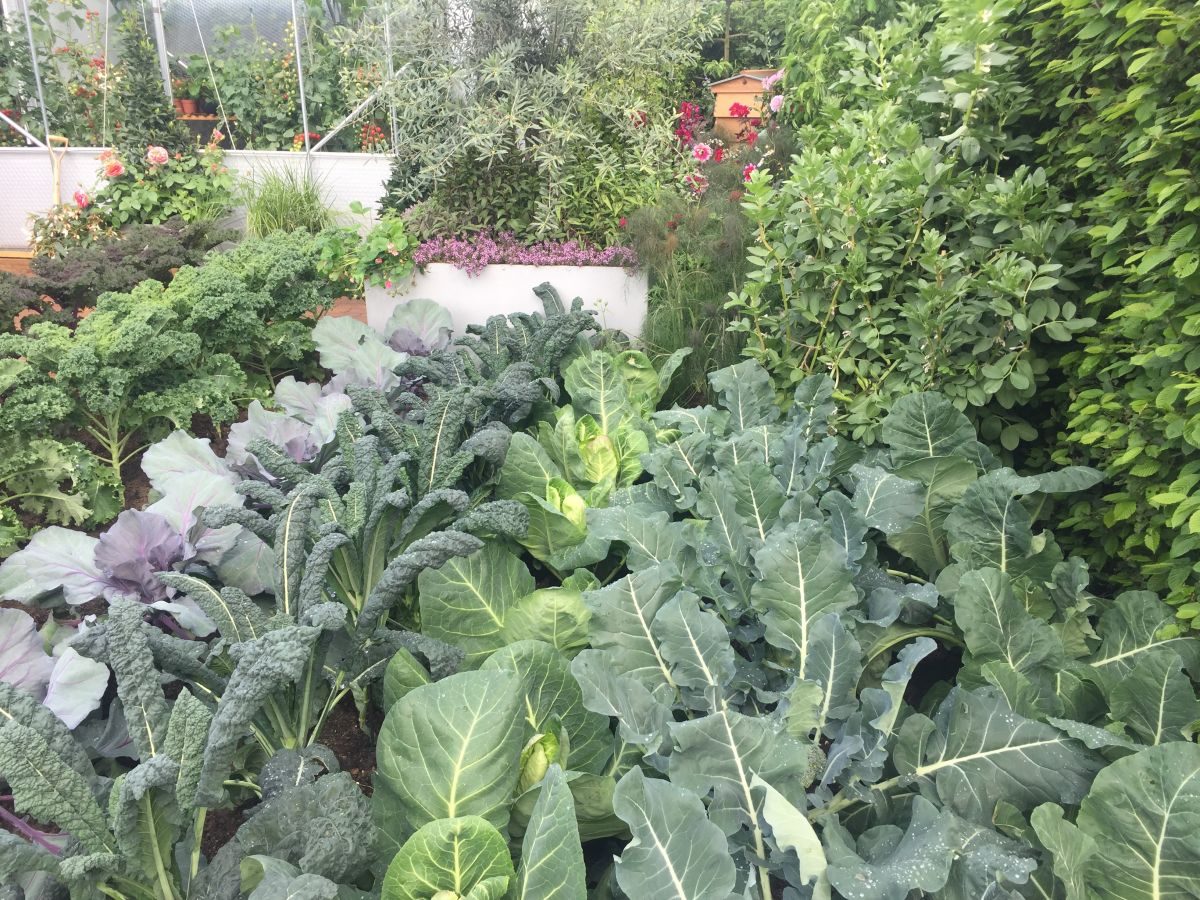 18) Concrete swirl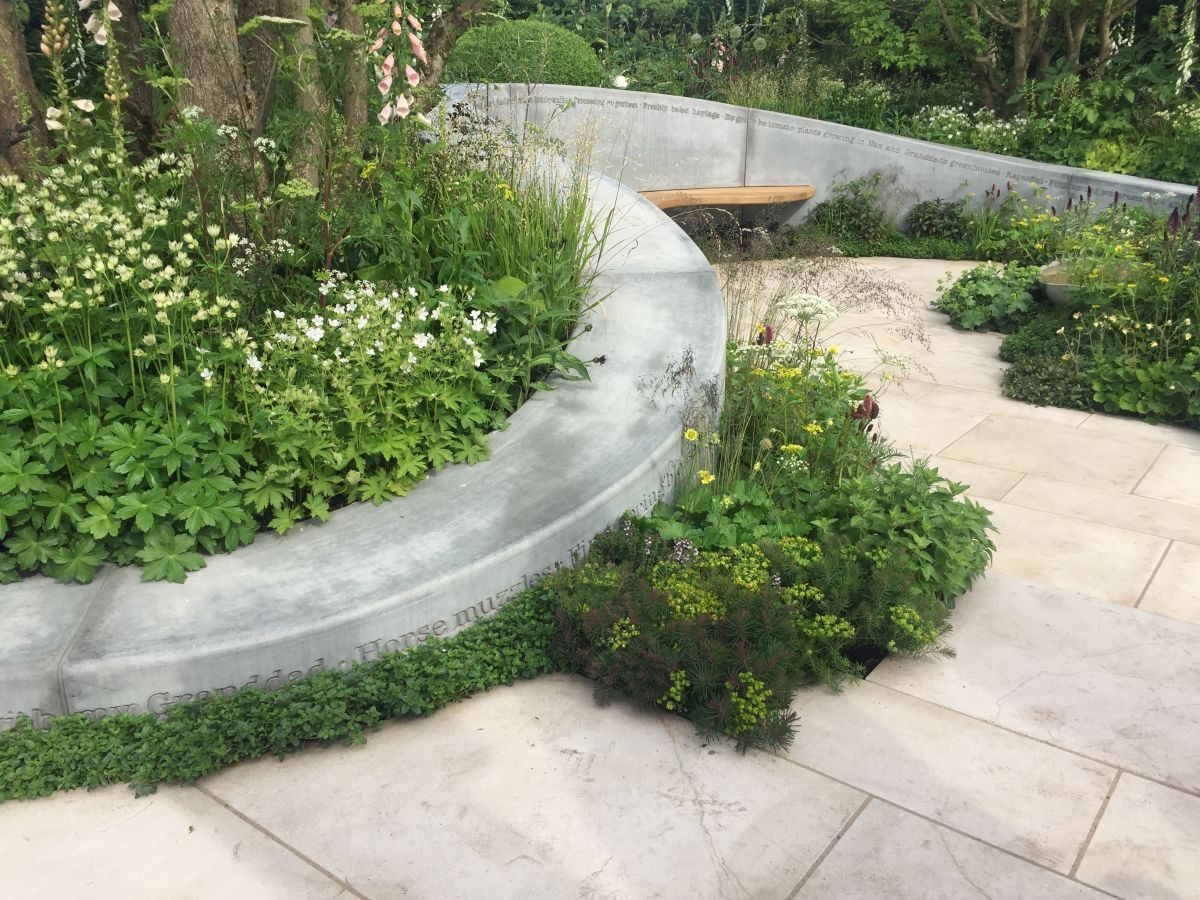 19) The hard landscaping! The planting!
Up there in my top five gardens this year has to be this one, the texture garden by Matt Keightley. The hard landscaping is very cool, and the planting is nigh on perfect in my eyes. Very textured in literal texture and colour palette too.
20) Proper copper
Catherine Macdonald created a wonderful coppery-orange garden for Seedlip continuing 2016's biggest trend into this year. It really worked and is again, one of the top cutting edge plantings this year.
21) Beautiful tatties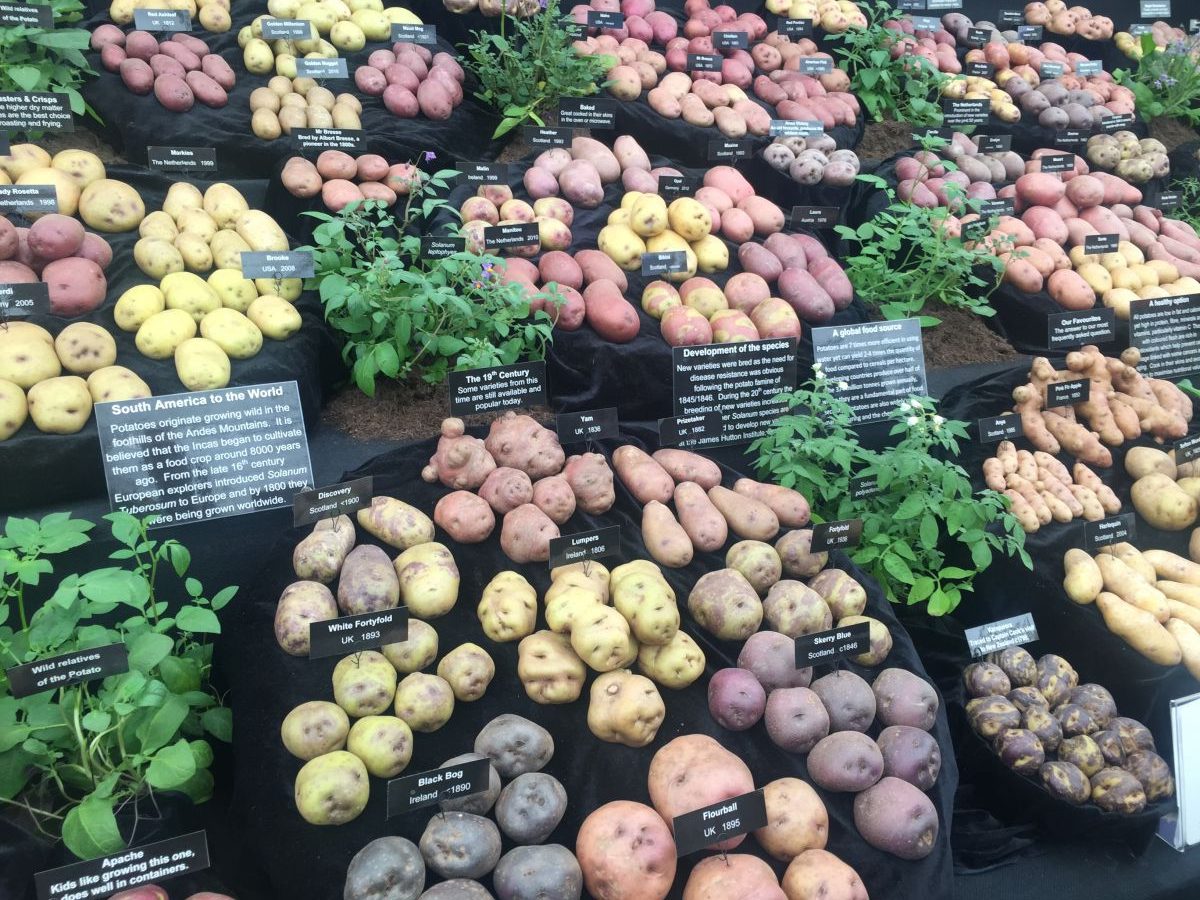 The world needs people who obsess and collect plants. Heritage potatoes on display here are a history lesson and a lesson in the art of master veg growing. I wasn't immediately drawn to them but what an inspirational exhibit.
22) In glorious techni-colour!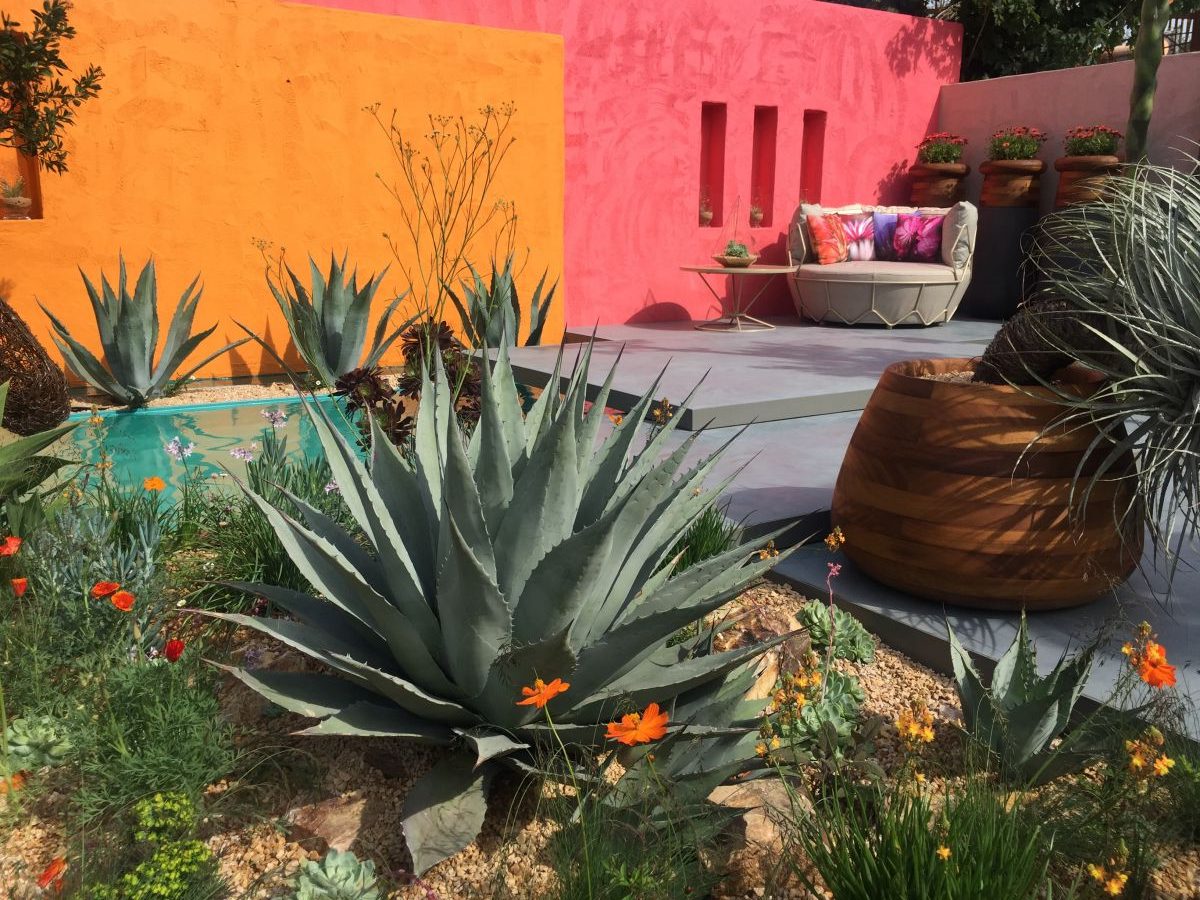 Beneath a Mexican Sky by Manoj Malde is a real gem. It stood out as utterly different to other gardens thanks to the bold paint job on the walls and its drought tolerant plants.
23) Great Pavillion
As is true every year, as interesting as the show gardens are it's what's in the Great Pavillion that counts. Display upon display of plants grown by the best growers in the country. Everything looks immaculate and it's where you be confronted by plants you've never seen before – either because they're so unusual or because they're an entirely new cultivar. You could spend the full week at Chelsea Flower Show in the marquee and you couldn't see it all.
And that's a wrap for another year. I thought 2017 was, despite what others have said, a vintage year. There may have been slightly fewer gardens but I didn't notice at all. If anything, there are more iconic gardens this year that have stuck in my mind, like the Canadian garden, Butler's Wharf, some of the Radio Two gardens and of course, that Maltese quarry. They will certainly keep me thinking for the next few weeks.
Please come back to the site for more on the show over the coming week.