One of my bugbears around Chelsea time are the naysayers proclaiming the gardens are unrealistic and impossible to recreate at home. You know what I always say to that? Poppycock! (Incidentally, what is a 'poppycock' or am I best not asking?)
Are you ready to get the Chelsea look? Let's go…
1) Will o'the wisp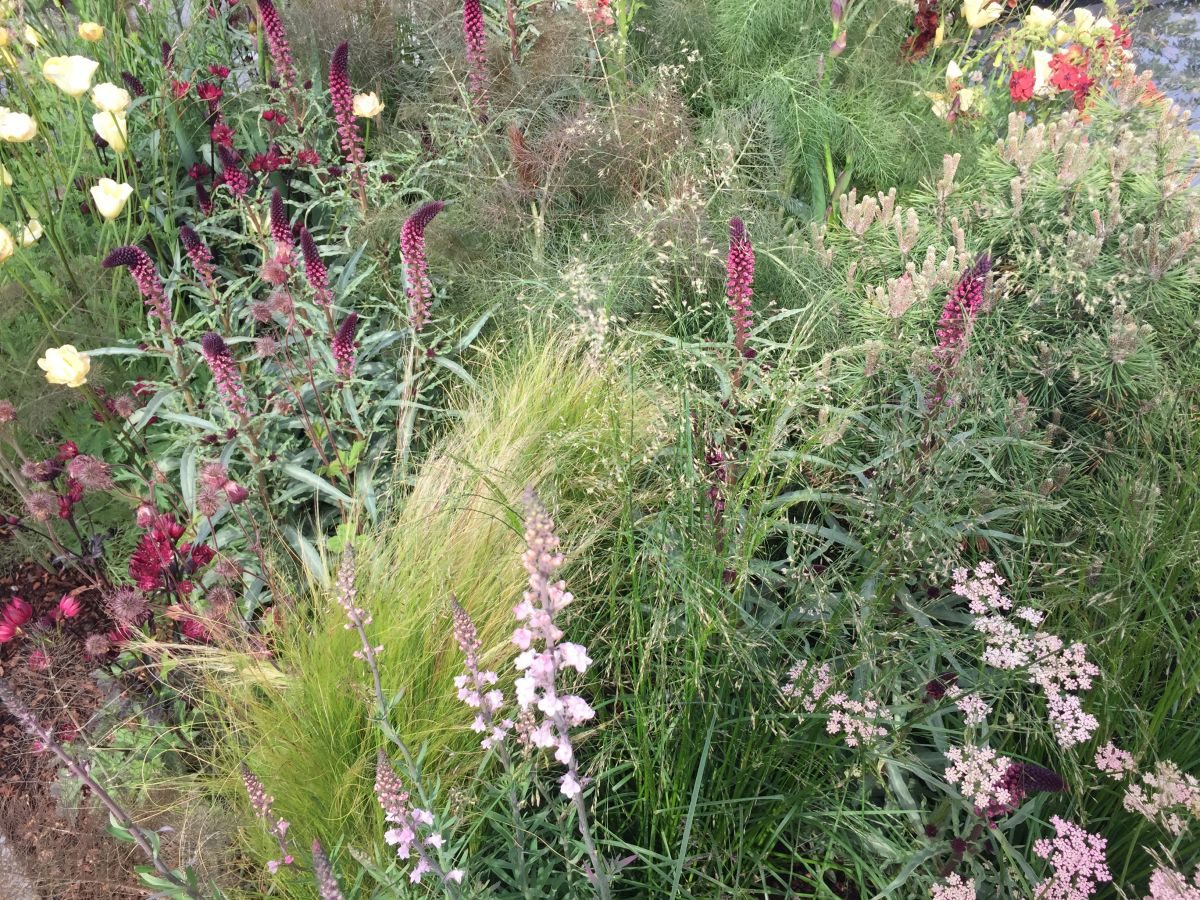 Matthew Keightley is one of our best loved garden designers and for good reason. This planting is chocablock with stuff, creating one of my favourite wispy, painting-like looks. Lysimachia atropurpurea 'Beaujolais' are the bendy purple spires, a common sight at the Chelsea Flower Show in recent years and still exquisite. Reportedly a short lived perennial, I'm growing from seed this year, so I'll let you know. Otherwise, here we see the grass Nassella tenuissima (previously Stipa), really easy to grow, mixed with bronze fennel, Astrantia, rusty Verbasucum, white poppies, Pinus mugo and others. The key is to plant densely.
2) Extreme gardening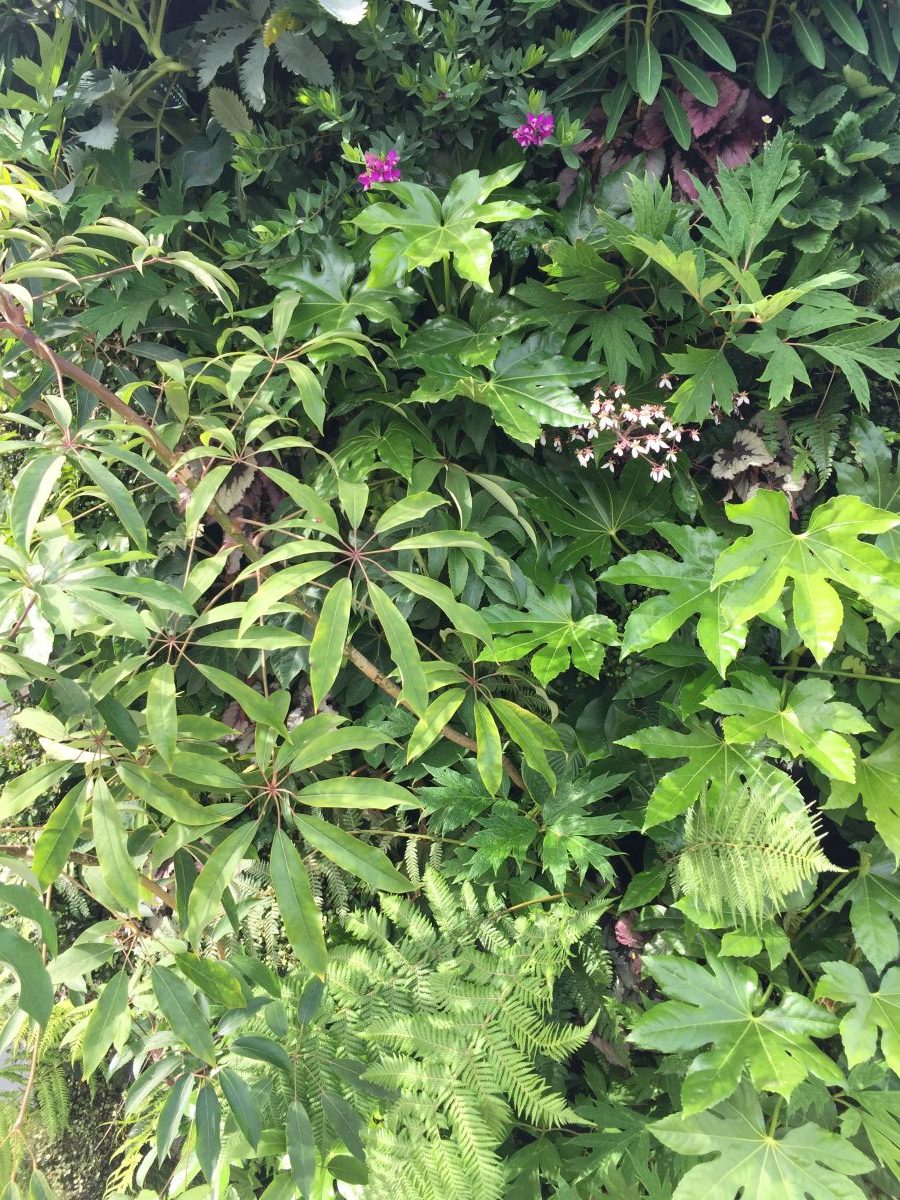 This living wall by Kate Gould is not for the fainthearted – some of the plants are hard to get hold of and expensive. Many are also really large shrubs so it will take some gardening wizardry to care for this – you will probably have to take some out a year later and plant in the ground. However, you can still do it. Fatsia japonica in the bottom right and some ferns – probably a Dryopteris – combine with the rarer Schefflera taiwaniana (large compound palmate leaf plant in the top left), plus rex Begonias and Melianthus major. It's a clever use of sun and shade lovers, so although the wall is in full sun, the large sun lovers shade the shade lovers. This will take some serious irrigation and living wall equipment with large pots for the Schefflera, Melianthus and Fatsia. This is as advanced as the planting got this year.
3) 21st century cottage garden


One of the most original and inspired planting schemes. Spires of Fritillaria persica 'Twin Towers Tribute' – the dusty almost black flowers – steal the show here and are probably unfamiliar to most but I grow them easily on my allotment. They work well with the puff of bronze fennel in sun, but are set off by a lighter planting scheme behind. Two tone Iris, Epimediums and single white Peonies in sunny areas and white fox gloves, ferns and Brunnera in shade. Lemony Trollius light everything up. Grasses include Briza media.
4) Dahlias dahling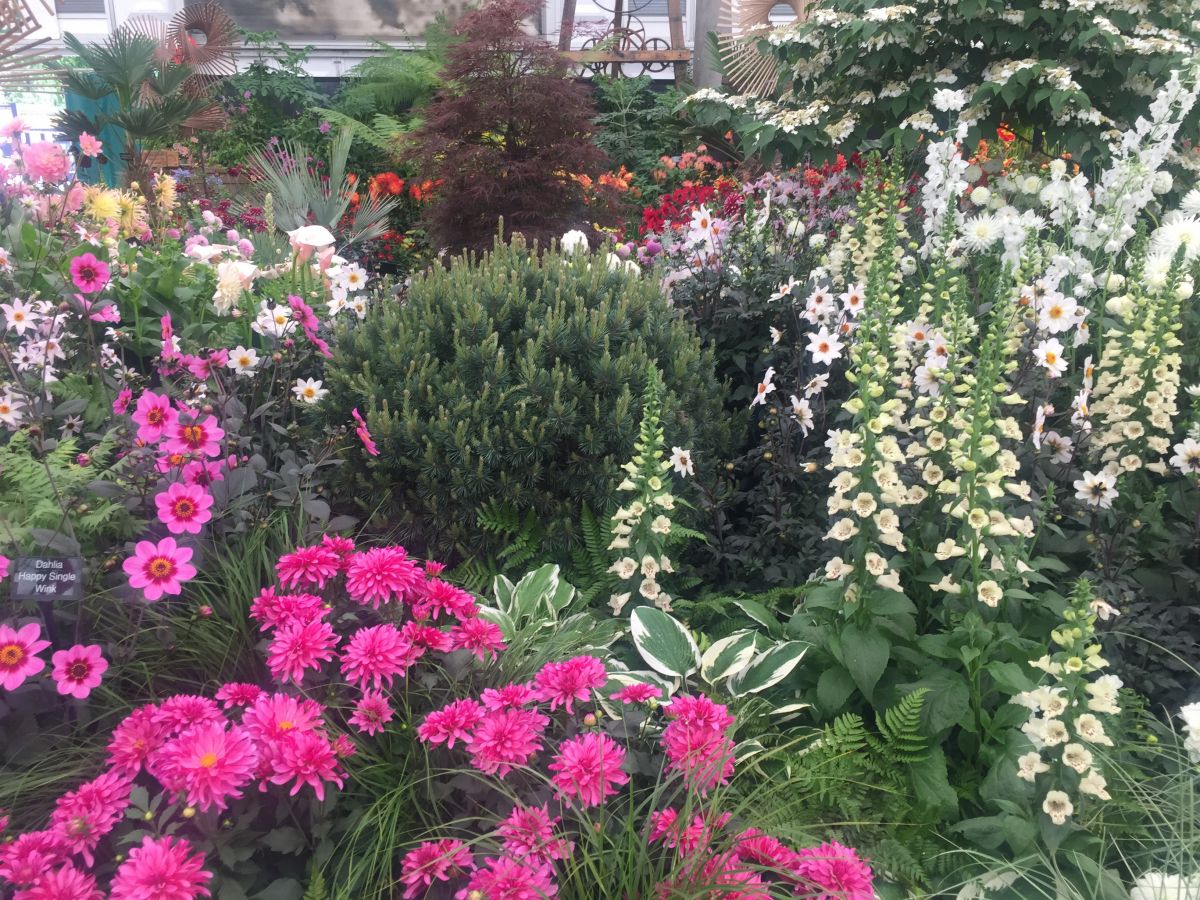 We can always rely on the National Dahlia Collection to bring the sunloving colour powerhouse. Dahlias are easy and come in all colours for full sun, moist soil conditions. Because they're so big, they provide shade for shade lovers like hostas and foxgloves seen on the above pic on the right – I know this works well because I do the same in our garden. The stand also had red bananas Ensete ventricosum 'Maurelii' which we also have and is easy to grow in full sun with lots of water and feed.
5) Colours everywhere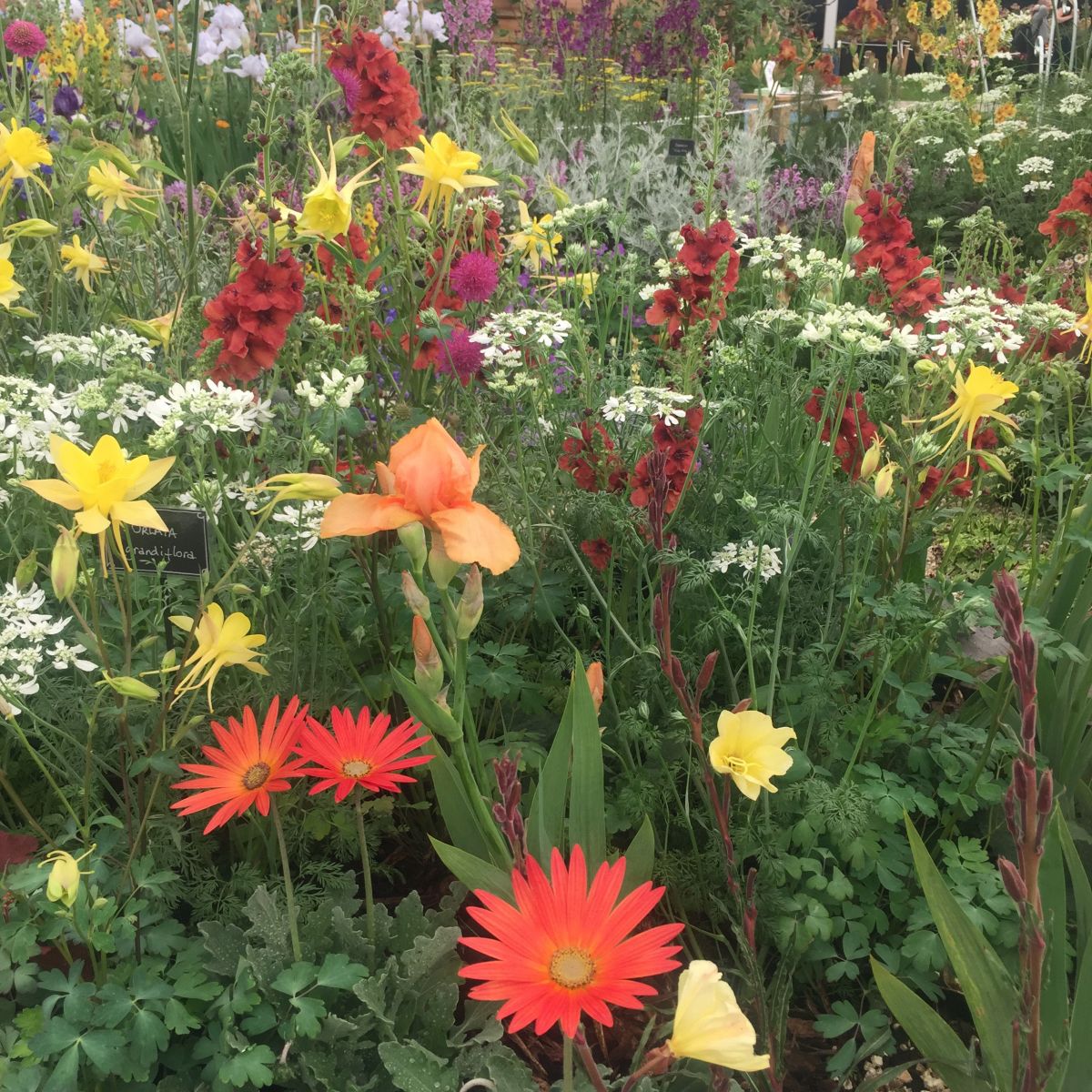 This nursery stand has it all. The yellow Aquillegia look like things flying around, mixed with a peach Iris and spires of bronzey Verbascum. The whole thing is helped along by a froth of white umbels, you could use Anthriscus, Daucus or Ammi. Sun in moist well drained soil, not too rich.
6) Cut flowers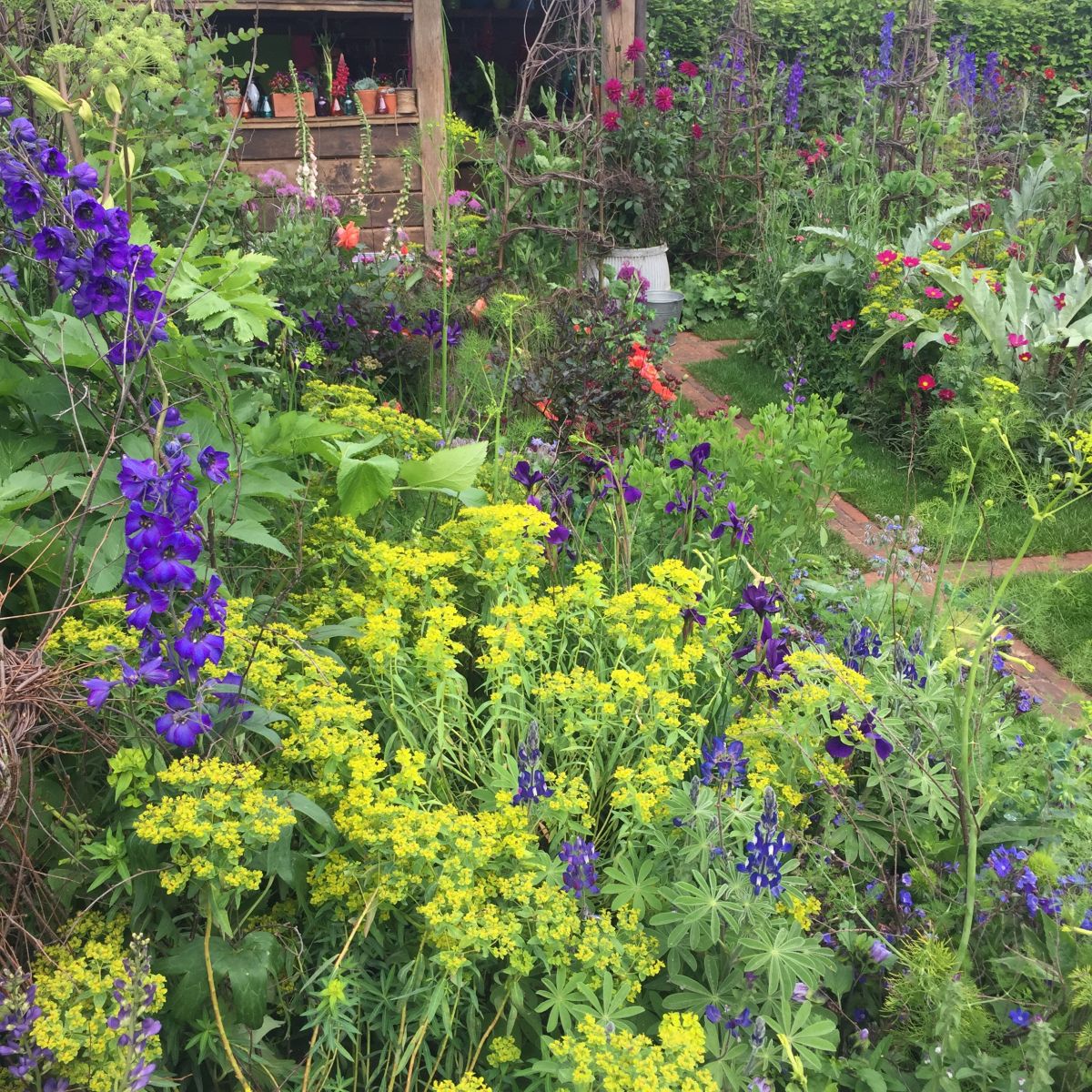 With Sarah Raven's cutting garden you can literally go to her website and buy the lot. So pooh-pooh to everyone saying they can't recreate something from Chelsea. Here you can see Euphorbia, Cynara cardunculus, blue Delphiniums and Lupins, fox gloves, Cosmos, Dahlias, sweetpeas and more. Intensive gardening but easy!
7) Early summer pow-pow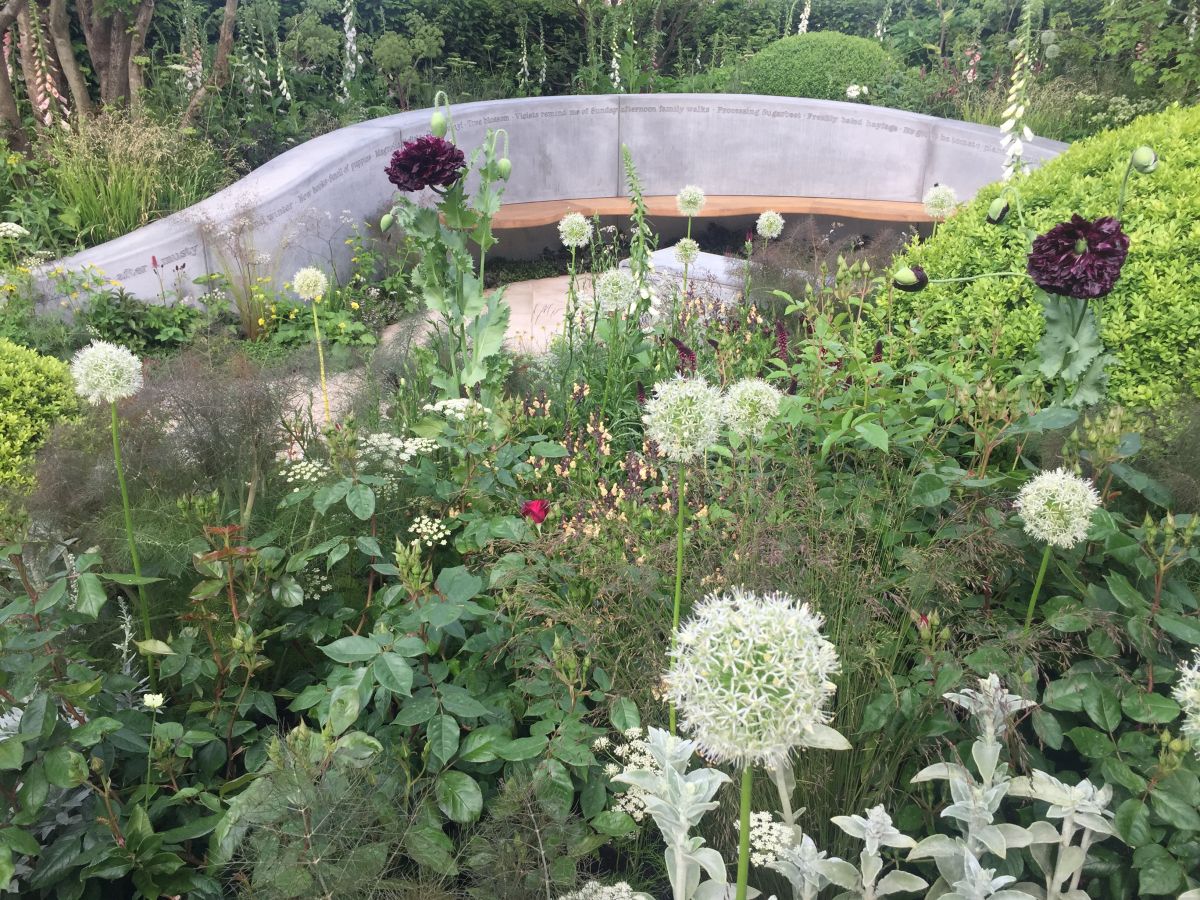 This one is so easy. Full sun, well drained and relatively poor soil. Double paeony style opium poppies (Somniferum), Allium 'Mount Everest' or another white form, bronze fennel, small bush roses (yet to flower here) and clipped box or other topiary. In the background in the shade are peach foxgloves and ferns.
8) Meadow fluff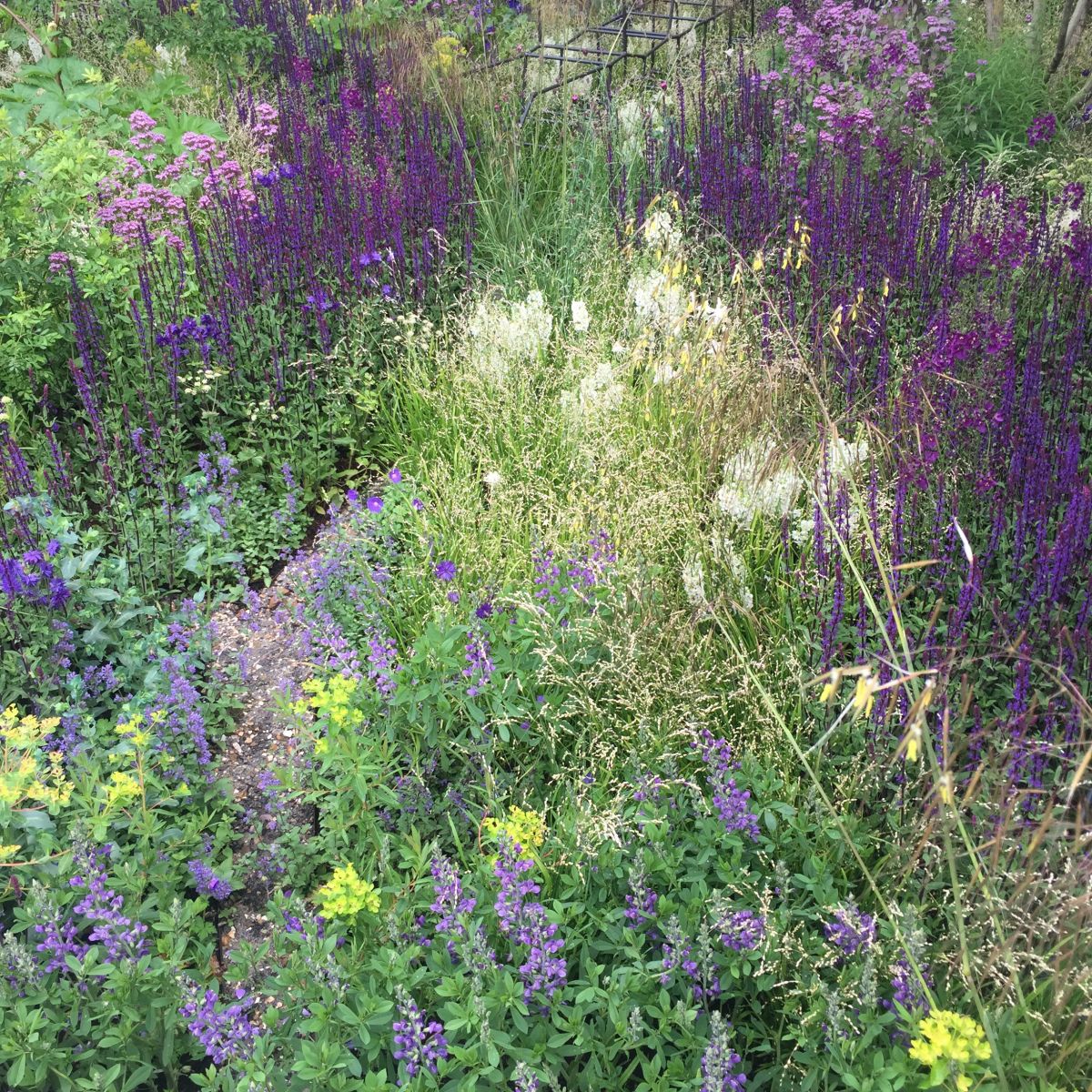 Mega, mega easy. Full sun, normal well drained soil. Salvia 'Caradonna' in swathes with low growing grasses, Euphorbia, Stipa giganteum and a few other low growing full sun perennials.
9) Shade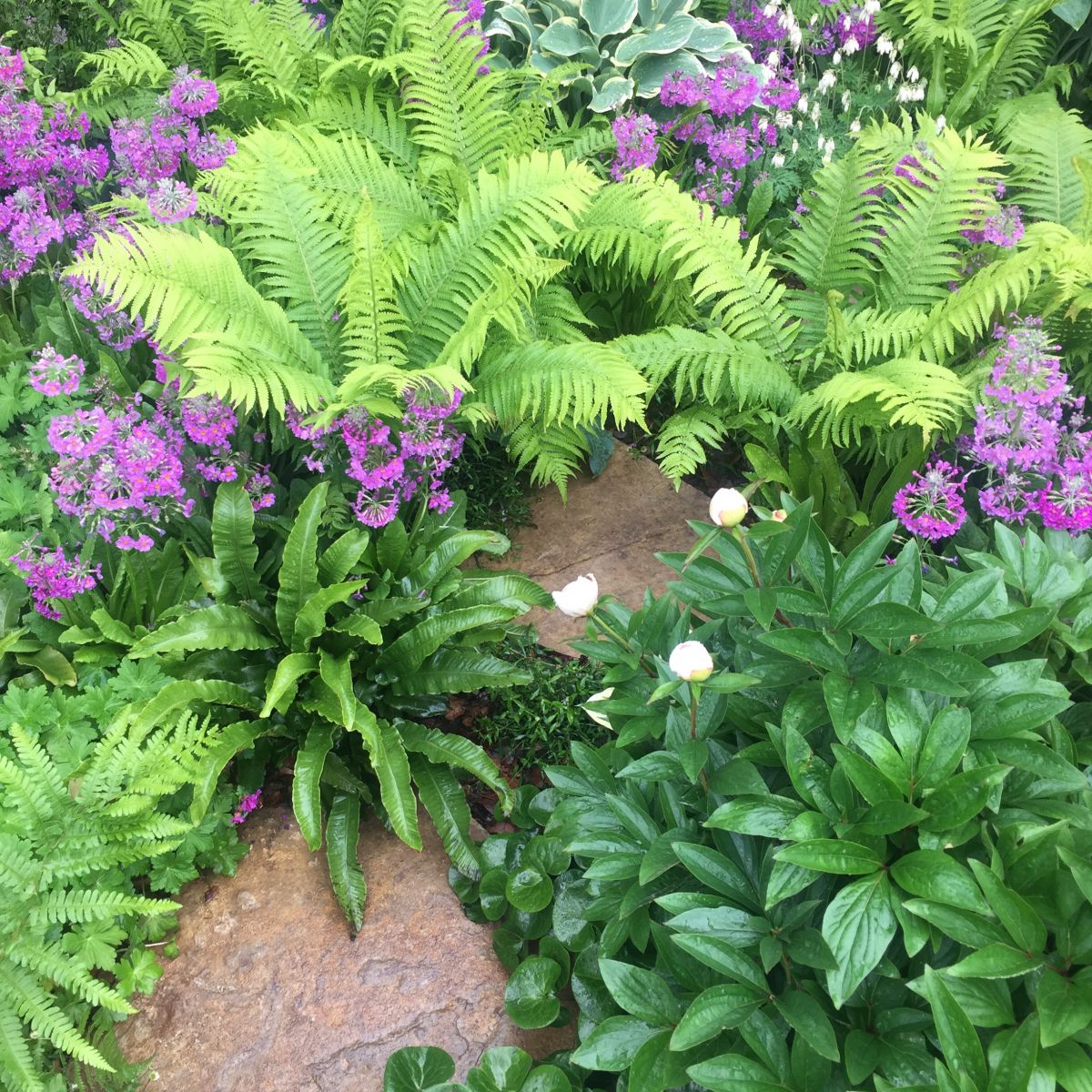 It literally cannot get easier than this. Ferns, any will do. Here the star is Matteuchia but honestly, even the humble Dryopteris filix-mas would work well. Throw in other ferns like the native Asplenium scolopendrium (Harts tongue), Candleabra primula, hostas and wild ginger, Asaraum europaeum, and you've got it. Everyone in the crowd was asking what the really tall spiked lilies were – they're Cardiocrinum giganteum, which I've seen grown at the Royal Botanic Garden Edinburgh for the last few years, they have wonderfully tall, rattly seed heads in autumn/winter.
10) Brutally easy to do at home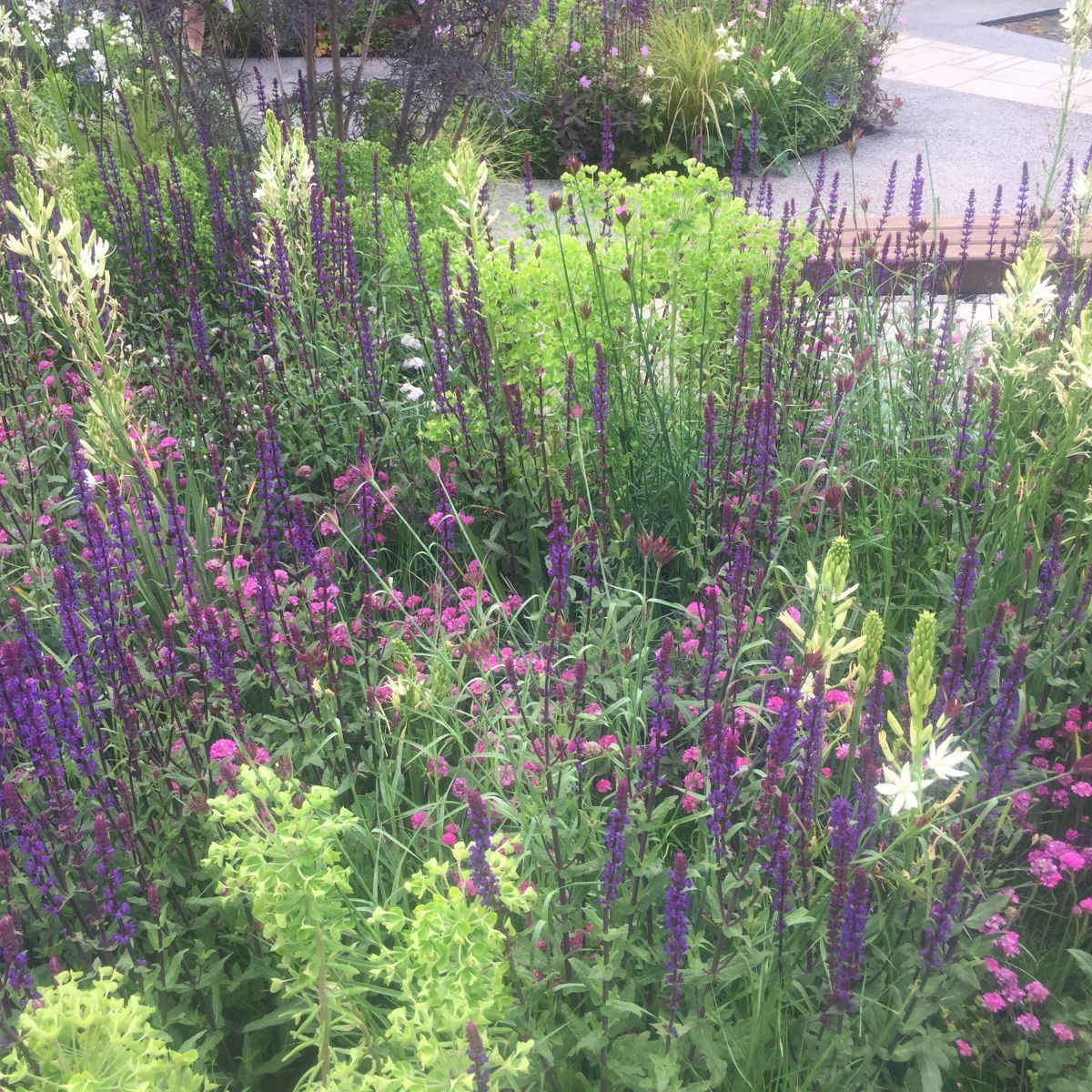 More Salvia 'Caradonna', Euphorbia (any sun loving large Euphorbia will do), lots of sea thrift Armeria maritima, a bunch of Dianthus and spires of white Cleome. All surrounded by a few bushes of Sambucus nigra f. porphyrophylla 'Black Lace'. I grow all of this at home and it all looks after itself in full sun (which is the idea of urban planting and this inspiring garden). Easy.
11) Sunny magic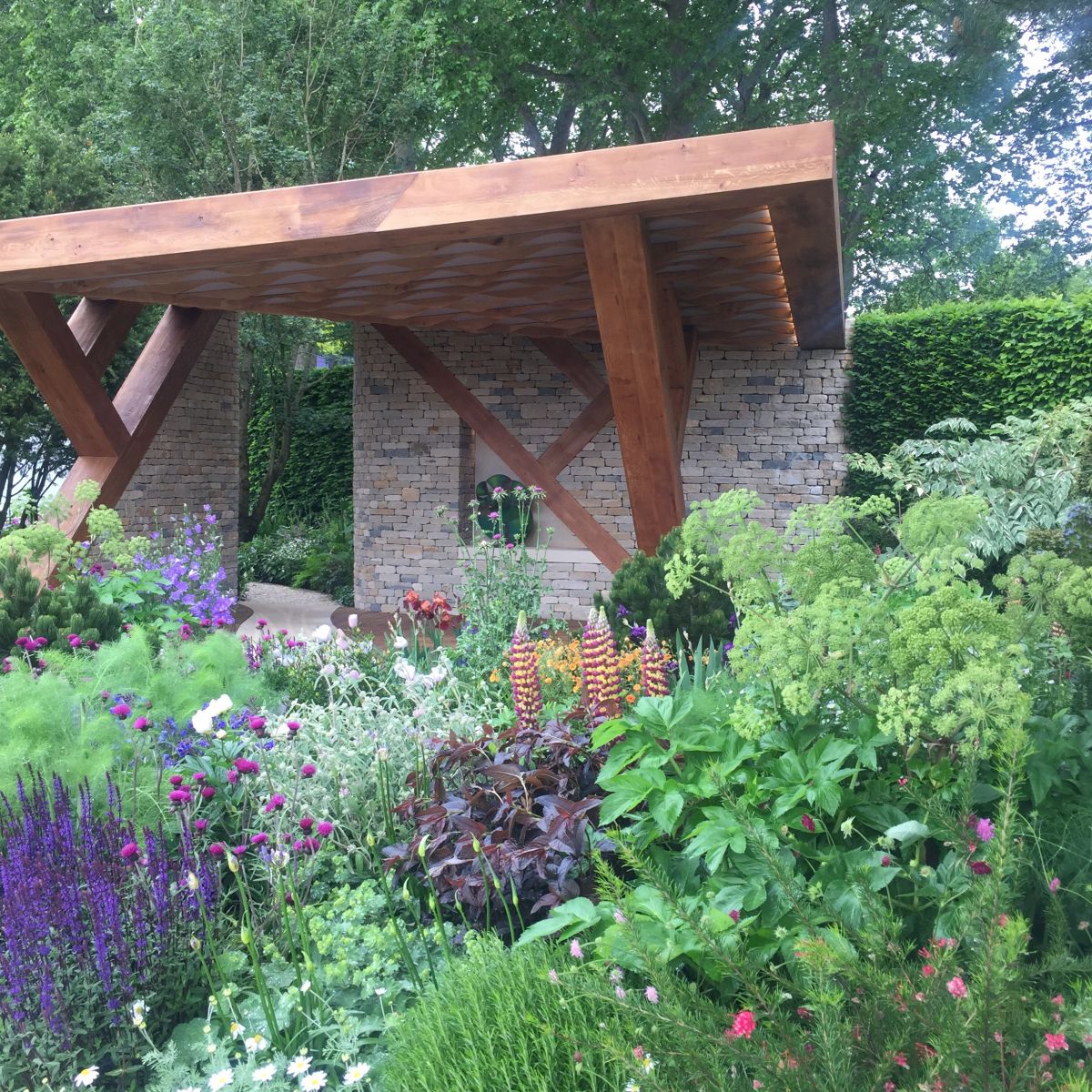 Chris Beardshaw's planting is pretty genius and extravagant – but you can do it too! The tall plant in the middle at the back is the absolutely spectacularly named Silybum marianum, a variegated thistle with amazing pink flowers. Also Angelica gygas, Lupinus 'Manhattan Lights', Cirsium rivulare 'Atropurpurea', Salvias, Iris 'Kent Pride', Cynara Cardunculus and much more are seen here. It's extreme cottage gardening but you can recreate it.
12) Canadian subtlety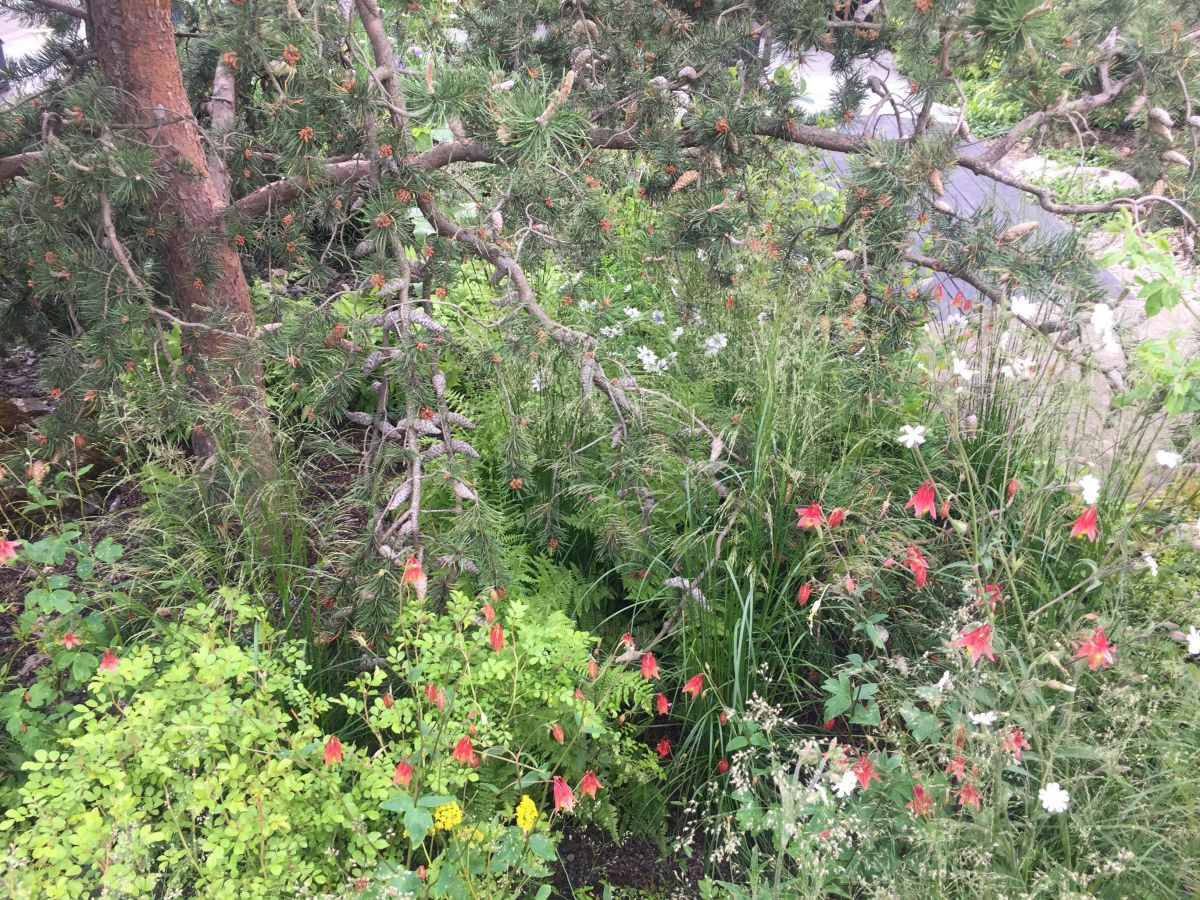 Contorted and gnarled Pinus banksiana trees go really well with the Aquilegia canadensis because the reddy pine cones match the pattern and colouring of the flowers.
13) Naturalistic plant community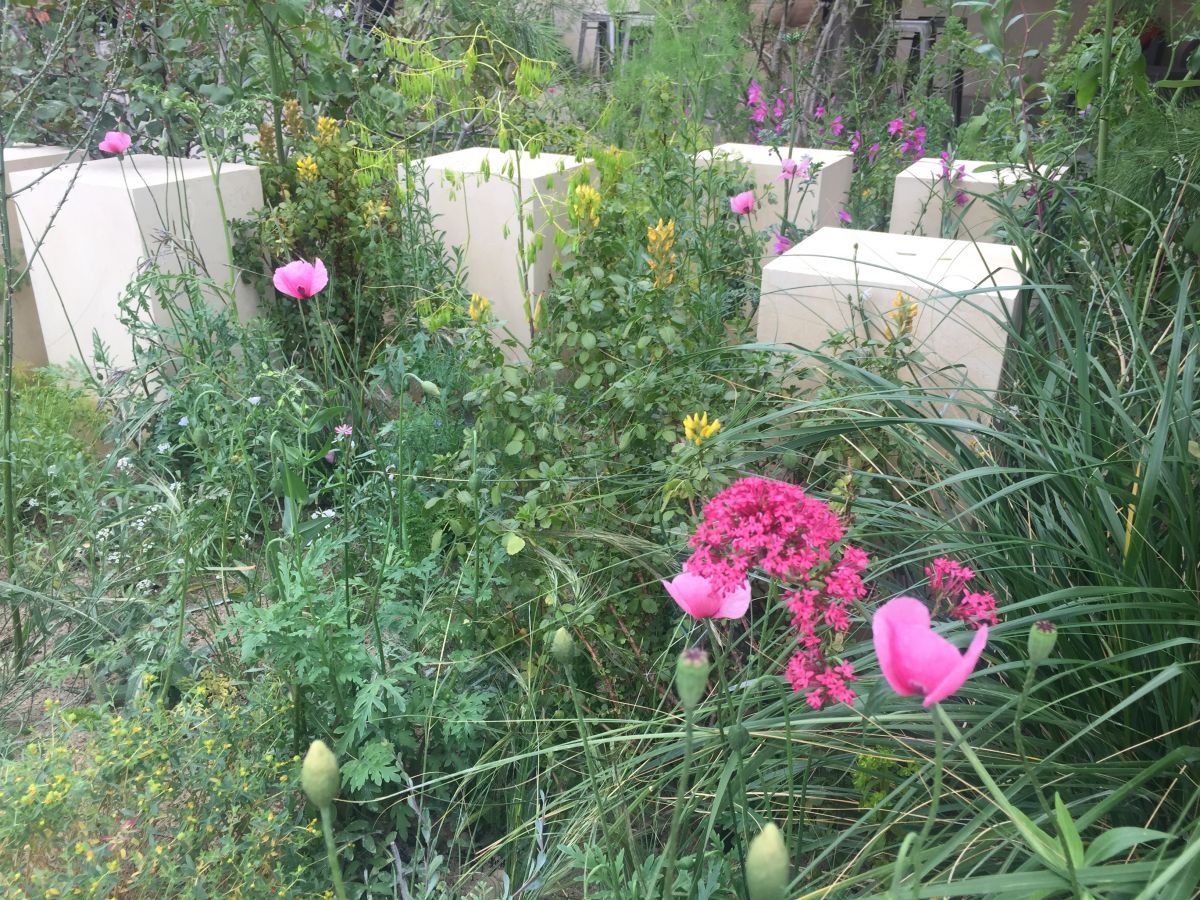 One of my star plants at the Chelsea Flower Show 2017 is the delicate little poppy, Papaver dubium ssp. lecoqii var. albiflorum, seen above in the Maltese Quarry garden. The planting here is difficult to recreate at home precisely because the plants are so rare in cultivation, however the look and principle is very easy to recreate. It's a garden for full sun, light, low fertility soils, largely with self-seeders or perennials that will look after themselves. To some it does look weedy, which I understand is not to everyone's tastes. I really do love it because it's full of natural, light beauty that appreciates plant diversity and something more and more people – I predict – will want in their gardens. James Basson managed to achieve here a genuinely natural looking naturalistic planting where so many others fail to get the authentic look.
14) Potager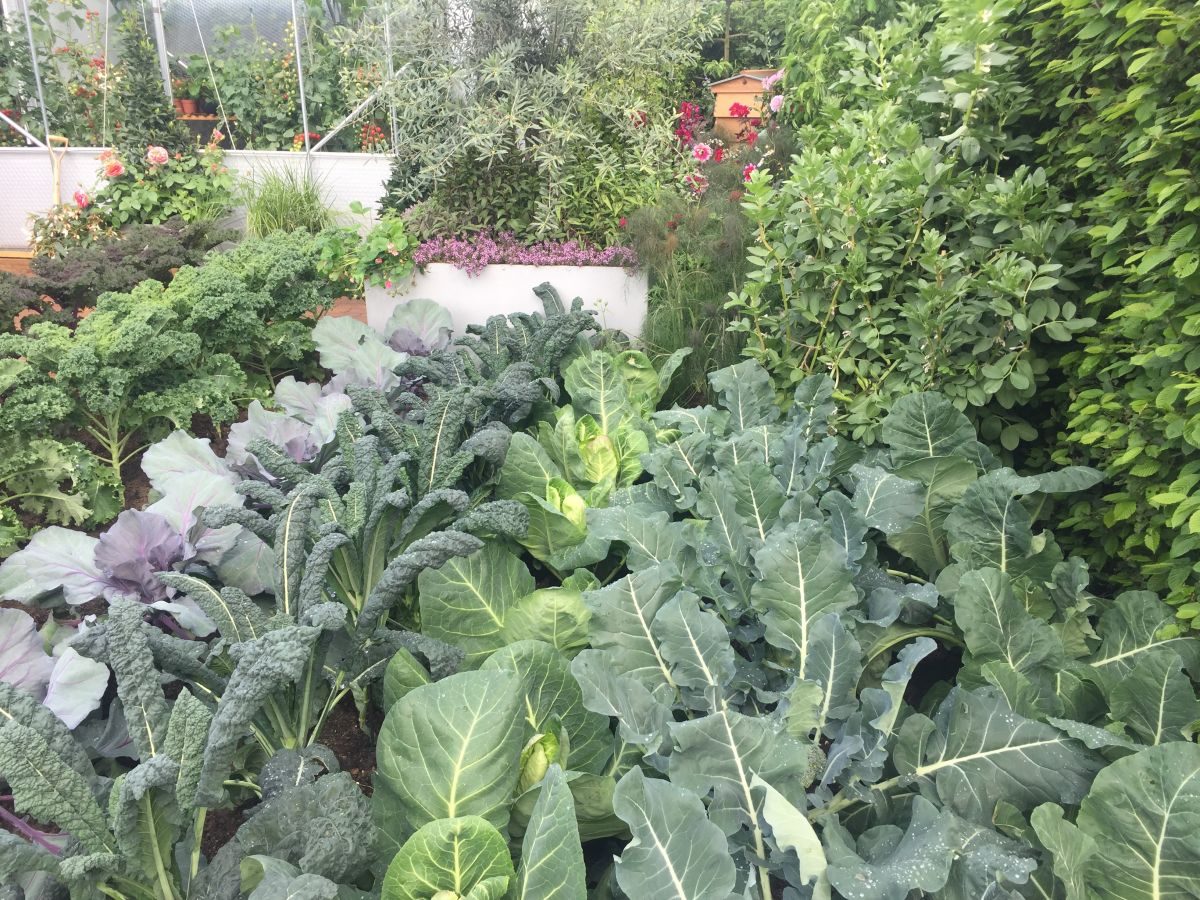 Funnily enough, this beautiful vegetable patch is the most labour intensive planting scheme at Chelsea Flower Show 2017. With ornamental borders some weeds and bug bites are acceptable. On vegetable plots, every flaw shows and affects the growth of the produce. However, by selecting vegetables and fruit that not only taste but also look great, you too can create this stunning and orderly looking patch. Chuck in some flowers like the Dahlias and Sweetpeas, and you have an allotment or produce plot with the Chelsea look.
15) Copper and orange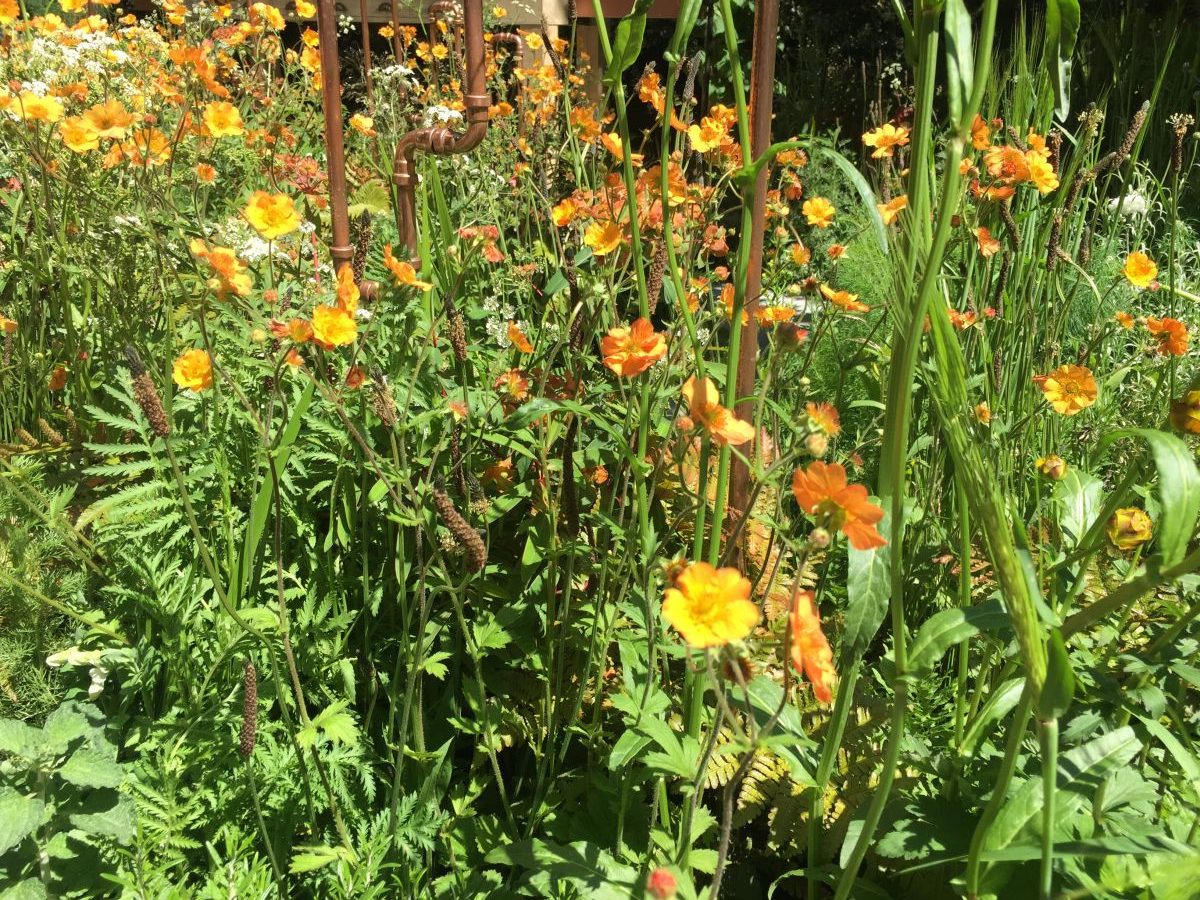 Dryopteris erythrosora ferns with coppery new growth turning lime green, orange Geum 'Totally Tangerine' or similar on mass. Highlight with Iris 'Kent Pride' and add some frothy white flowers like Ammi or Anthriscus and you too have the in vogue copper look of this stunning garden.
Have you seen other borders of plants at Chelsea Flower Show 2017 that you plan to recreate? Have I missed a specific plant worth mentioning? Have you successfully recreated a Chelsea border before? Or have you tried and failed? Please share your thoughts below…