London has some of the best glasshouses in the world and some of the most interesting secret smaller ones, here's my pick of a number worth visiting on a rainy day.
If not outside, the place I feel most at home is in a glasshouse. That smell of warm compost and seedlings in spring, the patter of rain on the roof during summer showers, the protected exotics safe in winter – childhood memories that stay with me. Is there anything more peaceful than the bright, otherworldly space bubble of a glasshouse? Like a time machine, you can in one moment imagine standing next to Charles Darwin and in another imagine being on the surface of Mars in a bio dome. Glasshouses are (strangely) rather rare things, so visiting one is always well worth the trip for the experience. Below are some of my favourites in London.
1) Princess of Wales Conservatory, Kew Gardens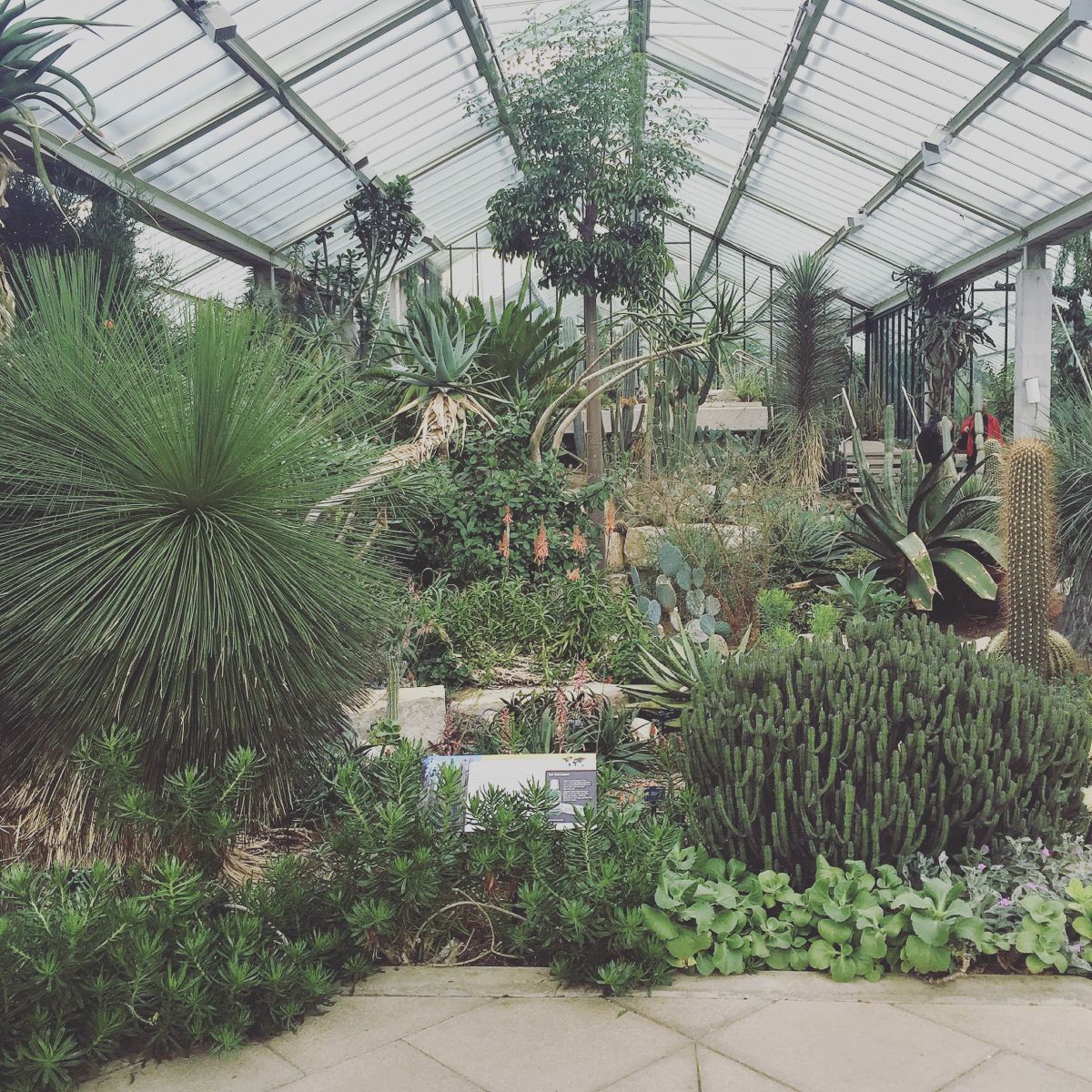 A wonder of the world, it will never stop being one of my favourite places on this planet. Why? Because it has multiple zones and all of the planet's most exciting plants under one roof. Cacti, succulents (including Lithops!), carnivorous plants, orchids, giant Amazonica victoria lily pads, glowing flowers of Strongylodon macrobotrys, the jade vine. I can go on but I'll stop because it's making me want to go back.
Best bit: heading to venus flytraps only to be sidetracked by all the cacti and giant waterlilies first.
Second best bit: beautiful spiky cacti.
Third best bit: everything.
Personal memory: I've visited Kew multiple times a year, every year so there are many. My memory is that childhood sense of excitement normally associated with Christmas as I walk past the outdoor moat with Opuntia growing next to it – a feeling that happens every time I've ever walk there. The feeling never fades.
Read more about the Princess of Wales Conservatory.
2) Palm House, Kew Gardens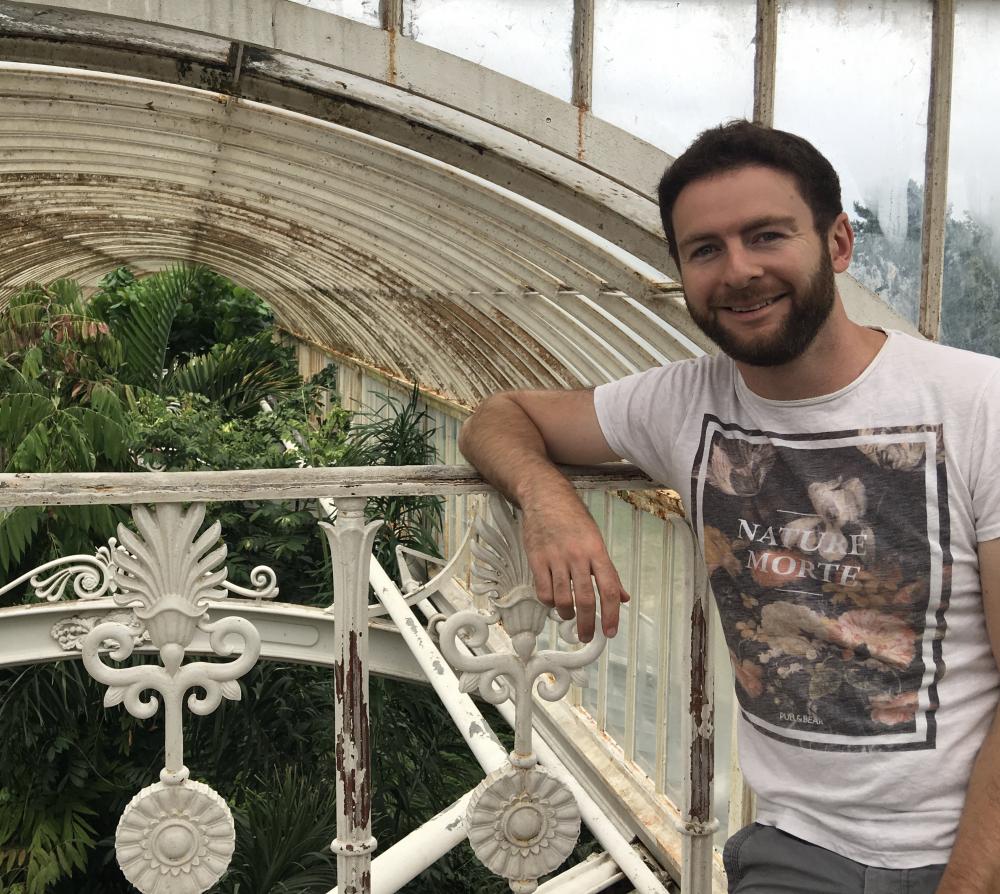 "Of course you'd put Kew's glasshouses at the top of the list" spot on folks, I would and I have. Kew is top of my list twice because it's flippin' amazing. The Palm House is a beautiful feat of architecture, it looks stunning. It houses an incredible set of collections of large leaved plants from our world's different continents. If you visit Kew, you'll be tempted to rush around all the glasshouses but really, each one deserves a day in itself and I recommend you do exactly this to see all of the giant palms and trees in Kew's Palm House.
Best bit: climbing the spiral staircase to the balcony to look down at the unfamiliar canopy of a mini rainforest. Jaw dropping.
Second best bit: looking up at the giant leaves in their myriad of shapes, sizes and shades of green while water drips into your face and you imagine monkeys jumping overhead.
Third best bit: discovering the underground aquarium of tropical fish and thinking about piranha.
Personal memory: two really stand out. First, my primary school friend Adam outside dropping his Ninja Turtles camera into the lake never to be seen again. Also, my grandparents coming with us one time and my grandad's glasses steaming up as we walked in so he couldn't see where he was going.
3) Barbican Conservatory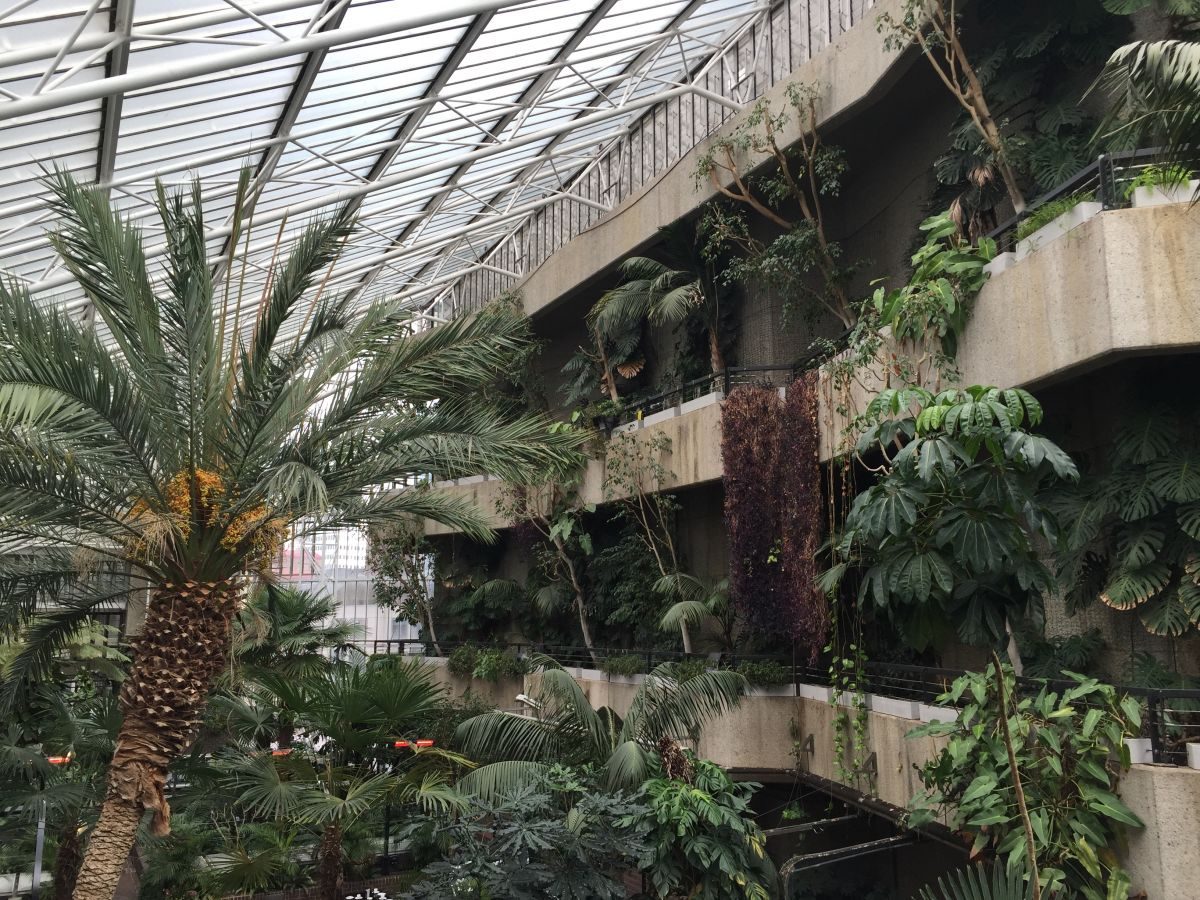 If you've ever wanted to feel like you're in a James Bond villain's lair, or about to meet a Thunderbird character, head to the Barbican conservatory open to the public on some Sunday afternoons. Situated high up in the brutalist Barbican complex, there's nothing else like it in London. It's full of large tropical trees and other smaller shrubs set against concrete, which works so well with large green leaves.
Best bit: seeing the gigantic climbing Monstera deliciosa (best name in the plant Kingdom FYI) sweeping up the multi-story balconies and then realising "oh, that's what that houseplant in every doctor's surgery across the UK can do".
Second best bit: discovering the teeny little secret cacti and succulent room. If you like that kinda thing (which I do).
Third best bit: all of the Strelizia reginae in flower. Oh, and the full grown Ficus trees showing off their beautiful bark, and the the large Araucaria heterophylla – plants we're normally used to being small shrubby houseplants at best. And yes, I'm aware that's now four or five best bits but this is my blog so anything goes.
Personal memory: Chris and I arriving too early, so we waited in a corridor overlooking the internal conservatory through a black paned window in the Barbican's strange silence. In those few minutes I realised that a) this was one of the best top secret views in the whole of London and b) I could have been on the set of 2001 A Space Odyssey, one of our favourite films.
See more photos from the Barbican.
4) Chelsea Physic Garden Fernery
Alongside Kew's Palm House, this is one of a handful of remaining Victorian glasshouses in the UK. Much smaller of course, it's of normal conservatory size. Yet it is full of cool temperature ferns including a number of old and rare species. In 2017 it was renovated and the plants moved and replanted to reinvigorate the building.
Best bit: this is quite a small glasshouse so really, the collection of ferns is the best bit if you'd like to get to know a few more unusual ones. These days given the reduced pollution compared to the Industrial Revolution and increases in temperature, many of the ferns we can now grow outdoors in southern gardens. Still, it's the atmosphere you come for.
Second best bit: the Wardian case style cabinet for the seriously damp loving and hard to grow rare ferns.
Personal memory: being shown around by the then head gardener Nick Bailey for a BBC TV show while the film crew were doing acrobatics to try and get a good angle without damaging anything.
Read more from my first visit to the Chelsea Physic Garden.
5) Sky Garden, Walkie Talkie Building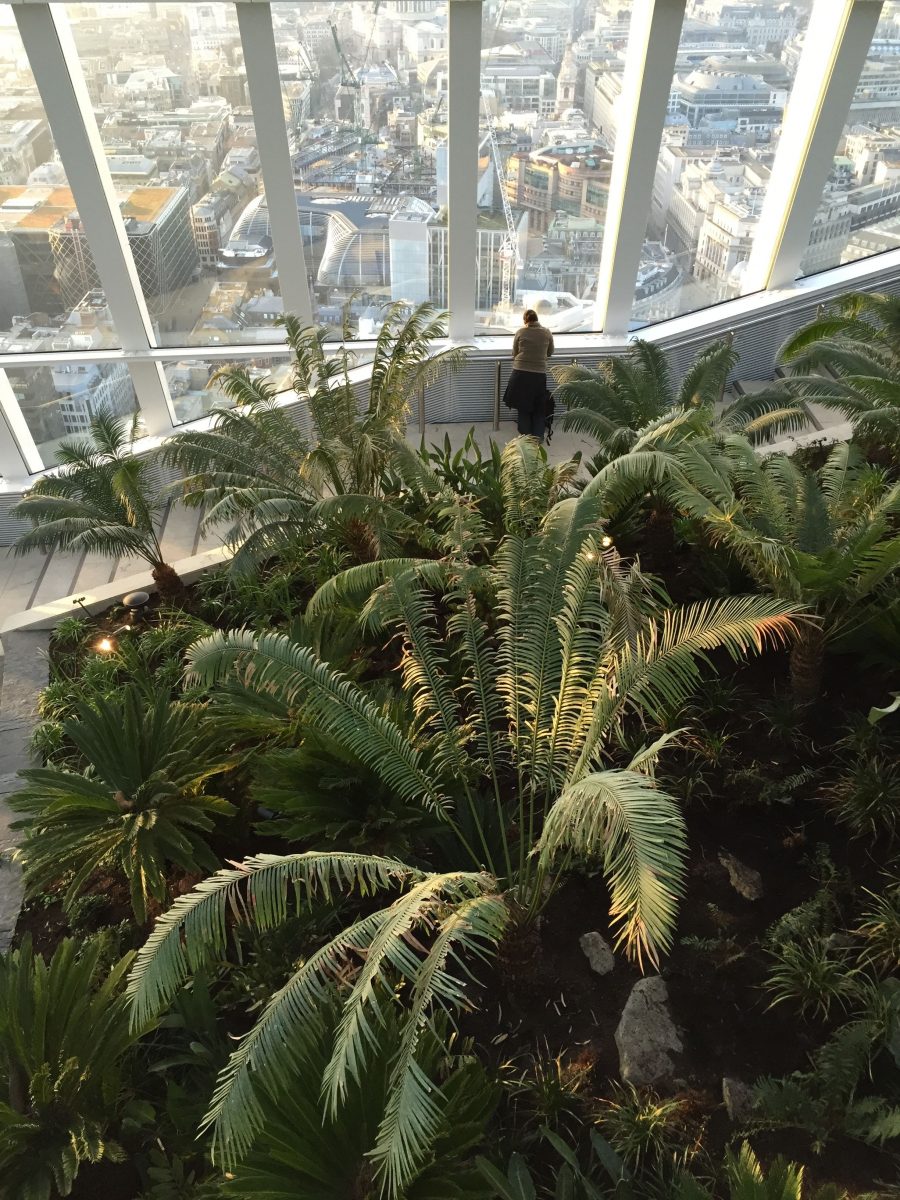 At the top of the Walkie Talkie skyscraper is a huge glasshouse and public garden. We went in 2015 when it first opened and the plants looked, shall we say, a little scraggily. Reports from friends since haven't been overly glowing about the plants either. However, it is worth visiting for the spectacle and the views. And there are some plant gems to be found here – besides, it's just cool having a glasshouse of plants so high in the sky.
Best bit: the view of the Shard when you first come out of the lift.
Second best bit: the upper terraces away from the cafe.
Personal memory: watching sunset over London from the garden with Chris at a point when this vantage point had been seen by only a few people. It was magical.
Read more about the Sky Garden.
6) Crossrail Place Roof Garden, Canary Wharf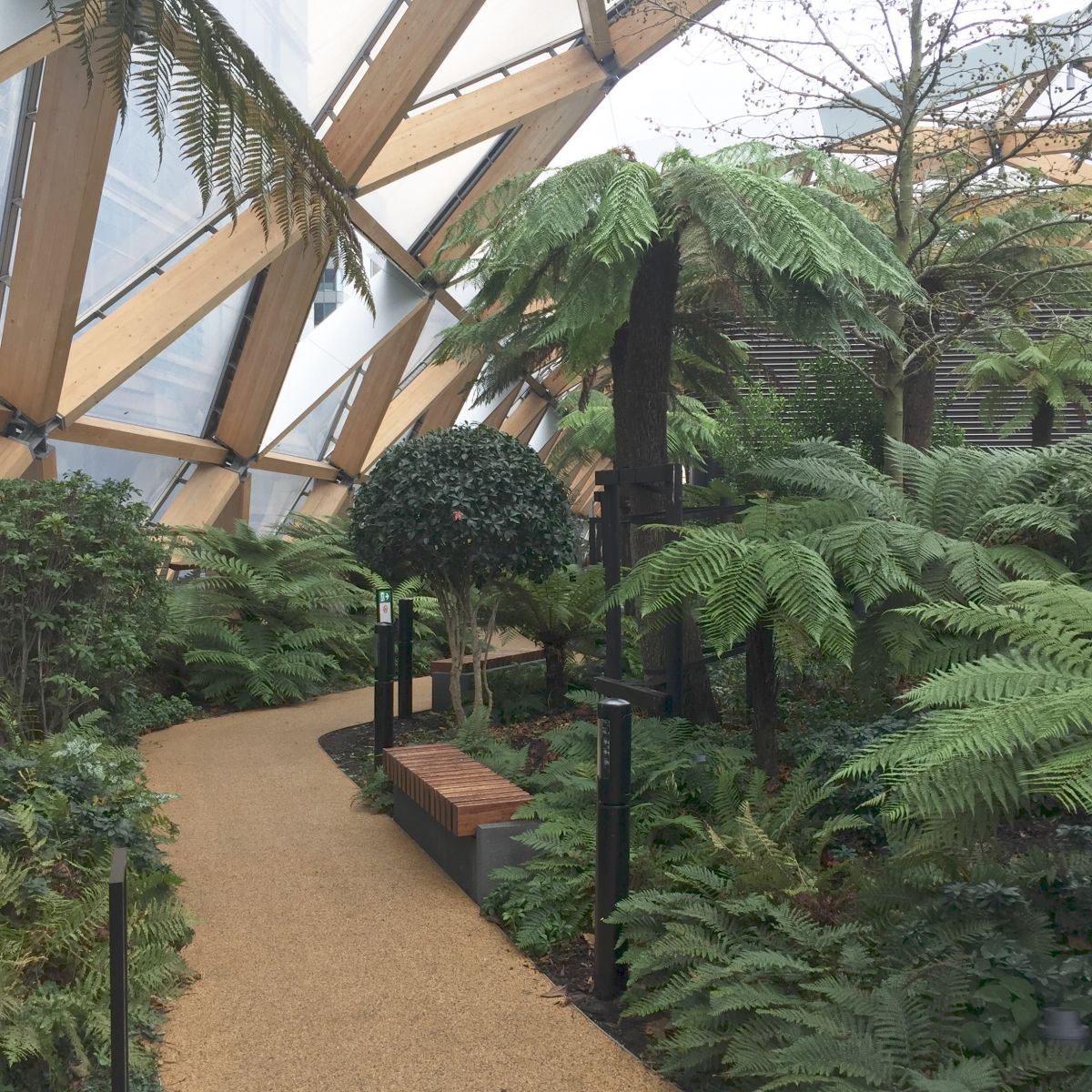 One of the newest glasshouses in London. At least, I'm guessing it's a glasshouse, half of it is in open air. It's more of a giant polytunnel made of glass and wood than a house. Anyway, it's magnificent. Quite small really but it packs a lot in with two different zones inspired by the eastern and western continents of the world. A very clever piece of architecture and an incredibly convincing planting with a natural feel, whereas the Barbican has lost some of that 'naturalness'.
Best bit: for me, it was the sheer variety of unusual plants. You can tell immediately that the planting has been done by a serious plant expert / group of experts because this is a clever, well thought out mix. Plants come from specific regions where they would grow together in the wild.
Second best bit: walking in for the first time from either end and meeting a path you can't see the end of through the plants, covered by the ultra futuristic roof.
Third best bit: discovering more and more plants as well as the open sky in the middle. It all adds to the more natural 'this is a garden' feel, rather than being completely aware of its artificiality.
Personal memory: Chris and I visiting one cold but clear winter afternoon, we arrived by bus-boat and found lots of great public gardens along the walk to the garden. Upon finding it we walked into a near empty roof garden. We'd discovered that the soulless Canary Wharf area now had its heart.
Read more about the Crossrail Place Roof Garden.
7) Tropical covered alleyway, Chelsea Physic Garden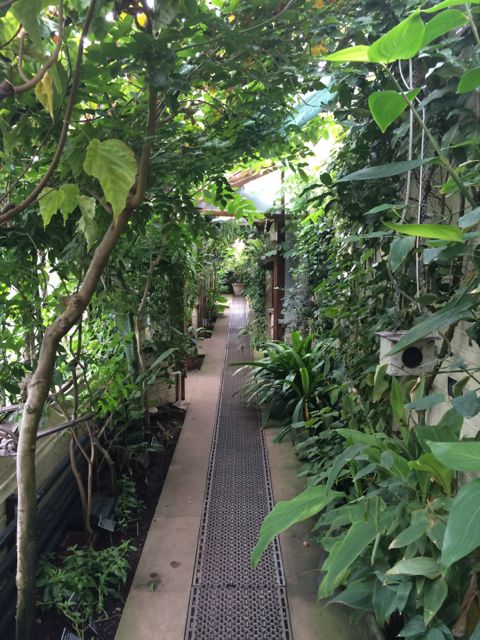 Ah ha! You thought only Kew would have two glasshouses in this list. Well, I gotcha. Here's a second from the mini Chelsea Physic Garden. Through the garden's main glasshouses there's a walkway only reachable through them. It connects all of them together and it's the warmest and dampest part. Not going to lie, it's tiny but in it are a variety of climbers and wall shrubs worth the trip.
Best bit: finding this alley for the first time when you least expect it to be there.
Second best bit: the other glasshouses and their collections all accessed through this alleyway.
Personal memory: just moseying through, taking it all in on my first visit. In the heart of London but hidden from the world.
8) Petersham Nursery, Richmond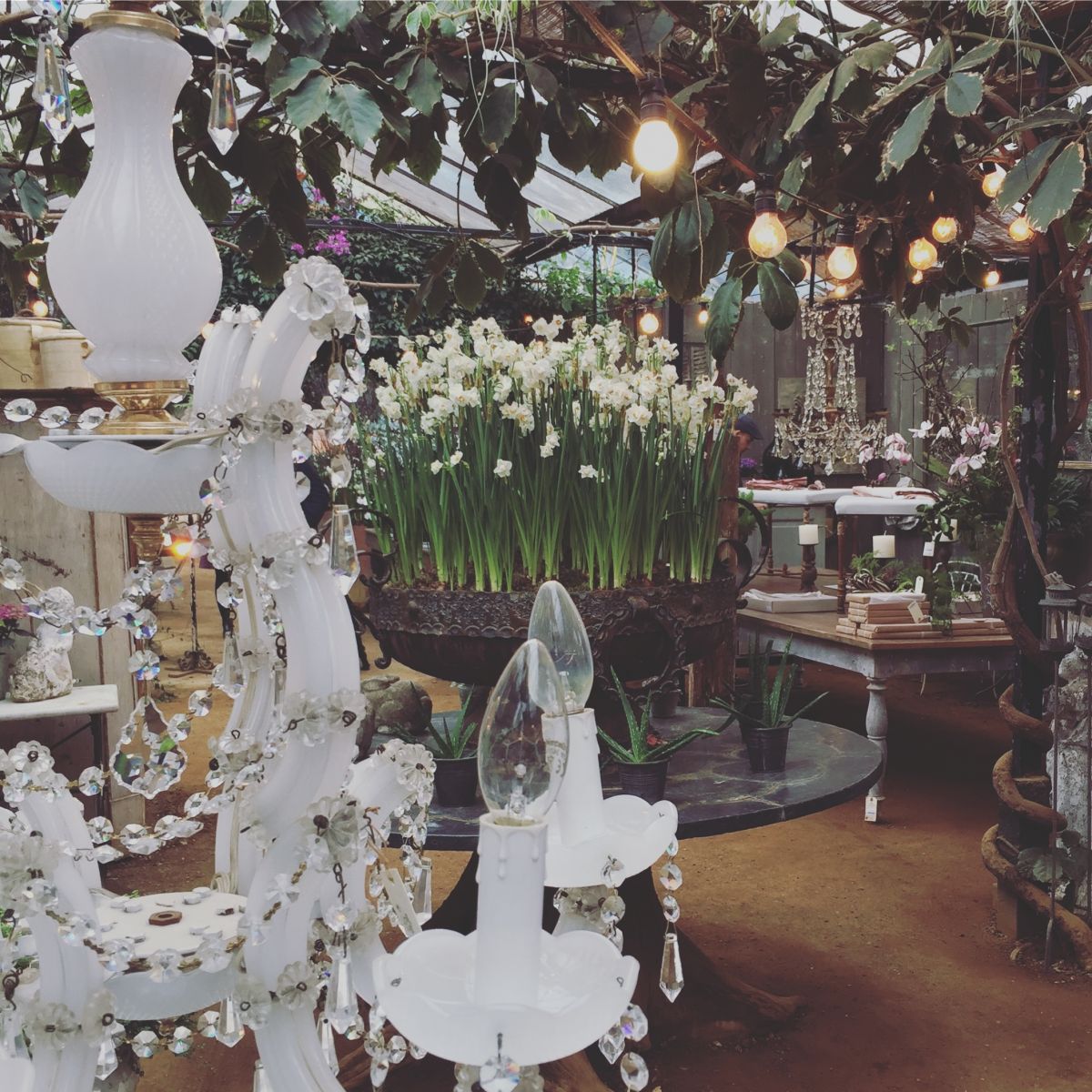 A bit different to the rest of the list, Petersham Nursery is really a garden centre, furniture shop, restaurant and cafe. They grow some plants and do various courses, like flower arranging and pot planting. I have to confess, a lot of it is way out of our price league but it's great to look around for inspiration. It's all perfectly Instagramable too.
Best bit: getting that Instagram shot (or photography as it used to be called).
Second best bit: the giant pots grown with amazing displays of bulbs – visiting in spring is the best time of year as all systems are grow!
Third best bit: the walks around the nursery along the River Thames. London? What London.
Personal memory: Chris and I walking all the way to Petersham twice only to find it was closed for a private function each time. Third time was the charm.
Coming soon I'll blog about the many more equally exciting glasshouses around the UK.