How I'm into month 30 on my allotment blows my mind. I've made reasonable progress in that time, looking back at my entry for month one. Still not perfect and it never will be – because where's the fun in a perfect allotment, right – but in terms of food productivity and as a peaceful space there's progress. Progress being a great caveat.
My little allotment has been in the spotlight this week thanks to Telegraph Gardening. One Friday afternoon in a pub surrounded by lots of different children's parties like a hallucination, I did an interview with Alice Vincent, which was a tad emosh and a tad very funny to do. I've also had the pleasure of writing a weekly column about growing food for the paper too, something that's fast become one of my favourite activities. Please take a ganders for advice and thoughts on specific things I'm growing (or attempting to).
Plan for 2018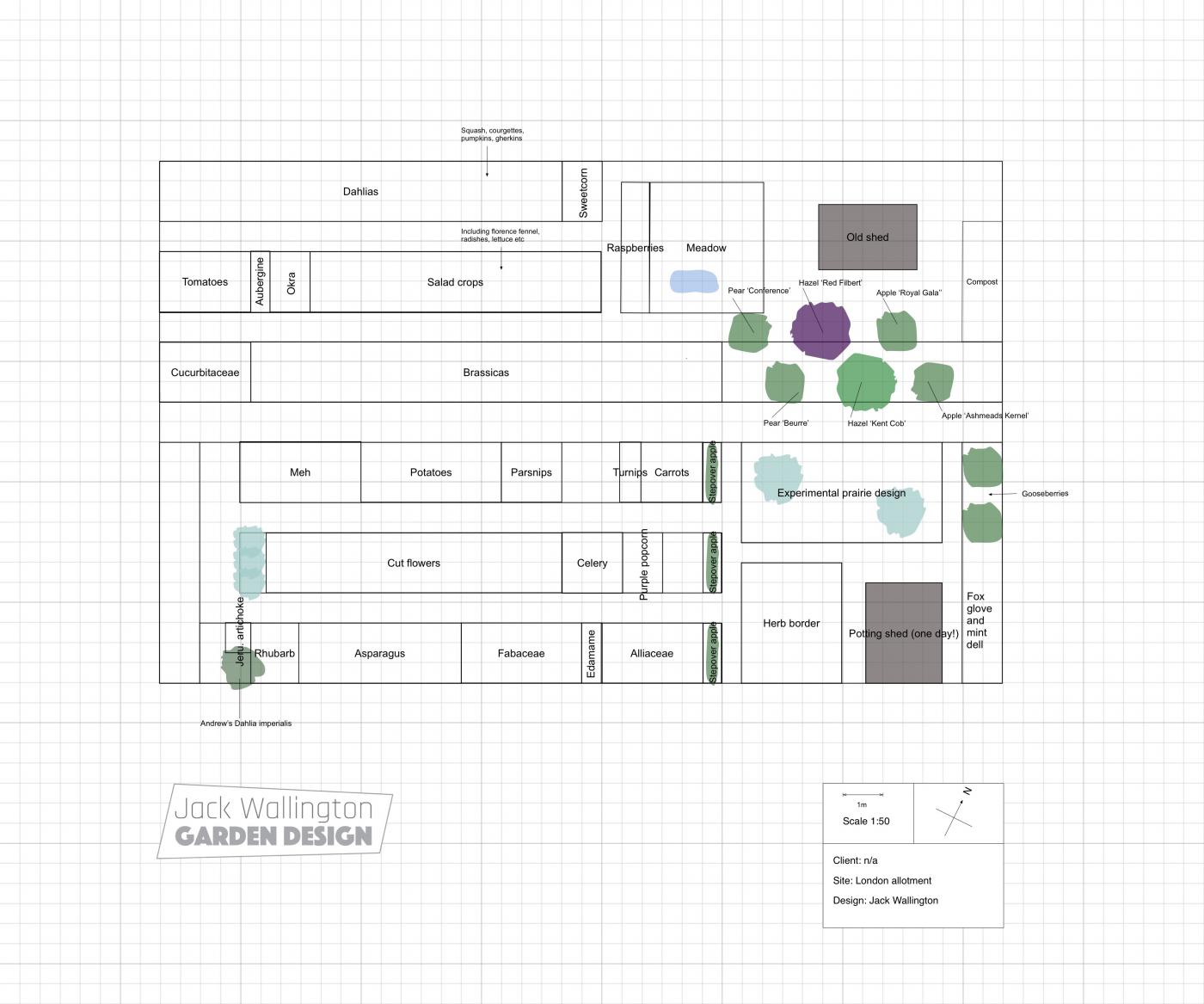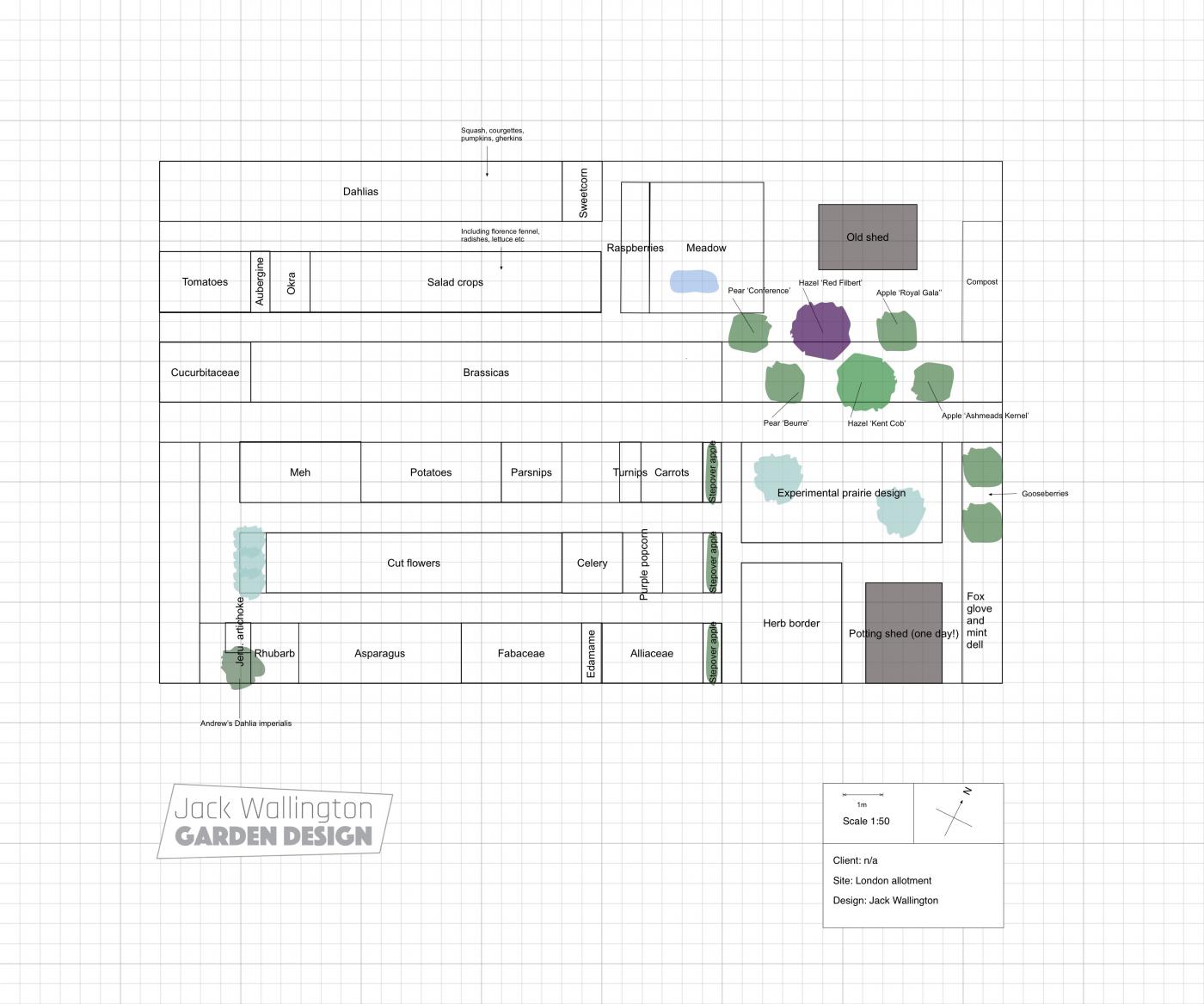 Over winter I drew up this layout and though it's not the ultimate allotment layout, it's working well so far for me. I've been meaning to share this for months but I was dillydallying for ages. It's one of those "work in progress" things that'll never be finished.
I'm planting everything where it should be and it feels right, especially the more permanent areas which I spent months umming and ahing about. I really couldn't decide on the new raspberry bed and mini orchard positions until the very last minute.
As there's a reasonable amount of change, it feels like a good time to introduce some of the new areas.
Makings of a herb bed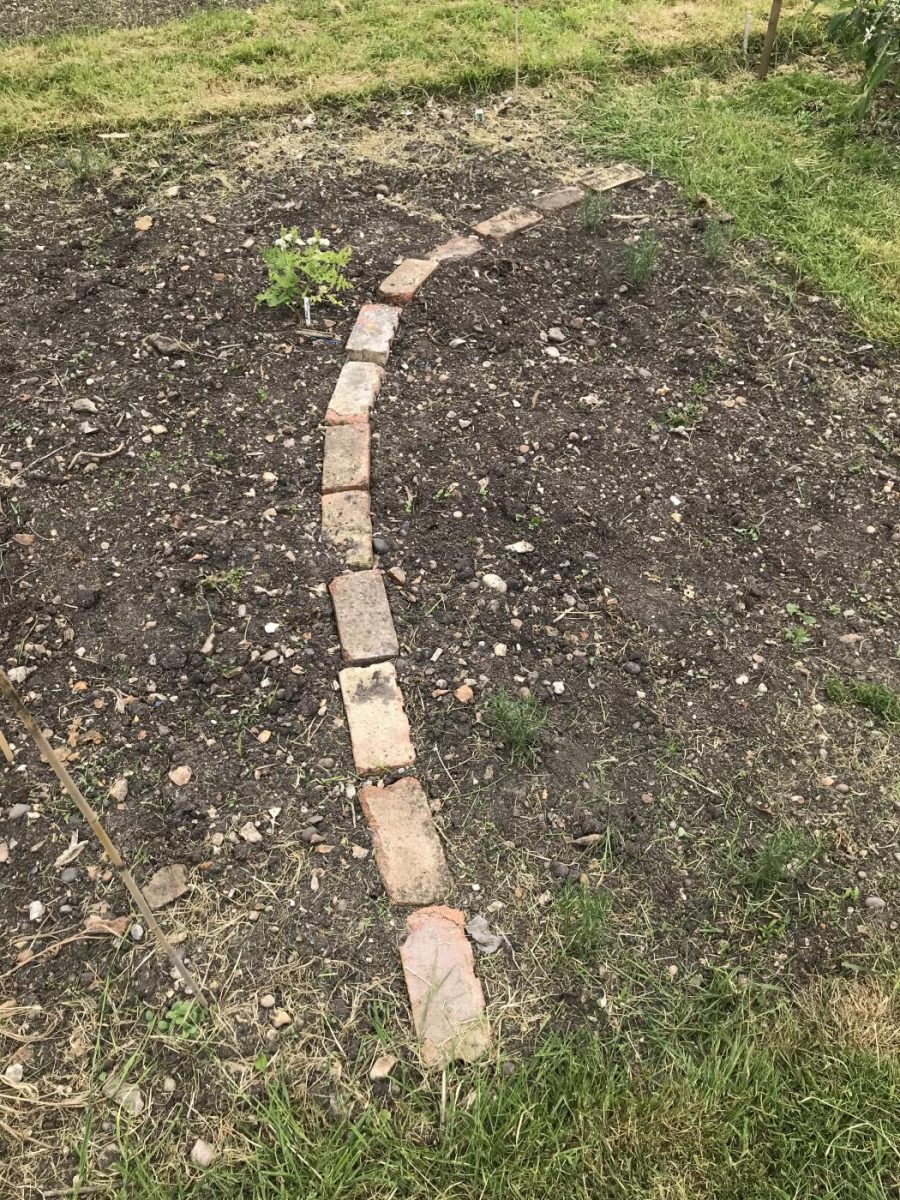 I'm going to do a whole blog post on this once I've planted more but in short, where I've grown Dahlias for the last two years has become a herb bed. It's not totally ideal because it is in shade of a tree in the morning. But we'll see if it works. There's going to be a simple structure to the planting but ultimately, it's for growing herbs to eat. I've grown a few herbs dotted around the allotment since day one but this is the start of some serious herbage! Recently I added a number of rosemary plants, sowed seeds of stuff like borage and chives. At home I've been growing sage, parsley and basil to go out soon.
Micro orchard and nuttery
If you look really closely at this patch of grass you may be able to make out six sticks stuck in it. This is my micro orchard consisting of two varieties of pear (which I've not grown before), two more different types of apple and two cobnuts (hazels). The fruit trees are grown on their most dwarfing rootstocks so they won't get much bigger than this. I want to grow the hazels primarily for future pea sticks rather than nuts but let's see if we get both.
I must point out that the other day I was reading another Christopher Lloyd book and he made the very clear point of never strimming anywhere near the trunks of trees, especially saplings like these. So what did this moron do but a week later? Yes I strimmed a little too close to one of the pear trees, cutting a centimetre of bark clean off it. I know gardening is usually a skill best learnt in practice but the value of experienced gardener wisdom should always be noted and then noted again!
Potatoes!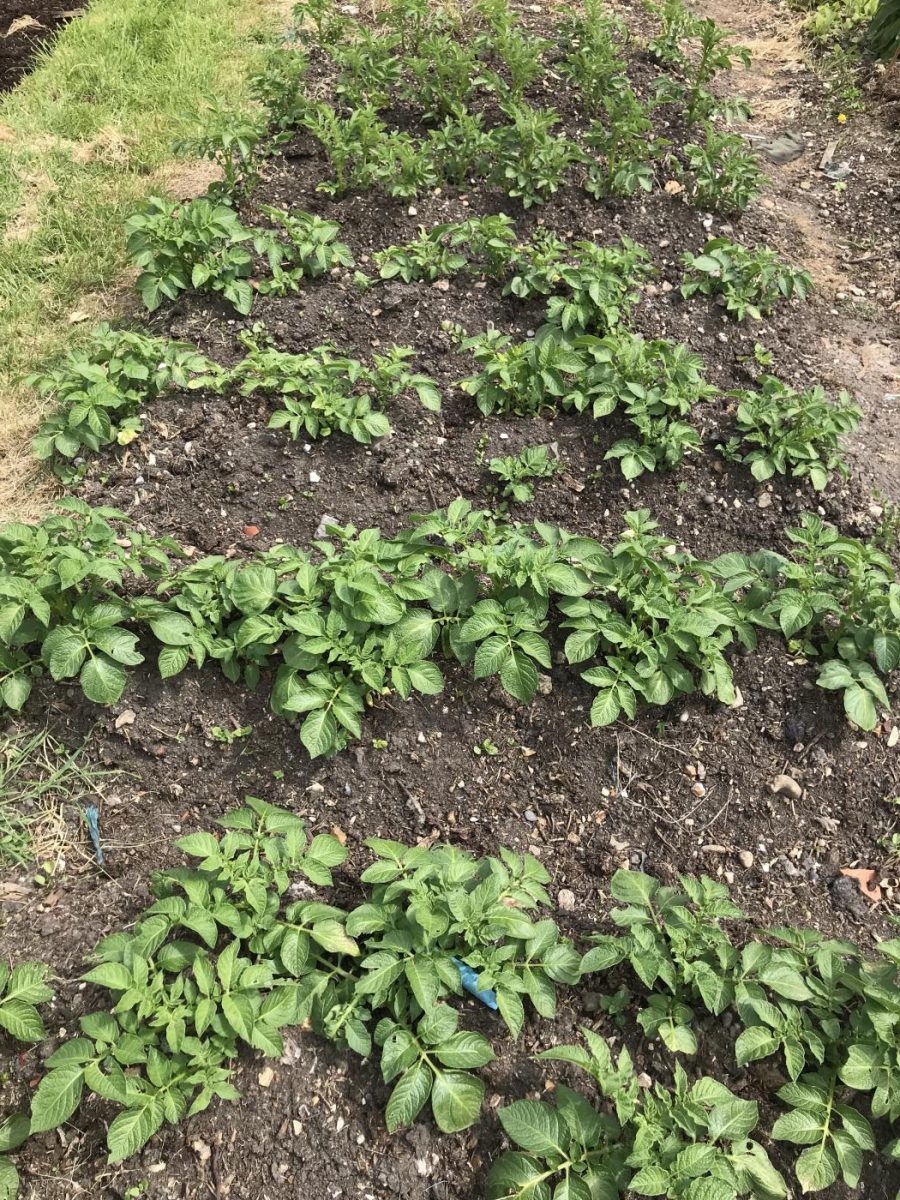 I have a love-hate relationship with potatoes. I love to eat them but I hate the digging involved in growing them. While lots of people say not to bother growing potatoes because they're so cheap in shops, no plot should be without at least some. Over the last few years I've gone from growing way too many in the first year, too few last year and I'm hoping this year will be just right.
I'm only growing two cultivars now, 'Jazzy' new potatoes and 'King Edward' roasties. Chris isn't a big fan of boiled new potatoes – and who can blame him – but the taste of homegrown is markedly different to shop bought. I love them in salads or even just on their own with some butter.
Legumes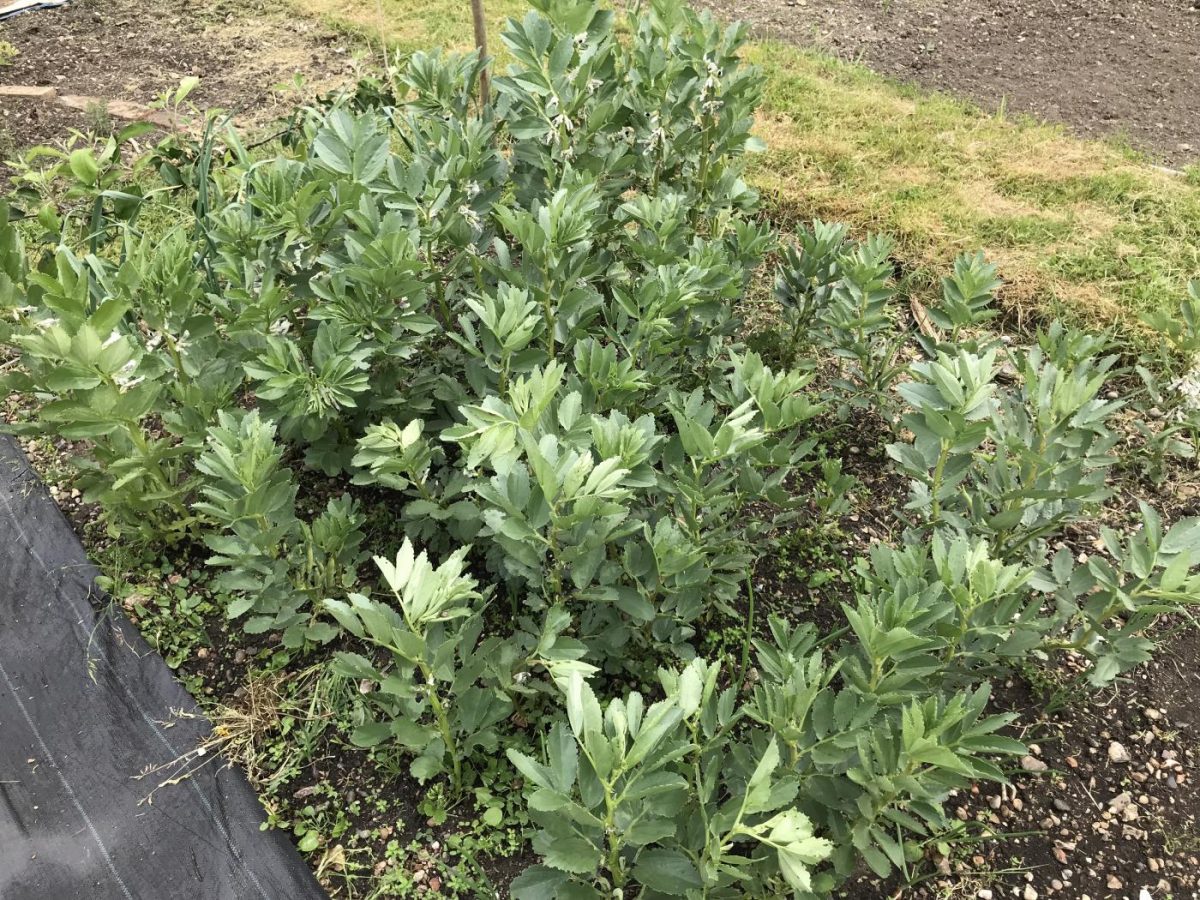 My overwintered broadbeans, 'Aquadulce Claudia', grown from seed I saved are just starting to crop now. They're actually on the spot I'm growing onions and garlic this year, so once this lot are over, I'll remove them, leaving the onions. I have another row of broadbeans alongside my peas and mangetout just a little further down from this bed. Frustratingly it's been a bad year so far for peas on my plot, usually they perform so well. I think the ultra cold weather made the plants weaker and more attractive to slugs. I've just sown my third batch this year but at home to plant out as plants.
Garlic and onions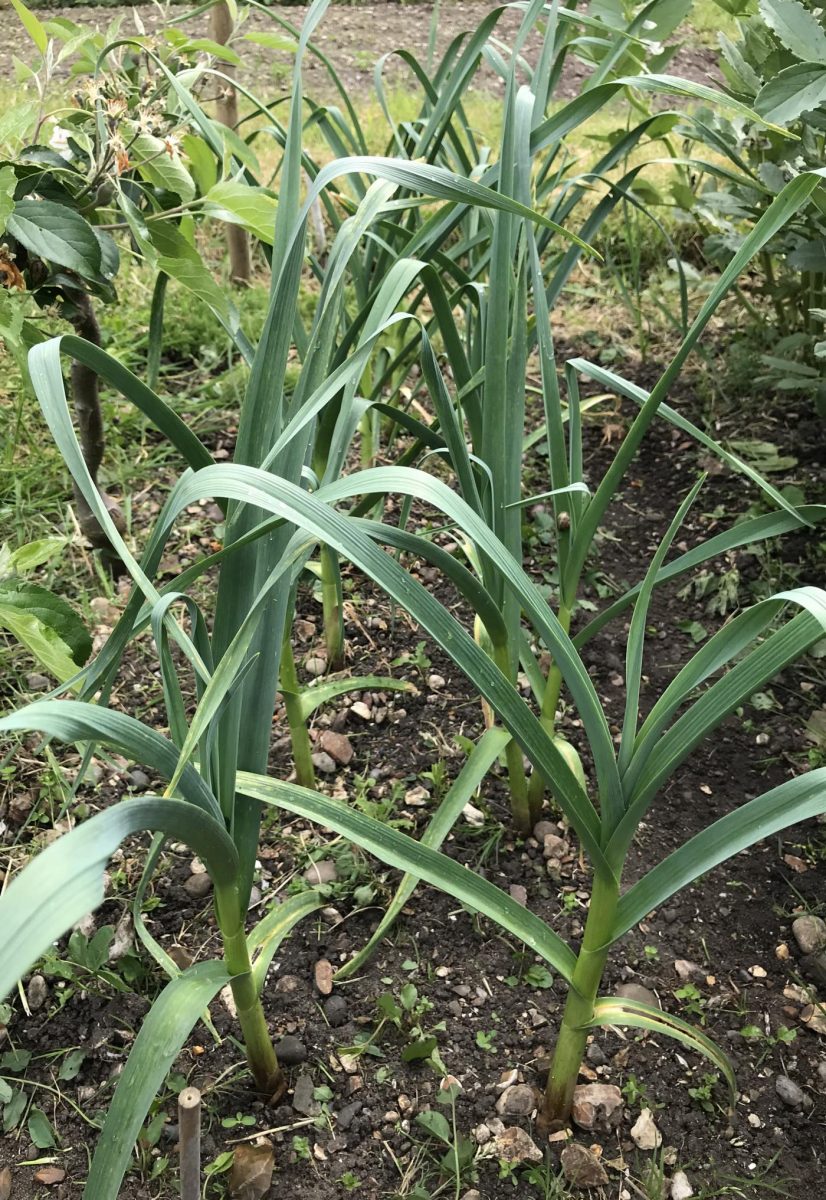 My garlic is looking super duper so far. This little lot grown from the fattest cloves from last year's crop, which I was given by Julieanne Porter a couple of years ago. We'll have plenty of garlic to do us and I've increased our stock twofold with some nifty growing. Onions being grown are typical cooking brown onions and some tasty red onions for salads and relish.
Asparagus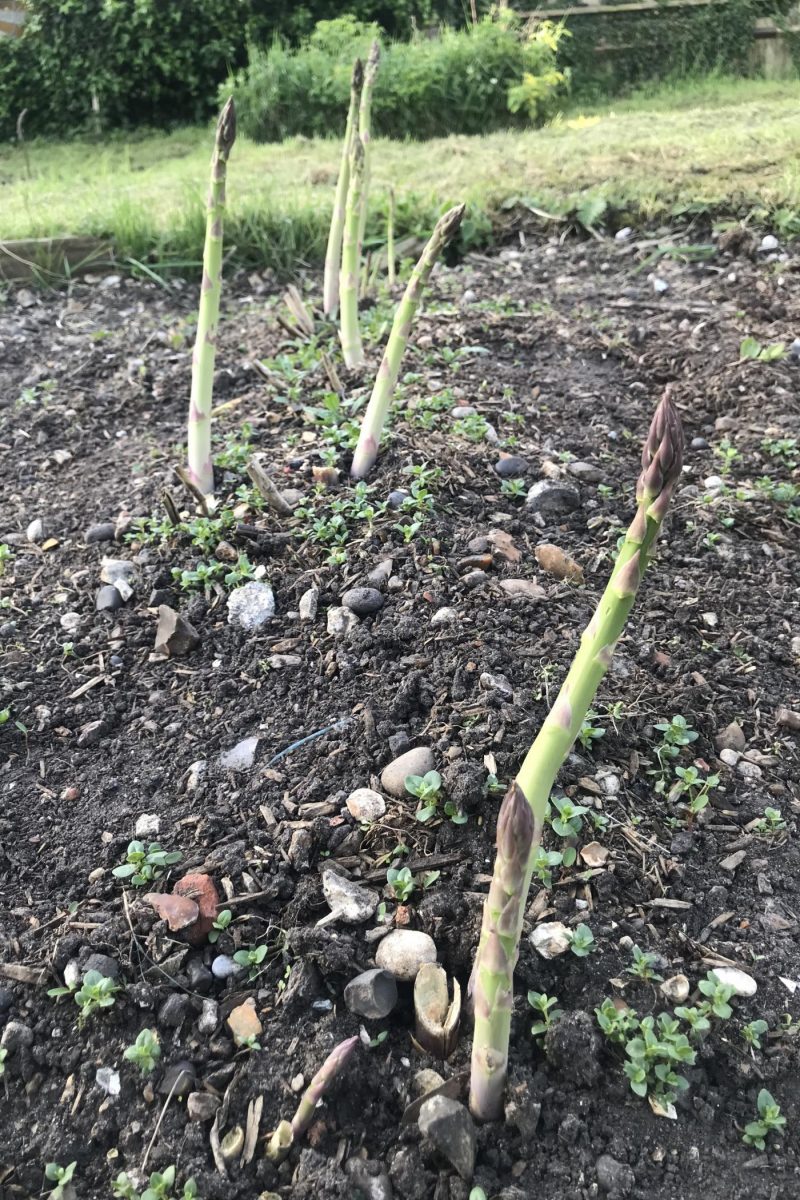 Stop the presses! Asparagus. I am extremely proud of my asparagus bed. Planted two years ago, we've had four rounds of spears already this month after the initial two year wait and there'd be more if I could get down the allotment more frequently. Once it starts cropping it crops fast with new spears ready daily. Unfortunately, if I miss some, they grow into stems and the plant will stop the crop.
Chris and I have found them "totes gorge". I can't taste much difference between cultivars. Some are thicker than others. They are all so succulent, sweet and crunchy with no stringiness. It's magic. You can read more about starting an asparagus bed in my Telegraph column about it here.
I've also noticed that I've lost a couple of the 'Pacific Purple' cultivar because I let them dry out a little too much last summer. Which is a shame because they grow into this: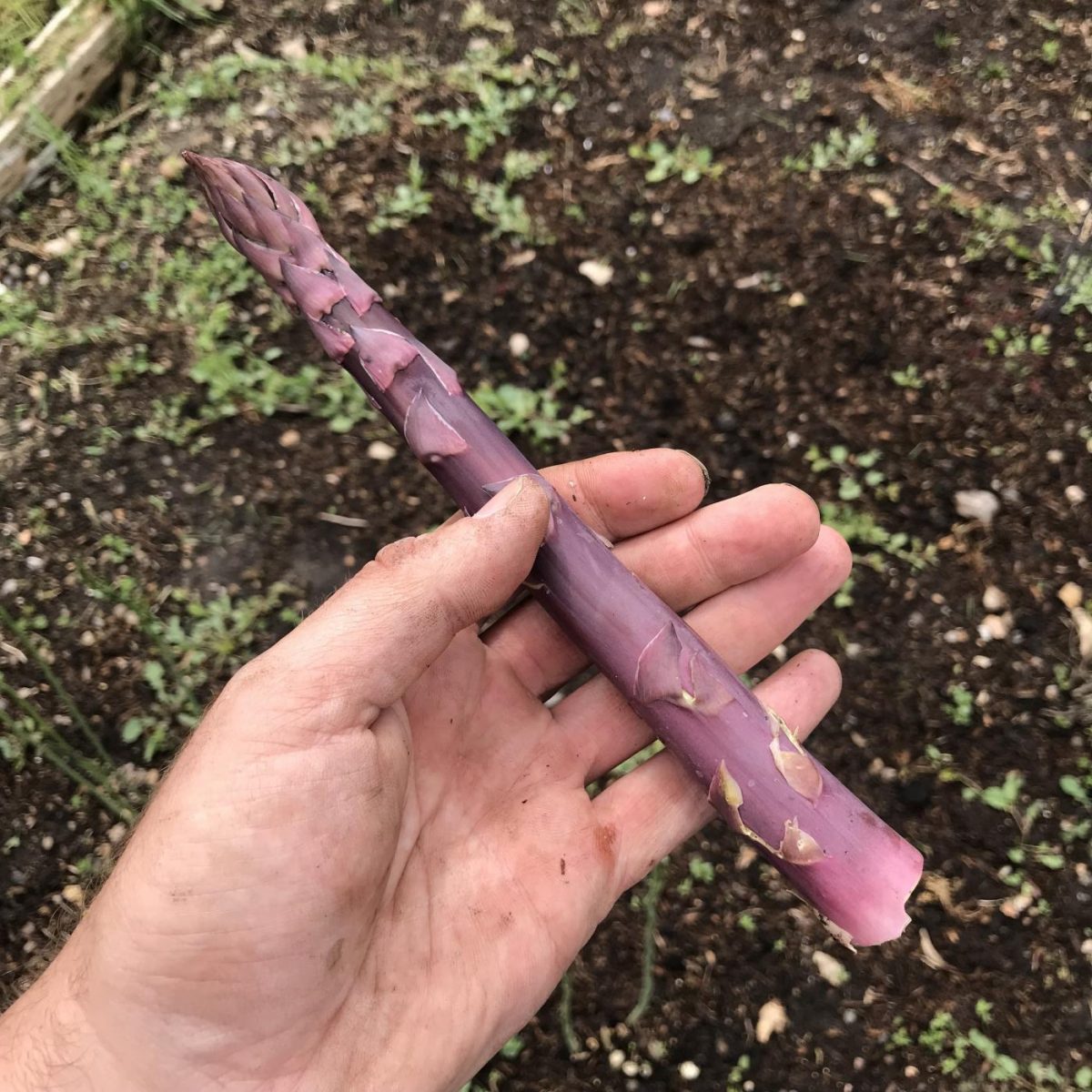 The biggest asparagus spear I. Have. Ever. Seen.
Wildlife pond and mini meadow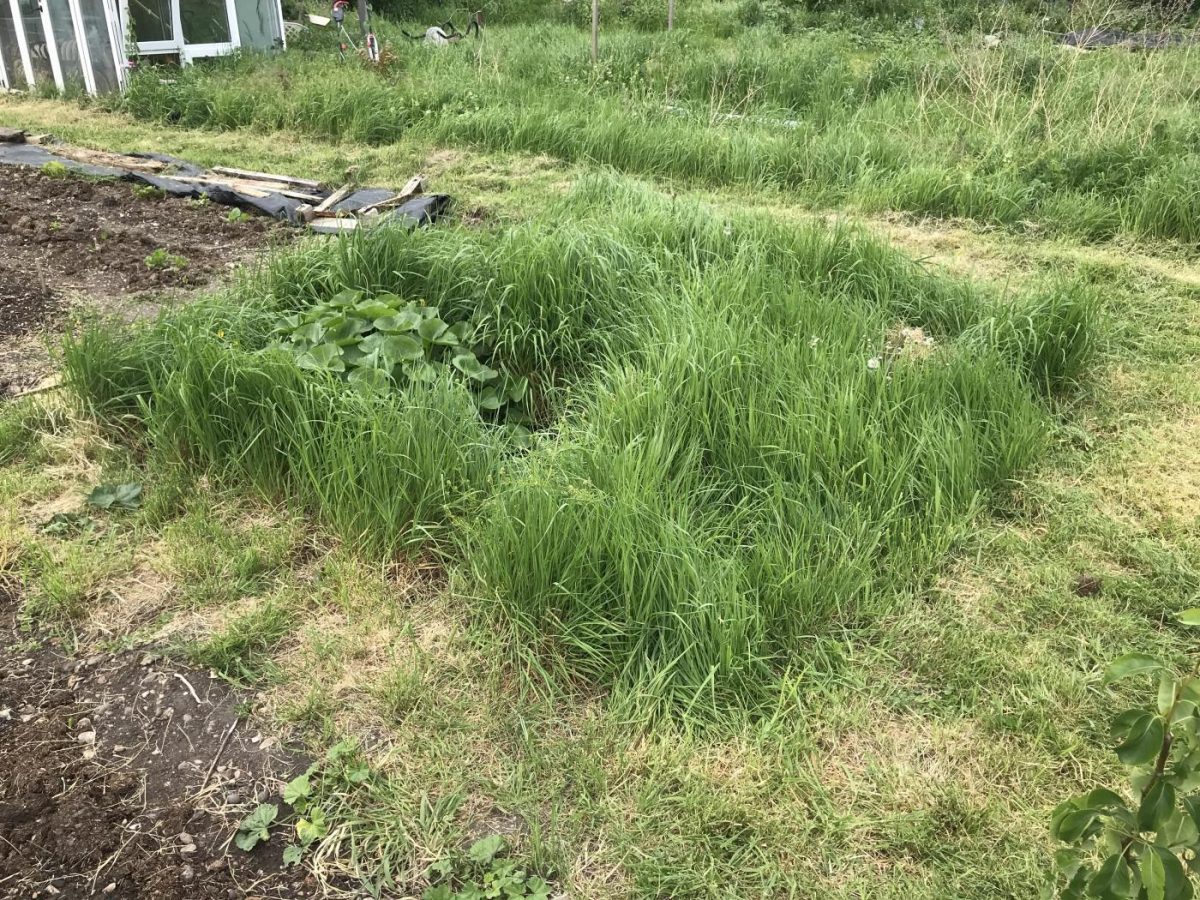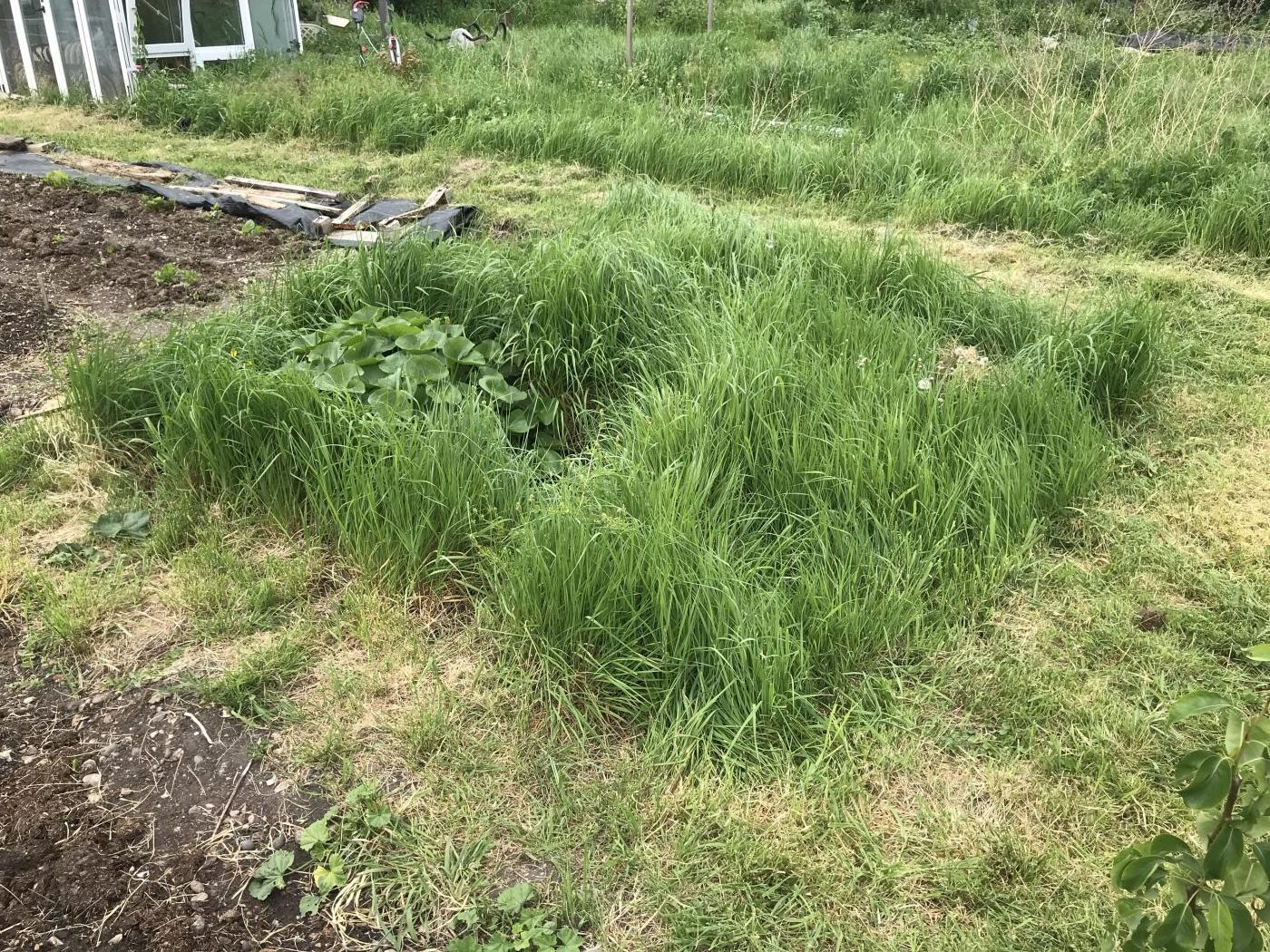 When I took on my allotment it had a little wildlife pond which I've kept. The pond really is tiny but each year attracts lots of frogs who lay their spawn in it. In this area I'm interested in running a meadow experiment too. I suspect the soil will be too rich for much else than couch grass but we will see! I know there are lots of plants like dandelions in this patch which, unlike many people, I really love. I plan to mow it three times this year to weaken the grass, removing the clippings. Being very mindful of frogs of couse! Otherwise, I'm going to let it grow naturally.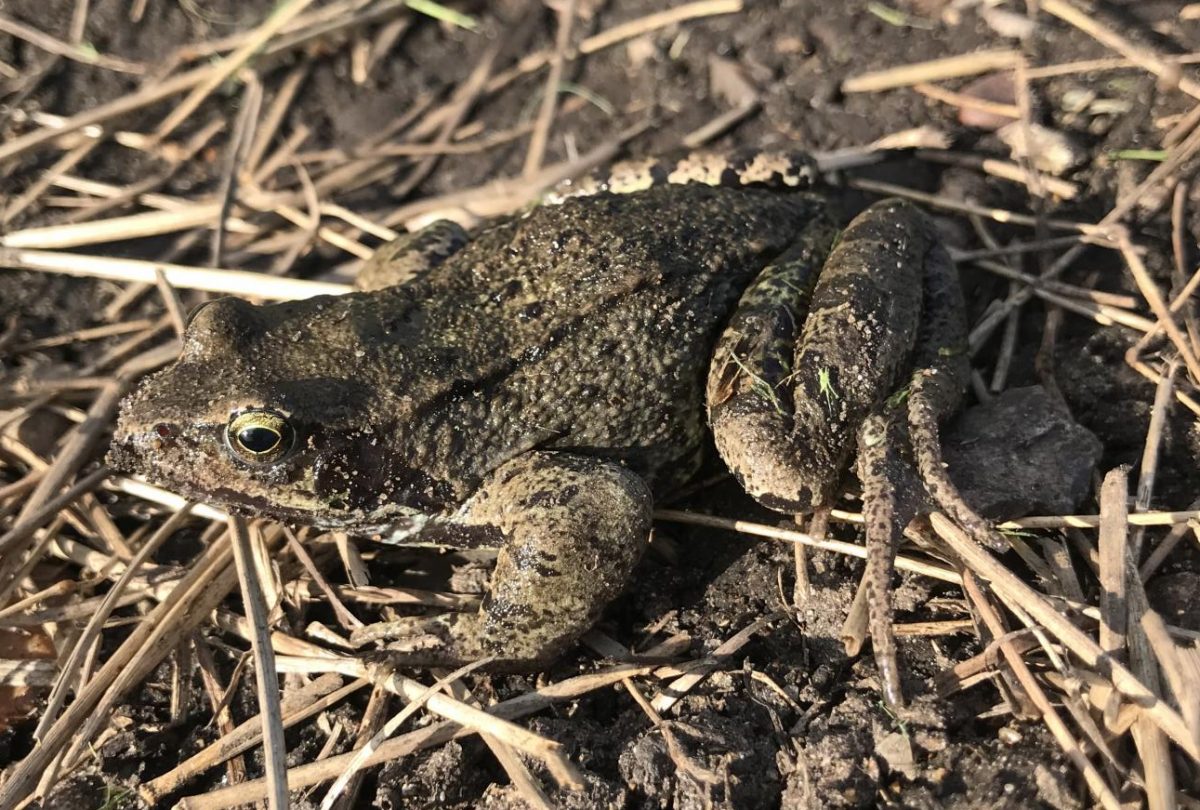 Stepover apples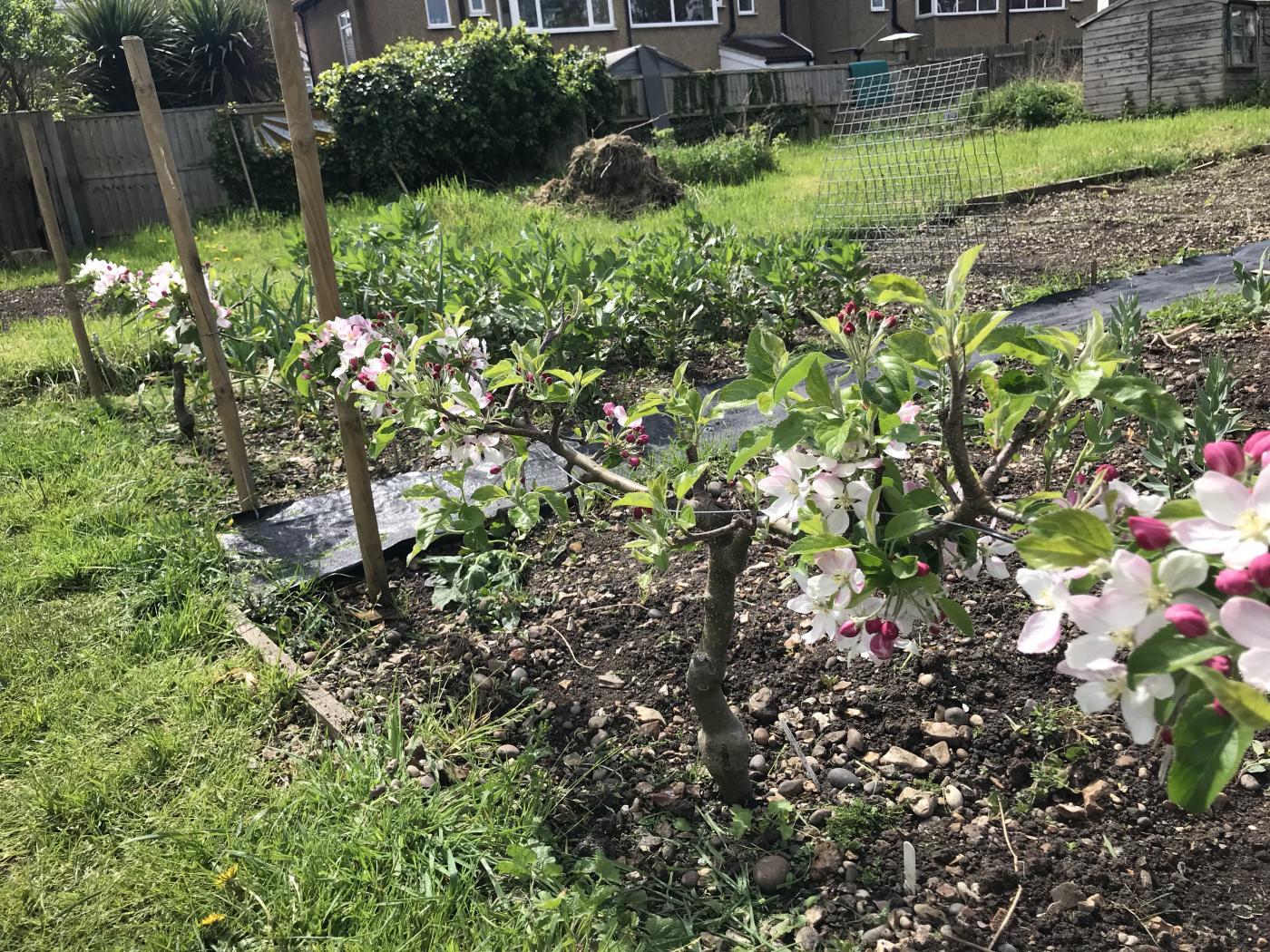 In addition to my new mini-orchard one of the first crops I added were my stepover apple trees. Last year I tasted the apples but this year is their first full crop year. I cannot wait to have a good number of homegrown fruits. I really recommend dwarf fruit trees for anyone wanting to grow their own food – I've written a short column about them with more info.
Mini prairie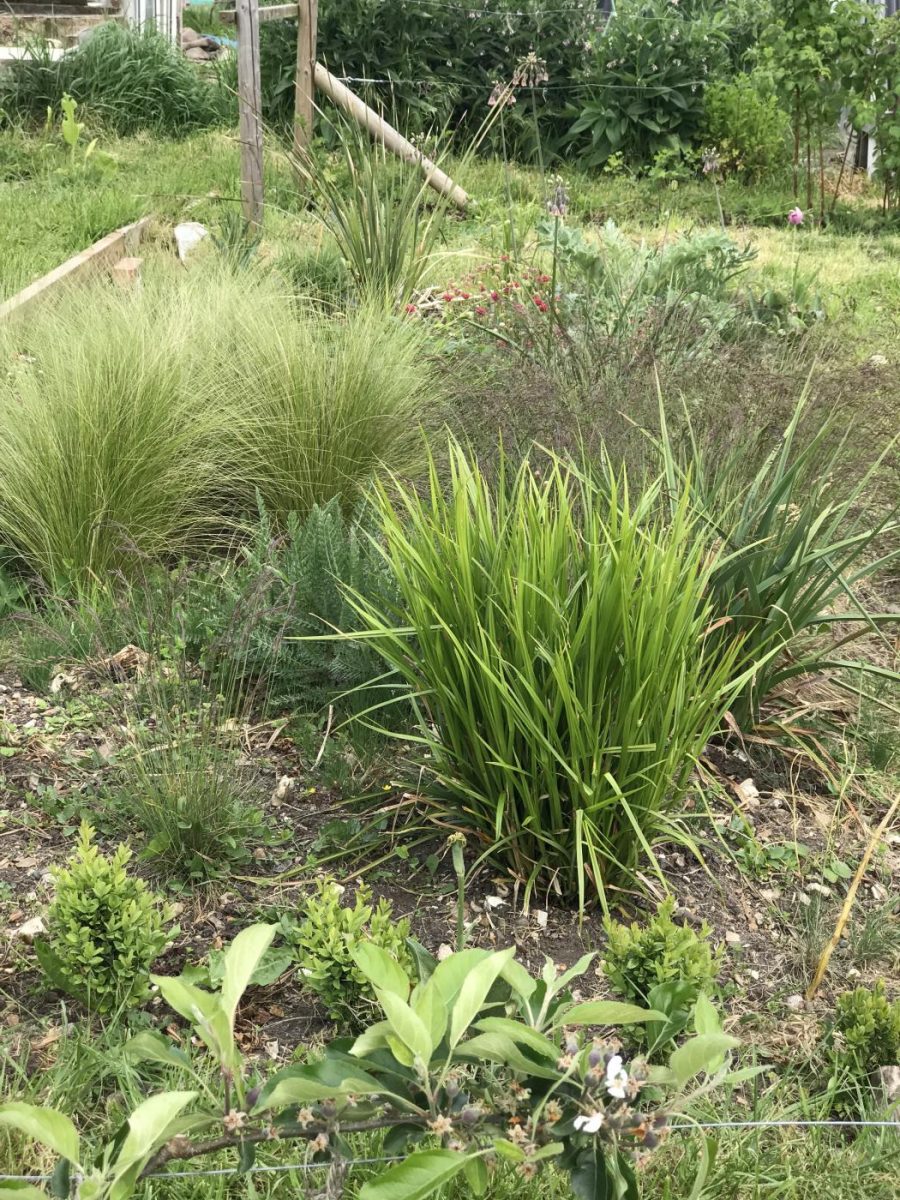 Two years ago I started this 'slice of a prairie' experiment and I've learnt a great deal from it. I'm due an update to that original post, which I'll do soon. Some plants have thrived, others have not. It's hard to be disappointed with those that haven't made it as expected when those that have are so beautiful. A very interesting ongoing project that allows me to test out my dry gardening ideas. Most of these plants were grown from seed. The grasses, which make up most of the bed, are mesmeric.
Salads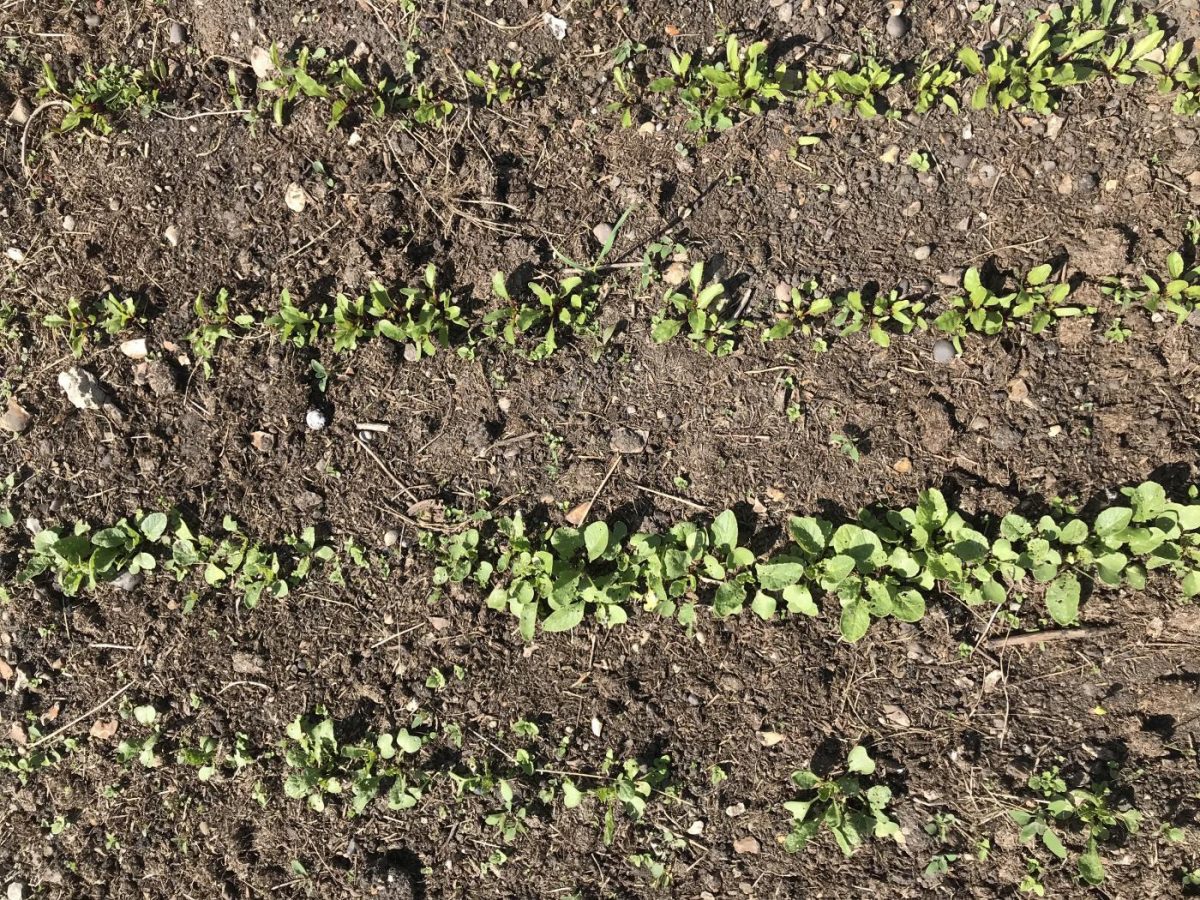 One bed I've worked hard to start off correctly this year has been my salad bed. I'm very happy with the results so far based purely on the fact there are rows, which all vegetable patches are judged on – the neatness of rows. I have six or seven cultivars of lettuce, plus chard, different radish and beetroot, spring onions and other salad crops, leaving space for more rows of successional crops. Who knows how they'll all turn out but right now we have seedlings in those lines. What more could I ask for… except tomatoes…
Tomatoes and aubergines

Not on the plot yet, growing nicely at home. Last year I bodged the tomato growing. I still had lots of lovely tomatoes but I planted them too closely together. I'm ready for them this year. The aubergines are an experiment and I've no idea how it'll turn out. More in this week's column.
Root vegetables
I'm growing a variety of different roots again including multiple carrots. At least, I would be if they'd hurry up and germinate. They've been a little erratic this year however last week I spotted a few of their leaves in among the weeds. I'm trying a few new root veg this year including Salsify, plus my trusty parsnips, which have germinated.
Purple sweetcorn
Last year I grew rainbow corn which is used for popcorn. This year I'm growing it again but a specially cultivated variety of purple only kernels. I hastily planted out my corn seedlings at the weekend without properly hardening them off – something I now quite regret doing. The weather just felt really fair and mild, which it is still. If I'd have waited a little longer though, they'd be tougher against slugs and snails. I'm slightly worried about what I'm going to find – or not if they've been eaten.
Brassicas
I spent most of the winter preparing the new gigantic brassica bed which runs almost the full length of the plot. Last week I planted out all of my little seedlings. They looked pretty happy being out in the open soil. Within seconds though, cabbage white butterflies zoned in and pounced to lay eggs. If it weren't so distressing to see the tiny plants being preyed upon the speed would have been impressive. I've ordered some new netting which I'm going to set up today. My only hope is that a) the eggs don't hatch that quickly b) I can easily spot the eggs to remove and c) my little planty warriors grow really quickly to beat the munchy mouths of the caterpillar army. You'd hope cabbage white have evolved so as not to completely eat their food source but I doubt it… Fingers crossed.
Rhubarb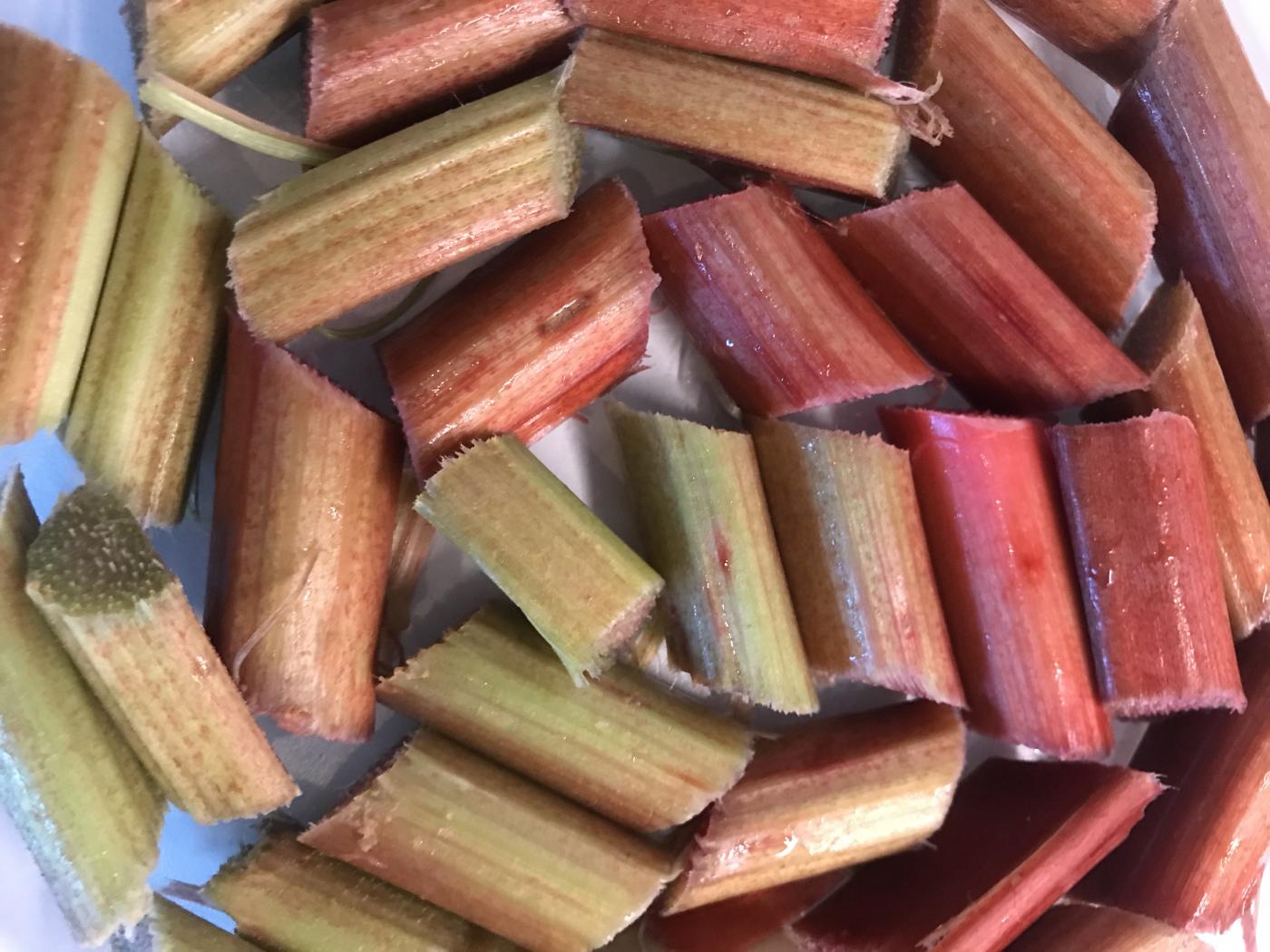 It's the gift that keeps on giving. Enough said.
There's more, such as my cut flowers and new ultra sized Dahlia trial bed (still actually quite small!) Oh and I have gooseberries, whoop. Please join my newsletter by adding your email on the right on desktop or below on mobile. I send out weekly emails about blogs I've written so you don't miss them.
'til next time allotment thrill seekers.