My review of the 36V Stihl FSA-56 strimmer, currently available for between £130 – 170 online, tested for the last month on my allotment.
Some context
For context to this review, on my allotment I'm responsible for keeping the grass paths around the outside in check, plus some grassy patches I've chosen to keep on the allotment itself, such as my wildlife meadow and mini orchard. Since 2016 I've been using the battery operated 18V Trueshopping ET2505, which has done the job but the whole plot has to be cut over the course of three allotment trips. It is neither that powerful and the battery lasts for about 10 mins max. By the time I'd finished cutting the last area, the first area needed cutting again. It was incredibly cheap at only £39.99, but I would not recommend anyone buy it unless you have a really tiny lawn. I've been looking around for replacements and Stihl offered to send me a couple to trial and review, I have other electrical gardening product reviews coming in the future.
Strength of cutting
Compared to my previous strimmer, the Stihl FSA-56 is night and day better in terms of sheer power. I'm incredibly impressed at how powerful its cut is, both in terms of speed of rotation and strength of cut. Most impressive is the size of its cutting head, almost a third wider than my previous strimmer. An important detail as it speeds up cutting. It zips through grass no problem and even makes happy work of cutting through thicker stems like tall, coarse grass and nettle stems. Cutting wise, it does the job perfectly for my allotment and as such, any home garden.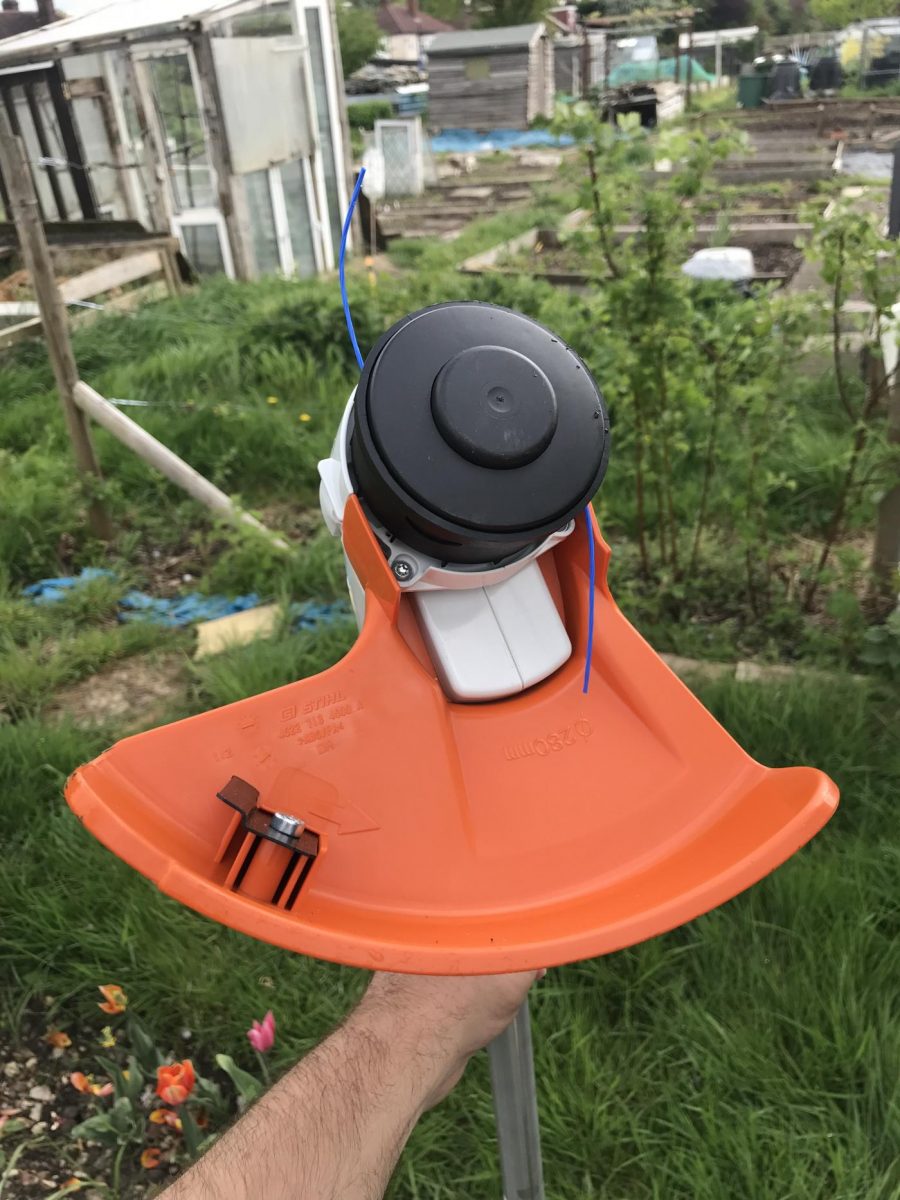 Weight
At 3.3kg including the battery, it's not light as a feather but it is light. After 20 minutes of strimming my arms were feeling it slightly, though not too bad. I'm not exactly the strongest person in the world, so you have to judge this for yourself. That said, it is light compared to other strimmers I've used.
Battery life
The big question. I'm personally interested in battery operated gardening products. In a world where we should in the near future be running off of renewable energies, it feels like all attention should turn to non-petrol powered anything. However, to be totally realistic, we have to admit battery technology isn't keeping up – in any industry not just gardening. We all know how bad batteries in mobile phones are. I'm impressed that so many high energy power tools are battery operated but my experience so far is that the battery quickly runs down and the worst products – such as our drill – see the power weaken before the battery dies.
The product details for the Stihl FSA-56 says it will run for up to 20 mins and having timed it three times now, that's bang on. You get 20 mins – twice as long as my cheaper strimmer – before it runs out of power. Impressively, it will run at full power until the last minute, then it suddenly stops. This is much better than products that have a 5 min slow down period where they run, but aren't really cutting as effectively. The battery pack has a nice power indicator, you press a button and the lights tell you how much power is left. In my experience of pressing this, I've only ever caught it fully charged or on the last dot of power.
I think the dream run time for a home strimmer would be a minimum of half an hour (well, actually the dream would be to run for hours but we have to be realistic until an eventual breakthrough in battery tech is made). My allotment could certainly be cut back in thirty minutes, but with a 20 min limit, I'm still having to spread the cutting over two trips. Unless of course I buy a second battery, which is certainly an option thanks to the fact the battery is detachable. Additional batteries cost an extra £50. I personally wouldn't buy a strimmer without a detachable battery unless it was for a very small home garden for the reason that all batteries wear down over time and need replacing. In my specific case of travelling to my allotment, I only want to carry the battery each time.
Price
At the time of writing the Stihl FSA-56 can be bought online for as little as £130. If you're new to strimmers, this may seem a lot compared to some of the apparent bargain strimmers – such as the one I originally bought for £39.99. However, having used a number of them now, I would strongly advise against going for the cheapest – they simply don't perform well enough.
Other info
A couple of times the cutting wire snapped or broke on a particularly strong stem. It was easily extended again by pressing down on the wire pack to release more. One time, both wires cut off and I had to dismantle the wire reel to pull the pieces back out. This took about 5 minutes and was quite fiddly and annoying, but it was fixable and up and running again. On my previous strimmer this area is much harder to access and I've run into problems of string getting tangled. Something I am not worried about with the Stihl FSA-56 because it's pretty easy to dismantle.
The overall build of the Stihl FSA-56 is very nice, solid and clean. And I really do like the battery pack power indicator. The battery is easy to detach and slots satisfyingly into the charger.
Oh, and this strimmer is very, very quiet. One of my friendly fellow allotmenteers even commented on how quiet it is.
Summary
A powerful, light weight strimmer for home gardeners and allotment owners that is enjoyable to use. Its wide cutting head and strong force from start to finish have transformed strimming on my allotment and made the place look much better – I can't ask for more.  In the mid-range price bracket, there are cheaper strimmers however you do get what you pay for and this is a quality product worth a little more investment. The battery life, as with all battery operated products, would ideally be longer – its only downside – but at a solid 20 minutes of power, I recommend the Stihl FSA-56.
Score: 4/5