Today was a really exciting day for me as it was the first assessment of the RHS Persicaria trial at Wisley. It was a special day because I've visited the trial fields for years to look at different plant collections and to be asked to join the forum panel alongside lifelong growers is an honour. It's a bit of a moment for me too because a few years ago I stood here looking at the trials thinking I'd missed out on a life I could have had but thanks to some people, I have been given the opportunity. I'm grateful that the world of horticulture and botany is so supportive and inclusive. Perhaps that sense of loss I can now treat as a feeling of excitement for a life I can still have. But I'm waffling, onto the good stuff…
About RHS plant trials
Almost all plants sold in garden centres and online will have been assessed on the RHS trial fields across their gardens where a lucky few plants that perform the best are granted an Award of Garden Merit (AGM). This means the plants were pitted against other cultivars and then judged by a forum of experts in that plant category across a number of years. Those that grow healthily, flower well or have good foliage and form receive the AGM, which could be a handful or even none at all if the forum members decide they can't recommend any. Garden worthiness isn't as pretentious as it may sound, it's ultimately about ensuring people get value for money from plants they buy, knowing it will grow well in their garden. The trials serve an important purpose.
The Persicaria trial
I was asked to join the trial 18 months ago and in that time we all inputted into plants we'd like to see grown, giving our feedback on our own experiences. Meanwhile independent nurseries across the country have propagated all of the plants, sending them to RHS Wisley. The persicaria trial is looking at over 90 different cultivars across a number of different species presenting a good range in size, flower colour, foliage effect and plants for groundcover as well as large or small spaces. They were all planted in spring this year and the trial runs for three years with the group meeting every month in the growing season over that time; we're going to get to know these plants very well!
Persicaria is a funny group of plants because they're used heavily by horticulturalists and designers but haven't broken into mainstream use… yet. Which is crazy because they're amazing plants.
I won't go into naming any of the plants here because it's not my place and it would be misleading until the three year trial has ended when we've assessed them properly. There were some favourites today including one front runner I'm growing on my allotment too. You can of course visit the trial field at any time yourself to look at the plants.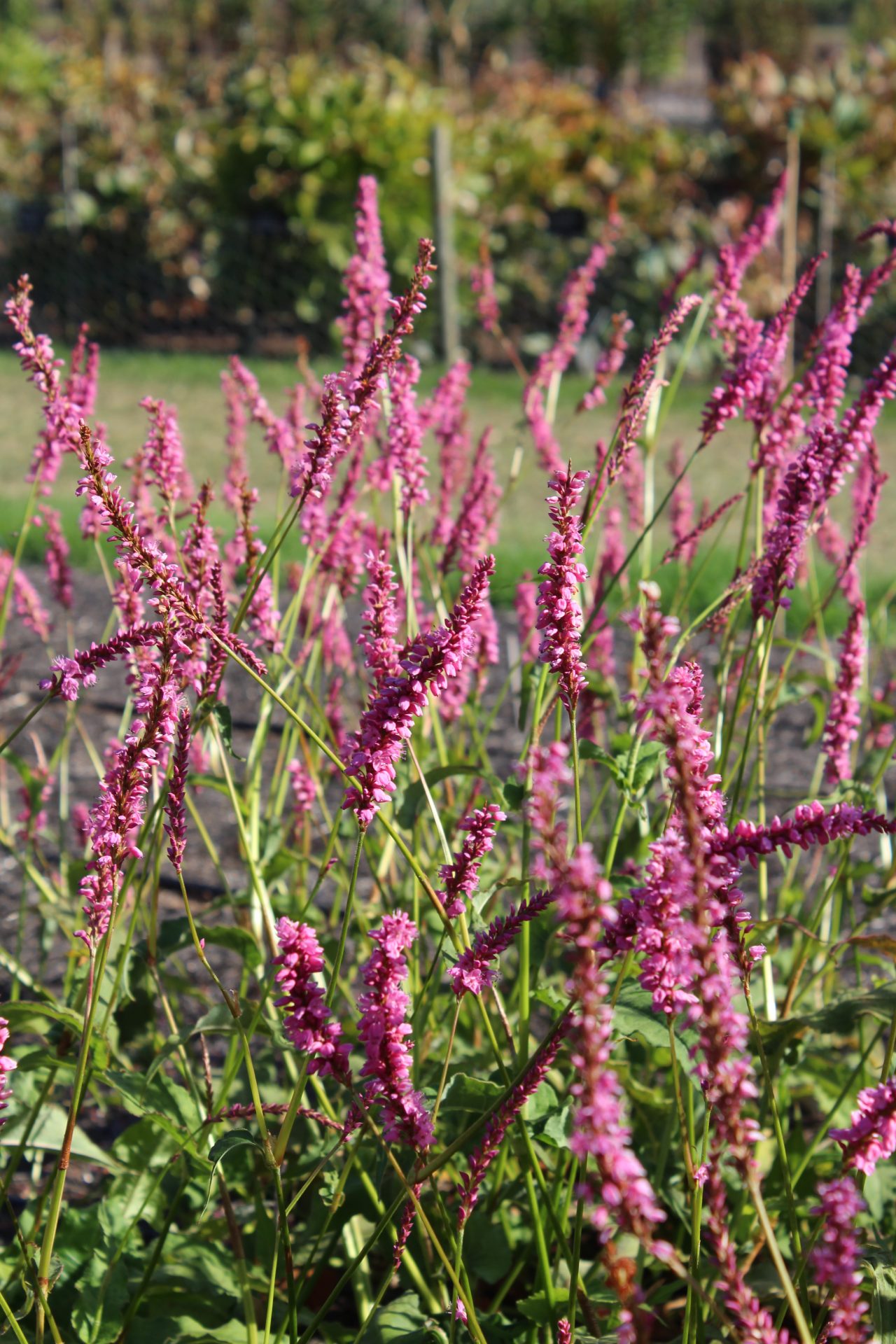 I'm pleased to see that while the trial does concentrate on Persicaria amplexicaulis cultivars – the main group of flowering Persicaria used in gardens – there is a lot of variation too. Low ground covers, unusual forms, foliage Persicaria and more are there. I'm confident that by the end of the three years, there will be some recommendations for gardeners that will transform people's gardens for years to come. There were some species new to a lot of people too, which I believe many will find exciting.
My take on Persicaria
Having grown about twenty different cultivars and species of Persicaria in different settings across 40 or so different gardens, I really love 'some' of these plants. From the foliage types like 'Red Dragon' and 'Purple Fantasy' in tropical gardens, to the flowering forms in contemporary gardens, I use them all the time. I think a lot of people will be put off by the bog standard varieties with their dull, boring red flowers and their tatty leaves blotched red. I don't find these Persicaria exciting at all – in fact, the opposite, they put me off. Unfortunately these are often the ones you see in mainstream garden centres. Look to some of the newer cultivars however and the situation is very different indeed.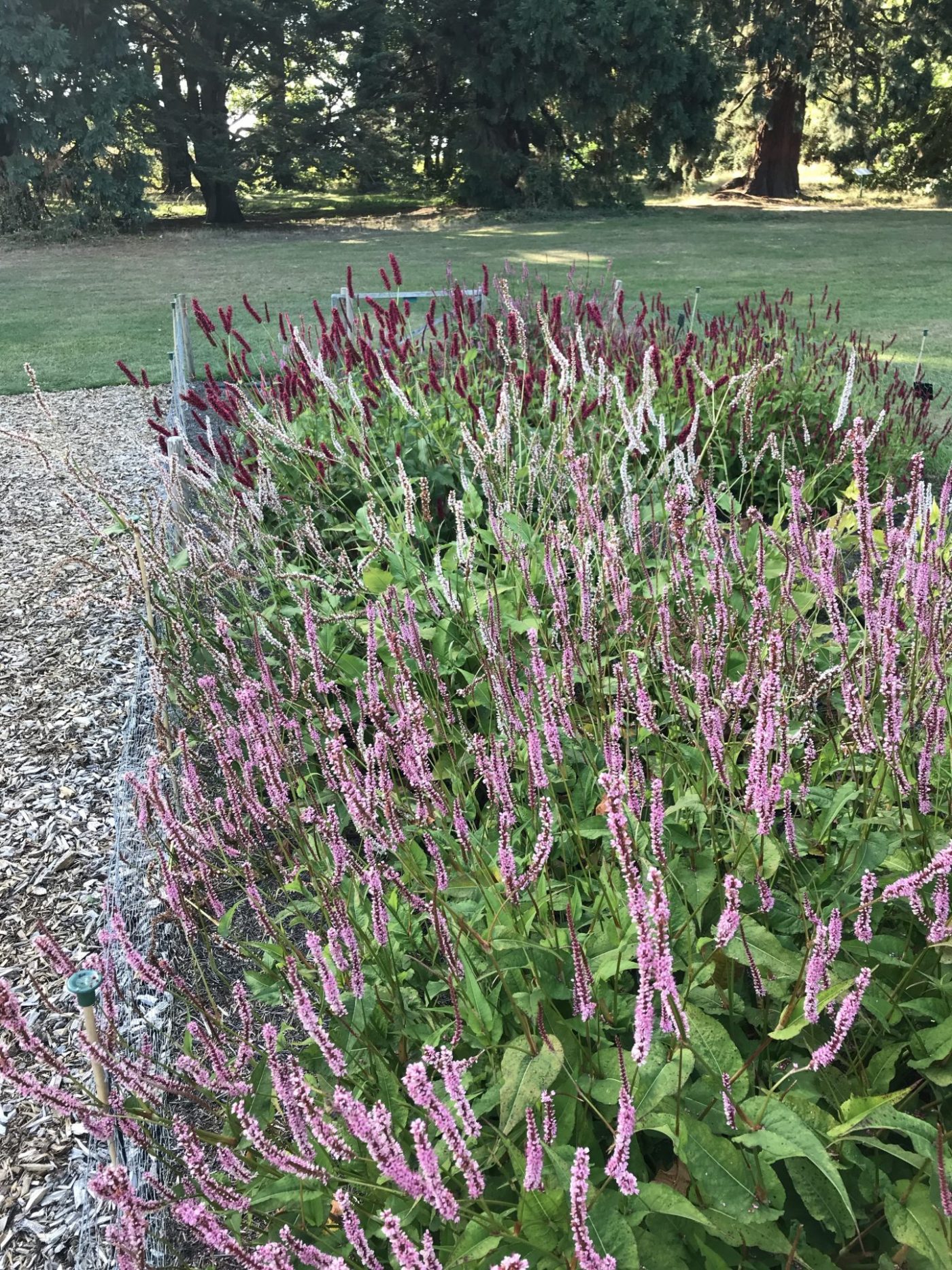 So, on a sunny day in Surrey we spent a good portion of the day looking at the leaves, stems, flower length and structure in huge detail. It was fun, there were some truly beautiful Persicaria, it was informative and a really good bunch of people. I found it hugely rewarding personally, looking at the plants, but also knowing I had contributed something back in a small way to the wider horticulture industry.
Please share your thoughts on Persicaria in comments below and pop back for future updates. And I look forward the final document of recommendations produced by the RHS at the end of the three year trial.