I've been thinking of making changes to our garden for a couple of years. The number of pots we have are getting out of hand and I dream of lifting the slabs covering the entire back portion of the garden. Our garden's hard landscaping is exactly as it was when we moved in – probably over twenty years old in parts – and not how I'd design it if given a blank canvas now, having learnt everything from designing other people's gardens. Though it has been great to this point. Well, we're finally making some changes, not an entire overhaul as we don't have the money to do that (the dodgy fences are staying I'm afraid!) but enough to make real what's in my head.
Here's what I'm thinking – the new layout
Essentially removing large chunks of paving to create new planting beds and relaying the slabs which over decades have become loose. Originally I wanted to replace the budget paving that has always been here – though I love its terracotta colour – to use clay pavers instead. However, in the end we simply couldn't afford them 🙁 so I'm reusing what we have, which I guess has the benefit of reduced waste and is good for sustainability because of no transport. Though I would one day still consider changing them when we have the means. Clay pavers and brick are permeable, slabs are not though with this plan, you can see that doesn't matter as the water soaks into all surrounding beds – for all intents and purposes, as permeable as paving can get. The raised beds, fences and steps are all staying.
Comparison of reduced paving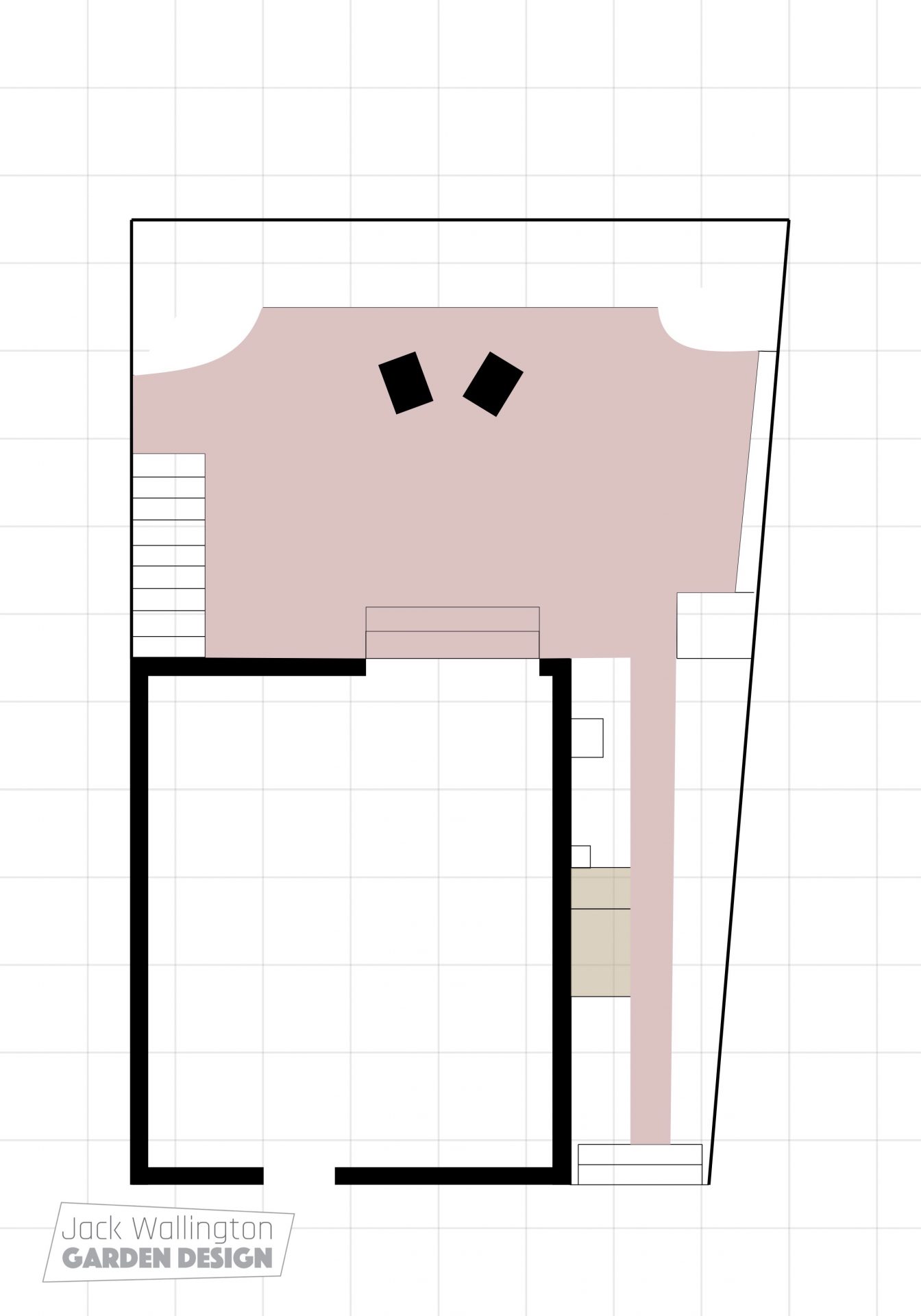 If this looks dramatic, bear in mind where the new beds will be are loads of pots now!
Brief to myself – requirements
In terms of the brief to myself, the requirements are:
No pots – over the years, as my plant collection has grown to contain over a hundred plants in pots, the watering throughout summer has become a serious burden. Last year it actually became a big stress for me as I worried about going away for weekends with Chris in case things died, which is mainly the result of opening our garden and the pressure of it needing to look good for that. Watering every single night, it was too much and silly. I considered an irrigation system but with so many different plants and their individual requirements, it was out of the question. Without any pots I can worry much less. This is the primary driver for the change, to make a significant reduction to maintenance to get my life back and enjoy the garden again.
Irrigation – I will now install a simple irrigation system in the beds for some watering when seriously dry but I expect this to be only a handful of times in the year, if ever. Soil locks in so much more moisture than pots that dry out, so usually gardens don't need it, especially with the plants I'm planning to grow. [note: I actually ended up not using the irrigation system in the end as it wasn't needed once place established in the ground]
Reduced paving for more in ground planting – I've always been interested in soil and soil life, studying it on my RHS courses and researching further for wild orchids and wildlife, but it was an article I wrote for The Telegraph that set this plan in motion. The research I read and scientists I spoke to made me want to get out there and rip up the paving immediately by hand – and I did with one slab but found there is too much concrete for me to excavate alone. Soil contains so much life. If I want our garden to help the planet and further its micro ecosystem, the paving has to go, unlocking more subterranean habitat. It also means plants will be happier, less watering than all of the pots and reduced peat free compost transport. It was starting to feel silly bringing in so much compost and then transporting waste compost from the year before to my allotment – I'm done with it all, in the ground planting will need far less imported compost and far less watering.
Well located seating area – our dining table is inside the bifold doors so we don't need a table outside but I do enjoy sitting on the patio and working in summer on our laid back chairs. At the moment, they're in the centre of the garden facing back into our flat. I've spent a long time considering the best spot for them and actually, they'd be better shifted a couple of meters to the right, which is the sunniest spot until the late afternoon and also, pointing the other way, down the length of the run of gardens and not at our flat. It sounds like a tiny detail, but this will give us the view with the greatest sense of space and depth, something that is rare with boxed in London homes. With the right planting, I can create a beautiful view that looks as though the planting extends into the distance.
Gravel path down the side return – originally I envisioned the paving running down the side return, kinda how it does now. But cost changed my mind and actually I'm glad because, although I like the feel of solid stone beneath my feet – especially bare feet – I'm very into self-seeding plants and gravel paths are perfect for this.
Lighting – without so many messy pots the garden will be neater, making lighting worthwhile.
Shed – we'll keep our small shed for some storage, though I may eventually replace it with a narrower but taller one this summer.
Compost bin – we don't have one at the moment due to space and visibility (I take everything to my allotment compost bins) but I definitely want a small composting area now. I really enjoy making compost, it completes the cycle of life in a garden, so I'll fit one down the side return.
Ponds – the only other requirement for the layout was a last minute brain wave. I plan to bring a little bit of atmosphere to Littlebury Road with two ponds flanking a fun little walk way – a bit like a stepping stone or bridge. This will replace our much loved container pond. With ponds in the ground, you never know, we may welcome frogs to our garden for the first time (they're unlikely to ever hop their way into a 50cm tall container pond).
Halving the fern wall – in the spirit of lower maintenance and fewer pots, half the wall is going, the ferns going into the ground.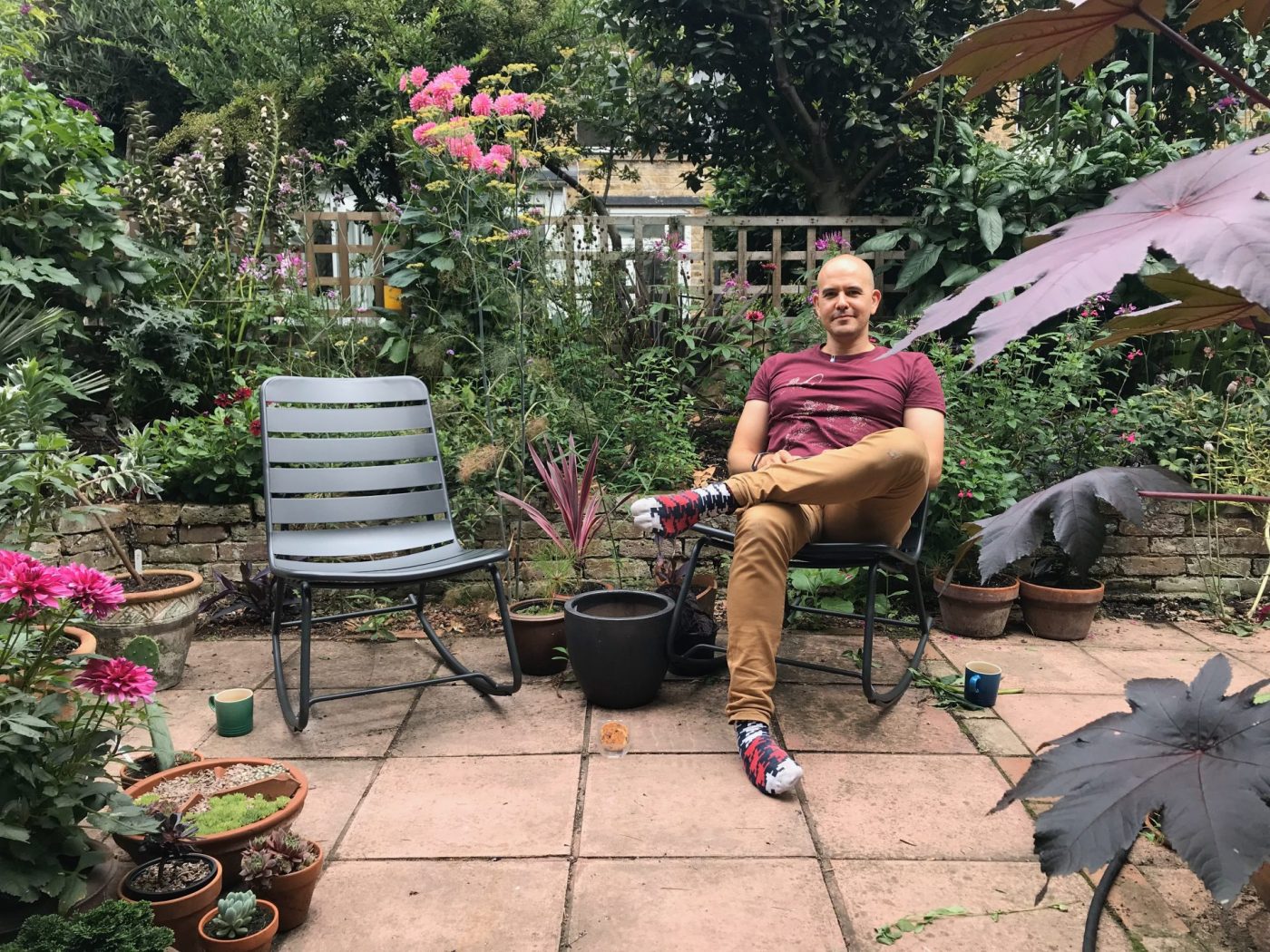 I've found it amazing how hard it's been deciding what to do with our garden. For others, I usually decide quickly what's needed before spending more time on the finer details. In our garden however, I've spent months thinking on the finish, positioning, plants etc. That's the benefit of someone else giving you the brief, they narrow the possibilities, whereas on my own garden, knowing all of the possibilities… well, it's all exciting! Having said that, I've enjoyed it too, I love rethinking garden spaces and I love the planning stage.
I'm really excited about what these changes mean for our garden, wildlife and plants and can't wait for it all to get started. At the moment I'm hoping the main patio work will be done in the next month, just in time for planting to start in earnest in spring.
See how the garden turned out on this page.