I've been wanting to visit the Hauser & Wirth art gallery in Somerset to see garden designer Piet Oudolf's 'Oudolf Field' in person ever since I first saw images of it being planted up a couple of years ago. After visiting the Oudolf designed walled garden at Scampston Hall last summer and learning so much from the space, I was doubly keen to visit and this week Chris and I were lucky to stay in the house of our friends Andrew and Ian nearby.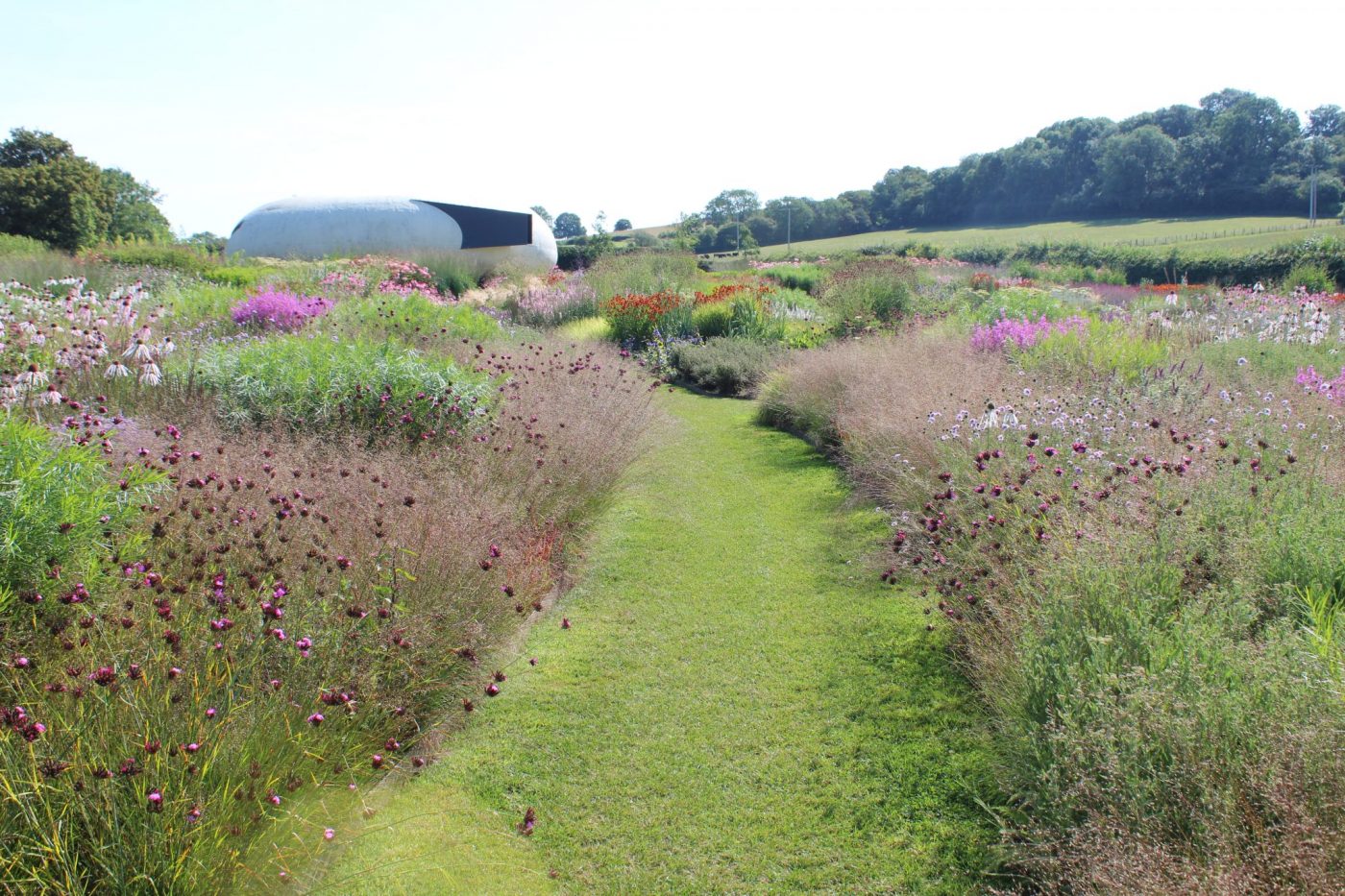 Approaching the 1.5 acre designed perennial meadow from inside the gallery I immediately wanted to run into it. I pushed those doors open to get out faster than I probably should have and almost knocked Chris out the way! I said sorry, let him past and then shot out.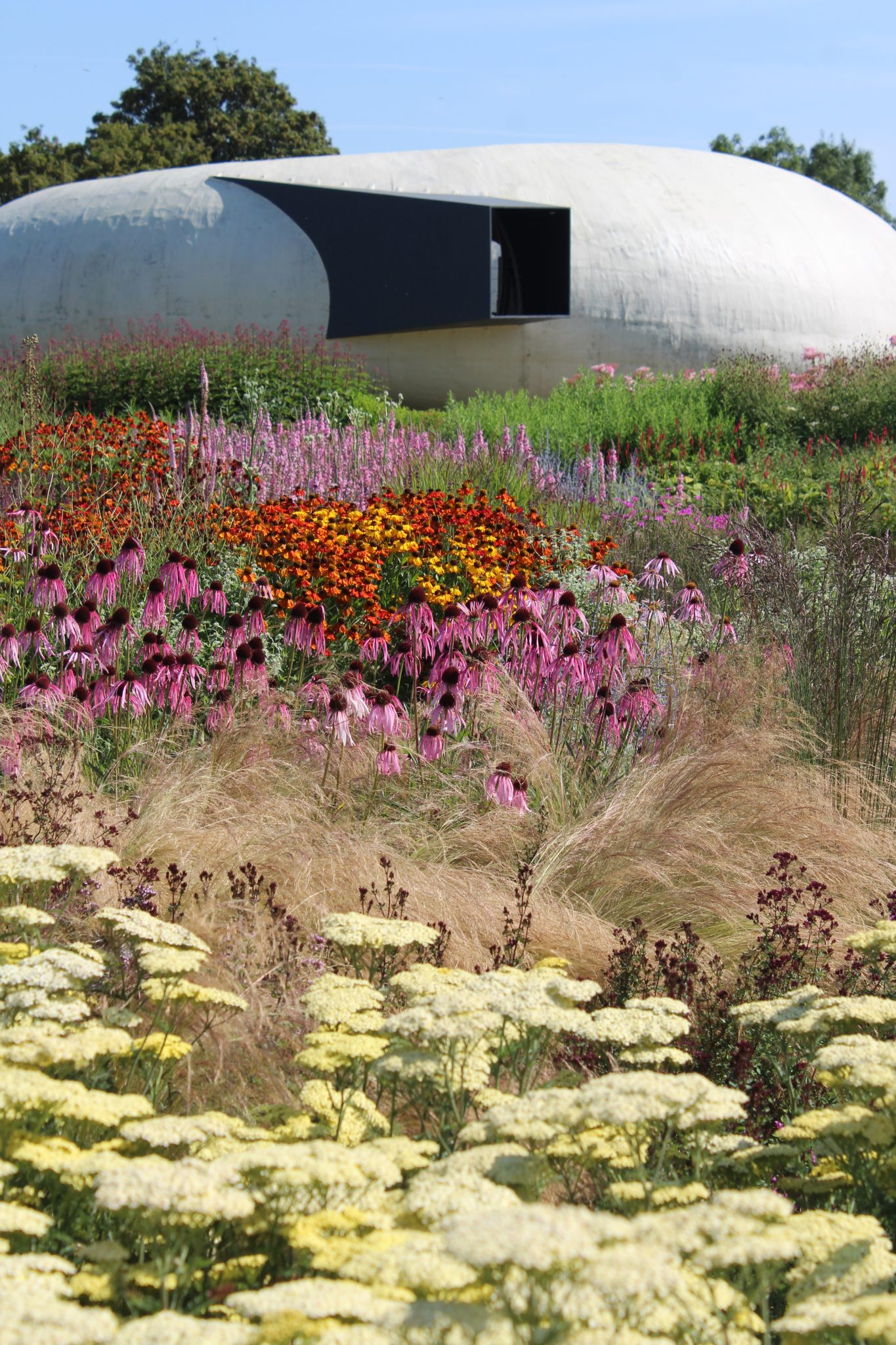 The whole space immediately makes sense in person, a landscape size living painting. A patchwork of colour leading uphill to the Radić Pavilion, an abstract minimalist blob designed by Smiljan Radić. Containing the coolest light strip I've seen.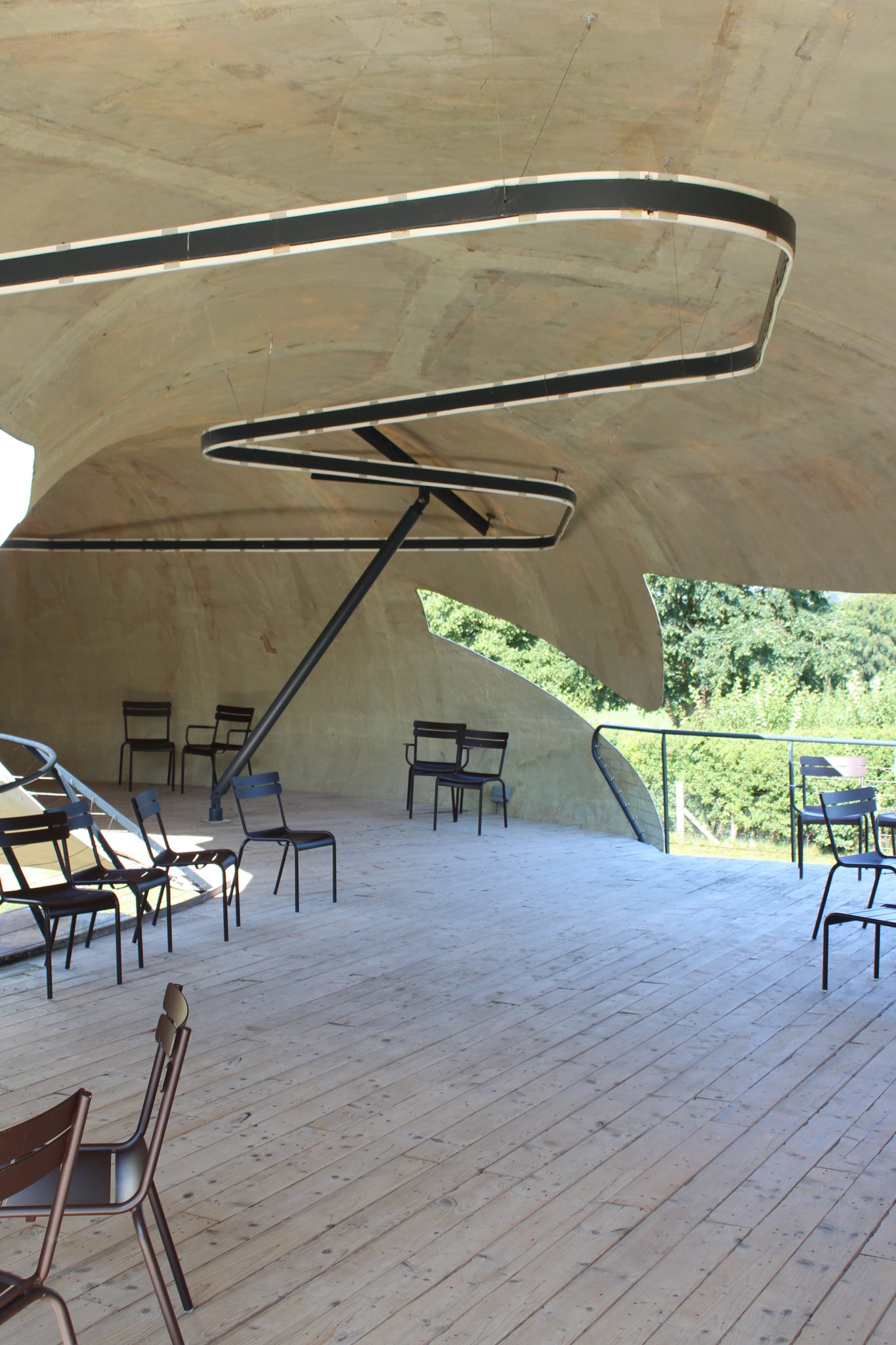 The garden design and the pavilion, used for talks and events, work in harmony together. It all feels surreal.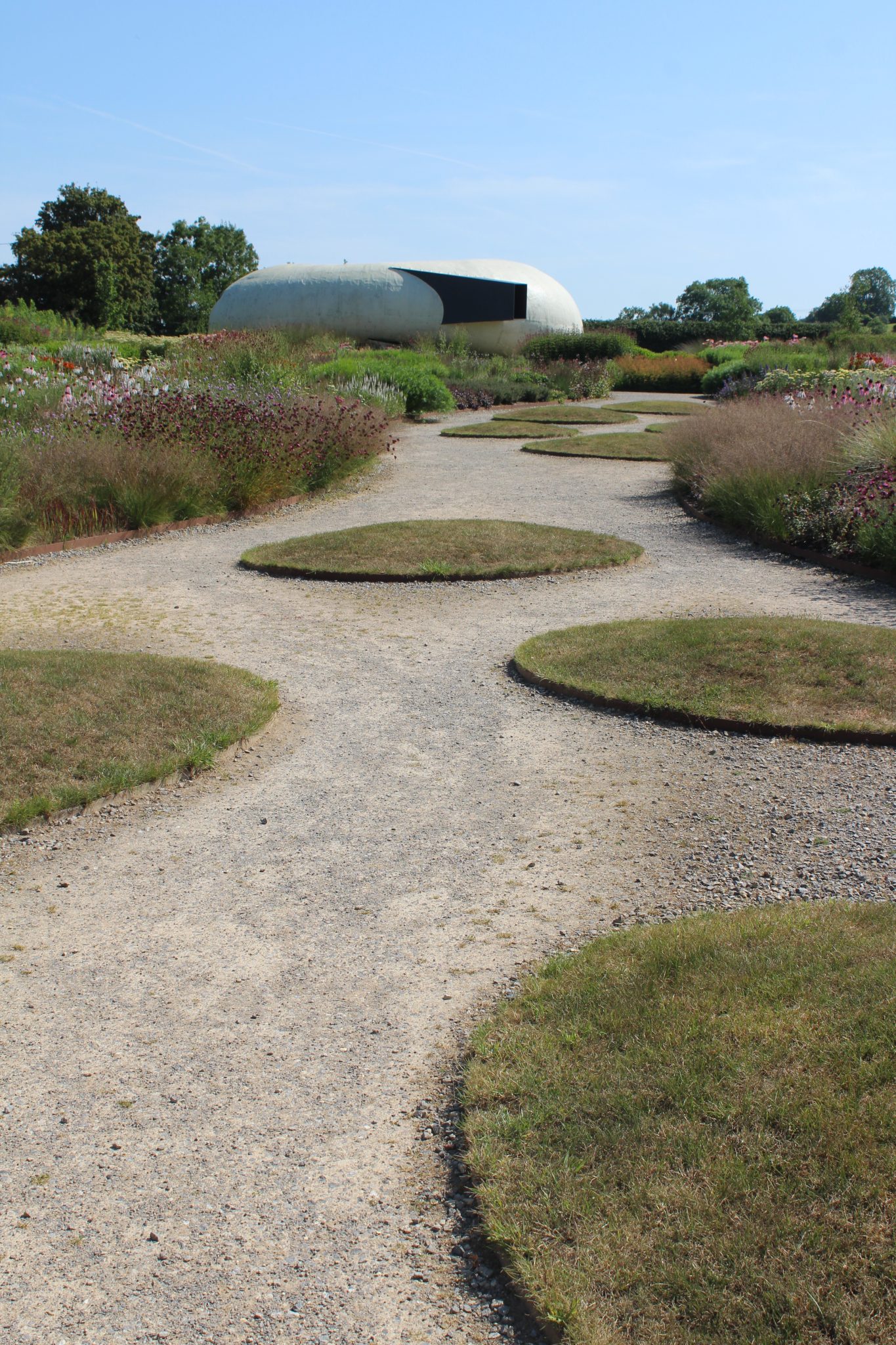 The planting design itself is unmistakably minimalist, from the large abstract island beds to the circles of lawn leading up the central path. Minimalism and surrealism in plant form all the way through the colour and texture provided by the block planting.
In fact, after visiting Scampston Hall last summer, I found it surprising just how blocky the design is. I suspect in part a result of keeping everything in scale on such a large plot. In photos the focus on Oudolf's airy planting is often close up, plants mixing and mingling, the overall minimalist and abstract design slightly missed. Large bold shapes, big blocks, strong colour – plants nestled well together but no blurring. There is an added restraint and dimension of art to Oudolf's work I am only fully appreciating with each garden.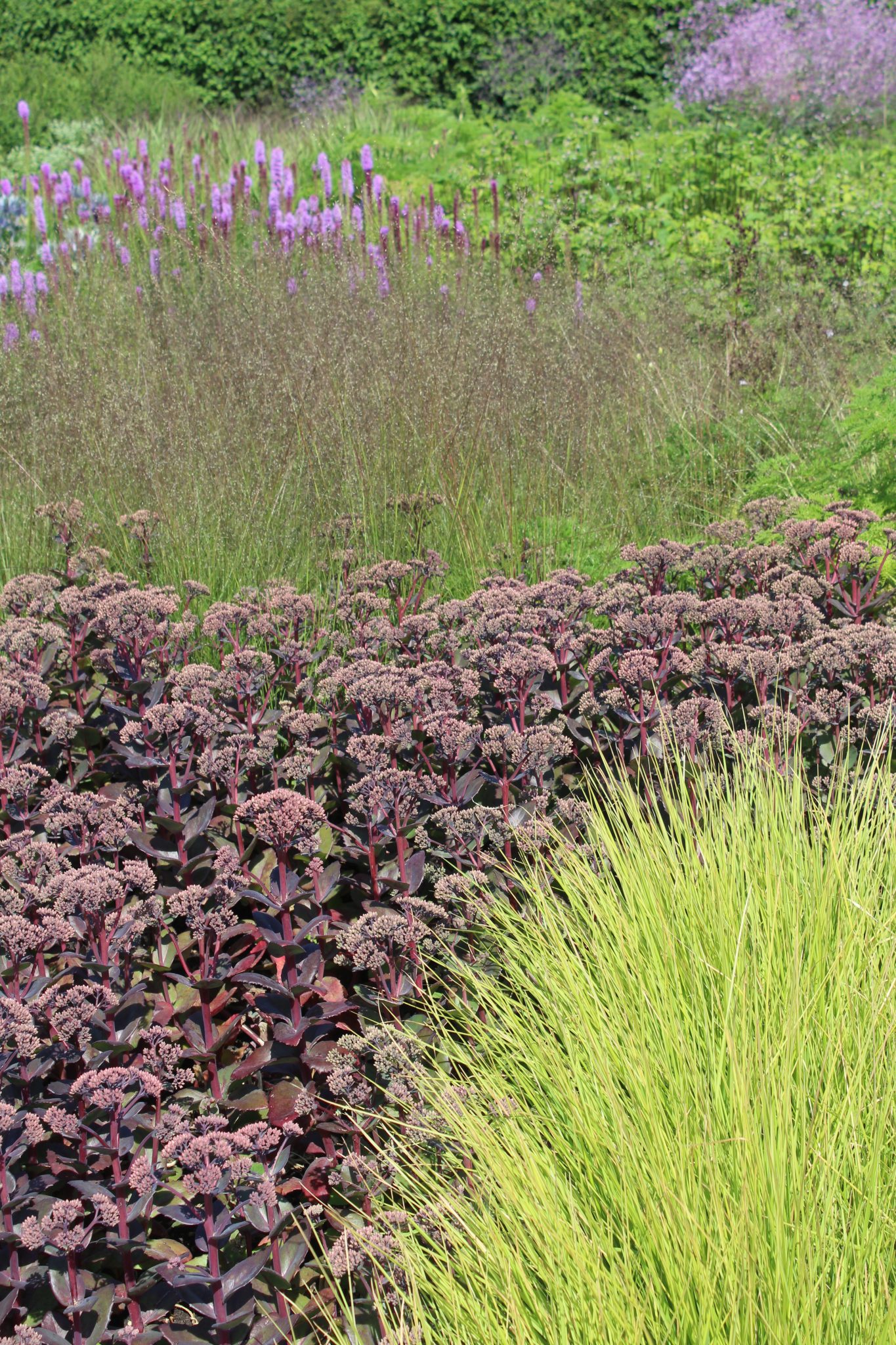 Seasons, a theme often linked to Oudolf struck me here, surprising when his other gardens I've seen in late summer to autumn when seasonal change is readily apparent. The difference this time, in the height of summer was bright colour. Colour everywhere! There were no dead or decaying plants here yet. It made me wonder, were we seeing this garden at its peak now or was that yet to come?
The planting is perfectly grown by the gardening team and I could see perennials that will bring a continued succession of colour and form throughout the summer months. I'd love to go back and see everything later in the season as it starts to die back and the lovely browns and ochre Oudolf is famous for start to come to the fore. Right now though, the field is reminiscent of a Picasso, making it perfectly placed as a work of art in a modern gallery.
When people talk of naturalistic planting, I've always thought of it as mirroring the nature of nature. Not necessarily in the choice of plants nor copying a patch of wild plants and plonking in a garden but in the structure and way in which plants grow together. What this visit has taught me is another dimension of naturalistic: to draw on nature and admire the unstoppable movement of time but not to replicate nature so strictly. Oudolf's planting here is not natural. Plants in the field do not mix and move and mingle, they stay fixed as intended and there is a lesson in that. My style of design currently is slightly different and that's the joy of design, everyone has their own personal take, with similarities and differences.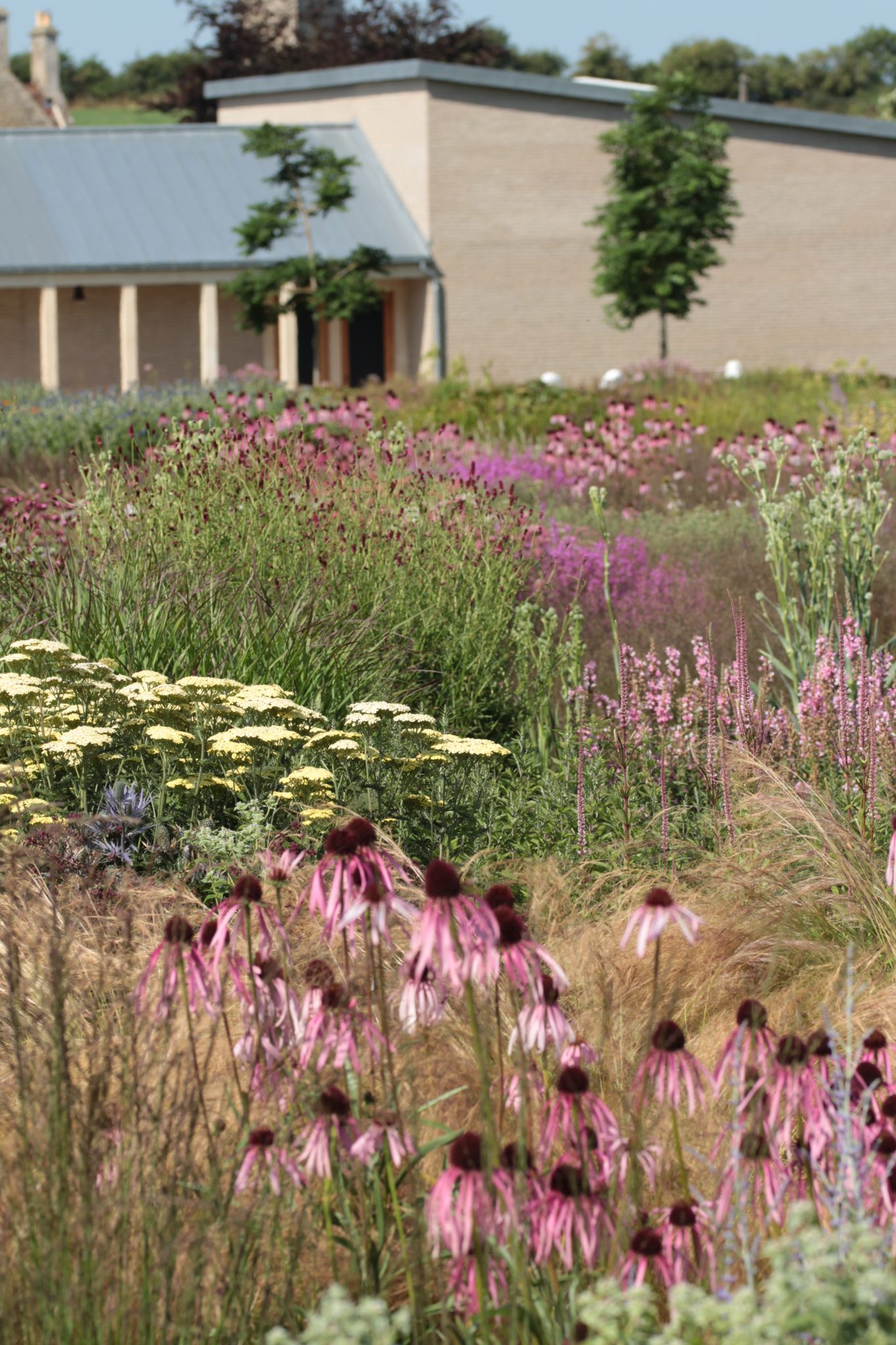 Looking back to the main art gallery, the building is a local honey coloured stone. Except most of the new wing of the gallery is made of brick and concrete in the correct colour, it works well.
Around the site are more works of art, made all the more striking during the heatwave while there. Like being back in LA.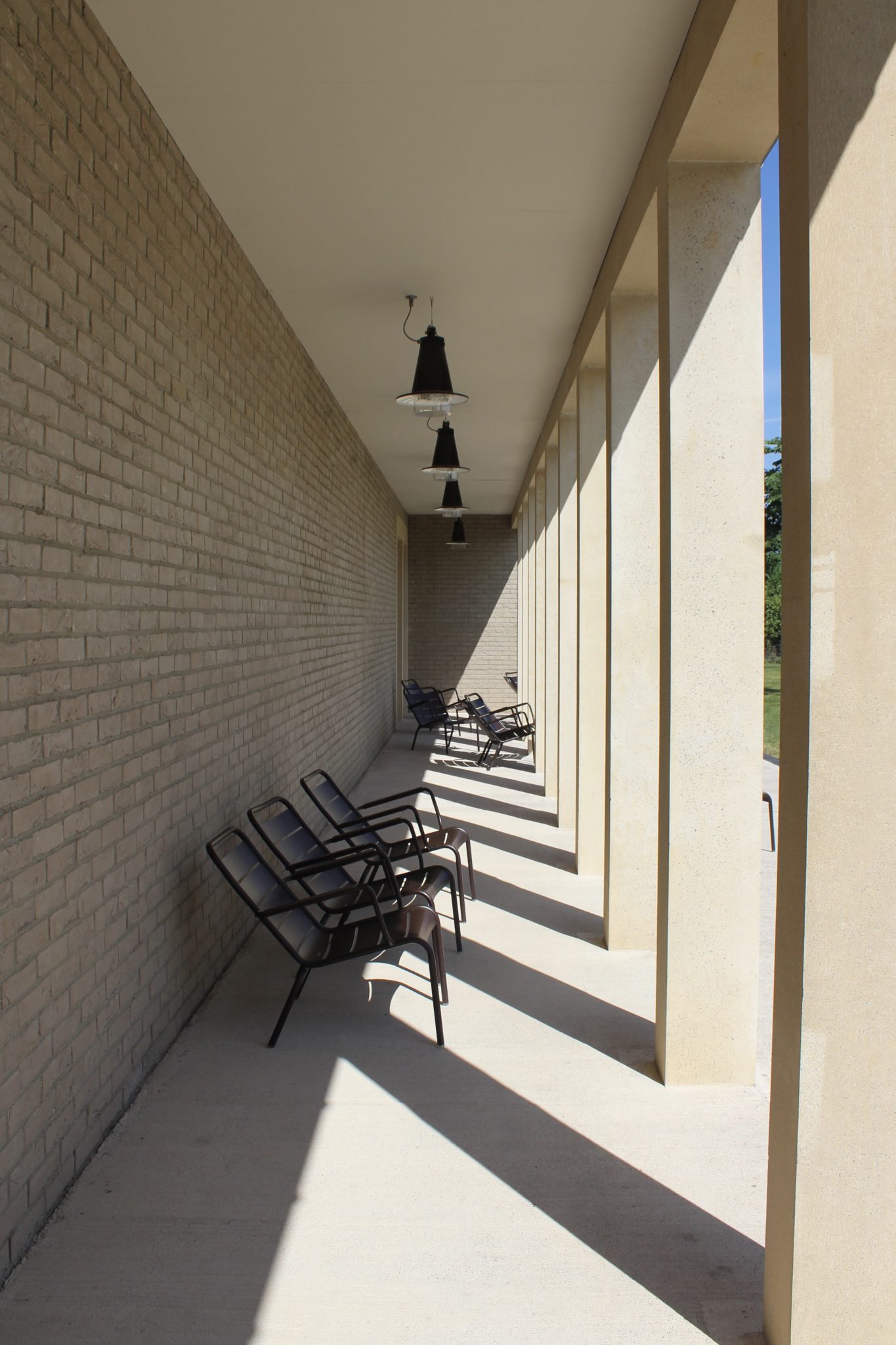 We visited two days in a row and on the first I'd rushed past this simple loggia overlooking the garden. It must be fun sitting here during a downpour, looking out. Today I admired the shadows and materials.
Around the art gallery itself are other works of art and further plantings by Oudolf and the garden team. As a space it's all very calming and an exciting place where all creativity is lovingly explored.