After August's overcast skies, in time for bank holiday weekend the sun is back for summer round two. This 'mid-summer' meh-weather seems to be a recurring theme in recent years. We're tricked into thinking it's autumn but actually we've still got months to go. We're not the only ones, plants slow down in this period, I even spotted a Ginko turning yellow.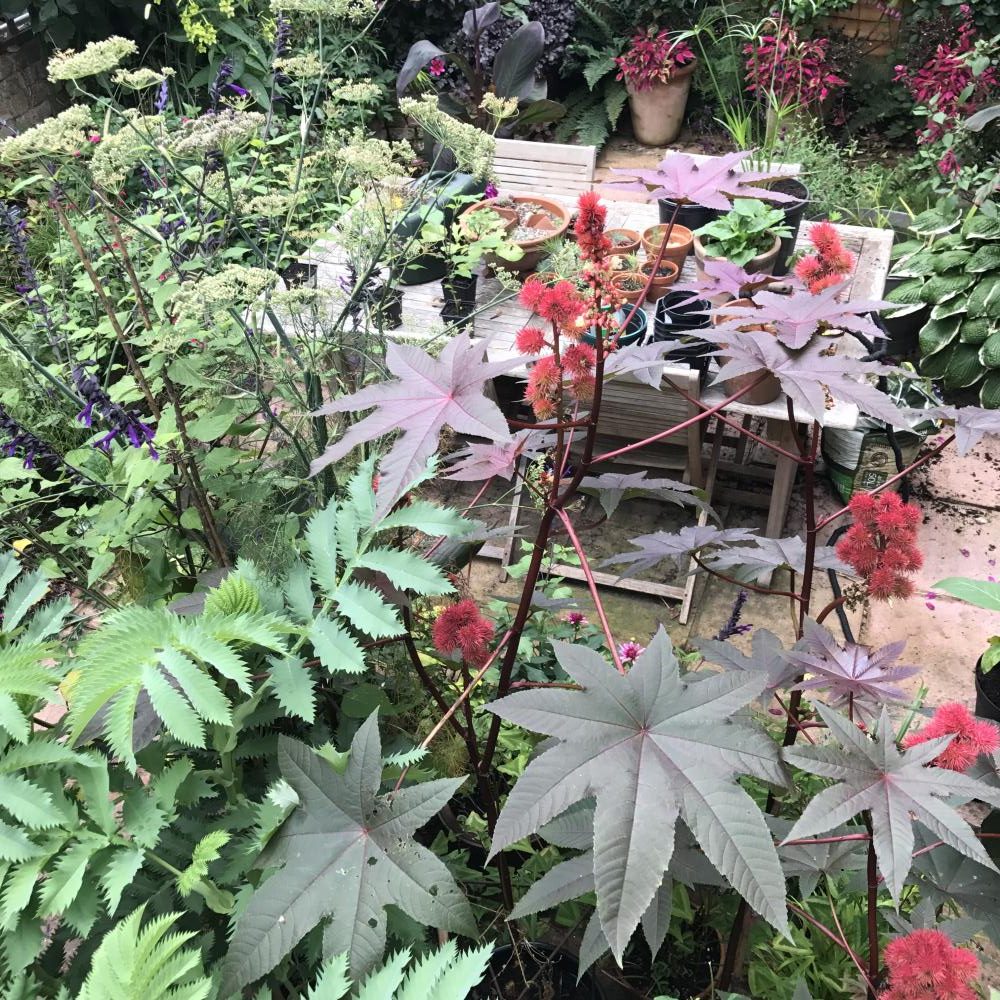 In our garden everything has reached the point of no return, where plants are so big and lush there's no controlling them. This point always comes and it's my favourite, the time when the garden hits what it is meant to be – a lush, overgrown immersive and alien mess of plants.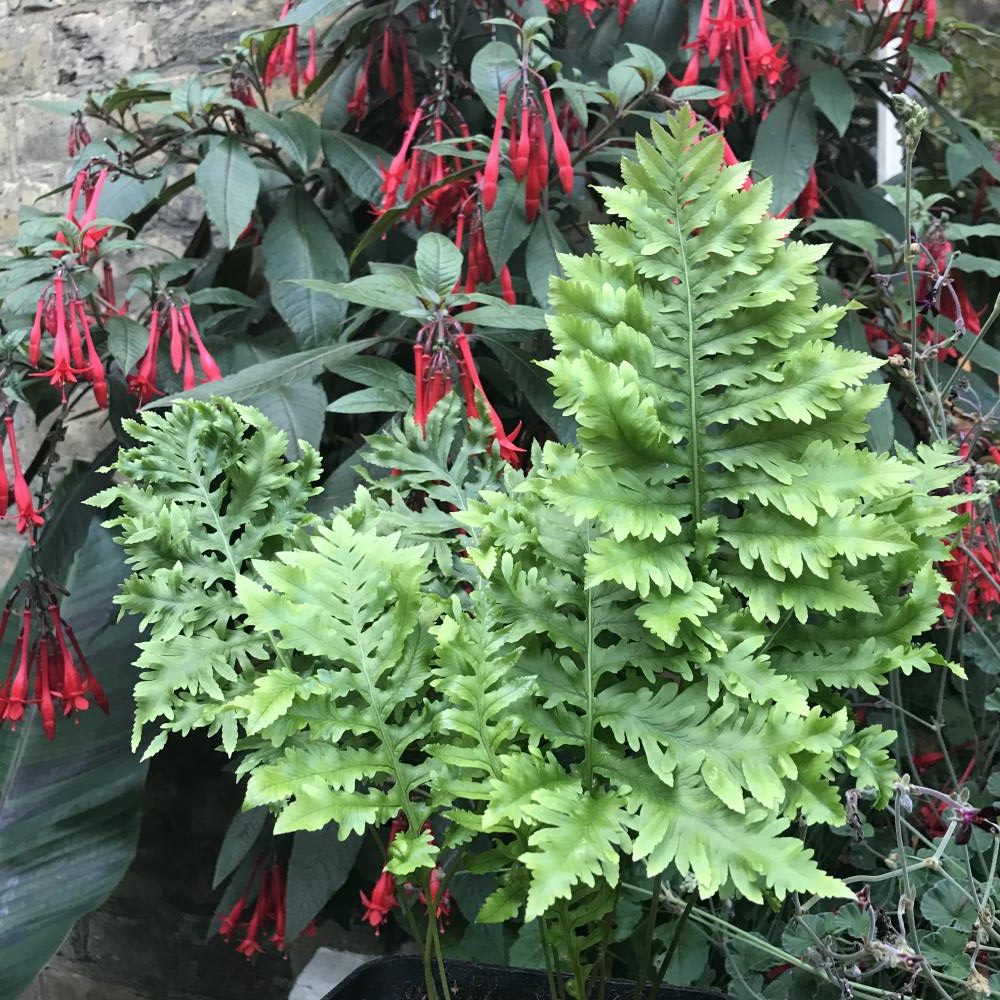 It's also now, after doing eight months of growing that the fern wall comes into its own for me. Many ferns put on a growth spurt between July and September adding to that second wind of summer we're seeing. Most of our ferns have been growing happily for 2 – 4 years now, they're becoming hefty and like good friends. Ferns need to be examined up close to fully appreciate them, which is a big advantage of growing in pots because you can easily pick them up.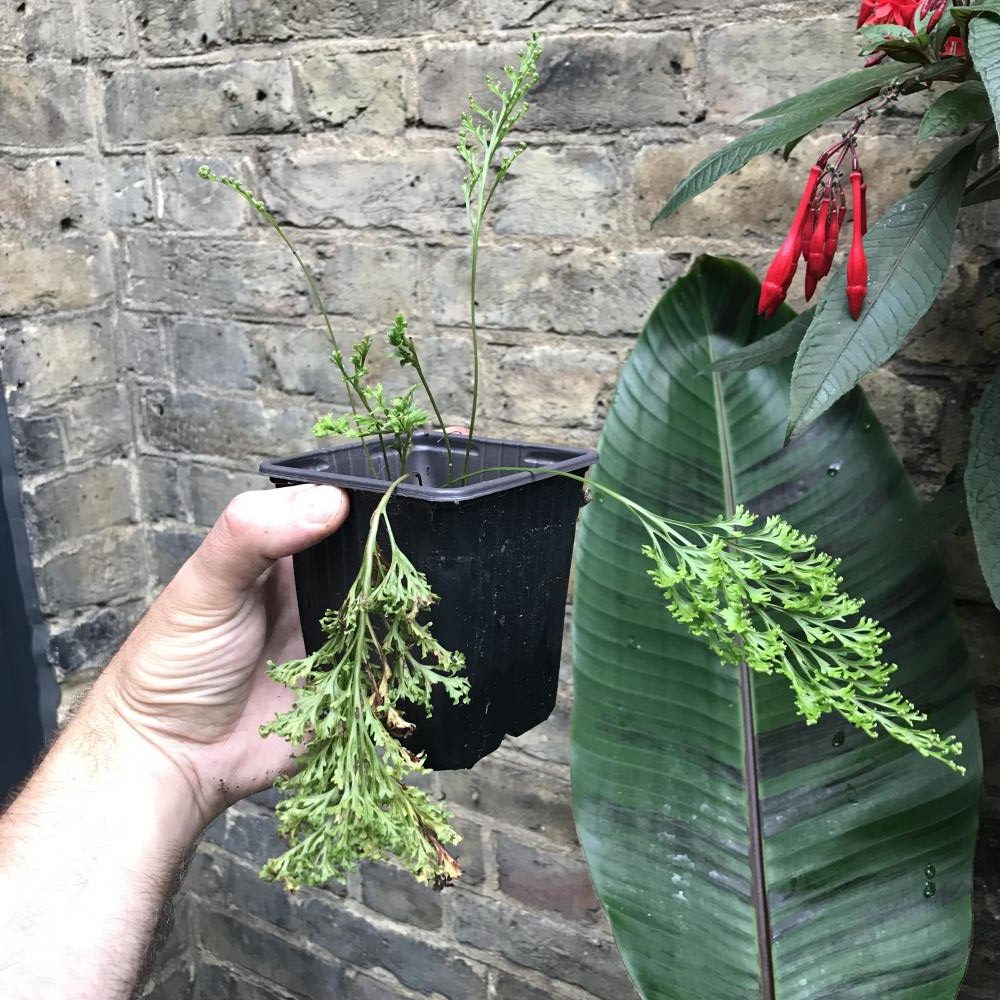 It was only on examining a Polypodium that I discovered one very different frond within a normal pot. That frond re-grew each year so this year I took the plunge, hoiked it out and repotted it. The right decision as it's exploded in growth to form one of my most unusual ferns (shown above). I don't know what it is yet but I suspect it's actually one of our rarer native ferns – pls let me know below.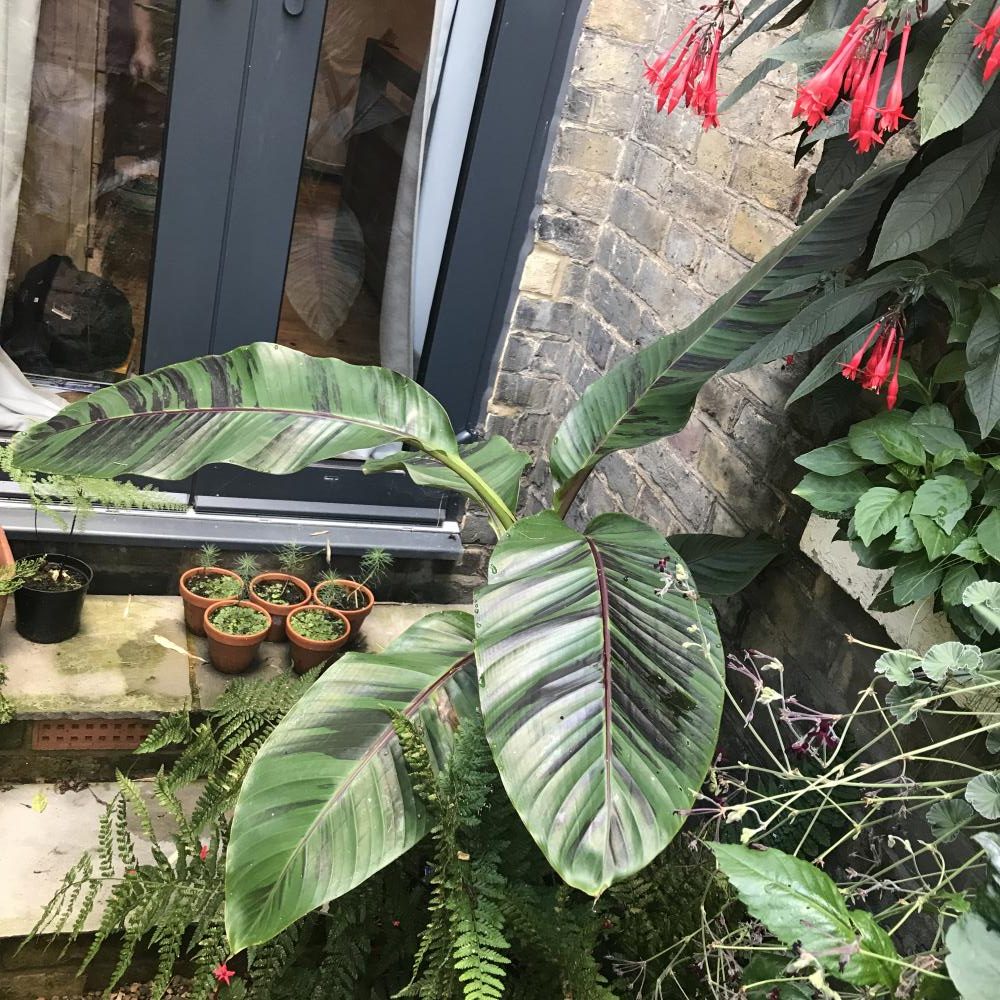 What I always refer to as Chris' banana (above) because he insisted on buying it as it had a fern growing in the same pot has come into its own this year. After not doing very much and looking plain green for two years, this summer it burst into growth developing black stripes. This prompted me to dig out that long-lost pot and as suspected, Chris' banana is pretty special, it's a Musa sikkimensis 'Red Tiger'.
One of my personal indicators of this late summer coasting into autumn are our house plants. They all seem to grow from spring but actually do the most growth now. I don't know why this is but I'm guessing many plants do it inside and out after they've built up some energy reserves? Anyway, Begonias, Pileas, Orchids, cacti and succulents, they're all bulking up right now.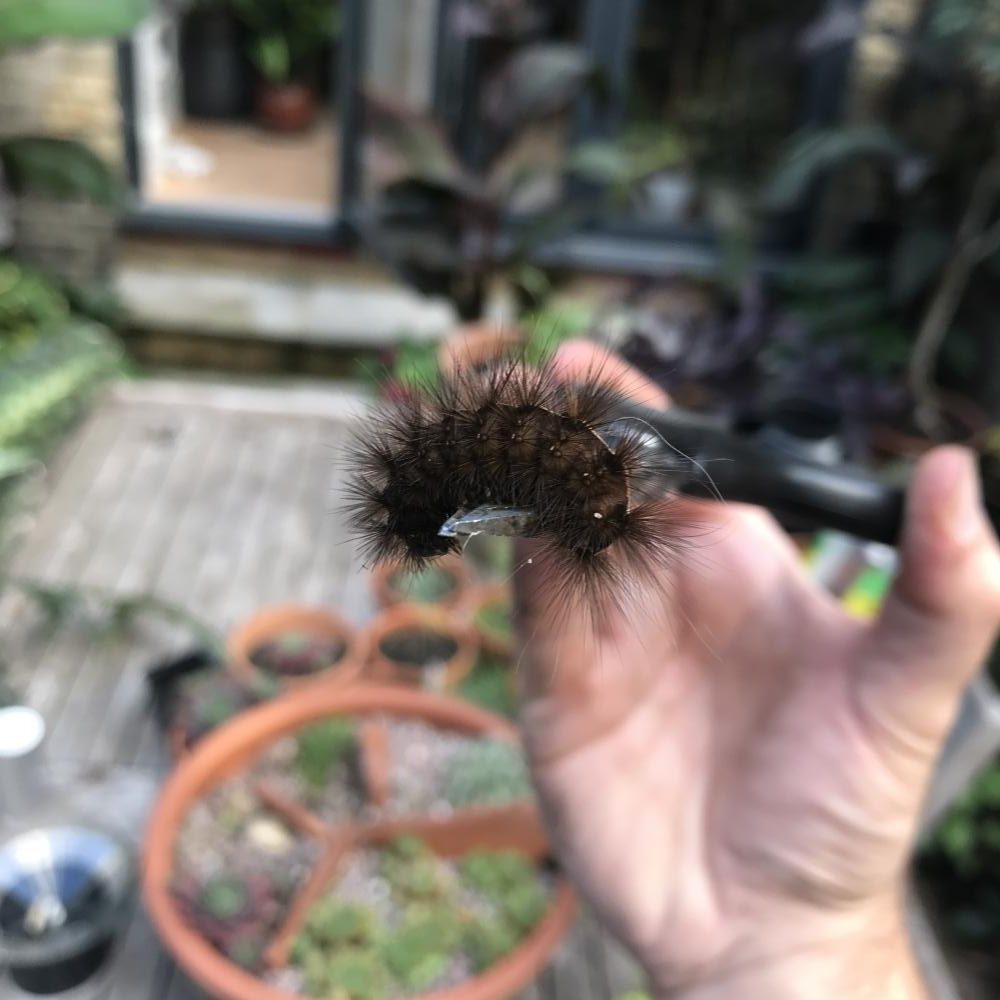 Our little garden is meant to be lots of things and second possibly only to 'Playground for Rumbles' on the list of uses is 'Wildlife garden'. It's been a wonderful year for wildlife here, with birds, bats, many types of bee, spiders, millipedes and centipedes. I'm really fascinated by butterflies but also moths at the moment. Butterflies and bees are as important as flowers, they add movement and the unexpected and if you're lucky, colour. Moths I really love, they are every bit as detailed as butterflies just in natural earthy tones. Looking at them close up will change your opinion of them, and hardly any moth species eat your clothes.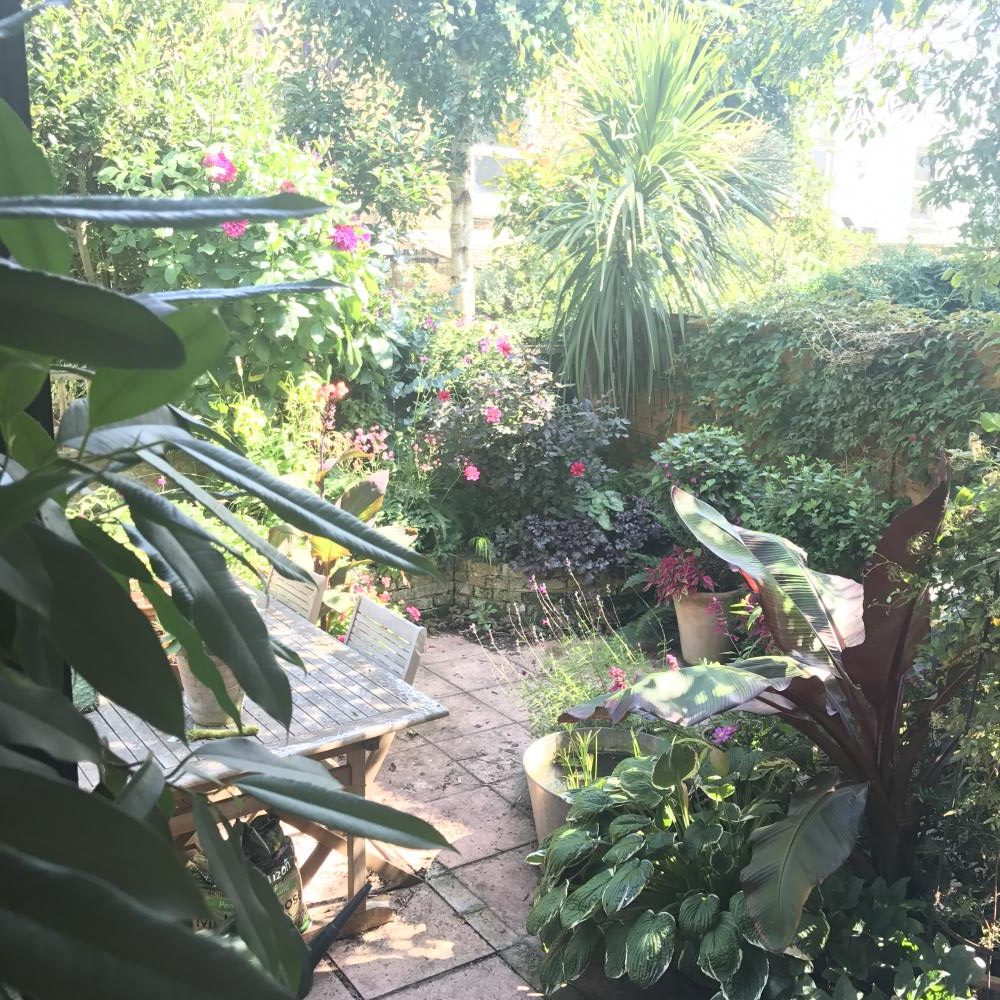 It's only two weeks until we open again on 10th September for the National Garden Scheme. Although a mere two months since our last opening I imagine visitors will find quite a different patio to what they saw at the end of July. Everything has doubled in size and Dahlias are finally all starting to flower heavily – in fact, our mega-dahlia is a month early!
While the garden has never looked so good, for me a few things are missing. I've brought far fewer new plants in the garden this year, which to me means the garden is less exciting, so I will rectify that this week. Also, as plants grow taller through the year, bare patches of ground begin to show – willing spots for those new plants I imagine… 🙂