Being an impatient so and so occasionally, last winter I couldn't wait to get sowing and growing.  After a failed attempt to grow plants from seeds the year before on our windowsill (due to lack of light), I investigated grow lights and stumbled upon the Garland Grow Light Garden (see images above and below).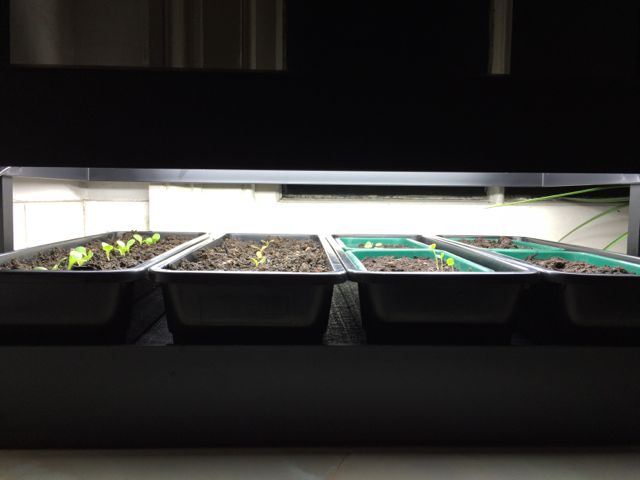 The Garland Grow Light Garden is made of plastic, about two and bit feet long by one and a bit feet deep, it was bigger than I expected. The lid houses two full colour spectrum fluorescent tube bulbs.
All of the reviews on Amazon warn you that raising and lowering the light to help you water seedlings is a pain. "Yeah, yeah. Can't be that bad." I thought. I was wrong, the reviews were right. It is a real pain.
The lid slides up and down on two metal rods attached to the base. Stopped only by two rubber O rings you have to roll up and down the rods. As the lid is so tightly attached to the rods, you have to lift it up and then slide the O ring up or down to position. As it's large and heavy, you can only do one side at a time, and it gets stuck and… well, just trust me and everyone else. It's a nightmare.
Overall, the build of the Garland Grow Light Garden is a bit flimsy, considering the price of £65, despite the solid plastic.
BUT does it work?!
Well, the proof is in the salad.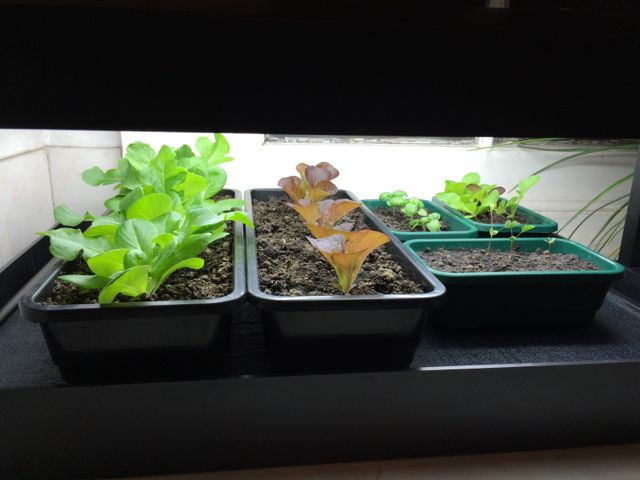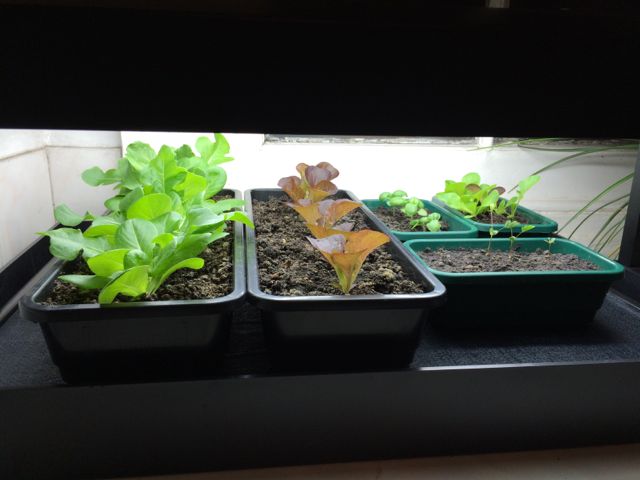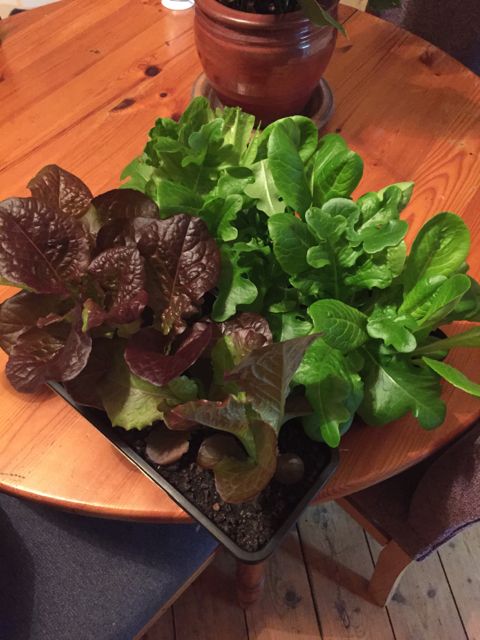 Yes it did work. There are some major problems I came across however.
First up, is that you can buy an optional tray insert and capillary mat, to draw water up from the tray and magically water your plants.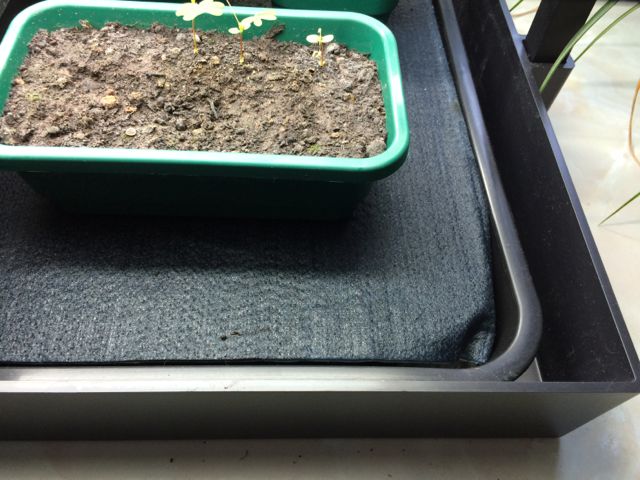 Do not buy the tray and capillary mat! It was a disaster for me. It went mouldy after a week or so, and generally made the atmosphere far too humid. Everything quickly became infected with a weird blotchy fungal disease. Worse, using this mat, most of the seedlings in the second batch died of damping off. An entire tray of Solenostemon and Mimosa pudica succumbed.
In fact, humidity and fungal diseases for me were a big problem. Even after using Jeyes Fluid (which I no longer use due to its toxicity) most seedlings had problems.
The other problem I had with the Garland Grow Light Garden was general weakness of plants. I can't entirely put my finger on this, but all plants, lettuce included just felt a little floppy and weak. They weren't etiolated, they were getting enough light to prevent that, but the leaves weren't crisp. Perhaps due to the heat?
Second time lucky
While this review may sound negative, I don't want it to be. I did have some successes with the Grow Light. In particular, some tomato plants, a basil, french beans and Lupins were all started off well in here.
I'm willing to concede that I may have been doing things wrong too. I had no real idea of how near or far the light should be from the plants, it was guess work.
Despite some heavy losses, I am going to give it a second go from January- March 2016. A period where light levels for everyone (especially us in our dark flat) are too low for sowing normally. I'm going to try Mimosa again, and try growing some cacti from seed. Ooh, exciting.
Summary: Garland Grow Light Garden
It is flawed: adjusting the lid and lights is a pain in the backside, and the electricity cable is loose. It's expensive at £65, yet flimsy. The growing conditions don't seem to be 100% perfect. The capillary mat accessory was a problem but an optional extra you can 'opt' to avoid. It obviously uses electricity that anyone with lots of light in a conservatory or greenhouse probably won't need, though I'm reliably informed it doesn't cost that much to run.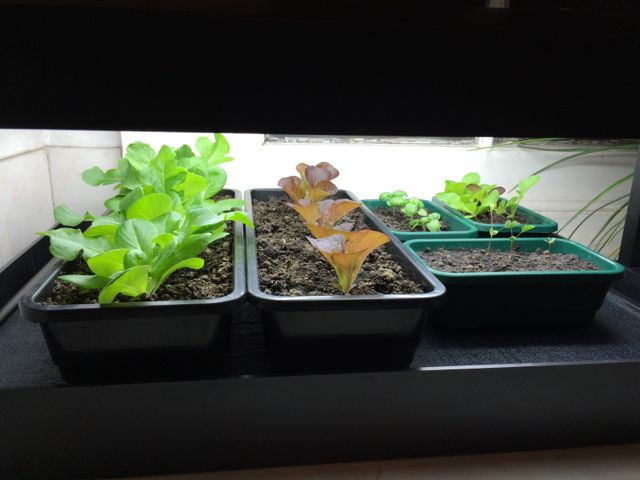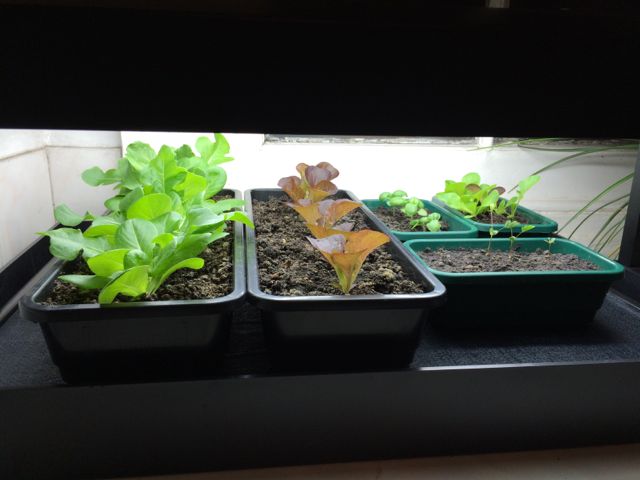 Despite all of that, it worked and I did get plants from seed from it out of season, as well as kick-starting others in season. So, it was fun. And it is the first all in one indoor plant light box for novices. I just hope there is a version 2 which irons out some of the problems.
My opinion may get better or it may get worse this coming winter and spring. I shall let you know! For now, if you can afford it and feel experimental, give it a whirl.
Score: 3/5