For Christmas, Chris bought me a Parrot Flower Power – what is it? It's a battery powered sensor shaped like a plastic twig that you stick into the soil next to a plant and it will tell you the plant's general health.
To start with, I decided to try it out on my 99p from Ikea Spathiphyllum, or commonly called, a Peace Lily (FYI fact seekers, it isn't a lily). For those economists among you, that's £50 of equipment to improve the health of a 99p plant. Was it worth it?
Yes. Here it is on the 7th January 2014 after two years on the table in the kitchen.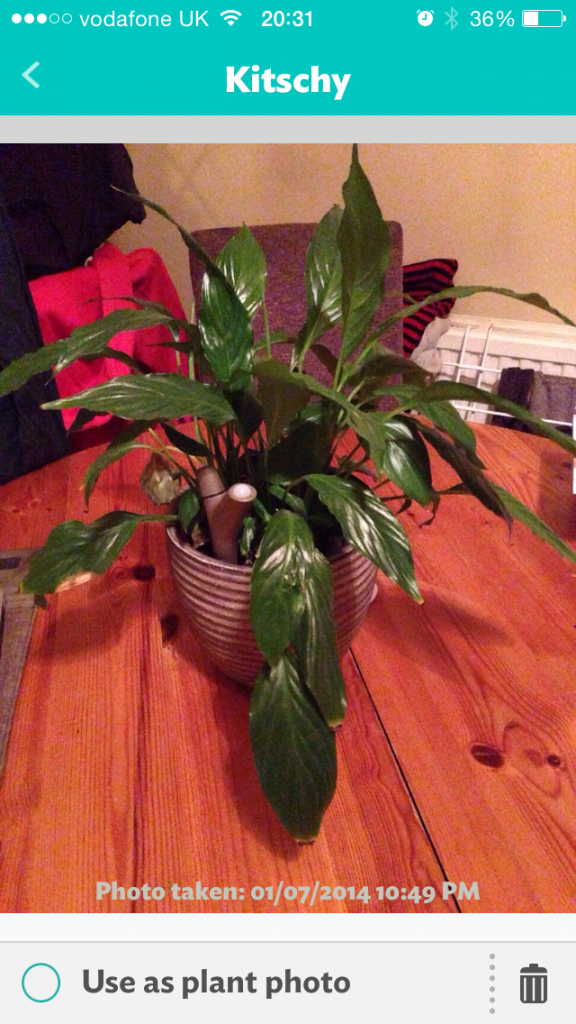 And here it is in August, about five times the size and flowering for the first time since owning it.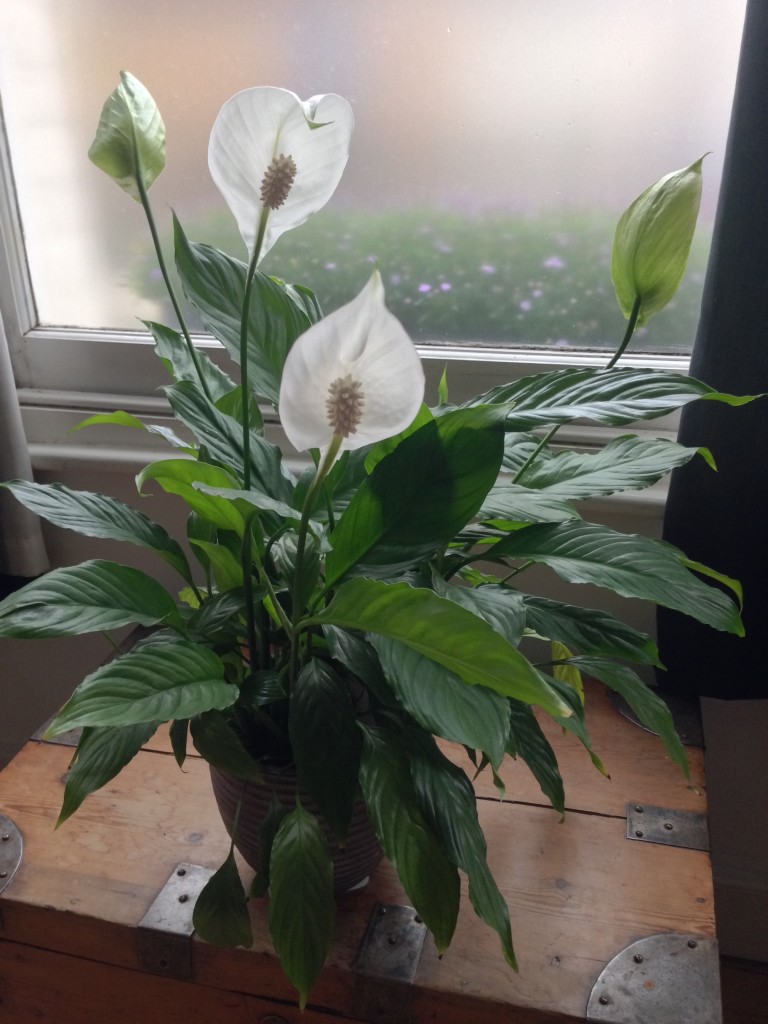 What happened? Everything was wrong, and Parrot Flower Power told me what and by how much. It now sits in the living room because the light is better, I water it less and add more fertiliser (after initially rinsing thoroughly to get rid of a huge nutrient build up).
The Flower Power app is really simple. It measures 1) water levels 2) light levels 3) fertiliser levels and 4) temperature levels. In the picture below, you can see how easy it is to remember to water the plant at the right time.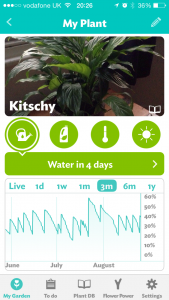 The temperature is also fun to see summer come and go, although for indoor plants this is less useful.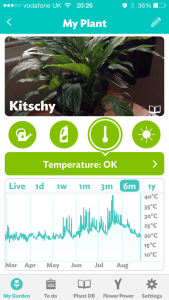 Chris surprised me the other day with a second Parrot Flower Power as they'd dropped to £40 in the Apple Store. Yippee! I immediately plonked it into the ground outside to check the various levels of plants in the garden.
This is particularly exciting because I'm tracking a hosta in a pot in what I thought was the shadiest part of the garden. The app so far is telling me that actually, this is quite a light area, so I can potentially grow much more. Rather than stick with one plant throughout the year, for now, I'm going to check various light, water and temperature levels around the garden. More to come on its outdoor use soon!
So, is it worth £40 – 50?! It's pricey, but for a prized plant I would definitely recommend it. I'd recommend it even more for people who aren't too bothered about looking after plants but want to have at least one that looks good in the house.
The one I've been using indoors for my Spathiphyllum has transformed a tatty plant that would never have flowered, into something really worth looking at for years to come. Once I really know the pattern of care, I'll switch to another plant.