It's year two for my allotment and the layout I created for it originally is really working. The beds have been easy to keep weed free with weed suppressant membrane and rotating crops is a doddle. Everything is planted in little rows in a simple structure, the paths have nice grass along them now. With each weekend it's all starting to feel neater and a step closer to how I want it.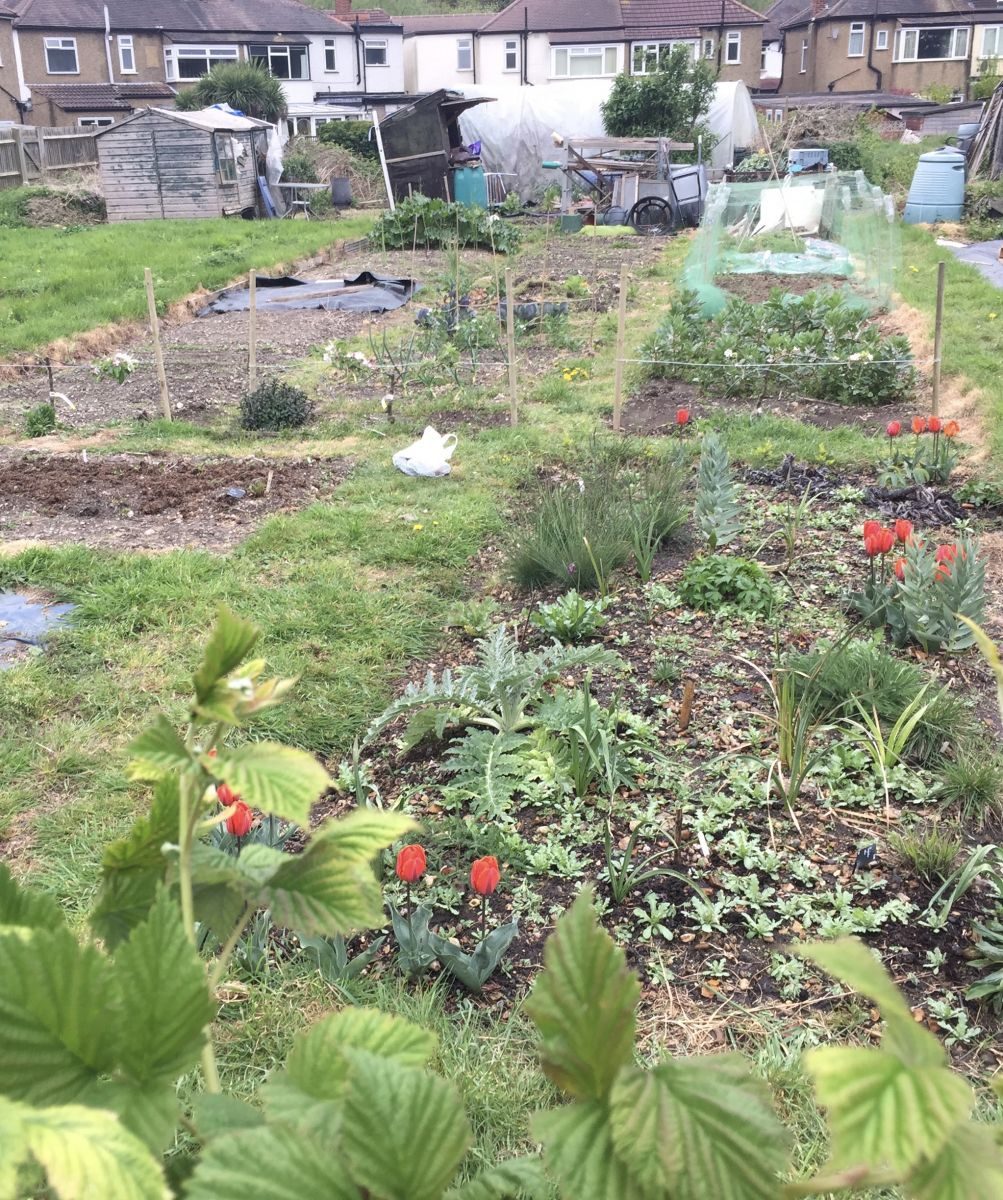 Today I added support posts and wire to my three stepover apple trees at the end of each main long border. The little trees look lovely in blossom at the moment.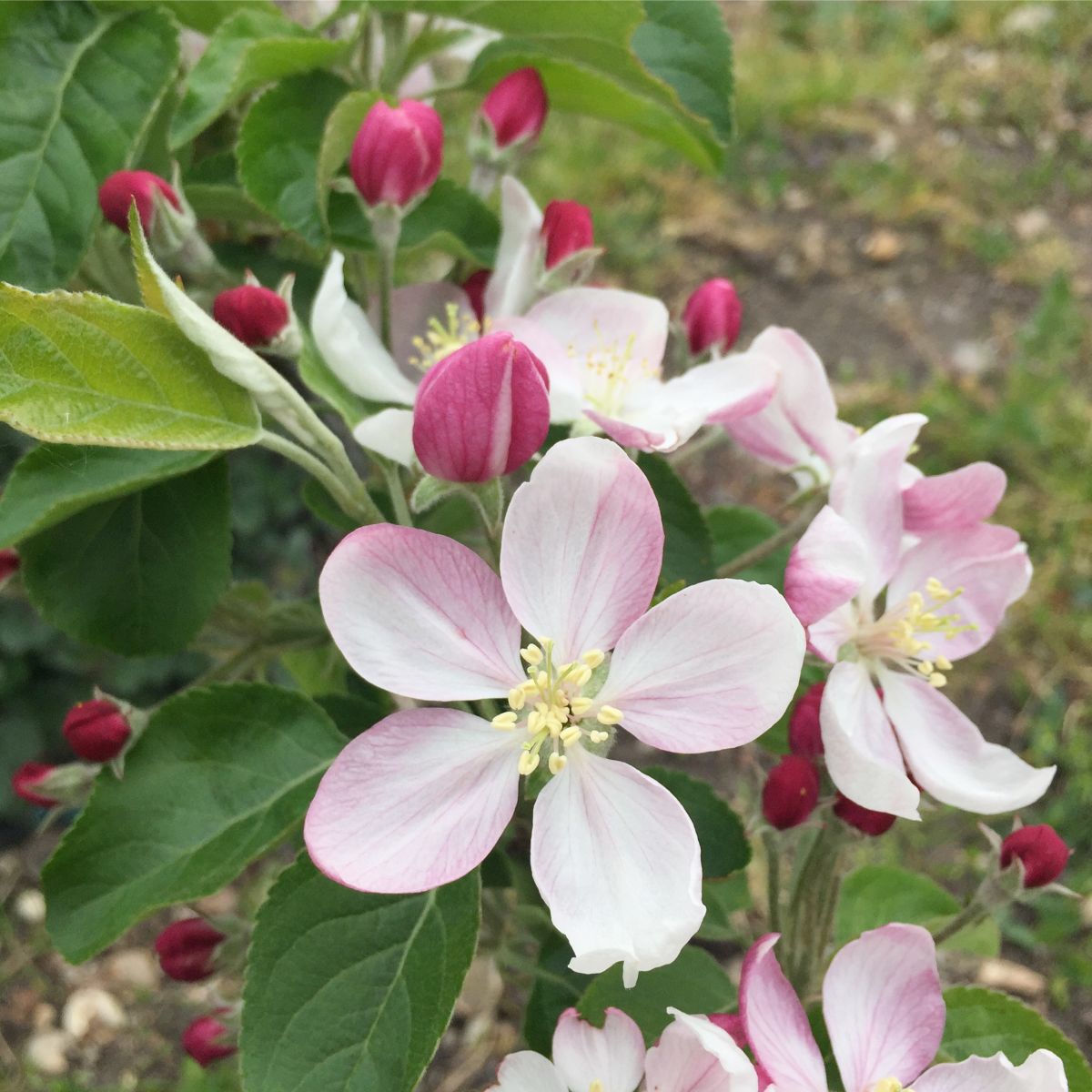 My asparagus bed, with four different varieties, is coming along fairly well. It looks like I may have lost 3 – 4 of the 20 plants but otherwise the rest are growing. It's best not to pick asparagus until their third year, so for now I'll have to contend with how funny it is seeing asparagus bolt upright in the ground rather than in shop bought packets.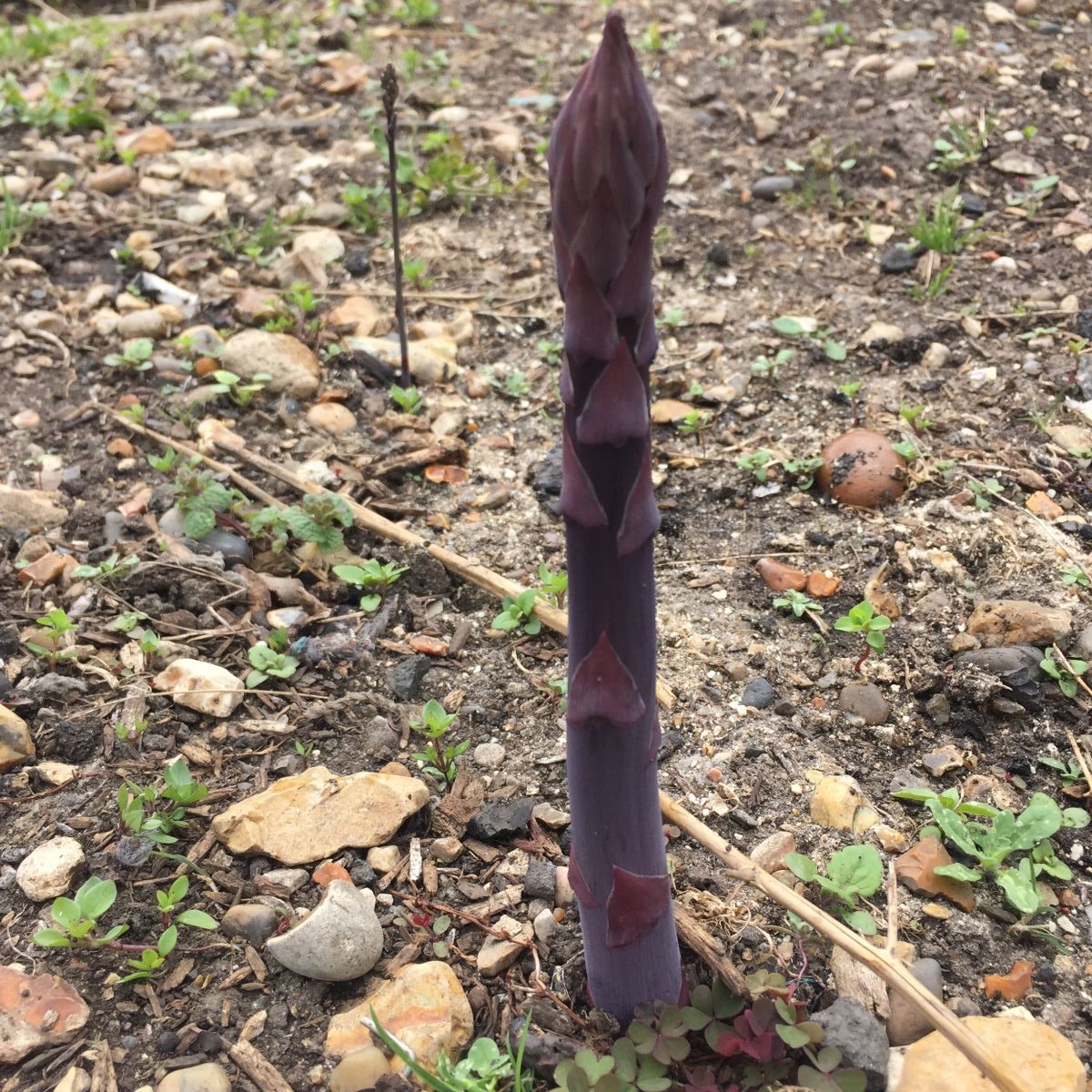 The asparagus, stepover apples, rhubarb and raspberries are part of my original plan to grow as many perennial crop plants as possible for easier maintenance. Last year I grew an artichoke plant from seed too which is part of my design experiment bed; the artichoke is looking good this year making it through the first winter.
Elsewhere on the plot, I'm growing peas (Pisum sativum 'Meteor' and other varieties) and broad beans which are both flowering now, carrots, radish, garlic and I've sown parsnip seeds.
Following everyone's advice on the best potatoes to grow, I planted Charlottes last weekend after chitting them.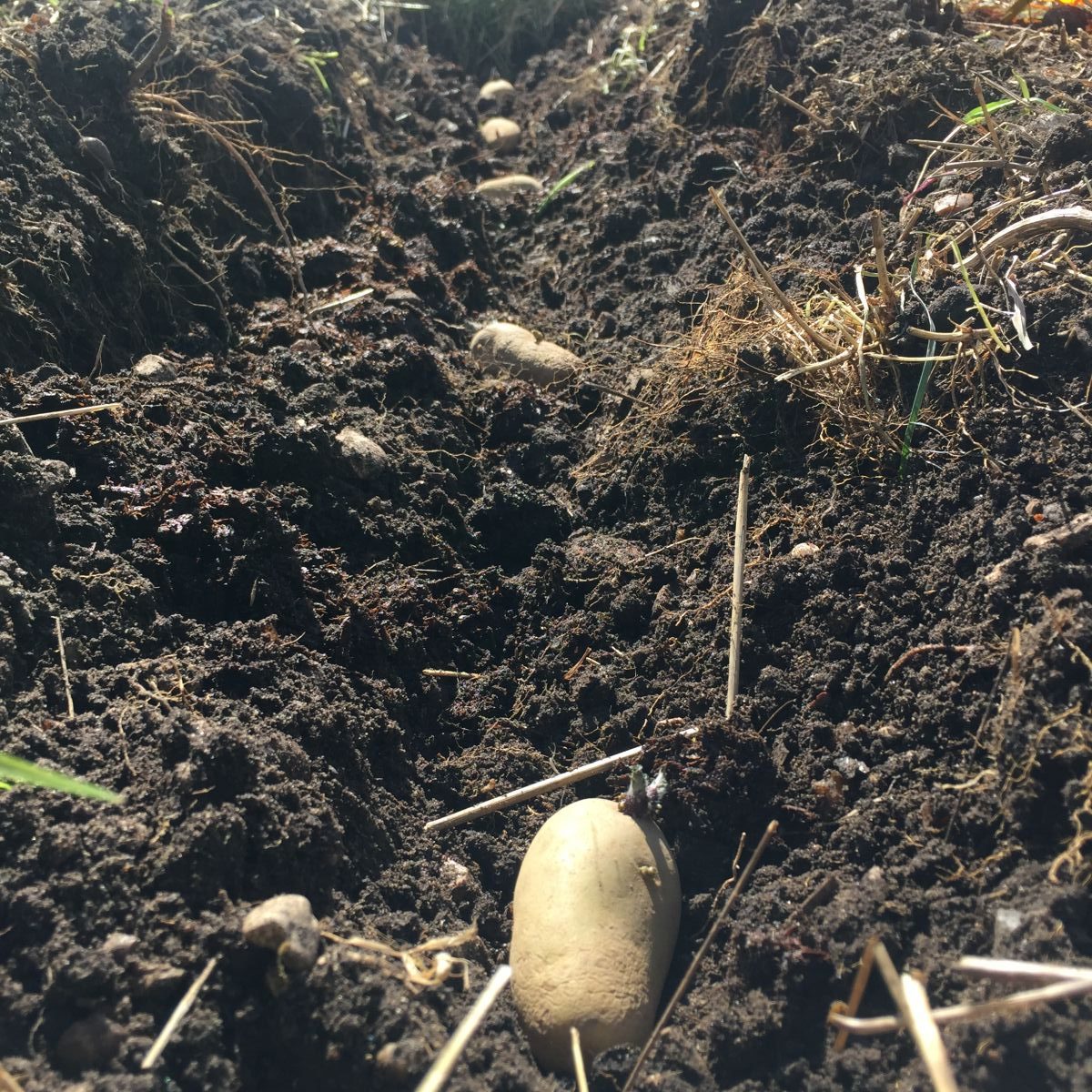 I had some good success last year with brassicas, especially the broccoli and brussels. Kale grew really well but was riddled with white fly so inedible. Today I also moved the protective cage structure to a new bed I've prepared with manure for the brassicas. I'll be sowing them in pots at home this weekend.
My cut flower bed, which is a new  feature this year, has been sown and some lines of seedlings are visible. Others are hard to tell apart from the weeds so it's a waiting game for now. I have some additional flowers to add that I'm growing in pots at home, to go out in the coming weeks.
If you read my blog or follow me on Twitter, you may recall me banging on about the poor germination rates of the opium poppies I've been sowing on my prairie bed. I added 3 packets worth of seeds to the bed to no avail… until now. Turns out the thousands of seeds were simply waiting for the right opportunity. Now I'm having to weed many of them out!
I'm growing most of the prairie from seed, including a variety of grasses. This week the Festuca amethystina is coming into flower and I'm really over the moon with it, doesn't it look smart?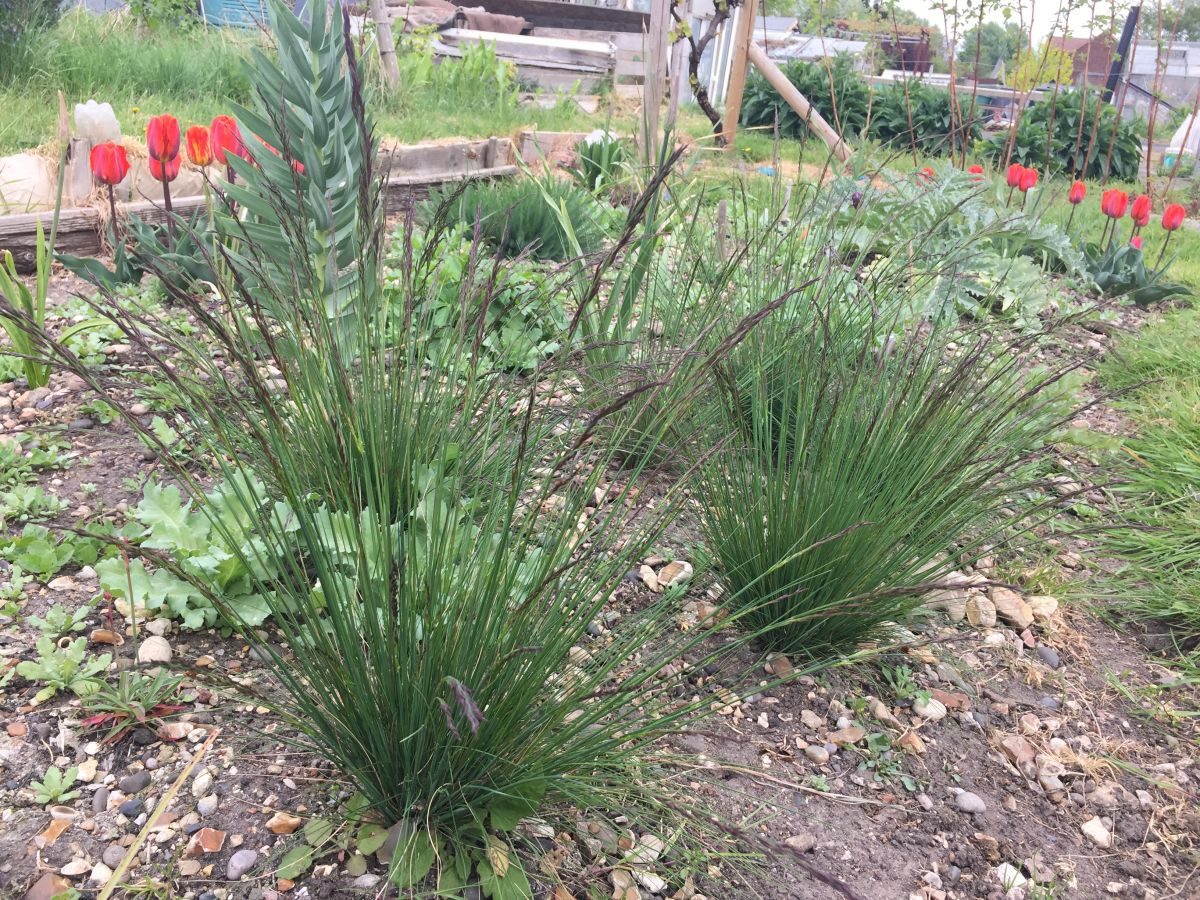 Throughout April I will be continuing to sow as many crops as possible. I seem to have poor germination success on the allotment, though I can always get stuff growing in pots at home, so I might just suck it up and go with the latter to ensure better success. Even though it is a bit of a faff. The extremely dry weather over the last month certainly isn't helping.
Finally, April is the month to get serious about the Dahlias. Many of mine at the allotment and at home have started shooting already in the warm weather. Slug protection is well underway and soon I'll be thinking about staking.