It is a year since we overhauled our garden – after two years of experimenting – and as the rest of the country recedes into autumnal shades I am glad our garden shines its brightest in September. 
Although a deliberate plan, guided by the writing of Christopher Lloyd and Nick Bailey, I am surprised by successional planting. Flowers, foliage and colour in every month of the year. As leaves begin to crisp and fall in the local area, and the grass of the surrounding commons is decidedly tan from a drought filled summer, I always long to be back in our crazy neon jungle.
The light of September makes our rich coloured garden all the richer in colour. In mid summer I was excusing its gaudiness to visitors. Now it feels hearty and wonderful. The only difference is the changing level of light (and the now ridiculous number of super sized Dahlia flowers of course).
I must stop feeling apologetic about our garden's faults, it is what it is.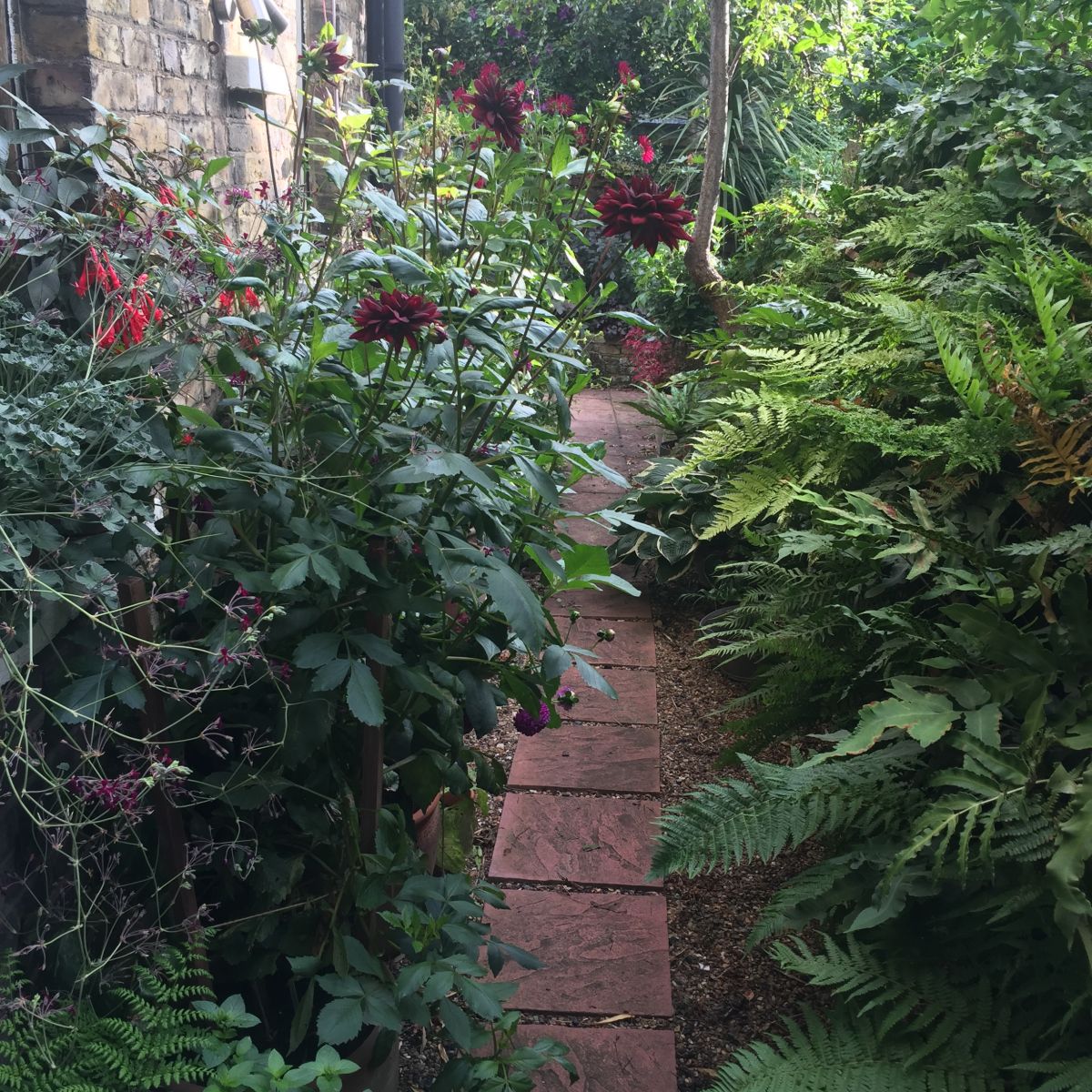 Despite all the colour of the flowers, it is the fern wall that starts to hold my attention most from September.
The native Polypodium vulgare, summer dormant, comes into its own with its erect fronds glowing a luscious intense green. Lime hands reaching from the tumultuous ferny froth. Fresh and completely out of kilter with everything else in the garden.
It's funny, the ferns are so personal to me. The razzle-dazzle of the rest of the garden feels a bit of a distraction to keep everyone's attention away from my quiet little timeless corner.
I wonder, when people talk of a garden maturing and it being trained by a gardener, is it not really the other way around? The garden trains us and the difference that it is we who have matured.