After learning of The Homewood while studying garden design history with the Royal Botanic Garden Edinburgh, I finally visited the National Trust owned modernist house and garden in Surrey to see it first hand.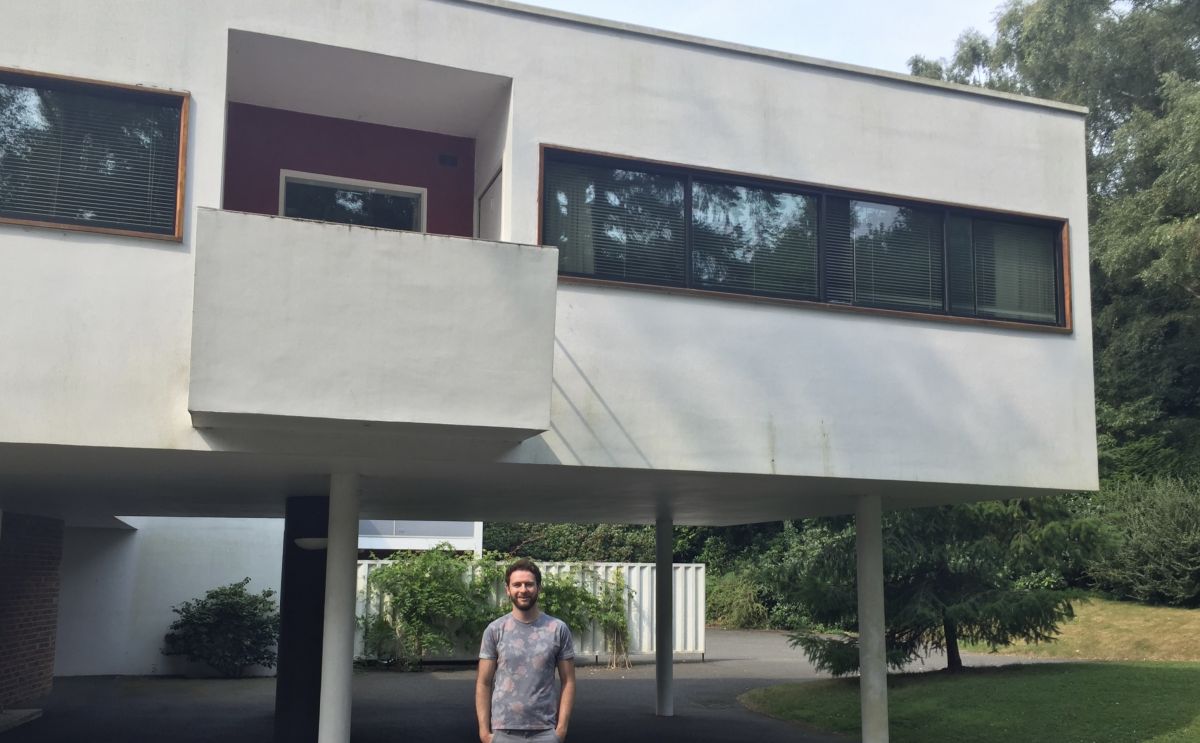 The Homewood
Architect and designer Patrick Gwynne created The Homewood to start his career using some of his family's fortune. Early in his life Gwynne decided his path was that of a strict modernist architect and designer, creating buildings and furniture to modernist principles throughout his life.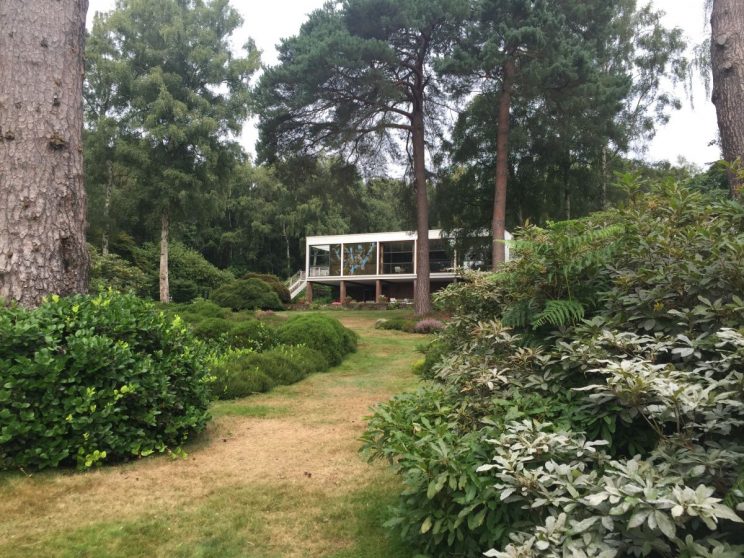 The Gwynne family bought an old Victorian house in Surrey called The Homewood. This original house was destined for demolition when young Patrick convinced his parents to build a new home for them on the site, launching his own architect practice. The house was completed in 1938.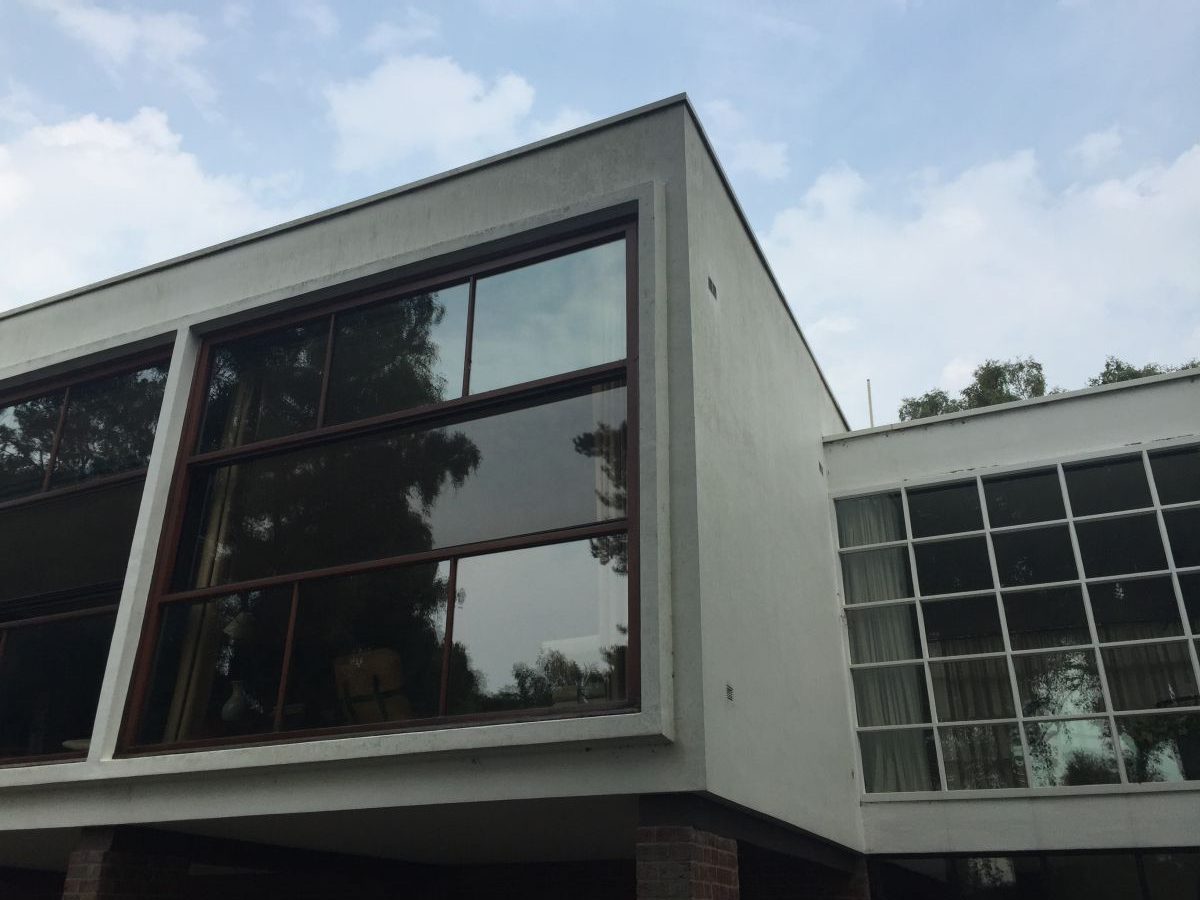 I love what Patrick created, in 1938 it will have been a real culture shock. Unfortunately it wasn't long before World War II began and the family had to leave, his parents only enjoying one year in The Homewood. Sadly they passed away during the war. Patrick however would live here for the entirety of his life.
Modernist garden design
A requirement on the RHS Level 3 certificates in horticulture is a good foundation knowledge of key eras in garden design history. I find everything about the RHS courses very interesting and I've been particularly taken with garden design history.
"Less is more"
– Ludwig Mies van der Rohe
One of the eras I found only slim pickings of information has been 'modernist garden design', not to be confused with modern or contemporary. Modernism is a movement started at the end of the 1800's running into the early and mid 1900's – placing The Homewood at the latter end of that.
When you see photos of modernist gardens from that period they feel – to me – completely incongruous with my perception of that time.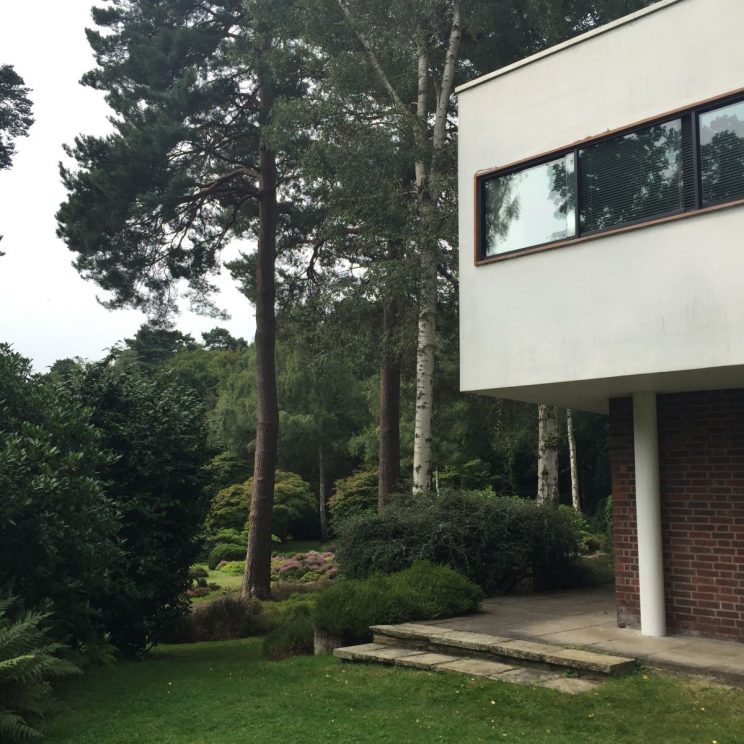 Modernism is shaped by a rejection of the ornate fussiness of the Victorian period before. Technology and industry were exploding and various social movements like Marxism were making waves.
I have to admit going into the course, modern gardens were my most hated of all gardens. Simplistic, minimal materials and plants. In other words, aren't they just a bit boring? Wrongo. In my mind I was thinking of bad, run down modernism. As I have delved deeper into the era I have come out entranced by it, perhaps more so than any other era or movement.
Our tour guide at The Homewood (who was utterly brilliant – thank you National Trust) questioned dramatically "is modernism dead or does it live on?" and I can say it lives on now at least in my heart. As he welcomed us to this masterpiece of modernist design I felt slightly emotional at the realisation that I was right where I was meant to be.
Features of modernist garden design
It is worth visiting The Homewood for the spectacular interior of the house and its furnishings. Throughout I felt on the set of a Thunderbirds or James Bond movie.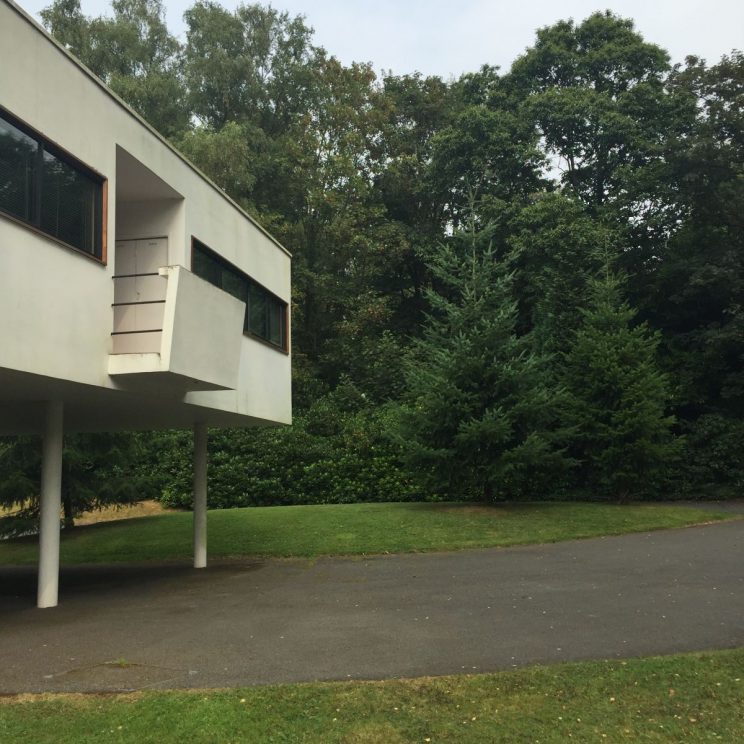 What many may not appreciate however, is that every room is fundamentally linked to its woodland garden surrounding – the windows and view out of the building invite the garden in. Accentuated by the majority of living quarters raised a story by stilts. Setting the mood of every room, from hallway to living space.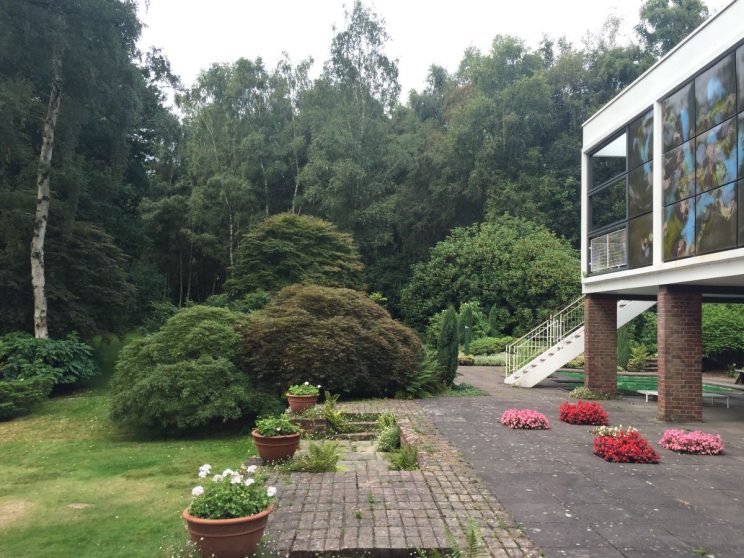 A key feature of modernist design that I think works so well for gardens, is that the simplicity acts as a frame and structure for the views outside and the plants. It's true the brick and patio look a little dated now, especially with the plant choices of Begonia, Acer and Heather. It's important to remember that modernists discard the old – so if Gwynne were alive today, he will have refreshed and updated areas like the main patio. As he did throughout his life time.
It's remarkable that The Homewood came with proper outdoor rooms, more equipped than those we see now in glossy magazines. In the photo above you can see an electric hob, a refrigerator, a wood burning stove and even a dish washer!
I was taken with most of The Homewood. One aspect that particularly struck me was the green tiled swimming pool to blend more seamlessly with the plants. Its colour reflecting on the white render.
Of course, garden geek over here couldn't wait to step off the paving and into the planting. Despite being on the outskirts of London, if you ignore the roar of the main road, the view from the house is of a beautiful and peaceful woodland clearing.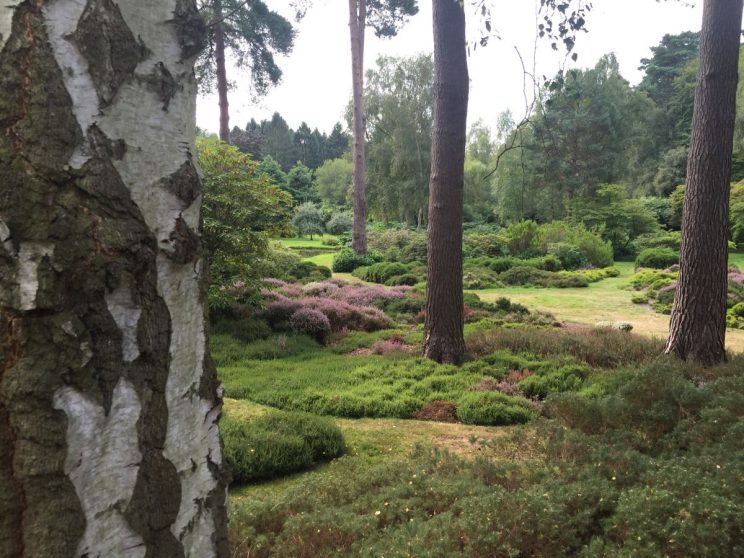 Stepping through a Rhododendron arch capped by mature ferns you can see a concrete micro-pond ahead.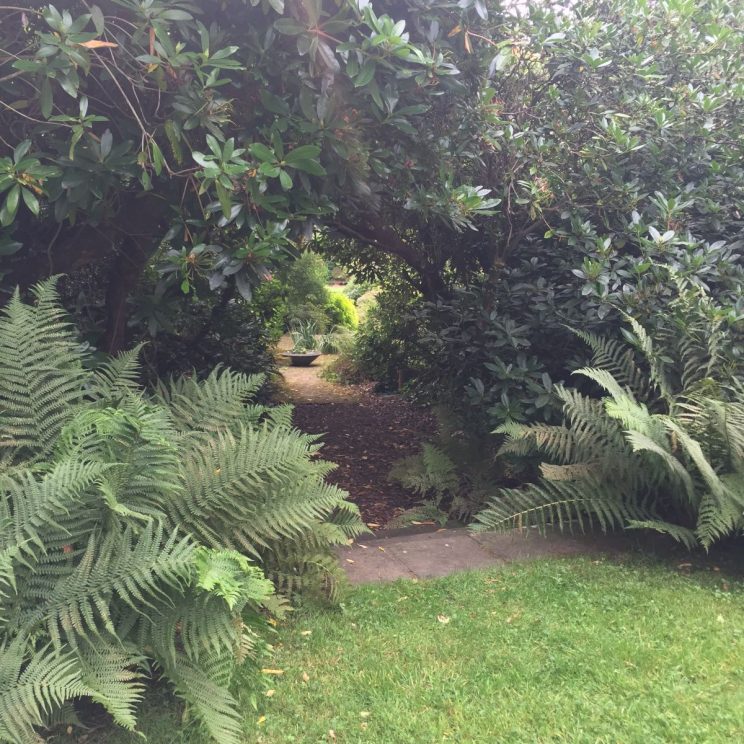 Apparently Patrick Gwynne loved large Acer specimen trees which are all different colours in autumn. I don't blame him, the bark is uniquely beautiful and here at The Homewood, mature enough to attract mosses and lichens.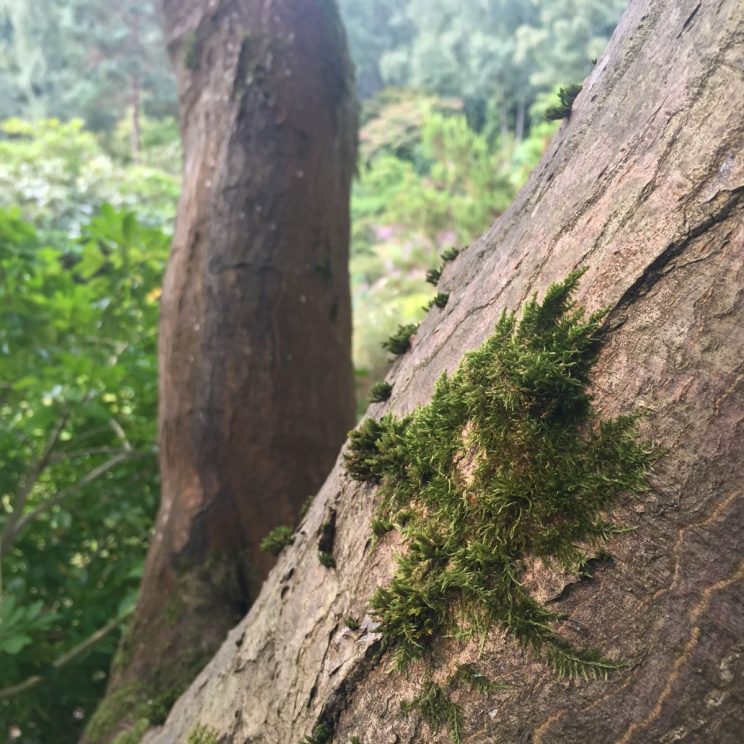 A mix of grass and paved paths lead you through the spectacular wood.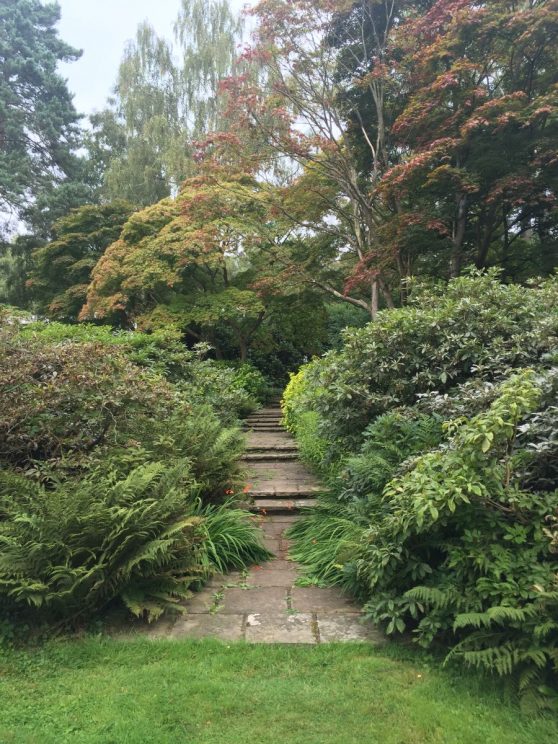 A concrete bridge leading to a Sequoiadendron giganteum, now huge but capped after the great storm in the 80s.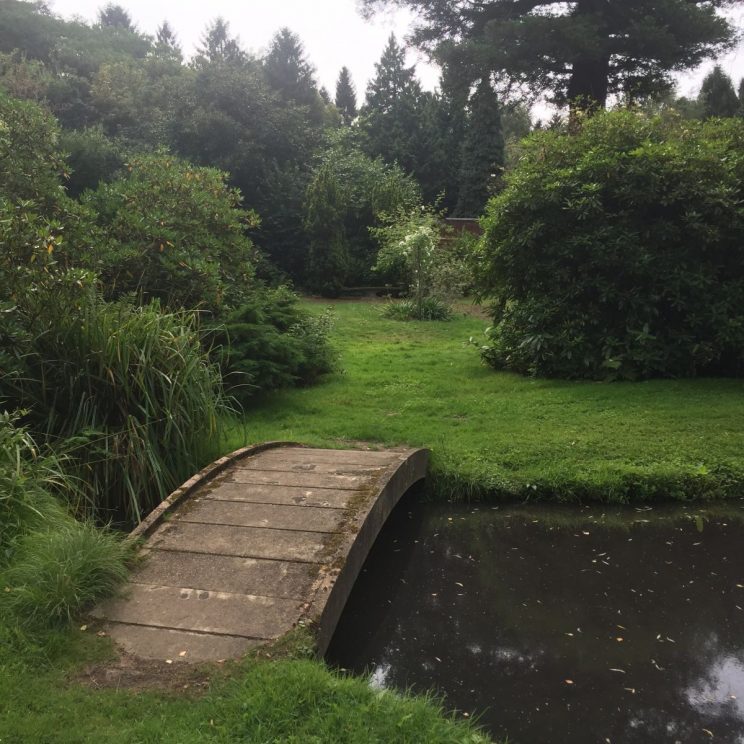 The river/lake with statue reflecting trees.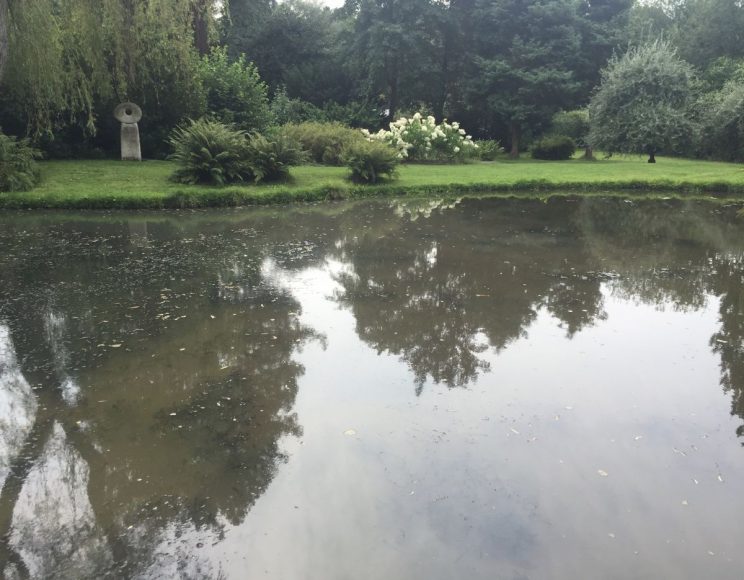 Gunnera manicata has very well established clumps near the lake with lovely stepping stones forming a clean line. Water featured more than I expected in the garden.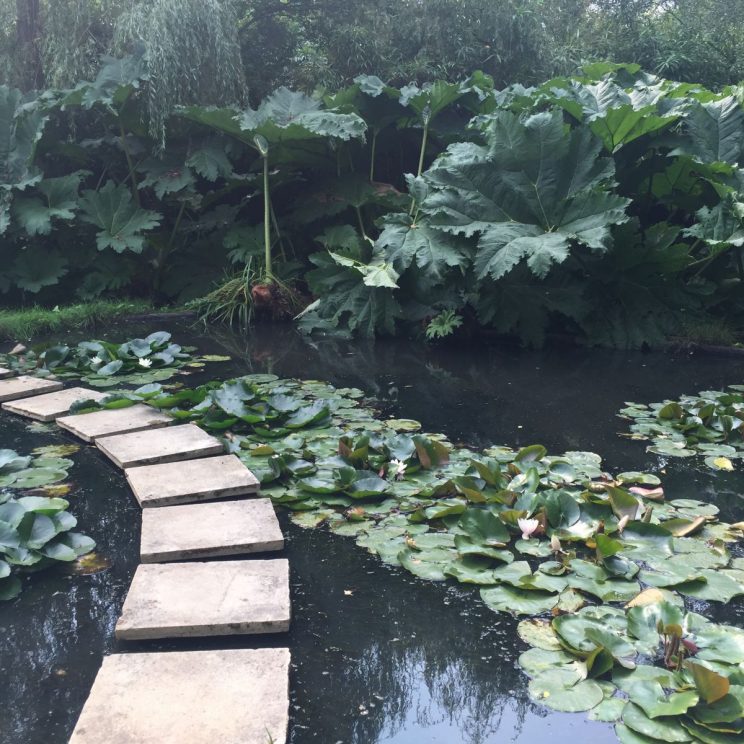 Most of the garden, which is on acid soil, is made up of local heathers, Rhododendrons, ferns and a variety of trees. Some wonderful acers, cedars and pines are now very mature.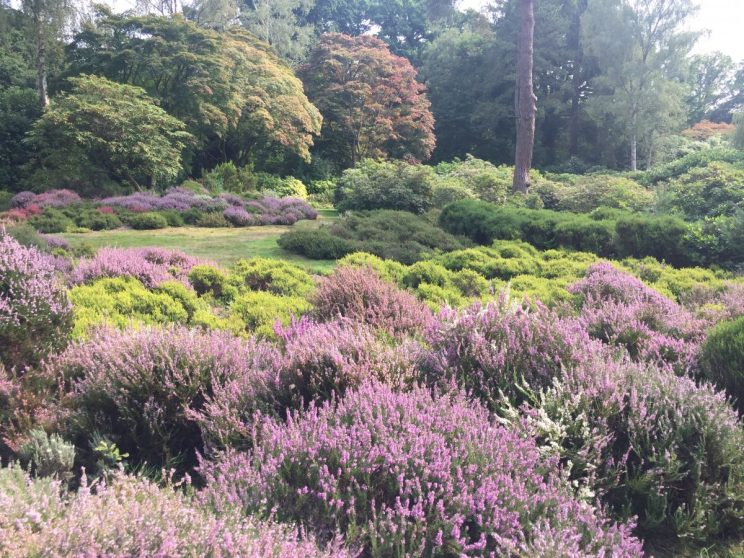 All paths wind their way back to views of The Homewood. There is much genius to be found here. What struck me most was the sense of place, inside and out created by something that didn't exist before one man's vision.
Where once was the back of a garden, now stands a really rather radical monument to modernist design. Standing in the lavish living room, every immaculate detail feels right and the sense of place and solidity is quite powerful.
The building itself is only a small area of a large site and to me, the house and garden are one. Making the strange name 'Homewood' so appropriate. Both the home and garden are the main focal point at the same time, it just depends in which you are standing.