Sorry for the lack of updates about our garden recently, I've been so busy opening my garden design studio it's been hard to keep up. Also, with our open day but two weeks away today, all focus is now on making that a good day for everyone in order to raise lots of money for the care charities the National Open Garden Sheme support. 
This photo of my Gymnocalycium may not look particularly great, in fact it may look particularly dusty but take a slightly closer look.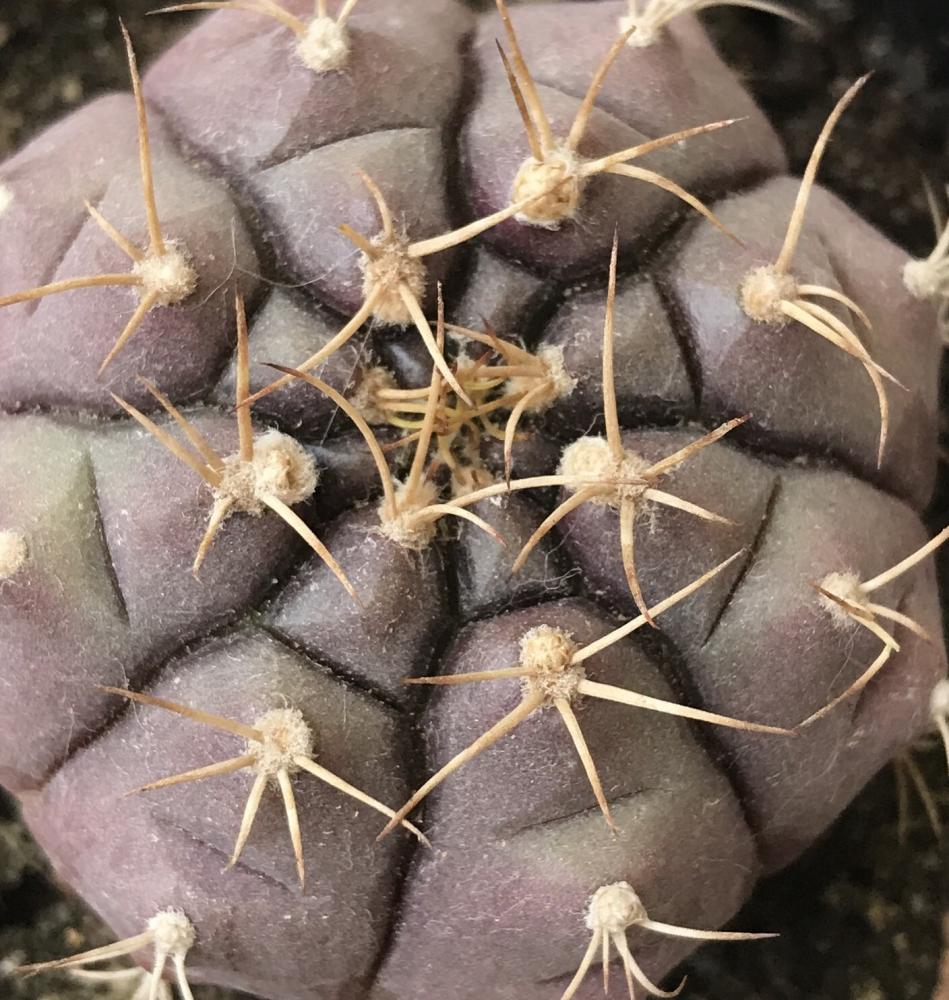 Do you see it? Those extra dark crevices like splitting cracks in a cliff face. Like rock, it seems this cactus wants to be slow to change. I've had it for at least five years and it has literally done nothing in that time. To the point where it lost all green and I assumed the growing point had died. But this week, after half a decade it has decided it's time to grow. Those blackened lines are the mix of purple and green of new growth. Proving that one should never give up on a succulent if it's still alive.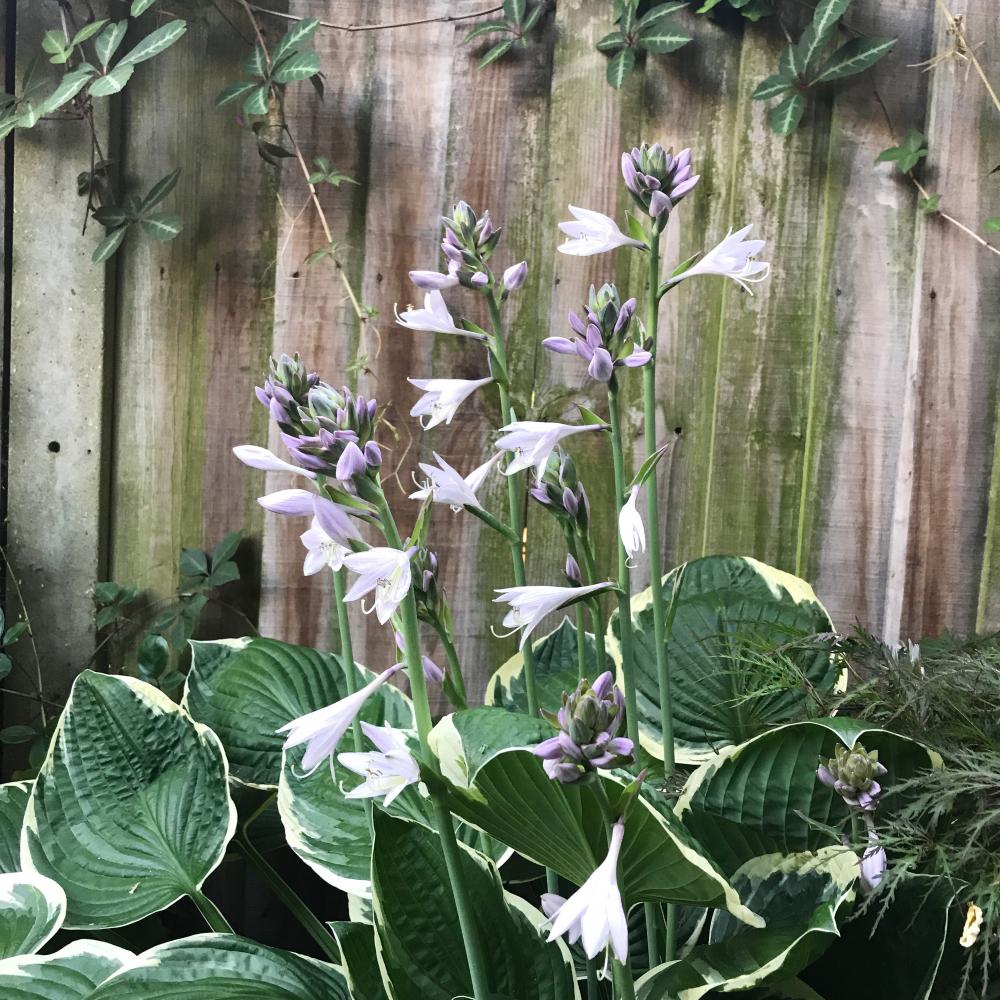 Each year I promise myself I'll cut off the buds of my two Hosta 'Francee' yet somehow my mind wanders to other things allowing them to flower. This year they seem a tad more lilac than blue which is a start. I've had these hostas for about four years now and we've been through thick and thin together. One has crinklier leaves than the other and I think it's time to plant that elsewhere freeing space to divide the stronger plant next spring. They've been in the same pots all of that time with the same media, so I can resolutely say they are great pot plants (especially with copper tape to stop slugs).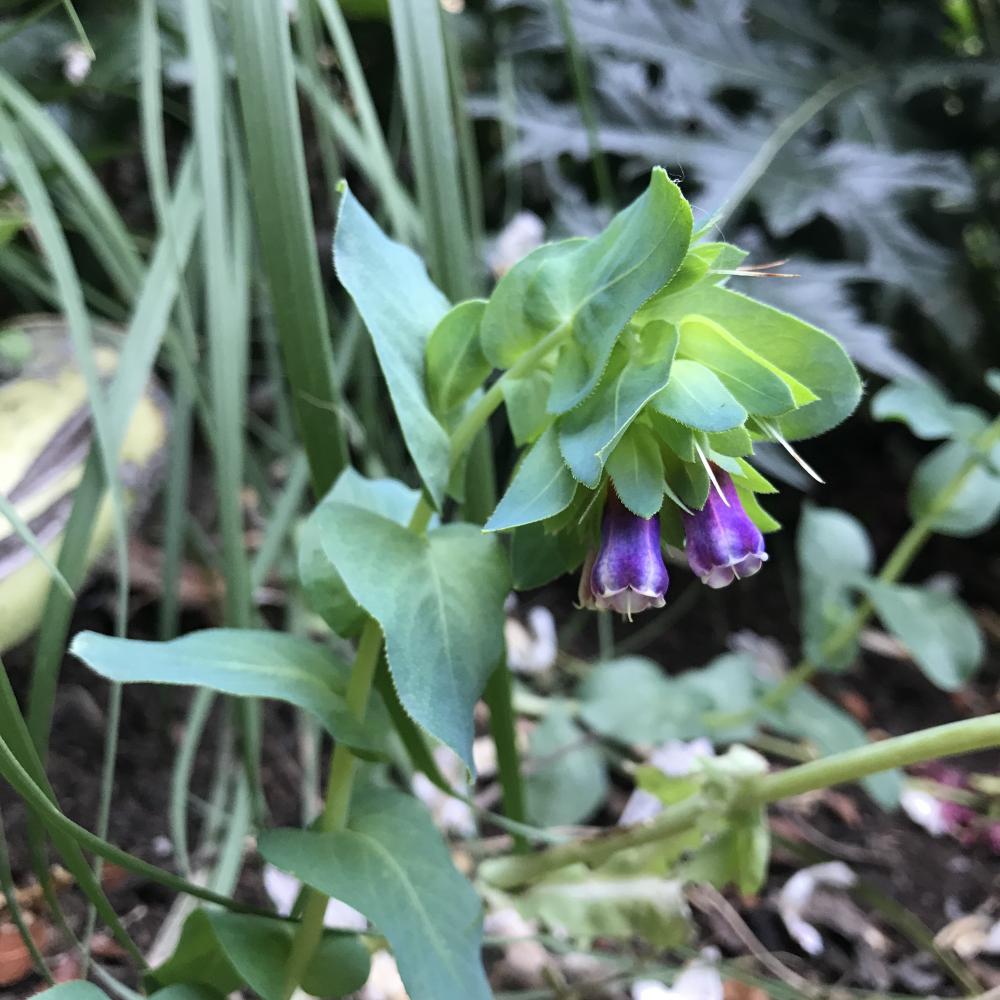 My virtual buddy, Claudia Pearce of the NGS, recently convinced me to try growing Cerinthe major by sharing a photo of her wonderful plants on Instagram. I sowed mine late so they're rather scraggily little things in our garden this year but that's fine as long as they set seed for next year (I have some on the allotment now too that are doing far better).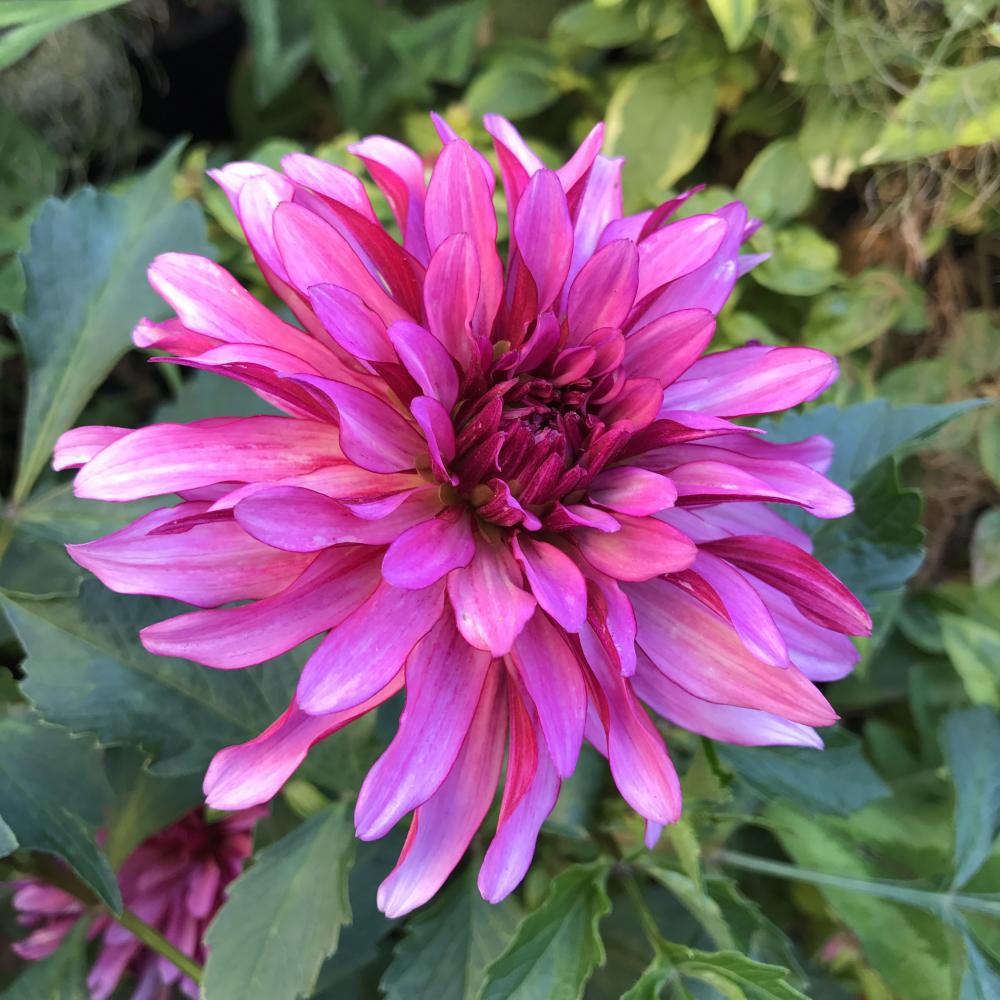 Our older and smaller Dahlias that I overwintered are all starting to flower now.  I'd been worrying that our little garden had lost some of its vavavoom until these guys showed up again, and "ah" there's the powpow I was missing. The big mamas and papas are still to come later in the summer – although I notice some buds already forming in a few of our mega dahlias.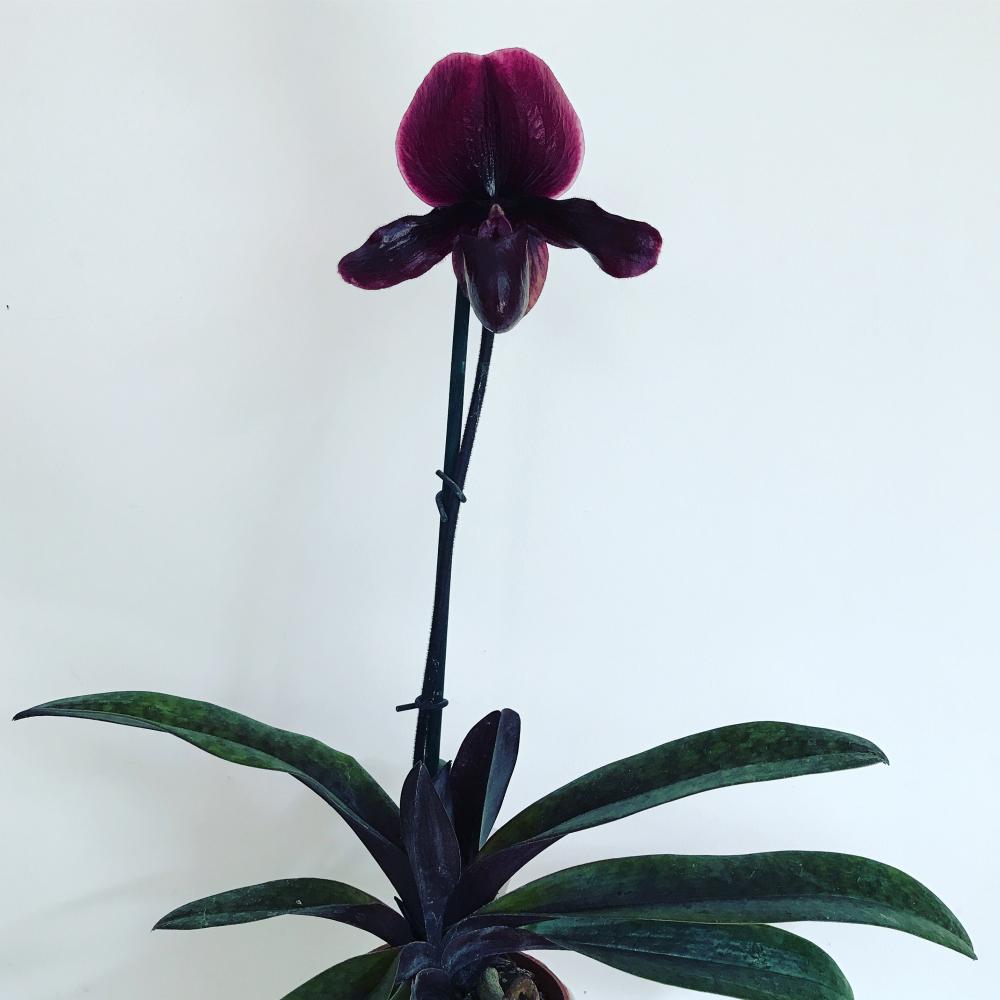 So, I bought this orchid at Hampton Court Flower Show, Paphiopedalum 'Raisin Glory'. It's magnificent, I'm looking forward to seeing if I can grow it well – I've never owned an orchid before but I did get a friend's to reflower.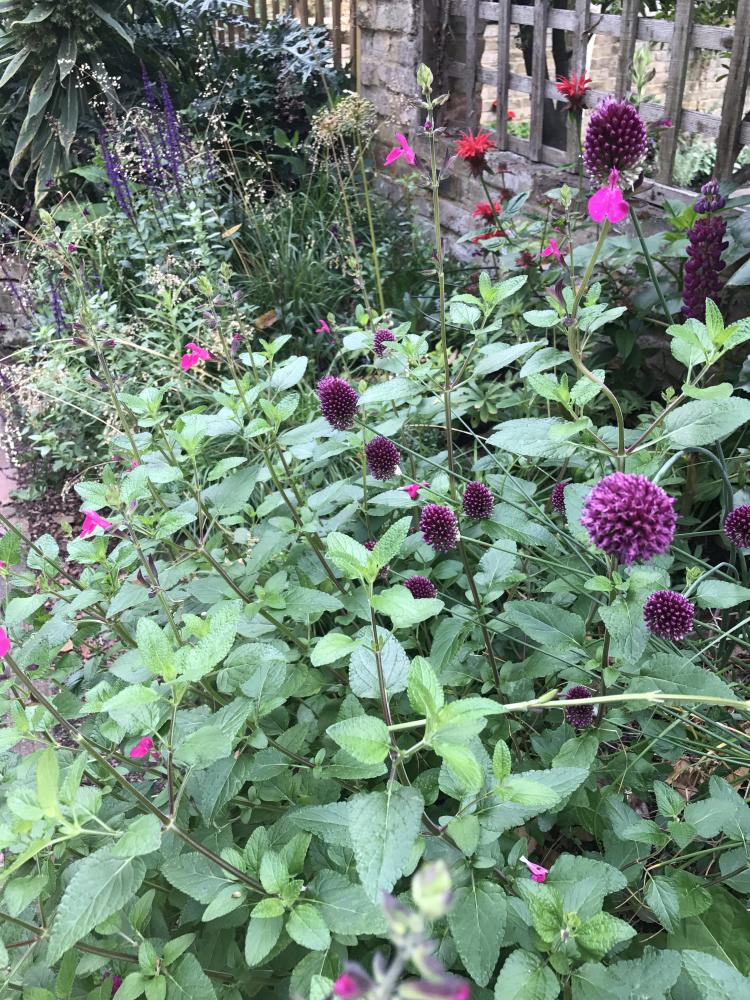 It's been a funny weather year in Clapham, hot and incredibly dry for most of the year. As a result, many plants flowered 3-4 weeks early and other stalwarts like our Monarda 'Cambridge Scarlet' look to be barely clinging onto life. Fine if I hadn't agreed on a July date for our open day and everything is now flowering in June…  Still, the colour is coming in waves.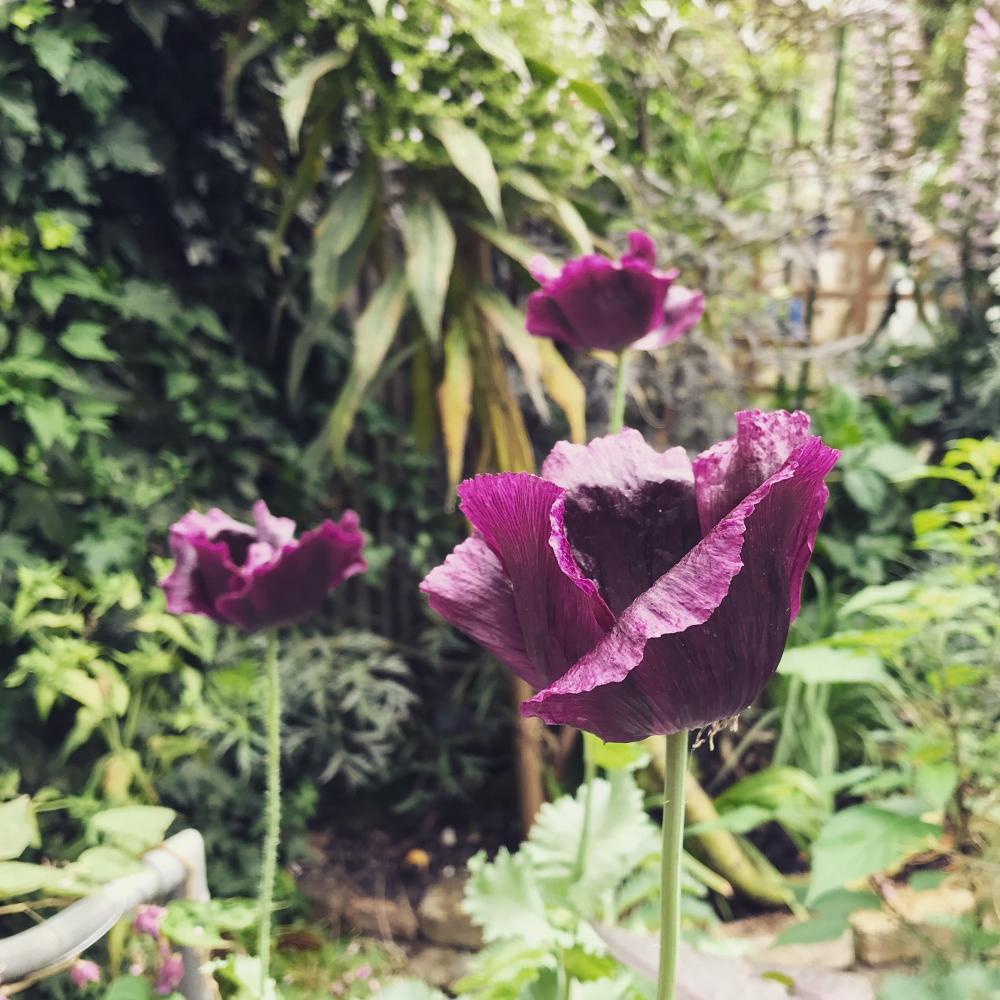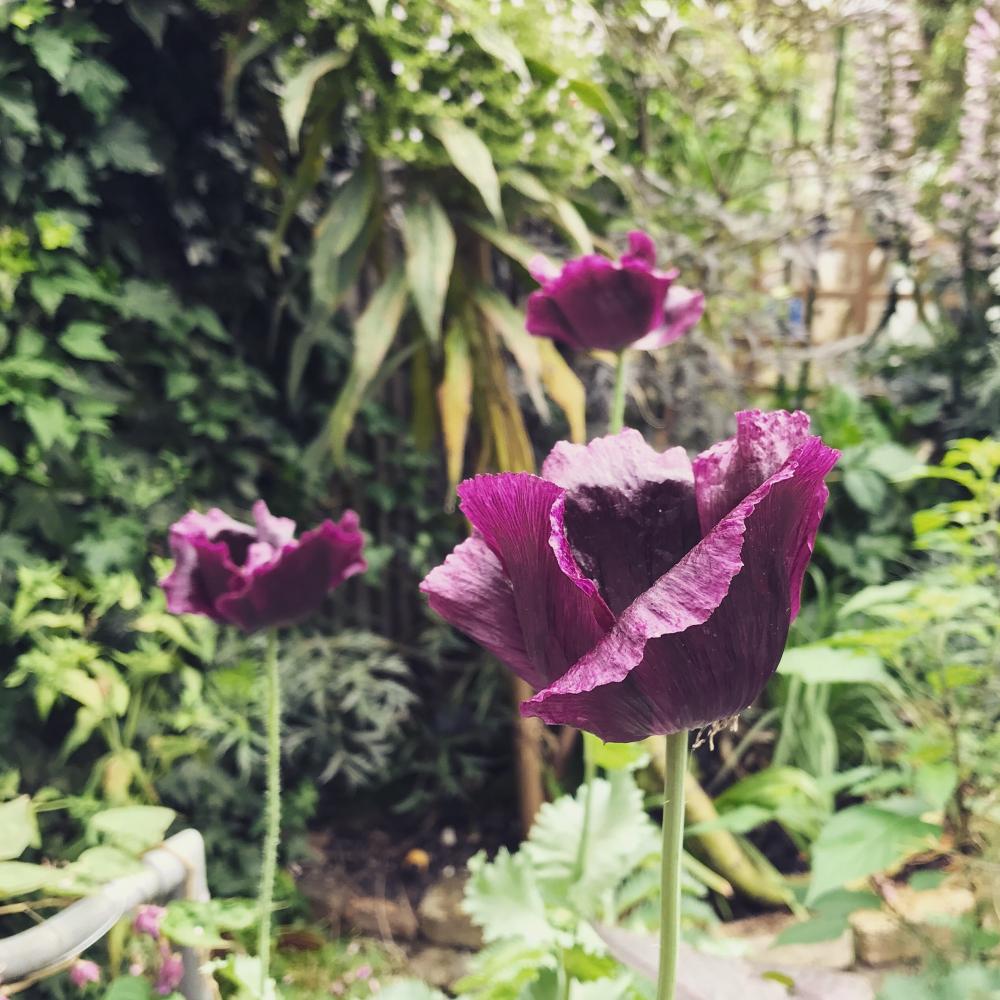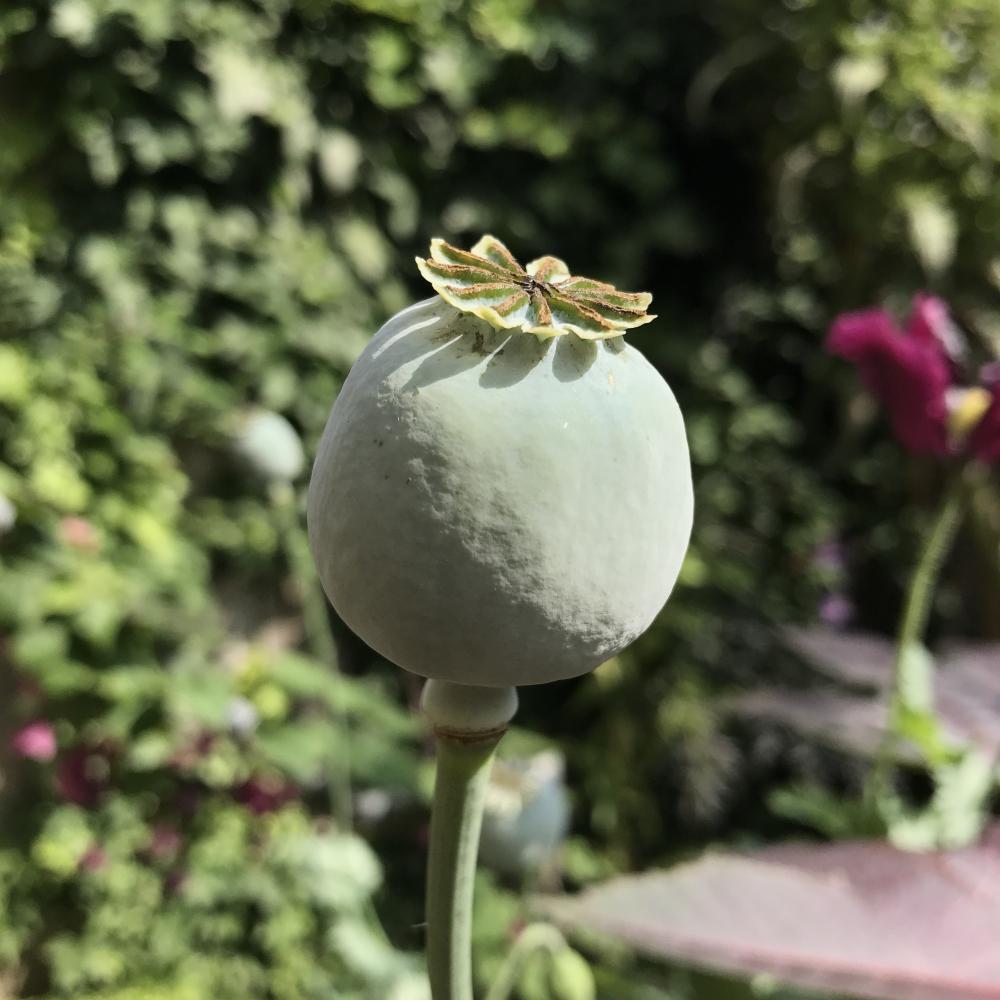 I grew Papaver somniferum 'Black Single' two years ago and loved the fairly rare colour of the flowers but at the time felt the glaucous foliage was wrong. I've since changed my mind and I'm glad I did. We didn't have lots of them but the few that grew flowered and have now formed the magnificent seed heads opium poppies are famous for.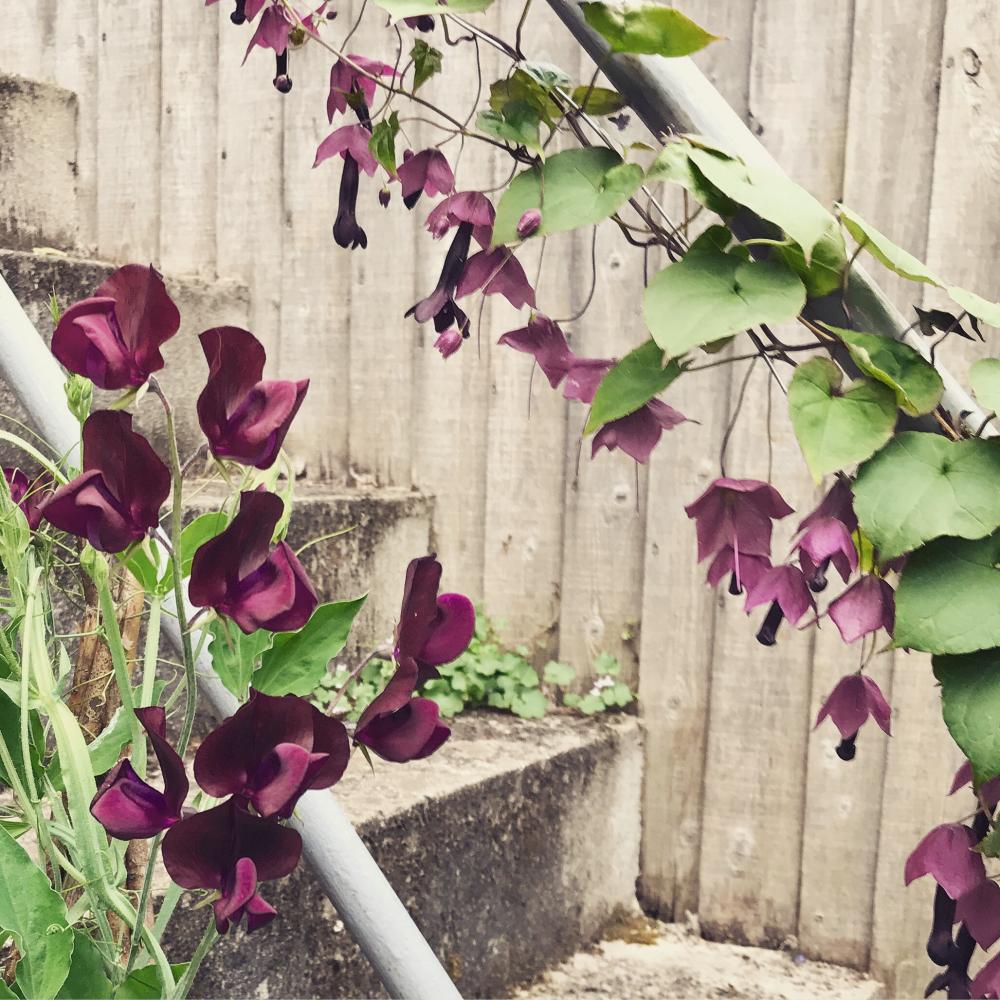 One of our Rhodochiton atrosanguineus overwintered fine outside allowing it to reach three meters already and the season has only just begun, resulting in this fab combo with Lathyrus odoratus 'Almost Black'. With some judicious deadheading and good feeding I'm hoping to keep this pair going until the frosts.
I'll stop there for now, though there's lots more going on in the garden than should be reasonable for its tiny size. Due to the dry weather here I've been watering twice as much as normal taking up a lot of my time. Please do come to our open day on Sunday 23rd of July, 1 – 5pm, to see how everything is progressing – it's never perfect but it is chocca so hopefully there will be something  you'll like 🙂 and if there's not, well there's a bigger tropical garden 3 mins away open as well owned by our friend Wayne Amiel – his garden is famous and I absolutely love it.