Over the last month or so I've been trialling the Felco No.2 secateurs, which, until other brands came on the market, were the go to choice for professional gardeners. Which is saying something because secateurs are one of, if not the most important tool in a professional gardener's tool kit. But are they any good?
I know many of you will roll your eyes at this but I'm an aesthete, what things look like matters to me. I enjoy appreciating materials, colours and the way every day objects all combine into the environment around us, creating atmosphere and adding to the general enjoyment from doing mundane things like snipping twigs.
I tell you all of this because until now I had actively avoided Felco secateurs for two aesthetic reasons: their red handles and their many parts. Instead I spent ages researching secateurs in a more natural colour made form the least number of parts possible, and I've been really happy with my choice. But something twigged in me on moving to our bigger Yorkshire garden and farmland – should I be trying some more serious tools to deal with the extra work they'll be doing? Which has sparked all of my recent reviews.
On receiving the Felco No.2s, which were given to me on my request to trial them in exchange for an unbiased review, I was taken aback at how nice they are in real life. Photos don't quite do justice to how sleek and solid they feel. While I still dislike the red of the handles a lot, the plastic/rubber used is applied completely differently to how I expected. It's painted or dipped on to solid metal handles, giving a really nice, deluxe quality to them. It makes the secateurs feel like a high-end product like a Ferrari rather than tacky as I'd wrongly assumed. Over the years many professional gardeners have said to me the red has saved them from losing them countless times, which as any gardener knows, hand tools have a tendency to wander off. It also makes the handles less cold to hold on freezing mornings.
Felco tools are made in Switzerland and it's a brand that's existed for decades. One of the key selling points of Felco secateurs is that the brand offers replacement parts for every element. The joins, which I dislike aesthetically – I'll always prefer minimalist design – are far fewer in real life than it seems in promotional photos. I was expecting Mechano but in reality, there are very few components, the metal handles carry right through to the lower anvil blade holder. The only parts really are the replaceable cutting blade, a replaceable anvil blade, the spring, the lock and some bolts to hold it all together.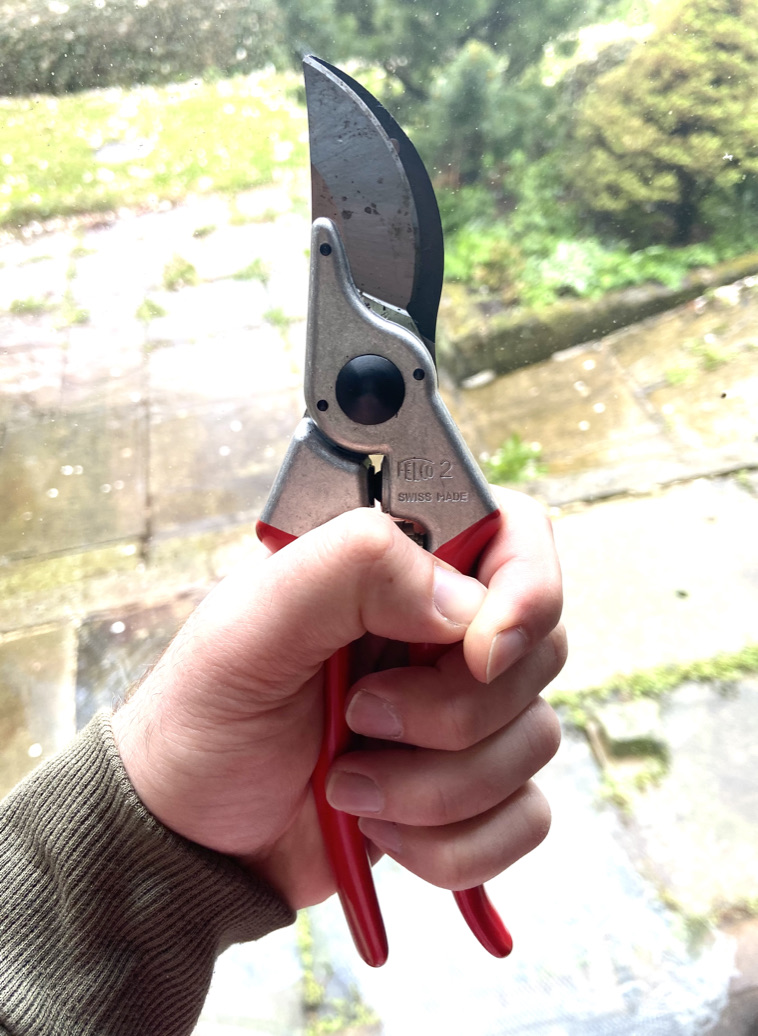 Another worry before owning them was whether all the parts would make them feel less solid than single piece secateurs but the opposite is true. These are the most solid secateurs I've ever held. Everything is tight to an astounding level of precision. The blades slice past each other perfectly.
Felco are one of the only secateur brands to offer a full refurbishment service too, for a small cost you can send your secateurs to them for a sharpen, tidy and to have parts replaced for you. Something well worth considering as this keeps them working as new forever. While the various parts to these secateurs impacts their look, there's no escaping it also means things like broken blades can be replaced without having to buy a new pair. Years of hands on experience and thought has clearly gone into these.
Other features of note include the blade hiding a wire cutter nook inside, which is excellent for professional gardeners who often have to tie in or put up climbing wires. Rubber stoppers to make the closing action of the blade more comfortable. And a catch to secure the blades shut which can be operated with your thumb, though this is frustratingly easy to knock with your thumb, locking the blades mid use, happening regularly for me. The handles are ergonomically designed to perfectly fit your palm and fingers – my hands are medium in size and it's amazing how well they fit. Felco offer left-handed and small or large alternatives too.
How does it cut? The answer is extremely cleanly. These are heavy duty secateurs which you can feel in the slightly weightier feel to the metal. And the tightness! I have to mention this, though it's hard to explain; when they open and close the blades give a satisfying slice noise because the mechanisms are so tightly aligned, it's the closest, tightest cut I have experienced from secateurs. Over time this will naturally loosen as with any brand, but these can be tightened and even refurbished (see below).
They're designed for heavy and regular use by professionals which means they certainly go the distance. I've been testing them on everything from cut flowers to thicker woody stems of shrubs and trees than they are designed for and – if you keep them sharp like any secateur – they make light work of it. With clean cuts on everything from soft green plant material to woody stems.
Felco No.2 secateurs are available with a recommended retail price of £59.99 but looking online at the time of writing, you can find them for £46.50. Which may seem a lot of money if you aren't professional but sometimes gardening tools are worth this extra investment if they will last for years of heavy use.
Secateurs are the gardener's sword, we use them all the time, making investing in the right pair (or pairs) essential. As a professional garden designer who goes hands on with gardens I work on, this is the pair I'll be taking with me to jobs and using around our new large garden, especially for heavy jobs like working on woody shrubs. I have a few pairs of secateurs and I love them for different uses but I can certainly recommend these for anyone in the market for a really good, solid pair of hard working secateurs.
If Felco ever update the look of the model to be as aesthetically pleasing as the function (I'd be all over black or plain metal handles hint hint) I'd be an even happier bunny.
Thank you to Felco for sending me their Felco No.2 secateurs to trial for an unbiased review.