Time is a wonderful gift, it changes things. None are more aware of this than gardeners.
As Chris often likes to remind me, there is a fine line between the 'wild look' community planting movement and what most people perceive to be a messy patch of tatty weeds.
This usually occurs when I am in a tizz, making grand statements, gesticulating over a grass filled border like a bad Shakespearean actor.
At the point I highlight the harmony between a drying Daucus carota seed head and a mid-flower Kniphofia Chris butts in to bring me back down to earth (pun probably intended if you're a fellow nature and soil fan).
He's right, there is a line and it takes real skill and an artistic eye to stay on the right side of it.
With this in mind it was a moment of pure unadulterated joy to hear gardener and writer Diana Ross exclaiming "fuck it!" as she relived the moment she decided to forgo the formality of her original garden design.
We were at Diana's latest NGS open garden evening round the corner from us in Clapham, London. Diana bought her garden in 1981 – the year I was born – and has been its custodian ever since.
I loved the whole garden. Every bit. It's possible to see the intricate layers of time and changes making it uniquely rich in detail. Full of mature trees and shrubs with evidence of past decisions. An old patio now used for a pot display of Fuchsia triphylla revealing a past, present and future.
Interesting too to hear that many of the plants, like Melianthus major, within that time period weren't generally understood. Now I'm growing Melianthus from readily available seed. Botany and gardening has sped along so quickly over the last thirty five years, I suspect in no small part due to computers and the internet for sharing information. Primarily of course, due to the role of pioneers like Diana who spread that knowledge first.
The garden is split into garden rooms, fashionable when the garden was first created, Diana mentioned (and still very fashionable now). Water features, contemporary Cannas, grasses and succulents. Many ferns and Hellebores in a shady area, which will come as no surprise to anyone was a highlight for me.
Below is one photo of the area of the garden that has played in my mind ever since.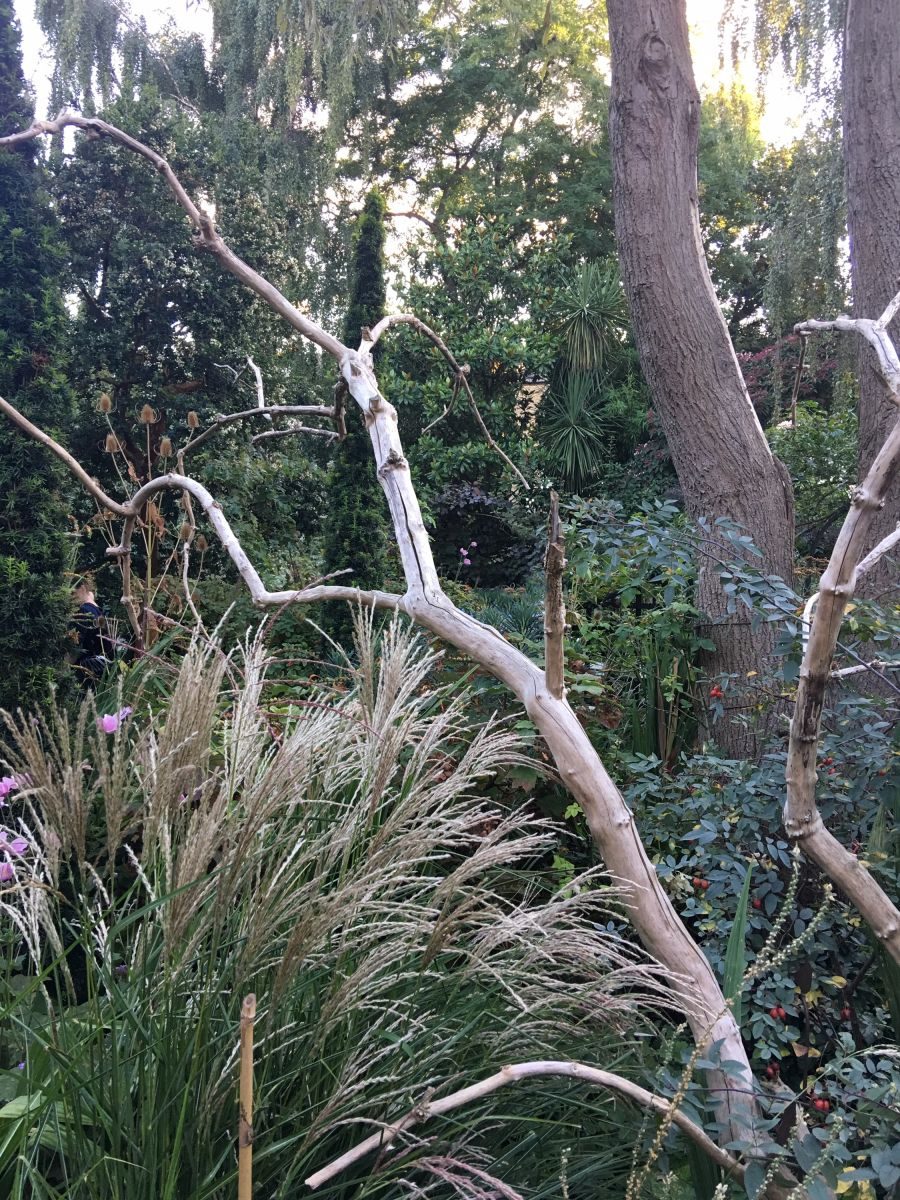 On walking into the garden, this bed instantly caught my attention because of the three smooth arches created from the wood of a dead tree framing a bed of tan Miscanthus and the seed heads of Dipsacus fullonum (Teasel).
I know I always read too much into everything, but to me this was a moment when the stars had aligned and all of the plants, in different stages of life – flower, senescence and death – came together in a perfect eclipse before the setting September sun.
Of course, by this point I'd also had a glass of wine.
Nevertheless, it was exquisitely beautiful. To me, that one view tells me that no matter our own age, we are always young enough to create something new and cutting edge. In this case, someone experienced enough to understand the beauty left by the tree that died in the very spot it still stands.
Here, in a quiet corner of Clapham, a master gardener and her friends have allowed nature to lead the way, creating one of my favourite design moments in a long time, and a wonderful memory.
4 Macauley Road is open for charity to a limited number of people on the NGS.