I'll have more blog posts this week with my photos and thoughts from the Chelsea Flower Show 2016, but I wanted to quickly share my initial impressions from the show today – the trends that jumped out at me. Have I missed any? Please let me know in the comments below.
1) Orange
Orange was everywhere this year as the world's best designers showed off their flair for different uses of the colour, from soft and subtle to bold and electrifying.
2) Copper
Copper and rich, rusty metal materials and colourings were in this year. Using gold and copper is a major trend in fashion and interior design at the moment, so it's interesting to see this carry through into the cutting edge garden design at Chelsea. It wasn't just the materials either, the copper colouring carried through into the plants with the orange-coppery flowers and trunks of pines.
3) Post-wild world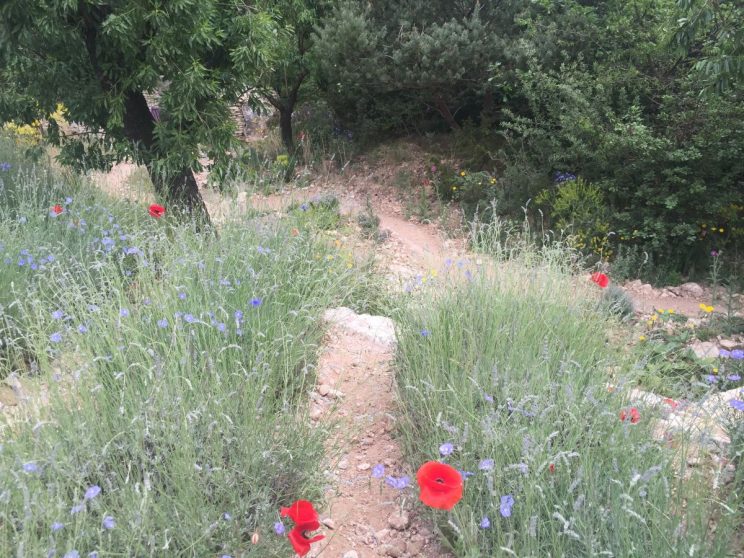 Forget naturalistic planting, now designers are bringing the entire spirit of wild areas to us in central London. It started last year with Dan Pearson's Chatsworth rock garden. This year we had the L'Occitane Garden by James Basson and M&G Garden by Cleve West. Recreating the spirit of Provence in France and the Exmoor National Park respectively.
4) Gardens are joyful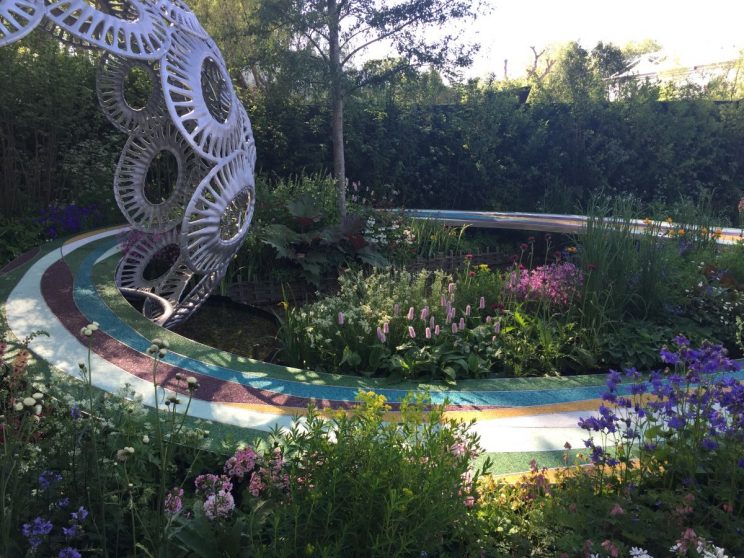 It was refreshing to see fun injected into the gardens. Forever Free Folk by Rosemary Hardy was a literal rainbow of colour.  Ignoring the gizmos for a second (I'll come back to that), the British Eccentrics Garden by Diarmuid Gavin was also full of colourful flowers. As were gardens by Jekka McVicar and Matthew Wilson. Everything felt a lot more welcoming and friendly as a visitor to the show – reminding us that restraints aren't always a good thing.
5) Top of the plants
Plants most used in the gardens this year… In at no.1 was a brown Iris 'Kent Pride' – it was in many gardens that featured orange and copper. Another new entry at no.2 were pines in various forms in three of the show gardens, though sadly lacking in the Grand Pavillion. Climbing the charts at no.3 was Cirsium rivulare 'Atropurpureum'. Back at no.4 was a re-entry of Angelica gigas. Holding on strong were the regulars, Briza media, Lupins, Foxgloves and Salvia nemorosa.
6) Daring to experiment
A cement box with the garden enclosed inside it. A water feature creating music. Wavy lawns above borders. Gadgets that make hedges bob and twirl. 2016 had a marked feel of experimentation and trying new things compared to recent years. What people can do in gardens has no boundaries of the imagination and it was great to see people's imaginations unleashed this year. Even better, most of the experimental gardens worked well.
7) Plant hunting(ish)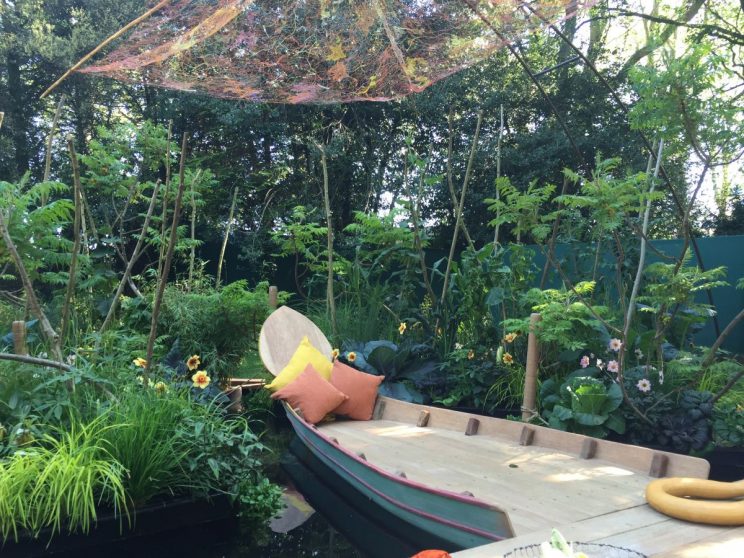 Gardeners have always been on the look out for new plants to try growing. After 2015's Proteas though, the Chelsea designers seem to be really pushing the boundaries of their plant knowledge with lots of exciting new plants taking centre stage – including tender plants needing winter protection. The Telegraph Garden and Viking Cruises of Mekong both had stand out unusual plants. However the Winton Beauty of Mathematics by Nick Bailey took the unusual crown as there was barely a 'usual' plant in it.
Note: my mind is still buzzing from what I think is my favourite Chelsea Flower Show so far, so I 'might' add to this list. Please come back later this week for more Chelsea updates!