This is my third year at the Chelsea Flower Show and it remains an emotional experience. Excitement, inspiration. Admiration for the designers. Threaded with regret for my wasted years of not focussing on garden design. Only counterbalanced by a tiny sparkle of hope from the RHS education programme that tells me it's not too late.
2016 was my favourite Chelsea Flower Show to date. It felt cutting edge and filled with fashion trends (I've listed here). Everyone involved should feel proud of the show they delivered. Full credit to the RHS and judges for the excellent work they do. This year, for the first time, my favourite gardens – the intimate ones that felt like take home gardens – were on main avenue and not in the Fresh or Artisan gardens.
I'm also in the midst of studying the RHS Level 3 garden design module. Which armed me with the checklist the judges no doubt use to award medals – giving me an eye that suggests the judges are right, and some of the rather aggressive opinions on the matter are wrong.
On the day my mind is blown by everything I'm seeing. My true feelings on each Chelsea Flower Show only settle in the days afterwards. So, below are my thoughts on what I loved about this year's show all neatly ordered in a list for you…
1) Isoplexis canariensis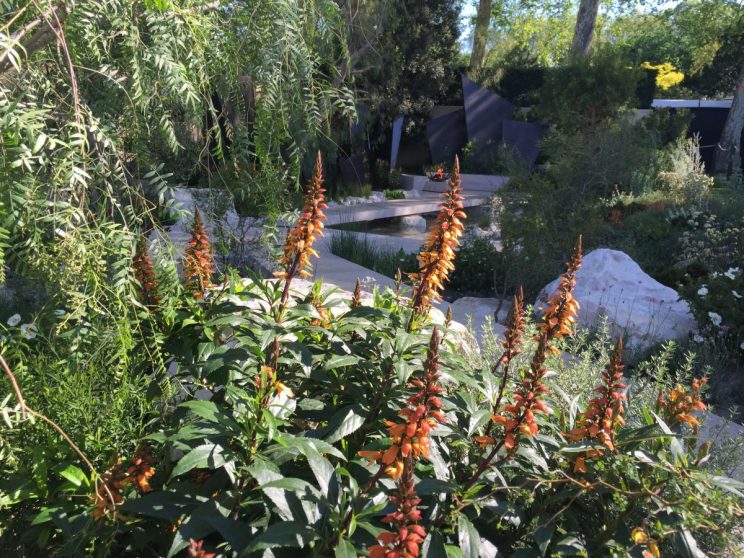 It's the plant everyone is talking about, the unusual foxgloves, Isoplexis canariensis on The Telegraph garden by Andy Sturgeon. I have to agree, it is fantastic, helped by the steel hard landscaping as a backdrop to show it at its absolute best.
2) Anti-slavery orange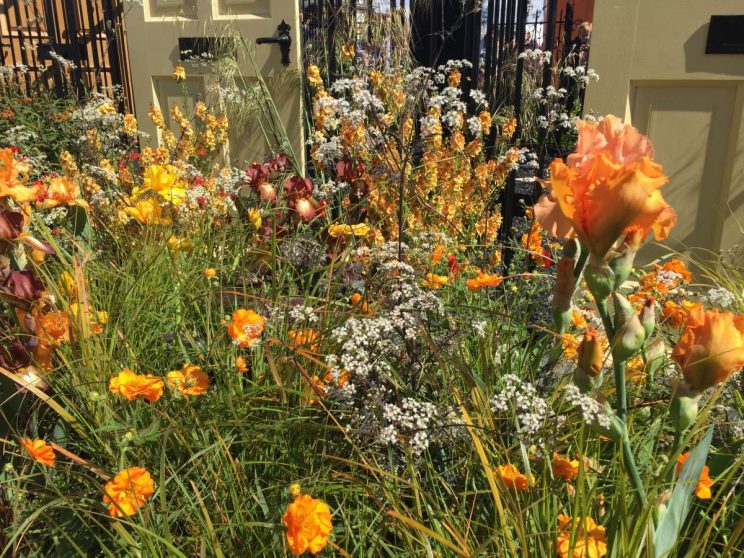 I wasn't a big fan of the Modern Slavery garden. I love the message obviously, but it doesn't work for me either as a place I'd want to hangout, or as a garden feature. It feels too impermanent to be a focal point… which probably was the point. But anyway, one thing I did love was the orange and apricot corner. Orange was the trend this year and I actually think Juliett Sargeant delivered the best planting of the show in that little spot. Spectacular.
3) Travelling the world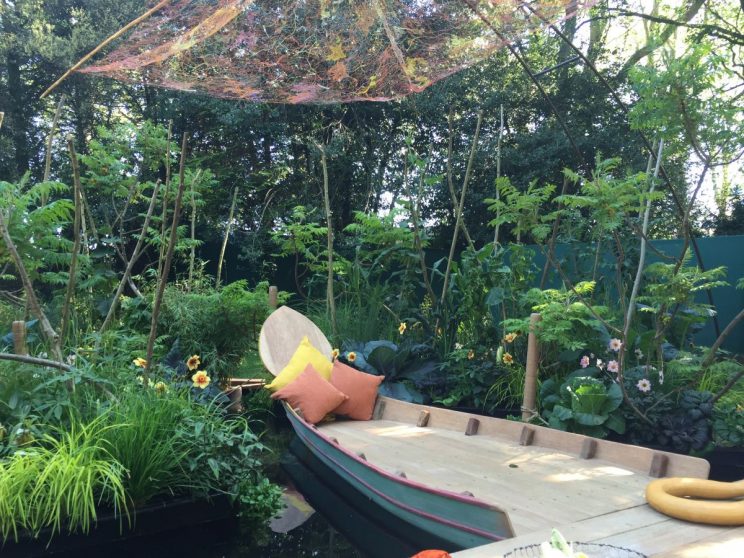 Are you spotting the orange theme now? 🙂 The Viking Cruises Mekong garden by Sarah Eberle didn't grab me immediately. A lady next to me exclaimed "this is the one I want to take home" and I remember thinking 'I don't understand'. I mean, it was lovely but the boat was all confusing. After the show though, it's this garden that keeps coming back to me. It's memorable. It's different. It was transportive. Clapham is full of the trees featured in it too.
4) The antithesis of sarcophagi
One of my favourite surprises of the show was the Antithesis of Sarcophagi by Martin Cook and Gary Breeze. A large concrete block sat on a minimalist gravel area. Brutal to the extreme on the outside with secret lushness on the inside. What turned it from a gimmick to pure genius for me was the fact you could see your eye reflected back looking at you in the mirrors. It was creepy and yet so intimate and personal. It was a magical experience and truly a clever, clever idea.
5) Mathematicians have great taste in colour
Nick Bailey had a lot of pressure and expectation placed on his first Chelsea garden. He delivered an unbelievably varied planting. Made all the more mind-boggling by the fact the whole mixture was tied together with the most delicate and complex colour scheme at the show. Personally I was really taken by the way the copper bark of the pines matched the sweeping seat and water feature, set off by the glaucus blue palms, then all blended together with purples and oranges. It's like a swirl of paints smudged together across an artist's palette.
6) On reflection, I want those chairs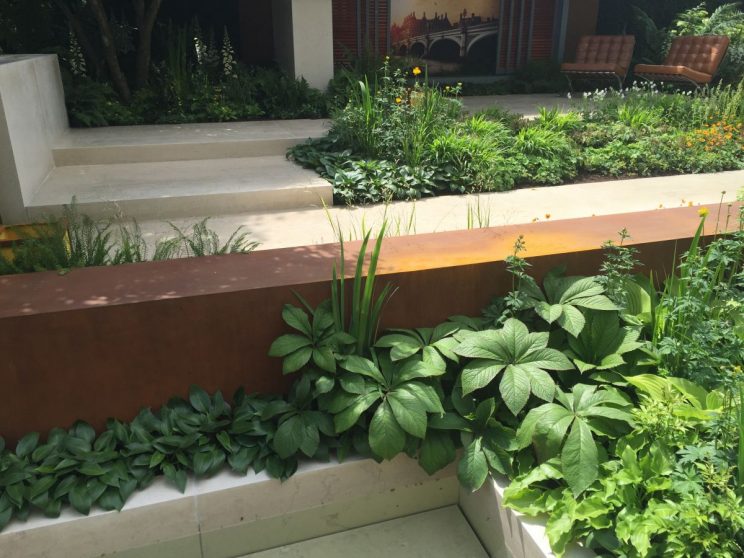 And I want the Rodgersia too. This garden really divided opinion (especially Joe Swift's who went on a cringeworthy tirade on TV about it winning gold!) all because of one thing – that tacky picture of London in the window. Why is it there? As an actual outdoor picture or to represent a view? On reflection however, the Garden of Mindful Living by Paul Martin has stuck in my mind a lot. Ignore the picture – you can close the shutters on it – and here is one of the gardens I would most like at home. Different platforms, lovely planting, great colours and, those chairs! I want those chairs. I really, really want those chairs. I can just imagine sitting there, with an Espresso Martini in the sunset overlooking the Houses of Parliament our next door neighbour's garden.
7) The queen of garden seats
Jo Thompson is one of my favourite garden designers – she knows exactly what she's doing. In the Chelsea Barracks Garden Jo has created a super contemporary curved space with a lawn area I'd love to chillout and read a book or have a picnic on. It's perfect for parties too with seating areas. And I have to say, Jo is the absolute queen of garden seats, I love the benches. The last time I liked benches this much was in Jo's 2014 London Square Fresh Garden.
8) Opulent glamour made a welcome return
Charlie Albone's Husqvarna show garden is described as "a city garden for a couple who travel a lot". Which really means "a city garden for the multi millionaire CEO of Google." It was the most luxurious garden on show with a lush purple and green colour palette (most plants feature in our garden funnily enough). Despite the formality, this would be a seriously high maintenance garden. Which is great in my opinion, but expensive upkeep for non-gardeners.
9) A metal clad tree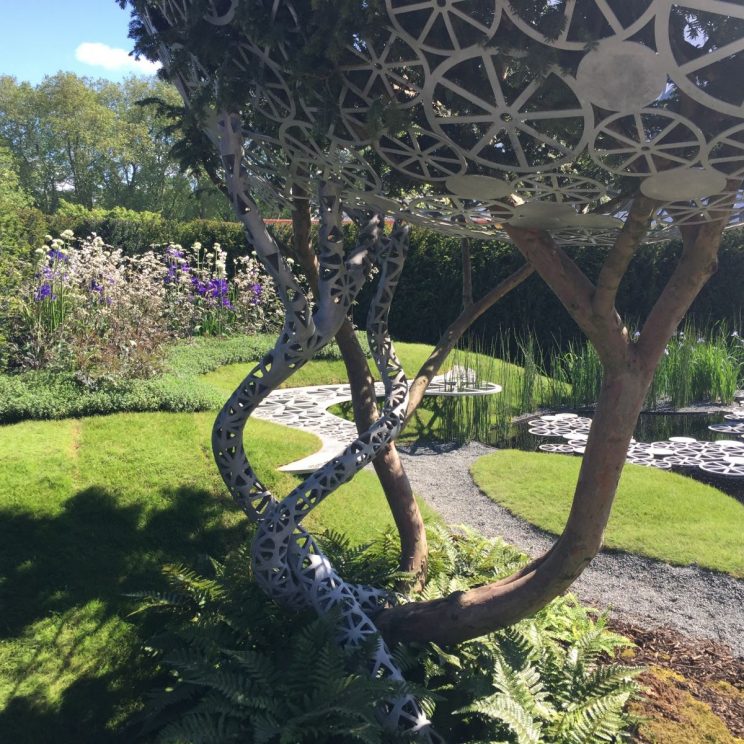 The metal sculpture here and the way it mirrors the trunks is ace.
10) Angelica gygas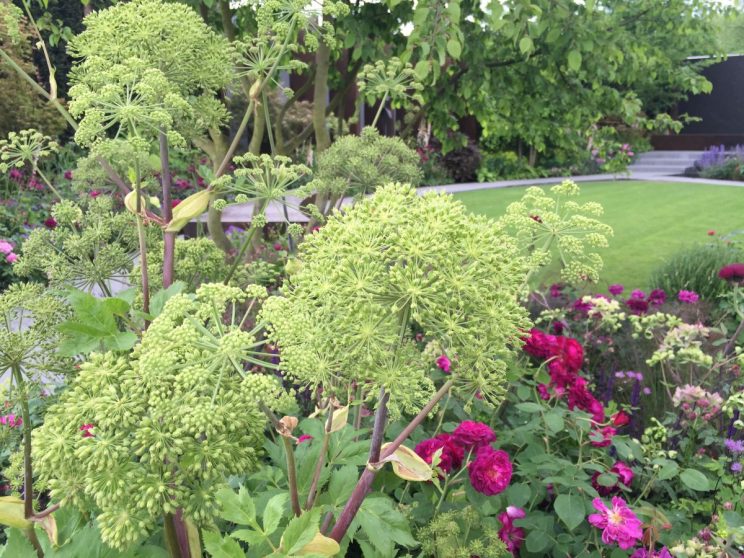 Jekka McVicar's garden inspired me even before the show. I love that she has created contemporary borders using edible and nutritional plants. The one really jumping out at me was the alien like Angelica (shown above in Jo Thompson's garden too).
11) Floral art finally won me over
I love plants (obviously) but I've never been grabbed by cut flowers and floristry. Until now! The fantastic floral silhouette of the Queen for her 90th birthday and floral male head pieces to celebrate the Rio Olympics have me hooked.
12) Dahlias were back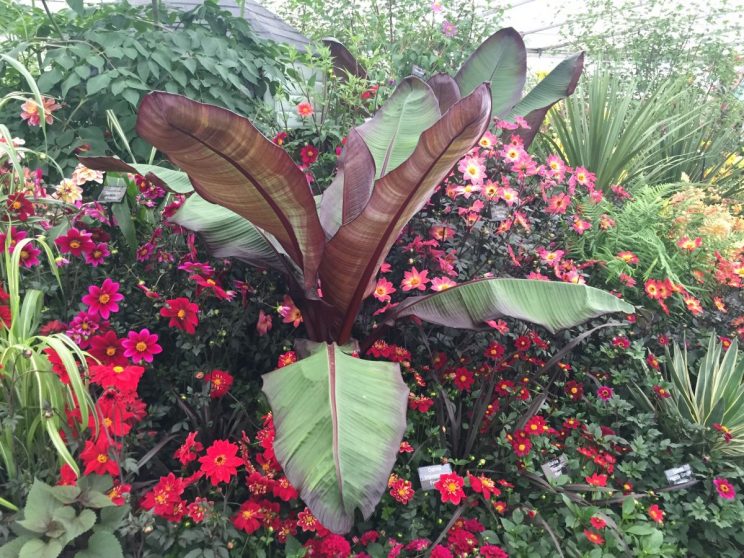 They still had me falling over them. I have no idea why I like Dahlias so much, they're just so brilliant. Here they are alongside an Ensete ventricosum "Maurelii" which confirms I'm not mad* with my own baby one among my own Dahlias at home (* admittedly debatable).
13) Plants taught me about Tamil nadu
Tamil nadu is a state on the south eastern tip of India, and it was magnificently brought to life with this display at Chelsea. I'd never heard of Tamil nadu before, let alone the issues they are facing due to over farming their land leaving it lifeless. It's a spotlight on one of the future problems of the planet. Not only was it educational, the display was perfectly complete and transported me to what life might be like there. A wonderful set piece and even more wonderful plants!
14) Cacti always impress

I love Craig House Cacti, I have a few of their plants myself. They are a lovely couple and they have fantastic taste, rightly regularly winning gold for showing cacti in their best light.
15) Proteas were back with a vengeance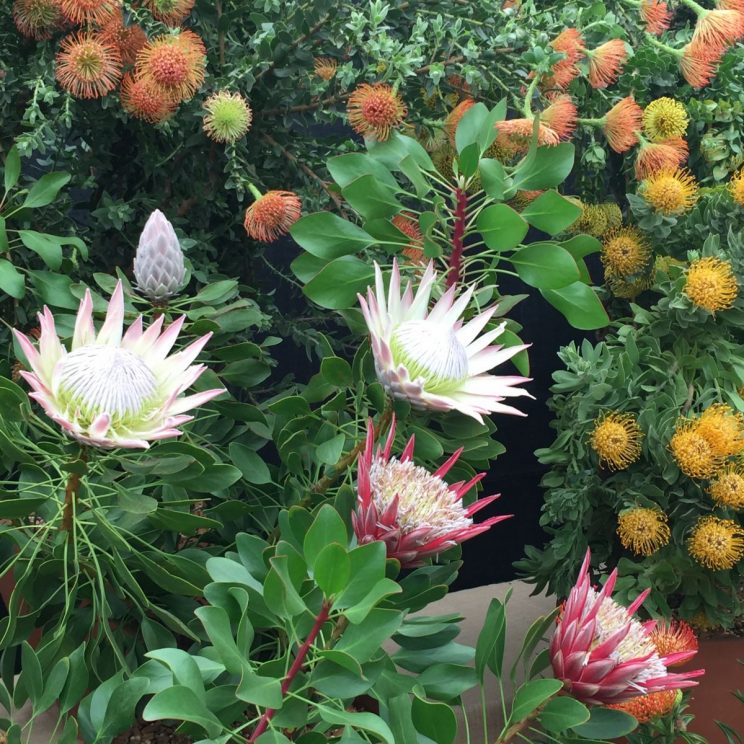 16) I fell in love with Pulsatilla vulgaris even more
I already loved its fluffy leaves and flowers but who knew those flowers turn into these incredible pom-pom seed heads!
17) Why not put the lawn above the border?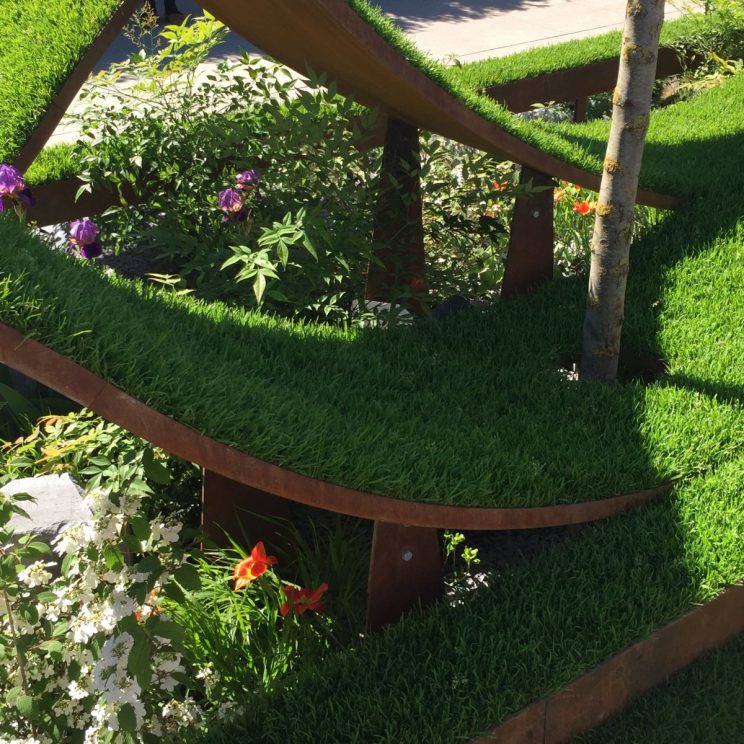 Because now you can. More copper too.
18) Diarmuid Gavin tried to hide brilliant garden design behind spinning bushes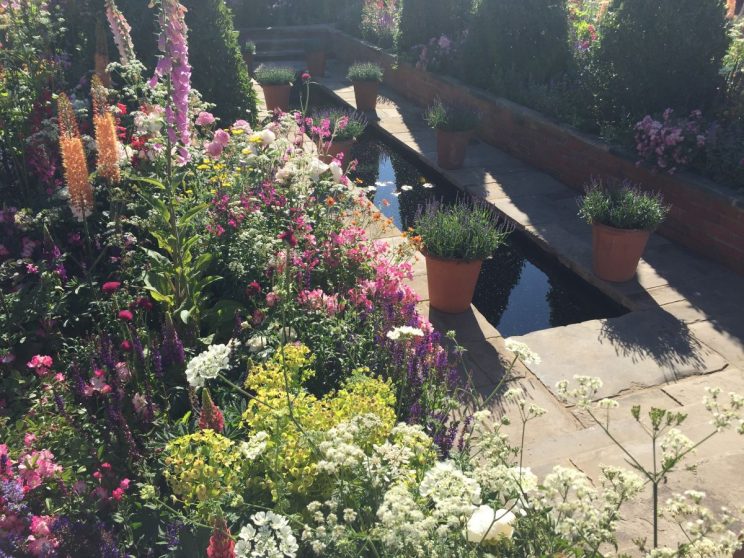 I went in expecting to dislike the spinning gizmos of the British Eccentric's garden. I came out with a broad smile on my face enjoying what Diarmuid had done and marvelling at the brilliant formal design and very clever, lush cottage garden.
19) My favourite show garden views
If I could somehow smush all of these things into a garden I own, I would be happy and so would everyone else who visited it. Strangely, I didn't have one favourite garden this year, I zoned in more to the elements that I liked of each one.
20) Spot on statuary
Statues don't always work, and there were some examples of that at the show. In particular, those for sale really weren't appealing. However, in the show gardens were some particular interesting contemporary statues. Chris Beardshaw's garden for Great Ormand Street Hospital had a very well placed statue of a child with their upturned face basking in the sunshine.
21) Sound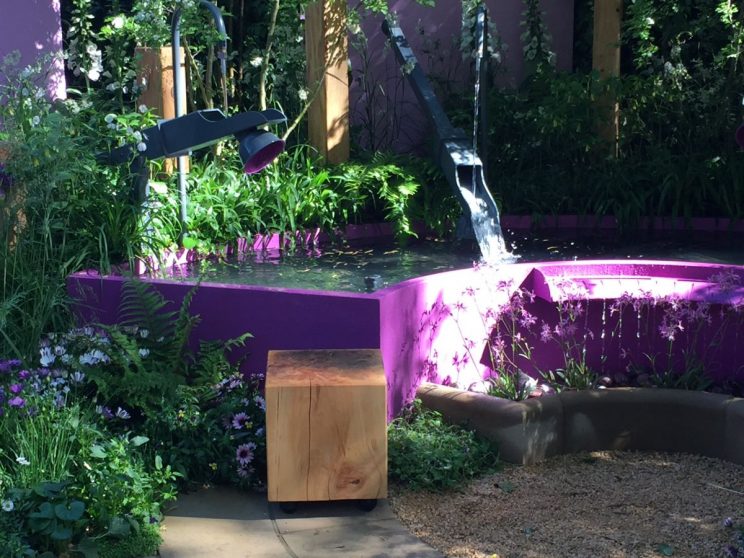 This drew comments like "I'd find that banging annoying after a while" which might be true. However, I loved the idea of sound in the garden and I also liked the look. As a feature in a corner of a large garden, or as something entirely different, sound in a garden is interesting and rarely explored. Again, another example of 2016 being creative, inventive and fun.
22) Stained glass that matches the flowers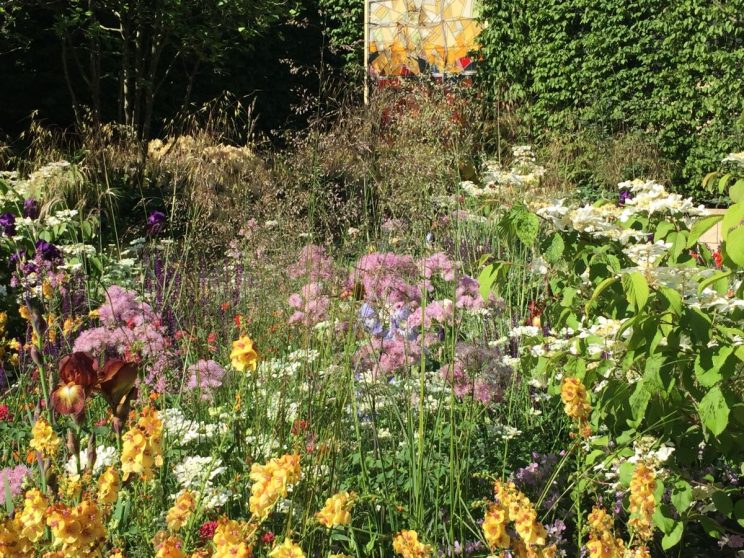 A Garden for Yorkshire by Matthew Wilson was dominated by a structure on its side. Moving your focus from this to the plants, it was incredible. I'd love to see the garden with only the stained glass and flowers to see how that would look because I think the structure becomes the focal point when the intricate skill and detail throughout was the genius. It was incredibly clever how the colours in the stained glass was mirrored in the flowers, like light shining through it onto the floor.
23) It's all really about the nurseries and plant experts
No where else do you get this much plant porn under one roof. Kudos to the growers who make this wonder happen.
24) Favourite planting combos
I thought it was quite hard this year to go "I love that planting combination in particular" because almost every garden was eclectic in their colour schemes. At one end of the garden they'd have reds and yellows, at the other it would be blues and whites. It was funny actually, as Monty Don mentioned on the TV, it is the most colourful year in memory. However, I did zone in on the above spots of planting. From Ann-Marie Powell, Sam Oven, Charlie Albone, Nick Bailey, Jo Thompson and others. Every garden was beautiful, but these combinations I was drawn to. Like a little fuzzy bumblebee.
All in all, a memorable and fun year with lots of inspiration whirling around my tiny mind. Back to my own garden…