This page summarises the 'what' and 'why' behind the dream for our Victorian London botanist inspired, overgrown neon jungle of a garden.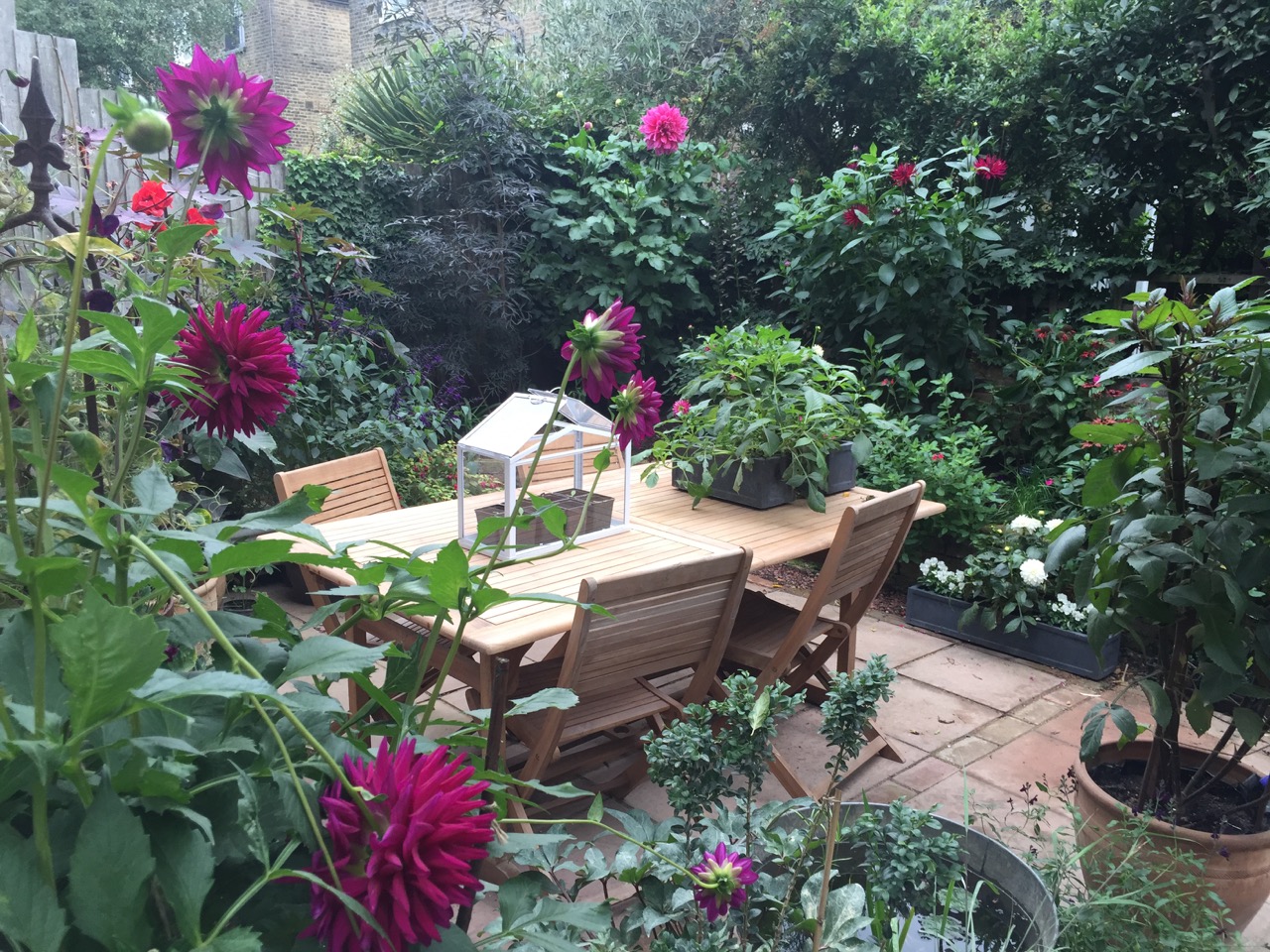 When we were planning our new garden, it had to do a few things:
Allow me to grow lots and lots of different types of plants to help me become a better gardener really quickly. Overcoming the restriction of an inner city tiny garden.
Support my RHS studies to help pass exams by squeezing in propagation areas.
Let Chris test out apps and technology.
Still have a good outdoor entertaining area.
Look good most of the year because we were removing the back wall of the flat and installing glass doors looking out onto it.
Be wildlife friendly and organic.
Support the UK plant nurseries.
Show other Londoners that you can grow stuff in small spaces.
Labels to help me learn latin names for the RHS exams and to amuse other geeks!
The dream was all a bit ambitious – too ambitious for us really – and we knew we couldn't do it alone, so we contacted Big Dreams, Small Spaces hoping to get expert help from Monty Don… And amazingly they said yes!
Sketching the dream
We did some simple scribbles of how we imagined our garden could look: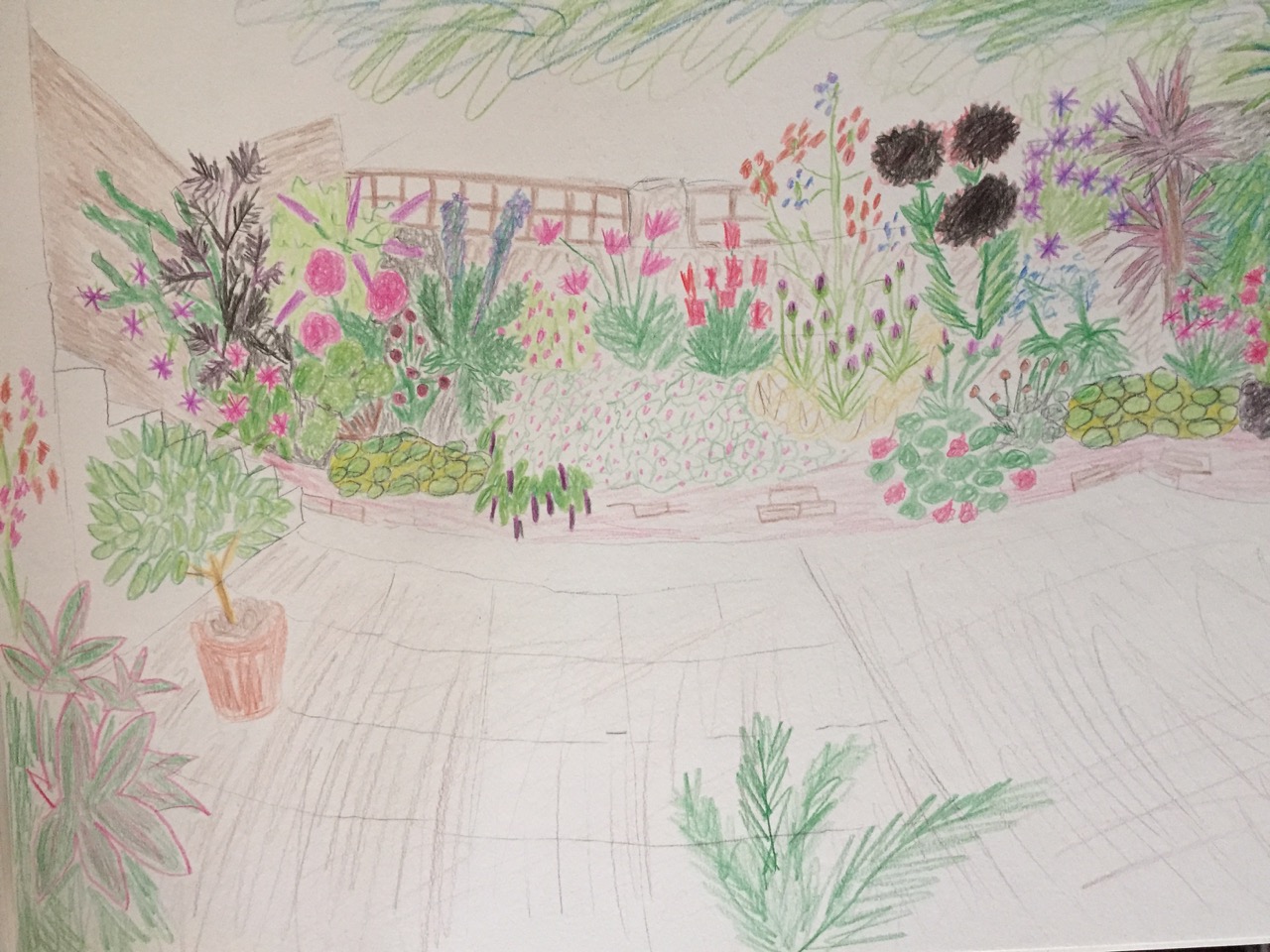 And drew some plans of the different areas to explain: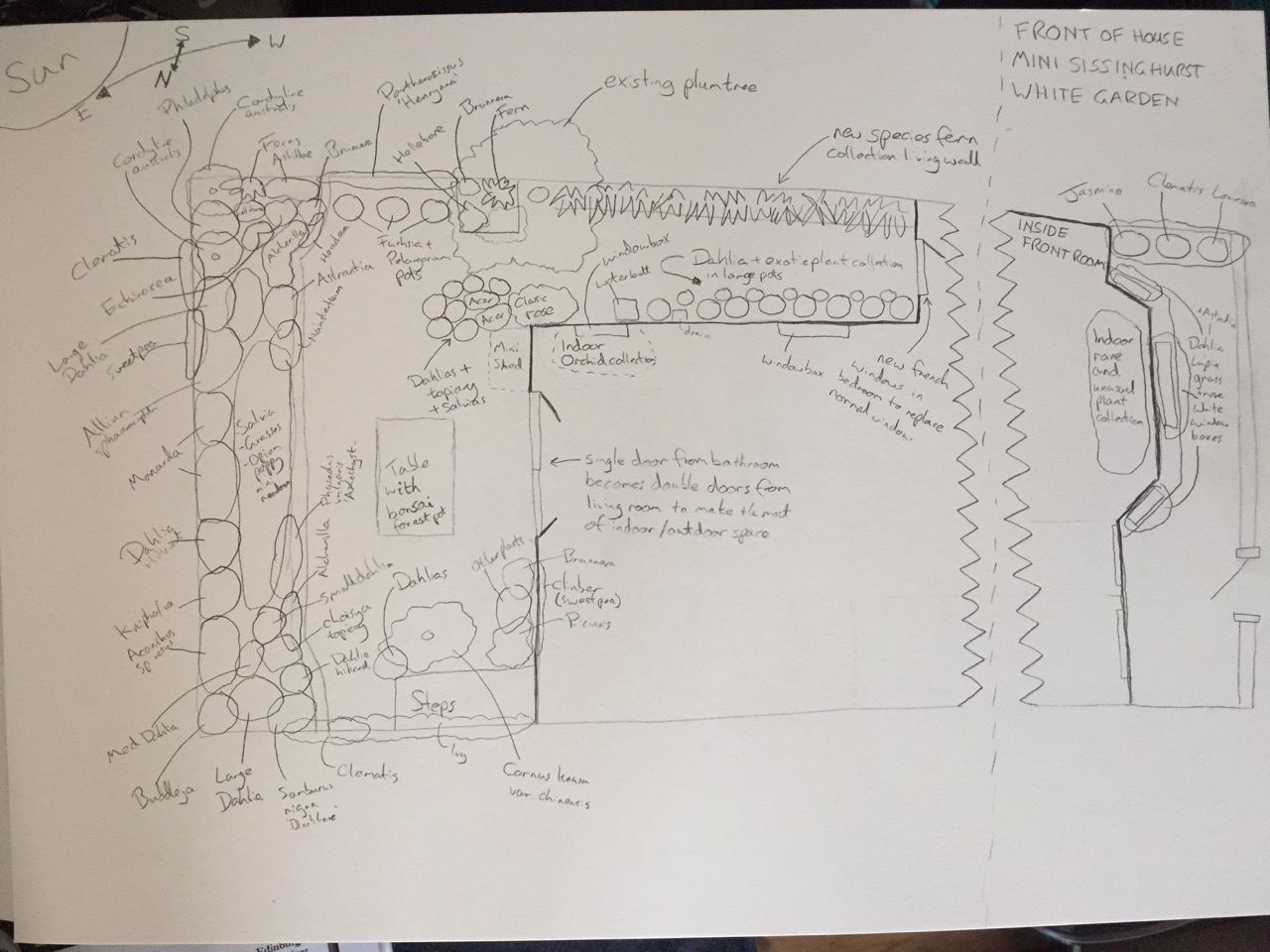 We're proud to say, this dream did become a reality. With help from Monty and others. I have to say, especially with the help of Chris who never questioned this madness at any step of the journey, putting up with so much. I couldn't have done it without him.
Below you can read the original description submitted to Big Dreams, Small Spaces. We stuck to everything… except the bonsai. That's for next year!
Victorian Botanist inspired garden (if they were alive today!)

Our flat is a turn of the century ground floor Victorian end-terrace maisonette first owned by a stained glass window artist. It is situated 2 minutes walk from the final residence of famous Victorian botanist Nathanial Ward, who invented the Wardian Case.

Inspired by the history of our flat and visiting ten of the great UK Victorian gardens, especially Biddulph Grange and Cragside, in 2014. And driven by a love of plants. The big dream is to recreate every single thing those gardens had in a plot less than one hundredth the size!

My partner Chris is a doctor of computer science and a bit of a techy genius, so he's helping me create our own miniature Spring Watch set up the Victorian horticulturalists and botanists would definitely be proud of. I can monitor our garden from anywhere in the world from my phone.

We can't really afford major landscaping so I want to transform the garden with plants primarily – it's plants that I love anyway, so I'd rather spend money on them!

Garden layout

The garden is a typical Victorian maisonette L shape garden with a small bit of land out front for containers in and around the bay window.  To squeeze every inch out of the place for plants, I'm also planning two indoor mini-border in containers for orchids, tropical plants, cacti and all manner of quirky plants.

(Patio area is 6 x 5 m, the side alley running off that is 2m x 6m, the front garden area is 1m x 5m).

Features of planned garden

A plant lover's dream – I want to monumentally break the rule of less is more in a small space – if Ward could have 20,000 plants in his small Clapham garden, then so can we! Although I won't go quite that far… but I have been sourcing specific plants from over 30 different UK nurseries. I want people to walk out into the garden and not believe how we managed to fit everything in. And even in the small space, to constantly see new things to look at.
100% a wildlife friendly garden – as organic as possible, all flowers are good for bees. I've also researched which plants won't poison our cat.
Botanical garden – I want to know all of the names of every plant in the garden and for them to be labeled like Kew and RHS Wisley.
Technology – we have a weather station, day and night video cameras (for birds, bats… and mostly our cat) plus gadgets to monitor specific plants all from our iPhones.
Design – although it is very much horticultural and botanical garden inspired, and it's going to have a lot of variety in it, it still has to look good 🙂
Patio area:

Dahlias! As many as I can get in. Plus lots of other contemporary cultivars of plants the Victorians were crazy about.
Carefully designed herbaceous border that hopefully would fit somewhere like Great Dixter (I say designed… with my own plans, I'm not a designer) with a riot of rich colours in mid-late summer with as wide a variety of plants crammed in as possible.
Vines and flowering climbers to maximize all space.
Lots of container areas for trees, Dahlias.

A fernery created using a modern living wall with a collection of as many different species of ferns as will fit – again, something I hope a Victorian would have loved.
White in spring – colour in summer: whole garden will only have white flowers in spring, but will be rich hot pinks, reds and purples in mid-late summer
Dahlia and tropical walk – next to the living wall of ferns, I want to have another dahlia crammed walk, this time in large containers, mixed in with tropical style plants
Mini Sissinghurst – out the front I have an all white micro-garden planned in the window boxes and in a few other pots. This will be a challenge to get a big wow factor out of a really small space.
A bonsai pinetum on the table
Micro pond in a large pot
Indoor borders – for orchids and other quirky indoor plants. Mainly because I get bored in the winter and can't do anything outside, but also because there are so many tender / tropical plants that are incredible and fascinating. It's the closest I'll get to a Victorian glasshouse.
New garden furniture and lighting to finish the look, plus possibly new paving.
Renovating the entire flat too, so we will have more doors and better views of the garden all year.

Challenges

I could really do with the help of Big Dreams, Small Spaces because although I have green fingers and I'm studying the basics of horticulture with the RHS, I am very much an amateur with hardly any practical experience.
So many different types of plant – this is the biggest challenge so I would love as much advice as possible

Living wall – I have no idea how to do this really!

Shade and lack of sun – so many buildings means no one part of the garden has sun all day long.

Pests and diseases – I've spent the last year dealing with slugs, snails, vine weevil and fungal diseases.