At the weekend my Instagram buddy lamaisonbleue tipped me off to the fact the Crossrail Place Roof Garden at Canary Wharf had opened. Despite the construction of this £500 million station being heavily featured on TV (for its genius balances and weights to deal with changing temperatures in weather) I'd somehow missed its grand unveiling. Chris and I rushed to the scene on Sunday to check it out. 
Wow. If you've ever wanted to feel like you're aboard the biodome of a spaceship, this is the place to be (I'm going to continue pretending it's not just me who wants to feel like that).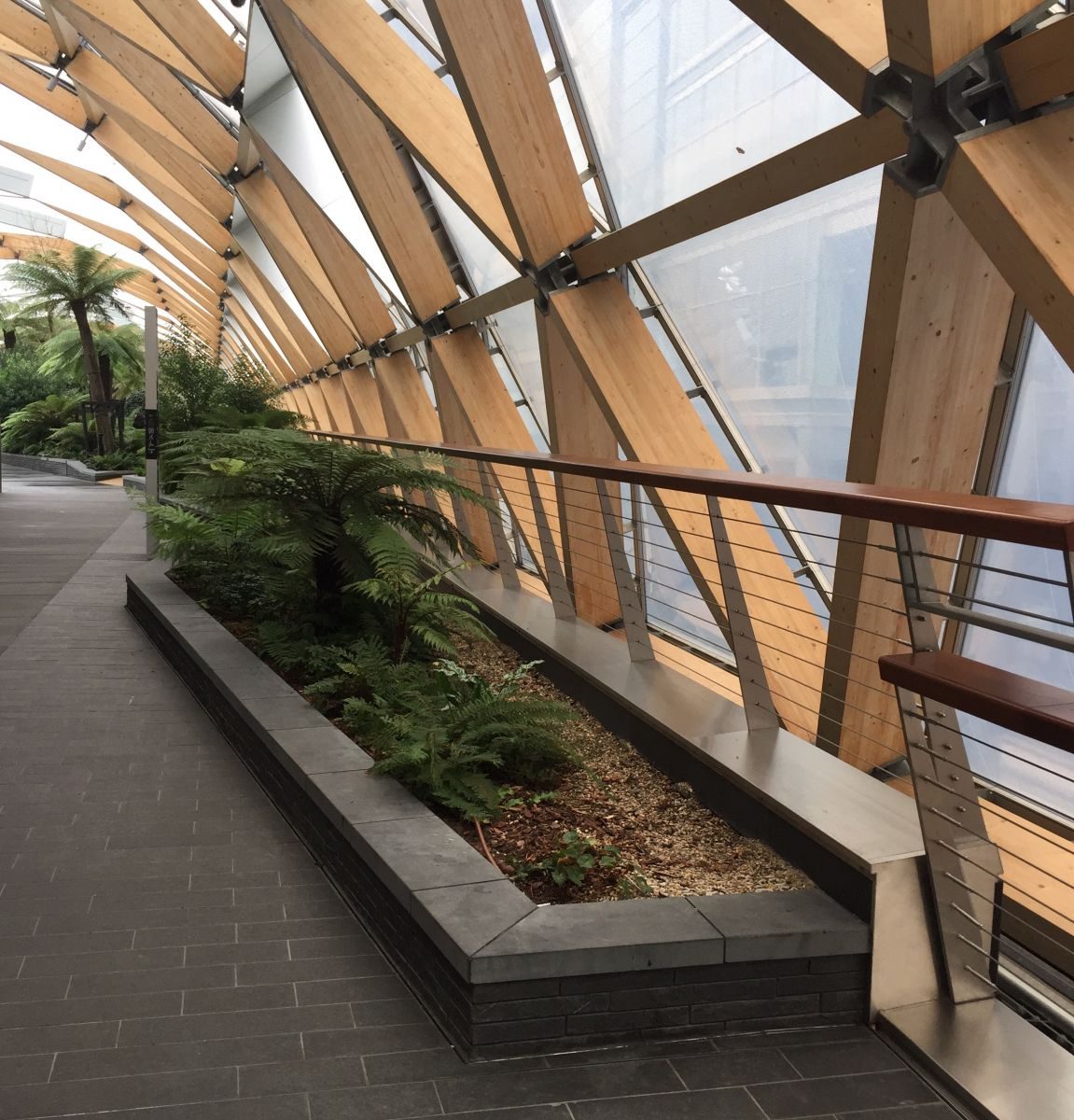 Immediately you are struck by the chunky wooden frame of the space age dome coupled with the beautiful modern stone walkways and beds. The look is extremely cool. Straight out of the sci-fi films 2001 a Space Odyssey, Silent Running and video game Mass Effect. Basically, this is the closest you or I are ever going to come to a future travelling the stars.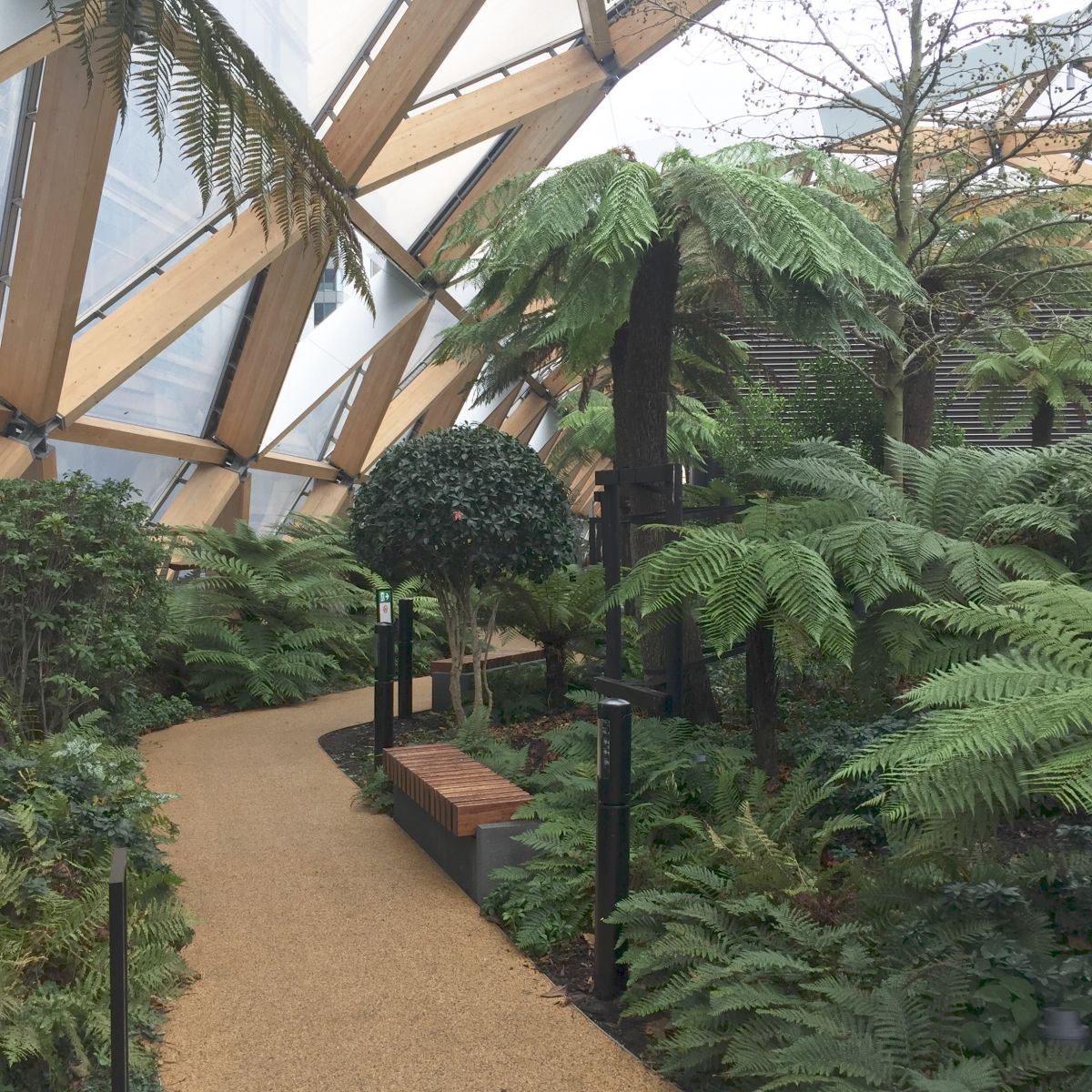 What makes it, compared to the Sky Garden in the city, is both the chunky geometric hard landscaping coupled with the planting. Both roof gardens are adventurous and exciting, but Crossrail Place Roof Garden has clearly been planted and cared for more carefully in its first year of opening. I suspect thanks in large part to the partially open roof compared to Sky Garden's arid enclosure.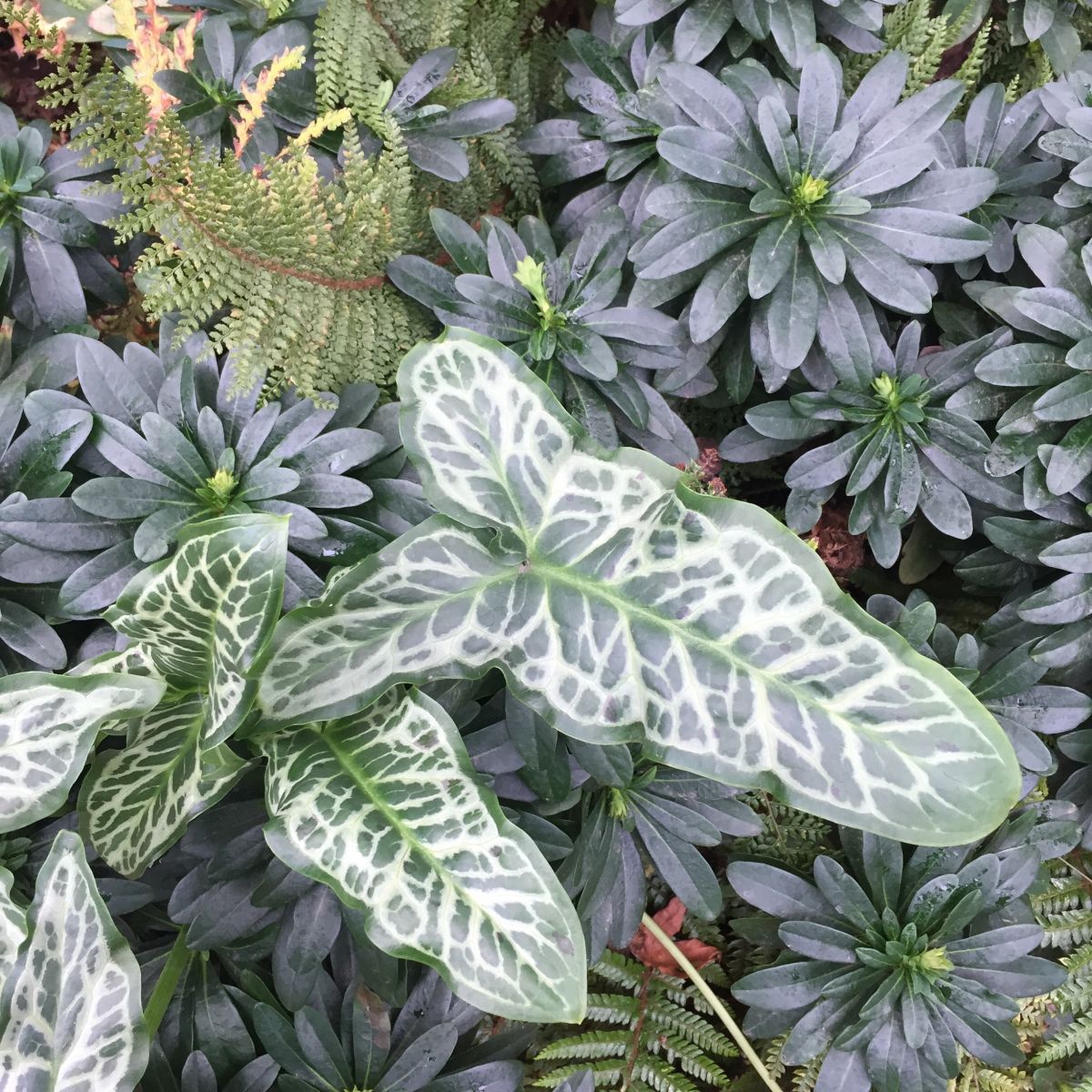 Ground cover like Pachysandra terminalis, Arum italicum and a plethora of large, established ferns of all kinds are on full display. Ferns like Polystichum setiferum and a really very impressive 2m x 2m clump of the wonderful Cyrtomium falcatum.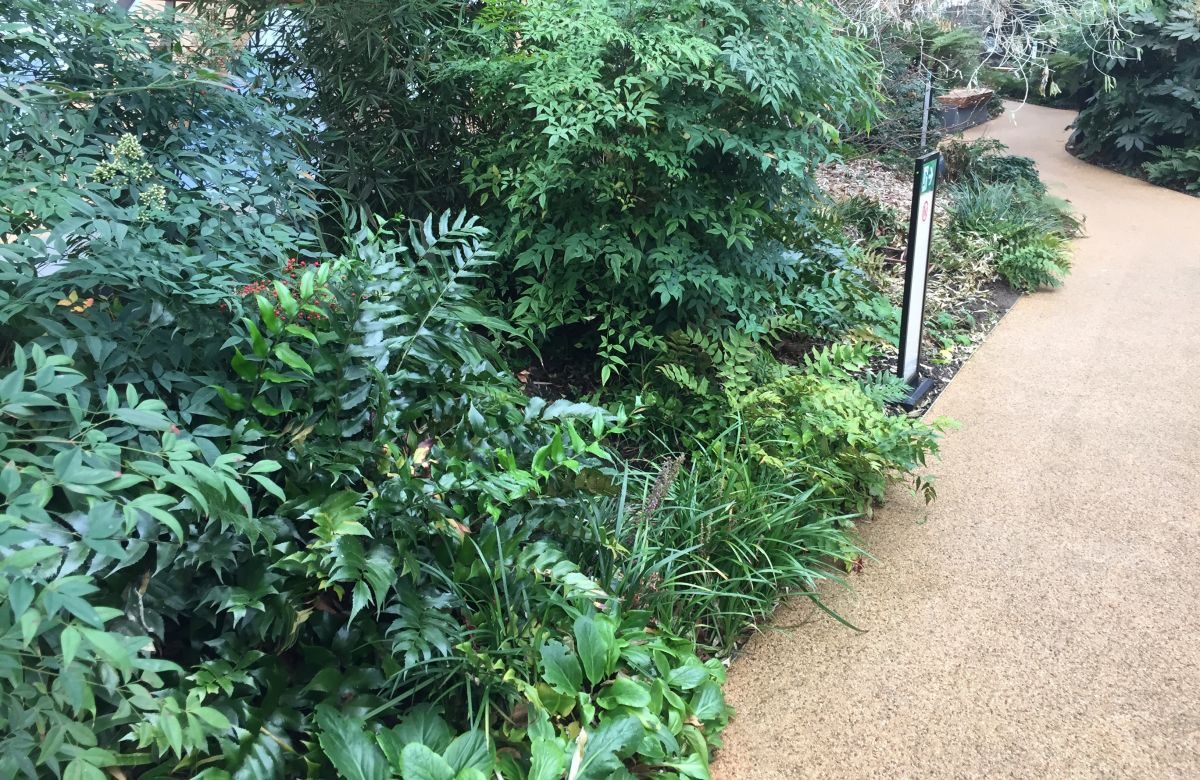 Of course, you can't escape the tree ferns in large quantity and well, just large! Some are absolutely huge, at least 4m high with a trunk over a foot in diameter. These are some of the biggest tree ferns I have ever seen – and I've been to New Zealand and Australia's rain forests! Featured are Dicksonia antarctica, Dicksonia fibrosa and Dicksonia squarossa.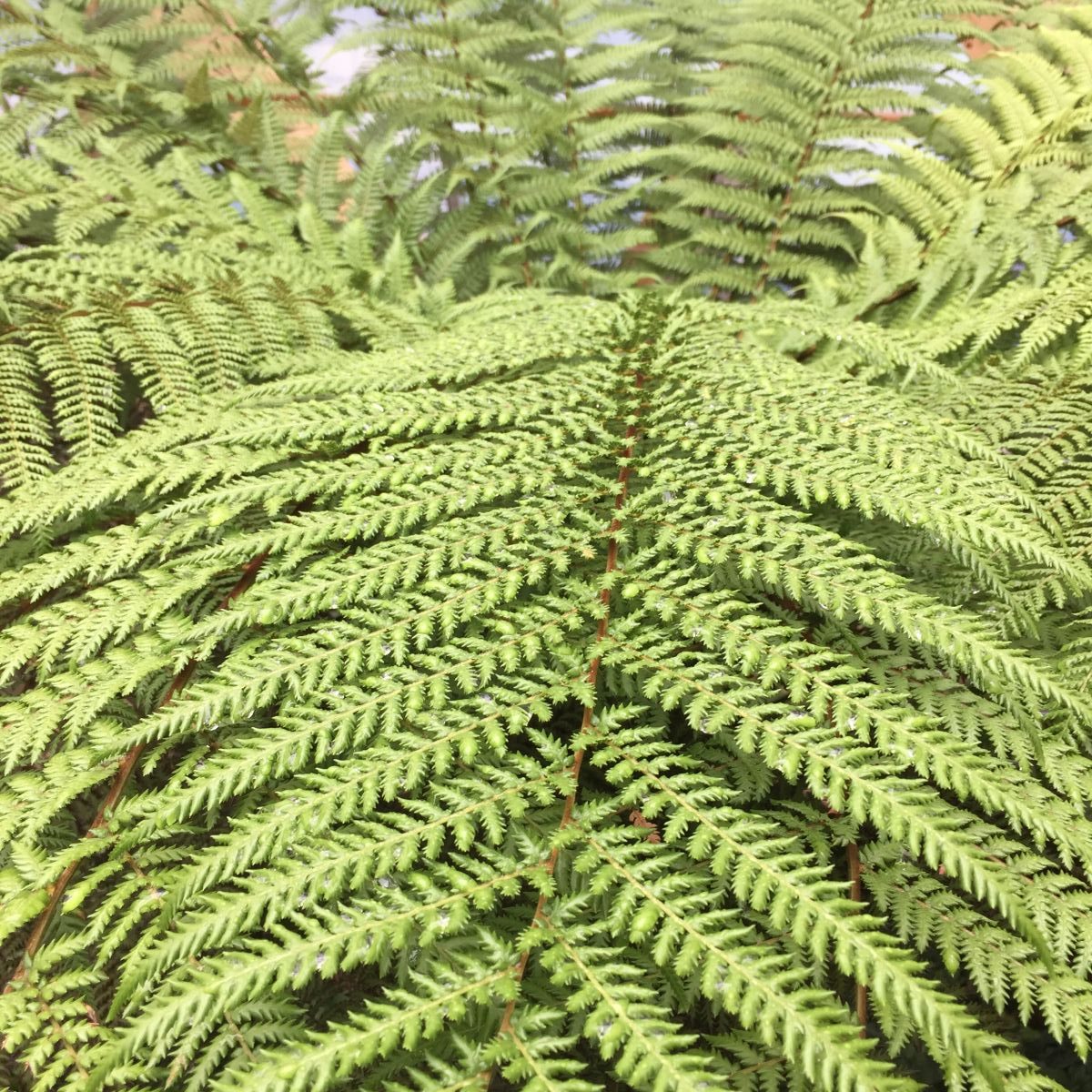 Everywhere you look, there are interesting plants like this lovely Callistemon.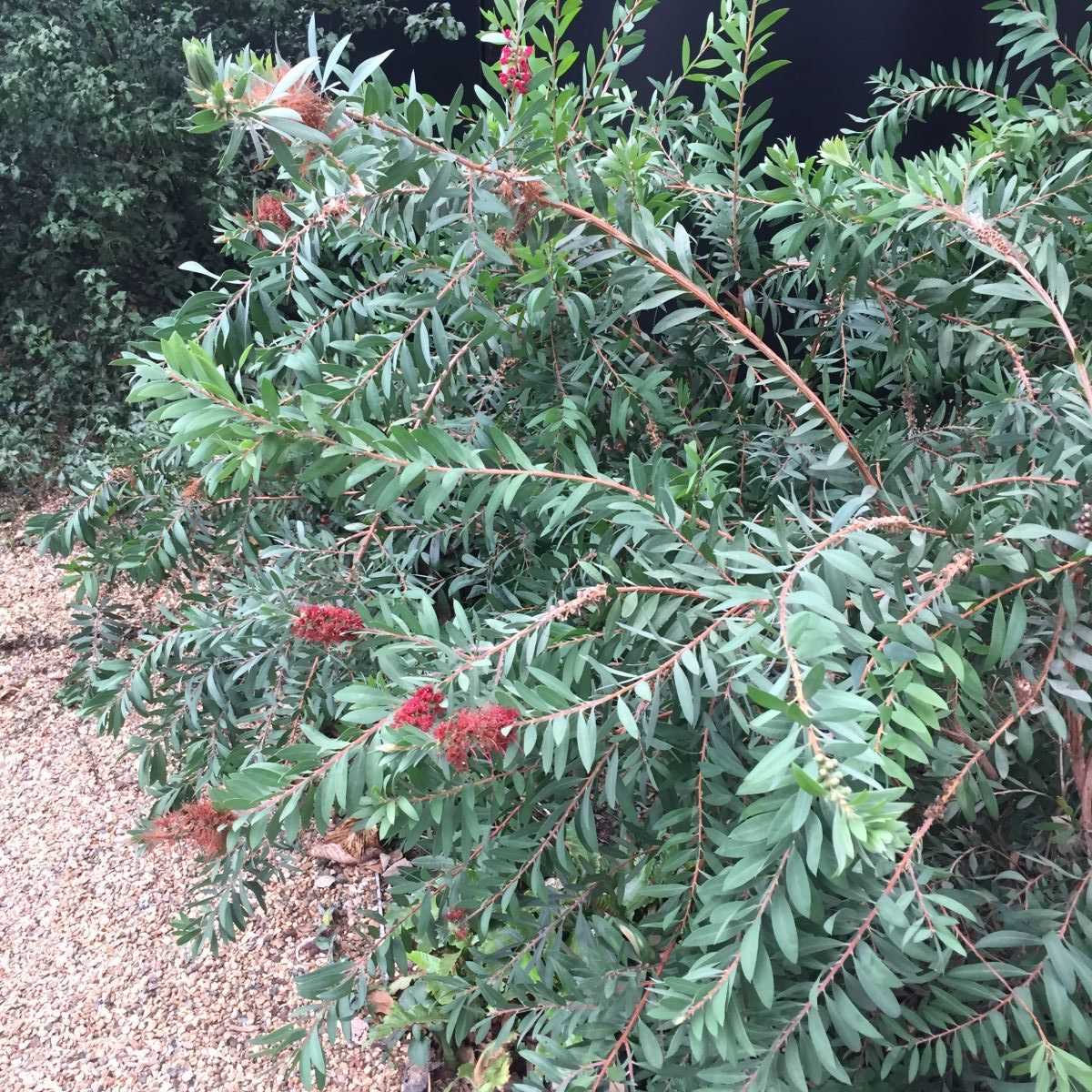 The idea behind the garden is that it marks the East meeting the West because its location is bang on the Prime Meridian line splitting both hemispheres. On one side are plants from Australia and New Zealand, moving into Asia on the other side with plants from China and Japan. Such as the below bamboo grove framed perfectly by this white sweeping wall doubling as a seat.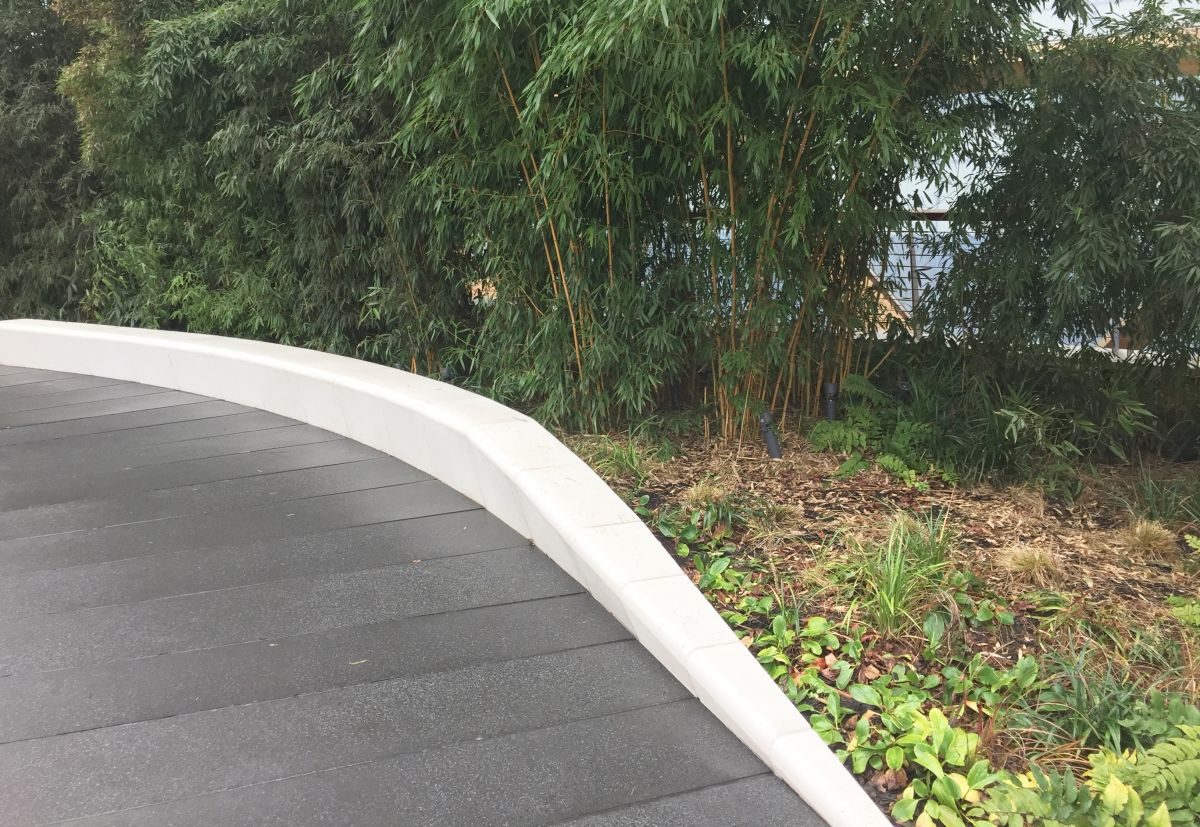 The range of plants on display is really quite impressive I have to say. The whole structure is said to be inspired by the Wardian Case, the Victorian invention by Dr Nathanial Ward. Ward's final stunning London house I discovered to be round the corner from our flat in Clapham and is sadly scheduled for demolition because no one is willing to save it – which seems crazy to me… but anyway, I digress. Moving on…
I'd say the design is very effective. If it is inspired by the Victorian's love of travel, exploration and adventure discovering new wonders of nature, that is certainly conveyed. Which explains the excitement and feeling that this is part of a ship (spaceship *cough*) travelling to or from somewhere. You forget where you are.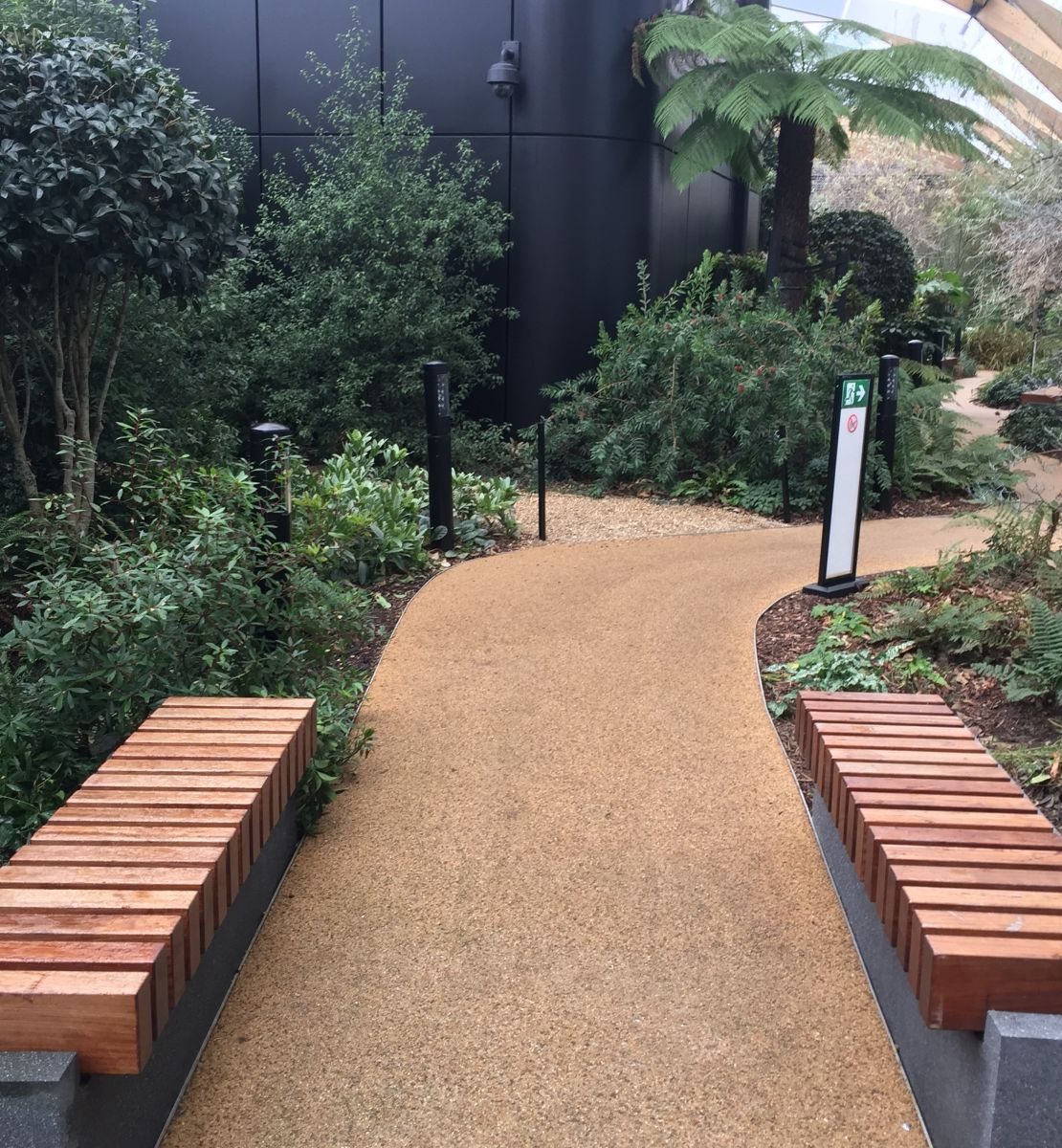 Moving into the Eastern zone, the change in feel is marked – gone are the tree ferns and instead we see Phormiums, grasses and Fatsias.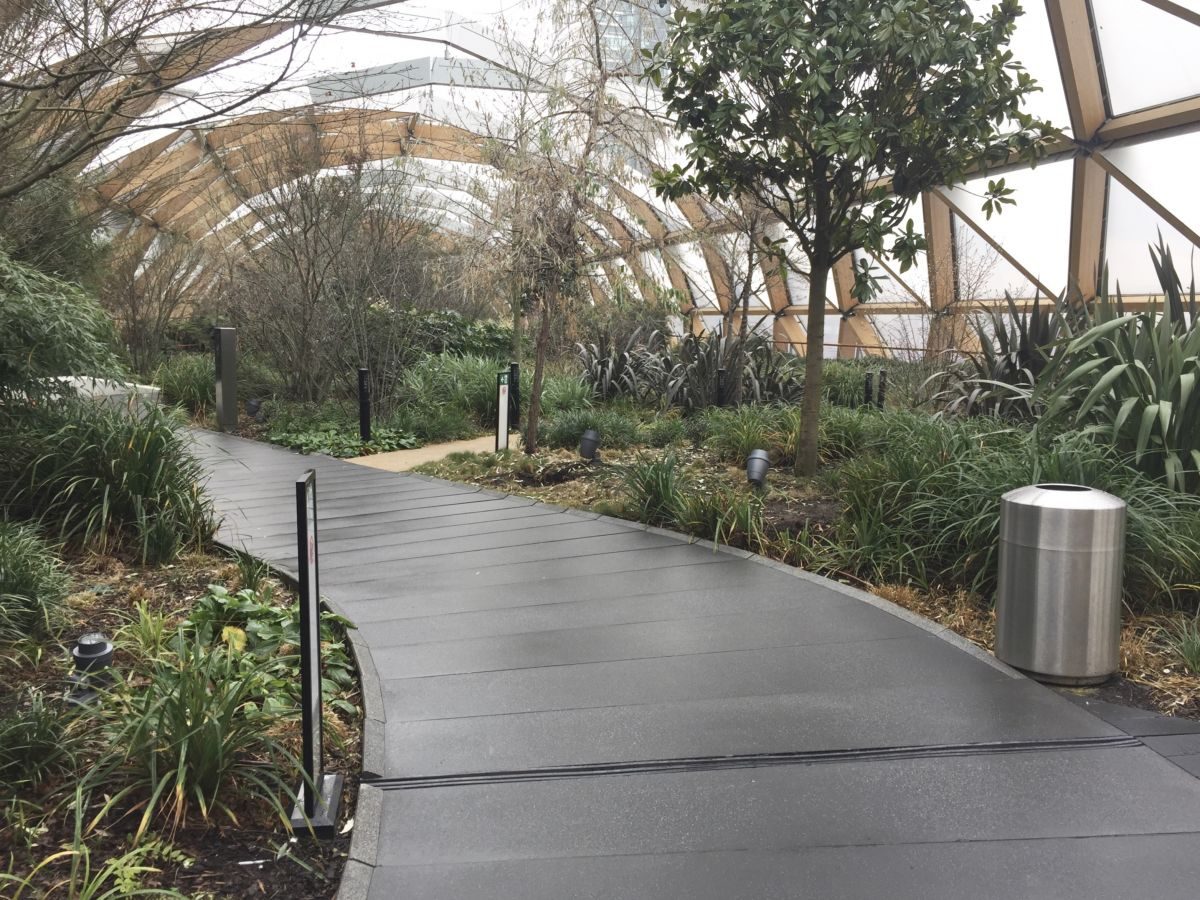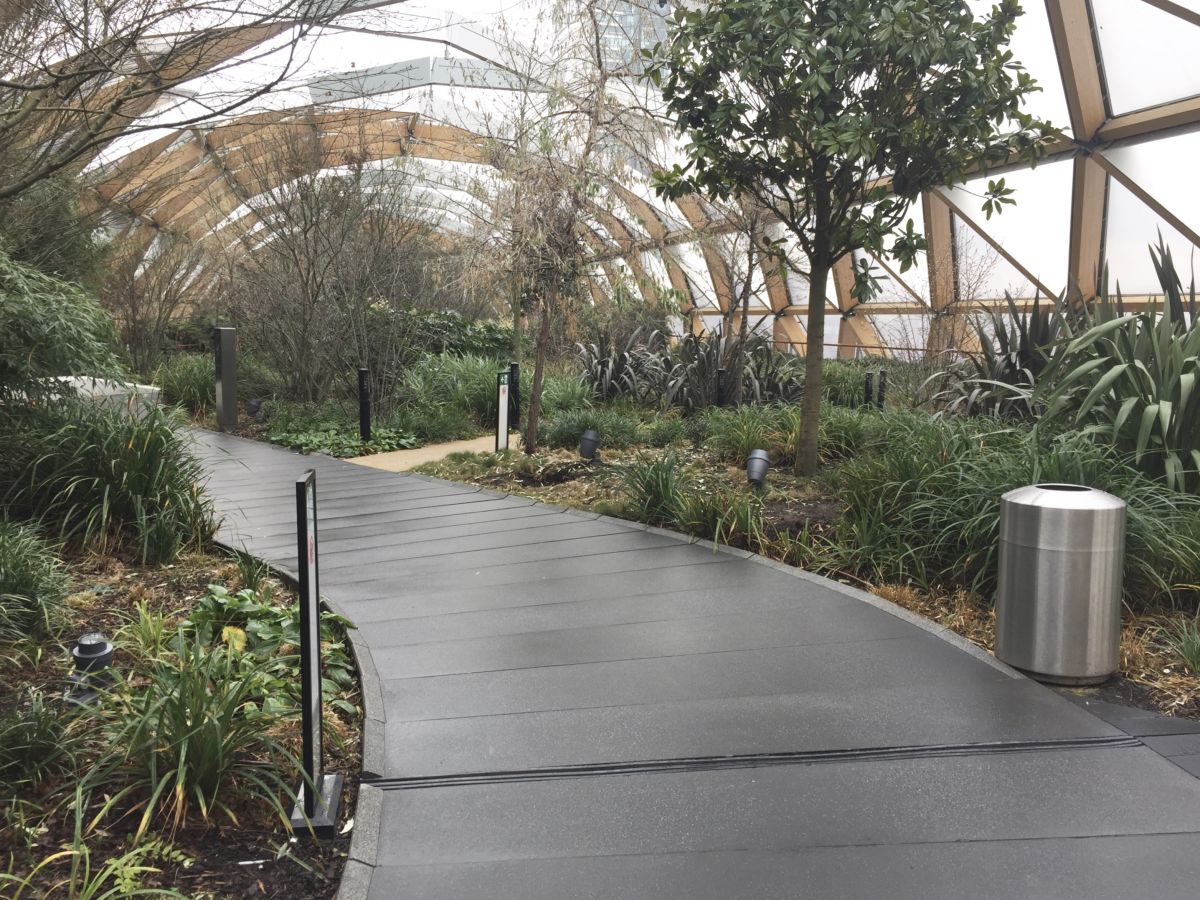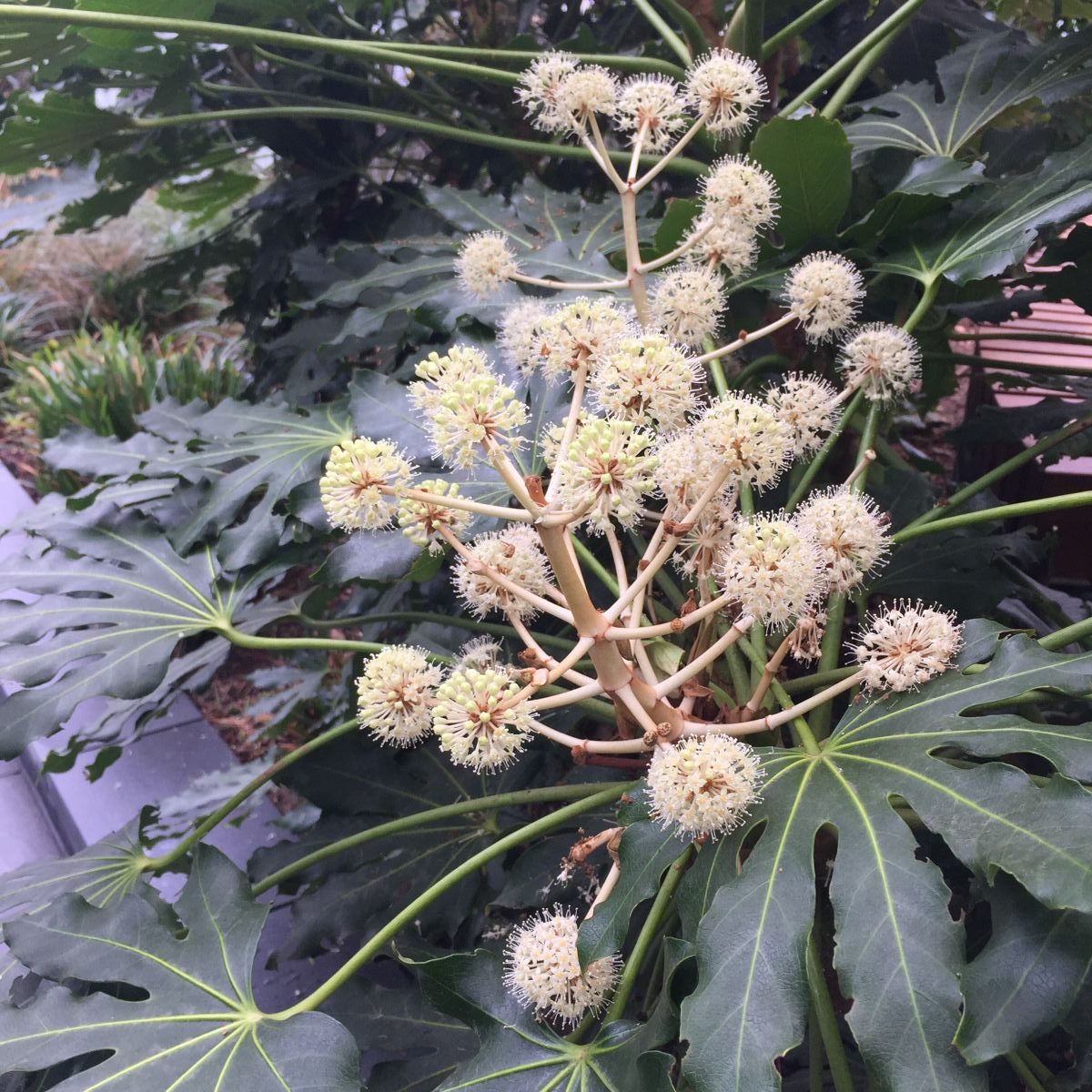 What's been created here by Transport For London (TFL) is an entirely new park of medium size built over the top of water in the middle of one of the greyest parts of the city. A place for busy people working to escape in their lunch hours.
It's really all very stylish and exactly the kind of structure and space we should be seeing more of in central London areas for future generations to enjoy.