"It's the most real National Trust we've been to," Chris sums up exactly how I felt about Clandon Park House in Surrey. Completely gutted by a devastating fire one afternoon in April 2015, the house now sits beneath a monolithic structure of scaffolding. The charity allowing visitors in on the proviso that all fashion is wiped beneath hi-vis vests and National Trust branded hard hats. Lacking fashion sense and excited about a hard hat selfie, we went in.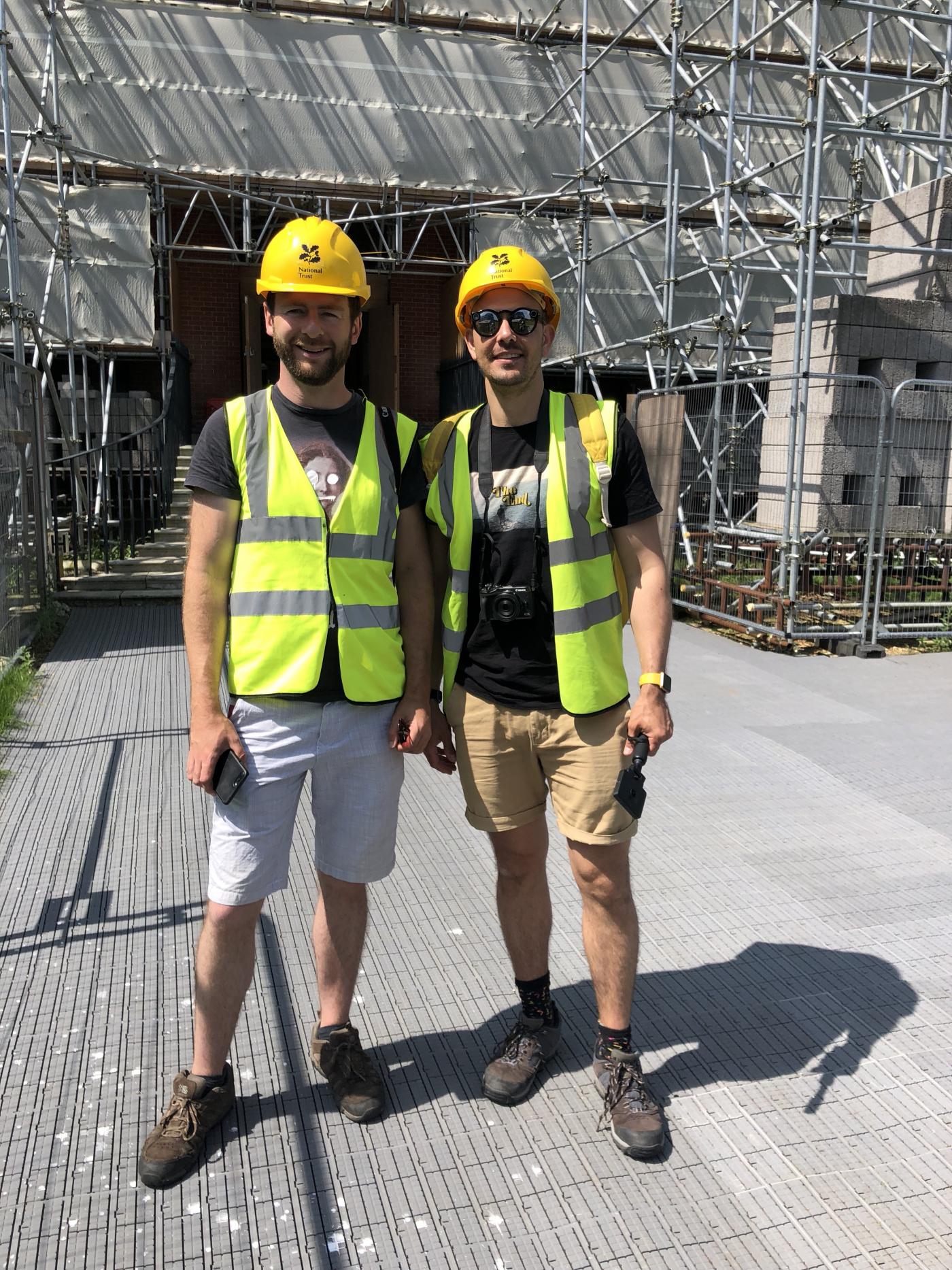 The fire started by an electrical fault in the basement. Unfortunately this was near a lift, so the fire roared up the shaft like a chimney, then carried through the roof by wind. Eighteen fire engines eventually tempered the flames. An effort that, had it have been at night and not the afternoon, would have left nothing at all.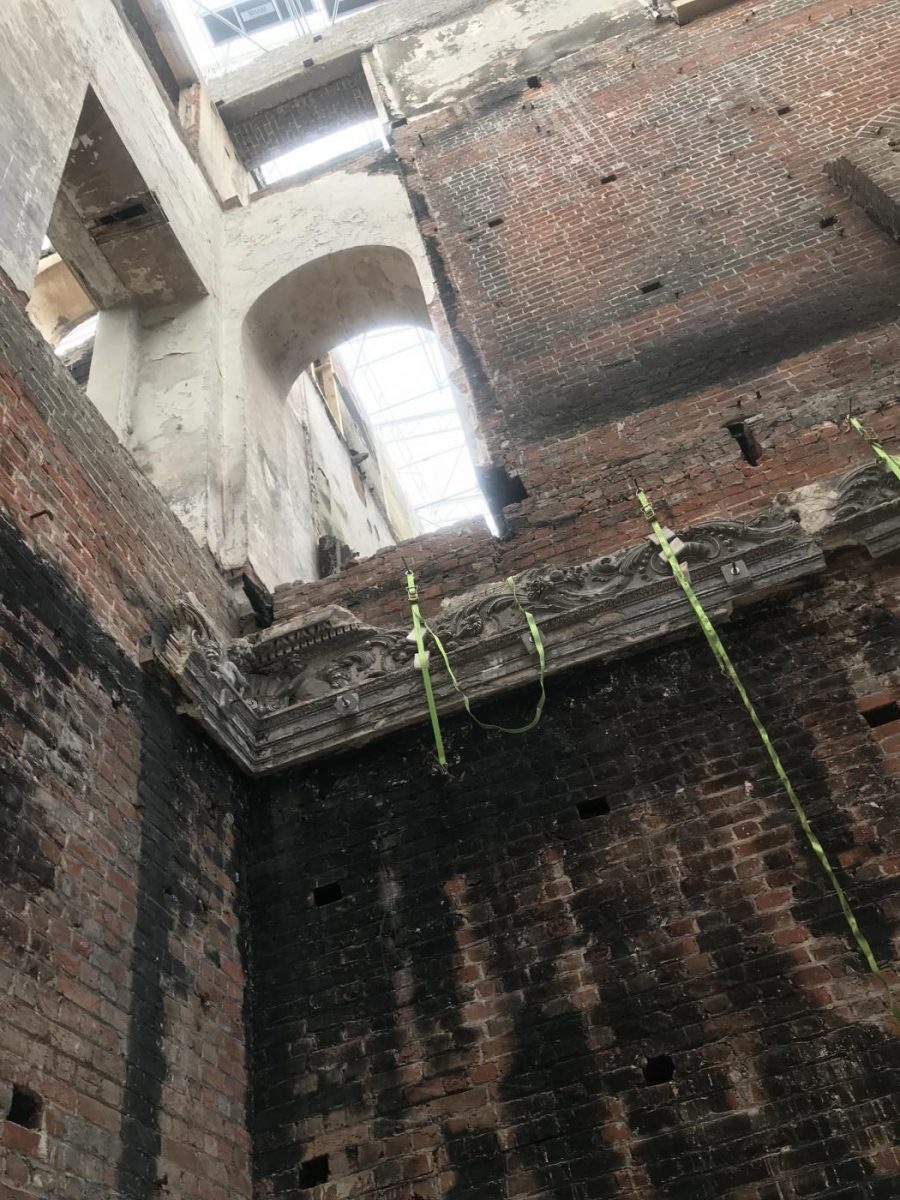 A horrible disaster but one I can't help feel has fortuitously revealed a future direction for the charity.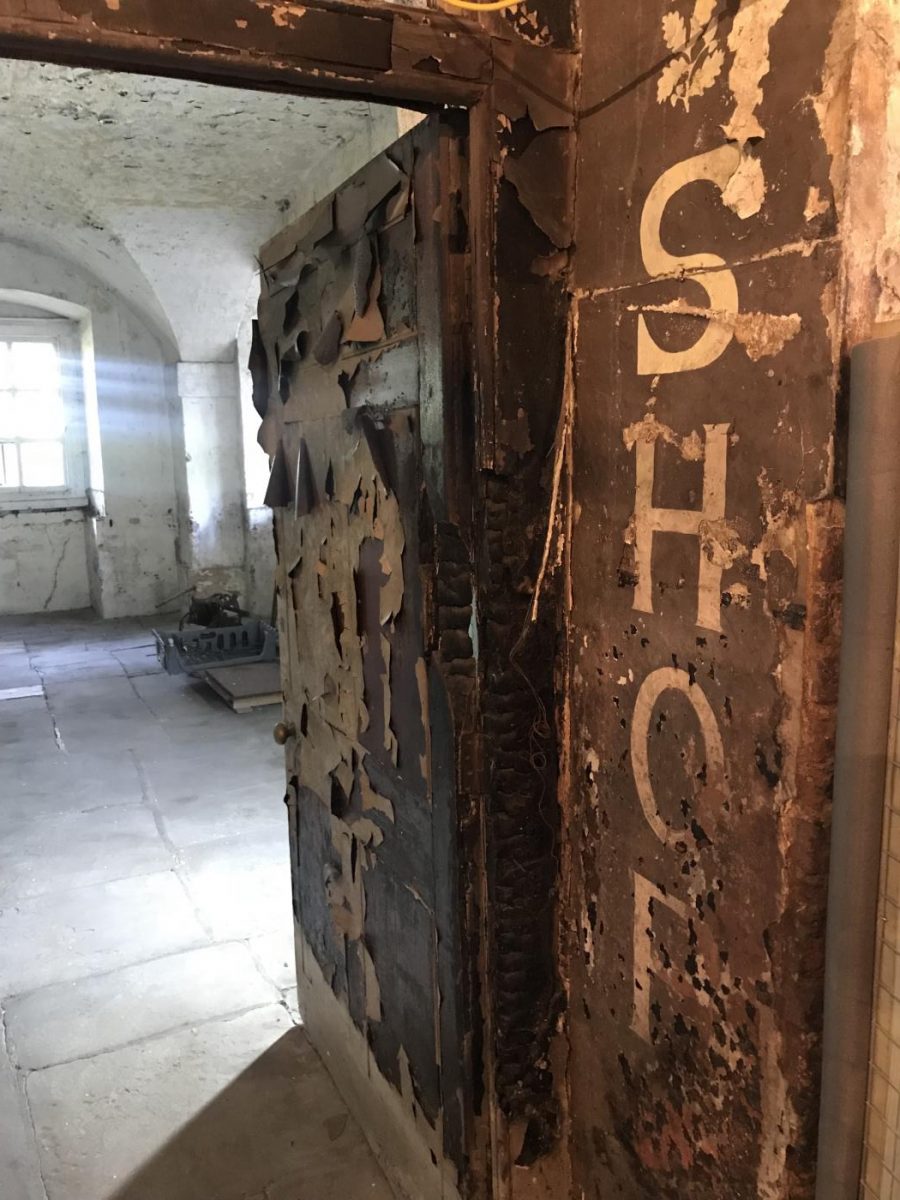 Chris and I love National Trust, we've been members for years and visited many of their properties and parks all over the country (I've written about a few of them). Among friends our National Trust day trips have become an in joke.
Recently, as much as I've enjoyed them (Churchill's Chartwell the other week exceptionally good) I've been longing for more genuine experiences. Many times I've been left disappointed when taking a photo of a stunning Victorian room only to be told it's a recreation and none of the furniture is from the house. Great as an example mock-up, but often this can run through an entire house making the experience feel, ironically, hollow.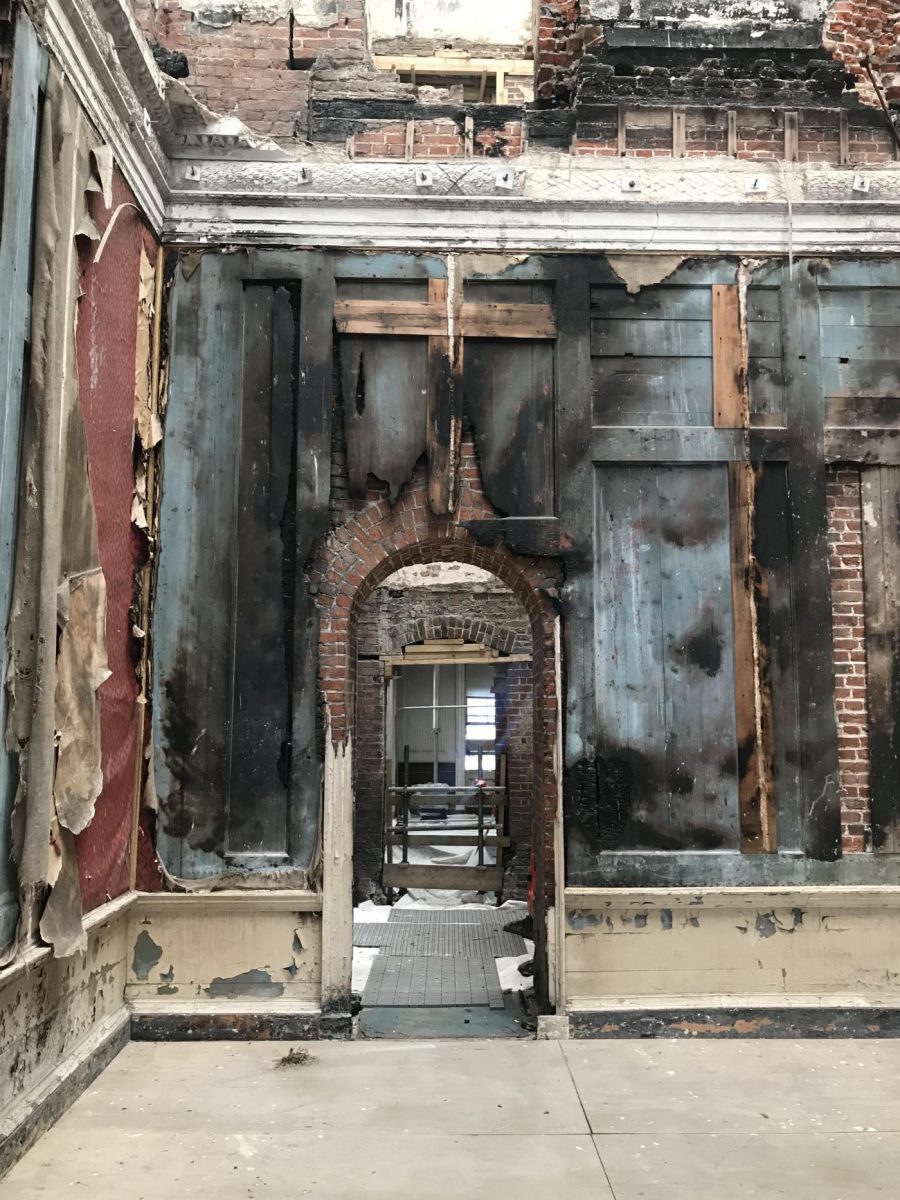 Nowhere is this more evident than in the above drawing room in Clandon House. The fire revealed the original blue wood panelling, now charred. Sad it's damaged but in this state, beautiful in its own right. However to the left, you can see the red wall paper a designer had redecorated the room in during the 1970s to make the experience more appealing to visitors – nothing like the original. It begs the question: what is better, a perfect recreation or an imperfect truth?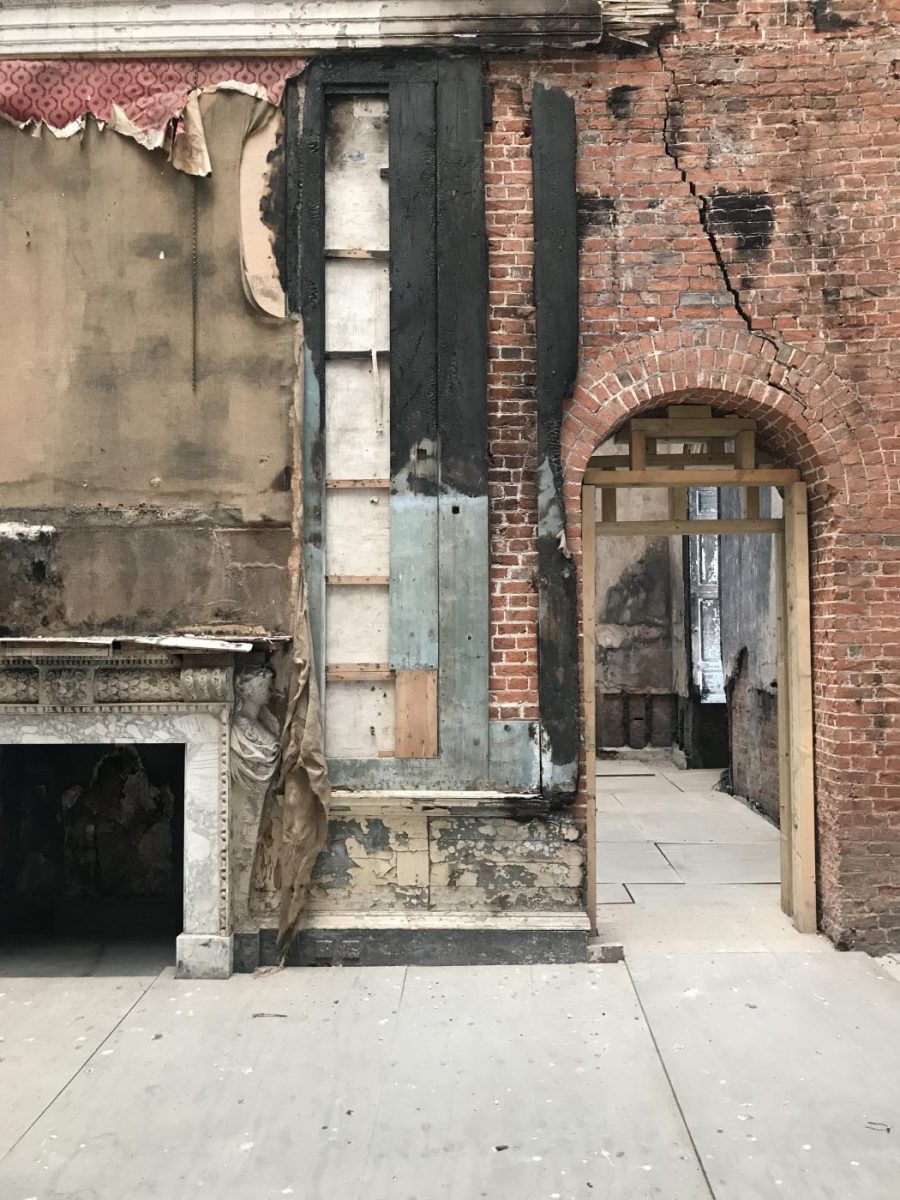 From the ground floor walkway National Trust has installed, the scale of destruction at Clandon Park House is hard to take in – it's huge. Multiple floors are completely gone, the brick husk dotted with an occasional fireplace or beam revealing where they were. The echoing squawk of a nesting raven lifting out of the below fireplace from the dizzying third floor will stay with me.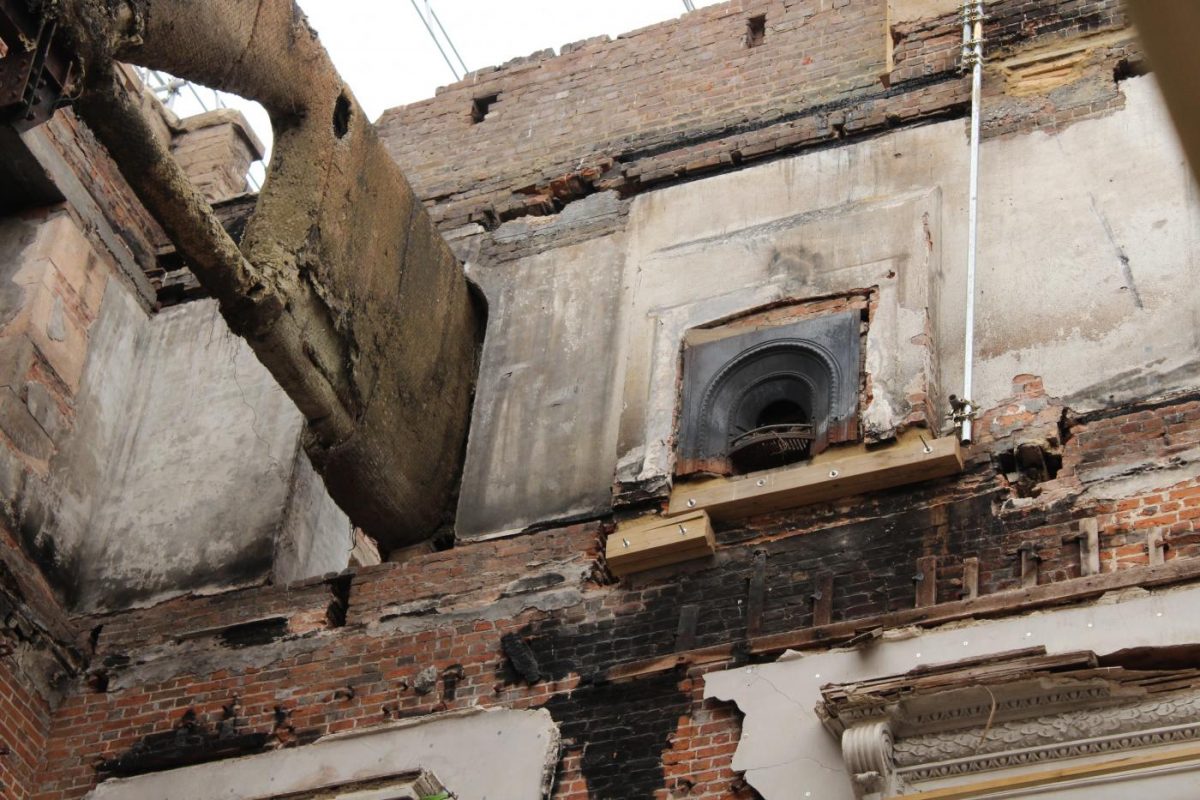 Clandon Park now has an atmosphere like no other National Trust – and I realise it's this atmosphere I long for most.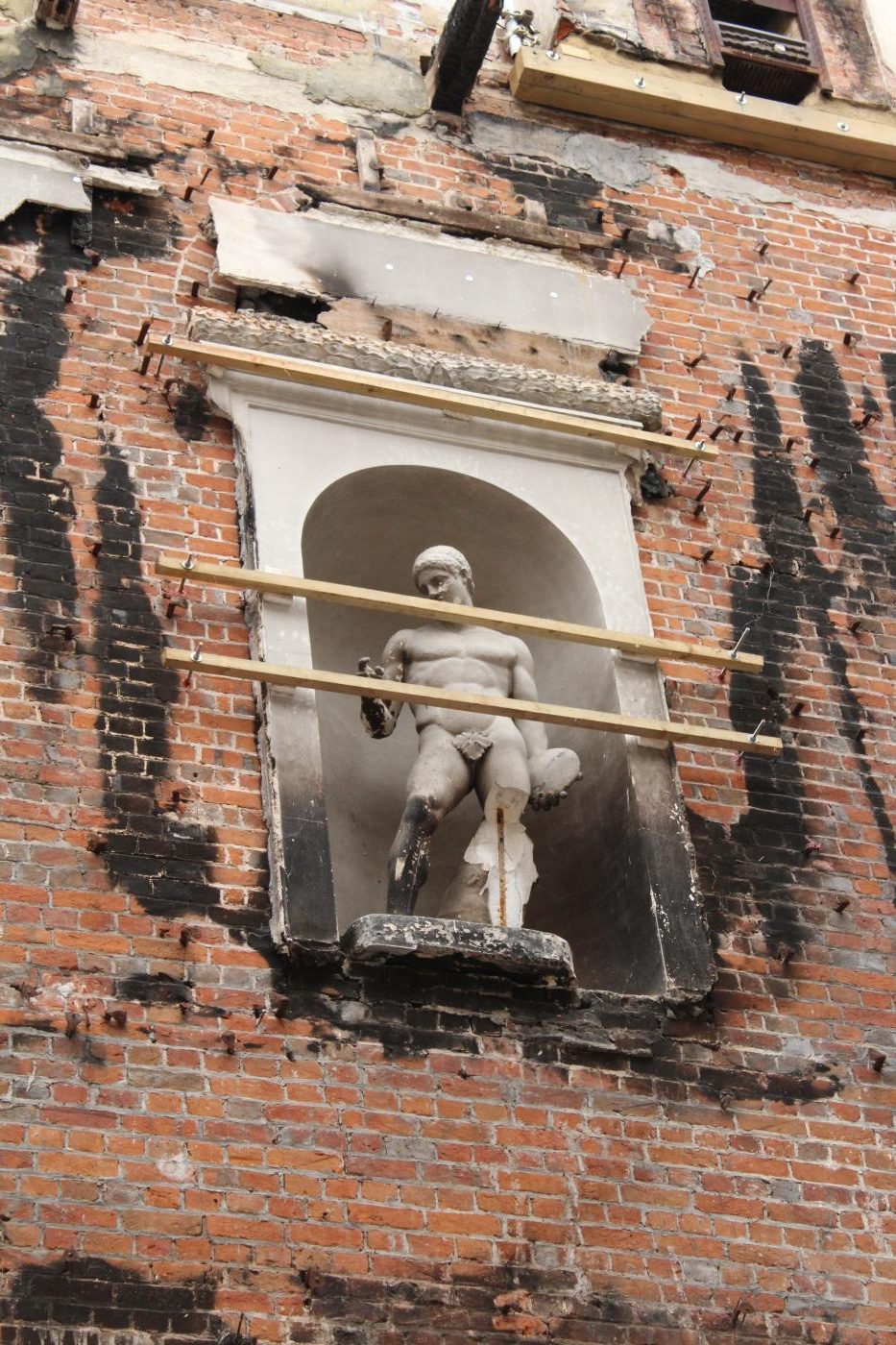 Marble statues, reliefs and fireplaces remain, incongruously virtually unscathed. A lesson to all of us, for a truly fireproof house: use marble.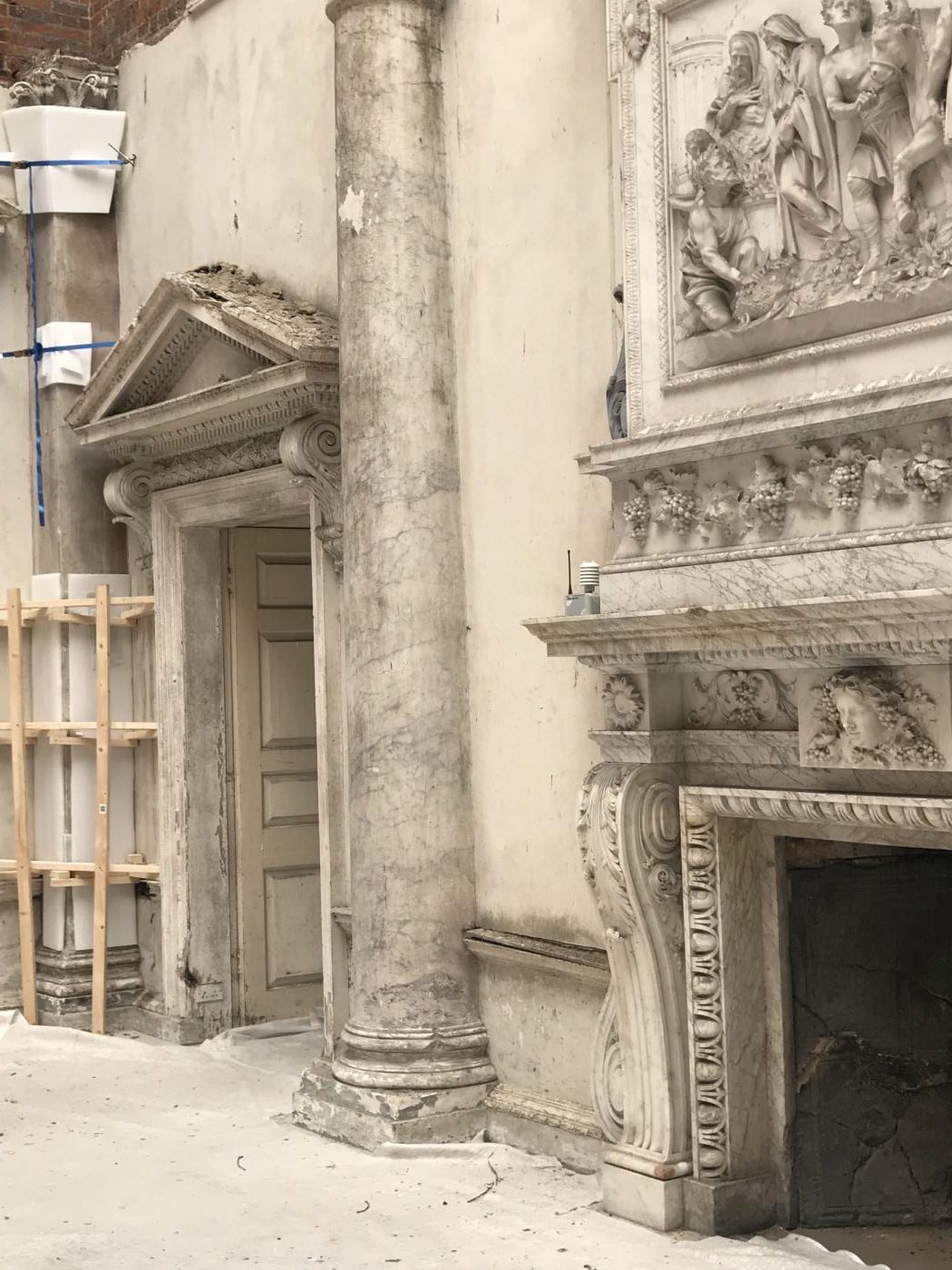 Speaking to volunteers we learnt that some restoration has started largely to protect what remains and to open more areas to the public. However, National Trust have said they plan to restore many areas – something that filled me with a need to hold back the decorators! In all likelihood we will end up with a mix of both, fully restored areas and some left as is.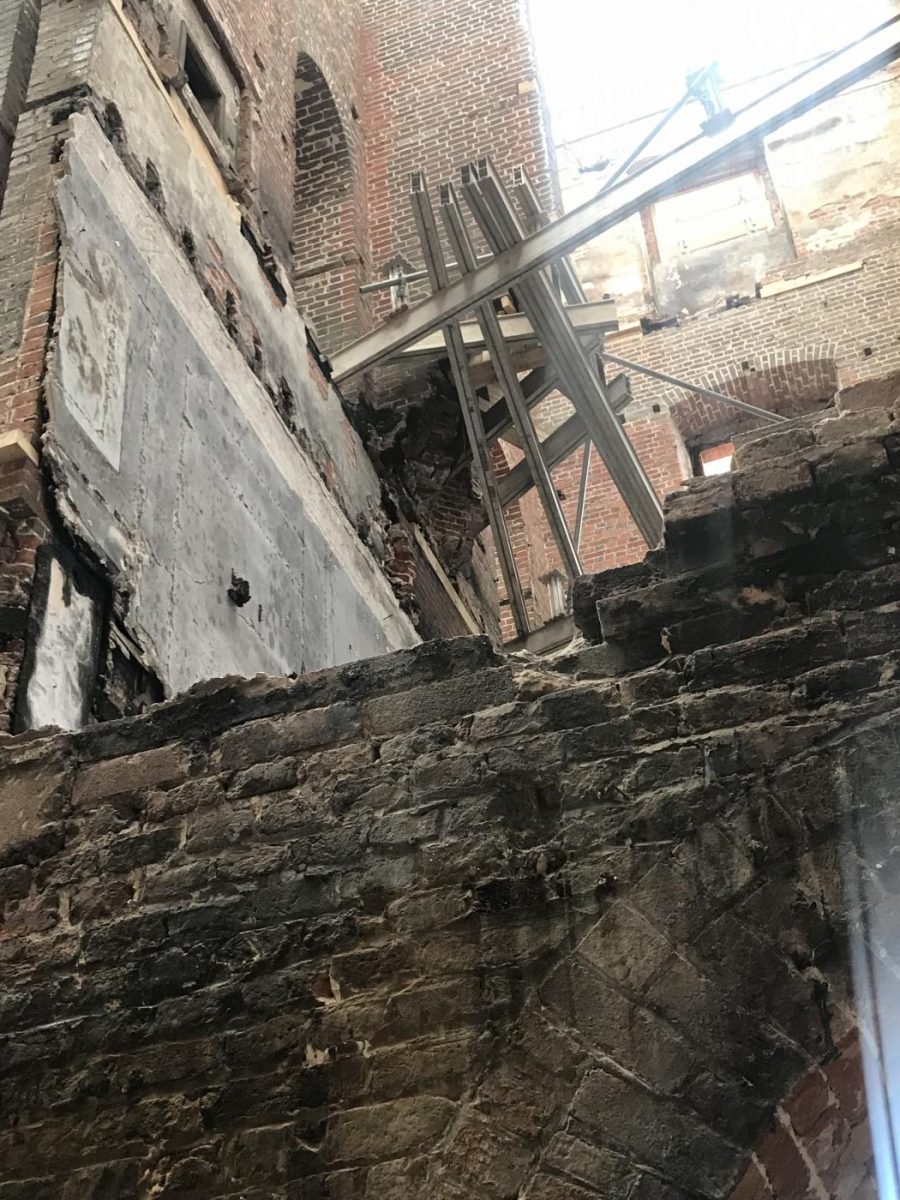 Personally, I hope much will be left as it is. Visitors able to explore this ruin where the people-pleasing mock-ups are the things left in the past, not a building's sense of time and atmosphere. In this instance a rare opportunity to see the skeleton of an old stately home from the basement to – what was – the attic. One building within the building precariously balanced on supersized Kerplunk-like steel beams (above).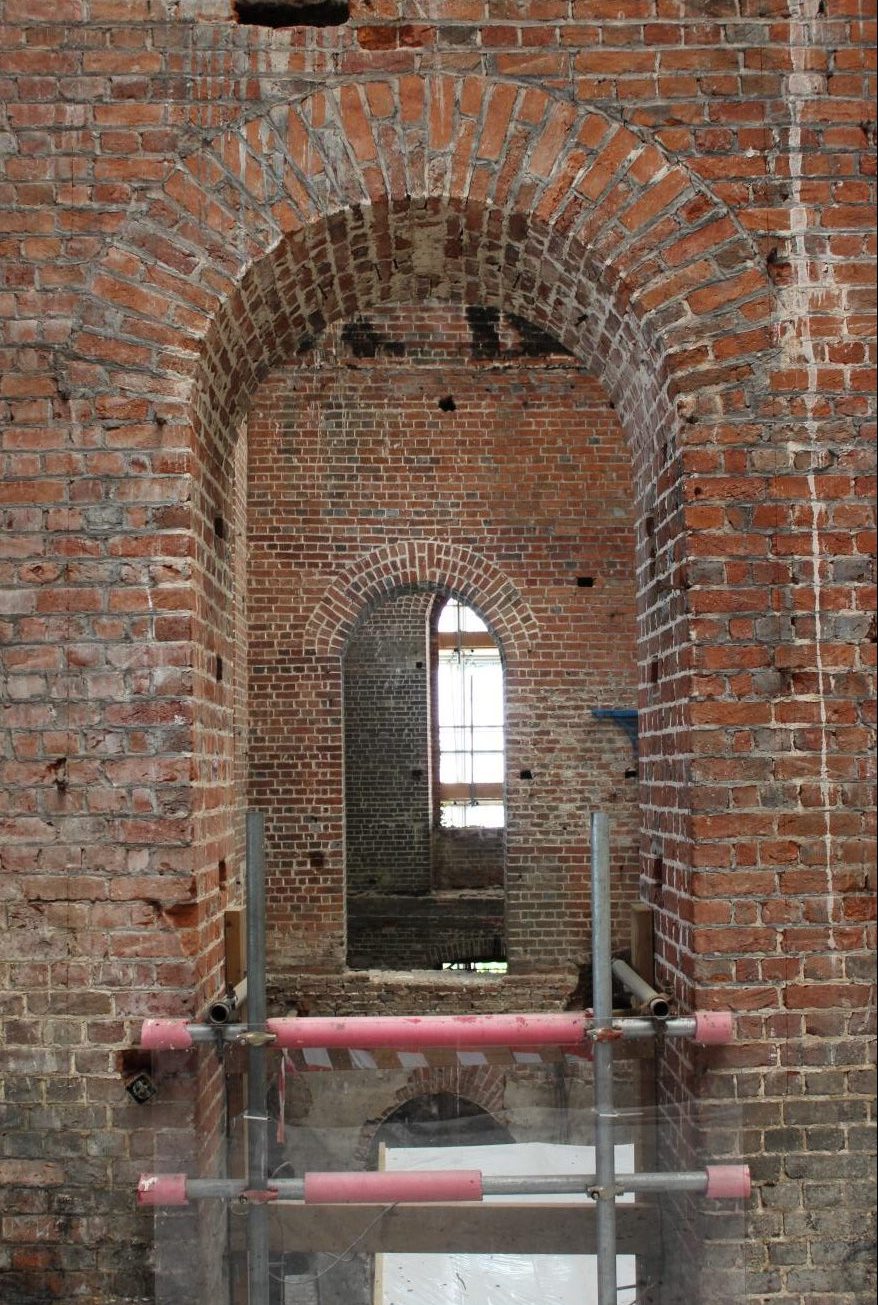 An exciting story and a recommended visit. Chris and I were surprised to see how few people were there on a sunny summer Saturday. There is no cafe and the toilets are portaloos, making the experience more genuine. Though parts of the gardens are still immaculate.
It must be said too that the staff and volunteers at National Trust properties are amazing. The people who volunteer their time to guide and offer insights about these buildings. We've learnt so much and are always so thankful. At Clandon Park it holds especially true because thanks to the team, on that afternoon, they were able to rush much of the artwork and valuable items out of the building before the fire had spread too far. Like fate, only weeks before they had practised this evacuation procedure. Thank you to everyone involved who protected this building and its treasures.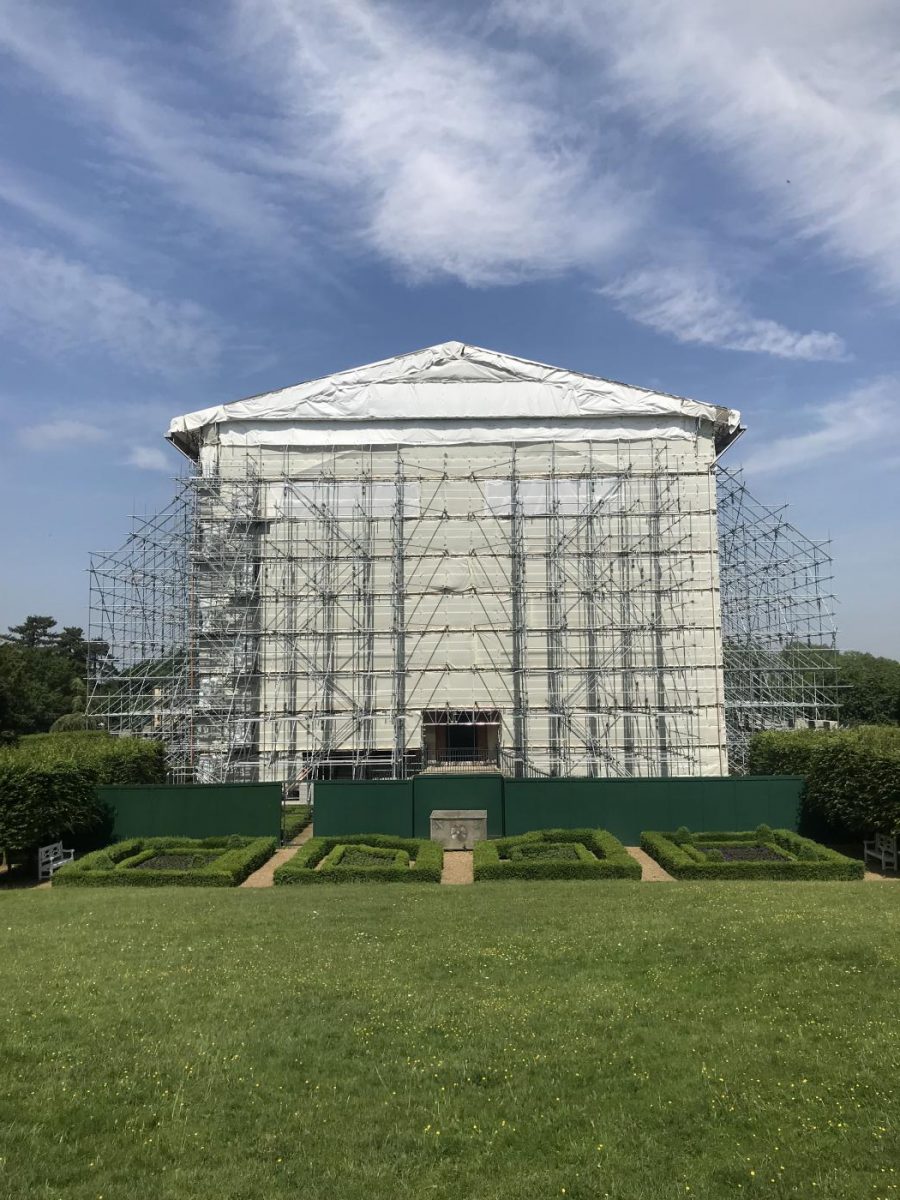 Visit Clandon Park House now to see the shell of a burnt down 18th Century Palladian home and to explore parts of the garden that remain open.