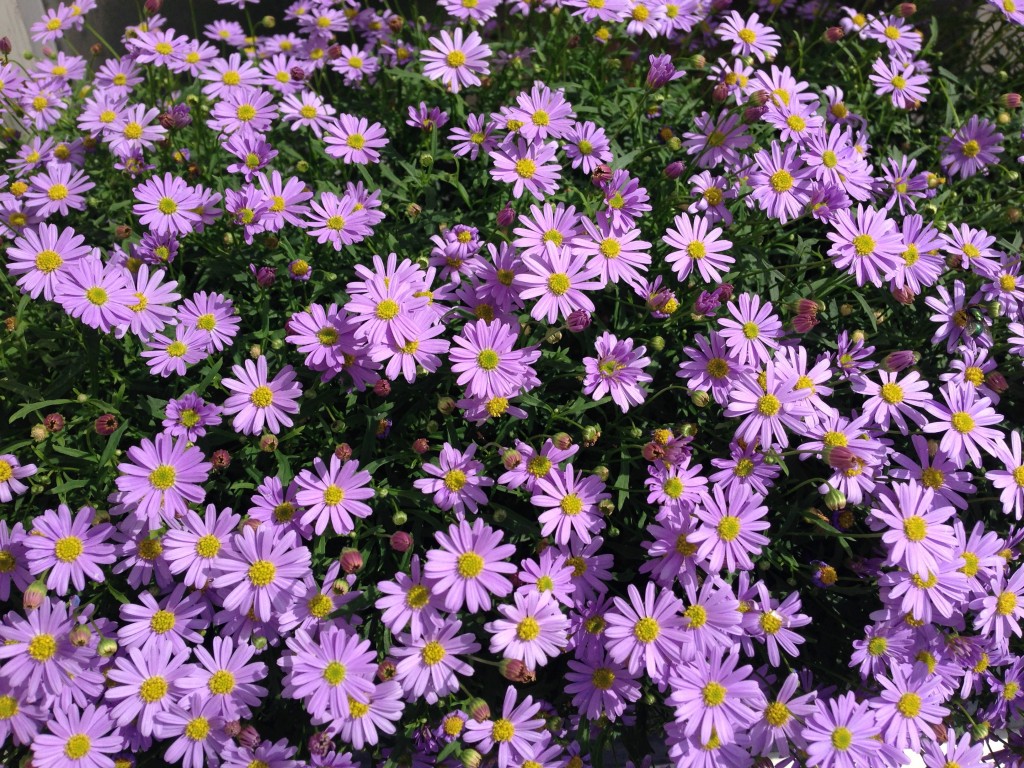 Back at the start of the year we spent ages trying to decide the type of window boxes to get for our bay window and what flowers to go in them. In the end, opting for slate blue/grey resin for a contemporary but weathered look, which is light to carry and frost resistant.
For flowers, this year I wanted something simple, to create a single line of colour with a single type of plant. It worked well for our previous neighbour and I'd seen how striking keeping it simple can be. I also wanted the flower to be blue and to last throughout the whole summer. I stumbled upon Brachyscombe Blue, an Australian daisy like plant. Perfect as daisies type flowers against green foliage looks quite modern.
The first day on 1st April looked like this…
I was immediately pleased with the look as it was quite sleek and modern. Brachyscombe is apparently not particularly hardy in the UK, so treated like an annual. We'll see come winter.
Immediately after planting the flowers all vanished but after a month or so, they were back and it's flowered constantly ever since.
Here are the window boxes after a month or so, which looked great from the street:
Deadheading and cutting back
I'm not sure if Brachyscombe definitely need dead heading, it's hard to find the advice online. However I did notice that if I didn't deadhead, the number of flowers seemed to slow down. After a month or so of deadheading individual flowers, I soon found this to take far too long. Also, the clumps were becoming a little straggly, flopping over the side and pulling unsightly gaps into the plants. So I followed some advice from online, which recommended cutting annuals back hard.
Just a tad brutal…! I actually quite liked these little tufty grass-like mounds. Anyway, two weeks later they bounced back with more flowers than ever and currently look like this:
As you can see, they came back better than ever!
All in all, I'd recommend Brachyscombe iberidifolia blue for containers and window boxes. Their flower power is strong and they keep on going all through summer with a little liquid feed each month, I guess until the first frosts.
There are some downside though which mean I'll try something different next year: the type I have aren't exactly the sky blue they were originally, more a light mauve (although bluer than the photos show); they close up in the evening, so you only see the full display in the day time at weekends really. That's it.