One tip I'd like to share is: do not visit more than two gardens in one day otherwise the third will inevitably have the least of your attention. This is what happened when we stumbled upon Le Jardin Secret on our last day in Marrakesh.
I'd wanted to find Le Jardin Secret because some of my favourite gardens and plantings are by garden designer Tom Stuart-Smith, his South African planting in RHS Wisley is my current bar by which all other plantings are currently judged. Due to time constraints and my desire to see the historic gardens of Marrakesh however, I'd had to cross Tom's Le Jardin Secret off the list.
So it was with great surprise at the end of the last day, while being harassed in the souks, that Chris and I happened upon the sign 'Le Jardin Secret' burried in the heart of the main souk. "That's funny" I said, "there's a famous new garden called that here too." Which probably gives away my state of mind at the time.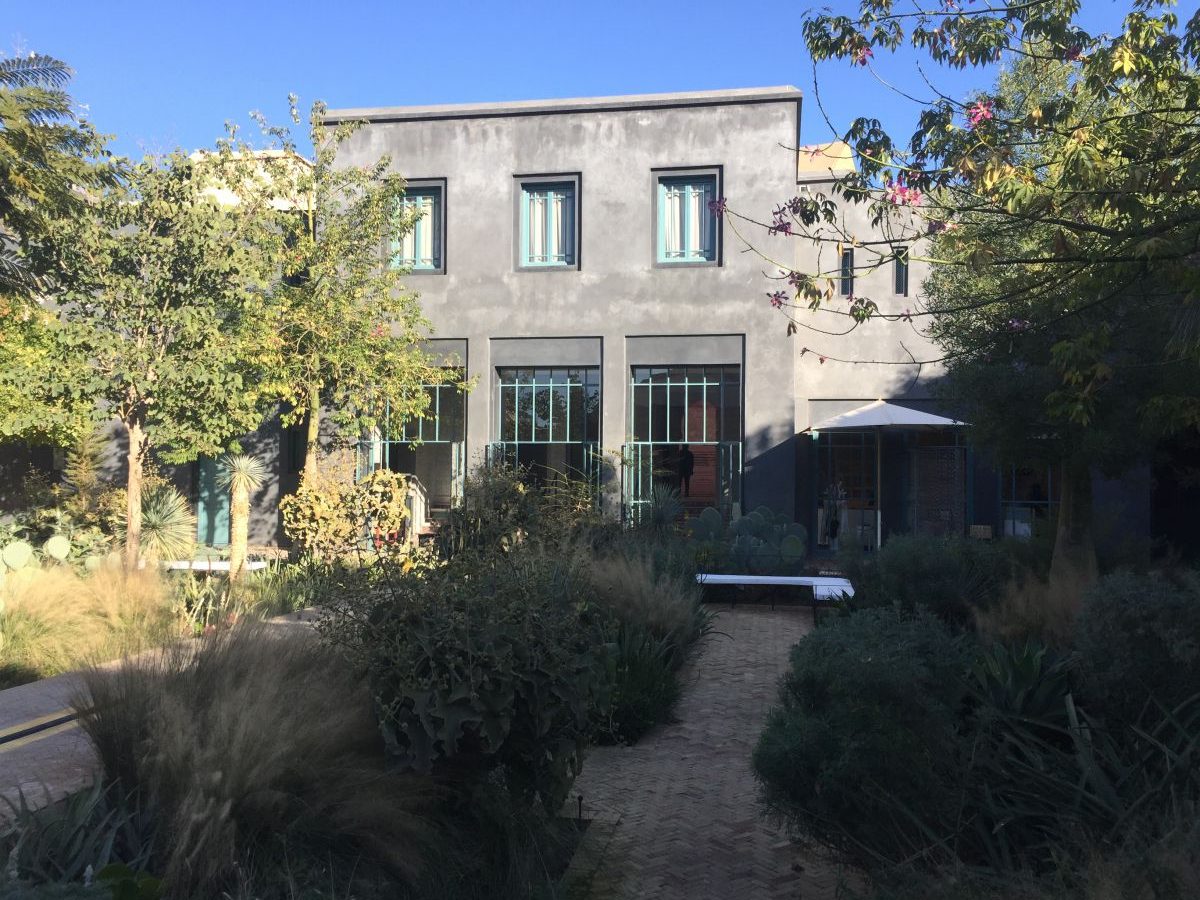 We were both tired after a long day visiting El Badi Palace and Jardin Majorelle. Physically tired from walking all day and mentally shattered from taking in the wonders of those two gardens, dealing with other tourists and the battering of bartering from stall holders.
What we should have done is sit down, order a drink and chilled out. Just enjoyed the moment and garden as a relaxing sanctuary from all the tumult outside. Instead, in our typical fashion, we rushed around, took as many photos as we could and then rushed off to look around the Souk further – where we had a slightly scary experience which further put a dampener on the afternoon.
At the time, I remember being a little thrown by the juxtaposition of abject poverty to the exorbitant exuberance either side of a single wall. I had the same feelings about St. Peter's Basilica in the Vatican city and its grandeur, when to me religion and faith is something so earthly and free.
But my mindset then was wrong, the two situations are nothing alike. Over time my thoughts keep wandering back to Le Jardin Secret. Partly through guilt at allowing an incorrect thought so stroppy and brattish in, mostly because it is simply a work of art. A positive sign of Morocco's advancement and a celebration of Marrakesh's historic gardening culture.
On our first trip to Marrakesh we'd seen gardens spanning over 500 years, which is only half of its garden centric history. Our visits took in the ruins of vast palaces, huge productive orange, palm and olive plantations, public parks, an artist's world famous garden made more famous by it being saved by Yves Saint Lauren, and my favourites, the more personal riad gardens.
Le Jardin Secret was rightly our final experience in the city as it is the most recent and cutting edge garden of them all (though itself a revamp of an ancient riad garden), established only months before we happened upon it. The materials, stunning, the plants more so. Its celebration of Marrakesh gardens in its design and the way it saves some ancient irrigation mechanisms makes it the ultimate garden we visited.
As such, I feel stronger than ever that I must go back to visit it one day to do the garden justice in my own mind, to give it space, to absorb it and importantly, simply enjoy it. I also want to see the Opuntia again… Tom Stuart-Smith's design here is something else and the craftsmanship in the tiling, stone and planting second-to-none.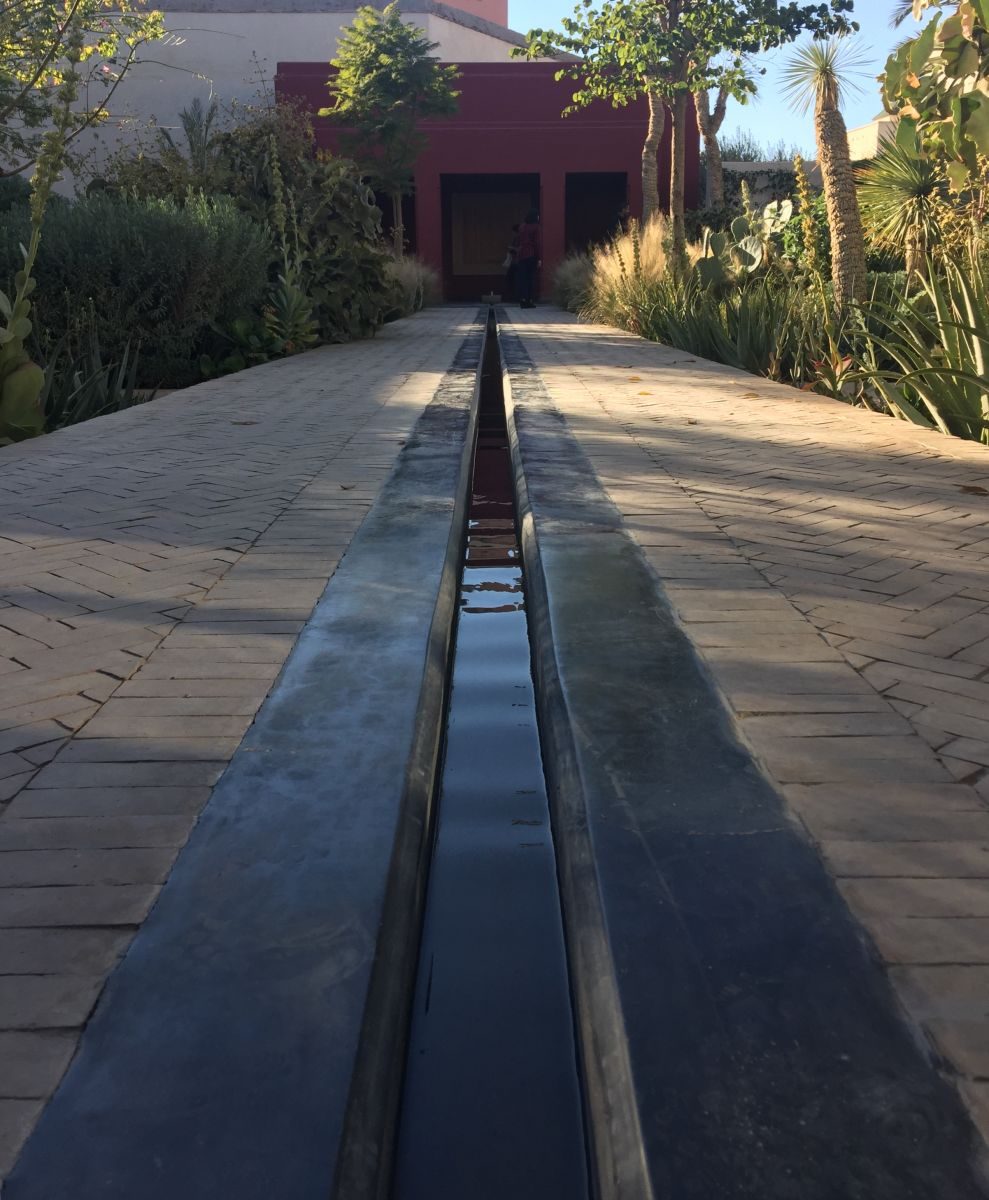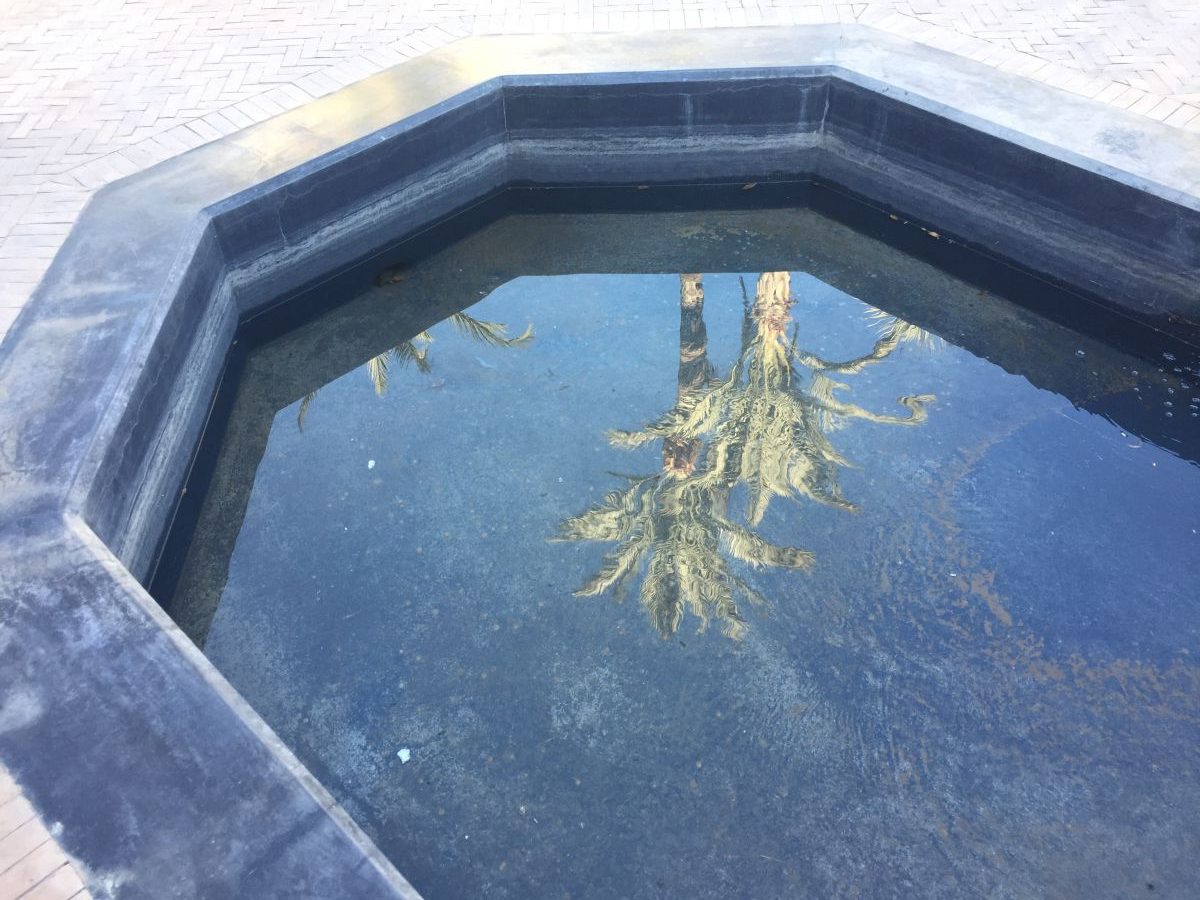 The garden is split into two large courtyards, both in the typical four plant bed layout with paths. Water features heavily as you are greeted on entering with the above dark grey-black rill.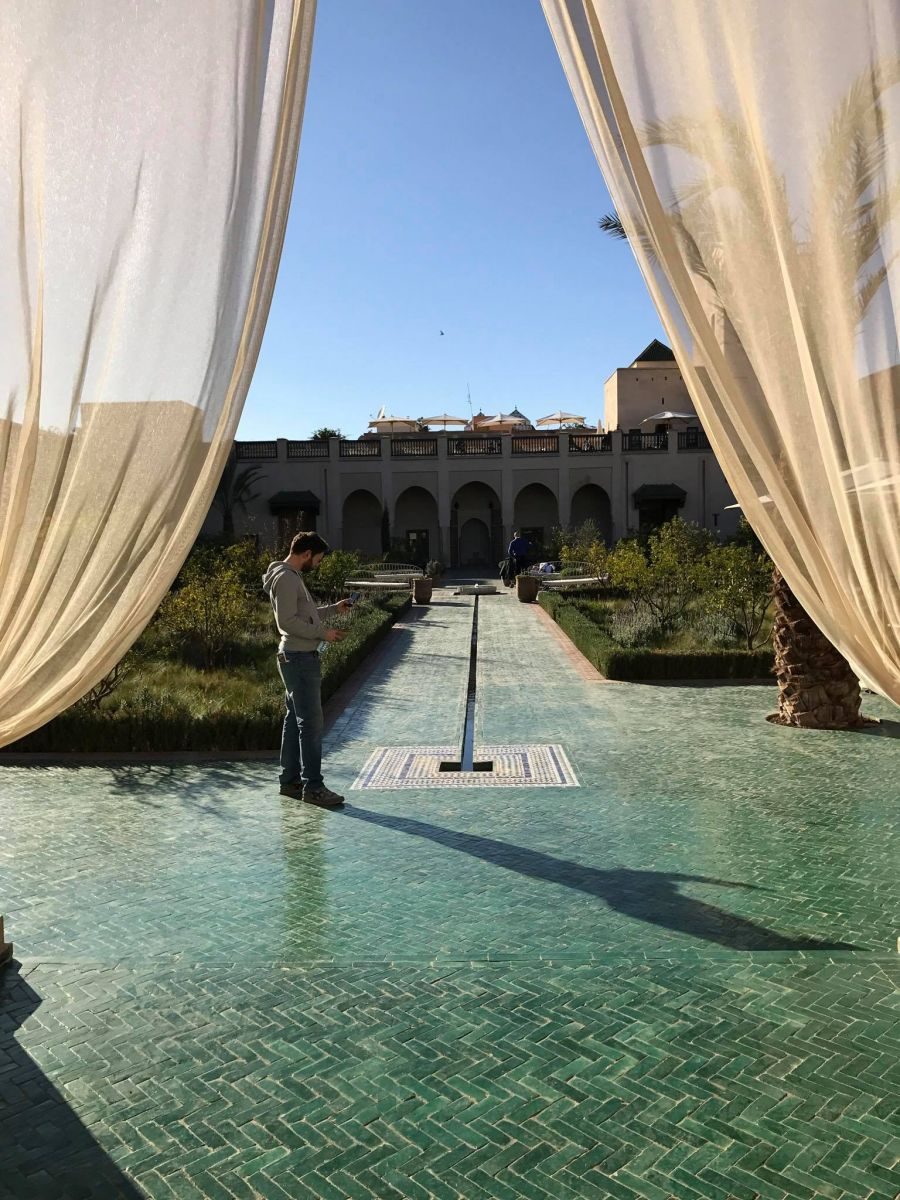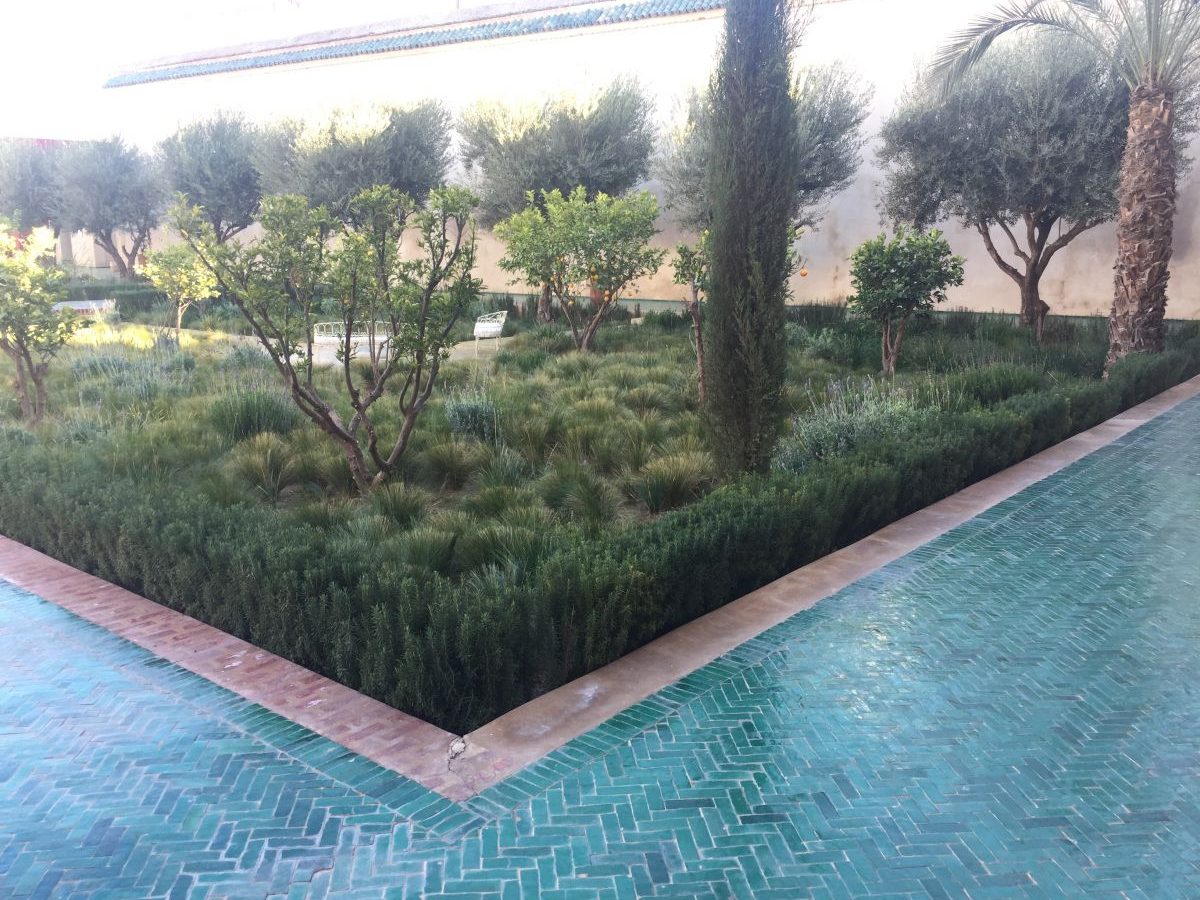 My overriding memory of the garden is firstly of the tiles. The quality of materials is world class, with clay and glazed tiles beautifully set out across the paths.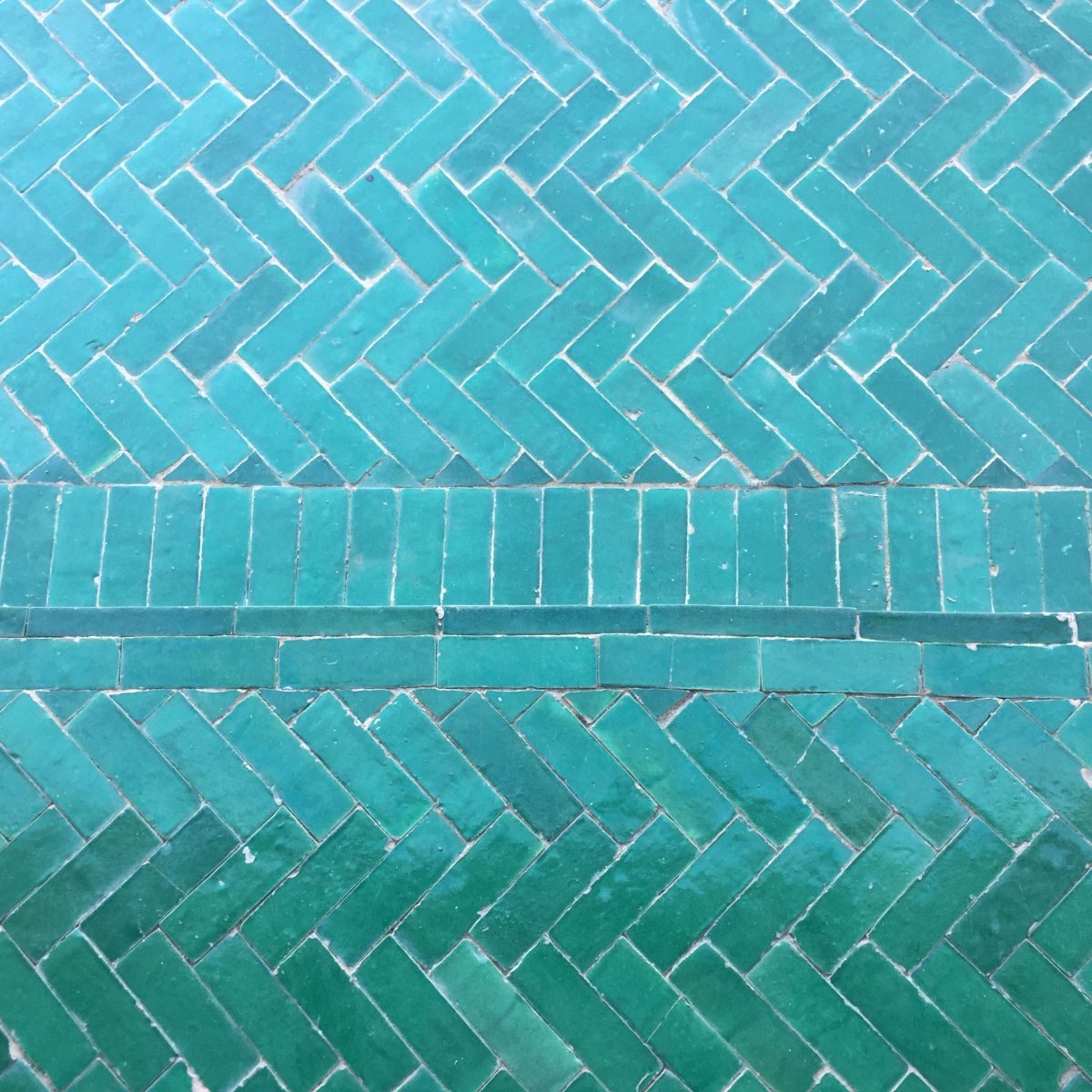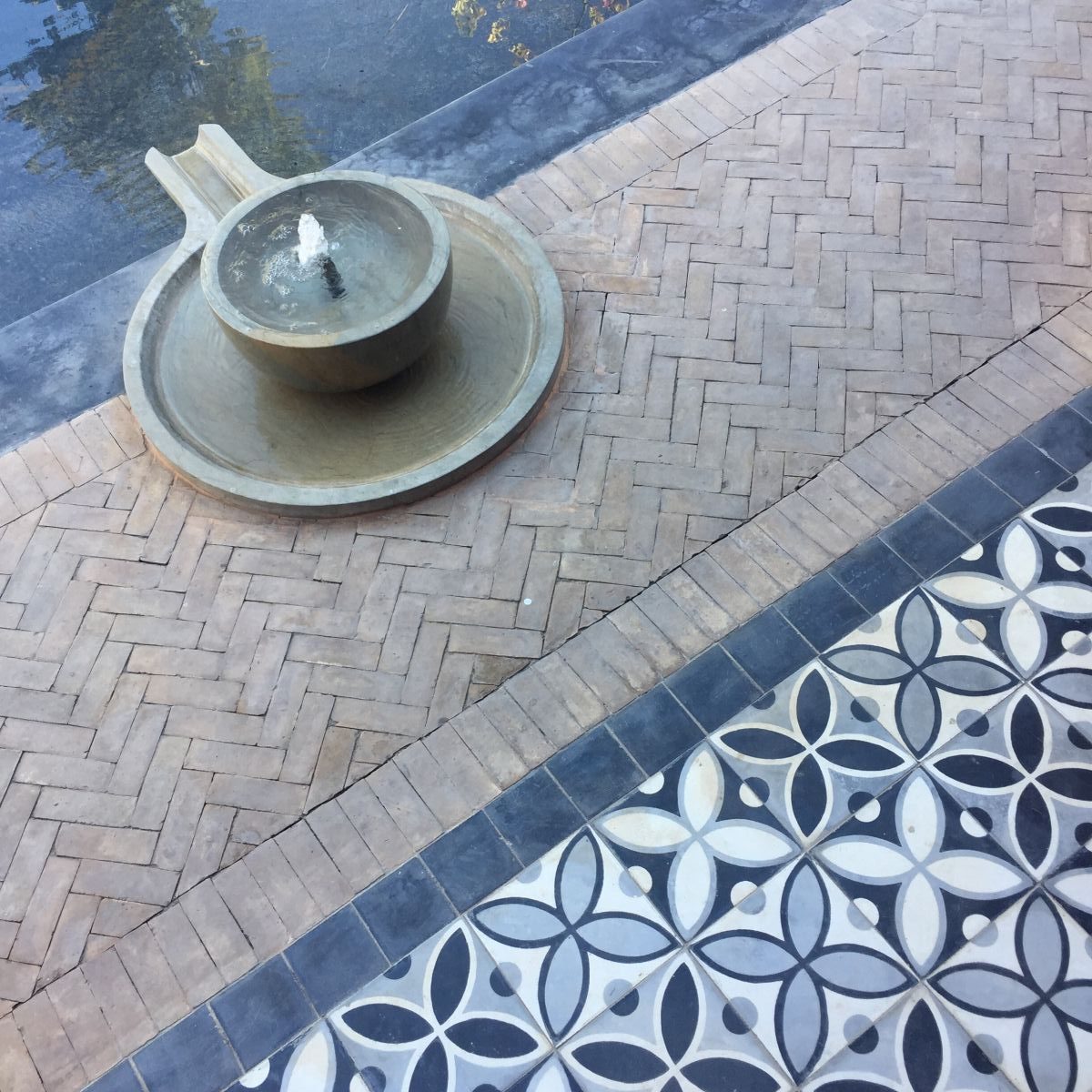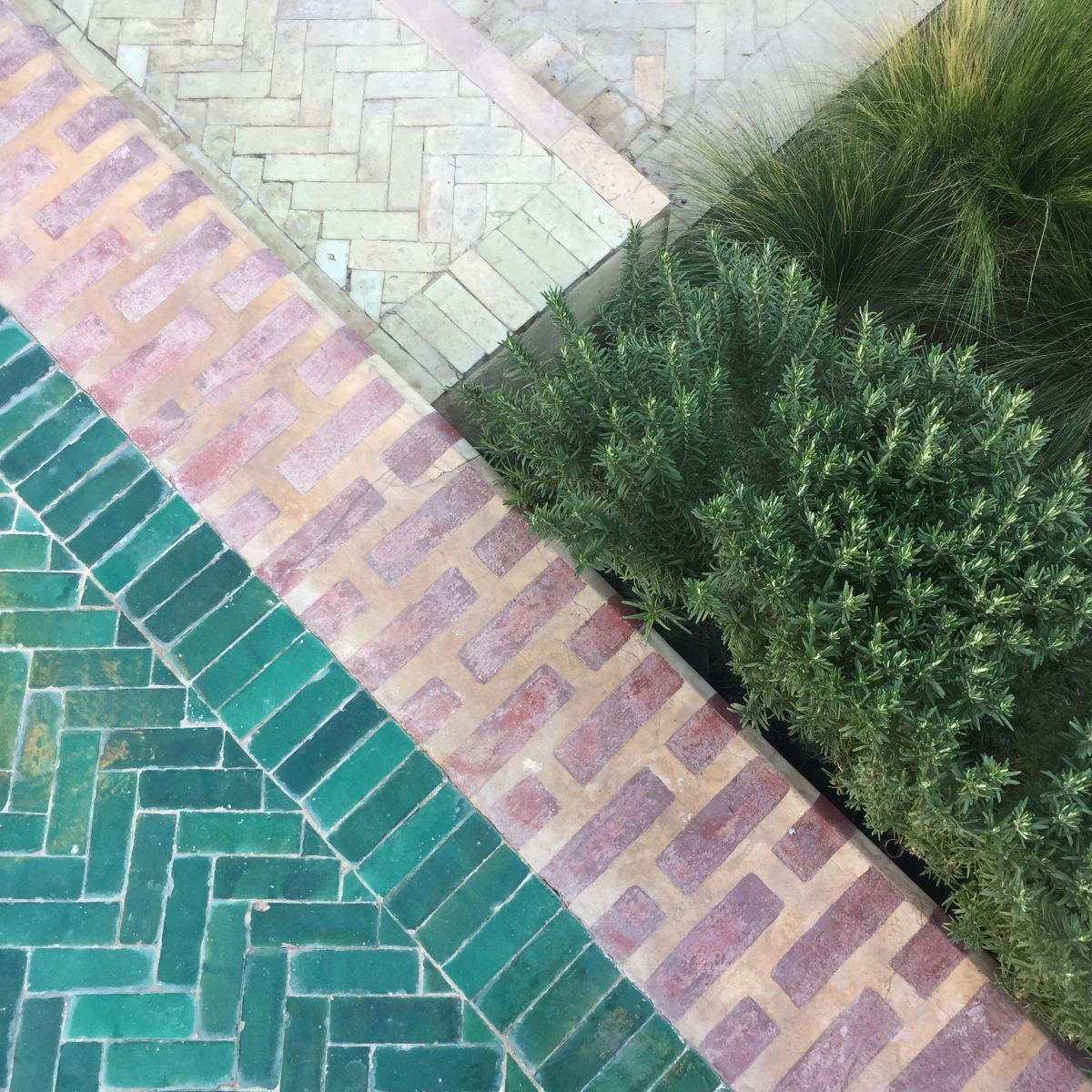 Rosemary is cleverly used as a drought tolerant low formal hedge. Elsewhere, cacti, palms and other unusual drought tolerant plants are used. The first courtyard is primarily made of architectural plants with structural, statuesque shapes. It's full of botanical variety.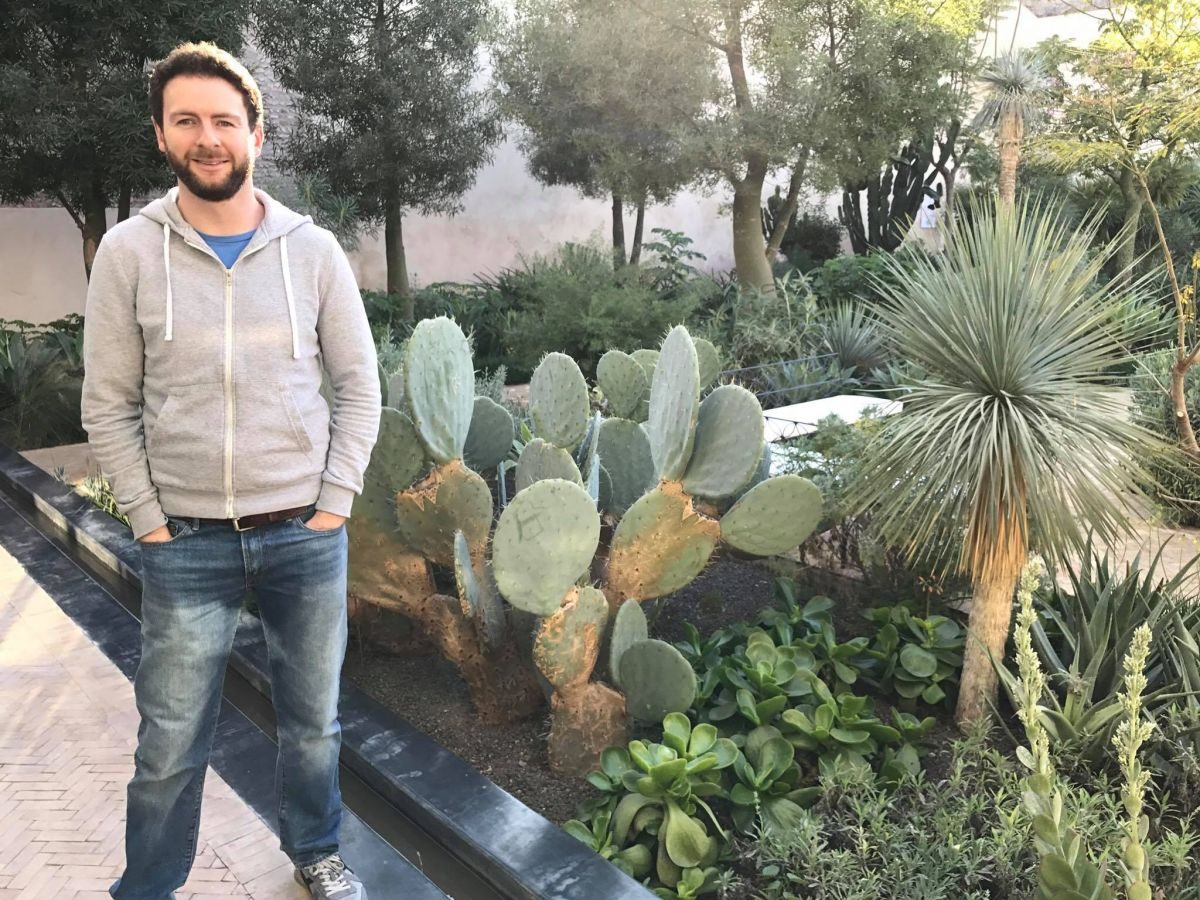 Here I am next to this magnificent Opuntia for scale, I've never seen one with pads so large.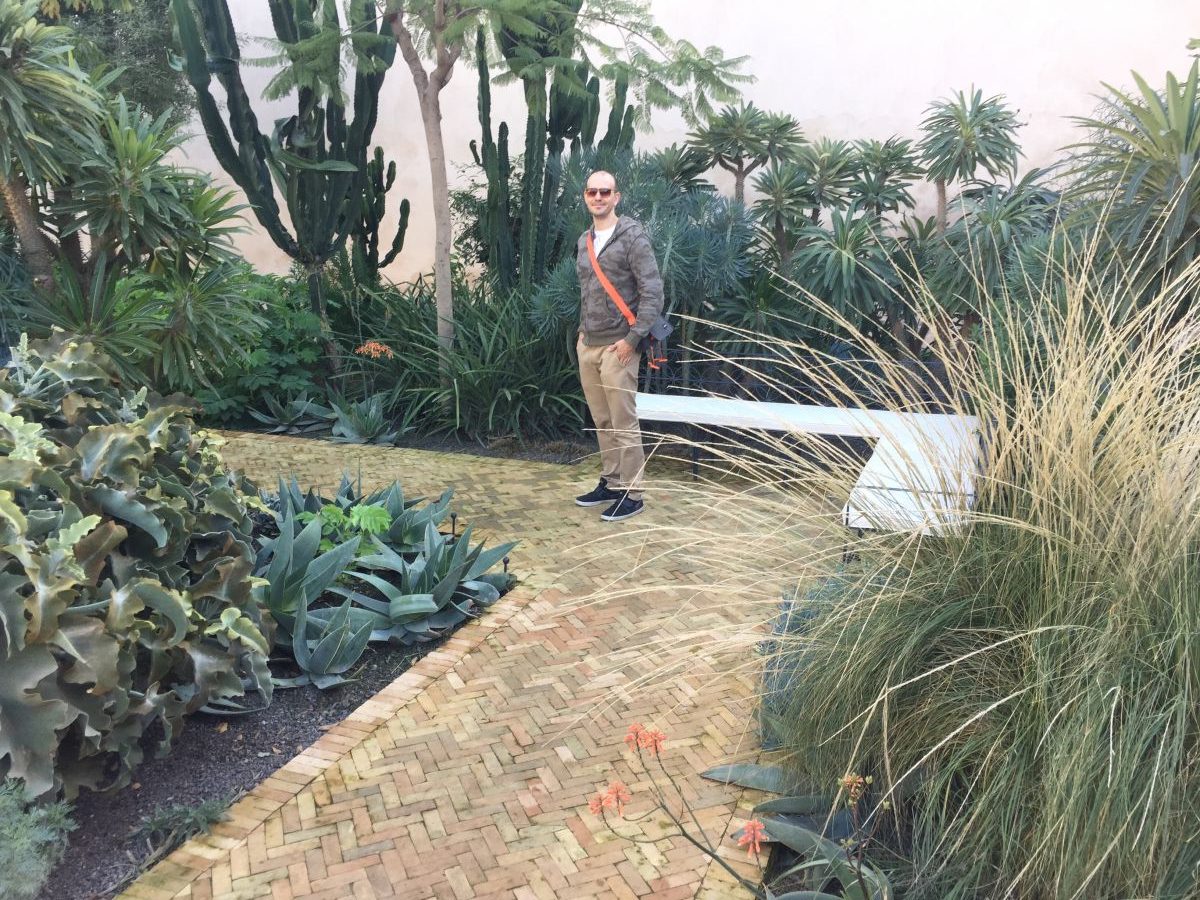 In the second courtyard the planting is lower and airier with the colouring of materials lighter.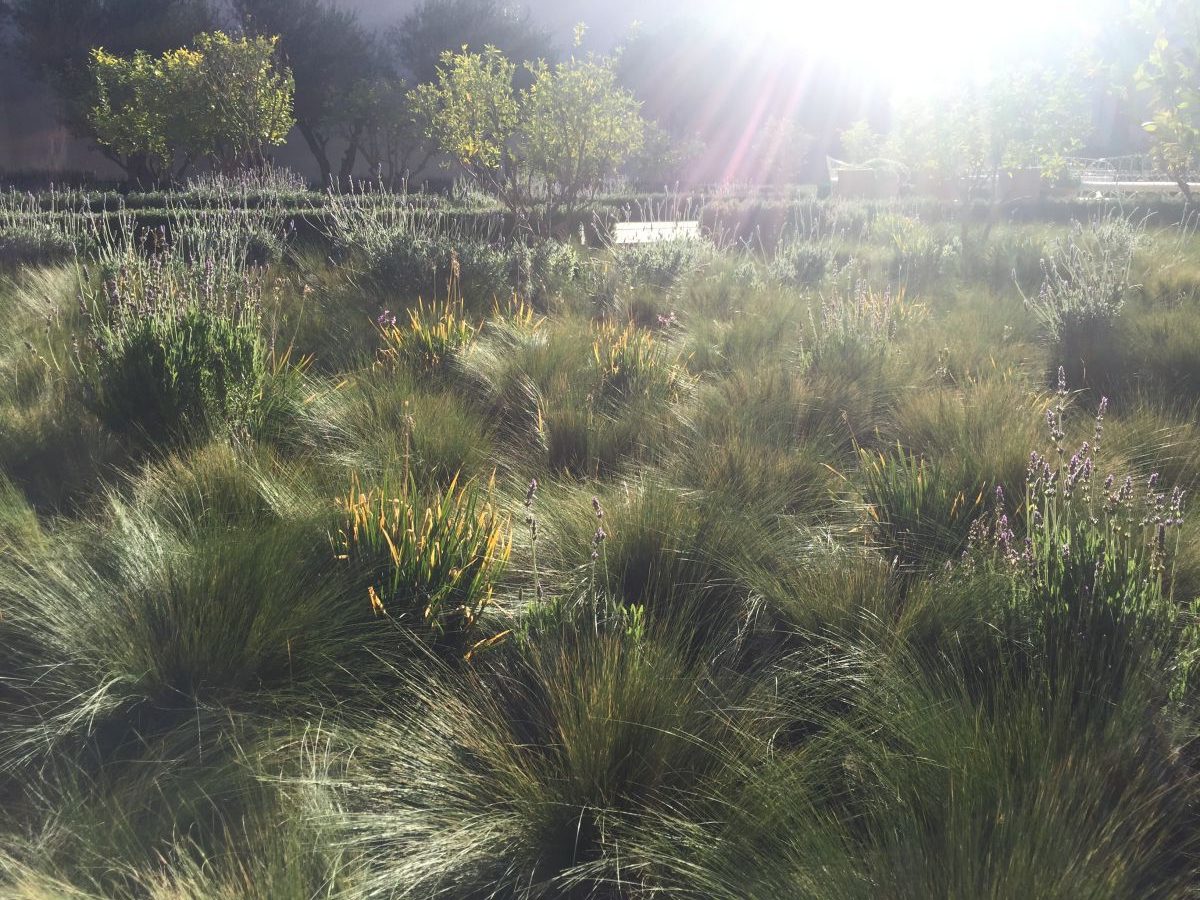 People often talk of 'dream gardens' and in the sun on that afternoon, this area is the embodiment of that.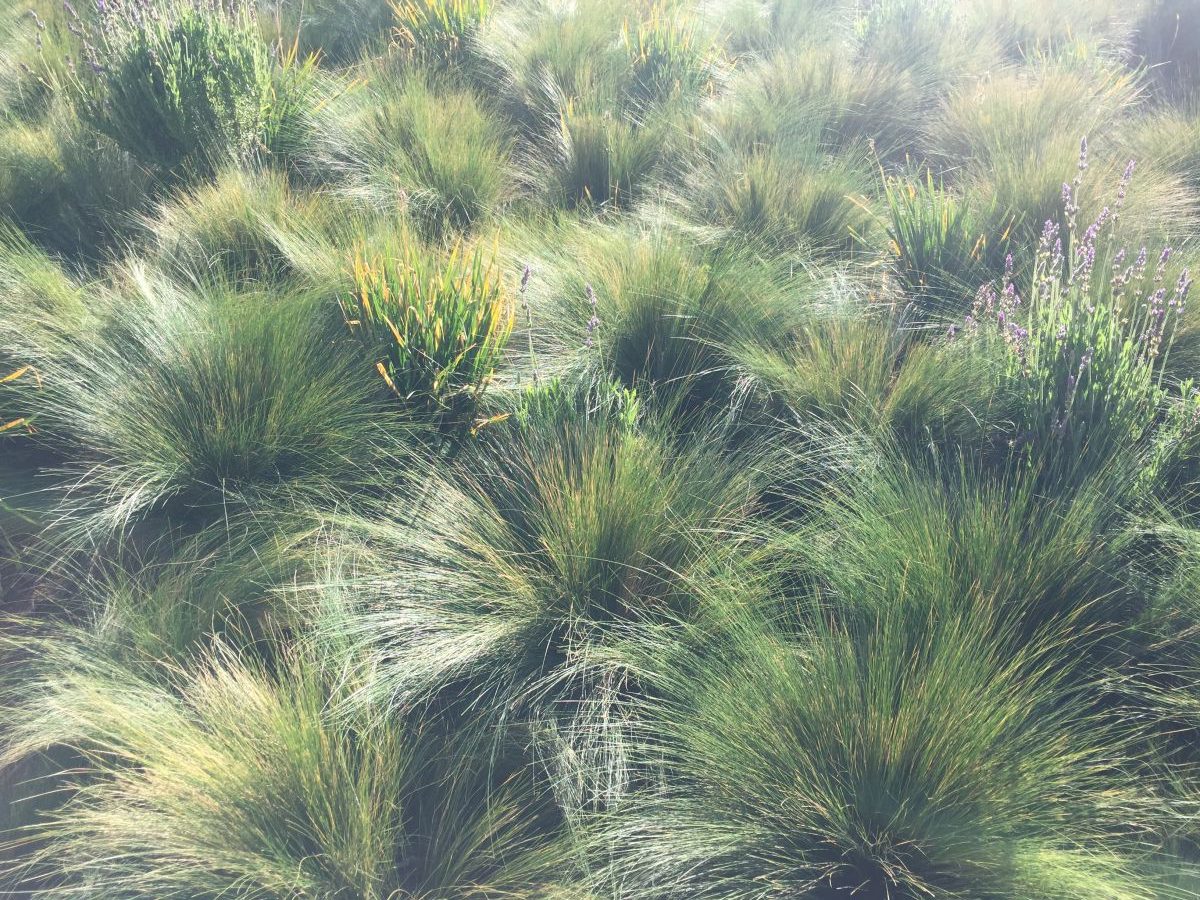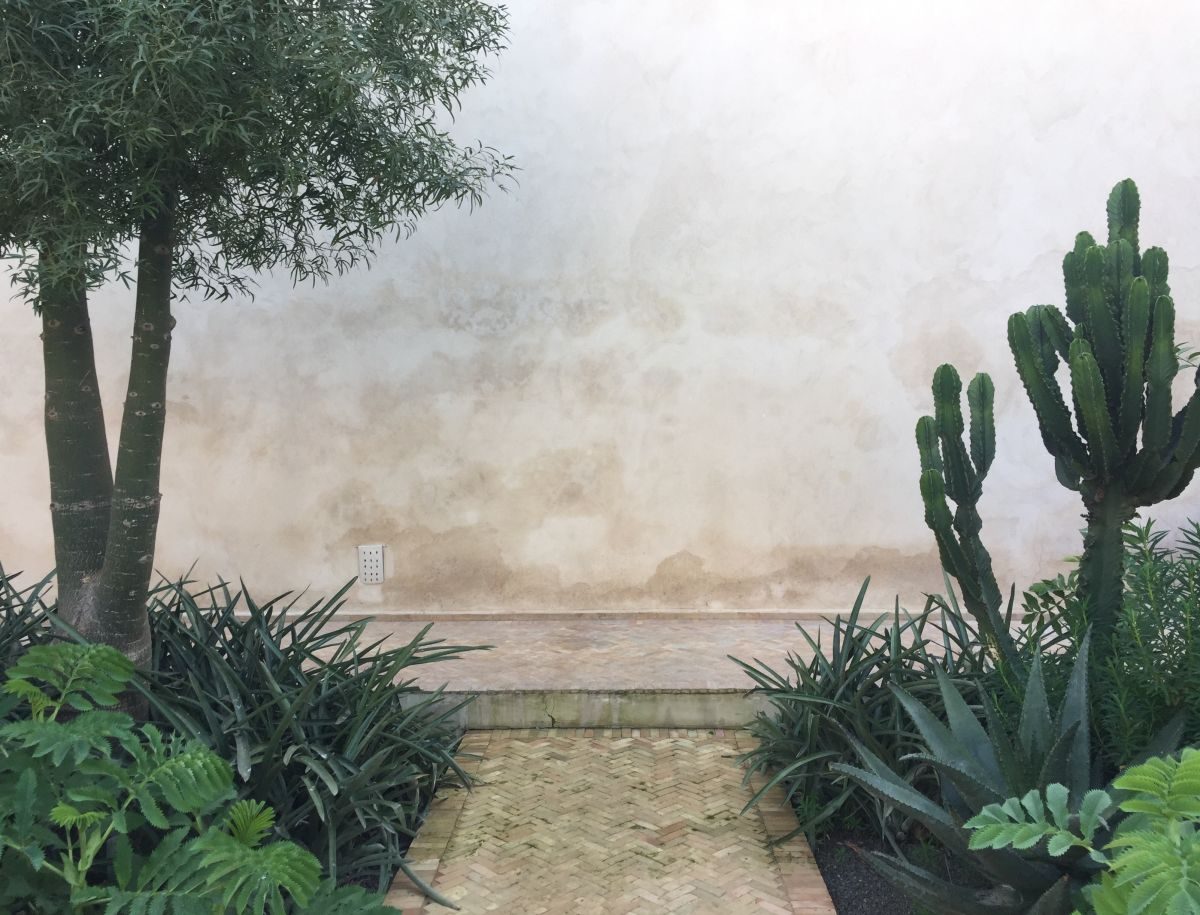 As I'm writing this, it's very much making me want to go back and really spend more time looking at each plant. Some were recognisable, like the Melianthus major, others were completely alien to me.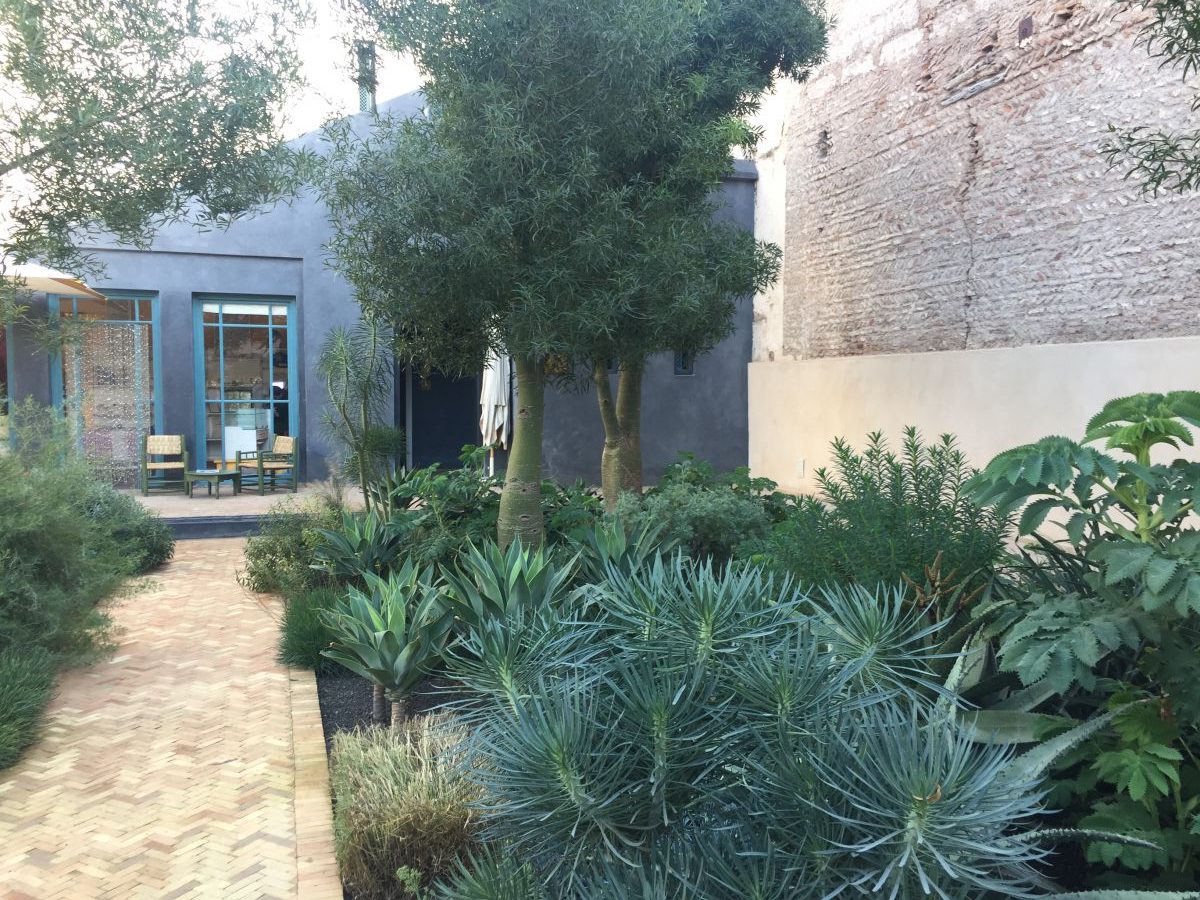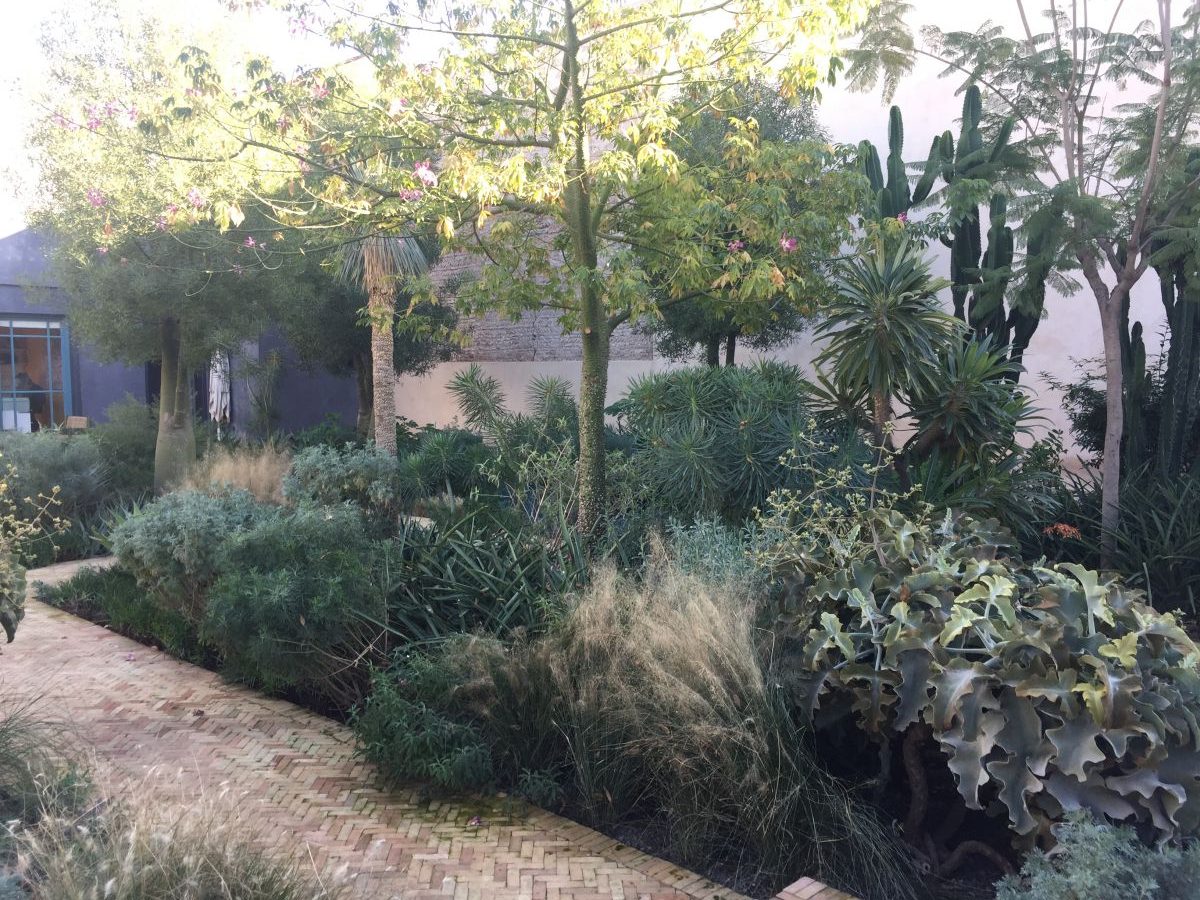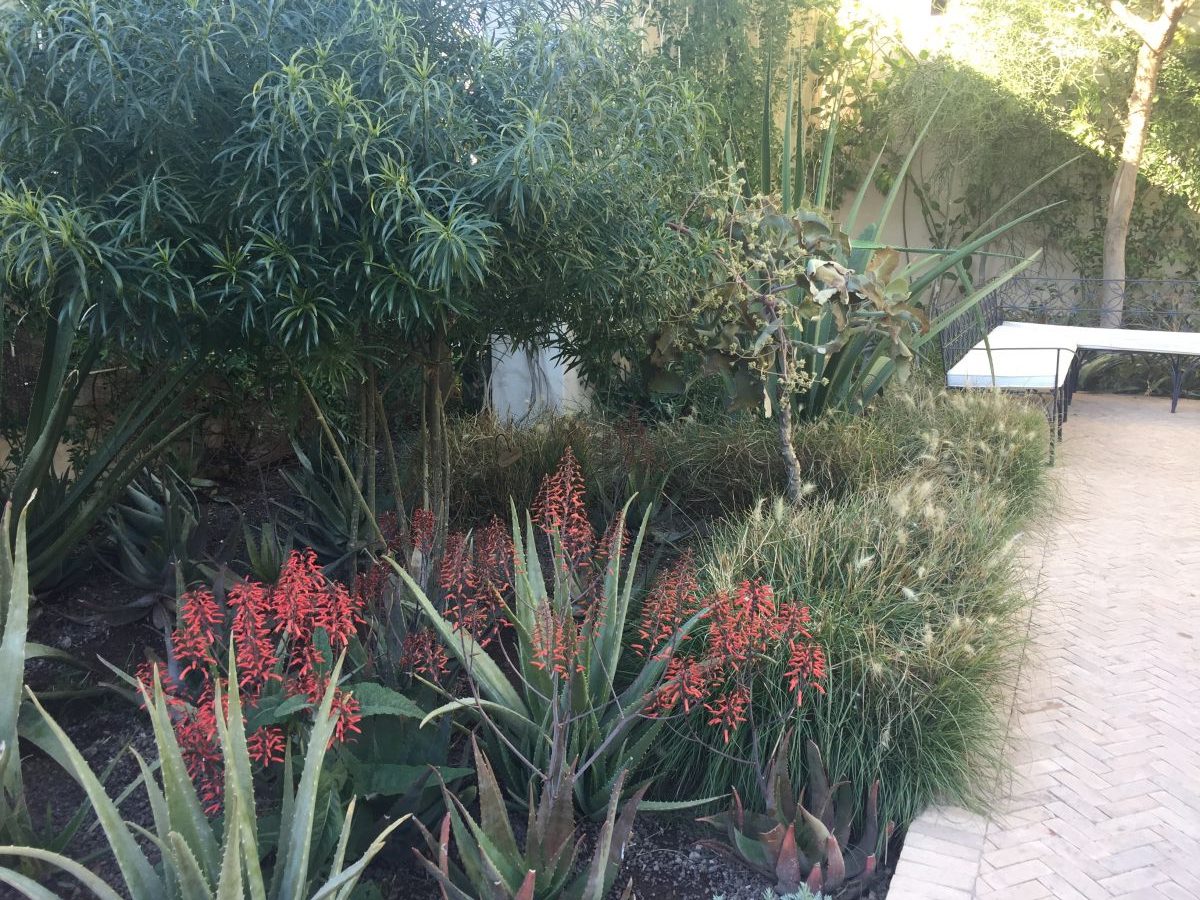 If you're lucky enough to be visiting Marrakesh, I suggest putting Le Jardin Secret high up your list. Ultimately, it's more historic than the famous Jardin Majorelle, and every bit as glamorous and full of interesting plants as that blue wonder.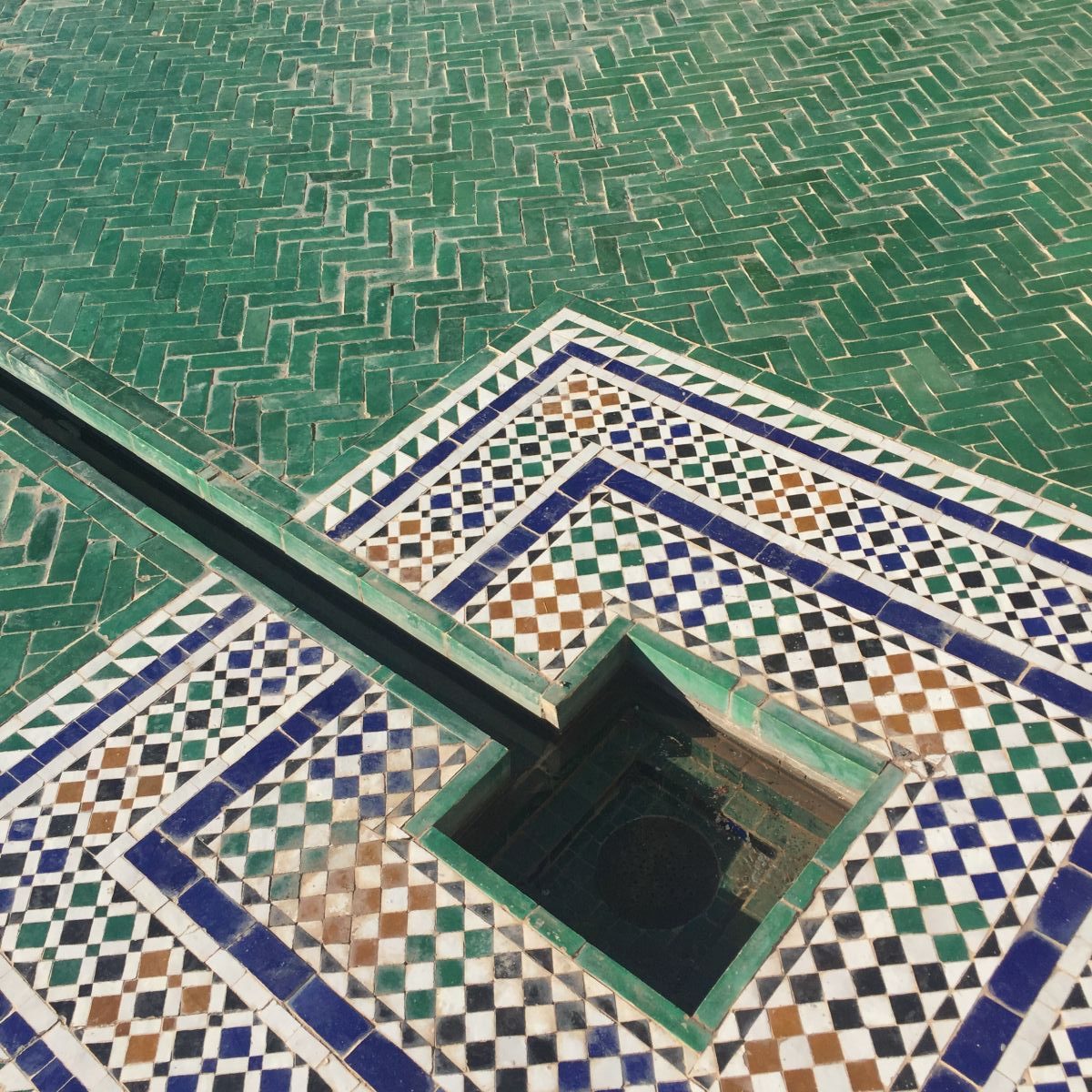 Read the rest of my Marrakesh diary
Marrakesh (this page): Le Jardin Secret by Tom Stuart-Smith