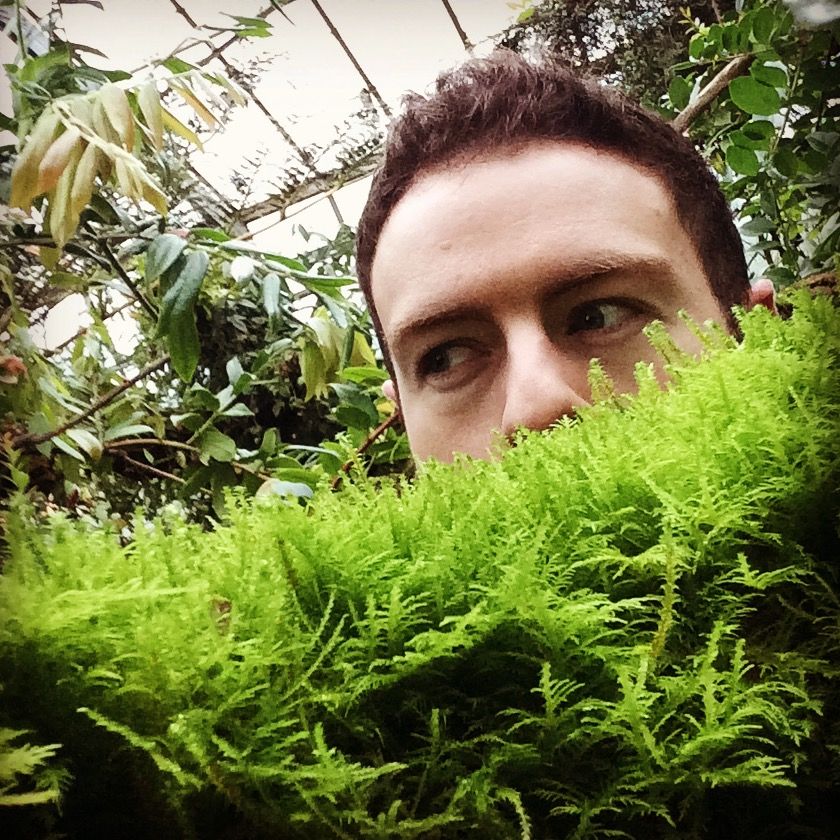 This weekend I spent two fun and informative days at the Royal Botanic Garden Edinburgh with a bunch of fellow gardeners studying the RHS Level 2 Certificate in the Principles of Horticulture. I have so many thoughts buzzing around my head now that I'm going to chuck a few things down here in a bit of a garbled blog post to record it.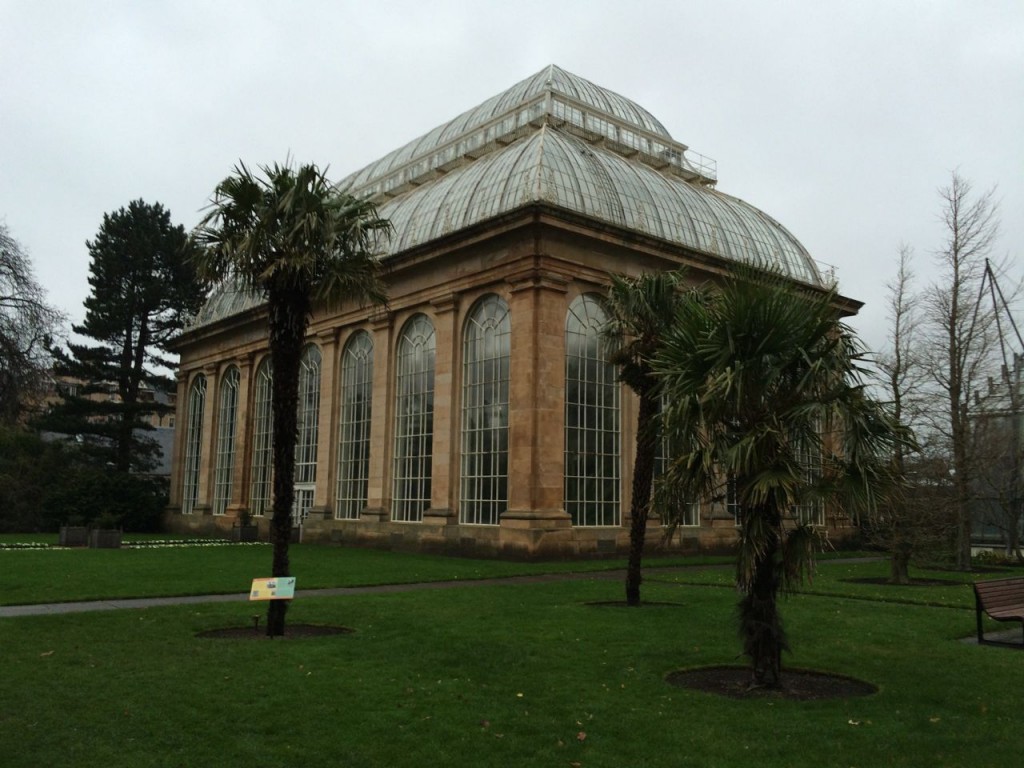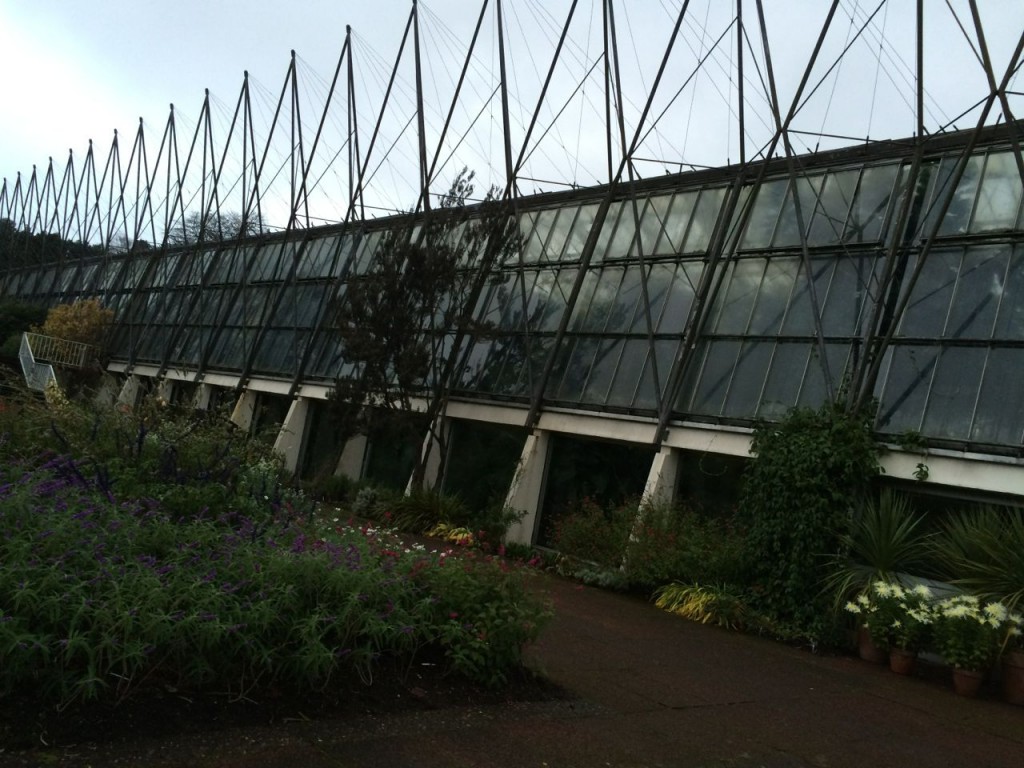 Reflecting on the weekend, my favourite aspect was meeting everyone and hearing their experience and backgrounds – some people looking to start careers as gardeners, some to improve the lives of others, right through to someone who is actually responsible for one of the UK's best respected gardens bolstering already substantial knowledge. Everyone was lovely and we had a lot of fun plant-geeking together (thanks for a great weekend and for a fab curry if you're reading this! 🙂 )
When asked on the first morning what my favourite aspect of gardening is, I settled on design, and I think that probably is true. But my interest goes much deeper. I've always been interested in how plants grow and change and adapt – never remaining the same. I've also been absolutely fascinated in the way plants have evolved. I mean, I still can't get my head around how some carnivorous plant leaf adaptations have evolved, or orchid pollination mechanisms unique to a single insect.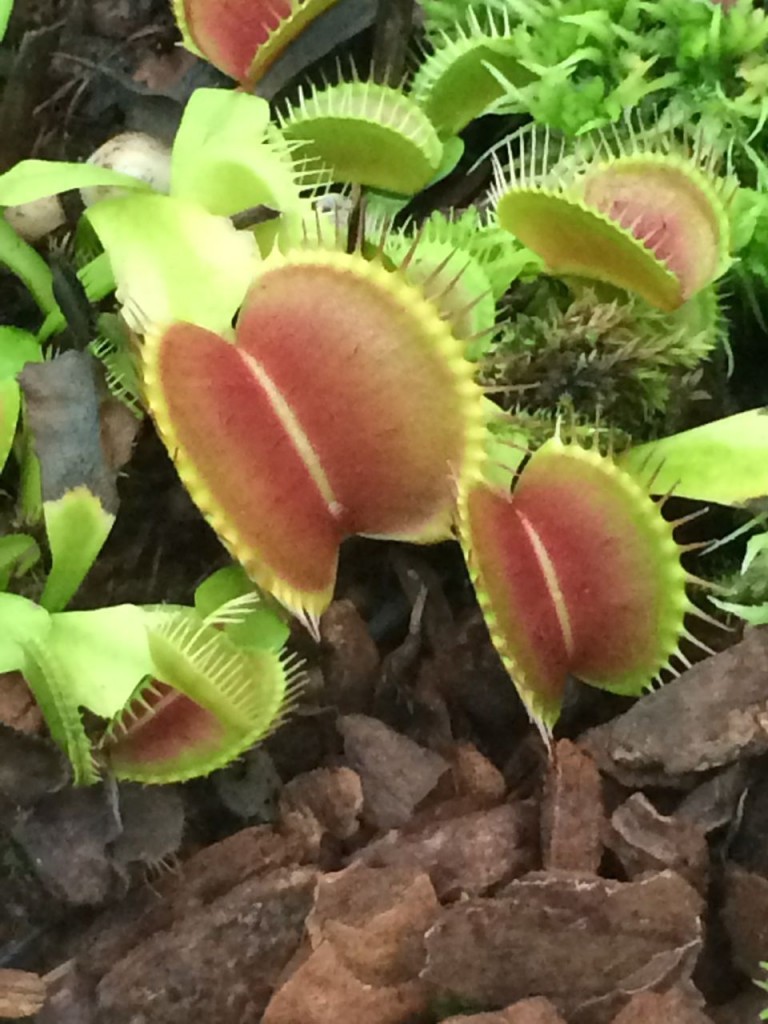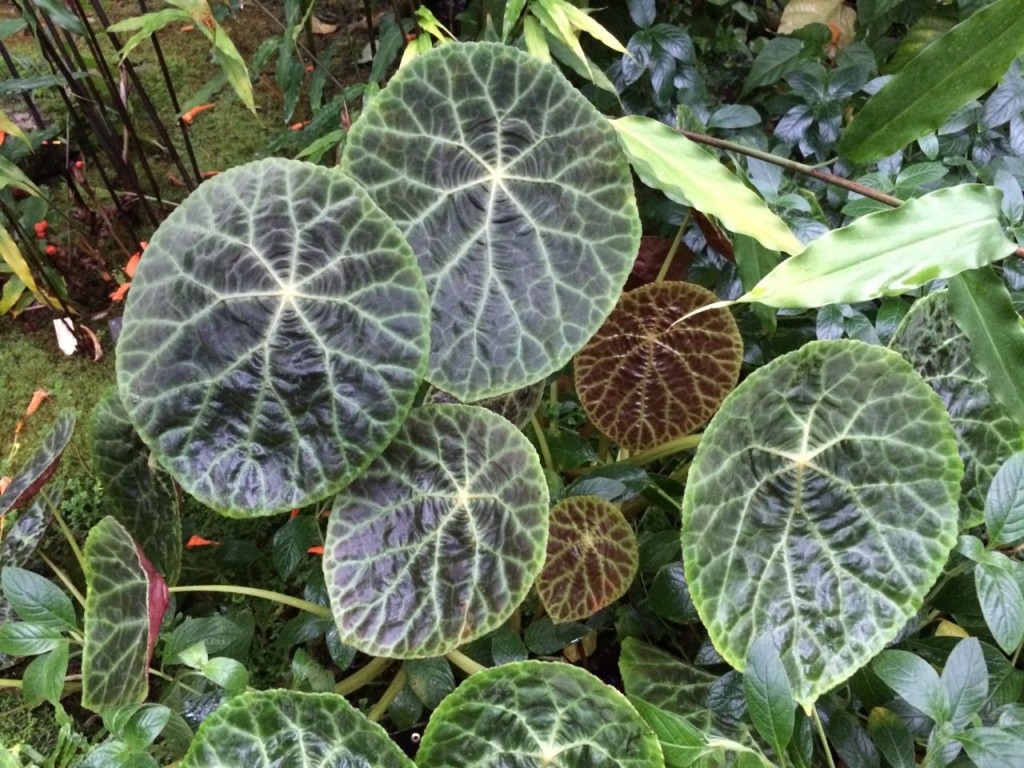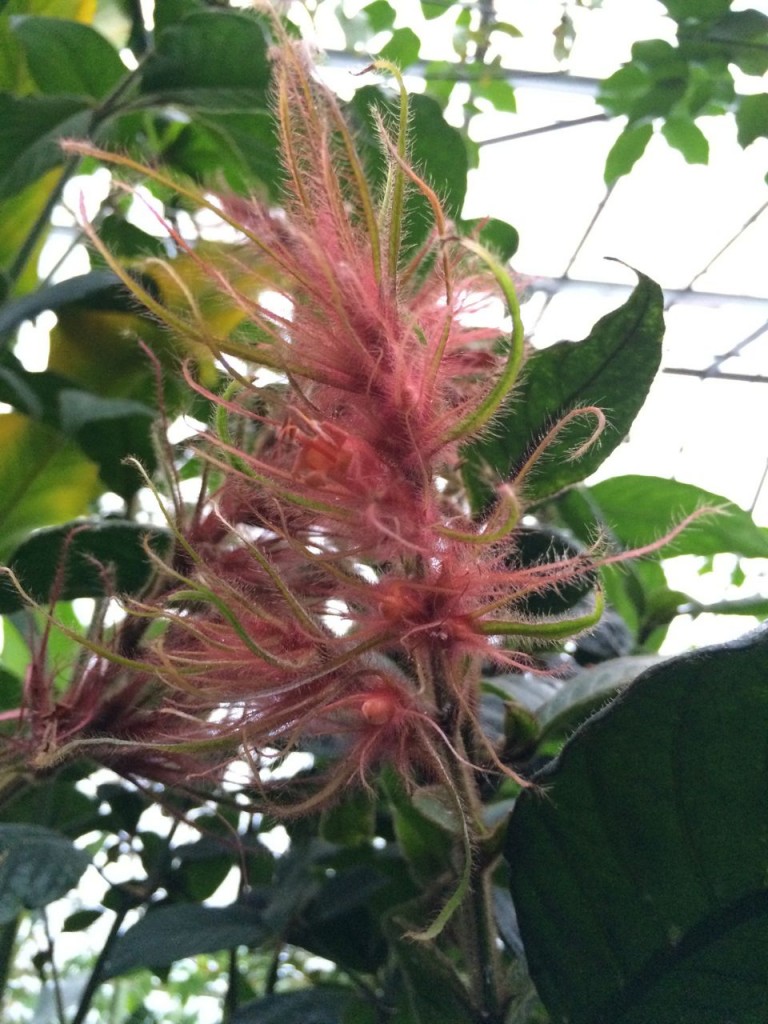 The word for that scientific aspect of gardening is botany. And what better place to indulge in botany than spending some time behind the scenes in one of the world's most respected botanical gardens with some of the smartest botanists on the planet. Yes folks, I've just spent a weekend in my element!
Bonkers about botany
My weekend started on the train. I was reading some course material and happened to be joined by a fellow passenger who is a Professor studying cancer and genetics, teaching PhD students on the subject.
He was a really friendly chap (I wish I'd asked his name) who was interested in plants and the DNA they carry in their tiny seeds and spores that can become the largest living organisms on earth. And of course, how plants contain nutrients and chemicals used in medicines – incidentally, one of our lecturers Dr Greg Kenicer (who is brilliant) later answered one of my long term burning questions that about 25% of medicines come directly from plants and a further 25% of medicines are connected to plants.
This chance encounter has nudged my mind a little further down this path of thinking and the geeky botany side of plants (as Greg would call it). Botany is one of the most interesting aspects of the RHS Level 2 course as you learn how mosses and lichens evolved to become ferns, right the way through to the complex flowering plants we see every day.
So it was quite right that we should come hand to plant with one of the specimens collected by the most famous botanist of them all…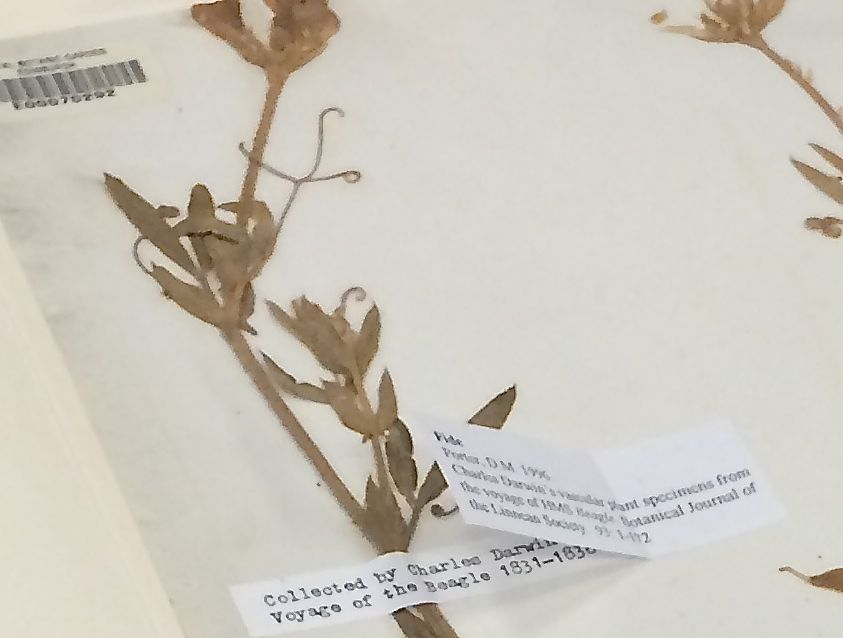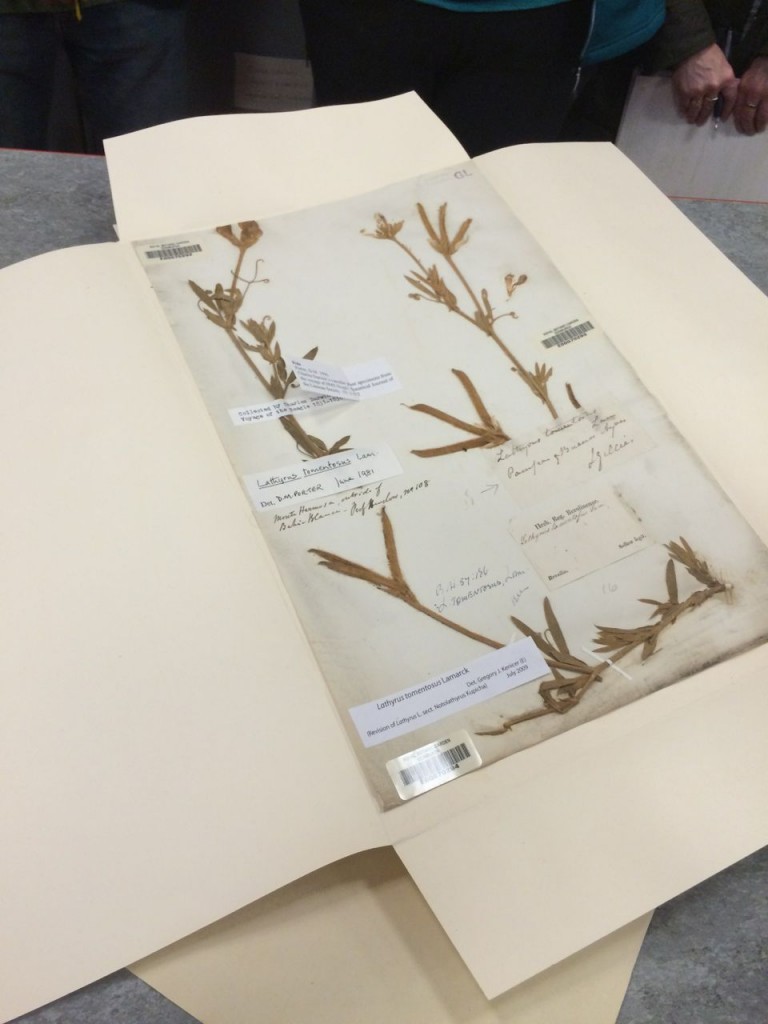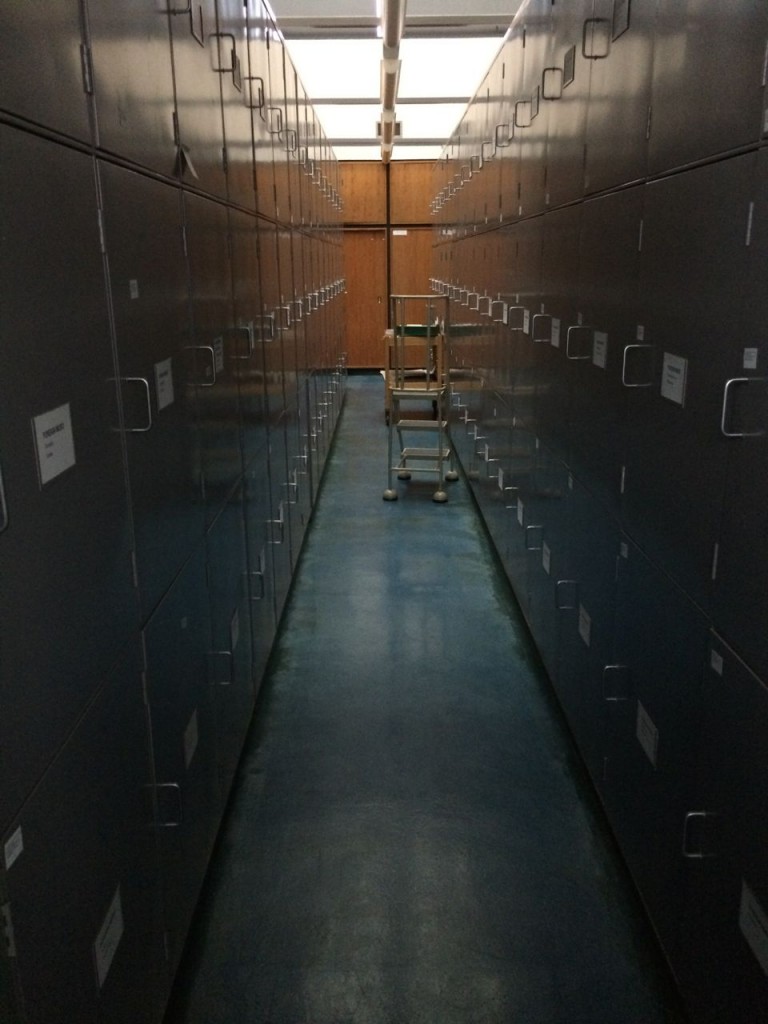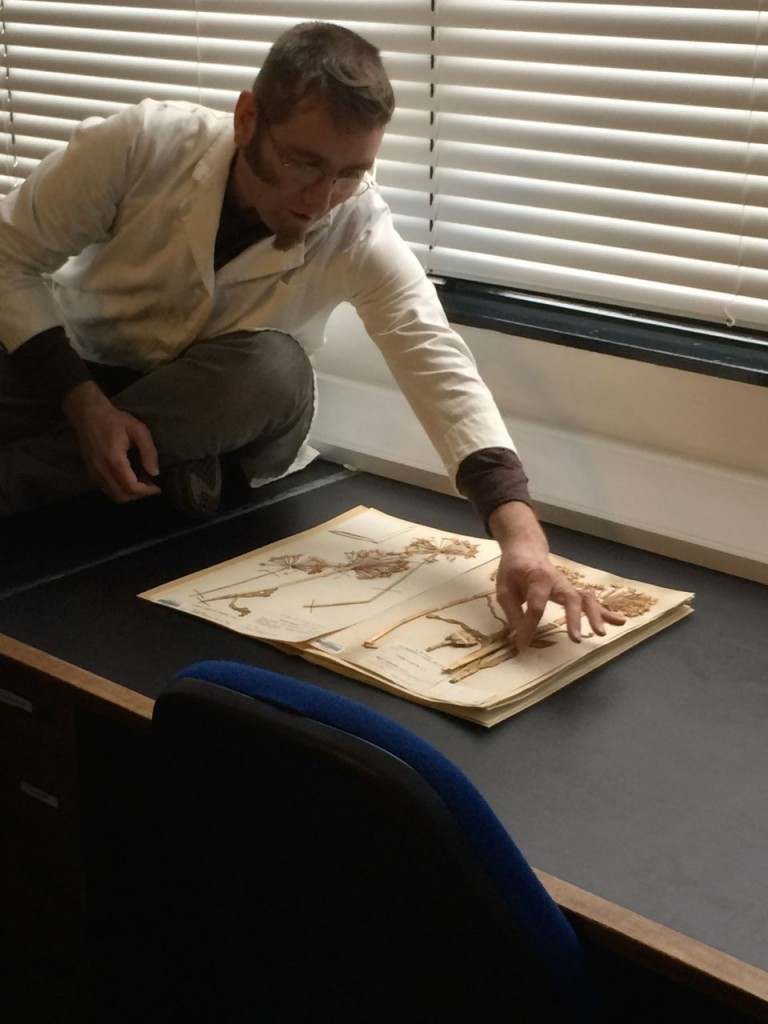 Protecting wild habitats
My tiny brush with Darwin and one of today's equivalents, feels like a good time to mention something that won't leave my mind at the moment. Which is the harm the human population has done by destroying wild habitats.
Personally, I care very much about us carelessly damaging something that has taken millions of years to be created. Beyond its beauty, I think it's dangerous. To think of all of those billions and billions of minute combinations that locked into place to create tigers, plants, humans, penicillin… 25 – 50% of today's medicines.
Despite the great work botanical gardens like RGBE and Kew are doing to save endangered species, removing habitats wipes out future chance evolutions in that location forever. We'll never get that opportunity back and we've done so much damage already. Who knows by how many millions of years we've already set back the earth's future evolutions.
If humans evolved, a habitat somewhere could have produced something even better than our species, or something to help one of our diseases. That species, which might have evolved from something to become more intelligent and energy efficient than humans or something useful for us to use. Now a long distant memory buried beneath a Tesco car park.
Protecting the tiny pockets of truly wild habitats and keeping them wild, as a melting pot of evolution, must be one of the most important things the human race should be focussed on. Alongside all of the other big issues of course, like solving global equality by removing poverty, supplying education and healthcare for all – because life is never about one thing or the other.
But that's perhaps all a little "Miss/Mr Universe Contest" and I should stick to planning my little Dahlia packed wildlife friendly back garden. I might not be able to save the Scottish Wildcat myself but I can try and provide a pesticide free garden for bees and ladybirds in Clapham.
On a more practical note, this weekend was immensely useful and helped me learn so much about the binomial system, plant name taxonomy and soils. Here are some more photos from the trip: